Thoughts on Reintegrating Urban Ecology
To quote urban planning expert Timothy Beatley, whom we interview in this issue, "We are an urbanized world now." According to the 2012 World Population Data Sheet, 51% of the world's population—more than ever before–now lives in urban areas. In many urban communities, something else is starting to grow along with the population: a realization that nature's ecological systems are the vital organs of a living, resilient city, and there is no life support system for humans if those vital organs fail. In this issue of Leaf Litter, we will explore some of the ways in which cities are strengthening community health, vibrancy, and resilience by reintegrating ecology into the urban fabric.
First, we take a look at cities that are, in a sense, starting over. From London to New York, cities are taking stock of –and maximizing–previously unrealized or undervalued ecological assets. We also examine how cities facing three different regional, environmental environments are combining human ingenuity and innovations in engineering, science and technology to regenerate ecology.
Timothy Beatley, Theresa Heinz Professor of Sustainable Communities in the Department of Urban and Environmental Planning at the University of Virginia's School of Architecture introduces us to the concept of "biophilic cities," urban communities that go beyond sustainable design and ecological interventions to actually foster human closeness to nature.
In their opinion piece, Form Should Serve Function in Urban Green Space, Biohabitats' Keith Bowers and Jessica Norris issue a challenge to make urban areas "ecologically astounding" by bridging the gap between conservation science and the design of urban green space.
In addition to resources on the topic of urban ecology, we provide an update on some of the work we're doing to help cities rediscover and reintegrate ecology. We'll also introduce the newest members of the Biohabitats team.
We say this with every issue of Leaf Litter and we mean it: we want to know what you think. If you have thoughts or comments about urban ecology to share with us, please post them to our Rhizome blog or email our editor.
Leaf Litter Talks "Biophilic Cities" with Timothy Beatley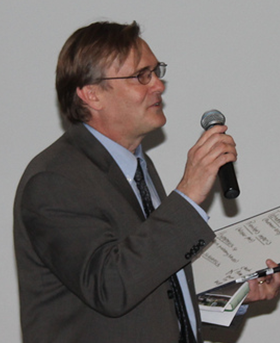 Teresa Heinz Professor of Sustainable Communities
Department of Urban and Environmental Planning, School of Architecture, University of  Virginia
Tim Beatley believes that sustainable and resilient cities represent our best hope for addressing today's environmental challenges. For more than 25 years, Tim Beatley has studied, taught, and written about the subject of sustainable urban communities, and creative strategies by which cities and towns can fundamentally reduce their ecological footprints while becoming more livable and equitable places. He is the author or co-author of more than 15 books, including Ethical Land Use, which was declared one of the "100 Essential Books in Planning" by the American Planning Association.
In the 1990s, Beatley moved to the Netherlands for a year in order to study the progress and policies of 25 European cities leading the way in sustainable planning and design. In his book Green Urbanism: Learning from European Cities, he shared both lessons and inspiration gained from that experience. With the 2012 publication of Green Cities of Europe: Global Lessons on Green Urbanism, which he edited, Beatley adds new information and insight to this powerful discussion.  Beatley also shares effective strategies from other corners of the globe. He has co-authored two books with Australian planner Peter Newman: Resilient Cities and Green Urbanism Down Under: Learning From Sustainable Australian Communities. He has collaborated on numerous films about green cities and urban nature, including The Nature of Cities.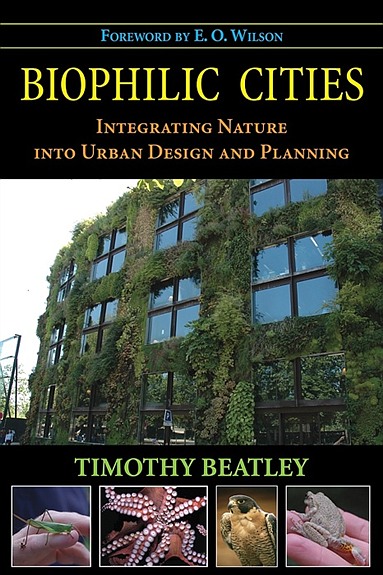 Beatley's more recent work focuses on the integration of "biophilia" in urban planning and design. The term biophilia, popularized by Harvard University myrmecologist E.O. Wilson, is the idea that humans have an innate need to connect with nature, a built in "love" for living things. In his book Biophilic Cities: Integrating Nature into Urban Design and Planning, Beatley argues that cities can and must be designed to permit daily contact with the natural world. Beatley outlines the essential elements of a biophilic city and provides examples and stories about cities that have successfully integrated biophilic elements – from the building to the regional level – around the world. From urban ecological networks and connected systems of urban greenspace, to green rooftops, green walls and sidewalk gardens, Biophilic Cities reviews the emerging practice of biophilic urban design and planning and tells many compelling stories of individuals and groups working hard to transform cities from gray and lifeless to green and biodiverse. Beatley has continued this exploration with the creation of the Biophilic Cities Project. Initially a research initiative funded by the Summit Foundation and the George Mitchell Foundation, Biophilic Cities is a growing network of cities striving to advance the theory and practice of planning for biophilic cities through collaborative research, dialogue and exchange.
You wrote in Biophilic Cities: "The way we design and live in cities is critical to our response to climate change and our future global sustainability." Broadly speaking, what role can cities play in attaining global sustainability?  
When we think about the huge challenges of transitioning away from fossil fuels in the direction of renewables and trying to deal with global reductions in the availability of oil, water and food, cities must be at the fore. We are an urbanized planet now. When we think about where consumption takes place, where greenhouse gasses are emitted, and where energy is consumed, we have to focus our attention on cities. At the same time, cities represent the best possible hope we have for reaching a more sustainable condition and for living richly with a smaller ecological footprint. The urban frame is remarkably important in addressing the whole set of sustainability challenges we are facing.
Much of your work has focused on lessons we can learn about sustainable urban planning and design from European cities. Why/how did European cities emerge as leaders in this area?
One could argue that in places like Denmark and the Netherlands, where there isn't room to sprawl, they have had to find ways to live more sustainably and compactly. But it is much more complicated than that. There certainly is the fact of having a long history of living in cities and recognizing the virtues and values of urban life. In the U.S., we so heavily subsidized and supported the dependence of automobiles and the expansion of highways. The commitment to the car happened later in European cities, and Europeans have been much more sensible about the signals they send when it comes to the consumption of gasoline. They tax in a significant way at the pump and then invest that income in good public transit. Some would also argue that their political systems give more voice to green interests. In places like Freiberg, Germany and Copenhagen, green values are much more prominent in the political setting than they are in America. There are a variety of reasons [for Europe's emergence as a leader in sustainable urban planning and design], but what it means for us is that we can go to these places for inspiration about what is possible.
To write the book Green Urbanism, you visited 30 cities in 11 European countries and interviewed more than 200 officials from these cities.  More recently, you edited Green Cities of Europe: Global Lessons on Green Urbanism, in which you brought together leading experts in sustainable urban planning and design.  What are some the key lessons we can learn from Europe, and how have those lessons changed in years between these books?
When we were launching the book Green Cities of Europe in 2013, I actually wrote a blog post that answers that question!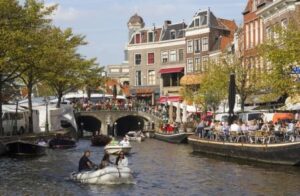 In the late 1990s, when my wife and I moved to the Dutch city of Leiden, we suddenly found ourselves in this place that I, as a planning professor, had been talking and theorizing about– a remarkable, walkable, compact city. I didn't need to drive anywhere. In fact, we had transported a car with us and didn't need or want it. One lesson I learned was the many ways in which that basic urban form, which is sometimes taken for granted in these European cities, touches our lives in so many ways. In the U.S., there is a lot of interest in the concept of healthy neighborhoods and communities. We're trying to figure out how to overcome sedentary lifestyles and get people out of cars and exercising.  It is very hard to do that in the American setting. In Leiden [by contrast], my wife and I were getting all of the physical exercise we needed in the normal course of our day. Creating the basic urban form that is going to allow us to live compactly with less reliance on cars is part of the answer.
The best European cities, like Freiberg and Copenhagen, try to address the whole range of urban sustainability issues comprehensively. It's not just energy, water, or transportation; it is all of these things seen as an interconnected whole. It requires understanding the entire city as a kind of ecosystem with a "metabolism." Then, we begin to make connections between transportation, land use, and energy, and design things in ways that acknowledge that interconnected metabolism. Many Scandinavian cities are exploring the idea of a circular metabolism, where they rethink the concept of waste. For example, wastewater coming from a neighborhood could be the source of bio-gas that could be used as fuel in a combined heat and power station. In nature, there is nothing wasted, so as a city, we should aspire to that as well. The biggest lesson I have learned from these best European cities, is the ways in which they are reimaging the very idea of a city so that it can be understood in terms of this metabolism.
One city featured in both Green Urbanism: Learning from European Cities and Green Cities of Europe: Global Lessons on Green Urbanism, is Vitoria-Gasteiz, Spain. One of three Basque cities, Vitoria-Gasteiz is known for having a very strong cultural identity. Do you think this strength contributed to the city's emergence a leader in sustainability?
That is an interesting question because in Vitoria, there is a seamless connection between the deep cultural landscape, the rich history of the place, and the many things they are doing right now. Vitoria is the capital of the Basque country, so it is an important center that binds the region together. The municipality's jurisdiction extends far, into mountains and forest.
In recent history, Vitoria has created an inner green ring that encircles the city and an outer green ring that follows ancient shepherd routes. A network of trails links the two rings and allows people to hike small or great distances. People go on very long walks on these trails. What we might describe as a landscape conservation strategy the people of Vitoria just see as normal. It is normal to understand and protect your history and your connections to place.
That said, there are a lot of other reasons whey Vitoria has emerged as a green and sustainable city. Last year, they were the European Green Capital , a prestigious designation for which many European cities now compete. In almost every issue, Vitoria seems to be leading the way. More than 50% of the trips made in that city are made on foot. They have a good public transit. By all conventional measures, they are doing very well. Your readers can learn a lot more about Vitoria-Gasteiz on the European Green Capital web site and in the book Green Cities of Europe.
In Green Urbanism, which came out in 2000, you proposed what was then a "different new urbanism," one that is "dramatically more ecological in design and functioning and has ecological limits at its core.  In the book Biophilic Cities(2011), you explore urban design and planning that goes beyond "green design and ecological interventions" and actually fosters closeness to nature and entices people to actively restore, protect, understand, and enjoy it.  You have been studying and writing about urban planning & design for over 25 years. Biophilia was first introduced in the 1980s. What prompted you to reframe your discussion of urban planning & design around biophilia, and why now?
Biophilia has always made sense and been compelling to me. There are a couple of things that [prompted me to reframe the discussion around biophilia]. First, it was a growing concern that the kinds of buildings, neighborhoods, and places we were constructing under the concept of "sustainable/green" were not particularly green in a literal sense. We'd get fantastic, energy-efficient buildings, yet they seemed very sterile and not very connected to the life of our earth. That growing anxiety motivated me to circle around again and make sure that in our agenda of sustainable urbanism we pay sufficient attention to the essential connection that we need to have with the natural world in order to be healthy and happy, and to live meaningful lives. I had been feeling that anxiety for a long time when, around 2006, Stephen Kellert organized a biophilic conference through Yale. It was a "who's who" in sustainable design and planning circles, and it helped to crystallize my understanding about biophilia and its importance in framing things. The conference led to the publication of Biophilic Design, a book of papers that were produced at the conference.
It is essential for us to understand the psychological, emotional, deep connection to nature that we need to have. I find biophilia a better way of talking about things because it emphasizes that there is an affective, emotional connection to nature, that we have co-evolved w/the natural world, and carry it with us our ancient brains. In some ways, the practice that follows from that is not all that different. Green roofs, green walls, and many of the things we'd now refer to as biophilic design elements, were already happening.  We were already talking about green infrastructure, for instance. A concept like green infrastructure is great, but to me, it emphasizes the utilitarian dimensions of that wetland, tree, or forest—it is doing a service for us, and we need it for that purpose only. But that nature is absolutely essential to who we are, how happy and creative we are, and how much meaning we have in our lives. A city that is biophilic is not simply a place that has done a lot of things to enhance the green infrastructure. It's a place that understands itself as a natural home, where people are connected to nature all around them every minute, every hour. It is where we are conscious of the need to foster those connections to nature to stay healthy and happy.
One would think that even those who have never heard of biophilia, or those who disagree with E.O. Wilson, would not argue that the more you're able to foster that kind of connection and engage people, the more likely any initiative is to be sustainable, particularly in a city, which is full of people…right?
Yes, but the evidence [supporting the theory of biophilia] just gets stronger and stronger. We all feel it deep inside. We go outside and have short experiences in the natural world, and we feel better. We kind of know that nature has this power for us, but the research is mounting. Everything from new European studies using EEG portable caps which show that certain parts of the brain that light up when we walk in parks to studies showing that we score higher on creativity indices when we are in the presence of nature. There is also evidence that we are more likely to exhibit generosity in the presence of nature. On so many levels, we're more likely to be better human beings in and around nature.
Tell us about the Biophilic Cities project and what is happening with it today.
The Biophilic Cities Project is about exploring the different ways in which cities and built environments can be designed to foster connections with the natural environment. Much of the work over last two years has happened in collaboration with 10 partners cities, around the US and the world. In cities like Singapore, San Francisco and Wellington, New  Zealand, we have been trying to collect consistent data and GIS layers, on the way to developing more comprehensive metrics for defining and monitoring biophilic cities.
And we have been spending a lot of time just trying to understand what our partner cities are doing and documenting the tools, practices, and planning strategies they have been using to incorporate and foster nature. We are also trying to tell these many stories of biophilic cities in compelling wells, such as through films (see, for instance, our film about Wellington)
The Biophilic Cities project is coming on two years of funding from the Summit Foundation, and we just held our big conference. But we called the conference our "launch" event, because we are trying to launch a global network of biophilic cities. We have our ten partner cities that have been working with us for two years, but we want to go beyond this small group of collaborating cities and take it to a global scale.
We just posted a blog summary of the Biophilic Cities conference and launch.  In the weeks that have followed the Launch event we have been exploring different ways that the network might work, how cities might join, and what we expect of those participating in the network. We prepared a preliminary pledge statement for the Launch (found on the blog) and we are working on revisions to that. We envision a set of peer cities (as well as individuals and organizations) that will help to drive and advance the global biophilic cities movement. , We'd love for many cities to join us in this network and in this challenge of imagining cities full of nature, where connections to the natural world are naturally cultivated and fostered as a key principle of urban life.
If cities are interested in being involved in the Biophilic Cities network, what should they do?
We will soon unveil a web-based mechanism that will let anyone join the network, whether as an individual or a representing a city or organization. At the October conference, we drafted a pledge statement.
In the book Biophilic Cities, you propose a set of indicators of a biophilic city and you cluster them in four categories: Conditions & Infrastructure (e.g., miles per capita of walking trails); Activities (e.g., % of population in nature clubs); Attitudes & Knowledge (e.g., % of population that can identify a common species); and Institutions & Governance (e.g., budget allocations). Can you share some real examples for each category?
First, I should say that we are still very much developing the metrics of what a biophilic city is or could be.
Conditions  & Infrastructure
This category is about the presence of nature, and there are all types of metrics you can use. The European Green Capital application now requires that every city indicate what percentage of their population lies within 300 meters of a park or green space. So that's one indicator. There are indicators that have to do with percentage of land area covered in some form of green. One of our partner cities is Oslo, Norway, where virtually every resident is within a few hundred meters of a park or green space. Two thirds of the area of Oslo is protected forest, and getting people to those large, forested areas is a priority for the city. They have a very elaborate network of urban trails, and they even site transit stations at the edge of the forest.
We have remarkable indicators in places like Singapore. Singapore has accommodated a major increase in population over the last 15 years, yet their percentage of green cover, based on Landsat imagery, has actually gone up.
Singapore has set aside significant areas of parkland and has worked to connect them to urbanites through a 200 Km-long Park Connectors system, with much of this pedestrian network in the form of elevated walkways and bridges.
The city has been pioneering the use of vertical greening measures, including green walls, and has even created a Skyrise Greening division within the Singapore Parks Board.  Singpore now incorporates into their planning standards a requirement that you replace whatever footprint you are taking [from nature] by incorporating it into this vertical realm.
There is a new office building called Solaris, designed by architect Ken Yeang,  where they have designed a kilometer and a half of forested belt that circles the building as it moves up.  We recently created a film about Singapore which your readers might enjoy: Singapore: Biophilic City.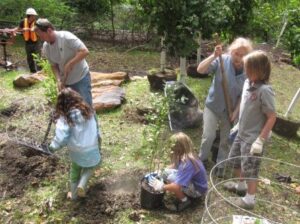 Activities
It isn't just the presence or absence of nature in a city that makes it biophilic; it is the degree to which people in the city are engaged and connected to nature. While it has been easiest for us to gauge the presence or absence of nature, and we have made great strides to do that in many cities, this category is more challenging to measure. How much time are people spending outside? Are they participating in nature in some way? Are they part of a stream restoration group? Are they bird watching? Do they belong to a native plant group? We have been talking about having some kind of survey or cataloging of what people do during their day using cell phone technology. We are still in the beginning of trying to understand this, but it is a very important metric.
One indicator might be a very high number of people involved in bird watching, for example. Portland, Oregon, is one of our partner cities. The head of the Portland chapter of the Audubon Society just told me that they have an incredibly large membership despite the relatively small size of the city. We have a lot of work to do in order to comprehensively understand how a citizenry is engaged in nature, but it is a very important metric.
Attitudes and Knowledge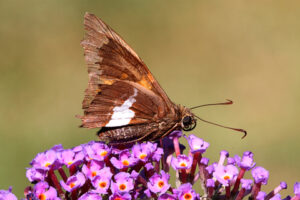 We have done surveys that show that people do not recognize very common species of trees, birds, and flowers. I often give a survey in which I show a slide of a Silver-spotted Skipper, a very common species of butterfly here. I have given this survey hundreds of times, and only a couple of people have given me the correct answer. Most respondents tell me that it is a moth, or a monarch butterfly. It doesn't look anything like a monarch butterfly! I have even had people identify it as a hummingbird.  There is a literacy dimension to this, and the knowledge certainly goes along with the activity.
How much do we care about the nature around us? How much value does it have for us? Do we celebrate and treasure it? Are we curious about it? A culture of curiosity is a key dimension of a biophilic city, and we can make it easier for people to be curious.
We recently filmed Mexican free-tailed bats in Austin, Texas, which is the largest urban bat colony in the world – a million and a half bats. When it was discovered that these bats had taken residence under the Congress Avenue Bridge, the first reaction was to eradicate them. But over time, that changed, thanks to good work of Bat Conservation International and others who helped change the view of that creature. That new sensibility about bats – the curiosity…interest–one could say "love"– reflects the kind of attitude that is in line with what we think of a biophilic city. Today, people come to Austin from all over to see those bats. They actually generate tourism dollars. There are bat-watching dinner cruises up the Lower Colorado River!
Institutions & Governance
We do not yet have great measures for this category, but the commitment of local government would represent one important metric. For example, what percentage of a budget goes towards nature or supporting the education about nature? What percentage goes toward restoration and conservation?
[The presence and strength] of the cornerstone institutions in a community can be another measurement for biophilia. Milwaukee, Wisconsin, which has become a partner city, has just opened the third branch of a local ecology center. Other cities have natural history museums, which have a huge role in fostering awareness of and education about nature.  It would be great if we could measure all of these aspects of governance, implementation, and the flow of resources in the direction of nature in a city.
Have you considered environmental justice in developing the indicators of a biophilic city? Not just percentages and numbers, but fairness in distribution?
Funny you should mention that. Environmental justice is addressed in the book Biophilic Cities, but perhaps not as prominently as it should be. At the Biophilic Cities Project launch in October, we had a great keynote address by Jennifer Wolch, Dean of the College of Environmental Design at UC Berkeley. She made the point that in advancing the biophilic cities agenda, there are a number of marginalized groups whose interests need to be taken into account. She has done a lot of work in Southern California looking at disparities in access to parks. There is a profound equity concern. Environmental justice is implicit in some of the biophilic cities metrics but we want to make sure that the least advantaged neighborhoods in a city are most benefitting from the power of nature. It is in those places where nature is needed the most. There is a very important equity and justice dimension to this. "Biophilia for whom?" is what we might ask.
In Green Urbanism, you looked at urban ecocycles (input/output) but I didn't see that–or even energy –specifically mentioned among  the biophilic city indicators. Why not?
Urban cities require all kinds of metabolic flows. Food, energy, water, building materials, etc. All of these things come from somewhere, and they often have a huge impact on nature and biodiversity. I think we ought to include some kind of measure to include the impacts on the natural world on the resource demand that cities create.  That is a good point. A biophilic city is a city that cares about nature anywhere in the world. New York City, which had a recent history of buying a billion dollars worth of tropical hardwoods, now has a policy discouraging the purchase of tropical hardwoods.  That one procurement policy has a huge potential impact on nature.  If cities are to be biophilic, they must think carefully about their consumption and metabolic streams. [A biophilic city's] love of nature, that bond with nature, is one that understands a commitment beyond its boundaries.
Based on your research, what are the key barriers to achieving biophilic cities?
There are many different kinds of barriers that cities face in becoming more biophilic. Often the biggest initial barrier is a failure to imagine how profoundly wild and full of nature dense urban neighborhoods can actually be, and how much nature is already around us in cities (we still have a kind of bifurcated view of the world—cities and nature as polar opposites). There are the obstacles of perceived cost (though the stress-reducing and other benefits from nature in cities is a very cost-effective investment) and city codes that may make it difficult to apply some biophilic urban design ideas. And there are the mighty challenges of gaining the time and attention of urbanites who may be more inclined to be online than outside listening to birds and watching dragonflies.  How we effectively foster a culture of curiosity and care about nature in cities remains a major challenge.
How receptive are students to the concept of biophilic cities?
Very well! I feel like we have touched a nerve. I am getting a number of inquiries about working on the Biophilic Cities project. We have a new PhD program here at the UVA School of Architecture starting in the fall. I have received a number of emails saying, "This is the subject I want to work on and make into my career."  I am currently working on a syllabus for a brand new spring class called "Cities and Nature," with a biophilic cities subtitle, and over 150 students have already enrolled. I'm not always keen to start a new lecture class, but there does seem to be an interest in this topic. Students are very receptive. They get it at a very personal level.
There are a lot of fantastic ways of pursuing sustainability. There are people working on it in the engineering school, law school, in the environmental science–all over the place. New water systems, low energy buildings…all of these are very important, but there is something profoundly visceral about the nature part of it. It just grabs us in a way that seems completely natural, and when it does, we realize almost immediately that is has been missing or is less present than it should be in our lives. There is something about this topic, at this particular point in time, that seems to resonate with students.
For more information on biophilic cities, please visit the Biophilic Cities web site. 
Three Approaches to Reintegrating Urban Ecology
Starting Over: Ecology at the Heart of Things–Resilience in City-Building
By Jennifer Dowdell
It's not often in this day and age that we have the opportunity to build a city from the ground up. But there have been some opportunities of late, many to do with rebuilding in the aftermath of disaster or in locations where rapid development is driving change. It is a time ripe for innovation, but also for introspection, for considering all the opportunities we have to create cities that are responsive to their natural context, embracing the ecological systems that lie before us, and the myriad of services they can provide.
Christchurch is the second largest city in New Zealand and the South Island's largest port. Also known as the Garden City, it is home to a vibrant arts and cultural life and gateway to travel across the South Island and to sites further afield, including Antarctica.
On September 4, 2010 a 7.1 magnitude earthquake struck just around 4:30 AM. Miraculously, there were no deaths and damage to buildings, bridges, and electric, sewer, and water infrastructure systems were scattered and manageable. But that was before the aftershocks.
Tens of thousands of aftershocks were reported in the wake of this quake, and in February of 2011 a 6.3 magnitude aftershock struck very close to the center of Christchurch (and only 5 km below the surface) at 12.51 pm on a summer's afternoon. One hundred eighty five people perished in that aftershock, and the Center City was decimated. Seventy percent of the buildings in the central business district were damaged. Historic buildings and cultural sites were destroyed and 50,000 people who worked in the CBD were displaced. The total cost of the rebuild is estimated to be $40 billion (NZD), 15% of national GDP.
A friend who lives and works in Christchurch remembers that day, rushing from his office with colleagues and gathering along the bank of the Avon River, which flows through the city, feeling that along with the nearby Hagley Park and Victoria Park , the river was one of the safest, most stable places to be as further aftershocks rocked the city and many buildings crumbled.
In the aftermath of the quake, the city and national government, along with the Ngai Tahu  and Ngai Tuahuriri (the traditional Maori inhabitants of the area) worked together to progress the rebuild effort. Despite the devastation they caused, the earthquakes were seen as providing an unprecedented opportunity to revitalize and renew Christchurch's central city. A rebuild offered the chance to add to the city's social and cultural capital, while drawing on its rich natural and cultural heritage. Christchurch's efforts were  an  opportunity to rethink city-building and what that meant for community and country.
In 2011, the community of Christchurch was invited by the Christchurch City Council to participate in a share-an-idea campaign. The main themes which emerged from the community's 106,000 ideas were:  (1) a green city; (2) a city with a strong and resilient built identity; (3) a compact core with well-designed and accessible streetscapes; (4) a city where one lives, works, learns and visits; (5) an accessible city for all ages and abilities; (6) and a city that embraces cultural values and history.
In 2012, the Christchurch Central Development Unit, which is the development arm of the Government's Canterbury Earthquake Recovery Authority engaged a multidisciplinary consortium group of international consultants to develop a blueprint for the 1480 acres which make up the Central City. What is inspiring is that at the heart of this plan for revitalization and recovery is an acknowledgement from both the community and its government that the ecosystem that lies at the heart of the city and its cultural heritage must be a key focus of the Rebuild. The Avon River (Te Papa Otakaro) and its associated wetlands have always been highly regarded by the Maori people as an important food source (Mahinga Kai). Don Miskell, General Manager of Planning and Design for the Christchurch Central Development Unit, explained that in 1861 Maori leader Pita Te Hori from Ngai Tuahuriri instructed his successors to "kai atawhai kit e tangata" – "care for the people".   Don explained that "those of us involved in the rebuild process have been inspired by his wisdom and guidance. We are seeking to rebuild our city for our people and our visitors. We want to be generous, warm and caring hosts and thoughtful stewards of the land."
The rebuild includes a series of 16 anchor projects that are intended to help kick-start the redevelopment efforts and to build confidence in the future of the city center. The first anchor project to break ground was the Avon River Precinct – a decision which underlies the importance of this natural feature to the resilience of the city. The River project includes a 1.9 mile (3.2 km) waterfront revitalization that weaves together natural and cultural values, integrates river restoration initiatives to improve habitat and water quality, a provides a continuous promenade for walking and cycling, and renewed civic and gathering spaces. The river corridor restoration includes indigenous riparian plants to invite more native birds (like the bell bird that was once common in the lowlands around the Christchurch area), and improvements to the morphology and texture of the river bottoms (clearing silt and cleaning the gravels that serve as habitat for fish, eel, whitebait and other key species).  Along with the river, other anchor projects that focus on urban ecology, include an open space corridor lined with new residential development, and facilities for education, research and innovation, are proposed within a frame that helps define a more compact center city and a connected community.
While Christchurch is unique in its inclusion of an ecosystem at the heart of its rebuild it is not alone in celebrating the importance of urban ecology in rebuild efforts after disaster. In Greensburg, Kansas, in the wake of an EF5 tornado that destroyed 95% of the town and displaced 1500 people, a unique master planning effort was led by Bob Berkabile and BNIM Architects. The plan features a citywide stormwater strategy that integrates with a park system and trail network, and furthers an objective to make Greensburg a green city based on goals of economic, social and environmental sustainability, (with all new buildings built to LEED platinum standards). And as New York and New Jersey continue to contemplate long-term considerations for the coastal communities battered by Hurricane Sandy there is an acknowledgement that the dynamism of natural systems may be the key to understanding long-term resilience in light of climate change and severe weather events.
Even in the case of building new cities, there is a growing focus on ecological systems, and what they can provide in urban design.  A Master Plan for Lavasa Hill Station near Pune, India was completed recently as a collaboration between HOK architects and the Biomimicry Guild.  Janine Benyus, a biologist and cofounder of the Biomimicry Guild, explained that in considering the design of this new city they used a three part process: (1) understanding what makes the place tick from an ecological perspective; (2) examining and understanding the practices of the site's native flora and fauna, to see how their survival has been sustained in this unique system; and finally (3) developing ecological performance standards using nature as a measure.
In Lavasa, Benyus explained that their main focus was on water and its role in the native moist deciduous woods in the region. Lavasa had seen a loss of its native forest so in envisioning a new city they wanted to restore the key functions of the forest, even if the forest couldn't be fully restored.  From examining the curves and slopes of the native harvester ant mounds to the functions of the tree canopy in promoting transpiration, they were able to create a design for the town that could begin to function again like the native moist deciduous forest, while incorporating a mixed-use development footprint. Though the design of brand new cities is not something that happens every day, and though we hope the redesign of cities in the wake of disasters does not become a regular occurrence, it is clear that urban ecology may actually be the key to resilience and sustainability for the next generation of cities.
Thanks to Don Miskell and Janine Benyus for taking the time to speak about their design projects and process. References: see Resources
Taking Stock
As cities begin recognizing that the most sustainable backbone for development is the community's underlying and surrounding ecology, they are getting busy. They are mapping, studying, and maximizing the use of previously untapped resources to reintegrate this ecology into the urban lifeblood and infrastructure. As many cities grapple with urban blight and contaminated land, they are also beginning to regard not only their open spaces and parks, but their stockpiles of contaminated land, former industrial sites, and vacant lots as assets—not for regenerating just real estate, but also nature, and the many benefits that come with it.
Inspiring examples abound. New York City has created an "Eco-Atlas" of city-owned vacant lands and their potential for ecological restoration and stormwater management. In 2010, as part of an effort to create a new vision for the ailing city of Detroit, the city conducted an audit of its landscape, ecology, and open space. Viewing these systems as the city's central organizing and capacity-building features, the audit informed the Detroit Future City Framework. This Framework will serve as a guide for the city's future decision-making, and includes the transformation of largely vacant areas through blue and green infrastructure. Philadelphia recently took a look at all of its parkland forests in order to better protect, restore, and maintain them into the future.
Examples are certainly not limited to the U.S. The Republic of Singapore used an innovative Landscape Biodiversity Index tool (developed by AECOM) to help plan its Jurong Lake District, envisioned as a global example of sustainable development. The planning and design tool, which tracks performance of multiple, customized biodiversity indicators, allows municipalities to determine how a project will protect and enhance local biodiversity. Even in the nation that sparked the Industrial Revolution, cities are changing the ways they view things like brownfields. For example, when it was discovered that more than half of the brownfield land in London's Thames Gateway area actually supported a high level of biodiversity (including some of the UK's most endangered invertebrates), local authorities began to take a "biodiversity first" approach to planning, even going so far as to designate some brownfields as protected "Sites of Scientifc Interest." This in the same city that transformed a brownfield site into a world-famous Olympic Park.
For a closer look at the way one aging, industrial city is reintegrating ecology, we visit Cleveland, Ohio. Located on the southern shore of Lake Erie, Cleveland was, since the mid-1800s, defined by industry. Iron, steel, and automotive manufacturing dominated this city until the 1970s, when heavy manufacturing began to decrease. As it did, the city's population decreased right along with it. By 2011, the city found itself with more than 20,000 vacant lots, 8,000 of them city-owned. Rather than regard this stockpile as a liability, the city chose to regard it as an opportunity – to revitalize the city and its ecology.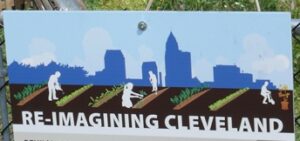 Through ReImagining Cleveland, a city-wide vacant land reuse initiative, the city is creating sustainable solutions to vacancy while strengthening communities and environmetnal stewardship. In 2008, Neighborhood Progress, a community development funding intermediary, collaborated with the City of Cleveland and Kent State University's Urban Design Collaborative to convene a 30-member working group to explore strategies to return the city's vacant properties to productive use.  The resulting report, "Re-Imagining A More Sustainable Cleveland" now guides the city's vacant land use decisions, and ReImagining Cleveland has become a powerful initiative that has helped transform 56 pilot vacant parcels into community and market gardens, vineyards, orchards, pocket parks, rain gardens, and other green spaces. Building on the pilots, ReImagining Cleveland created "Ideas to Action," a resource book to guide others in transforming vacant lands.
So how effective are these vacant land transformations in terms of regenerating a city's ecology?
"You can't change the ecology of an entire city with 56—or even 500—projects," said Terry Schwarz, Director of the Cleveland Urban Design Collaborative at Kent State University, a partner in ReImagining Cleveland. However, she points out that the "social ecology" of the neighborhoods in which the pilot projects were implemented has improved dramatically. "Community members organizing around a shared problem and turning it into a solution," she said.
As for official data regarding the benefits of vacant land transformations like the ReImagining Cleveland pilot projects, we'll have to wait until next summer. That is when Ohio State entomologist Mary Gardiner, who received a grant from the National Science Foundation to study 64 vacant lots in Cleveland, will have some information to share. Her study will also examine how diverse plant communities affect insects, and vice versa. In the meantime, a new round of Re-imagining Cleveland pilot projects will soon be announced. What can Clevelanders expect? Fewer but much larger projects, according to Schwarz.
Cleveland also sees vacant properties as assets when it comes to green infrastructure for reducing stormwater runoff and overflow discharges from the city's combined (wastewater and stormwater) sewer system. Through Project Clean Lake, the Northeast Ohio Regional Sewer District is investing $42 million in green infrastructure projects, many of which are expected to be located on vacant lots and revitalize targeted neighborhoods in Cleveland.
Old railways are yet another ecological resource for Cleveland. As part of its efforts to make Cleveland more bike-friendly, the City Planning Commission has begun converting old railroad corridors into greenway trails. Integrating native plants, water quality improvement features, and ecological restoration, the trails provide a new way for people to experience not only the city's creeks, woodlands, and ravines, but also its unique neighborhoods.
In 2009, at the first Sustainable Cleveland 2019 Summit, an event convened by Cleveland Mayor Frank G. Jackson, participants clarified a new vision for this formerly industrial city: Cleveland will become a model of sustainability and become a leader in the emerging green economy…
"We still have a ton of work do to before every neighborhood builds ecological sustainability into decisions," admits Terry Schwarz. True, but if initiatives like ReImagine Cleveland, and other efforts to maximize the potential of urban ecology continue to thrive, it looks as if the city is well on its way to achieving this new vision.
Ingenuity & Innovation
Across the globe, cities are applying inventive strategies to re-integrate ecology into the infrastructure, culture, and spirit of urban communities. Here, we examine the ways in which three types of cities are combining engineering, science, and good old human ingenuity to boost their resilience in the face of just one regional challenge.
Restoring Vital Lifelines in the Arid Southwest
In arid southwestern U.S. cities, the demand for water is increasing right along with the population, which is growing faster than the national average (U.S. Census Bureau 2010. State & County Quick Facts). At the same time, climate models predict that the region will only become more arid, and face increasingly severe and prolonged droughts. To put it bluntly, the water situation in arid southwestern U.S. cities is dire.  The rivers that run through these cities, have been drastically altered if not sucked dry in the name of flood protection, irrigation, and water resources control. These rivers, which once served as lifelines for people and riparian ecosystems, were dammed, diverted, channelized, and lined in concrete.
Thankfully, efforts to restore the hydrology and ecology of urban rivers are underway in cities throughout the southwest. A promising example is the restoration of the Santa Fe river in the both the city and county of Santa Fe, New Mexico.
The Santa Fe River has sustained the city of Santa Fe since it was settled by the Spanish in the early 1600s. For centuries prior to Spanish occupation, Native Americans lived along the river and used the springs it recharged. The Spanish carved a network of "acequias" (gravity fed irrigation ditches) off the Santa Fe River to support agriculture and provide for domestic and livestock needs. Though the acequias diverted water from the river, the unlined ditches actually helped recharge groundwater, possibly to a greater extent than would have occurred naturally without the ditches (spiegel and baldwin, 1963). They also supported the local ecology. In fact, in 1774, a local resident, Señor don Pedro Alonso O'Crouley, described the Santa Fe River as "a crystal clear river full of small but choice trout."
But the arrival of large numbers of American settlers in the mid-1800s brought the beginning of changes that ultimately resulted in the river's dewatering in Santa Fe. As development expanded, so did the demand for piped water, and the water company engineers built several reservoirs upstream of Santa Fe. The acequias soon dried up and farming in the floodplain virtually ceased.
The combined change in land use and hydrologic regime soon resulted in a drying floodplain and a river that became increasingly flashy, incised, and susceptible to severe flooding. 1968 saw a major flood that floated parked cars on downtown streets.  Flood control became an urgent priority for the city.
A decision was made to increase channel capacity by encouraging incision in the river channel. To do this, the City deliberately removed grade control structures that had previously been placed in the river to protect infrastructure. The result?  Flood capacity increased, but a host of other problems got worse. In one mile-long reach of the urban channel, the river channel dropped a foot per year over 15 years, decimating its riparian habitat and threatening human infrastructure. The city responded with a classic engineering approach, freezing that degraded reach into a concrete and gabion lined trapezoidal channel that became known as "the big ugly." Then, in the early 1980s, the U.S. Army Corps of Engineers proposed lining the downtown reach with concrete colored adobe brown to make it look "historic."
The public reaction against these channelization projects was so vocal that the mayor appointed a citizen's River Task Force to look into restoration alternatives. In 1995, the group developed the river corridor master plan, a multi-year program to restore grade controls, multi-use corridors, and greenways to the river.
The city quickly funded the first phase of implementation, which softened the trapezoidal channel by use of stone drop structures, bank facing and vegetation, but also included a pedestrian/cycling path. This brought people to the river and began to create a constituency for further, more ambitious restoration work.
More restoration projects continued, both upstream and downstream, in the city and county. The Santa Fe Watershed Association led outreach efforts in the downstream, traditional community of Agua Fria to persuade the local folks that vegetative/geomorphic treatments could restore the river their elders remembered. The county acquired a mile of river channel in Agua Fria, displacing an active gravel mine from the reach, and restoration work began in 1998 on the San Isidro River Park.  Now, where there used to be vertically eroded banks as high as 40 feet, there is a sinuous, meandering channel flowing ephemerally and lined with native vegetation.
When Santa Fe's progressive mayor, David Coss took office in 2006, he defined a "living Santa Fe River" as a top priority for his administration.
Biohabitats' Neil Williams has been involved with the restoration of the Santa Fe River for more than 30 years–as City engineer, River Task Force member, and restoration consultant.  "In the 1980s, I felt like an outsider opposing the Army Corps' plans to line the river in concrete," he said. "Today, the Santa Fe community is virtually united around the restoration of this river."
2011 saw the completion of a geomorphically-based restoration of 1.5 miles of the river through the city's densest neighborhood. The project integrated riparian restoration, the creation of a linear urban greenway park running along the river, and a wide hiking/biking trail that has since become a major thoroughfare for commuters.
By 2012, after three years of experimentation with reservoir management, the city codified its commitment to the river by adopting the Santa Fe River Target Flow Ordinance. The ordinance commits up to 1000-acre-feet per year of the city's water supply back to the river.  According to Brian Drypolcher, River and Watershed Coordinator for the City of Santa Fe, this signified a monumental shift in the way the community viewed water. "Until this point, reservoir management was all about getting water into a pipe for municipal water uses," he said. "To say that we are now going to include in our reservoir management practices a commitment to put some water back into the river…that's huge."
Current efforts are underway to restore eight miles of the river in Santa Fe County, extending not only the ecological benefits of a living river, but the hiking/biking trail and its recreation and transportation benefits. Together, these stacked benefits translate to good news, when it comes to a city's bottom line.
"You might think of river restoration as some warm and fuzzy ecological issue that's just going to cost municipalities money, but it's just the opposite," said Drypolcher. "All communities are concerned about economic development and the vitality of the people who choose to live and stay there. Quality of life and aesthetics are big."
Drypolcher has high hopes for the future of the Santa Fe River. "I want the river to be an ecological success story, with habitat for plants and wildlife but also thriving habitat for the social life of the city," he said. "This kind of public open space contributes to our sense of community. This restoration is as much about stewardship of our social infrastructure as it is about stewardship of our water resources."
Taking Pollution by Storm in the Pacific Northwest
Precipitation is part of everyday life in the Pacific Northwest region of North America, but that has not stopped people from streaming in. In fact, growth in the Pacific Northwest has occurred at twice the rate of the continental average. Much of the region's development occurred before the Water Quality Act of 1987 added non-point source pollution amendments to the Clean Water Act. Thus, throughout this majestic region, polluted runoff from rain and snowmelt flows over impervious surfaces and into the very water bodies that define and sustain it. The impacts of this stormwater runoff are severe. Take, for example, Puget Sound.
Over 10,000 rivers and streams flow to the legendary Puget Sound, home to iconic chinook salmon, orca whales, and another 200 species of fish, 100 species of sea birds, and many types of marine mammals. Indeed, this complex marine estuary is one of the most biodiverse ecosystems in North America. Yet, to quote Washington State's Department of Ecology, "The Puget Sound is in trouble." Since 1960 the number of people living in the counties bordering Puget Sound has more than doubled.
In Seattle, Washington, one of the largest cities on the Sound, the number of households is projected to grow by 30% by 2040. At the same time, climate change models predict more frequent and severe winter storms for the region. Combine these projections with the fact that nearly 2/3 of Seattle is served by a combined sewer system, and the knowledge that 75% of the pollution entering the Puget Sound (140,000 pounds of toxic chemicals per day) comes from stormwater runoff, and you can see that the Sound and its tributaries are indeed in trouble.
Just ask Jenifer McIntyre, a fish biologist and ecotoxicologist with Washington State University's Puyallup Stormwater Research Center.  For the last few years, McIntyre has been collaborating with NOAA Fisheries to study the health and survival of salmon embryos, juveniles, and returning adult spawners in the Seattle region. The findings are alarming:  60-90% of adult coho salmon returning to Seattle-area urban streams are dying prior to spawning.
Both in the lab and in the field, the impacts of stormwater on salmon are disturbing. "It's a double whammy," says McIntyre. "Even if stormwater doesn't kill the fish, it can cause some serious development problems, including cardiovascular toxicities, hemorrhaging in the brain, and various deformities." Stormwater runoff also impacts the salmon's prey, which can also cause mortality and reproductive impairment.
The lessons gleaned from McIntyre's studies may be useful to others in the Pacific Northwest. "Our research is in the Seattle area," she said, "but we've heard anecdotally that people are seeing the same thing all the way from British Columbia down to Northern California."
Just what does pre-spawn mortality look like? "The fish show a suite of symptoms that are kind of strange," said McIntyre. "Normally, salmon are afraid of you and swim away really fast. The sick salmon [observed in the pre-spawn mortality studies] are likely to be swimming into the banks, bumping into your legs, swimming on their sides, and very quickly falling apart." It's a distressing sight, even for a toxicologist.  "It is very sobering to see these fish, which have led a fantastic, wild existence in the North Pacific, return to their little homeland stream and utterly fail at their life's mission—to lay those eggs," admits McIntyre. As salmon become reproductively mature and start spawning, explains McIntyre, their bodies begin to degrade quickly.  "They stop eating and their organs begin failing," she explains. "But these things are supposed to happen at just the right time in order for them to have reproductive success. When you find them dead and they're not even physically degraded, it is shocking."
But the news is not all bad. McIntyre and colleagues have conducted studies on soil bioretention systems in the lab and at a hatchery, and the results are promising. Last fall, the researchers found that untreated, polluted highway runoff killed pre-spawn, adult coho salmon within hours. This fall, the team constructed soil filters, took them to a hatchery and did side-by-side exposures of untreated and treated runoff from coal tar-based asphalt sealant. The fish exposed to the untreated runoff died within five hours. The treated runoff, however, performed "wondrously well," according to McIntyre, with exposed fish surviving and showing no symptoms of pre-spawn mortality. "This gives us hope," she said.
This is particularly good news for the people involved with the area's efforts to improve stormwater management. And the committed community of Seattle is coming at this challenge from all directions.
Seattle is known for its innovative approaches to stormwater management. It was the first city in the nation to successfully use green infrastructure in the public right-of-way with its pilot Street Edge Alternatives Project (SEA Streets), completed in 2001. Since then, the city has implemented "roadside raingardens" in many other areas. Green roofs, permeable pavement, stormwater cisterns, rainwater harvesting and reuse, raingardens, and bioretention cells are common sights around Seattle. Citywide tree planting programs abound. Seattle Public Utilities and King County Wastewater Treatment Division's joint RainWise program not only educates homeowners about ways to clean polluted runoff from their roofs, driveways, and lawns, but offers them rebates for implementing practices like cisterns and rain gardens.
The city is also addressing its stormwater problem through the Seattle Green Factor rating system, a program of the city's Department of Planning and Development Department. Based somewhat on Berlin, Germany's Biotope Area Factor and Malmö, Sweden's Green Space Factor, Seattle Green Factor demands, among other requirements, that development projects achieve minimum scores based on landscaping features that promote the use of green infrastructure and stormwater BMPs.
The innovation and technology are not limited to stormwater engineering solutions. They are also being applied to stormwater outreach. Sure, there are web sites, flyers, workshops, interpretive signs, and the usual array of communication tools, but in the last two years, a new effort, known as Tox-Ick, is making use of underwater video to present a unique, diver's eye view of the problem.
Tox-Ick co-founder Laura James has been diving in the Puget Sound for 23 years. Two years ago, after she happened to see a dark plume of stormwater runoff entering the Sound through a pipe, she felt compelled to share what she had seen. "It stopped me in my tracks," she said, of her experience stumbling upon stormwater during a dive. "I knew that if I had never seen it, there was almost no way the general public had any idea."
Tox-Ick's mission is to educate a critical mass of Puget Sound residents about the problem of polluted runoff and promote seven simple steps people can take to do something about it. Tox-Ick provides free outreach resources to anyone, including other non-profit organizations with whom they compete for grants. Among the most powerful resources is the organization's stormwater theater, a library of underwater videos that show both the problem and the living organisms the initiative strives to protect. Some of the videos are so powerfully haunting, they need no voice over.
But perhaps the greatest milestone in Seattle's efforts to address its stormwater challenge occurred within the last nine months. In March of 2013, Seattle Mayor Michael McGinn issued an Executive Order –the first of its kind in the nation –directing all city departments to work together to develop a strategy to manage 700 million gallons of stormwater annually with green stormwater infrastructure (GSI) by 2025. Currently, 100 million gallons are managed with GSI. A few months after the Executive Order was issued, the Seattle City Council endorsed its goal and passed its own resolution establishing green infrastructure as "a critical aspect of a sustainable drainage system," and adopting a policy to "rely on GSI for stormwater management wherever technically feasible" and to "integrate GSI into other appropriate infrastructure investments," among other actions.
According to Seattle Public Utilities' Pam Emerson, who serves as Green Stormwater Infrastructure Policy Advisor to the city's office of sustainability and environment, the Executive Order and City Council resolution represent a significant, positive shift in the city's support of green infrastructure. "Although we have had a very aggressive stance on green stormwater infrastructure in our stormwater code since 2009, we haven't had this type of unanimous policy statement from our elected officials –establishing green stormwater infrastructure  approach as our default and directing us as a city to rely on it wherever we can—until now."
Emerson and colleagues from several city agencies are in the process of assessing options and crafting an implementation strategy for achieving the Executive Order's ambitious goals. The document is scheduled to become public in June 2014.
What types of green stormwater infrastructure projects are Seattleites likely to see as the city works toward its new goal?
"The workhorse technology that people will likely see more of as a result of the Executive Order is bioretention," said Emerson. New partnerships are likely to emerge, as is the use of de-paving. For the most part, the city is looking at urban retrofit projects that can yield multiple, stacked benefits, and optimize both ecological and social function.
"On a right of way drainage project, for example" says Emerson, "the driver may be a stormwater goal, but at the same time we're working in the public realm. We may have transportation, economic development, and tree canopy recovery goals for that same place. We're really looking for opportunities where we can address multiple urban sustainability goals with the same project."
There are many lessons we can take from the Seattle story. The community's multi-pronged approach to managing stormwater runoff, which extends from its rooftops and roadways to the depths of the Puget Sound, reinforces not only our connection to water in cities, but the potential of that water to provide valuable ecosystem services, including critical habitat.
If efforts like those being taken by the people, nonprofits, and municipal agencies of Seattle are any indication, there is hope for the salmon, and indeed for us all.
Coastal Europe: Improving Harbor Hospitality for Young Fish
By Fabien Dubas
Coastal areas are among the most productive locales in the world, providing a wide range of habitats and ecosystem services. They also provide people with food, recreational activities, transportation, and a desirable place to live and set up shop. Already, a significant amount of the world's shoreline is dominated by urban residential, commercial, and industrial development, and according to the Convention on Ecological Biodiversity, 50% of the world's population will live along coasts by 2015. This intense concentration of population has put enormous pressure on our coastal ecosystems.
Aquatic species that rely on coastal zones for nursery habitat have been especially hard hit by coastal development.  As soft, vegetated, coastlines have become hardened by seawalls, bulkheads, and piers, this nursery habitat has been increasingly difficult to find. Breakwaters, and practices like dredging and sand mining, which often occur in urban harbors, certainly don't make it any easier.
Most coastal fish experience a life characterized by the following stages: larvae, post-larvae, young of the year, juvenile, adult, spawning adult. Each stage relies on a specific type of habitat. For instance, post-larvae need shallow sheltered water in coastal areas, whereas spawning adult fish are satisfied with the condition found in open water.  Each year, between March and September, billions of larvae head to shallow coasts, seeking "nursery," where there is the presence of food, calm waters, and protection from predators.  As they grow to young fish, they remain in the shallow coastal areas for varying amounts of time, depending on the species. Only when they have grown to a refugesize when predation is less likely will they move to deeper water.This time spent in the coastal zone is important, as young of the year survival is a crucial factor in the recruitment rate and thus the size of the adult population.  

Unfortunately, this shallow, coastal real estate, so important to larvae and young of the year fish, is also highly sought after by people, for marinas, recreation, commercial endeavors, and residential development. Indeed, bays, inlets, and other calm water areas are preferable for mooring boats, where the lessened intensity of waves protects facilities and limits erosion. This is particularly true in Europe.
According to the European Environment Agency, the growth of hardened or artificial surfaces along Europe's coast is occurring at a rate one third faster than in inland areas. Seawalls, breakwaters, piers, and harbors destroy important shoreline habitats, thus disrupting the coast fish life cycle.


Healthy coastal ecosystems are essential for food security, livelihoods, safety, and well being of the people who live along coastal areas. But without changing development patterns, coastal ecosystems will  not be able to sustain future human migration trends to the coast as well and continue to be productive aquatic systems. Fortunately, policymakers are beginning to recognize that sustainable shoreline management is a priority, and that urban development must be balanced with the protection and enhancement of fragile coastal ecosystems for a resilient future.  Coastal communities, stakeholders, and organizations are working on new techniques and solutions to address this challenge.
European governance has tackled this issue by implementing strategic framework directives. The recent marine strategy framework directive (2008) imposes specific objectives associated with coastal development for different countries. For example, the French government translated this directive into a national program 'National Strategy for Biodiversity' which aims to reduce marine biodiversity losses, improve knowledge about the life cycle of marine organisms,  and propose operational solutions to halt and reverse biodiversity losses. The United Kingdom's '2011 UK Marine Policy Statement' sets forth  their objectives to achieve clean, healthy, safe, productive, and biologically diverse oceans and seas. Many European countries now utilize the Integrated Coastal Zone Management. This approach attempts to balance the needs of development with protection of the resource that sustains coastal economy.
Thanks to these recent policy decisions and regulations, ecological engineering companies are supported in innovating and bringing solutions that promote both sustainable coastal development and the resilience of coastal ecosystems.  Researchers with innovative organizations and companies across the European Union are working to develop new techniques to promote healthy coastal ecosystems while maintaining the important role coastlines  play in the economies of coastal communities. Several examples show the broad array of approaches being developed across Europe.
An innovative substitute for native sea grass is currently being tested in a laboratory in Spain. The research group has developed an artificial sea grass concept which mimics very closely natural Mediterranean endemic species. Though not yet used by coastal managers, this  newfangled concept should provide ecological functions, including nursery and hatchery habitat for native fish and invertebrates and a food source for many species of coastal and marine organisms. Its innovative features allow easy implementation in different environments (rocks, pipes, coral reefs or natural sea grasses) and use for different issues, such as reducing turbidity levels or protecting facilities from erosive processes. Designed to imitate the engineering capabilities of sea grasses and submerged vegetation, the system could be rapidly used to mitigate the negative impacts caused by coastal urban infrastructure and, as a last resort, to replace harmed natural sea grasses.
Development along the world-famous Mediterranean shoreline, which attracts millions of tourists and boaters every year, has become increasingly prevalent. Ecocean, a company based in Montpelier on the French Mediterranean coast, has developed an innovative artificial coastal habitat enhancement called the Biohut®.
A double cage system that is fastened to structural infrastructure integrates crucial ecosystem function into urban coastal development. Its innovative design prevents any impacts for shipping, marina, and harbor operations or capacity. The Biohut® is a cost-effective way to replace essential habitat in developed coastal areas and provide young, coastal fish with the shelter and food they would otherwise find in shallow, rocky water. This then contributes to the growth of adult populations.


The start-up SM2 Solution Marine based in Clapier in France conducts innovative vegetation engineering projects dedicated to the sustainable shoreline infrastructure. His Marine Green Wall solution composed of algae and other marine plants is based on the phyto–purification technology that resorts to the use of natural purification. This eco-conception takes into account both pollution and micro habitat to offer young fish an adapted environment with shelter and food in harbors or other shoreline altered areas. The plants and algae, previously grown into aquariums, are specifically selected for their remediation pollution value. The solutions developed by this company involve the biomimicry approach.
In some places, despite increasing evidence of the important value of coastal ecosystem services, coastal habitats continue to be degraded, one of the factors which could explain this paradox is the poor understanding of ecosystem services.
On the other hand, positive signs have begun to appear, as more and more governments impose  laws to first avoid ecosystem impacts, then to minimize damages, and finally as a last resort, to offset the harm. (NEPA Act, European Habitat Directive)  This government-led awareness encourages companies to develop innovative solutions to respond to these challenges, developing coastal areas while conserving healthy ecosystems.
Some encouraging solutions have begun to appear and show good results.  In addition to providing ecological benefits, these kind of projects are powerful tools for educating communities about the fragility of marine ecosystems, reconnecting ecological networks and ensuring the natural life cycle of fishes continues undisrupted by human development. But even with these promising approaches, there is still a lot to do to ensure healthy, resilient coastal systems. The multitude of benefits to be gained by promoting healthy shoreline ecosystems must be considered before it is too late.
References : see Resources
Form Should Serve Function in Urban Green Space
By Keith Bowers & Jessica Norris
Urban open space isn't just about looking good, and it can reach well beyond providing recreation and cultural resources for the community. Urban open space can also provide ecological services and enhance biodiversity depending on its context, connectivity, size, and the effort we put into it.
The basic tenets of conservation science are widely accepted and have been applied to large parks and wildlife reserves and in an international context. However, there is still a deep disconnect between conservation science and the design of urban open space. Bridging those disciplines will require a paradigm shift.
Urban areas have the potential to be ecologically rich. For example, they can improve water quality, reduce flooding, and provide wildlife habitat. To create spaces that provide such stacked benefits, urban designers must employ conservation science principles in their designs and develop metrics for their success.
There are several reasons that conservation science gets neglected in urban designs. The academic backgrounds of urban designers are in landscape architecture, land planning, and architecture. They do not often include conservation biology and landscape ecology, the disciplines that make up conservation science. This is partly because conservation science has become increasingly theoretical. Although there are more models prioritizing areas for conservation each year, many are created without adequate attention to the practical realities of implementation and go largely unread by practitioners.
Second, the potential for ecological services and biodiversity in urban open space is chronically underestimated. Cities tend to look at a site's recent history and present status and may not realize a site's full potential.
Urban design and conservation science often consider different scales. Conservation planning has leapt forward with the advent of GIS, and newly available data has allowed conservation scientists to work on large landscapes. Many conservation scientists focus on remote rather than urban areas and fail to connect to local decision makers. Conversely, urban designers typically focus on site-specific challenges and opportunities, and may not be able to put place their site into a regional context.
Finally, the metrics for designing and evaluating the conservation value of urban open space are poorly developed.  The powerful spatial tools for conservation planning have not been tailored to the needs of cities.  We rarely measure the effects of interventions touted to improve ecosystem services or biodiversity.
As practitioners, we should design urban open space with the following in mind:
A conservation scientist should be included on the design team. A trained conservation scientist may identify opportunities to realize multiple benefits that would otherwise go overlooked.
Urban designers should champion the idea of maximizing ecosystem services and biodiversity with their clients. Designers have an opportunity to challenge assumptions about a site and bring forth its full ecological potential. For example, standard design elements such as shade trees can be selected for additional values such as their ability to provide habitat for Neotropical migratory birds.
Design teams should think regionally and design locally. Each site fits into a larger matrix that affects its ecological function and biodiversity.  For example, pollinators and water might move onto and off of the site. Accounting for such factors by planning within a larger context can bolster the strength of a site.
Site designs should incorporate metrics that provide guidance for the design and monitoring of ecosystem services and biodiversity. Quantifying the precise scope of ecosystem services and biodiversity should be the norm rather than the exception.
As urban planning expert Timothy Beatley puts it, sustainable and resilient cities represent our best hope for addressing today's environmental challenges. To make this hope a reality, we must bridge the gap between conservation science and urban open space planning and design.
Resources
Books
Advances in Urban Ecology: Integrating Humans and Ecological Processes in Urban Ecosystems by Marina Alberti
Cities as Sustainable Ecosystems by Peter Newman and Isabella Jennings
Design with Nature by Ian L. McHarg
MetroGreen: Connecting Open Space in North American Cities by Donna Erickson
Urban Ecology: Patterns, Processes, and Applications by Jari Niemela, Jurgen H. Breuste, Glenn Guntenspergen and Nancy E. McIntyre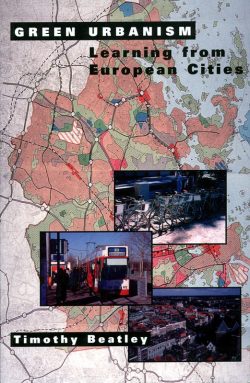 Selected Books by Timothy Beatley
Green Cities of Europe: Global Lessons on Green Urbanism
Planning for Coastal Resilience
Web Sites
The Nature of Cities is a collaborative of 50+ writers from many disciplines and from many places around the world. New pieces are published twice weekly
References for "Ecology at the heart of things – resilience in city-building"
Christchurch Central Recovery Plan,  Avon River precinct, Biomimicry 3.8, Greensburg, KS, Greensburg Master Plan, Lavasa Hill Station Master Plan.
References for "Coastal Europe: Improving Harbor Hospitality for Young Fish"
The continuous degradation of Europe's coasts
Artificial flexible sea grass unit, Network enterprise Europe
UK marine policy statement published
The integrated coastal management
European Marine Strategy Directive
National Environment policy Act
The European Habitat Directive
Biohabitats Projects, Places & People
Projects
NYC creates "Eco-Atlas"
The Jamaica Bay watershed contains one of the largest coastal wetland ecosystems in New York. Among many ecosystem services, it also provides wildlife habitat and buffers parts of Brooklyn and Queens from the impacts of storms. When the New York City Department of Environmental Protection wanted to take stock of city-owned vacant lands within the Jamaica Bay watershed, they turned to Biohabitats to assess their potential for ecological restoration and stormwater management improvement and create a GIS database of the results. The GIS database includes ecological restoration and stormwater management conceptual designs for each site developed by Biohabitats. The team then developed a model to use in selecting and prioritizing the opportunities. Thousands of vacant, city-owned parcels-each holding potential to improve the ecology and resilience of the city- are now captured in a useful "Eco-Atlas" that will guide future restoration and stormwater management initiatives.
Fort Collins , CO: the "best" gets even better
Fort Collins' location in the beautiful foothills of the Rocky Mountains, along the banks of the Cache la Poudre River, is a key factor in the city's consistent appearance in lists of "best places to live."  And if the city's Natural Areas Program has anything to say about it, life Fort Collins is only going to get better.  The Fort Collins Natural Areas Program is responsible for enhancing and protecting the biological diversity and sustainability of more than 1,000 acres of open space along the Cache la Poudre, while also ensuring that these areas can also be enjoyed by the community. While the river corridor provides access to relatively natural areas close to the urban core, these areas are far from pristine — having been impacted for over 100 years by agricultural diversions, armored banks, and gravel mining. In 2009, Biohabitats began helping Fort Collins prioritize opportunities for conservation and ecological restoration within its open spaces, and define values and goals for prioritized initiatives. Since completing that planning effort, we have had the honor of working with the city to develop concepts, design plans, and implement several of these projects.
At Sterling Pond, a section of the Poudre that was heavily scarred by gravel mining, construction is underway to remove the diversion dam, enhance fish habitat, create wetlands in the former gravel pond, and improve ecological function of the floodplain. At McMurray Natural Area, two former gravel ponds with unnatural berms and little wetland vegetation, are currently being transformed into   riparian and wetland landscapes with five different native habitats. We are also working with the City of Fort Collins Parks, Natural Areas, and Stormwater Departments, along with our teammates Anderson Consulting and bha, on the ecological component of a downtown master plan for the Poudre River. Yes, Fort Collins is likely to rise in those magazine rankings of "best places to live," and we take comfort knowing that in the case of this city, the designation applies not just to people, but to the broader community of living things.
From golf course to urban ecological gem
Last winter, Cleveland Metroparks, with support from the Conservation Fund, acquired a 155-acre property in Lyndhurst, Ohio through which flowed the west branch of Euclid Creek, a tributary to Lake Erie. For nearly 90 years, the 155-acre site was home to Acacia Country Club and its expansive golf course. Recognizing the site's potential to improve ecological conditions within the Euclid Creek watershed, Cleveland Metroparks intends to convert the site into a reservation dedicated to the restoration of native northern Ohio ecology. The property, now known as "Acacia Reservation," will enhance wildlife habitat, filter and treat stormwater, reconnect people to the landscape, and build upon one of the most interconnected urban park systems in the U.S.- the nearly 23,000-acre "Emerald Necklace" of open space encircling the city of Cleveland.  Biohabitats has been busy assessing the site and meeting with a diverse and committed group of stakeholders and project partners. Next spring, Acacia Reservation will begin its multi-year transformation into  a new, ecological gem, and we can't wait to see it shine.
100% Water Reuse in Portland's Lloyd Eco-District
In 2010, in an effort to test sustainable development at a neighborhood scale, the public-private partnership EcoDistricts (formerly the Portland Sustainability Institute) proposed the creation of five pilot eco-districts around the city of Portland.  Among the five pilot communities is the Lloyd Eco-District, a 300-acrea area located just east of Portland's central business district. The district is primarily commercial and institutional, though thousands of people work there, very few call it home.  In the eyes of many, it has been seen as a land of parking lots. But that is changing. In September, ground was broken on Hassalo on 8th, a four-block sustainable urban development that includes three residential towers that are envisioned as adding over 650 apartments, new retail and community spaces, and a whole lot of life to the neighborhood. When the developers of this project, which is employing the latest innovative sustainable development technologies and anticipates LEED Platinum certification, sought help in designing a system that would enable them to recycle and reuse all  of the buildings' water, they turned to Biohabitats. The Biohabitats team developed a decentralized water infrastructure solution that incorporates full wastewater collection, treatment, and reuse.  The treatment system, which includes trickling filters and constructed wetlands, will be incorporated into a pedestrian walkway bisects the site.  When fully operational, the system will treat over 45,000 gallons per day, and reuse more than 20,000 gallons per day for toilet flushing, irrigation, and cooling tower makeup.  Treated wastewater not reused in the buildings or landscape will be disposed of in two dry wells.  Not only does this project reduce potable water demand, it also minimizes flows to the municipal sanitary sewer.
Making the Most of Urban Parkland Forest
Philadelphia is ahead of many municipalities in terms of protecting and improving the natural resources in its parks. The city's 5,600 acres of parkland forest have benefited from years of preservation, enhancement and restoration. Despite all of this, the region's history of significant deforestation and land conversion resulted in an extended period of forest re-growth, and along with that re-growth has come an increase in nonnative species. Not an agency to rest on its eco-laurels, Philadelphia's Parks & Recreation Department (PP&R) recognized that more work was needed in order to maintain a healthy urban forest long into the future. To help PP&R bolster its ability to plan, acquire funding for, and manage parkland forest resources in the face of emerging challenges and competing demands, Biohabitats developed a Parkland Forest Management Framework. The framework, which will guide long-term, holistic management of parkland forest resources, addresses resource conditions in need of ecological enhancement, restoration and management, and provides recommendations and strategies to protect, maintain and restore parkland forests for the benefit of the citizens of Philadelphia and the surrounding region. Unique strategies proposed include adaptive management through techniques such as deer exclosures, tree plantings, stream restoration, improved trail connections, parkway connectivity, invasive species management; innovative pilot projects such as the creation of a public food forest. The framework, which integrates stewardship throughout, also provides publicly accessible documentation of PP&R's approach to and rationale for park forest management.
Leading Innovation in Resilient Waterfront Design
Earlier this year, in response to the devastation of Hurricane Sandy, the New York City Department of Housing Preservation and Development, AIA New York, and other sponsors organized the FAR ROC design competition, which solicited creative, resilient development strategies for an 80-acre site on the city's Rockaway Peninsula. The intent was to develop best practices for sustainable development in waterfront areas that can be implemented throughout New York City and in vulnerable communities everywhere. Led by Ennead Architects Biohabitats' FRED (fostering resilient ecological development) team was one of only four finalists selected from the contest's 117 entrants. Our team's design response began and ended with dunes. Dunes provide more than just coastal protection; they provide habitat, community and a sense of place. Taking cues from New York City's Comprehensive Waterfront Plan, and using existing topography to our advantage, we proposed the creation of a robust ecosystem that can adapt to the rising tides over time. The dunes also allow the movement of sand, wind and water while supporting coastal housing and infrastructure.  Our bold, compelling solution, garnered the award for "Leading Innovation in Resilient Waterfront Design."  Our award-winning team also included Atelier 10, Hargreaves Associates, Langan Engineering, and LERA.
Federal Courthouse Gets Sustainability Makeover
Every drop of rain has value, particularly in the high desert of the American southwest. But not long ago, thousands of gallons of untreated stormwater from the parking lot and one-acre rooftop of the Pete V. Domenici U.S. Courthouse in Albuquerque, New Mexico were being pumped directly into the storm sewer and put on a fast track to the Rio Grande. Today, it's a whole different story. A key member of a team led by Rios Clemente Hale Studio, Biohabitats helped design a plan to enhance the sustainability of the site's 3-acre landscape.
The project involved replacing turf grass to native, xeric plants, harvesting rainwater from the rooftop for use in irrigation, and diverting stormwater into depressed planting beds, where it is intercepted, slowed and filtered through bioretention.  Any excess enters the existing stormwater infrastructure. The site's three-acre landscape has truly transformed over the past year. Vast expanses of turf grass, impermeable paving, and high water-use plants have been replaced with xeric plantings appropriate for the Rio Grande valley and inviting permeable pathways. Removed paving has been repurposed in landscaping walls and stormwater management features. Drainage patterns designed for the front plaza, which reflect chevron patterns common to Pueblo weaving, now direct water to a rain garden. The 16,000-gallon rainwater harvesting system we designed for the courthouse has reduced potable water use for irrigation by more than 75%. The project was so successful that it earned the Sustainable Sites certification by the American Society of Landscape Architects.
Squaring up an Urban Park
Behind one popular branch of Baltimore's Enoch Pratt Free Library is a 1.1-acre wedge of green space that is surrounded by blocks of impervious surfaces in all directions. Known as "Library Square," the land sits directly atop Harris Creek, a buried stream that conveys a tremendous amount of stormwater when it rains. This stormwater has been the cause of flooding in the neighborhood, and a major source of pollution and trash to Baltimore's Inner Harbor, which drains to the Chesapeake Bay. When Blue Water Baltimore, in partnership with Banner Neighborhoods, won a Chesapeake Bay Trust Fund Grant to create buildable design plans to redevelop Library Square, they turned to Biohabitats for help. Incorporating key aspects of previous master plans for the site, we are crafting a design that will maximize stormwater management while improving the park's safety, sustainability, and responsiveness to the needs of its users. The new Library Square will feature raised crosswalks, flexible permeable pavement, raingardens, a canopy of mature Linden trees. The plantings will be part of a larger "pollinator garden" that is planned for the  local elementary school, a nearby vacant lot, and the front of the library. The design, which has already garnered the support of the community, will treat runoff from more than two acres of previously uncontrolled impervious surfaces.
Places
Earlier this month, Biohabitats president Keith Bowers joined eight mayors and a team of five other design professionals in Baton Rouge, Louisiana for the Mayor's Institute on City Design South, a two-day problem solving session on urban design. The Mayors' Institute on City Design is a National Endowment for the Arts leadership initiative in partnership with the American Architectural Foundation and the United States Conference of Mayors. Since 1986, the Mayors' Institute has helped transform communities through design by preparing mayors to be the chief urban designers of their cities.  With an emphasis on southeast cities, Keith and the other design professionals worked with mayors from  Houma, Louisiana, Wheeling and Huntington, West Virginia, Hinesville, Georgia, Covington, Kentucky, San Marcos, Texas, Juniper, Florida and Portsmouth, Virginia, on critical urban design challenges facing their cities.   Keith's experience in urban ecology, green infrastructure and regenerative design complimented the group's experience in urban planning.
Days ago, Biohabitats President Keith Bowers was in Seoul, South Korea attending the Forest Land Forum International Symposium on Conservation and Restoration of Mountain Forest Landscapes. Keith was invited to speak at this event, which was jointly hosted by the Korea Forest Conservation Association, the Korea Land Forum, the Korea Forest Service, and the Korea Forest Research Institute. Keith joined distinguished speakers from around the world in presenting the latest advances in science and research related to mountain forest landscape protection and restoration. Keith will share insights and observations from the symposium on the Rhizome blog, so stay tuned!
Tom Denbow and Kevin Greiser from Biohabitats Great Lakes Bioregion office wouldn't miss the Northeast Ohio Regional Parks Conference on January 7 in Kirtland, OH. Would you?
Invasive species specialist Kevin Heatley will head to Naples, FL January 9-11 for the Everglades Coalition Conference, the largest annual forum for debate about the conservation and restoration of the Everglades.
Ecological engineer Chris Streb and senior environmental scientist Peter May will be in Gainesville, FL January 16-18 for the 8th Biennial Emergy Research Conference. Peter will present "Environmental Accounting of Tidal Freshwater Mudflats and Emergent Marsh Restoration" and a poster entitled "Emergy Anaylsis of the Planned New Deal Community of Greenbelt, Maryland."
Biohabitats is proud to sponsor the January 22-26 meeting of the Southern Division of the American Fisheries Society in Charleston, SC. If you plan to attend, don't miss Keith Bowers' talk on ecological restoration.
From January 28-30, more than 1,200 people will gather in Washington, DC to advance solutions to climate change a 14th National Conference and Global Forum on Science, Policy and the Environment: Building Climate Solutions. One of them will be Biohabitats Kevin Heatley. At this event, organized by the Natiional Council for Science and the Environment, participants will develop strategies and tactics that advance solutions to minimize the impacts of anthropogenic climate change.
Erin English, Justin Lyon, and Neil Williams from Biohabitats Southwest Basin & Range office will be in Albuquerque, NM February 20-21 for the Land & Water Summit. Hosted by the Xeriscape Council of New Mexico, the event will explore the theme of Drought as an Opportunity for Change.
Biohabitats is delighted to be a sponsor of the 2014 2/23-26, Upper Midwest Stream Symposium. This year's event, which will take place in Lacrosse, WI, includes presentations by Suzanne Hoehne of Biohabitats' Ohio River Bioregion.
People
Matt Koozer, Senior Restoration Ecologist and Construction Manager
Matt Koozer has always loved the outdoors. In the 1990s, he spent his college summers working in Yellowstone and Glacier National Parks with one main goal in mind: get into the back country and spend some quality time with grizzlies. Though he was able to do that, he was surprised by another outcome of the experience: the joy of forging human connections, particularly those he made with senior tourists who treated him like a grandson as he coaxed them up serious climbs. Fifteen years that have passed since Matt's last summer in Glacier, and he has spent every one of them applying both his knowledge of the natural world and his appreciation for human connections to the restoration of Pacific Northwest ecosystems. Throughout Oregon, Matt has helped design and construct projects involving floodplain reconnection, dam removal, levee breaching, and large, woody debris habitat structures.  "I'm proudest," says the Portland resident, "when I can look over my shoulder on the way home and see habitat restored that will live on and function in perpetuity." We're pretty sure all of those surrogate grandparents would be proud, too.
Nick Schreiner, Water Resources Engineer


If there's one thing Nick Schreiner is not, it is risk averse. For fun, he competes in cylo-cross, a muddy, adrenaline-filled sport described as a steeplechase on a bike. As a kid, Nick dreamed of exploring space as an astronaut, and though his career aspirations ultimately shifted toward engineering, he remained fearless in his pursuit of meaningful life and work experience. After graduating college, he traveled nearly 5000 miles from his Iowa hometown to West Africa, where he serves two years in the Peace Corps in Mauritania and Mali. Before joining Biohabitats' Cascadia Bioregion earlier this month, Nick worked as a water and sanitation engineer for Médecins Sans Frontières (Doctors Without Borders) in the conflict-torn, unstable South Kivu region of the Democratic Republic of Congo. Drawn to Biohabitats by the firm's non-traditional, holistic approach to environmental challenges, Nick believes that truly comprehensive design engineering must take into account the social, cultural, economic, and environmental factors at play in every project. We're thrilled to this intrepid engineer apply his pioneering spirit and engineering expertise to projects involving the design of water and wastewater systems that incorporate natural systems and integrated ecology. We're delighted to have Nick on board, and we wish him well this holiday, which he has chosen to spend helping the Médecins Sans Frontières Belgian relief team develop water infrastructure for temporary medical facilities in the Central African Republic.
Instagram Urban Ecology Photo Contest