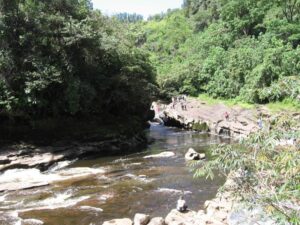 Colombia, South America. Bring it up in conversation and, based on my observations, most Americans immediately think of illegal drugs, then kidnapping and other security threats.
Having recently returned from a week-long visit to Colombia, I say it's time to move on from those stereotypes. Colombia is an amazing country. Just from a geographical perspective, it has two coastal areas (Pacific and Caribbean), Amazonian tropical jungle, vast low-lying tropical grasslands, and inland river valleys separated by three Andean mountain ranges that extend up through various ecoregions to elevations of 17,000 feet.
Colombia's overwhelming variety of landscape features is further reflected in its biodiversity. While Brazil boasts the highest biodiversity in the world, Colombia, which is seven times smaller, is second. According to the Convention on Biological Diversity, Colombia hosts close to 14% of the planet's biodiversity (while taking up only 0.8% of its surface). Scientists have counted 35,000 vascular plants, 467 mammal species, 1,768 bird species, 609 amphibian species, and 475 reptile species.
In the midst of all this natural abundance are the Colombian people, who have a warmth and outlook on life that make visiting a true pleasure. The main motive for my visit was to participate in the Uso Racional del Agua (Rational Use of Water) conference, which was organized by Professor Miguel Cifuentes from the Universidad Surcolombiana.
I was impressed by the environmental ethic expressed by the speakers (mostly from Latin America) and the Colombian college students in attendance, and by the overall recognition of the country's ecological treasures.
The location of the conference, San Agustin, Huila (also site to amazing pre-Hispanic archaeological parks), is in an important coffee-growing region.
Many of the local students were studying and working in fields related to coffee production. Their focus for that area was to produce high-quality coffee beans grown sustainably to meet strict certification parameters. They had an innate understanding of the connection between caring for the land, respecting the region's livelihood, and expanding the financial value of their product – the essence of sustainability.
While we may not get the full story in the U.S. of events in Colombia, I'm heartened and humbled knowing that there are people working to protect and improve the incredible natural resources of the country. Their efforts not only help their own communities, but, due to the critical role that Colombia plays in housing so much of the planet's biodiversity, they are helping the entire world.