"It's a win for nature." – Biohabitats Founder, Keith Bowers
On October 30, 2023, Biohabitats was presented with the American Society of Landscape Architects' 2023 Landscape Architecture Firm Award, the highest honor the organization bestows on a firm. Keith Bowers, founder and president of Biohabitats, accepted the award along with team members Jennifer Dowdell, Erin English, Chris Streb, and Jim Cooper. The award was presented in Minneapolis, MN during the ASLA's annual conference.
"This recognition is for celebration not only for Biohabitats and our project partners," said Bowers, "but for everyone out there who is working to develop nature-based solutions to create a more just, resilient, and biodiverse world."
Biohabitats is unique among landscape architecture firms, in that its practice is grounded in the science of ecology and its team members include landscape architects, environmental scientists, ecological engineers and planners. Since the firm's founding in the 1980s, they have applied this interdisciplinary approach to help their clients restore and protect thousands of ecosystems throughout North America.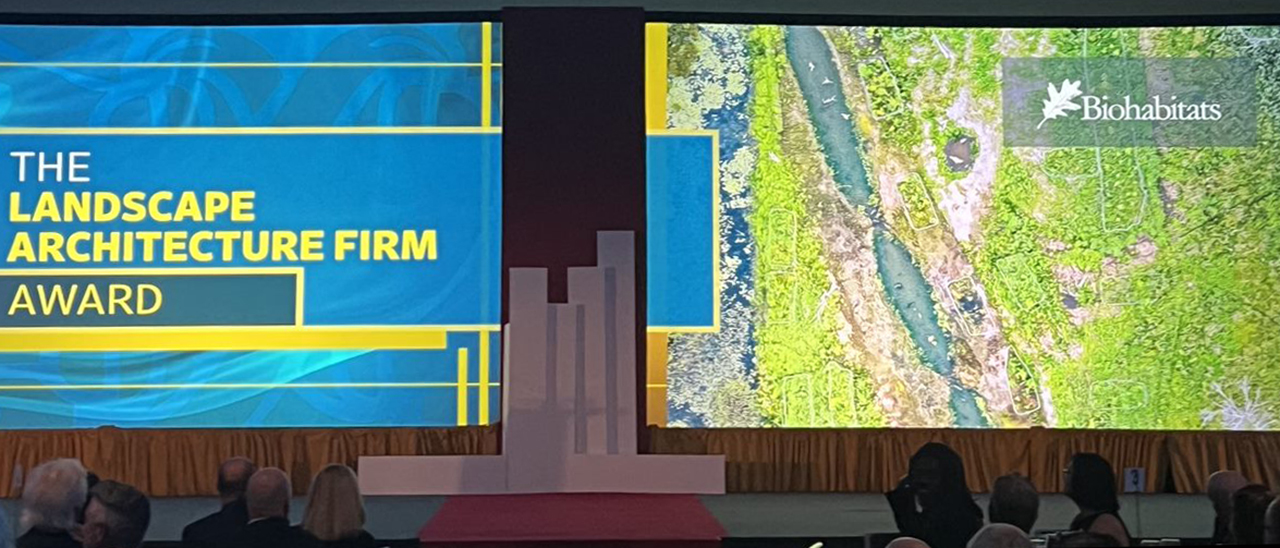 ABOUT BIOHABITATS:
Biohabitats is an applied ecology firm working to restore nature, conserve biodiversity, protect fresh water, address climate change and right environmental injustices. They apply cross-cutting research to plan, design and construct projects that restore the earth and inspire ecological stewardship.  With offices organized by bioregions, Biohabitats combines local ecological knowledge with science to help solve some of today's most pressing environmental challenges.  Biohabitats is a certified B Corp, member of 1% for Planet, and holder of a JUST label. As a trust owned company, Biohabitats sole shareholder is Nature.
ABOUT ASLA:
Founded in 1899, the American Society of Landscape Architects (ASLA) is the professional association for landscape architects in the United States, representing more than 15,000 members. ASLA Mission: Empowering our members to design a sustainable and equitable world through landscape architecture.