Environmental & Social Responsibility
Taking a stance
We believe our business should be a force for good.
Our mission to restore the earth and inspire ecological stewardship permeates not only the work we do but the way we operate our business. Biohabitats supports initiatives and advocates for causes that work toward a more biodiverse, sustainable, and equitable world.

2022 Annual Benefit Report
2022 Annual Benefit Report
We are pleased to share our progress toward the highest standards of accountability, transparency, and social and environmental performance in our 2022 Annual Benefit Report.
View the report by clicking on the "2022 Annual Benefit Report" button to the left.
2022 Annual Benefit Report
Our B Corp Profile
B Corp
™
B Corp™ is to business what Fair Trade certification is to coffee or USDA Organic certification is to milk. B Corps™ are for-profit companies certified by the nonprofit B Lab® to meet rigorous standards of social and environmental performance, accountability, and transparency.
Biohabitats was founded with a vision that our business would be driven first and foremost by our mission and values. We now live that vision through our projects and day-to-day operations. Becoming a certified B Corporation® expresses our enduring commitment to dedicate our business toward social and environmental good.
Our B Corp Profile
1% For the Planet
1% for the Planet is a global network of businesses, nonprofits, and individuals working together for a healthy planet. Business members commit to supporting approved environmental nonprofit partners by donating the equivalent of 1% of sales through a combination of monetary, in-kind, and approved advertising contributions.
Launched by Patagonia founder, Yvon Chouinard, and Blue Ribbon Files founder, Craig Mathews, 1% for the Planet advises on giving strategies, certifies donations, and brings dollars and doers together to accelerate smart environmental giving.
Learn More

See our JUST label
JUST
Similar to a nutrition label on food packaging, the JUST label helps stakeholders understand the composition of a company—its values, business model, policies and workplace culture. Created by the International Living Future Institute, the JUST program provides a transparent platform for organizations to voluntarily disclose initiatives in the categories of Diversity, Equity, Safety, Worker Benefit, Local Benefit, and Stewardship. We're honored to be part of a growing community of businesses focused on improving social equity and enhancing employee engagement.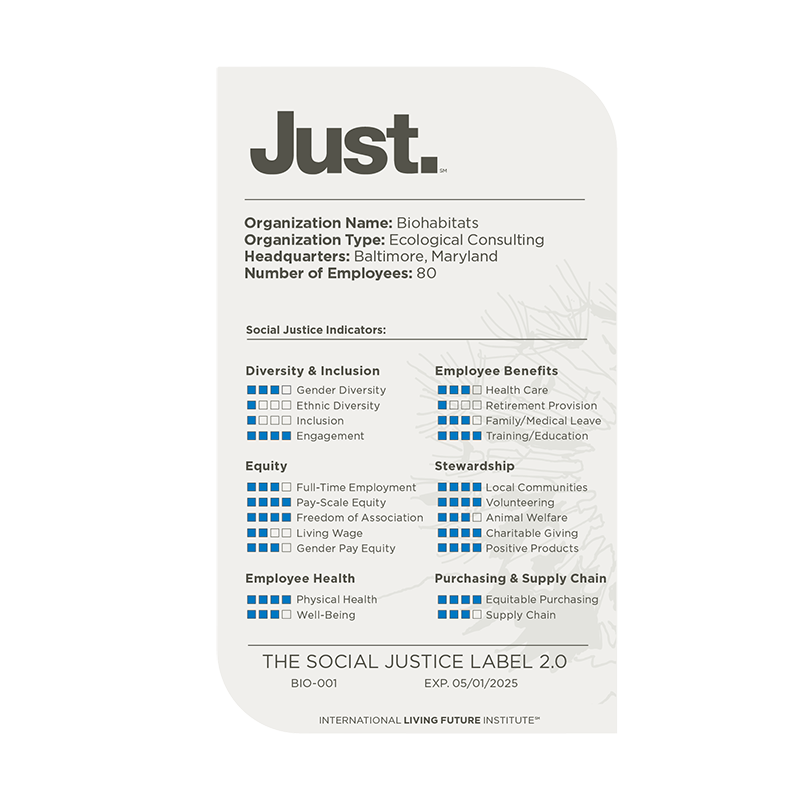 Created by the International Living Future Institute, the JUST program is a voluntary disclosure tool for organizations to elevate internal discussions, policies, and procedures and create a common language and measurement framework for social justice issues. Just is a call toaction, and Biohabitats is committed to being a more transparent, equitable, and socially just organization.
See our JUST label
Offsetting our Carbon Footprint
Our 2021 carbon offsets were purchased through Cool Effect, a nonprofit that helps companies offset carbon emissions by supporting high-impact, carbon reducing projects that promote human rights and indigenous agency, protect endangered species, provide developmental programs, and conserve ecosystems. We are honored to support three such projects: Watering the West, Cooking with Gas, and For Peat's Sake.
When Cool Effect was launched at the Paris COP in 2015, its founders sought out to change the conversation surrounding climate change and carbon credits with transparency and scientific review.
Learn More
Taking Action
Heal Nature's Wounds
We are proud to sign on to the Rewilding Institute's campaign to reverse assaults on wild nature.
Learn more
Black Lives Matter
Biohabitats shares in the grief and is devastated over the senseless and brutal murders of George Floyd, Breonna Taylor, Ahmaud Arbery, David McAtee and the many more black lives that have been lost to police brutality, systemic racism, and blind neglect. We extend our sincere condolences to their families and to all who are in mourning and outraged over the clear disregard for black lives.
Biohabitats has not done enough. We are committed to doing better. We will strive to listen, learn, amplify, support, and fight for equity and justice. We will explore ways to continually take action that amplifies the voices of the black community and other minority groups—action that confronts racism and inequality, demands justice, and restores communities.
Climate-Friendly Policy
We're committed to eliminating, minimizing, and mitigating our contribution to carbon-based emissions and other human actions that jeopardize the ability of our climate to sustain all life on this planet. Our goal is to be a 100% carbon-free organization in our business operations by 2025 and our projects by 2030.