Thoughts on the Education of Tomorrow's Practitioners
In our day-to-day work, we often find ourselves projecting into the future: "How will sea level rise affect shoreline resources and species distribution…What impact will changing land use patterns have on the regional ecology?"  But are we asking enough questions about the future of our field itself? How are tomorrow's practitioners preparing for careers in ecological restoration, conservation planning, and regenerative design? Join us as we examine the education of those to whom we will one day pass the baton.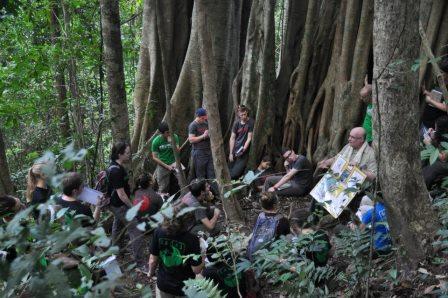 We begin with the educators. We asked six professors in different parts of the world the same six questions, revealing interesting threads and surprising differences.  To gain insight into the student perspective, we chat with Biohabitats' summer interns about their education and their hopes for the future.  Leaf Litter's Spotlight shines on a unique, international postgraduate program in Sweden that is cultivating a new generation of leaders in sustainability. Biohabitats' own Dr. Peter May, who is both a practitioner and educator, reflects on his experience leading a group of students on a study abroad course on ecology and natural resources in Rio de Janeiro. What do today's practitioners wish they had learned in college and graduate school? We asked via social media and share some of the responses.
We also provide links and resources related to education in ecological restoration, conservation planning and regenerative design, and share the latest news at Biohabitats. What are your thoughts on the education of tomorrow's practitioners? Share them with us!
Leaf Litter Talks with Professors around the Globe
To get a sense of the triumphs and challenges associated with educating tomorrow's restoration, conservation, and design practitioners, we asked six professors in different parts of the world the same six questions. The professors teach subjects ranging from biology and restoration ecology to engineering and environmental design. Their answers revealed some interesting threads, along with some surprising differences.
Engineers, scientists, planners, designers, etc. need basic core training classes, but problems in the world often exist at junctions between fields. Do you think tomorrow's practitioners need to be interdisciplinary problem solvers? If so, how do train them in interdisciplinary problem-solving without watering down skill sets? 
Lamb:  There are a number of different "tribes" in our field. There's a restoration tribe, which talks to itself, goes to its own conferences, and has its own journals. There's a forestry tribe, who is interested in many of the same things, but goes to different conferences and reads different journals. There's a rural development tribe, a conservation biology tribe, a carbon sequestration tribe, etc. By and large, none of these tribes talk to one another. The best way of training students to be interdisciplinary problem solvers without watering down core skill sets is to regard the university degree as only the start of the educational program. One way interdisciplinary problems can be tackled is to have people work with members of other "tribes" so they can see the same problems from different perspectives. The best way to do this is not in the formal lecture setting, but working on the ground.
Hood: The notion of interdisciplinary problem solving is not a recent mantra in design; it's just that we forget. We go through different movements. The civil rights movement brought social scientists into urban planning and design. By the time we had the oil embargo in the 1970s, when we were thinking of alternative energies, many design schools merged disciplines to create a multidisciplinary pedagogical framework. But have we left our silos, even though we're all under one roof, to talk to one other? I would say we don't do that very well. Students actually do it better than faculty.  From what I have seen over the last 20 years, students want integrated learning because they see that the problems of the world require integrated thinking. They're not looking at professions as being singular. They're seeing themselves as needing a lot of skills. Hopefully, in the future, we will not be so focused on the field [of design] itself but on the ideas, and the ideas will allow for research and teaching at the university to be more multidisciplinary. We're beginning to do that at [UC Berkeley College of Environmental Design], where we have more conversations with the law school, business school, and engineering school. These relationships are important.
Cisneros: I am convinced that interdisciplinary, transdisciplinary, and multidisciplinary work is very important to solve problems and to find solutions to our own professional issues. That's why I am convinced that these competencies, knowledge, skills, and values, must be introduced through education in each of its levels; from preschool to college. We have to teach and to be educated with a model where collaborative and multidisciplinary work is the norm. While doing so, we will develop more than solutions. We will develop values that will improve our society.
Unwin: Multidisciplinary approaches are paramount. They are also fundamental to understanding what a successful restoration project is going to involve. Many of [Niagara College's] graduate certificate programs are practical in nature. Rather than going down a master's degree pathway of purely academic research into one aspect of restoration, our students, who may have four-year honors degrees in biology or physical geography, come to us to be trained in the practical skill sets required to be a good practitioner. A lot of them come in completely frustrated with the fact that they have a four-year degree but they lack any practical skills whatsoever. They've never taken a water sample; they don't know how to do a prescribed burn; they don't know how to do taxonomy of some of the native species in a particular life zone. So we teach them those skills, and we train them through a multidisciplinary program. We do a year-long field project where we link the students with local conservation authorities, parks and organizations. They assess a site, looking at soil quality and land-based issues causing ecosystem degradation. Then they devise a restoration strategy, which includes recommendations for implementation, monitoring plans, and adaptive management. At the end of a one-year graduate certificate program, they have a resume that illustrates some knowledge and ability to a potential employer.
Gauthier: Effective problem solving often requires an understanding of systems theory and how individual areas of expertise are affected by and influence other parts of the relevant systems. This is true for the various consultants involved in the design of a new building, farmers and other parties involved in agriculture, and economists and politicians developing policies to improve the economy. We definitely need practitioners with in-depth knowledge of their respective fields, but we can't responsibly teach any field without identifying how it fits into the larger picture. If we educate students on the processes to identify effective solutions and they are aware of their part's role in the larger system, we'll develop better problem solvers.
What trends have you seen over time in the student population, and in what way(s) do these trends give you concern…or hope? 
Lamb: Students always give me hope. That has been constant throughout my career. Over time, students have become more quantitative in their studies and reporting, which is a good thing. They have also become more international in their perspective. Rather than just looking at Australian problems, they have become more aware of the wider world, and they're looking at issues on a global perspective.
Hood: At the undergraduate level, I'm beginning to see more students actually creating their own programs. They say, "This is what I want to do in the world, and if there is no program that fits, I'm going to make my own." At Berkeley, we have interdisciplinary programs where students can take classes in different schools and write their thesis. Smart students are not waiting around for the institution to chart the course. Trends that cause concern? What I have seen from talking to students is that no one has failed at anything. So it's harder for them to take risks, to try something out, fail at it, and have it lead to something else.
Gauthier: In approximately 15 years of teaching college students, I have noticed a rapidly increasing percent of students taking courses on sustainability with the hopes of finding a good job or because they recognize the improved value proposition of sustainable development. The makeup of today's classes is significantly different than in the past, when the only students taking a sustainability elective were passionate environmentalists looking to get into conservation and activism. While occasionally I might reminisce about the old days when students in my classes were there for seemingly altruistic reasons, it gives me a lot of hope to see such important issues becoming incorporated into the mainstream. It is great to see our future business men and women, educators, politicians and others studying sustainability because they see the link to their chosen professions.
Unwin: A consistent trend in our restoration post-graduate program, which has been around for about 15 years, is that it seems to attract a lot more females than males. We have had at least a two-to-one ratio. Another trend has been a more socially conscious student. The complacency I saw in the first eight years of teaching has been replaced by more activism in nature. People are fed up with decisions that are being made that will affect their generation, and they're quite willing to step up to the plate and do something about it.
Cisneros: In engineering competition exists at the professional level and between students.  This could be a result of the psychological and educational formation of engineers. On the other hand, new generations of highly educated college students are ever more thoughtful, critical, and active.
Elliott:  Students in Thailand seem to have shorter attention spans than [when I started work here in 1986] and are more interested in "getting grades" than in their chosen subject areas. The major shift was with the introduction of "student centered learning" in schools 15 years ago, whereby pupils were encouraged to 'discover things for themselves' instead of receiving skills, wisdom, knowledge etc. from the teachers. Whilst this may work for some subjects, it does not work for languages. Hence my impression is that the standard of English (essential as the international language of science) among students starting university has markedly dropped in recent years. It means that research students are finding it more and more difficult to get papers accepted by international peer reviewed journals and much of the information they generate remains as obscure poster presentations at conferences.
How do you balance teaching "how to think" (scientific principles/methods/analytical inquiry) with teaching about tools (e.g., GIS, modeling) that help students evaluate data and reach conclusions?
Lamb: After you have the basics, you pose questions rather than describe what is known. Pose a particular, real problem and get students to explore. That is often best done as a group. We used to have week-long field trips – one to a rainforest area south of Brisbane, and one to a semi-arid area far west of Brisbane. We'd give students a particular project to work on over a week. We'd say, "To tackle this, you need to articulate the question you are going to ask and how you're going to get a yes, no, or quantitative answer." We'd also have them to write up reports. The experience of having to pose and answer a question (and sometimes realize you haven't posed the question very well and have to rephrase it), and then write a report about it in a short period of time is a good way of achieving that balance. There's only so much you can do in a lecture room. You've got to get out and apply things.
Gauthier: In all of my general sustainability courses, I try to emphasize processes over specific solutions. Rather than do students the disservice of suggesting one-size-fits-all solutions to our rapidly changing world, I stress systematic problem solving methods that, if applied correctly, will naturally incorporate the most appropriate tools and technologies for a given situation. Many of these classes include a review of tools commonly used to support the problem solving processes and incorporate their outputs, but rarely do I go in-depth into any one tool. For tools I find to be the most valuable or those I feel especially qualified to teach, I will dedicate entire courses to their practical application. When teaching "energy auditing of existing buildings" or "preparing an institutional climate action plan" for example, I emphasize that these specific tools are part of larger efforts of institutional sustainability.
Cisneros: In the past, students were more passive in their learning. They had more knowledge than rationale. They could memorize a large amount of knowledge related with their profession. However, focused changes in curriculum in Mexico have generated more competent students. The learning process has become a more thoughtful process which nurtures problem solving through the use of modeling tools that allow them to evaluate different scenarios and propose solutions.
Unwin: We encourage students to use tools, but apply them to projects and real-life scenarios. When we walk them through real-life scenarios, when they can compare what their approach would have been with real life strategies, they can self reflect, and incorporate what they learn into problem solving. We have 15 acres of wetland that we're restoring right on campus. Rather than talk about a wetland restoration project and the variables that need to be considered, we go out and look at ours. Then I say, "You guys are going to come up with the next phase of restoration plans for this site." With undergrads, you often have to illustrate to them that they already have the knowledge to solve a problem. A bunch of students once complained to me about a hydrology course taught by a colleague. They weren't given a formula to solve a problem in an exam scenario. It was a groundwater monitoring well, and they had to determine groundwater flow using a formula and they had to determine the volume of water in the cylinder itself. They said, "We weren't given that formula. [The professor] didn't even talk about how to determine the volume of a cylinder!" I said, "Guys, how do you determine the surface of a circle?" They said, "Pi r squared." I asked, "How do you determine volume?" They said, "Surface area times depth." I looked at them, and they had one of those "a-ha" moments.
Hood: It's hard. With technological changes, the tools have become more accessible, but sometimes the tools get in the way. It's easier to get information, but sometimes you can have too much information, and this does not allow you to be rigorous. I am constantly talking about how to make sound decisions with the information you have. With so much information, there's often an assumption that all it is all good and correct.
Elliott: "How to think" must be taught through practical exercises as close as possible to real life situations. Set up real life situations where students have to take on the role of characters with different points of view (usually not their own). For example, I run a lab which re-creates a workshop that actually happened to establish an eco-tourist lodge in Doi Inthanon National Park. Each student plays a randomly assigned person who actually attended the workshop: the Park Chief, the village chief, the women's group leader, the conservation NGO leader, etc. They go on a field trip to gather facts and then meet as a committee. They must reach a compromise agreement arguing from the point of view of their characters. Then we see if their conclusion matches that of the real committee. In another exercise they become the leader of an NGO applying for funds to set up their own project. They must present their proposal to the "WWF Committee," which is the rest of the class, and we go through the process of how conservation funders allocate funds. It teaches leadership, concise proposal writing, convincing speaking, and how funders work.
How important do you consider collaboration among academia and practitioners? How much of this type of collaboration do you see/experience?
Gauthier: I believe collaboration between academia and practitioners to be extremely important. Students realize very quickly when an instructor's teachings are purely theoretical without the benefit of real-world application. When students are hoping to someday apply their learning out in the job market, they're looking for practical examples of how the lessons of the classroom relate to the real world.
Hood: In practice, collaboration is key. I try to instill in my students the need to be very clear about why and how they do what they do. So when they're working with others, it's not about power or a hierarchical relationship. It's about having something to offer. Some of the best collaborations I've been involved in have been those where everyone is comfortable with their skill set, so there is no need to flex. We try to offer a very diverse set of experiences. Our studios range from entry level, which are about learning the craft, to advanced, which are about applying the craft. In advanced studios, students actually engage with clients (along with faculty and practitioners). At Berkeley, a lot of the projects are public realm projects, so students are engaged with some city or locale. We also try to have practitioners teach some courses.
Lamb: From an academic's point of view, this type of collaboration helps you keep your feet on the ground. You don't get so diverted away with the fascinating, little questions that only you and a half dozen other people are interested in. A few years ago, there was a government initiative called Cooperative Research Centres. The objective was to bring together, academics, researchers, and practitioners in a way that would further the economy. A number of the centres had to do with environmental issues, and I was involved in one related to rainforest management. There is a patch of rainforest that runs along the east coast, and it has a high proportion of our national biodiversity. Much of it was cleared in the late 19th century for agriculture. Some of the land has been badly damaged, so there is a lot of interest in reforesting. We were forming partnerships with government agencies and private landholders and looking at ways to reforest. It was good because we could see things from the practitioner's view point and we had to rearrange our priorities as to what was the most important research question.
Elliott: Critical. There's no point in doing science if it remains locked up in journals no one can afford written in a language hardly anyone can read fluently (English). Our unit sees research and outreach as equally important, and we pass on skills and knowledge to a wide range of stakeholders, from government officers (often from abroad) to villagers and school kids. It's actually more fun to pass on research results than to generate them. We also publish all our books in a range of local languages: Thai English, Lao Khmer, Vietnamese, and Chinese.
Unwin: I don't think there is enough collaboration between academics and practitioners. Maybe [the Ecosystem Restoration program at Niagara College] is an illustration of where that crossover could occur. Most of our courses are taught by practitioners, rather than university academics. There is a huge importance to research in areas practitioners cannot understand or don't have the time to spend on. There has to be a feedback loop between academics and practitioners. I don't think there is enough communication between those two worlds in terms of where practitioners may have some on the ground struggles. Adaptive management principles apply, and practitioners can keep trying different strategies, but at the end of the day, if they aren't able to solve a particular problem, maybe pure, academic science can step in and say, "Let's look at this at a different level and feed back to you information you require to make on the ground restoration more successful."
Cisneros: In the engineering field in Mexico and at Universidad Autonoma de San Luis Potosi, there is a tendency to reach out to the industry and professionals. This program is known as Professional Residencies (Residencia Profesionales) or "Estancia."  These are similar to internships, where the student is introduced into a company with the purpose of gaining experience. This also allows the company to meet students and consider them for future possible employment. There are also internships where students are enrolled in research institutes or government agencies for the same purpose.
Our summer interns (both undergraduate and graduate) said that the greatest gap they saw between academia and the world of practitioners is the "red tape" involved in real-world project work. Do you think this is something that should be included in college and graduate education?
Lamb: My concern about having courses on that topic is that it would be too site-specific. It also sounds a bit mechanical to me. The rules that apply in 2013 may not apply in 2015. I'm sensitive to the dilemma, but I wonder whether that's the sort of thing that should be post-graduate. I think that's part of on-the-job training.
Elliott: There are some things that cannot be taught; you just have to experience them and deal with the situations that arise.
Gauthier: Bridging the gap between theoretical and practical is a critical component of effectively teaching about sustainability. For some topics, this definitely includes a regulatory component. For others it might include how to arrange financing or how to incorporate a quality management process so that actual outcomes match expected outcomes. When I teach about green building design and construction, the first topics we review include the nuances of different construction delivery methods, what is included in the various contract documents created during a project, and how to leverage these systems to deliver a sustainable project. If regulatory red tape is a common barrier to successful outcomes in a given field, than it should absolutely be covered in college and graduate courses.
Unwin: I would agree with your interns. You step into a project, and you don't understand that you're going to spend half your time filling out funding applications to ensure you have money to do the work. Or that you are going to have to do year-end reporting to show you are meeting the requirements of the funding agency. That's an important skill set, but how do you cover it in an undergraduate degree program? I'm not sure any universities in Canada would take their curricula and tailor them to those skill sets. A restoration practitioner who wants to be successful has to know how to write a good proposal.
As part of our graduate certificate program, we teach communication skills because we know that is paramount to a project succeeding. But how to craft a budget? How to look at time estimation? How to obtain quotes from landscape construction companies? Project management fundamentals are critically important to a practitioner, but I don't know of many universities that teach project management skills. [Regarding regulations] there are some general things a student needs to be aware of, whether it's a water taking permit, basic environmental impact assessments, etc. I don't see universities necessarily fulfilling that requirement. That's why students can be frustrated and feel behind when they step into an employment opportunity. Employers are actually saying to us, "We'd rather students be able to hit the ground running a bit more so we don't have to invest so much time just bringing them up to speed on things like laws and regulations." The financial reality today is that if an employer has to choose between a candidate who is ready and one who needs to be trained, it's a no brainer.
Hood: During the 1980s, the ending of public financing created a void. You couldn't do public projects anymore because the government wasn't paying for them. In the early 90s, I traveled to India, and everyone was talking about NGOs. I was like, "What's an NGO?" Ten years later, I'm working with NGOs on housing in Oakland. There is a changing infrastructure to how we get things done, and academia is slow to adapt. One also needs to be aware of regulatory issues and how one goes about things like permitting. We try to have students be aware of that in the projects they work on. At CED, we have a professional practice class–taught by someone active in the practice–which students are required to take so they understand things like contracts.
Cisneros : In Mexico and in my University, there are regular proposals aided by the CONACYT (Consejo de Ciencia y Tecnologia) to help establish the relationship between industry and academia.  The goal is to solve the company's problems and allow professors, students and post-graduate students to collaborate on a solution. These costs are shared by the company and the CONACYT. This is not part of the curriculum, however, dedicated researchers know that they have access to this type of funding and also the opportunity to obtain patents, write articles, etc.
Can you tell us about a recent student research project that really impressed you and gives you hope for the future?
Lamb: A young woman named Susan Doust did a really interesting study on direct seeding [as opposed to growing seedlings] to restore rainforest species. She looked at the germination requirements, for a whole range of different species at different altitudes. Her site ranged from sea level to 1000 meters. She ended up with a series of prescriptions, and her study was published in Forest Ecology and Management.
Hood: All of my students give me hope for the future. I'll just mention one. A student was dealing with the notion of a cataclysmic landscape outside a large town in Chile. The area had been subject to a lot of earthquakes, yet people still lived there. It was a beautiful study about how people can adapt over time to a changing landscape. A lot of the thesis projects coming out of our design program have to do with environmental degradation of place. I find the fact that students are looking to that–rather than saying, "I want to make this thing"–very encouraging.
Elliott: [One student studied the use of] fig trees to break up compacted substrates and rocks so that forest restoration can be done on opencast mines. It [brought together ideas that already existed] in a new combination to solve a huge of problem of getting trees to grow in rock. If we can do that, then we can restore forest anywhere.
Unwin: What we've done on our campus with 15 acres of wetlands has been a success story. It was an old sewage lagoon that treated wastewater from an office building before the municipal sewers were extended out here. When we built this new campus, we approached the regional government about purchasing it. We knew we could use it as an outdoor lab. Over the last 15 years, we have been using it to study all kinds of things, like wetland restoration, control of invasive species like phragmites, and snapping turtle reintroduction. In fact, we've had such good success with the snapping turtle population that the Toronto Zoo has been partnering with us and coming down and learning from us.
Gauthier: As somebody who recently switched from working with students at the Harvard Extension School to those at the Kigali Institute of Science and Technology, it makes me happy to see how quickly the KIST students have adopted sustainable design practices. Whereas in the Boston area owners are demanding green buildings and knowledge of sustainable design is necessary to meet client demands, there is no such demand in Rwanda and the students I'm working with are learning about sustainability because they see it as critical to being a good architect. Without exception, the fifth year bachelor students in last year's sustainable design course voluntarily incorporated sustainability into the final studio projects required for graduation. It is my hope that we come to a point where all designers incorporate sustainability into their projects–not because clients request it, but because that is the only way to deliver a good project. It seems that the first class of architecture graduates in Rwanda are headed in that direction.
The Student Perspective
What draws students to fields like environmental science and engineering? What's it like to prepare for a career in ecosystem restoration, conservation, or sustainable design in the midst of such a challenging job market?  To begin to find out, we chatted with Biohabitats' summer interns, Bobby Compton and Nick Cloyd.
Meet the interns.
Bobby is in his final year of study towards a Masters degree in Environmental Engineering from the University of Florida. He is focusing on wetlands science and ecological engineering at the Howard T. OdumCenter for Wetlands. Nick just graduated from the University of Maryland, where he earned his B.S. in Environmental Science and Technology with a concentration in ecological technology and design.
Why environmental engineering?
Neither intern began his academic experience as an environmental engineering student. Bobby initially studied mathematics and then civil engineering and Nick began school as a business major. Both, however, ultimately felt the tug toward a field more deeply connected with their passion for the outdoors, and their desire to make a difference. Since making that shift, neither Bobby nor Nick has looked back. "From that point on, I knew I was in the right field," said Nick. "Suddenly, I actually enjoyed studying. It wasn't painful to go to class. It was exciting."
Bobby not only appreciates his graduate program's focus on wetlands, but also its emphasis on ecological engineering and whole scale ecosystems thinking, "The integration of human and natural systems is at the heart of the Center's mission," said Bobby, "and that is very unique." Bobby's program has also given him the opportunity to get some hands on experience in the field—the type of experience most students anticipate as they embark on summer internships. According to Bobby, this can sometimes lead to some pretty disappointing realities
You won't find these interns fetching coffee and making copies.
"At my last internship before Biohabitats," said Bobby, "I spent the bulk of my day making labels for books in a library of publications and manuals."
Not so this time. Bobby and Nick spent the bulk of their summer in the field collaborating on a technology to restore habitat and ecosystem function to urban coastlines hardened by bulkheads. Working in the field along the edge of Baltimore's Inner Harbor and continuing on work initiated in the spring of 2013 by University of Maryland (UMD) students, Nick and Bobby altered and developed new "green bulkhead" designs and monitored previously installed designs.
The UMD students' original design re-creates an algal turf scrubber, typically a horizontal structure, to grow on a vertical bulkhead. Water from the InnerHarbor is pumped over a screen on which algae grows. As the algae grows, it removes nitrogen and phosphorous from the water, and adds dissolved oxygen to the water.
Building off of that effort, Bobby and Nick were challenged this summer to develop a design that would work more like a vertical wetland. Through many design iterations, the interns were able to test different types of structures (rolls, mats, cylinders, and cages) and media (recycled plastic and oyster shells). They explored the use of passive designs, which rely on the Harbor's tidal changes to circulate water through the system, and those which actively pump water.
Though only in the rudimentary, prototype stage, the project gave Nick and Bobby the unique opportunity to bring their designs to life by constructing, implementing, and monitoring them. So far, their analysis of the prototypes has only been qualitative. Once design options are narrowed down, more detailed, quantitative studies will be conducted.
Given the high visibility of the testing site along Baltimore's InnerHarbor, they also did quite a bit of public outreach in the form of face-to-face conversations with the tourists, commuters, and residents. "The bulkheads are intended to create habitat and provide water quality treatment," said Bobby, "but some of the most important goals are public education and aesthetic value. We want people to see these systems, and understand why they are important."
How do you get the most out of an intern?
Expect more out of your interns and they'll deliver.  Trust them and give them a little room for creativity.
The real world.
Did the internship bring them any insight as to how well their education has prepared them for the life of a practitioner?
"You can learn all these things [about ecological engineering] in class, but until you actually get out there and see how it works in the real world, you don't have a full understanding of the subject," said Nick. According to the interns, two aspects of ecological engineering (and applied science in general) that seem to have been under-addressed in the classroom were permitting and funding.
"It seems like the bulk of a professional's time is spent on permitting and acquiring funding," said Bobby.
"You're taught the disciplines of the sciences," said Nick, "but not the 'red tape' you have to go through to get work done. There could be a whole class dedicated to TMDLs, nutrient trading, wetland mitigation, etc."
Bobby agreed. "More emphasis on permit writing and proposal writing, as opposed to a couple of PowerPoint slides on the subject would have been very helpful," he said.  "Academics can say, 'This brand-new science is going to work so much better than the status quo!' But in real world, there may not be enough stakeholders who are receptive to this new idea, and no one's going to give the money to implement it."
Educational silos disappearing
Education did not fail the interns when it came to conveying the importance of integrating multiple disciplines in environmental work. "Interdisciplinary collaboration and learning is a core concept at the Center for Wetlands," said Bobby.  "Nearly every grant I've seen recently has a section addressing interdisciplinary collaboration.  For example, our lab just wrote a proposal for a National Science Foundation grant related to sea level rise.  Four or five departments collaborated on this proposal to build a comprehensive model that not only incorporated ecological and environmental effects of sea level rise, but economic and socio-economic effects."
This was true of Nick's undergraduate experience at the University of Maryland. "The basis of our curriculum in ecological design and technology and environmental science involved connecting different disciplines," he said. "It was really interesting to see many of the classes I took earlier, like calculus, physics, chemistry, ecology, and soils, really come together my senior year. We also had classes with students who were majoring in landscape architecture, CADD, and GIS.
What makes a good professor?
Both interns said that they value a professor who engages students and has had real world experience and can share relevant, enlightening stories from that experience. "You can tell which professors are at the university to teach and which ones are there to do their studies," said Nick. "My favorite classes were the ones where the class was engaged in discussion and the teacher was more or less there to mentor and answer questions. Classes with active discussion and debate lead to real learning and creativity."
The REAL real world: finding a job.
According to Bobby and Nick, entry level positions in ecological restoration, environmental engineering, conservation planning, and regenerative design can be hard to find.  "It's frustrating to see the job postings that say "Entry level engineer wanted; two years of experience required," said Bobby.  "It's a catch-22. How can I get experience if I can't find a job? But how can I find a job if I need experience to get it?  This underscores the importance of getting as much experience through internships while you are still in school." Increased competition for these jobs adds to the challenge. "In Florida," said Bobby, "environmental regulatory agency funds have been reduced, and a lot of environmental scientists and engineers have been laid off. Now they're competing for the same jobs we're looking for."
With a new generation comes a fresh wave of hope.
Despite the challenging job market, and despite an acute awareness of the environmental degradation caused by previous generations, today's students are hopeful.   "We have done quite a number on our environment," said Nick, "but destruction breeds creation, and the movement is happening. I do have hope. That's why I'm in this field."
Spotlight on a Unique Master's Program
As we strive for sustainability while grappling with climate change, poverty, violence, food security, and other global threats, the need for leaders in whole-systems planning and problem solving has never been greater. These leaders must not only create, engage, and inspire, but collaborate — across disciplines, cultures, and political borders. Where will we find the next generation leaders we so desperately need?
Chances are, many are at Sweden's Blekinge Institute of Technology (Blekinge Tekniska Hogsköla – BTH), where a relatively new postgraduate program is developing a growing, international cadre of change agents. The Masters in Strategic Leadership towards Sustainability (MSLS) program at BTH prepares graduates for careers in which they can not only apply a proven framework for organizational change toward sustainability, but inspire, lead, and transform organizations, industries, and perhaps even nations.
The MSLS program was initiated by BTH Professor Göran Broman and Swedish scientist Karl-Henrik Robèrt, founder of The Natural Step, a global network committed to advancing sustainability. The Natural Step promotes the use of its five-level Framework for Strategic Sustainable Development (FSSD), a strategic planning method, applicable at multiple scales, which is based on first identifying your version of sustainable success in the future, and then "backcasting" to the present to devise flexible, strategic steps that move you in that direction.
According to sustainability expert David Waldron, the "lead architect" of the MSLS program, "Karl-Henrik wanted to bring [The Natural Step's] structure, clarity, and rigor around the concept of sustainability…to a group of people who could engage in it beyond a just few days or weeks, and use it to become leaders." With a go-ahead from BTH to initiate a Master's program toward that objective given in 2003, Robèrt sought Waldron's help in designing it. Waldron, who had previously partnered with The Natural Step to create a sustainability framework and program for the Canadian resort town of Whistler, felt the program needed more than the FSSD.
"It doesn't matter what you know about sustainability science, strategy, structure, and logic if people aren't engaged" said Waldron. "I knew that organizational learning, organizational change and leadership development would be fundamental to the program if we wanted to train leaders who could actually lead." Dr. Göran Carstedt became an invaluable advisor to the program, in this respect. He brought his extensive understanding of leadership from his successful career as a corporate executive and his leadership roles with The Natural Step and The Society for Organizational Learning to inform these aspects of the program.
Ten intensive months later (September 2004), after developing curriculum, writing a textbook, and recruiting students and guest professors, Waldron, Robèrt, Broman and the MSLS staff welcomed the program's first class: 41 students representing 16 countries and every continent, with backgrounds ranging from biology to business. The 2013 class is no less diverse, with members including a financial journalist from India, a Hungarian soldier, an aspiring politician from Cameroon, and an Austrian kindergarten teacher.
The nine-month MSLS program is broken into four periods. During the first two periods, students become familiar with each other, the local community of Karlskrona, and the FSSD. This is done through coursework, group activities, and outings.
The activities and outings, which include field trips, public lectures and café talks, and even group dinners, often stand out as some of the students' most memorable and meaningful experiences.
"I had a great time travelling to Ireland with MSLS colleagues to facilitate a sustainability planning process for the Enniscorthy Enterprise Centre, a non-profit focused on business development and education," said Nathan Stinnette (MSLS class of 2010), now a sustainability consultant whose recent work included helping NASA's Kennedy Space Center develop a sustainability plan. "After meeting with the Centre's director, board members, and community, stakeholders, we helped put together an Action Plan to achieve its sustainability goals," he said. "We also survived an epic flood, drank some Guinness, and got to do a bit of sightseeing."
During the last two periods of the MSLS program, students work in groups of three, applying their knowledge of the FSSD and their leadership skills to an actual business, community or project, and produce a final thesis. Completed theses, which can be viewed on the MSLS web site, have ranged from transportation in Shanghai to the potential role of the International Olympic Committee in a socio-environmental movement, to the use of SSD towards conflict resolution.
Woven throughout the MSLS program are two key themes: the FSSD itself (the science-based, strategic approach for planning towards sustainability); and organizational learning and leadership (practicing leadership to effectively create change towards sustainability). How does the program balance these themes? "One theme is the science – it is left-brain, rational, and structured," said Waldron. "The other theme is the art – of engaging, inspiring, and leading. We don't actually want to balance, or compromise, these themes; we want to create synergies by combining them in new ways."
But can the ability to inspire really be taught? "Some will argue that you are either born a leader or you are not…and others will argue that you can learn leadership skills over time," said Waldron. "Peter Senge [scientist, author, and founder of the Society for Organizational Learning] suggests that leadership can be learned, but not taught, and we agree." Waldron explains, "Our philosophy is to provide role models, high quality curriculum and tools, and create the conditions for leaders to emerge." This is done primarily through project-based work in groups.
How do you know if a student has mastered leadership? What does it look like? To Waldron, leadership is "the ability to issue an invitation and get people to show up; to ask powerful questions that can stimulate creative thinking and human energy; and to honor those who show up with gratitude and humility."
A peek into the professional portfolios of people like Nathan Stinnette and other MSLS graduates indicates the program is working. Georges Dyer (MSLS class of 2006) is a strategic advisor with Second Nature, a non-profit working to create a sustainable society by transforming higher education. Georges and his wife Michelle, also a 2006 MSLS graduate, were instrumental in the launch and tremendous growth of the American College & University Presidents' Climate Commitment (ACUPCC). Almost immediately upon completing the MSLS program, with only twelve university presidents' commitments secured for the ACUPCC, the Dyers hit the ground running. They engaged more presidents to join, delivered annual conferences, developed guidance resources, raised funds, formed a Steering Committee and more partnerships, and designed a reporting framework and online system. After only a few years, the ACUPCC network expanded from 12 to more than 670 institutions.
Dyer acknowledges the impact of the MSLS program on his ability to successfully build the ACUPCC network. "The ACUPCC is at its essence a leadership initiative," said Dyer, '"and its design and implementation stem from the concepts covered in the [MSLS] program, such as the need for scientifically appropriate sustainability goals (in this case climate neutrality), top-level leadership (a public commitment by presidents), a strategic framework for planning in complexity (a common commitment—with sufficient flexibility so each institution can plan based on its own unique circumstances—that includes a compelling, long-range vision and opportunities for concrete steps that are achievable in the short-term. [The MSLS program] provided us with both the 'hard' skills and 'soft' skills for being effective change agents."
So how much does it cost to become a change agent through the MSLS program at BTH? For some, it's no more than living expenses. Tuition for students with citizenship within the EU/EEA and Switzerland is fully sponsored by the Swedish government. For those outside the EU/EEA and Switzerland, tuition is 100,000 SEK (approx. $15,800 USD) but BTH also offers and promotes the availability of many scholarships, including some created by MSLS graduates.
What is certain is that the price we will all pay for a lack of future leaders in sustainability is unfathomable. But a lack of leadership is not likely if more programs like BTH's Master's in Strategic Leadership towards Sustainability start appearing in more universities around the world.
Cross Cultural Environmental Education
Biohabitats Senior Environmental Scientist and University of Maryland lecturer Dr. Peter May recently led undergraduate and graduate students in a Study Abroad course in Ecology and Natural Resource Management in Rio de Janeiro, Brazil. During the trip, students learned about the work of university scientists and resource managers in the city and state of Rio de Janeiro. They also learned what inspiration really feels like.
As a graduate student, I visited Brazil and conducted some tropical stream research in the Atlantic Coastal Rainforest and in the Amazon with my graduate advisor. This summer, 18 years later, I returned — this time as a teacher leading a class in Ecology and Natural Resource Management in Rio de Janeiro.
For more than two decades, the University of Maryland has exchanged students with universities in the State of Rio in alternating years.
This relationship was borne out of a 50-year-old program called Partners of the Americas, which aimed to foster people-to-people relationships between states in the U.S. and South America. Maryland and Rio de Janeiro were matched due to their common coastal nature, defining estuaries, and proximity to their respective national capitals.
Some would say Maryland got lucky. Given the level of interest and commitment from the Brazilian students and professors, I'd say they feel equally fortunate.
As we traveled through the State of Rio, the students learned about Atlantic Coastal Rain Forest protection and restoration, efforts to conserve the endangered golden lion tamarin, advances in progressive agricultural practices, and coastal and estuarine conservation and restoration.
Throughout the course, students interacted with Brazilian students, professors and resource managers.
Some of my students had never left the U.S., and they experienced somewhat of a culture shock. The food…the language…everything was quite different from what they were used to. One thing that was familiar and common to all of them, and immediately connected them to their Brazilian counterparts, was an incredible interest and passion for the natural world they were experiencing.
So what from this journey stood out the most to my students?
It wasn't the boat ride with the dolphin researcher and the hundreds of dolphins we encountered in a research area. Nor was it the venom antidote institute, which displayed some of the most deadly snakes and invertebrates in the world.
The lectures by local professors on agroecology, Amazonian dam hydromodeling, aquatic biology of coastal bays and bromeliad/invertebrate ecology? Interesting, but…still lectures.Rio's cultural sites, natural beauty, samba soundtrack and graphiti masterpieces were stimulating.
The botanic gardens, the beaches, natural forests, and 17th Century colonial Portuguese port town whose streets were inundated by the tide daily, by design, were fun to visit. It was thrilling to track by radiotelemetry and interact with a family of the rare and endangered Golden Lion Tamarin monkeys, but this was not the highlight of the trip. What was?
The most fascinating, compelling thing my students experienced during this trip was a liberating, exhilarating feeling of wonder — of the world's complexities and similarities, and the ways in which we humans live and interact with nature, and each other. This feeling ignited in the students a passion to do better by this world, other people, and themselves.
And as much as I travel, I find that every time I visit a new culture, a new place, new ecosystems really, this same feeling is as fresh and inspiring to me as it was to my students in Brazil. The world around us is big and small at the same time, but to experience another piece of it somehow makes you want to do better by it, and to do better by yourself in this short life. How do I know this about my students?  They were required to keep a journal and submit it as part of their grade. The same as I did almost 25 years ago on my first trip abroad as an adult to visit new ecosystems in Belize. I felt the same as those students then, and I still feel it now. You don't have to be fortunate enough to travel abroad to have that feeling. I believe you can feel it anywhere if you have the wisdom to see and explore beyond our day to day lives. But it helps to remind yourself of how big and complex and beautiful our biosphere is, and how big our responsibility is to it and all of its inhabitants.
What was Missing from YOUR Education?
We wanted to know what practitioners in ecological restoraiton, conservation planning, and regenerative design wished they had learned in college and graduate school. So we asked, via social media. Here's what some of you had to say.

Resources
American Society for Engineering Education
Association for the Advancement of Sustainability in Higher Education's list of Sustainability-Focused Masters Degree Programs and Engineering Programs
Association of Collegiate Schools of Architecture
Association for Environmental Studies and Sciences
Association of University Leaders for a Sustainable Future
Conservation International, Education Choices
Disciplinary Associations Network for Sustainability
International Ecological Engineering Society
International Journal of Environmental and Science Education
Society for Ecological Restoration International
U.S. Partnership for Education for Sustainable Development
Universities mentioned in this issue
Blekinge Institute of Technology
Universidad Autónoma de San luis Potosi
Kigali Institute of Science and Technology
UC Berkeley College of Environmental Design
Biohabitats Projects, Places & People
Projects
Out, damned dam! out I say!
When the Lafarge mining company completed its sand and gravel extraction from the Fort Collins, Colorado's Sterling Natural Area, the pit was graded and seeded. Today, the City of Fort Collins is working with Biohabitats to restore the site. The initiative enjoys great public support, and has been identified as one of the top priorities of the Poudre River for years. The ambitious project has three primary elements: widening of the riparian zone long the Poudre, creation of additional wetland habitat, and removal of an abandoned dam. Biohabitats will lower the steep berm on the river bank, creating more shallow habitat, and use some of the berm material to create a mosaic of riparian woodland, wet meadow and emergent wetland in a nearby pond site. The finished pond site will mimic the scars from natural meanders of a river as it winds across a floodplain. Biohabitats is also replacing an existing dam with a stable, 1000-foot-long drop in elevation. Instead of plunging over concrete, the water will fall more slowly through a pool and riffle system that will greatly improve the shallow riparian habitat for wildlife and allow sediment transport. Both fish and boaters will certainly be happier about having an easy passage past the dam site.
Brighter future for endangered bird and plant species in Sea Bright, NJ
After Hurricane Sandy stripped tons of sand from the beaches between Sea Bright and Monmouth Beach, NJ, they were left unable to guard against future storm surges and unsuitable for recreation. A beach re-nourishment project was undertaken during the summer of 2013, but this area is also a known nesting habitat for a number of threatened bird species, including the black skimmer, least tern, roseate tern, and the federally endangered piping plover. The seabeach amaranth plant, also endangered, has been found in the area as well. For these reasons, Great Lakes Dredge and Dock Company called on Biohabitats to monitor bird and plant species of concern for the duration of its beach re-nourishment activities. Before dredging began, Biohabitats conducted a baseline bird and plant survey in order to note the species and populations present and suggest minimally-invasive locations for the dredging pipe and equipment. Throughout the piping plover and least tern nesting periods, Biohabitats closely watched to ensure that the dredging project did not interfere with the birds, especially as the chicks started to fledge. In Monmouth Beach, approximately 40 least tern chicks successfully fledged in 2013.The only two piping plover chicks to fledge in Sea Bright in 2013 did so under Biohabitats' careful watch.
Habitat & Stability Restored to Ohio's Kelsey Creek
Biohabitats is in the final phases of restoring a severely eroded stretch of Kelsey Creek in Summit County, Ohio.  The watershed is about three square miles and drains parts of the city of Cuyahoga Falls.  A recent dam removal caused channel incision, which only exacerbated the existing erosion that had resulted from excessive stormwater runoff and the lack of riparian vegetation to protect the stream. The tall banks were unsafe for visitors and offered poor wildlife habitat. The changes in the channel conditions had also exposed a gas line and threatened a sanitary sewer line. Working closely with the City, Biohabitats restored approximately 1,100 feet of stream channel and almost two acres of riparian habitat.  The design involved creating a base flow channel that is connected to a broad floodplain, which will have the outcome of reducing water speed, establishing better connections between groundwater and surface water, and improving in-stream and riparian habitat. The vegetation is a key component of the restoration plan.  In this project, 1.7 acres of maintained lawn and degraded forest are being replaced or enhanced with native riparian forest, native shrub vegetation and wet meadow. To kick off the planting, the project partners are planning a volunteer planting event in October. Finally, the restoration of Kelsey Creek is a key component of the Bicentennial Arboretum plan, and the plants used in the restoration project highlight the native plant communities found in this part of Ohio.
Innovative Stormwater Ponds in Redevelopment along Potomac River
Biohabitats just finished the first phase of construction of two innovative stormwater ponds at Potomac Yard, which was once one of the largest train yards on the East Coast. Today, it hosts a mixed residential and business development.  The ponds are located in Potomac Yard Park, a stretch of 25 acres that offers recreational benefits to nearby residents and visitors. The ponds are stormwater ponds with a wastewater engineering twist: they are carefully designed to encourage the beneficial microbes that reduce pollutants in stormwater. The two ponds employ different but related models. The first, which is now complete, pumps water up through floating wetlands. The floating wetlands are about 20 feet in diameter and tethered to the bottom of the pond. Though they are already visually striking, with time they will become more overgrown and look more like small natural islands. Their design relies on the combined 15 years of experience of Biohabitats staff, who have become experts in cultivating healthy microbial communities through their work on natural wastewater systems.  The second pond will bring water into the shallow gravel beds that serve as planting media for wetland plants.
Places
Biohabitats Opens Cascadia Bioregion Office
Biohabitats is pleased to announce the opening of our new Cascadia Bioregion office in Portland, Oregon.  The new office, located at 412 NW Couch Street, is just west of the Burnside Bridge. Senior engineer Pete Muñoz is leading the office, and he and environmental scientist Katie Bohren are already hard at work on water harvesting and wastewater treatment for Hassalo on Eighth (Lloyd Ecodistrict), the Fernhill Wetland riparian restoration by the Tualatin River, and a project on the Nike Campus. The staff will double in coming months.
Girl Power!
Last week, a team of Biohabitats volunteers had the chance to work with some incredibly bright and ambitious middle and high school girls and help them understand how and why to build floating wetlands for hardened, urban waterfronts. The girls, participants of the 2013 Baltimore Girls and STEM Summit, hosted by Under Armour, enjoyed a day of workshops and lectures that exposed them to a variety of STEM careers. The theme of the event was "We must protect this house."
In addition to Biohabitats and Under Armour, presenters included U.S. Department of Energy, Wells Fargo, LEGO, Northrop Grumman, and iCreate to Educate. Biohabitats' hands-on science workshop gave the girls the opportunity to learn about their watershed, Chesapeake Bay habitat, and the science, math and engineering behind the "floating" aspect of floating wetlands.
With their enthusiasm and participation, the girls showed us that they are definitely going places. We have no doubt that the group of talented young ladies included some future environmental scientists and engineers!  (For more photos from the Baltimore Girls & STEM Summit, see our facebook page)
Important Gathering in the Pacific Northwest
Last week, Biohabitats president Keith Bowers and Cascadia Bioregion Leader Pete Munoz were in Bend, Oregon for the Pacific Northwest Clean Water Association 2013 Annual Conference. They  participated in a pre-conference workshop led by Clean Water Services on Natural Treatment Systems, and presented Unlocking the Potential of Natural Systems by Understanding Ecology and Place.
Upcoming Conferences
The one-day Baltimore Stormwater Summit will take place September 25 at the University of Baltimore. Jennifer Zielinski is an invited speaker in a panel on urban innovation and workforce development.
At the 9th Natural Resources Symposium in Washington, D.C. on October 1,  Keith Bowers will present on the work being undertaken by the Society for Ecological Restoration relative to natural resource restoration, as well as some of the increasing synergies that we are seeing in practice globally.
The Society for Ecological Restoration was founded 25 years ago to promote ecological restoration, and it remains the most important group of professionals engaged in the repair of degraded ecosystems.  Biohabitats is proud to sponsor the 5th SER World Conference on October 6-11 in Madison, Wisconsin. If you plan to be there, be sure to stop by the Biohabitats booth and say hello to Keith Bowers, Terry Doss and Joe Berg. Keith will be participating in a symposium entitled Assessment to Recovery:  Setting priorities for restoring ecosystem capacity and led by Steve Edwards of IUCN. Keith will also lead a discussion of Near-shore to deep-sea marine restoration–Venturing into the abyss, and participate in Orchestrating Holistic Restoration: Why and How, led by Jackie Brookner and James Aronson,
The 2013 Sustaining Colorado Watersheds Conference in Avon, CO will bring together practitioners and regulators to expand collaboration throughout Colorado.  This year's theme examines the "New Normal", how baseline shifts in demographics and ecological variables are affecting the state's watersheds. Several members of Biohabitats' SRMB will attend October 8-10.
Joe Berg will be attending the one-day Maryland State Floodplain Managers Conference in Linthicum, MD, on October 17.
The Villanova Urban Stormwater Partnership will be hosting the Pennsylvania Stormwater Symposium on October 17-18.  Brett Long will be representing Biohabitats, which is a sponsor of the event.
Alan Garrido is traveling to Huila, Colombia, to speak about wastewater management at the 4th International Seminar on the Rational Use of Water on October 28- November 2.  Engineering students from Latin America and the Caribbean will be in attendance.
The Mid-Atlantic Stream Restoration Conference will take place October 30-November 1 in Baltimore, MD. This year's event will explore  explore the Science, Engineering and Technology behind Stream Restoration in the Mid-Atlantic and the Northeast
Claudia Browne will attend the 15th annual Cherry Creek Watershed Annual Conference in Denver, CO, on November 6, where interested parties meet to update each other on what is happening in the watershed.
Keith will be presenting on regenerative design at the Sustainable Development Council Meeting during the Urban Land Institute Fall Meeting, Chicago, November 5-8.
Keith Bowers will head out to Seattle November 8-10 to attend The Wildlands Network's semi-annual Board meeting.
Keith Bowers will to join like-minded invitees from all over the world for Sustainable Collaboration: Sustainable Conservation, Sustainable Investing and Sustainability, which will take place in Kiawah Island, SC, November 10-12.  
The annual EcoDistricts Summit brings together policymakers, developers, business leaders, planners, and community leaders to share best practices in urban design.  This year the meeting is in Boston, on November 12-14, and Keith Bowers will present on the importance of landscape ecology, conservation biology and restoration ecology as critical components of EcoDistrict planning and implementation.  Senior engineer Pete Munoz will also be attending this great event.
The foremost conference for landscape architects will be in Boston immediately after the Ecodistricts summit on November 15-18. The ASLA Annual Meeting has dozens of sessions, including ones on Restoration and Reclamation and Sustainable Design. Both Keith and Michael Spina will be attending. Participating in a presentation led by Studio Outside entitled After Ike:  Sea Level Rise and Redevelopment of Galveston Island State Park, Keith will speak on habitat issues associated with sea level rise and shifting plant communities.
Mike Thompson will attend the annual conference of the Maryland Water Monitoring Council, in Linthicum, MD, on December 5.
People
Katie Bohren
As an adventurous teen, influenced by a grown up and enduring love of nature, Katie once dreamed of leaving Wisconsin to be a park ranger among the "big trees" of the Pacific northwest.  Her path has been remarkably true to her high school imaginings.  She worked as ranger in the city of Phoenix before moving to Portland to work in the regulation of small onsite wastewater treatment systems and solid waste facilities. Stormwater management techniques were the focus of her master's work in hydrology and water resource science, though her experience is varied. Her career adventures have also included monitoring insects on green roofs, shocking fish, and teaching English in Thailand. The interests and skill set she brings to Biohabitats' new Cascadia office are correspondingly broad, and include critically important abilities such as striking the right balance of hops, malts and yeast in her homebrews. She and her husband and their very, very large dogs enjoy all sorts of outdoor romping around greater Portland, in addition to and in combination with their beery pursuits.
Meghan Gloyd
Meghan is an engineer who hails from Kent County, Maryland, but went to undergrad at Virginia Tech so she could have a football team to root for.  She is one of several recent hires who came to know Biohabitats by working with us and liking what she saw, a testament both to the firm and to her good sense.  Meghan joins the Chesapeake office, where she will contribute her hydrologic and hydraulic modeling talents to work on streams, BMPs, and stormwater management. Away from her computer she is usually to be found outside, flicking discs, hiking or kayaking. As she grows increasingly comfortable in her role and relationships, she will be increasingly tempted to implement one of her famously complicated and funny pranks- beware!
Message from the editor…
When you work in an environmental field, you get used to the daily barrage or alarming news: dying whitebark pine…thinning Arctic ice…dwindling coastal wetlands, etc.  Despite the great work we do at Biohabitats to restore the Earth and inspire ecological stewardship, it can sometimes feel like there is never-ending "doom and gloom" news ticker constantly crawling along the office wall.
That's why it was incredibly refreshing to put together an issue of Leaf Litter which focused on the education of tomorrow's practitioners in ecological restoration, conservation planning, and regenerative design. Nearly everything I heard from the students and professors with whom I spoke while working on the issue gave me hope.
Al Unwin, who teaches restoration ecology at Canada's Niagara College, said that  today's students are more eager and willing than ever to take action on behalf of our environment. Students in Nathan Gauthier's sustainability courses at the Kigali Institute of Science and Technology in Rwanda are not just engineering, design, and environmental science majors; they're education, business, and political science majors who recognize sustainability as linked to their future professions. Every year since 2005, a new group of leaders emerges from a unique, international masters program in Sweden, and they are already changing the world. Our own summer intern Nick Cloyd said to me, "The movement is happening, and I do have hope. That's why I'm in this field."
Take that, ticker.
If you, too, could use a healthy dose of hope, check out this issue of Leaf Litter and let me know what you think.