Thoughts On The State Of Ecosystems In National Parks
One can't help but think of vacation around this time of year. Many of us are eager to escape the concrete and commotion of our urban and suburban lives, and retreat to the protected, natural settings of national parks. But just how protected are the world's national parks when it comes to ecological integrity, and how are they holding up against threats like climate change, invasive species, pollution and habitat fragmentation?
We'll begin examining this question by speaking with three experts. Dr. Stephen Woodley, link to LL Talks with Stephen Woodley Chief Ecosystem Scientist for Parks Canada, tells us how his agency combines science, education, traditional knowledge, and the creation of memorable experiences to improve the ecological integrity of Canada's protected lands. We'll travel to the Eastern Hemisphere for a chat with Dr. Andrew Burbidge (link to LL Talks with Andrew Burbidge), a conservation biologist who has devoted most of his 45-year career to the protection and conservation of biodiversity in Australia. Currently an advisor to the Commonwealth and Western Australian governments on issues related to national park lands, Andrew shares a unique perspective on what it's like to protect ecological integrity on the world's largest island. Dr. Bert Frost, (link to LL Talks with Bert Frost) Associate Director of Natural Resource Stewardship and Science for the National Park Service (NPS), shares some encouraging success stories and interesting information about how the NPS is responding to climate change.
As the reintroduction of wolves in YellowstoneNational Park illustrates, trophic cascades resulting from the loss of keystone predators is a hot topic when it comes to national parks. Invasive Species Specialist, Kevin Heatley gives us a closer look at this phenomenon in his review of Trophic Cascades: Predators, Prey, and the Changing Dynamics of Nature, book edited by John Terborgh and James A. Estes.
You'll definitely want to visit our National Parks Photo Gallery, link to Photo Gallery, featuring photographs submitted by Leaf Litter readers and Biohabitats employees.
We'll also share resources link to resources on national parks and information about some exciting work we're doing in national parks, including some positive Gulf news.
What do you think about all of this? Share your thoughts on our blog, Rhizome, or make a comment on the Biohabitats Facebook page. Link to FB page If you want to reference a specific article, be sure to include it in your post.
Leaf Litter Talks with the Experts
Andrew Burbidge
Dr Andrew A. Burbidge is a conservation biologist who has dedicated much of his 45 year career to biodiversity conservation, particularly in Western Australia. His expertise is in biological survey, protected area selection and management, threatened species conservation and island conservation, working mainly on mammals, reptiles and birds. Dr. Burbidge's research into mammal conservation led to his involvement in invasive species management and eradication, especially on islands, culminating in the eradication of black rats and feral cats from the MontebelloIslands, a group of around 100 islands, islets and rocks off Western Australia's Pilbara coast. In recent years, he has advised the Western Australian government on island management and invasive species management, the Commonwealth government on biodiversity conservation, and Chevron Australia on the development of a quarantine management system for BarrowIsland. He is a co-author of the recent book Australia's Biodiversity and Climate Change and is a member of the Board of Directors of WWF-Australia.
Dr Andrew A. Burbidge is a conservation biologist who has dedicated much of his 45 year career to biodiversity conservation, particularly in Western Australia. His expertise is in biological survey, protected area selection and management, threatened species conservation and island conservation, working mainly on mammals, reptiles and birds. Dr. Burbidge's research into mammal conservation led to his involvement in invasive species management and eradication, especially on islands, culminating in the eradication of black rats and feral cats from the MontebelloIslands, a group of around 100 islands, islets and rocks off Western Australia's Pilbara coast. In recent years, he has advised the Western Australian government on island management and invasive species management, the Commonwealth government on biodiversity conservation, and Chevron Australia on the development of a quarantine management system for BarrowIsland. He is a co-author of the recent book Australia's Biodiversity and Climate Change and is a member of the Board of Directors of WWF-Australia.
Tell us a little about your background. (How did you become interested in biological science? When and how did you begin focusing on the conservation of threatened mammals, reptiles and birds?)
My mother was interested in birds and I had an aunt who was a very well-known botanist in Australia, so there was a bit of background in biological sciences in the family. I used to do quite a bit of bird watching when I was a teenager, particularly migratory shorebirds. One of the world's major flyways comes down from Siberia, through Southeast Asia, into Northern Australia and the birds spread out across Australia, and quite a lot of them come down the west coast. I grew up on the West Coast from age of five. When I went to university, I actually set out to study geology and zoology, but I soon dropped geology and concentrated on zoology. I found that much more interesting and dynamic than rocks. As I progressed through university, I became more interested in conservation issues, particularly the developing national park system and endangered species. I did my PhD on an endangered species of freshwater turtle.
Is that species still endangered?
Yes. I've been working on the western swamp turtle on and off for over 45 years, and it's still an endangered species.
At any point in your career did you work directly for Parks Australia or the State government?
For most of my career I worked for the conservation agencies of the Western Australian state government. I worked as a research scientist for most of that time. I started off working on endangered species – particularly endangered mammals- and the factors that were causing species to decline and disappear and what might be done about it. That grew into looking more broadly at the protected areas system in Western Australia. I was involved in a big move to enlarge the protected area system here in the 1970s and 80s. I also got more and more involved in island conservation issues. I retired from state government more than eight years ago and I now work part-time as a conservation consultant.
I understand that Australia has 516 national parks. Based on your experience working or playing in some of these parks, which stand out in your mind as having the healthiest, most resilient ecosystems and why?
In Australia, we have several types of conservation reserves with different names. In addition to national parks, we have other protected areas like nature reserves. There are about 58 million hectares of national park and equivalent preserves that fit the International Union for the Conservation of Nature (IUCN) Categories I-IV.  The IUCN has a system of classifying protected areas.  Categories I-IV are usually considered internationally to be national parks and equivalent areas which are primarily for biodiversity conservation and, in some cases, also for recreation. We also have another 38-40 million hectares of marine parks and equivalent marine protected areas.
If you're looking at total biodiversity, then only in the far north of Australia do we have areas with intact ecosystems. In most of the country, we have lost a significant degree of our fauna, particularly mammals. If you're just looking from a flora point of view, certainly there are a lot of national parks which are more or less intact in terms of their plant biodiversity. In Western Australia, for example, we have the Fitzgerald River National Park, which has about 1800 species of vascular plants, over 60 of which are endemic to the park. As far as the flora goes, that area hasn't lost any species.
There are some other national parks here in the Southwest which have very high species diversity and are intact with all their original plants. But those same areas do not have all their original animals.
There are a couple of national parks in the Kimberly of Western Australia, such as the Mitchell River National Park and the adjacent Prince Regent Nature Reserve, which have an intact mammal fauna so they still have the full range of biodiversity – although they do have some invasive species.
This is one of the big differences between Australia and, say, North America. We've lost mammals from our national parks just the same as we've lost them from other areas. Whereas in most of your [U.S.] parks-except where there have been specific objectives to remove predators such as wolves from some of your national parks-most species remain. . That sort of thing hasn't happened in Australia. In Australia, we've lost indigenous species from parks because of invasive species, not because of the direct action of humans such as hunting and removing 'undesirable' indigenous species.
Let's talk about the loss of species. I read on the biodiversity section of the Australian government's web site that "Australia is the most megadiverse developed country and supports almost 10 per cent of the biological diversity on earth," yet I understand that Australia leads the world in extinction of mammals. Are invasive species the main reason why Australia leads the world in lost species?
Australia is the world's largest island and it behaves like an island. The invasive species that have come into Australia have had a dramatic impact on its biodiversity. In particular, mammalian predators like European red fox and feral cats have had a major effect upon our mammal fauna. We have lost 22 species of mammals since European settlement in Australia. Unfortunately, Australia leads the world with the highest rate of mammal extinctions. That rate of extinction has only happened elsewhere in the world on islands.
Biologically, Australia is the world's largest island, not the world's smallest continent. It doesn't behave like a continent at all in the way it has been affected by invasive species.
Are there other key invasive species threatening Australian mammals?
The European red fox and feral cat have had the most impact, but unfortunately, we have a whole range of other invasive species –particularly mammals-which have had major impacts on our environment. The European rabbit is a classic case, but other herbivores such as goats, pigs, cattle, camels and sheep have caused and are causing land degradation.
Generally speaking, how have these species come onto Australia?
Cats probably came in on early ships or as pets, but almost all of the others were brought in on purpose by people for food, hunting, etc., the exception being rats and mice, which have come in accidentally through shipwrecks and the like.
To help make this rate of extinction real, rather than a mere statistic, for our readers, can you tell me the stories of one or two Australian mammals that have become extinct?
Unfortunately I know of too many. I can give you a couple of examples quite easily, from a personal view from my own research. Some of my colleagues and I set out in the mid-1970s and early 80s to look at the mammal conservation status in the western deserts of Australia. Most of Australia is arid. Roughly three-quarters of the country would be considered desert in most countries of the world, although it's a lot better vegetated than some deserts are. The arid zone had a very rich mammal fauna-mostly small to medium sized species ranging from a few grams up to five or six kilograms. There was a diverse range of wallabies, bandicoots, and possums, as well as native rodents, inhabiting the western deserts.
When we first started working out there in the mid-1970s, the conservation status of most of these species was unknown. There had been the occasional scientific collector from a museum who had collected specimens, but there been no widespread, detailed surveys post the Second World War. It wasn't really until the advent of four-wheel drive vehicles, which didn't happen until the mid- to late 1960s, that you could traverse most of this country because it's pretty remote and often sandy. It was really like mounting a major expedition just to go there.
So we set out in the mid-1970s to have a look at the biodiversity values of some of the prospective areas which we were hoping would be declared as national parks and nature reserves. We found that all of the larger mammals, except the large kangaroos, the species that we call in Australia medium-sized mammals, were missing. At the same time, we started to discover species of mammals which hadn't been collected for 30 or 40 years. But they were small ones, mostly less than 30 grams in body weight.
From that time, my colleagues and I worked with Aboriginal people in the desert who have incredible knowledge of their country. We commenced oral history research with these people, and they were very generous in sharing their knowledge. We spoke to many people who had lived as nomads in their younger years and were still very familiar with the country. We were able to show them museum specimens of some of the mammals that had lived in their country and that we hoped to still find in country, and asked them what they knew about them and whether they were still around. From that we learned an incredible amount about what species had occurred in the country and what their current status was and when they had disappeared.
An example is the Central Hare-wallaby They were called hare-wallabies because they behaved somewhat like hares. They crouched in thickets of vegetation and when you approached them on foot, they would explode from under your feet, rather like a hare does, and hop very rapidly away. There is one specimen of a skull of this species in a museum in the SouthAustralianMuseum which was collected in 1932. That's the total scientific collections of this animal.  We talked to a lot of people who knew this animal well and could describe it in detail. They told us that it had survived until about 1960.
This was not an uncommon story. A lot of the mammals which were out there became extinct in the 1950s and 60s. In Australia, we even know of two species of mammal which were alive at European settlement but which are only known from subfossil collections in museums. They've never been collected alive. This is a reflection of two things. First, Australia is a large country, and there was very little scientific collecting for a long time in the more remote parts of our country. Second, we had this crash in our mammals that took place mainly during the first half of the 20th century when there were very few people out there making observations. We've had a dramatic decline in a lot of our mammals.
On the mainland of Australia, we've lost 30 species of mammals. Eight of those have survived on offshore islands around the coastline of Australia. We also have a number of species of mammals which are highly endangered on mainland Australia, but have secure populations on islands. That's what got me so interested in island management.
Are there any plans to reintroduce some of those eight surviving species on offshore islands back onto the mainland?
Yes, there has been a lot of work in this regard over the last 15-20 years with a whole range of projects around the country. In very simple terms, most of these species have only survived when reintroduced to the mainland if they are behind predator-proof fences. By and large, efforts to reintroduce them to mainland areas where foxes and cats exist have failed. Even when fox and cat numbers have been reduced considerably, most reintroductions have still failed.
Your story of the central hare-wallaby speaks a lot about the value of traditional knowledge.
Traditional knowledge has been extremely valuable to wildlife and park managers- particularly to fire management, which is a major issue in Australia. Australia has been occupied by humans for at least 40 thousand years, probably 50 thousand. Humans have been here a long time, occupying the whole continent over that period of time. They have managed the country to maximize food production for a long period of time. The sort of management Aboriginal people have used on the country is something that park managers are now often trying to reinstate, particularly with regard to the use of fire.
Speaking of human habitation in Australia…I read that Christmas Island (nearly 2/3 of which is a national park) was uninhabited by humans until the late 19th century. What makes Christmas Island so special from an ecological perspective?
Christmas Island is an oceanic island which has been above the sea for at least five million years. It's in the northern Indian Ocean, south of Java and northwest of Australia. It had no human habitation until very late in the 19th century when it was found to have significant deposits of phosphate. It was inhabited so the phosphate could be mined and exported for use in agriculture. It was originally run by one family, who brought in labor from Asia, so a lot of the population came from Malaysian and Chinese origins. It was a British Colony right up until after World War II. During the war, it was occupied by the Japanese. Immediately after the war, the island was part of the British colony of Singapore. When Singapore attained independence from Britain, the British asked Australia if they'd like to have Christmas Island. I think they thought it was just a bit too far away for them to do anything useful with it. It became an Australian external territory in 1958.
There are a lot of endemic plant and animal species on the island. There were five species of mammals, for example, which are endemic and did not occur anywhere else. A significant proportion of the land birds, reptiles and plants are endemic. If you get into the invertebrate levels, there is similar endemism.
Not only in terrestrial invertebrates like land crabs, but also among underground invertebrates. Christmas Island is famous for its underground fauna. There are a number of species that live completely underground, either in air cavities in caves or in the groundwater system – crustaceans, scorpions, insects, etc. This is not an uncommon phenomenon around the world, particularly in karst features. Australia has a number of areas of substantial karst geology and because Australia is such an ancient continent many species have established underground. It has been a very long time since we've had any major perturbations through ice or volcanic action. We also have several areas in mainland Australia with significant underground fauna. Christmas Island is one of the places around the world that has a whole range of unique things living in the groundwater and caves.
One endemic species on Christmas Island that has become world famous is the Christmas Island red crab. The vegetation on Christmas Island is dominated by rainforest. The rainforests are unusual in their structure because of these crabs. There are millions and millions of these crabs living in burrows on the forest floor, so they turn over the soil. They eat the leaves that fall off the trees and turn them into good quality fertilizer. They also eat most of the seedlings that germinate underneath the rainforest, so you have a rainforest system with very open, park-like areas underneath the canopy. The red crabs have to migrate annually to the ocean in order to reproduce. Around November, at the beginning of wet season, the whole population moves down to the ocean. They lay their eggs in the water and then walk back up the island. The eggs develop into larvae, of which, for a short time, there are billions in the water around the island. As they mature into what the locals call crablings, which are minute red crabs, they come back onto the shore and walk back up into the rainforest. When they find vacant areas, they establish there. The red crab migration is one of those amazing events of animal migration around the world.
What has happened on Christmas Island with the mining is that a significant amount of the rainforest has been destroyed. Perhaps more importantly, all sorts of exotic plants and animals have been introduced to the island. This has led to dramatic changes in the island's biodiversity. Of the five mammal species I mentioned before, four are extinct. There's only one endemic mammal species left on the island this year- the Christmas Island flying fox – and that seems to be declining. Of the six species of endemic reptiles, five are critically endangered. It's not a very happy story at the moment. This is all being driven by invasive species. The biggest problem at the moment is ants. There are more than 40 species of ants that have been introduced, probably in potted plants and food. One of these ants is the yellow crazy ant.
What has happened on Christmas Island is that scale insects have also been introduced, probably on fruit trees. Scale insects have started to go into outbreak on the rainforest trees, and they produce honeydew. Yellow crazy ants harvest the honeydew and rapidly increase in numbers developing what is called super-colony outbreaks. You'd have to see the density of the ants to believe it. They kill everything inside the super-colony area, including the red crabs. Rather than biting, yellow crazy ants spray formic acid. There are so many of them, they kill all the red crabs in the super-colony area. When the red crabs move down to the coast and come back up again during migration, all crabs that move through one of these super-colonies are killed. When the crablings move from the ocean to come back up the island, they also get killed by the crazy ants. The end result is that we are starting to lose the red crabs from the island. There are now significant areas of the island where there are no red crabs. Because of that, the whole structure of the rainforest ecosystem is changing. Crazy ant outbreaks are probably also responsible for the decline in the native reptile fauna and the extinction of a bat, the Christmas Island Pipistrelle, only last year.
How would the ants have been responsible for the extinction of the Pipistrelle?
It's not entirely clear. The bats roost in the rainforest trees. The ants climb up and down the tree trunks and branches to harvest the honeydew from the scale insects in the canopy. Anything the ants come across, when they are in high density, they spray with formic acid. That's the first problem. At the same time, the ants protect the scale insects from predators and competitors. So the ants are killing caterpillars and other insects that are normally in the canopy. . Caterpillars are getting killed, so they're not turning into moths, which were a significant food for the bat. As far as we can tell, the major cause of the extinction of the bats has been the crazy ants. The ants and the scale insects present a classic case of mutualism, where species depend upon each other and increase in number because of that interdependence.
Unlike most national parks in Australia, which are managed by State or Territory government, Christmas Island is managed by the Commonwealth. You were working with the Commonwealth government on the management of Christmas Island. Can you tell us about this work?
Under our constitution, land management is primarily the responsibility of the States. The Commonwealth is responsible for land management in the territories, and Christmas Island is an external territory of Australia. Things got so dire on Christmas Island that the Commonwealth set up an independent group of people to advise them on what should be done to better manage the island's biodiversity. I was asked to be a member of that group.
So what should be done, or what is being done, to better manage the island?
The Parks Service has done a lot of work to try and control the ant super-colonies. There's not an easy, straight forward method for that. There are poisons which work effectively, but those toxins also are damaging to other native animals and to the environment, so they can not be used widely. It has been a very difficult issue. They are just starting to look at biological control of the scale, which we think is a key response that should be taken because the ants are going to continue to go into super-colony outbreak as long as the scale are present. It's only by dealing with the scale insects that the problem will be solved.
Are you seeing any positive effect in applying that approach?
Research into biological control is only just starting now. It's too early to say whether or not that is going to be effective.
Under the Australian Constitution, the management of most national parks and equivalent reserves is the responsibility of State and Territory governments. Only 15 parks and reserves are administered by the Commonwealth government. How does this management structure affect overall ecosystem protection and restoration throughout the parks?
That's been the normal system in Australia since it was settled by Europeans. We had a number of individual colonies in Australia which each developed independence from the UK one after the other and operated under some control from Britain up until 1901 when we federated and formed the Commonwealth of Australia. So right from the earliest days, land allocation, management and ownership was all controlled by the colonial governments and then by the states. That's been the norm. The federal government has really only come into conservation in the last 20 years or so. Prior to that, there was practically no involvement by the federal government in conservation issues in Australia. It was entirely state run. The states have much bigger parks and reserve systems than the federal government does. They've had a much longer history. The structure doesn't make it more challenging or less challenging. It's just the way it's been and it's the way it runs. It has been effective.
The Australian government has declared 15 areas within the country to be "biodiversity hot spots," meaning they support natural ecosystems that are largely intact, with native species well represented and they have a high diversity of locally endemic species. More than half of these hotspots are in Western Australia. Tell us about one of your favorites.
The southwest of Western Australia is a global, megadiversity hotspot. There are three Mediterranean ecosystems in the world which have very high species diversity in plants: South Africa, Southern California and Southwest Australia. They are all considered to be global biodiversity hotspots. South Africa has the largest number of endemic species of vascular plants, followed by Southwest Australia and then Southern California.
In the Southwest of Australia, we have roughly eight to ten thousand species and subspecies of vascular plants-80% of which occur nowhere else. Many of them have spectacular flowers. Some of the genera we have here are very high in species diversity. For example, we have one species of terrestrial orchid with 120 species in that genus. There's one species of Proteaceae called Banksia, which has about 150 species in the genus. Banksia is named after Joseph Banks, the botanist on Captain Cooke's voyage of exploration to Australia in 1770.
So the Southwest of Western Australia has this incredible plant species diversity. There's very high species richness in the Fitzgerald River National Park. That park has over 1,800 species of vascular plants-about 60 of which occur nowhere else.  This is not uncommon in other areas of southwestern Australia. You can get 2,000-hectare reserves which have more than 500 species of vascular plants in them.
One national park where I have done a lot of work is Lesueur National Park, located north of Perth. This park has over 900 species of vascular plants in an area of about 25,000 hectares. While these two national parks, plus StirlingRangeNational Park, have very high number of species of vascular plants, many smaller parks and reserves in the southwest also have high numbers of flora species.
Another area is the Kimberley, is the northern tip of Western Australia. It has a monsoonal tropical climate. We've got what we call the wet/dry tropics up there. There is a distinct wet season from December through March, and then a distinct dry season from April through October. In parts of the Kimberly, rainfall exceeds 1,500 mm and that falls in three months. In that high rainfall part of the Kimberley, we have a lot of small patches of tropical rainforest, major river systems (most of which are still wild), an extensive coastline with a lot of mangroves and that's the only part of Western Australia where we have fully intact ecosystems where all the mammals are still present. I have worked up there on and off since the early 1970s. My colleagues and I established a series of biological surveys in that high rainfall part of the Kimberly which was very poorly known then. We have been able to get a pretty good idea of what species of animals and plants occur up there. We are still describing species in the Kimberly at a rapid rate, particularly plants and invertebrates, but also vertebrates such as reptiles. Last year, two new species of frogs from the Kimberley were described.
Are there other parks or other unprotected areas that should be considered biodiversity hotspots?
There are a lot of areas in Western Australia-and Australia as a whole-that require protection. Our protected areas system is still a developing one. There are three movements to expand the protected areas system at the moment. One is through the State governments declaring land areas which are owned by the States or in some cases purchasing land for declaration as parks. Second, there are a number of private groups which are buying land back from private ownership for declaration in the same way The Nature Conservancy does this in the U.S. There are a number of groups in Australia doing this, such as Australian Bush Heritage and Australian Wildlife Conservancy. The Nature Conservancy is active in Australia supporting some of these groups. The third main stream is what's called Indigenous Protected Areas. This is where we have Aboriginal-owned land which the Aboriginal people want to declare as conservation areas. They want to retain ownership and management, but get help from governments and universities to try to manage the land better for conservation purposes. So those three streams are still moving the national park and reserve system forward in Australia.
Some of Australia's national parks have become World Heritage Areas, such as Purnululu National Park. This means they are deemed to have "outstanding universal value." Have you worked in any of these parks? If so, tell us about them.
There are two such areas in Western Australia. Purnululu and Shark Bay.  I have worked at SharkBay in two major areas. One was with endangered mammals. There are two islands in SharkBay that have five species of mammals on them which became extinct on the mainland. They both have been declared nature reserves and their management is a high priority. One of the things I was involved in was removing goats from one of these islands. Goats were introduced on the island before it was made a nature reserve and they were eating out the island at a rapid rate. I was involved initially in control, and then eradication of the goats.
My other work on SharkBay involved sea birds. I was involved in documenting which islands in SharkBay are used by which species of sea birds in an effort to improve the protected status of the islands. The Bridled Tern breeds on 10 or so islands in Shark Bay, while the Australian Pelican breeds on one island. There are 15 species of sea birds that breed at Shark Bay.
As someone from an island nation, I imagine you have some strong thoughts about the oil spill.
We've had our own major oil spill, not very long ago. We had the Montara spill event in the Timor Sea. It was a similar event to what you've had in the Gulf of Mexico where a company was drilling a well, there was a blow out, the safety systems failed and the oil had gushed into the ocean for a long period of time. It was only stopped when they drilled an intercept well, which took two to three months. There are a lot of similarities to what happened in the Gulf, but the depth of the ocean wasn't so great. The amount of oil that actually spilled in the Gulf of Mexico has now way exceeded what we had in the Timor Sea.
My understanding is that oil drilling in Australia is much better regulated than it is in the U.S., but notwithstanding that, we still had this failure. It was an oil well that was in federal waters and it was a long way from Canberra. (Some people thought that was part of the problem.) The government has set up an inquiry into the causes of that and whether the regulations can be improved to stop something like that from happening again.
Fortunately, none of this oil came ashore in Australia. A little bit came ashore in Indonesia. There has been a significant loss of fishing grounds in Indonesia. There was a lot of damage to high seas species like dolphins, turtles, sea birds and many fish.
Many of our readers are actively engaged in conservation planning and ecological restoration/regenerative design. Are there any powerful success stories or "lessons learned" involving ecosystem protection/restoration on Australian national parks that you can share with our readers?
We certainly have some success stories. In terms of the mammal situation, which I discussed earlier, there's a major program we've been running in Western Australia called Western Shield. It involves controlling foxes and managing mammal populations, including reintroduction of mammal populations. The foxes are controlled with poison baiting, most of which is applied from aircraft. The toxin that is used is 1080 (sodium monofluoroacetate). If you Google 1080, you'll find that lots of people are opposed to its use, partly because it affects other animals apart from the target species. The advantage we have in the Southwest is that 1080 occurs naturally in one plant genus, Gastrolobium. Our native fauna has co-evolved with this chemical, so they are highly resistant to it. It actually can be used as a selective poison here and it is extremely effective on foxes without affecting the native animals at all.  This program developed after a lot of research into both the causes of decline of the mammals and the possible effects of this toxin. It has been a pretty successful program. We bait about 3.5 million hectares (about 8.5 million acres) of conservation lands-national parks, nature reserves and state forests-in the Southwest. A lot of work is going on to monitor the native mammals we're trying to protect and to refine the program.
Another success story is the Noisy Scrub-bird, which was thought to be extinct for a long time but was rediscovered in the 1960s. When it was rediscovered, there was one population of about 35-40 pairs in a very small area. The area was declared a nature reserve and research started on the bird. That culminated in a series of translocations to sites where the bird formerly occurred and to an island offshore where it had never occurred (as far as we know). So we have gone from that one population to eight populations of more than 700 pairs. This involved scientists working on the bird itself, its habitat requirements and food. It involved park managers and a lot of volunteers.
Would you attribute the success to the fact that it was such a collaborative effort?
That is certainly part of the reason it has been such a success.
What about a case where useful knowledge was gained from a failure?
We've had failures with attempts to reintroduce mammals back to arid parts of Australia. They have failed, but from that we have learned just how critical it is to not have any cats in areas where you want to reintroduce mammals from islands. There was a belief that if you were to reduce cats to quite low densities, that would be sufficient [for mammal reintroduction to succeed] but in most cases, it has been shown that you can't even have one cat left. They learn. They switch onto the reintroduced mammal and they just stick with it until they take them all out.
Are there particular nations that you regard as leaders in terms of the protection, enhancement and restoration of ecological integrity of their park land?
There are a lot of nations around the world now which have good, well-managed and developing national park systems. Your country [U.S.}, of course, founded the whole idea of national parks. We weren't far behind. Six or seven years after Yellowstone was declared, the first national park in Australia was declared. It was pretty quick. That was near Sydney. Not long after that, the first national park in Western Australia was declared near Perth. The national park movement has been strong in Australia right from the early days, and it has spread around the world. The majority of nations have got national parks these days, haven't they?
You recently co-wrote a book entitled "Australia's Biodiversity and Climate Change." Can you give me a brief description of this book and let our readers know how they can purchase it?
In Australia, we have the Natural Resource Management Ministerial Council which consists of the federal and each State's ministers for conservation. They asked for a group to be set up in Australia to report back to them on what the effect of climate change might be on Australia's biodiversity. I was asked to be a member of that group.
We produced three products. One is a book. The second was a 50-page technical summary. The third was a short summary for policymakers.  The technical summary and summary for policymakers can be downloaded free.
We looked at climate change very much as a threat that is compounding and interacting with all the threats to biodiversity we already have in Australia. I haven't talked about land clearing in any detail, but we've cleared a lot of land for agricultural use. We've also got very large areas where we have open range grazing, which has led to land degradation and loss of species. I have talked about invasive species. Those major threats are already with us and are proving very difficult to manage.
Climate change is going to come in on top of those threats and has to be seen in that context. We are already seeing significant changes in rainfall in southern Australia. In the Southwest where I live, we have had a 20% reduction in rainfall over the last 25-30 years. We have had increasing incidence of very hot summer wildfires. We had a major wildfire in Southeast Australia in Victoria about a year and a half ago, which resulted in a massive loss of life. That occurred on a day when the temperature and wind conditions were extreme. We seem to be getting more of those days. Climate scientists are telling us that those sorts of things are going to be more common.
Rainfall across the whole of southern Australia is declining, and rainfall in the far north of Australia is either static or is slowly increasing. On top of that we're seeing temperature increases as well. We're seeing the sorts of things you see elsewhere in the world: changes in distribution of species, changes in arrival and departure dates of migrants, changes in ocean temperatures and tropical species moving farther south. We're getting increased coral bleaching events in places like the Great Barrier Reef, where the ocean temperature is getting too high for the coral to survive. We're getting salt water inundation into some freshwater coastal wetlands. Those are just a few of the things that are happening.
The general conclusion we reached is that if the world doesn't agree to reduce greenhouse gas emissions considerably over the next few years, we're going to see very significant problems in Australia with biodiversity conservation.
What has the reaction been to your book and report? Has it prompted any movement toward policy change?
Unfortunately, the Australian government and the major opposition party have both pulled back from doing anything substantial about greenhouse gas mitigation. Pre-Copenhagen, the opposition conservative party was opposed to any action on climate change, whereas the government was trying to do something about it. Post-Copenhagen, the government has pulled back from active climate change mitigation. As far as responding to climate change is concerned, we are very backward.
Stephen Woodley
Chief Ecosystem Scientist, Parks Canada
Stephen Woodley is an ecologist who has worked in the field of environmental management for 25 years. As Chief Ecosystem Scientist for Parks Canada, he works on a number of issues related to protected areas, including developing techniques for monitoring and assessing ecological integrity and ecological restoration. Stephen holds a BSc (Mt.AlisonUniversity) and MSc (University of New Brunswick) in biology and a PhD (University of Waterloo) in Environmental Studies.
Stephen was a member of Parks Canada's Ministerial Panel on Ecological Integrity.  This independent panel was asked to evaluate the success of national parks in meeting their legal mandate to manage for ecological integrity. Stephen is a member of the World Conservation Union's (IUCN) Commission on Protected Areas.
How did you become the Chief Ecosystems Scientist for Parks Canada?
I have always had an interest in biology and ecology. I started with Parks Canada as a naturalist. I became one of the very first park ecologists hired at the park level, back in the 1980s. I then went to the University of Waterloo and worked at a center which studied parks and protected areas. After earning my PhD I returned to Parks Canada at our National Office to run the fire management program.  This was an exciting time because Parks Canada was begging to use prescribed fire as restoration tool in a big way. After that I stepped outside of Parks Canada to be a member of an external ministerial panel which crafted a new direction for Parks Canada's national parks based on ecological integrity. That's when we put the idea of ecological integrity as a management end point.
As a result of that work, we decided to be a much more scientifically based organization – and that included having a chief scientist. I returned to Parks Canada and became the agency's first chief scientist.
Canada's national parks system is still in development, true? Can you tell us about the National Parks System Plan and where Parks Canada is with that plan at the moment?
We want to have at least one national park that is representative of each of Canada's natural regions, so we are aiming at a representative system. Right now, we are 80% complete. We have 42 operational parks representing 28 of Canada's 39 natural terrestrial regions and covering a total of 301,473 square kilometres.
A region may be represented by a national park or national park reserve. A region is considered to be represented when one or more national parks or park reserves are operational as a consequence of: signing a park establishment agreement (federal, provincial and/or Aboriginal agreements); the lands have been transferred to Canada (from the province); and/or the park/reserve is in a schedule of the Canada National Parks Act.
Since the 2007 State of Protected Heritage Areas Report, Parks Canada advanced projects to establish national parks in the following unrepresented regions—Interior Dry Plateau (South Okanagan—Lower Similkameen Proposal); Northwestern Boreal Uplands (East Arm of Great Slave Lake Proposal) and East Coast Boreal Region (Mealy Mountains Proposal). The 2007 State of Protected Heritage Areas Report indicated that Parks Canada was preparing for negotiations toward the establishment of a national park in the Manitoba Lowlands region. Since then, the Agency has returned to feasibility considerations to better engage First Nations. For further information on the progress made to establish national parks in unrepresented terrestrial regions, your readers can consult the Parks Canada Agency Performance Reports for the periods ending March 31, 2008 and March 31, 2009 on the Treasury Board of Canada Website. 
Canada's national parks encompass a wide range of landscapes-mountains, glaciers, forests, lakes, etc. To someone unfamiliar with your park system, how would you summarize Canada's national parks system, in terms of the ecosystems represented within?
We are the oldest national parks organization on the planet. We're even older than the U.S. National Park Service, although the first national park was, arguably, Yellowstone. Banff came very shortly after that. We're celebrating 100 years of Parks Canada next year and 125 years of Banff this year. The U.S. Cavalry ran Yellowstone for a long time. It wasn't a Park Service set up.
We cover everything from that very first park in Banff in the high mountains, which is iconic, to the very furthest northern point in Canada, which is an Arctic polar desert, to the very southernmost point in Canada, which is a rich, Carolinian hardwood forest. So we cover the full breadth of Canada. The parks tend to be very large in the north. We just completed a new Nahanni National Park, which is 30,000 square kilometers.
It that your largest?
No, we actually have one bigger. Our largest is Wood Buffalo National Park. That is four million hectares (10 million acres.).
We aim to manage our parks according to ecological integrity. We understand that they have to be very large if we're going to be successful at keeping whole, functioning ecosystems and all the biodiversity that is part of those ecosystems. All national parks are comprised of a functionally interconnected mosaic of major park ecosystems. For example, a park in the Atlantic Provinces will be dominated by park forests, intersected by streams, lakes and wetlands, often with a border of coastal beaches and estuaries along the ocean. Our Arctic national parks are dominated by broad expanses of herb-shrub tundra or sparsely-vegetated polar desert, intersected by streams, lakes and wetlands. Each major park ecosystem supports a unique flora and fauna that together comprises park biodiversity. The variety of major park ecosystems that make up our national parks in different regions of Canada reflect the ability of park plants and animals to adapt to the integrated effects of regional climate, topography, soils and glacial history.
Parks Canada actually has an Ecological Integrity Branch. Can you give me a brief history of how, when and why that branch was established?  (And…how have the threats to ecological integrity changed since its establishment?)
The Panel on the Ecological Integrity of Canada's National Parks (which was launched in 1998) and the 2000 Parks Canada Ecological Integrity Action Plan reviewed Parks Canada program with the objective to focus the national parks program on conserving and restoring ecological integrity as a first priority. In response to the panel's 127 recommendations, the Ecological Integrity Branch was established in 2000 to set national functional leadership for ecological integrity across the Agency.
The threats to Canada's ecosystems continue to be present and will likely continue in the future, this will not change. What has changed is the tremendous action ParksCanada has taken since the panel recommendations to strengthen legislation, establish a management and reporting structure, secure long-term funding and establish internationally acclaimed monitoring and active management programs to ensure the maintenance and improvement of ecological integrity throughout Canada's national park system.
Which among Canada's many national parks do you think have the healthiest, most resilient ecosystems and why? (Are most people aware of this, or are these little known secrets?)
We actually formally assess and measure the health of ecosystems. In 2009, we launched an ecological integrity (EI) monitoring program to measure and track the ecological health of all parks across the National Park system. Park science teams measure key components of park ecological integrity in four to eight 'Ecological Integrity Indicators' which represent major park ecosystems. Results are reported every five years in individual "State of the Park" reports and a national "State of Protected Heritage Areas" report. These reports are made publically available on the Agency's web site.
The parks that are the furthest north and the largest tend to be essentially in pristine conditions. It's the very small parks in the south which are alienated by different land uses –surrounded agriculture or embedded in a matrix of high road density  – that have the biggest ecological problems. That's where we have to do the most ongoing restoration.
Are there any small parks that surprised you by having a higher degree of ecological health than you expected?
Georgian Bay Islands National Park is tiny and it gets fairly good ratings in terms of its ecological integrity.
I read that…"Canada's parks are managed to first protect the ecological integrity of the park, and secondarily to allow the public to explore, learn about and enjoy Canada's natural spaces." Is this true? Does Parks Canada put the visitor experience second (albeit a close second) behind ecological protection?
Ecological integrity is, legally, our first priority. But as an agency, we also want people to visit these places. We want people to connect to and learn about wild nature in these national parks. That's a fundamental part of who we are as an organization.
National parks are one of our country's most enduring and inspiring living legacies, connecting us to the very core of our nature. Our mandate is to manage this legacy by maintaining or improving ecological integrity in national parks while creating experiences and education opportunities that connect Canadians, their hearts and their minds, to these treasured places.
Ecological integrity is fundamental to the opportunities for Canadians to experience, learn from our national parks, and fully appreciate their irreplaceable value. Outstanding visitor experiences are rooted in ecologically healthy environments, where the integrity of the natural resources enhances the sense of awe felt by visitors. Opportunities to learn about nature and the efforts of Parks Canada and its partners to maintain and improve ecological integrity are important to the appreciation of nature and the understanding of the relevance of conservation to Canadian society.
Based on what you're saying, and on what I read about the agency's efforts to improve the ecological integrity of its park land in a report called "Action on the Ground II" it seems like the visitor experience is well integrated with Parks Canada's ecological protection and restoration efforts.
Our mission as an organization is to see these in an integrated way. We know that if we are going to be successful in protecting these places, we need public support. Public support comes from people having personal experiences in these places. We try and create truly memorable experiences for people when they come. We want them to be blown away by a close, personal experience with nature.We also want people to learn about these places-not only when they're visiting parks, but also when they're in their living rooms or on line.
Can you share any success stories of how some parks have managed to protect and/or restore ecosystems while also providing access and maximizing the visitor experience?
Parks Canada is responsible for establishing and managing national parks in ways that ensure their ecological integrity while fostering public understanding, appreciation and enjoyment of these areas. Facilitating memorable experiences and a sense of connection for visitors plays a vital role in building long-term support for the protection of ecological integrity and the preservation of the parks system as a whole. Reaching out to Canadians where they live, work and play also ensures that national parks remain relevant across the country. From a personal perspective, our use of prescribed fire for ecological restoration really stands out as a success story. Fifteen years ago, we were considered nuts to be lighting fires in national parks. Now, there is a very good public understanding of the need to burn to keep some places ecologically healthy. We provide opportunities for people to watch prescribed wildfires and we explain what is happening and why we're doing it. We burn on prairie grasslands. We burn stand replacement fires in highly visited areas like Banff.
Another success story involves the protection and restoration of Garry oak ecosystems.  Gulf Islands National Park Reserve,  Fort Rodd Hill National Historic Site,  and nearby areas of British Columbia contain tracts of Garry oak ecosystems ranging from shady woodlands to open meadows – that are home to many species found nowhere else in Canada. Some 43 species found in Garry oak ecosystems are listed under the Species at Risk Act (SARA).  Outreach and cooperation are key to the recovery team's efforts. Collaboration with First Nations and partnerships with various levels of government and citizens' groups are essential. The recovery team works diligently to get the word out about the need to protect and restore Garry oak habitats. Presentations, interpretive panels, and newsletter articles are among the communication tools. The recently published Garry Oak Gardener's Handbook, which received a National Citation from the Canadian Society of Landscape Architects, is actually inspiring neighbors to create attractive Garry oak gardens.
Another story that stands out is the restoration of the Douglas-fir bunchgrass ecosystem in Kootenay National Park.  A century of fire suppression and subsequent forest in-growth in the park had degraded traditional winter habitat for bighorn sheep (Ovis canadensis). The in-filled forest that resulted from fire suppression activities no longer provided the long sightlines the sheep require to spot potential predators. Research into the issue found that the sheep had adjusted their use of the area away from their traditional winter range, which increased the risks they then faced of car and railroad collisions. To address this issue, since 2002 the park has restored approximately 200 hectares of land to its historical state.
The only way we could restore that ecosystem was by doing a massive mechanical thinning operation followed by prescribed burn. We had feller bunchers – giant machines used in modern industrial forestry which snip trees off at their base and throw them into a large trailer-operating for months in the park. We had logging trucks filled with logs leaving a national park!
Through a combination of forest clearing and prescribed burn, the area is now more hospitable for bighorn sheep and other species that depend on open forest/grassland habitat. Radiotracking indicates that the sheep are beginning to use the restored area. We were able to work with citizens, park visitors and stakeholders so they understood why we were doing this. Once they understood, it became part of their experience. Now when they return and walk through those bunchgrass ecosystems, they see the sheep and native plants that have come back. They see a really successful restoration. That's a way of connecting restoration to the visitor experience.
To what do you attribute your success in gaining that public understanding? What communication vehicles did you use?
The philosophy of seeing the visitor experience, public education and ecological protection as integrated is a successful approach. It's not merely scientists or restoration ecologists figuring out the best way to restore ecosystems and doing their thing. You have to bring people along and generate public support if you're going to be successful into the future. We used a variety of techniques-town hall meetings, guided walks on the site, door-to-door flyers, articles in newspapers, etc. The best techniques involve bringing people on the ground and getting them personally involved in the experience,
Additional public outreach efforts that contributed to Kootenay's success include programs such as "Bighorn in Our Backyard" and the Head Bangers Tour, which were created to build on the interest of visitors and local residents to observe wildlife by offering them a unique opportunity to observe bighorn sheep in their natural habitat during the fall rut. Newly created interpretive trails are also expected to increase interest and understanding about the sheep, their habitat, and ecological integrity issues within the park.
Tell me about Parks Canada's Citizen Science programs.
Citizen science programs have become an important aspect of Parks Canada's public engagement work in recent years. These programs connect people to nature, enhance their understanding of the natural world, help build a growing constituency of volunteers and supporters within the communities in and around national parks, and generate knowledge to support park management decisions.
A great example exists in Kejimkujik National Park and Historic Site, which is at the core of the Southwest Nova Biosphere Reserve, an area containing some 30 species at risk. Protecting all those species is a big job, so park staff and its biosphere reserve partners have engaged a small army of volunteers in the hands-on recovery. Over the past three years, 500 volunteers contributed more than 25, 000 volunteer hours to species at risk recovery and environmental conservation.
There's a rare population of turtles in Kejimkujik called Blanding's turtle. Volunteers help us locate turtle nests during the season, cover the nests with mesh boxes (to protect them from predators like racoons) and become nest guardians, so to speak. When the turtles hatch out, we collect some of them, take them to a lab, and "head start" them for two years so they get big enough to be out of the range of predation. Over 40 head-started turtle hatchlings have been released, and First Nations have always been there to help celebrate their release with prayer, traditional music and dance. That has led to amazing personal connections and support. We had a retired executive who actually developed a GPS tracking system for these turtles on his own volition with his own money. That's restoration with enormous support.
Parks Canada recently led (in collaboration with provincial and territorial park agencies, members of the Society for Ecological Restoration International, academic institutions, and others) the development of the first-ever Canada-wide guidance for ecological restoration practices: Principles and Guidelines for Ecological Restoration in Canada's Protected Natural Areas. Consistent with our mandate, the document promotes an approach that integrates restoration, visitor experience, public education, and the protection of cultural resource values.
Can you give us a brief summary of this document?
The document sets out a set of clear principles that should form the foundation of all ecological restoration actions: Effective in restoring ecological integrity; Efficient in using practical and economic methods to achieve functional success; and Engaging through implementing inclusive processes and by recognizing and embracing interrelationships between culture and nature. It provides a set of guidelines to focus decision-making about the types of interventions that would be desirable under various circumstances, and it outlines a seven-step framework that identifies how a broad range of factors should be integrated into the restoration planning and implementation process.
How have the principles and guidelines been received since they were published in 2008?
They were endorsed by all Ministers responsible for national, provincial and territorial parks in Canada, as well as by the Canadian Council on Ecological Areas. We wanted the guidelines to be broader than Parks Canada restoration objectives, so they are being used right across Canada.
It's probably fair to say that Parks Canada is the most active in terms of restoration activity, but the guidelines are being used by many of Canada's provincial and territorial parks and protected area agencies, where they are seen as a model for inter-agency cooperation. They are also being used as an educational resource in university programs (e.g., University of Victoria).
We're also hoping to take them global. We have Parks Canada staff member leading a task force to take this set of restoration guidelines and make them a set of international guidelines for ecological restoration in protected areas through the IUCN's World Commission on Protected Areas. There will be a whole bunch of international restoration examples which illustrate this integrated approach of good science, involvement of people through personal experience, and good public education.
Can you give me an example of how these principles and guidelines have been applied?
The restoration of large herbivore grazing by bison and the re-introduction of other natural processes has been the focus of the "Prairie Persists" project in Grasslands National Park.
This area in south-western Saskatchewan was home to millions of free-roaming bison prior to European contact. The disappearance of the bison in the late 19th century has had profound impacts not only on the traditional cultural landscape of local First Nations but also on grassland ecosystems in the Prairies. These ecosystems were historically dependent on grazing by large herbivores to create the diverse pattern of vegetation required to sustain a wide variety of native species. As a result of habitat destruction and cultivation, prairie grasslands are now one of the most threatened ecosystems in the country. Only 19% of Saskatchewan's original mixed grass prairie ecosystem remains intact, and much is fragmented into small parcels. Grasslands National Park is the only national park in Canada set aside to protect this special ecosystem, and represents one of the last remaining large contiguous areas of mixed grass prairie in western Canada. To improve ecological integrity in the park the Agency initiated the "Prairie Persists" project to recreate the ecological processes that are linked to large herbivore grazing and natural fires, while also restoring cultivated lands within the park.
In May 2006, 71 plains bison were successfully released into the 17,800-hectare West Block of the park. Cattle are being used in other areas of the park to restore the grazing process. Progress has also been made in reducing the prevalence of agronomic exotic species such as crested wheatgrass (Agropyron pectiniforme) and preventing the spread of invasive species such as leafy spurge (Euphorbia esula) into the park. In combination with revegetation efforts in previously cultivated fields in the park, over 280 hectares have been restored.
A core element of the "Prairie Persists" project is a host of educational programs for local youth offered through the Prairie Learning Centre – an innovative educational partnership between Chinook School Division and Grasslands National Park. These restoration efforts are not only contributing to the long-term ecological integrity of the park, but are also helping to restore First Nations' relationships with the land. Canadians now have the opportunity for a unique and powerful visitor experience by being able to see free-ranging plains bison – a powerful symbol of the prairies and Canada's history.
(Note: for additional examples of the application of Principles and Guidelines for Ecological Restoration in Canada's Protected Natural Areas, see Parks Canada's "Action on the Ground II: Working with Canadians to Improve Ecological Integrity in Canada's National Parks )
The UN proclaimed 2010 to be the "year of international biodiversity." Is Parks Canada focused on actions specifically related to biodiversity?
Parks Canada is the National Focal Point for the Convention on Biodiversity's Programme of Work on Protected Areas and contributes to the international and domestic biodiversity agenda in this context. The agency is protecting a wide range of Canadian biodiversity. For example, by setting aside lands in the Mealy Mountains of Labrador as a national park reserve, we will protect the biodiversity of vast expanses of wetland, tundra, and boreal forest. On the opposite coast, through our work with the Haida Nation and other interests to create a national marine conservation area reserve off the shores of the existing Gwaii Haanas National Park Reserve, Canada will become the first country to protect a region from the alpine meadows of the mountain tops, to the depths of the ocean floor beyond the continental shelf. The reserve will protect some of the world's most abundant and diverse marine communities, and this wealth of marine resources will continue to sustain local communities as well as a recreational and commercial fishery.
We are also working with individual species. We recently reintroduced the Black-footed Ferret to Grasslands National Park in Saskatchewan. We also reintroduced the Plains Bison, returning them to the habitat where they once roamed in the millions. Internationally, we have transferred Wood Bison from Elk Island National Park to Alaska and Russia. And our efforts continue on behalf of many species. Canada has won international recognition for our conservation efforts not only for the vast areas of land and water that we have set aside, but also for the manner in which we work with local communities and Aboriginal peoples to ensure their traditional uses and cultures are sustained while working collaboratively to manage these sacred places.
How does Parks Canada incorporate traditional knowledge in its efforts to improve ecological integrity?
We try to incorporate traditional knowledge wherever we can. About half of our national parks are managed cooperatively with First Nations and were actually established as part of land claims agreements. This especially applies to the north. We have cooperative management boards in the north to manage these places. We bring science to the table. They bring traditional knowledge. We try to incorporate traditional knowledge in our State of the Park reports in a very explicit way. We do not try to make it compete with science. It's another knowledge system which comes to the table for decision making.
Is it possible to say-or estimate-what portion of your annual budget goes toward the protection and/or restoration of ecosystems?
Parks Canada is investing $90 million (Canadian) over five years in targeted funding in a series of initiatives to help address pressing ecological concerns in national parks across Canada. These projects will protect and restore stressed ecosystems in Canada's national parks, with the direct involvement of the Canadian public. That is a separate restoration fund outside the base we have to hire biologists, ecosystem technicians, fire managers, etc.
It's important to remember that Parks Canada also runs an historic sites program, which is very large in its own right. We also run a developing marine areas conservation program. One of the things we do in Parks Canada that I'm proud of is we connect our monitoring program to our investment. When we look at our State of the Park report for a particular park, it lists the ecological issues we have to deal with where restoration is required. The park's business plan-where they ask for additional funding to do work-must be based on that report and it has to be based on the ability to make a difference through ecological restoration.
Prior to updating our management plans every five years, we redo our State of Park reports. So management plans are done with good knowledge of the conditions and trends within each ecosystem.
Broadly speaking, what is the greatest challenge to protecting the ecological integrity of Canada's national parks?
The condition of ecological integrity of the parks is often dependent on factors that are difficult to influence through park management actions e.g., urban and industrial development outside park boundaries, etc. Understanding the impact of these factors and finding innovative ways to address them is a challenge for Parks Canada and all Canadians.
The greatest challenge into the future is climate change. We have a problem-globally and in Canada-with conserving biodiversity even without climate change. We have a high number of species at risk. When you layer climate change on top of that challenge, it's an enormous challenge for this and future generations. We have to rethink the way we do land management and be far more integrative in our systems approaches to our whole suite of protected areas and the intervening land so we can allow these ecosystems to best adapt to climate change.
Does Parks Canada have a formal climate change action plan or strategy?
We do, although it's fair to say it's evolving. I don't think anyone knows completely how to deal with climate change. We think we need to work together in all parts of the country to have large core protected areas and to connect these protected areas through a working landscape so we have a permeable landscape through which biodiversity can move. And in areas where we do not have a large, protected core, we need to be in the full restoration game. We have this "protect, connect, restore" mantra for large landscape planning as the future path forward to deal with climate change. That's an idea right now. It has not been operationalized.
What are some specific, regional threats?
Climate change is the continental threat. Other continental threats include nitrogen deposition and long-range transport of pollutants. We're still seeing pollutants like toxaphene accumulating in old fish in high mountain lakes in the Rockies, for example.
On a region level, in the south, roads and major traffic corridors going through parks are a major challenge. We're dealing with them in creative ways. We're restoring connectivity through BanffNational Park, for example, by investing tens of millions of dollars in mitigations for the Trans Canada that runs through Banff. We're putting in highway crossing structures for wildlife. We've completely fenced off the highway so wildlife doesn't get onto it. The crossing structures are working extraordinarily well. We're seeing all kinds of wildlife using them.
We're also restoring connectivity on a smaller scale in other parks. We just put in crossing structures for the long-toad salamander at Waterton National Park.  We're doing an experiment in St. Lawrence Islands National Park to see where both fencing and crossing structures would be most effective around the St. Lawrence Parkway. There's no question that roads are a major challenge.
The other inherent challenge is that the parks in the south are very small. Small, isolated populations tend to "wink out." They tend to disappear simply because of numerical variation. Populations tend to go up and down in nature. There may be a good year, then a bad year. If you have a couple of bad years in a row, the population may go to zero, and then there's nowhere to repopulate from. According to the rules of island biogeography, small parks which are more isolated will tend to lose more species than large parks which are less isolated, and we're seeing that. In parks like Point Pelee National Park,  we've lost a large percentage of reptiles, amphibians and fish because of this island biogeography effect. Examples of species in Pelee which have simply disappeared include Tiger Salamander, Fowler's Toad and the grey tree frog.
What are some of the other threats faced by Canadian national parks?
Threats to park EI differ regionally based on park size, land use in adjacent areas, and the home range requirements of populations of park animals. In Kejimkujik National Park, we're seeing mercury pollution, which is airborne deposition from the industrial heartland of the United States. In southern Ontario parks are generally small, adjacent land use includes agriculture and residential development, and impacted park populations include amphibians, reptiles, and interior forest songbirds. National parks in the Boreal Forest area are moderate in size, are often surrounded by industrial forest land use, and the sustainability of wide-ranging species such as caribou and black bear can be compromised. Arctic national parks are not threatened in the short term due to their very large size and lack of significant adjacent land use, but are at the vanguard of long term climate-driven ecological change. The ecological effects of climate change will eventually provide a significant threat to all national parks.
What are some of the most threatening invasive species affecting Canada's national parks? Can you give a few examples and tell us how the agency is responding?
There certainly are problems with invasives in national parks. There's no question about that. It's not as big a problem as it is further south. We don't have these massive infestations where species are being quickly eliminated because of invasives, but I'll give you some examples.
The butternut tree, for example, is a species at risk simply because of an introduced disease from Europe. Another important invasive species in park marine ecosystems on the Atlantic coast is green crab. Introduced through the bilge water of trans-oceanic ships, this aggressive species is invading estuaries and lagoons where it is displacing native species and directly impacting important eel grass habitats.
The effective management of invasive alien species requires cross-jurisdictional, multi-sectorial partnerships and sustained collaboration among stakeholders within the greater ecosystem of each of the national parks. For example, Parks Canada actively participates in the "Don't Move Firewood Campaign" to help control the spread and impact of invasive species such as the emerald ash borer (EAB) in Ontario and Quebec and the Brown Spruce Longhorn Beetle (BSLB) in the Atlantic.
There are many examples of active management initiatives across the country which include strategies to manage invasive alien species in order to restore ecosystems. For example, the fescue grasslands in WatertonNational Park will be reinstated through prescribed burns, removal of invasive alien species and reclaiming disturbed sites using native plant species.
Another example is restoration of Garry oak ecosystems in southern areas of Vancouver Island through the control of the spread of invasives such as Scotch broom, Himalayan blackberry and English ivy. This is a good example of involving citizens and stakeholders in action because we have volunteer groups actually out there pulling these weeds to restore Gary oak ecosystems.
There is a brand new disease of bats in the northern U.S. and southern Canada right now called "White Nosed Syndrome." It's a fungus which is known from bats in Europe. All of a sudden, it's showing up here and we don't know how. It's in several bat caves in New York, Vermont and Quebec. It's a fungus which grows on the skin of bats. It's called White Nosed Syndrome because the bat gets a bloom of fungus on its nose. It appears that when they're hibernating over the winter, they are so bothered by this fungal growth that they come out of torpor (their hibernation mode) to scratch. Because they come out of torpor, they more energy and they simply starve to death over the winter. In caves where this has been located, there have been devastating losses of bats-over 95%.
What is Parks Canada doing about White Nosed Syndrome?
We are restricting access to caves. We don't know how this disease is transmitted and we don't know how at this point how we can solve this problem other than to restrict the bats' movement.
Does Parks Canada have any kind of official standpoint on the reintroduction of keystone species?
Parks Canada has a long history of species re-introductions including predators such a spine martin, fisher and peregrine falcons and herbivores such as bison. We don't have any separate policy on keystone species. Rather this idea is inherent in the concept of ecological integrity.  Where predators or keystone species are absent, we consider re-introductions, population enhancement or replacing their role in the ecosystem with management interventions.
Are there plans to reintroduce wolves or any other keystone species in Canadian national parks?
Having the full suite of trophic levels within a park is a key part of our definition of ecological integrity, so we do work to ensure that predators are present in our national parks. We did a big project to restore wildlife movement corridors around the town of Banff. Because it's mountainous terrain and predators like wolves and cougars use the valley bottoms for movement, the town of Banff was acting like a cork in the bottle. We took out a number of facilities on one side of the valley and restored a wildlife movement corridor. That has worked very well. We also drove the elk out of the town of Banff, which was acting as a predation refuge. Elk were having their young on people's doorsteps. We have a zero tolerance policy for elk in town. We get them out where they can interact with predators and the predators can move around this restored wildlife corridor. We have restored a much healthier predator-prey relationship there.
There are no plans to reintroduce wolves in any particular place at the moment. We've done a number of successful reintroductions of mesopredators, such as fisher, martin and Peregrine falcons, in national parks. As I mentioned earlier, we reintroduced Black-footed Ferret, which is a keystone predator in prairie dog colonies, in GrasslandsNational Park. So far, they are surviving very well.
In St. Lawrence Islands National Park, we have an overabundance of white-tailed deer because there are no predators. Wolves are gone. We are actually playing the role of predator by harvesting white-tailed deer in cooperation with First Nations-the Mohawks of Akwesasne Reserve. We set the target of the number of animals we want to remove from that system and [the Mohawks of Awkesasne] do it in partnership with us. The public has been completely supportive. It's a win for us and a win for the Mohawks because they can continue their traditional harvest activity and get wild meat for their population.
In addition to bison and the Black-footed ferret, can you give us another example of a species at risk and tell us what action Parks Canada is taking toward its protection?
Parks Canada is responsible for the protection and recovery of species at risk and their critical habitats on lands and waters managed by the Agency. Since 2000, our Species at Risk Program has focused on fulfilling our responsibilities under the Species at Risk Act (SARA) and contributing to the improvement of ecological integrity in Canada's national parks. At the same time, federal efforts are closely integrated with provincial and territorial programs. Strong inter-agency partnerships are a hallmark of Parks Canada's efforts to protect and recover species at risk. We also work closely with Aboriginal governments, local communities, and stakeholder groups to ensure the protection and recovery of species at risk within greater park ecosystems.
Pink Sand-verbena (Abronia umbellata)  once took root along the shores of Vancouver Island. The sweet smelling annual herb, with its rounded clusters of blossoms on long trailing stems, is well adapted to salt spray beaches.  It grows along the shores of California and Oregon – but its existence on Vancouver Island has always been tenuous at best. Because Pink Sand-verbena was last seen on Parks Canada land (in 2001), we are leading its recovery. The primary objective is to re-establish the species where it most recently was found, at Clo-ooseBay in Pacific Rim. We're also looking for other areas of suitable habitat so the plant can be established at more sites. These precious plants grew slowly at first and suffered some early challenges (an aphid infestation for example). But to everyone's great relief they finally started to flower and seed profusely in 2007.
What other countries' national parks agencies do you regard as leaders in terms of the protection, enhancement and restoration of ecological integrity and resilience on park land?
We have very positive relationships with many park agencies around the world. In November 2009, the Honorable Jim Prentice, Canada's Environment Minister and Minister responsible for Parks Canada, announced an unprecedented memorandum of understanding with the U.S. and Mexico to cooperate on wilderness conservation across North America. The announcement was made at the 9th World Wilderness Congress (Wild 9) in Mexico, where the Minister delivered a keynote speech on Canadian leadership in wildlife conservation.
Parks Canada also has memoranda of understanding with the US National Park Service and the Kenya Wildlife Service, as well as an exchange agreement with Parks Victoria (Australia). We all learn from each other.
Most Leaf Litter readers are engaged in conservation planning, ecosystem restoration and regenerative design. Any final thoughts you'd like to leave with our readers?
I think ecological restoration is our future. If we're going to have a bright, successful, biodiverse future, we're going to have to up our expertise and capacity in ecological restoration. It's how we're going to get through this population/climate change knothole. It's going to be a fundamental part of our future.
Dr. Bert Frost
Associate Director for Natural Resource Stewardship and Science, National Park Service

Bert Frost is the Associate Director for Natural Resource Stewardship and Science for the National Park Service (NPS).  In addition, he serves as Chief Scientist for the NPS and has programmatic responsibly for all aspects of the Natural Resource and Science Programs throughout the Service.  This includes programs in air resources, soundscapes, night skies, geologic resources, climate change, social science, environmental compliance, resource damage assessment and restoration, biological resources, water resources, and the NPS inventory and monitoring program.

Before coming to his present position, he was Deputy Associate Director for NRSS for three years.  Prior to that, he was the National Park Service Research Coordinator at the Great Basin Cooperative Ecosystem Studies Unit (CESU), located at the University of Nevada, Reno.  There he worked with parks throughout the country and 12 major universities in the Great Basin region on a wide variety of natural, cultural, and social science topics. He also worked as the Wildlife Biologist and Natural Resource Program Manager at GettysburgNationalMilitaryPark, and Eisenhower National Historic Site. He has a B.S. in Wildlife and Range Management, a M.S. in Zoology, and a Ph.D. in Wildlife Ecology.  Currently he spends most of his time on issues relating to climate change, energy development, overflights, ungulate overabundance, and trying to keep bad things from happening to parks throughout the country.

A bureau of the U.S. Department of the Interior, the National Park Service is responsible for 122 historical parks and sites, 74 monuments, 58 national parks, 24 battlefields or military parks, 18 preserves, 18 recreation areas, 10 seashores, four parkways, four lakeshores, and two reserves. This interview focuses mainly on national parks.

Broadly speaking, what is the greatest challenge to protecting the ecological integrity of US national parks?

The change in earth's climate poses our greatest challenge. We've seen habitat fragmentation, scores of invasive species and deposition of airborne contaminants. Beyond climate change, we are faced with poachers who target threatened and endangered plant and animal species.

What are some of the major threats, by region, to the ecological integrity of U.S. national parks?

Every region's ecological integrity is threatened, although the Alaska Region may still have enough land to avoid habitat fragmentation. Predicted sea rise, an effect of climate change, will likely mean the loss of land and property in our national seashores from the Atlantic Ocean down around Florida and the Gulf and the West Coast. We are already losing alpine habitat in some mountainous areas. Change is at hand for virtually every national park landscape.

Are you saying that among the many factors threatening the ecological integrity of park lands, climate change is of most concern to the National Park Service?

Yes.

Are there some examples you can share from National Park sites that can help illustrate this threat?

The American pika of Rocky Mountain National Park is one example. Pika do not tolerate heat very well so as the average temperature of their preferred habitat rises, their response is to abandon that habitat. In this case it means moving to higher ground. Theoretically, there will come a time when the pika on a given piece of habitat cannot move any higher in elevation. We do find pika in other alpine habitat of the Rocky Mountains so we have questions ahead of us: do we at some point have pockets of pika? Do they migrate to other locations farther north? How do they adapt? What can we do to mitigate conditions? Lots of research to do.

Habitat for the Joshua trees in Joshua Tree National Park is another example. Temperature change pushes them, habitat-wise, upslope. They exist in certain places because of certain air temperature and moisture conditions. If you think about where you live and the external forces that make it a comfortable place for you to live and work, you can see how when conditions change there will come a point when you move on. Animal species and plant species respond in similar fashion.

We also see some hardwood tree species that are moving northward. We can track that migration. Over time, if temperatures continue as forecast, there are places in the country that will lose species.

Tell me about the National Park Service's Climate Change Response Program. Does that fall out of the Department of the Interior's Climate Adaptation Initiative?

Yes it does. The National Park Service has an inventory and monitoring program that is nearly 10 years old so we have a start, a baseline, that helps us see what landscapes looked like and with continued monitoring we are able to see changes take place. This has been a real asset to the development of our climate change response strategy. The ability to observe change over time helps us predict something about what national park landscapes will look like in the future. The inventory and monitoring program is also of great value as we work with other bureaus in the Department of the Interior. It should allow us to model future landscape changes on other public lands and may allow us a means to provide corridors for species migration to suitable habitat when climate change dictates they move.

We received initial Congressional funding for a climate response program for the current fiscal year (FY2010.) Our focus, based on sound science, includes National Park Service-wide and National Park System-wide planning and projects in the areas of mitigation, adaptation, and education.  The Climate Friendly Parks program, in which EPA and others are major partners, helps parks learn about their own greenhouse gas emissions and inform the public about these emissions.  The process of scenario planning in parks and groups of parks helps parks explore alternative futures in the face of climate change and has us thinking about the park actions we can take to adapt to alternative futures.

Has anything been implemented at this point, or is the emphasis mostly on inventory and monitoring at this point.

We're just in our first year of climate change appropriations so at this point we've been able to add a few new and critical staff members to work with existing employees to lay out a framework for a climate change response strategy and to initiate a select number of pilot projects and studies. We've asked Congress to include $10 million for climate change work in the FY 2011 budget and hope this will become permanent funding so we can continue the program. We are, by the way, just about to announce the first round of grants for research projects and programs.

Generally speaking, we will take a look at landscapes and their indicator species, like the American pica and high alpine habitat. For the pica we'll look at occupancy patterns and genetic structure across parks. We'll document where these indicator species live and generate models to predict the range of current habitat. Another study will survey bees in parks with especially climate sensitive ecosystems such as coastal dunes, high elevation alpine meadows and arid dune landscapes. Some of these projects, by the way, will include not just scientists and graduate students but citizen scientists.

What do you mean by "citizen scientists?"

Every national park has a friends group or local following. Citizen scientists are volunteers. After going through a brief training course, they become monitors for us. An example of how we work with citizen scientists is the "bioblitz" we do in partnership with National Geographic and others. We might have, for example, a group of high school students go into a park and, for 24 hours, count every single species they can find. An example is the bioblitz project at Biscayne National Park.

The NPS has proposed a budget of $2.73 billion for FY 2011. Generally speaking, what portion of this budget goes most directly toward the protection and restoration of natural resources?

The biggest segment of our budget is called "Operation of the National Park System," and that accounts for $2.3 billion. ONPS, as we call it, includes budgets for each national park. The remainder of the budget is for the programs of national recreation and preservation, urban park and recreation, historic preservation, construction, and land acquisition.

Does that include another $10 million for climate change?

Yes.

A lot of research suggests that tropic cascades – the domino effect of disruption within a food web when a key predator is removed- are a major cause of biodiversity loss. The reintroduction of wolves in Yellowstone National Park in the 90s seems to support this (return of wolves helped control overgrazing by elk, which in turn has led to the return of aspen & willow along stream banks, etc.). Does the NPS have any kind of official standpoint on the reintroduction of keystone species?
This is an important issue to us and we don't call it "reintroduction." It is species restoration. Introduced species and processes are contrary to the purpose of reserves, so reintroducing species is doubly contrary. Restoration of extirpated species in parks is very important but difficult to achieve. A proposal to restore large predators creates controversy as well as expense. Restoration of other species creates expense. Restoration of the natural role of wild land fire creates both controversy and expense. Removal of dams that block species migrations and natural processes along river corridors causes controversy and expense. It's all expensive, and 90% of it is going to be controversial because it's change.
Cascading effects? Absolutely. Extirpation of keystone species can have cascading effects, many of which we may not understand.  I don't know that we all understood what would happen when we restored wolves to YellowstoneNational Park. The wolves curb the elk population but we also benefitted with improved water quality in streams, which was better for trout. I don't know that we thought about that happening, but it did. The restoration of wolves to Yellowstone revealed responsive changes in elk population sizes and behaviors which in turn affected the abundance of plants such as willow and aspen which in turn may affect the abundance of beaver, and so on and so forth.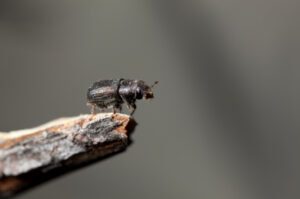 Climate change models suggest there will be a decline of white bark pine in Yellowstone and such a decline could affect the grizzly bear population. Presumptive climate change gives native bark beetles opportunity to be more active. Their increased activity, coupled with drought causing greater stress to trees, may lead to a greater extent of tree death and, subsequently, to increased amounts of wild land fire and possibly a subsequent change in the past pattern of post-fire plant succession. Chestnut blight has removed chestnut as a functional member of the eastern forest and that resulted in a loss of chestnut forage for bear, deer, turkey, squirrel and other fauna.  The loss of this forage source presumably has been mitigated by an increase in oak and hickory seeds that may be used for forage. An effective restoration of the chestnut presumably would alter the composition of these deciduous forests as we know them today. Hemlock wooly adelgid  is causing major decline of hemlock which may, in the future, greatly change the habitat properties of mountain stream valleys and the habitat of bird species that depend on hemlock forest for nesting and feeding locations. 
Are there plans to reintroduce wolves or any other keystone species elsewhere in the National Parks system?
Not at this time.
Can you share any success stories of how some parks have managed to protect and/or restore ecosystems while also providing access and maximizing the visitor experience
Restoration of the wolves to Yellowstone National Park was one of the most visible success stories. Elk were overgrazing the aspen and willow, and stands weren't doing well. It wasn't until the wolves were restored and exerted some control over the elk population and their behavior that biologists noticed the aspen/willow stands started looking better. We've combined the restoration of alpine vegetation with an increased effort to encourage visitors to stay on trails in several parks. In Shenandoah National Park and Great Smoky Mountains National Park, we've restored vegetation following the elimination of farming and grazing.
One of the biggest projects we have going on now is the elimination of two dams on the Elwha River in Olympic National Park. So far, we've built two water treatment plants so the nearby communities, including an Indian reservation, will have clean, potable water when the dams are removed. The elimination of the dams will eventually mean restoration of the natural runs of salmon and the food chains that depend on migrating salmon. We're building a fish hatchery right now and the Elwah Indian Tribe will operate it for salmon restoration.
The NPS is responsible for a mix of rural and urban parks. In terms of ecosystem protection, does NPS focus more on one type than the other?
We don't have a bias. We have 84 million acres of the best of the nation's greatest historic, cultural and natural landscapes – including oceans. We do believe we can make a difference in urban landscapes and do so quickly. We have a project with the Alice Ferguson Foundation, for example, where students from urban schools can work on their science curriculum in a national park setting. Also, in an urban park setting, you have a big audience close at hand, and that's an opportunity to reach a lot of people on a regular basis.
Can you provide an example or two of NPS efforts to protect/restore ecosystems within an urban park?
The National Mall and Gateway National Recreation Area in New York City come to mind immediately. The American Elms and the turf of the National Mall – America's Front Yard – are part of our cultural heritage and it's a struggle to protect. The elm trees receive attention each year because of Forest Health dollars from the USDA Forest Service. They are carefully monitored and we trim disease when we find it and we have the Jefferson Elm, grown in a nursery on the George Washington Memorial Parkway, are used to replace old elms that die off. The turf is a maintenance issue that pits daily use by millions of visitors against the desire to have a green lawn. We've put together a work group to find a solution that will revitalize the mall turf but I don't have any breakthrough to report.
There is a successful restoration project in the Jamaica Bay unit of Gateway National Recreation Area near New York City. There, for the last 10 years, millions of pounds of rich, silty soils dredged from the waters around New York to deepen shipping channels have been used to restore the Hudson-Rarity Estuary and islands of Jamaica Bay. More than 40 acres have been restored at Elders Point East since 2006 and today, at nearby Elders Point West, more than 30 acres of wetlands are expected to be restored. At Elders Point East, many varieties of plant life are now found from this restoration work. As sand is pumped onto the island, it is specially contoured and shaped, and then native species are planted. By the time the channel dredging project ends in 2014 another 50 acres will have been restored to Yellow Bar Hassock, too.
Are there plans to establish any new national parks?
There is a bill in Congress right now that would create a new national park in Delaware.  Delaware is the only state that does not have a national park. We'll wait and see what Congress decides. We've done a special resource study and found sites in Delaware that meet national park criteria. Creation of national parks really begins with people at a grass roots level – say, a neighborhood. Here's a rough example of what happens: people get together and say, "This should really be a national park and here's why." That support starts to grow. If it continues to generate support and gets the attention, support and buy-in of a member of Congress chances are good the Member will introduce a bill in Congress that would direct the Secretary of the Interior to study the feasibility of a national park site in that location. At any given time, there are a couple dozen or more of these special resource studies going on. We make our recommendations to the Secretary which go to Congress and then Congress decides whether or not to make a national park.
How are the national parks in south Florida responding to the oil spill and its threats to ecosystems such as the Everglades, mangrove forests, coral reefs, shallow bays, etc.? (Note: this interview was conducted on May 25 with this question updated June 7.)
Our first action was to call up incident command teams and our first priority was to complete baseline surveys to document the condition of the Everglades, forests, reefs, beaches and shallow bays before the oil washed ashore. The effects of crude oil on a beach, a reef, marsh or the glades will be grave. We'll do our level best to clean up the oil and hope that the flow of oil from the damaged well is stopped as quickly as possible. Once major clean up is complete we'll document what we hope will be a return to ecosystem health. And no, we don't know how long that will take.
Which U.S. national parks do you think currently have the healthiest ecosystems and why? (Are most people aware of this, or are these little known secrets?)
We have 392 national parks and a dozen national trails – some 84 million acres of the nation's most significant historic, cultural and natural landscapes. I'd simply get in trouble with a lot of dedicated National Park Service employees and national park visitors if I were to name the "healthiest ecosystems." We don't have the capacity of human and financial resources to fairly and accurately make such a judgment. Our goal is to manage natural systems and processes in fulfilling our mission to conserve all parks for the enjoyment of this and future generations and we do that as best we can.
Is there a specific invasive species considered by the NPS to be "enemy number one" in terms of the threat it poses to park land? Can you give us a few examples of national parks in which invasive species (flora or fauna) pose a major threat to ecosystems and tell us how the NPS is responding?
When it comes to invasive species we don't have a number one enemy. In the south and southeast parks we're concerned about pythons and kudzu and Brazilian Coffee Tree. Out west it's cheat grass, Tamarisk, Russian Olive, eucalyptus, star thistle, leafy spurge. It just depends on the part of the country.
The UN proclaimed 2010 to be the "year of international biodiversity." Is the NPS focused on actions specifically related to biodiversity?
Yes we are, but we've been focused on biodiversity for years. Each year, for the past four years, we've held a bioblitz with the National Geographic Society. We just wrapped up the latest bioblitz at Biscayne National Park, we're in Saguaro National Park next year and a couple of years ago we did the event here in Washington with E.O. Wilson who is credited with starting the bioblitz idea at Harvard. The concept, which involves citizen scientists, caught on at many other national parks.
Olympic National Park has an annual "All-Taxa Biodiversity Inventory," and Boston Harbor NHP has worked with Professor Wilson for years. AcadiaNational Park in Maine has a citizen science bioblitz and GlacierNational Park is doing a loon survey with citizen scientists.
Do you have any interesting examples of how the NPS has worked outside park boundaries to address factors that influence ecological integrity and biological diversity within a park (such as pollution, species migration)?
Air quality has a direct affect on the experience visitors have in national parks. For the past 20 years we've had an active air resources program and this work is virtually all outside park boundaries with state environmental and air quality agencies. As an example, at Rocky Mountain National Park we're working with the state of Colorado on critical loads of Nitrogen. We are also working with states on their visibility State Implementation Plans. The Environmental Protection Agency Regional Haze Rule requires states to show progress – a "glide path" toward pristine visibility by 2064.  While visibility itself is not an ecological issue, the pollutants that are being reduced do have ecological impacts, and so park ecosystems will benefit from these visibility state implementation plans.
I read that the NPS helps protect resources for public enjoyment that are not part of the national park system through grants and technical assistance programs.  Can you give me a few examples of how the NPS has helped a community to protect or enhance natural resources this way?
You're probably thinking of the Land and Water Conservation Fund, which has provided local governments millions of dollars to purchase, expand, restore and upgrade local parklands. Our Rivers, Trails Conservation Assistance Program (RTCA) is the community assistance arm of the National Park Service. RTCA supports community-led natural resource conservation and outdoor recreation projects. We work with partners who protect more than 700 miles of rivers, created more than 1,400 miles of trails, and conserved more than 63,700 acres of open space each year.
The Department of the Interior has a goal to increase by 50% the employment of young adults in its conservation mission by the end of 2011. Tell me about the NPS' involvement in the Department's Youth in Natural Resources Initiative. How important do you think engaging young people is to the sustainability of ecosystems on NPS land?
The National Park Service – or any other agency or private enterprise – depends on youth if the agency or business is to have a future. That may sound cliché, but it is true. And all of our employees, whether they start their careers today or are about to retire, are affected by the issue of sustainability of ecosystems because our mission is to preserve unimpaired our natural, cultural and historic landscapes so that this and future generations may enjoy them.
We appreciate the fact that Secretary Ken Salazar emphasized youth in natural resources with an initiative. The National Park Service has several internship programs that help young people to understand ecosystems and fit the Secretary's initiative. Two examples are our "Geoscientist in Parks," and "Climate Change," internship programs. The Public Lands Corps Program and the Youth Conservation Corps Program introduce young people to natural resource conservation through vocational opportunities in national parks.
The budget requested by NPS for FY 2011 includes a $2 million increase for the "Chesapeake Bay Restoration." Can you tell me about this program?
We intend to offer competitive "matching" grants to state, local and non-governmental partners throughout the Chesapeake Bay watershed, particularly along the Susquehanna River, the bay itself and major tributaries to expand public access to waters of the bay and tributaries. We would also assist partners with interpretation of and education about watershed resources, strengthen heritage tourism and promote citizen stewardship of the bay and the region.
What other countries' national parks agencies do you regard as leaders in terms of the protection, enhancement and restoration of ecological integrity and resilience on park land?
This is a big question, as there are many park agencies around the world which are leaders in one aspect or another of this issue.   Parks Canada comes first to my mind, particularly with their "Ecological Integrity" program. Other places that I would take a look at include Australia,  New Zealand, and Costa Rica.
Book Review: Trophic Cascades
by Kevin Heatley, Invasive Species Specialist
Trophic Cascades, Edited by John Terborgh & James A. Estes, 2010 Island Press, WashingtonDC
On my bookshelf I have an original edition of Aldo Leopold's 1933 classic Game Management.  Now, how I came into possession of this seminal volume in applied ecology might be considered unethical by some. I prefer to think of it as a "rescue effort" conducted to avoid its eventual deterioration in the bowels of a forgotten storage garage. Regardless of the nefarious track by which it found its current home, I value this volume as it represents the moment when a paradigm shift occurred in our understanding of wildlife management and the maintenance of the biological integrity of ecosystems. Trophic Cascades, a collection of essays detailing evidence of the critical importance of apex predators in ecosystem functioning, will be given a home on the same shelf as Game Management. While it may not yet represent a watershed intellectual moment, it is an important contribution that advances our collective understanding.
Trophic Cascades demolishes the entrenched bias that currently exists within ecological professions favoring the idea of "bottom up" regulation of ecosystems. Bottom up regulation is the idea that the raw productivity of an ecosystem is the ultimate shaper of the system structure. This viewpoint emphasizes that the physical parameters of the environment, coupled with the photosynthetic capacity, are of primary importance in determining what shape an ecosystem takes and that, as you move up the food chain, the impact on the system structure diminishes. I can still remember one of my undergraduate forestry instructors deriding his wildlife biologist colleague with the opinion that animals were just parasites living off "his plants." Academics can be so cruel.
Of course, as in all things ecological, the true story is just a bit more complex. While basic variables such as temperature, moisture, and photosynthetic production potential have broad impacts on the distribution and abundance of species, top-down forces in the form of predation have substantial influence over these same attributes. The importance of top-down forces becomes evident when apex predators are effectively eliminated from the system, resulting in a chain reaction, or "cascade" of effects down to the lowest level of the trophic ladder. The resulting system ends up supporting less biodiversity and is a mere shadow of its pre-disturbance grandeur. How do we know this? Well, since the first European set foot in North America and aimed his blunderbuss at those terrifying wolves and bears, we have been conducting the same crazy experiment across the continent.  Heck, we still have folks like Sarah Palin participating in regional-level, trophic manipulation (I suspect she may not have finished reading her copy of Trophic Cascades). The evidence is all around us as to the changes in the dynamics of ecosystems due to the removal of apex predators but our short cultural memory, coupled with the inherent logistical difficulty of experimentally manipulating predator populations in a controlled setting, has made it hard to identify and study.
This is where the value of Trophic Cascades becomes apparent. This resource brings together, for the first time, a wealth of evidence from a variety of ecosystems detailing the (usually unpredictable) consequences of apex predator elimination. The material is absolutely fascinating to anyone with even a modicum of ecological expertise. A few examples will help to highlight the information contained within this important volume:
Over fishing of sharks has damaged shellfish populations in East Coast estuaries through the ecological release of cownose rays.
Balsam fir growth is indirectly regulated by wolf predation of moose on Isle Royale in Michigan.
Over fishing of cod in the Baltic Sea has resulted in algal blooms via a multilevel trophic cascade. Algal bloom.jpg
Forest regeneration of oak and hemlock has halted in vast areas of Pennsylvania woodland due to high deer densities.
High human visitation in ZionCanyon in Utah has resulted in a reduced cougar presence and subsequent higher deer herbivory on cottonwoods in riparian forests.
Microbial populations harmful to reef-building corals increase due to labile sugars released by fleshy algae. Algae that are, in themselves, released due to over-fishing.
Trophic Cascades effectively builds the case that the faunal truncations associated with apex predator removal can result in new, alternative ecosystem states that are difficult to restore due to positive feedback loops. From stream morphology to mesopredator (think raccoons and skunks) release and disease vectoring, the loss of the top tropic layer results in profound, unintended consequences across the ecosystem. In most cases these ripple effects are not well-understood and the temporal lag makes the determination of ultimate causality difficult to trace. What we end up with are biologically impoverished systems that are considered "native" by lay observers who have no collective memory or direct experience of the original baseline conditions. As in the classic example of the frog who boils to death when the temperature rises gradually but jumps out if placed directly into scalding water, our species only reacts to sudden, catastrophic change. We fail to connect the dots and end up losing the biodiversity that both enriches and sustains our existence.
While the majority of this book is devoted to the science associated with the cascade effect, it does make some salient policy suggestions and observations based upon the unrecognized importance of this issue. For instance, is the high-profile nature of climate change diverting important resources away from other immediate challenges such as ecological cascades, invasive species, and habitat loss?  Is "adaptive management" an appropriate tool given the frequently nonlinear, sudden phase shifts that these systems can display? Shouldn't the focus of restoration ecologists ultimately be on restoring apex predators to each system and creating the landscape matrix that allows for their viable reproduction?
While not a volume to be casually consumed by the general public, Trophic Cascades is accessible to anyone with a basic understanding of biology and ecological science. The material is presented in a straightforward, logical format according to the evidence for this effect in various ecosystems. It is truly an illuminating resource that should be on the bookshelf of anyone concerned with conservation and ecological restoration. Just make sure to procure your copy through legal means.
Photo Gallery
Enjoy these national parks photos submitted by Leaf Litter readers and Biohabitats employees.
The Wall, Cliff Palace at MesaVerdeNational Park, Sent by: Richard Whiteside, Woodstock, GA
Fabulous Fiords, Fiordland National Park/South West New Zealand World Heritage Area, Sent by: Jennifer Dowdell, Baltimore, MD
Four days of sampling plants, soil and water in the mangroves of the Everglades. The mosquitos were so abundant face-netting was mandatory, EvergladesNational Park, Sent by: Dave Tilley, College Park, MD
Jessie at Great Sand Dunes, Great Sand DunesNational Park, Sent By: Jean Wisenbaugh, Baltimore, MD
My son "finger painting" in a tidal river at Sand Beach, Acadia National Park, Sent by: Carma Lamm, Gibsonia, PA
Yellowstone River, Yellowstone National Park, Sent by Vince Sortman, Denver, CO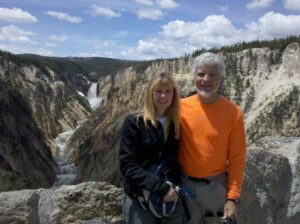 Looking for salamander egg masses in an ephemeral pond, Vicksburg National MilitaryPark,  Photo Courtesy of Vicksburg National Military Park/National Park Service, Sent by: Bob Woodman and Virginia DuBowy, Vicksburg, MS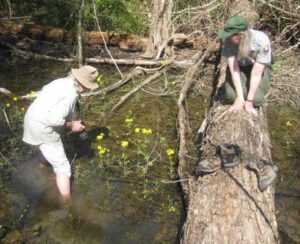 Rock Harbor, Isle Royale National Park, Sent by: Paul Kovalcik, Baltimore, MD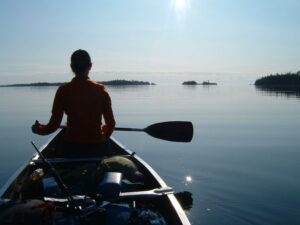 Grand Teton National Park – not a bad backdrop for a family photo, Sent by: Peter Z. Garver, Baltimore, MD
Arriving in Katmai, Katmai National Park & Preserve, Sent by Allegra Bukojemski, San Francisco, CA
Biohabitats Projects, Places and People
Projects
Some Positive Gulf News
With all the news of ecological devastation currently emanating from the Gulf area, we thought Leaf Litter readers might enjoy hearing about some positive improvements occurring in the region.
South Louisiana is a biologically rich area of swampy bayous and marshes that teems with both life and history. Amidst the alligators, baldcypress trees, and Spanish moss, the echoes of generations of people who have lived within and loved this unique landscape ring out. Step back into the region just south of New Orleans in 1810 and you might have met up with the famous privateer and smuggler, Jean Lafitte. Apparently not a big fan of trade embargos, the federal government, or authority figures in general, Mr. Lafitte made a profitable living sneaking illegal goods and slaves into New Orleans and Louisiana via the bayou swamps. One can only imagine what these semi-pristine wetlands were like at that early point in the 19th century. While Jean Lafitte's nefarious activities only lasted a few years, his impact on the cultural memory of the region persists.
Fast forward to the early to mid decades of the 20th century and a new form of piracy begins in the region. But instead of pillaging ships, this time the landscape is ravaged. In the quest for the short-term wealth associated with fossil fuel extraction, miles and miles of canals are excavated across the region, creating dramatic changes in both the hydrology and ecology of the delta. During the construction of these exploratory access canals, rich organic soils are piled up in long spoil mounds flanking the sides of the new waterways. Highly organic soils that have taken thousands of years to form are left to oxidize in the sun and are eventually heavily colonized by non-native species such as Chinese tallow tree (Sapium sebiferum).
Creep forward to the late 20th and early 21st centuries and witness the gradual realization of the folly of this activity and the critical importance of the swamps and marshes as storm surge buffers, water quality filters, and biological treasures. While the repair of this region, so heavily impacted by decades of fossil fuel production, appears daunting, restoration efforts are underway.
Biohabitats is currently undertaking marsh restoration along three miles of canals within the JeanLafitteNationalHistoricalPark. Named after the smuggler, this park unit encompasses approximately 20,000 acres of forest, swamp and marsh just south of New Orleans. It offers people an important and accessible view of the Louisiana wetlands while also protecting valuable habitat.
Biohabitats is working with National Park Service to remove these decades old spoil mounds and restore the historic hydrology of this area. Logistical challenges in this project include the use of specialty equipment. Our earthmoving crews are working with floating excavators, commonly referred to as "marsh buggies," to physically remove invasive tree cover and place the excavated soil back into the canals.  A "Short arm" marsh excavator (marsh buggy) used for removing vegetation and soil, both of which were dropped into the canal.
In the process, we are preserving unique specimens and stands of valuable oaks and baldcypress, in effect, creating "tree islands" within the marsh.  Upon completion, the final grade of the spoil mounds will be at the level of the surrounding marsh, allowing the free movement of water and the eventual recolonization of these sites by emergent native vegetation.
While the views of oil-soaked marshes and dying pelicans are tragic, Biohabitats is proud to be making a positive contribution towards the ecological restoration of this unique region. Degrading the spoil mounds and removing the invasive vegetation offers a rare opportunity to receive instant gratification in our work. At JohnLafitteNationalHistoricalPark the landscape change is instant and dramatic! But don't take our word for it, next time you are in town for Marti Gras, drop your beads and leave a day or two to take an airboat ride into the park and view our work. It might not be as exciting as the French Quarter but it is definitely more family-friendly!
Restoring Historic NYC Wetlands At Gateway National Recreation Area
JamaicaBay, an estuary within the jurisdictional boundary of New York City, is one of America's most important estuaries. Encompassing the Jamaica Bay Wildlife Refuge, a unit of the Gateway National Recreation Area, Jamaica Bay has been important to the cultural and economic development of New York City and the nation for more than 200 years. The 142 square mile watershed supports one of the most densely populated urban areas in the United States. As a result of all this urbanization and related industry, JamaicaBay's historic wetland complex is half the size it once was, and its remaining salt marshes are rapidly eroding. Nevertheless, the estuary remains an important ecological, cultural, and recreational resource for the citizens of New York City.
After working with the City of New York to develop a Watershed Protection Plan for JamaicaBay to address these challenges, we (along with partners Hazen & Sawyer and HydroQual) are now in the process of implementing some of the innovative and exciting strategies we recommended. Within Gateway National Recreation Area, for example, we are planting eelgrass, developing floating islands to be used a wave attenuators to work against shoreline erosion, and collecting ulva and other macroalgae to convert into biofuel. In areas around Gateway National Recreation Area, we are constructing oyster and mussel reefs to enhance water quality and habitat. We're thrilled to be playing a key role alongside the New York City Department of Environmental Protection in returning JamaicaBay to an ecologically rich, diverse and resilient estuary.
Restoring Urban Streams On National Park Land

Rock Creek Park, a favorite spot among Washington, DC bikers, hikers, birders, runners and skaters, is natural oasis amidst a highly urbanized landscape. Administered by the U.S. National Park Service, this popular park contains many degraded streams. Biohabitats is currently helping the District Department of the Environment (DDOE) restore two of them. For both design/build efforts, we are applying a regenerative stormwater conveyance approach. This involves raising the channel bed and reconnecting the stream with its floodplain and riparian wetlands to optimizes the conversion of stormwater to groundwater and reduce its erosive energies. Our designs will also minimize damage to trees, and incorporate felled trees into in-stream structures. Those of you attending this year's ASLA Annual Meeting and Expo  may want to sign up for our Regenerating the Rock Creek Urban Watershed field session  to learn more about our work in Rock Creek park.
Places
If you're participating in the June 22 Passaic River Symposium, an event we are proud to sponsor, be sure to stop by the Biohabitats table and chat with Senior Ecologist Terry Doss from our Hudson River Bioregion office.
On July 12, Invasive Species Specialist Kevin Heatley will present "More than an Inventory – Prioritizing Invasive Treatment Sites with Limited Resources" at the Greater Everglades Ecosystem Restoration Conference  in Naples, FL.
Biohabitats President Keith Bowers will tell participants at the TEDCO/Chesapeake Bay Foundation Technologies Showcase on July 21  about new technologies we are implementing to improve the health of the Chesapeake Bay.
Senior Ecologist Joe Berg will present "Water Resource Management, Ecological Engineering, and Ecosystem Services", at the 2010 ESA Annual Meeting August 1-6 in Pittsburgh, PA.
In early September, we'll leading two field sessions  at the 2010 ASLA Annual Meeting and Expo: "Regenerating the Rock Creek Urban Watershed" and "Tidewater Anacostia River Boat Tour: Restoration of an UrbanRiver." Space is limited, so reserve your ticket soon!
People
Two Biohabitats staff members have taken new leadership roles in the Society for Ecological Restoration International (SER). Senior Environmental Scientist Joe Berg (pop up link to Joe's page on web site) has been elected President of the organization's Mid-Atlantic Chapterand Environmental Scientist Suzanne Hoehne (pop up link to Joe's page on web site) was appointed Membership Chairperson for the Midwest/Great Lakes Chapter.