Thoughts on Adaptive Management
It is described by some as the most successful approach to complex natural resource challenges. Yet many of us are still struggling just to get our arms around the term "adaptive management." Heralded by a growing following of practitioners as a flexible, science-based and stakeholder-driven approach to natural resource conservation, restoration and protection, adaptive management is generating quite a buzz. Evidence of this buzz is everywhere – from the Everglades of Florida, to the Maya Forest of Guatemala, to the tussock grasslands of New Zealand
Should we really begin our work with a hypothesis rather than a proposed solution? Will clients and colleagues buy this idea of learning from experimentation and adapting management strategies as we go? Can science and management truly come together to successfully protect and restore ecosystems well into the ever-changing future?
In this issue of Leaf Litter, we begin to address some of these questions. We talk with Dr. Barry Gold, former Chief of the Grand Canyon Monitoring and Research Center, who put adaptive management theory to practice with the Glen Canyon Dam Adaptive Management Program.  If you are one of many readers confused about the difference between active and passive adaptive management, take a look at our simple clarification [LINK to Active vs. Passive AM]. For recommended reading material and web sites containing links to programs using adaptive management, check out our list of resources.
We hope this issue of Leaf Litter begins to shed some light on what is emerging as one of the most exciting approaches to ecological restoration, conservation planning and regenerative design.  As always, we welcome your feedback.
Leaf Litter Talks with Barry Gold
Lead, Marine Conservation Initiative at the Gordon and Betty More Foundation and former Chief of the Grand Canyon Monitoring and Research Center
"We don't have a high tolerance for recognizing that we need to make long term investments
in managing our natural resources. Everyone wants to fix it and move on."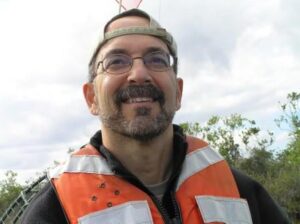 Inspired by a 10th grade biology teacher who instilled in him a passion for the process of learning, Dr. Barry Gold went on to become one of an emerging breed of environmental scientists who bridges the gap between science and policy. As Chief of the Grand Canyon Monitoring and Research Center (GCMRC), Barry was the science lead for the Glen Canyon Dam Adaptive Management Program an ongoing, 10+ year effort[1] to provide a process for the cooperative, science-based management of dam operations, in a way that integrates dam operations and downstream resource protection based on monitoring and research information.
Barry has extensive experience working at the interface of environmental science and policy. He has held senior positions at the National Academy of Sciences, U.S. House of Representatives and the Department of the Interior. He is currently Lead for the Marine Conservation Initiative at the Gordon and Betty Moore Foundation.  He joined the Moore Foundation from the David and Lucile Packard Foundation where he led the development of a new science for oceans and coasts program. Barry has a DSc from Washington University, an MA from George Washington University, an MS from the University of Connecticut, and a BS from the University of Miami.
Many Leaf Litter readers are unclear of the definition of "adaptive management." How do you define the term? Is it possible to do so in just a few sentences?
Definitions of adaptive management range from passive to active adaptive management.  I'm on the end of the spectrum of those who believe that many of the activities that people call adaptive management aren't. For me, adaptive management is where you propose a management action in the context of an explicit hypothesis that you're trying to test from the outset.  That is, you want to know if your management action is going to produce a predicted result. So, you implement the management action with an appropriate monitoring framework, to ensure that you're measuring the variables that will tell you whether or not you are having the desired effect. Finally, you use the monitoring data to tell you if you need to make a change in the management action.
How did you come to be a believer and proponent of adaptive management (for use in) natural resources?
I had read the [Carl] Walters and [Buzz] Hollings material in the early days and theoretically, it made good sense to me. Then I used their adaptive environmental assessment and modeling framework for work that I did in Ghana in the mid-80s trying to understand how to manage an artisanal fishery. Just the modeling step, developing a conceptual model of the system, turned out to be very powerful – the notion that you could work with people who didn't understand equations and create a model that incorporated their implicit assumptions and understanding of how the system worked and how it might respond to different interventions. So my first interest was simply in using the systems thinking approach that is part of adaptive management, as a means of creating a shared understanding between resource scientists and resource users and managers of the dynamics of the system they were all working with. (update on the fate of fisherman in Ghana)
The second piece came from my time in the Congress and then at the Department of the Interior, realizing that many people were seeking a silver bullet to address natural resource management issues and that there really is no silver bullet.  Managing natural resources is a long term game, and if we are going to be in it for the long term, we need to do it in a way that is smart.  To me that means a collaborative, science-based approach and that's adaptive management. When I had the opportunity to go from being a theoretician to taking the job as the head of the biology program at the GCMRC, I jumped at the chance to try adaptive management on the ground. After I was at GCMRC for two years I became the Chief, and that experience convinced me that it's probably the only way to go to successfully manage natural resources.
Tell me more about your work with fisherman in Ghana.
This was actually my dissertation research. I was trying to develop a model for managing a small scale artisanal fishery and link resource users and resource managers.  My major advisor was an early pioneer in what we know call sustainability research.  He was interested in what he called "bioresources development," how one could use biological resources in a way that meets peoples needs without substantially degrading the environment. My research had all the typical challenges: not a lot of data; people who relied on the resource; a very diverse population; and the challenge of getting stakeholders and managers to agree on the nature of the problem and the types of interventions to try. It was about a five year-effort. In the end, it really wasn't successful. At that point in my life, I was really focused on the biological science, so I focused my efforts on building a population dynamics model for this fishery. But, I learned after the fact that it was the social dynamics that drove the level of effort applied to the fishery, and I didn't really figure out how to incorporate that into the management experiment. Nonetheless, the fishery was managed pretty well for a while. I don't really know the status of it today, I do know that some of the folks I worked with at the Fisheries Management Research Bureau in Ghana went on to get their own graduate education.
At what point when you working on the Glen Canyon Dam Adaptive Management Program (GCDAMP) did you learn that adaptive management was the "way to go?"
Some people would argue that the GCDAMP has yet to demonstrate that it's working. One big challenge in natural resources management is the lag time in response of the biological resources to management actions because the biological response has to cycle through the life cycle of the organisms we are interested in managing. I think the GCDAMP has demonstrated success in terms of the collaborative, science-based process that is being used and the response of the physical resources, to the management actions that have been tried to date.
By using adaptive management to implement a series of experimental flows, built around structured hypotheses, coupled with explicit monitoring protocols, GCMRC developed a solid understanding of how the hydrology and geomorphology of the Colorado River ecosystem in the Grand Canyon functions to create habitat.  This understanding is 180 degrees from what was believed before the first management actions/ experiments were implemented in 1996.
The first experiment in 1996 was designed based on current knowledge of how scientists thought the system worked. Scientists assumed they knew where the sediment was stored and what would happen to that sediment if you ran an artificial flood. The goal of that experiment was to build beaches and create habitat. Even though it was initially celebrated as a success, scientists learned from the monitoring and research data obtained from that experiment and subsequent experiments that if one continued to run those kinds of management actions, you would cause harm to the physical resources. That was a major lesson. There had been ten or twelve years of research that lead up to the '96 flood, and then scientists and managers learned that it didn't work at all the way they thought. That was the real learning point for me, because if we had said, "we have 10 years of science and we know what management action to implement, without embedding it in an adaptive management framework" we wouldn't have done any of the monitoring and over time we would have degraded the resource without understanding why. So that is my definition of success.
On the biological resources side, I would say GCMRC has identified some parameters that need to be considered that weren't being looked at before. They have a much better understanding of the ecology but still haven't turned things around. For example, they know much more about the population trajectory of the humpback chub, and a better set of hypotheses for why the trajectory is going the way its going.  It's the learning that occurs through using an adaptive management process and the dialogue created among scientists, managers, and resource users, that is the real hope, not necessarily that one has achieved the desired result in the short term. That's one of the major challenges to adaptive management. The manager is faced with pressure from stakeholders and policy makers to go in and have a positive result right now. When one is  not sure why degradation is occurring, which is the case for many of the natural resource challenges we now face, adaptive management is the way to go.
We asked our readers whether they thought there were specific types of projects for which adaptive management is most appropriate. Many believe it is appropriate for all types of projects in our work. Some believe it is most appropriate for particular types of projects such as invasive species management, stream restoration and wetland restoration. Others offered parameters, such as "projects where the problem is very site specific and not easily addressed using old regulatory approaches."  Do you think there are specific types of projects, ecosystem, etc., where adaptive management is most appropriate and places where it's definitely not the right approach?
I think the hypothesis testing framework and conceptual modeling parts of adaptive management are applicable in most places. The question is the level to which you need to do these activities and the resources you have available.
If everybody can agree on the restoration end point – let's say you're restoring a wetland and you've done this a hundred times in a very similar habitat and context and it's been successful – then I'm not sure I'd go in and do a full blown adaptive management process. However, I would make sure that I know the minimum set of data that needs to be monitored on a regular basis to evaluate if the restoration is achieving the project's goals over time.
One would make a more intensive investment in an adaptive management process for a more complex problem where there is not a clear sense of the right set of actions to take. Then, through implementing management actions as experiments, you narrow your solution set over time. A conceptual model will also help you focus on the key parameters you need to monitor. If you really embrace an adaptive management framework, you're going to always want to have monitoring data on how well the system is doing – even after you leave. Say you've restored a prairie, and you're not paying attention and there's some natural or man-made event that occurs. Then all of a sudden of the site is overrun with invasive plants. There's got to be some sort of ongoing monitoring so one can try to understand the dynamics of the system.
74% of our readers said there were occasions when they wanted to use adaptive management but were unable to do so. Most cited "unwillingness to commit to a long-term process" or "general lack of understanding of adaptive management" as the primary obstacles. What do you see as the primary obstacle to widespread use of adaptive management?
I think the biggest obstacle to adaptive management is that the words "adaptive management" mean too many things to too many people, so they don't really define a unique approach anymore. This was true even in the Glen Canyon example. The GCDAMP grew out of an environmental impact statement (EIS) process. In the course of doing the EIS, which normally leads to a preferred alternative, the various parties couldn't agree on the preferred alternative because they had conflicting data and conflicting sets of assumptions about what would be the right restoration effort. So they included adaptive management as the implementation framework as a way of completing the EIS, not because there was a huge understanding of what adaptive management was. They said, "We can't agree here. There's this thing out there called 'adaptive management' where you implement what you think is the best of your alternatives and see what works. So let's do that."
Adaptive management has become everything to everyone and in my mind it has lost some of its power. It is not simply going out there, doing something and seeing what happens. It requires creating a conceptual model that clarifies ones assumptions about how a system works, and explicitly testing these assumptions through management actions designed as experiments with an accompanying monitoring and research program.
Modeling is another impediment to adaptive management. Adaptive management does not require complex models when you think about the whole spectrum of mathematical modeling, but it does require building a model that makes explicit one's assumptions about how the system works and how it's going to respond to the management action. The model is the thing that starts building the scientific framework within which you're going to then test some hypotheses. A lack of expertise in systems thinking and model building can be an impediment. Also, you want to build the model with managers and stakeholders as well as scientists, and managing that dynamic is a challenge. Those communities don't necessarily collaborate well. They speak different languages.  However, we have learned that this can be an important part of building a strong collaborative relationship that is so important to success of these types of projects.  This is a key piece because at the heart of it, adaptive management is a collaborative, science-based process, and unless you build the collaboration into it, I don't think you can move forward.
The third impediment to adaptive management is that it's not a quick fix. Most people would like to do a stream restoration, for example, and say, "we've fixed it" and walk away. There are many cases where one may know enough about how to restore a system to a given end point that you can do that, but there are many more places where you're going to want to implement your restoration or conservation activity, and then maintain a monitoring program. We don't have a high tolerance for recognizing that we need to make long term investments in managing our natural resources. Everyone wants to fix it and move on.
Another challenge to adaptive management is the extent that people accept it as a scientific process since there are no controls. It's hard to find two systems in a very similar state, go in and manipulate one system and leave the other alone, and then watch how they respond. So the issue of control is difficult. There's also no replication. Once you've implemented one management action on a system, you can't go someplace else and replicate it. So it's challenging from a traditional scientific perspective. As a result of these challenges, one often designs the  management action to be aggressive enough that you can see a result, and given the uncertainty around the likely response, it's hard to get the OK to do that. Even in the case of the GCDAMP, scientists never quite got the flows they wanted. The Bureau of Reclamation, which operates the dam, the Fish and Wildlife Service, which has responsibility for endangered species, and the users of the power generated from Glen Canyon Dam all had reasons why the scientists couldn't get exactly the experiments they wanted.
Where do you think we should start in changing people's perspectives on adaptive management?
First, we need to include people.  As ecologist and environmentalists,we need to recognize that people are part of the systems we are being asked to manage or restore, and recognize that the end point is probably not to restore the system to a "pristine" state. I was part of a group of authors who wrote a Policy forum piece that was published in Science called "Ecology for a Crowded Planet,"  in which we argue that ecologists and scientists need to think more about what our ecological end points are when people are part of the system.
Second, with respect to the policy, management and stakeholder  communities, we need to help them understand the value of these systems. My hope is that the ecosystems services framework International Society for Ecological Economics index.html or the Millennium Ecosystem Assessment   that is starting to take hold will result in meaningful valuation work that can help us all understand how the value of ecological systems change as they move along a spectrum from less degraded or altered to more degraded;
Third, we need to think about natural infrastructure the way we think about physical infrastructure.  For physical infrastructure – whether it's roads or buildings, or utility systems – we recognize the need to make continued investment in the operation and maintenance of those systems if we want to them to continue to function and provide societal benefits. We have to adopt that framework for natural systems; we have to be willing to make similar long term investments in the operation and maintenance of natural systems and that includes adaptive management. Once we get those perspectives aligned people will recognize that natural resource management is an ongoing commitment and abandon the quick fix notion, "that we can restore a system and walk away and move on."
Finally, we need to train more people in the collaborative, science-based approaches, including conceptual modeling and monitoring program design, at the core of adaptive management.  I think this can be done through networks of practitioners and continuing education.  And, we need to learn to scale this approach to meet the needs of a give problem.
Adaptive management is thought to be one of the most inclusive approaches to Ecological Restoration, Conservation Planning and Regenerative Design. Do you agree?
I think it can be but I think it's not always practiced that way. What has happened in many instances is that the technical experts have taken over. To really be successful, adaptive management needs to be a collaborative, science-based process. It's critical at the beginning to engage all parties interested in the restoration or conservation action that's being contemplated. It can be intimidating for resource users – let's say farmers, when you're thinking about some sort of riparian restoration – to sit in a room with a bunch of scientists and articulate their understanding of how a system works. From my perspective, unless you're willing to develop a common understanding about the system – what's wrong with it, how we think it works, how we think it will respond to various management interventions, and what will be measured and monitored – you're not going to have the support over the long run for the project. This can be done in a good workshop, using simple modeling that takes maybe a day and a half of people's time at the front end. This can really create the support that's needed.
In a previous issue of Leaf Litter, in which we addressed the topic of stakeholder engagement, we spoke with Pamela Mang of Regenesis. She talked about how important it is to understand the history of a place, and how you can't do that without engaging the people of that place, hearing their stories, and gathering "data" you couldn't obtain otherwise.
As restoration professionals, engineers or scientists, our data is, hopefully, observer independent and fairly testable, so we somehow think our data is superior to others'. What we really want to do is objectively look at everyone's understanding of how a system works and the assumptions that are implicit in that understanding. It's important to create dialogue with parties of interest, people who have used or been around the resource for a long period of time and gather  both their understanding of a system and the values they bring to the table.
Any suggestions on how to better educate ourselves and our colleagues, clients, and stakeholders so that people can begin to see that the added time, cost, and perhaps acceptance of uncertainty are worth it in the long-term?
Start simple. Your readers can probably look at a project that they've been engaged in over a long period of time. and try to make the case that "Hey, we've been doing this for three, five or ten years, and here's how it has changed over time, and we've done that in not as organized or rigorous a fashion as one might have." Then, compare that to a process where you start with an adaptive management approach: creating goals, articulating values; doing a workshop to create a simple model — even at the level of a conceptual diagram[2] – clarify assumptions, define a set of hypotheses to be tested and design a monitoring approach.
The next step is to propose a set of management activities that test some of those assumptions, around which you've thought through what you are going to monitor. If it's some sort of prairie restoration where you're going to reintroduce fire, what is it you're going to monitor after each burn? Do you have a good baseline before and after? One of the things that turns out to be important is being able to say to managers and stakeholders, "Here's the data. This is what we thought would happen, and this is what happened." That feedback piece is important. You've actually followed through and can produce something.
Are there any places within or outside of the U.S. where you are seeing this perspective changing on all sides? Is anyone ahead of us on this?
There are examples of people working together on various parts of it, and they tend to be on a more local scale. Steve Yaffe at the University of Michigan has a good web site. He calls it "collaborate ecosystem management" and he has identified a number of projects where people are working together on ecosystem management. They don't necessarily embrace adaptive management. As you go up the scale there are also a number of federal projects. They tend to be mostly river-related projects. There's one happening on the Trinity River. There is work starting on the Missouri River. There is also an effort where the Fish and Wildlife Service manages one of the flyways and the number of birds that can be harvested out of the flyway using an adaptive management framework that has been fairly successful. It's not a restoration project, but they do at least have some models, some hypotheses about how much harvest they can allow, and on a regular basis they reexamine that in the context of data and set new targets.  There is a lot of activity in Canada, and some in Australia.
Is there anything else you'd like to communicate to our readers about adaptive management?
People who have looked carefully at the largest project with which I've been engaged often ask is, "Why do you think adaptive management is so great? That project is still underway and you still haven't recovered the endangered humpback chub?"  In my mind, it took a long time for the Colorado River ecosystem to get to the state it's in, and it's going to take a similar time for it to  recover, and then it won't be to the state of a pre-dam ecosystem. This is true in many other projects. So one has to be careful about the expectations you set up for using adaptive management. It's not a silver bullet. It's going to require a lot of hard work and active intervention. The real key is to share with people both the learning that comes out of the process and the real change that's taking place in the resource. In the case of GlenCanyon, there were so many things that weren't understood in 1996 that are understood today. That's a real advance. The solution set for the kinds of management actions and what the GCDAMP can accomplish has been narrowed. In some cases, you'll come down to understanding what needs to be done, and there won't be the will to do it. That won't be the failure of adaptive management. That just becomes a decision.
---
[1] The GCDAMP formally started with the artificial flood of April 1996.  It was preceded by the Glen Canyon Environmental Studies program that in the 1980s began examining the effects of Glen Canyon Dam on the Colorado River ecosystem in the Grand Canyon.
[2] Bill Dennison at the University of Maryland has a web site with icons that people can use for building conceptual diagrams.
Active vs. Passive Adaptive Management
62% of you were unaware of the comparison between active and passive adaptive management. Dr. Barry Gold provides his view of the difference: 
Many practitioners and authors talk of adaptive management as ranging along a spectrum from active to passive.  In my view, what separates the two is the degree to which the management action has been designed to test a specific hypothesis. Just as a good experiment requires a clearly formulated hypothesis to be tested, experimental design, and data collection or a monitoring system, an active adaptive management program requires the same elements,
Active adaptive management refers to an approach where the management action is conducted in the context of an explicit hypothesis and associated monitoring protocol. From the outset, one is testing whether or not the proposed management action will produce a given result. The monitoring framework that accompanies the management action/experiment is designed to measure the right variables that will help gain information on whether the management action/experiment is having the hoped for effect and why or why not. The data and learning that results is used to make a change in the management action if  warranted.  A conceptual model has probably been developed as part of this process. There is intentionality, and many of the same principles that are used in developing a sound experimental design have been used in articulating the management action.
On the other end of the spectrum is passive adaptive management, where you don't get to design the management action but where you still try to apply principles of experimental design to learn from the management actions that are being implemented.  With passive adaptive management, one doesn't get to test the system's response to an action or set of actions that are outside the bounds of current management practice. The practitioner tries to use the current management regime as the adaptive management experiment even though it probably has not been designed to test a given hypothesis about how the system works and how it will respond to a management action. One will still need to develop a monitoring program to try to understand whether or not the given management action is achieving the desired result and why or why not. The real question is: what type of learning is accomplished without an explicit hypothesis in mind for the management action and whether or not the management action is strong enough – perturbs the system far enough away from its current state – to provide meaningful learning?
Comprehensive Everglades Restoration Plan
One of the largest and most high-profile applications of adaptive management in the U.S. can be found in the Comprehensive Everglades Restoration Plan (CERP), an effort to restore, protect and preserve the water resources of central and southern Florida, including the Everglades. [PHOTO: Everglades 1.jpg]
The CERP, developed by the U.S. Army Corps of Engineers in partnership with the South Florida Water Management District and numerous other federal, state, local and tribal partners, was approved in the Water Resources Development Act (WRDA) of 2000. It includes more than 60 elements, will take more than 30 years to construct and will cost an estimated $7.8 billion. The goal of the CERP is to capture fresh water that now flows unused to the ocean and the gulf and redirect it to areas that need it most. The majority of the water will be devoted to environmental restoration in a massive effort to revive a this critical, but dying ecosystem.
The ambitious plan includes an arm called "RECOVER," which is responsible for: evaluating and assessing plan performance; refining and improving the plan during implementation; and ensuring that a system-wide perspective is maintained throughout the program. This interagency, multidisciplinary component of the CERP helps ensure that the plan is continuously improved by conducting scientific and technical evaluations during its planning and implementation. It's adaptive management at work!
The Everglades make up a truly unique landscape worthy of protection, restoration and preservation. The largest remaining sub-tropical wilderness in the lower 48 states, it contains numerous ecosystems, including rivers, lakes, open ponds, sawgrass marshes, small tree islands, large hardwood hammocks, sloughs, and mangrove swamps. Wildlife in the Everglades includes aquatic birds, mammals, reptiles, and amphibians, of which 56 species are endangered or threatened.
For more information on the CERP and the natural resources of the Florida Everglades, check out these links:
Comprehensive Everglades Restoration Plan
Florida Department of Environmental Protection
USGS' South Florida Information Access
South Florida Water Management District
Rsources
K. Lee, Compass and the Gyroscope (Island, Washington, DC, 1993);
C. J. Walters, Adaptive Management of Renewable Resources, (McGraw-Hill, New York, 1986);
Gunderson, L. 1999. Resilience, flexibility and adaptive management – – antidotes for spurious certitude? Conservation Ecology 3(1): 7.
Holling, C.S. (editor) 1978.  Adaptive environmental assessment and management. Chichester; J. Wiley; 377 p.
Johnson, B. L. (1999). "Introduction to the special feature: adaptive management – scientifically sound, socially challenged?" Conservation Ecology 3(1):10.
Manning, S. and Sam Pearsall (2005) "Creating an Adaptive Ecosystem Management Network Among Stakeholders of the Lower Roanoke River, North Carolina, USA." Ecology and Society 10(2):16
Marmorek, D., and Peters, C. (2001). "Finding a PATH toward scientific collaboration: Insights from the Columbia River Basin." Conservation Ecology 5(2): 8.
Olsson, P., C. Folke, and T. Hahn. 2004. "Social-ecological transformation for ecosystem management: the development of adaptive co-management of a wetland landscape in southern Sweden." Ecology and Society 9(4): 2.
Sabine, E. , G. Schreiber, Andrew R. Bearlin, Simon J. Nicol and Charles R. Todd. "Adaptive management: a synthesis of current understanding and effective application." Ecological Management & Restoration
Volume 5:177  – December 2004
Salafsky, Nick and Richard Margoulis and Kent Redford. 2001. Adaptive Management: A Tool for Conservation Practitioners
Walters, C. J., and R. Hilborn 1978. Ecological optimization and adaptive management. Ann. Rev. Ecol. Syst. 9:157-188.
Walters, C. J., and R. Hilborn 1976. Adaptive control of fishing systems. J. Fish. Res. Board Can. 33:145-159.
Walters, C., Korman, J., Stevens, L.E. and Gold, B. (2000). "Ecosystem modelling for evaluation of adaptive management policies in the Grand Canyon." Conservation Ecology 4(2): 1.
Walters, C. (1997). "Challenges in adaptive management of riparian and coastal ecosystems." Conservation Ecology 1(2):1.
Williams, B.K. and F.A. Johnson. 1995. Adaptive management and the regulation of waterfowl. Wildlife Society Bulletin 23(3): 430-436.
1998 Ontario Forum on AM – "Adaptive Management- Linking Management and Science to Achieve Ecological Sustainability"
Collaborative Adaptive Management Network 
The Ecosystem Management Initiative, housed at the University of Michigan, Ann Arbor, is working to create "a new generation of adaptive organizations by building on-the-ground capacity for evaluation and adaptive management."
New Zealand's Lincoln University presents an on-line adaptive management resource guide. The site includes an Introduction to adaptive management (Jacobson, C. (August 2003), examples of adaptive management programs by country, reports, papers, and numerous links.
The Center for Applied River Science at the River Institute presents an overview of adaptive management and an interesting discussion of its application to stream ecosystem restoration.
Biohabitats Projects, Places & People
Projects
Stewardship Center Planned for Parma, Ohio
In a collaborative partnership, Cleveland Metro Parks, the West Creek Preservation Committee, the Northeast Ohio Regional Sewer District and the City of Parma, Ohio are working to establish a natural park and Stewardship Center in the West Creek Preserve, a large undeveloped parcel along West Creek. Biohabitats is participating on a team, led by The Portico Group of Seattle, that is developing a master plan and schematic design options for the Stewardship Center and surrounding park. The Center is envisioned to provide environmental education and interpretation, watershed resources and training, and community participation. We are providing expertise in conservation biology, ecological restoration and sustainable design initiatives.
Big Creek Headed for Big Improvements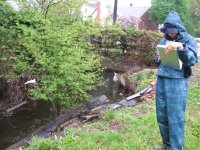 As part of a team led by DLZ, Biohabitats will prepare designs for the restoration of 4,500 linear feet of the Chevrolet Branch of Big Creek in Ohio. The creek, a major tributary to the CuyahogRiver in one of the most highly urbanized watersheds within the Lake EriBasin, has suffered from the impacts of point and non-point source pollution, storm water runoff, failing infrastructure, and poor land use practices.  Primary goals of the restoration are to stabilize channel banks, develop a riparian zone with native vegetation and channel clearing to restore the stream's flow and sediment carrying capacity. The channel improvements are based on natural channel design techniques within an urban context. The project, which is also addressing a diversion pipe and storage basin, embodies a multi-community, multi-agency approach to stormwater management, combining both structural and non-structural best management practices. With field reconnaissance complete and site selection underway, we are eager to hit the drafting table!
Working With The Southern Ute Indian Tribe On Rural Stream Restoration
In an effort to improve water quality, aquatic and riparian habitat, and protect natural resources, we were recently honored to work for the Southern Ute Tribe on the restoration of over 1,500 linear feet of channel and riparian area of Rock Creek. This first-order stream is located on the Southern Ute Indian Reservation near Ignacio, Colorado.  Irrigation return flows have altered the flow patterns in the creek, causing bank erosion and sediment loading. Past land use practices – largely overgrazing by livestock – have also contributed significantly to the stream's degradation. The restoration project involved stabilizing steep embankments by creating bankfull benches, lowering point bars and transplanting sod material to the benches, protecting toes of slope with rock material from a local quarry, installing riffle structures and enhancing existing riffles, seeding and matting exposed slopes, and planting riparian shrubs for long-term bank stability.  Local tribal members were hired to assist with planting, and a high school science class volunteered their time one morning to learn about restoration.
A New Urbanist Plan for City of Visalia, California 
Biohabitats recently worked on a multi-disciplinary team led by Moule & Polyzoides Architects and CPS Landscape Architects to develop a new plan and form-based code for the City of Visalia, California. The Visalia Southeast Area Master Plan offers an alternative to conventional sprawl development, reserving approximately 30% of the available 850-acre land area for public landscapes.  By holding a "discovery" charrette and an intense, week-long design charrette open to City officials, developers, various stakeholders, and the general public, the team was able to tap into the wisdom of the community members and engage them in the planning process.  The ecologically designed landscape includes the restoration of an irrigation channel into a public greenway of restored woodland and prairie. The greenway is connected to a regional park that preserves monumental valley oaks, provides valuable bird and rare species habitat, and offers residents a beautiful central park that reflects the historical character of the Central Valley landscape. The plan also features public landscapes that double as stormwater management facilities, promoting groundwater infiltration in the San JoaquinValley. The Visalia Southeast Area Master Plan demonstrates how higher density, traditional neighborhood design can allow development and natural landscapes to coexist in ways that support the natural ecological functions inherent to sustainable communities.
Completing Final Season Of Missionary Ridge Noxious Weed Inventory

The Missionary Ridge noxious weed inventory and treatment project enters its third and final year.  Our first year, 2004, was focused largely on weed inventory.  In 2005, inventory work was completed and weed control began during the summer in selected locations. This year, we are devoting nearly all of our resources to treating weeds across the project area.  Much of the Missionary Ridge fire area is very difficult to access for weed treatment due to steep slopes, hazard of falling trees, or lack of water for herbicide spraying. Therefore, we are concentrating our effort in areas along roads, trails, drainage bottoms, and in open parks where we mapped weeds in 2004 and 2005.
Places
If you're attending the 2006 Annual Southeast Watershed Roundtable & North Carolina Statewide Roundtable  in Asheville August 2-4, stop by the Biohabitats and chat with Kevin Nunnery of our Southeast Bioregional office.
For those of you planning to join hundreds of international scientists, researchers, scholars and practitioners at the 5th European Conference on Ecological Restoration, keep an eye out for Keith Bowers. The conference, hosted by the European Chapter of the Society for Ecological Restoration Internationalwill take place at the University of Greifswald, a 550-year-old university in eastern Germany. Set amidst extensive forests, peatlands, lakes, seascapes, and ecological agriculture, the University is the perfect spot to address the challenges of land use changes in and outside Europe by exchanging knowledge and experience on the ecological, economical and ethical dimensions of ecological restoration.
Our Office Earns Recognition!
Our new home in the Stables Building at Clipper Mill, recently won a 2006 Preservation Project Award from Baltimore Heritage, a citywide historic and architectural preservation organization. The award recognizes excellence in the restoration, renovation, rehabilitation or adaptive use of interiors and/or exteriors of individual structures or groups of buildings. As collaborators with the building's architect, Cho Benn Holback + Associates and developer Struever Bros. Eccles & Rouse, we are particularly proud of this achievement. Come visit us and check it out!
People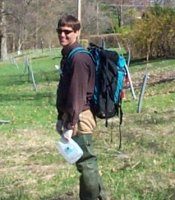 Water resources engineer extraordinaire Ted Brown joined the Biohabitats team in April, bringing with him over 12 years of experience in watershed protection, restoration, and planning. Although he's a Maryland native who earned his M.S. in Civil Engineering from the University of Virginia, Ted's true allegiance is to the University of North Carolina, Chapel Hill, where he earned his B.A. in Economics. Our resident tar heel and self-proclaimed "stormwater geek" holds an impressive resume, which includes four years with a Colorado based water engineering firm, and eight years as Director of Watershed Implementation for the Center for Watershed Protection.  Experienced in stormwater design and program guidance, Ted has helped developed stormwater management manuals for several states, including New York, Minnesota, Georgia and Vermont. He also co-authored the EPA funded national guidance manual on Illicit Discharge Detection and Elimination. When he's not busy saving our watersheds, Ted can be found running, skiing, listening to music or enjoying time with his wife and three kids.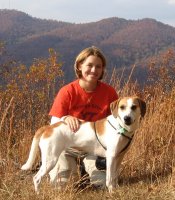 This spring, we welcomed Environmental Technician, Sarah Murray. A former Soil Scientist for the NRCS, Sarah is one of very few people we know who can boast experience participating in an initial soil survey. (She mapped soils for the initial FloydCounty, Virginia survey.) Next on Sarah's list of career highs was teaching principles of soil and water conservation to more than 40,000 boys at the 2005 Boy Scout Jamboree. (Pebble counts must seem easy by comparison!) Sarah holds a B.S. in Environmental Science from Virginia Tech. Her education included a summer spent studying environmental law and camping in the Australian Outback. Drawn to the Biohabitats mission and the opportunity to work in different bioregions, Sarah can usually be found applying her knowledge out in the field. Sarah truly enjoys the natural environment she works to protect. A West Virginia native, she spends her free time canoeing, kayaking, camping, and hiking along the Appalachian Trail with her dog.
GIS Specialist Jennifer Pfister came to Biohabitats from the Patuxent Wildlife Refuge Center, where she was performing GIS mapping and data collection geared toward migratory bird populations. Prior to that, Jen spent five years at Towson University's GIS Center – first analyzing patterns of forest fragmentation in relation to migratory birds and later as a GIS Specialist. Having experienced her own migratory journey – from high school science teacher to GIS guru – this lifelong environmental advocate brings a valuable mix of skills to the Bio team. Jennifer's expertise includes spatial analysis using a variety of software packages, GIS applications to landscape ecology and public outreach.  The wife of a tennis instructor, she also boasts an imposing forehand with wicked topspin. Jen holds a B.A. in Biology from the University of Maryland and a Masters in Geography and Environmental Planning from Towson University. She also carries the distinction of being the only Bio staff member to have been married aboard a kayak in the Prince William Sound. Whether she's wielding a racquet, paddle, ski poles, hiking stick or waterfall repelling harness (yes, she does that, too), Jennifer is destined to be a powerful force in the world of ecological restoration, conservation planning and regenerative design.