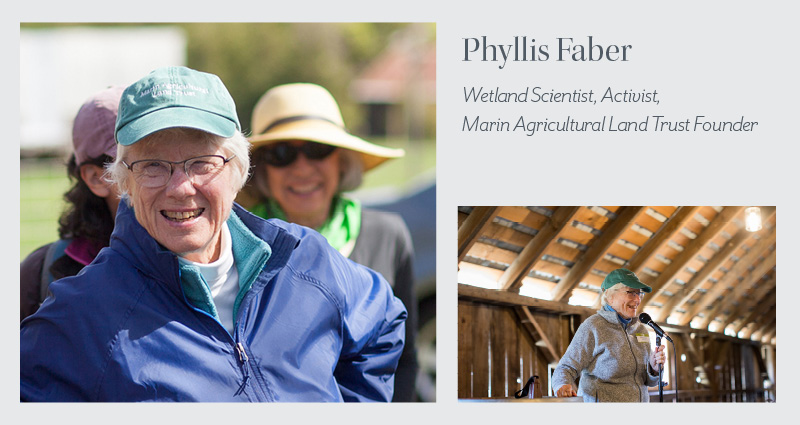 Photos: Paige Green Photography
Although she was born on the East Coast, Phyllis Faber grew up hearing stories about the ecosystems of the San Francisco Bay area from her father, a California native. Years later, she would play a major role in protecting and restoring them.
Faber earned a B.S. in zoology from Mount Holyoke College and an M.S. in microbiology from Yale University. Though trained to unravel DNA in a lab, she took a job as a science teacher so that she could raise her young children. It was then that the teacher whose job she was taking—a woman from Australia–said something to Faber that changed the course of her future and that of the San Francisco Bay. "Did you know the world is going to fall apart because we're losing wetlands? You must pay attention to the wetlands." And that she did.
In the 1970s, when her husband's job prompted a move to California, Faber began learning about the wetlands of Marin County. The more she learned about them the more she became compelled to protect them from the mounting threat of development and exploitation. She helped launch a campaign to develop and lobby for the Coastal Zone Conservation Act. Approved in 1972, the Act authorized the State to regulate development within a portion of the coastal zone. It also created a regional Coastal Commission with permit authority and a directive to prepare a comprehensive coastal plan. Faber served on that body for two years. A few years later, at a time when many farmers were beginning to sell their land to developers, Faber teamed up with a Marin County dairy rancher named Ellen Straus to form the nation's first agricultural land trust, Marin Agricultural Land Trust, which has since preserved and protected more than 53,000 acres from development, subdivision, and other uses detrimental to sustainable agriculture.
In addition to her activism and raising her children, Faber began teaching biology and natural history at the College of Marin and writing and editing guidebooks on the native plants and ecosystems of California. For 15 years, she served as editor of California Native Plant Society's journal, Fremontia. Faber also worked as a consulting coastal wetlands biologist, and it is in that role that she teamed with pioneering wetland hydrologist, Phil Williams in 1974 to restore Muzzy Marsh, a 120-acre salt marsh that had become cut off from the San Francisco Bay by a dike constructed to support development in the 1950s. The restoration, which involved breaching a dike and allowing the tide to access the disconnected land, has since informed many other coastal restoration projects, in the Bay Area and beyond.
"I would encourage any young person to become a biologist," she said in a video produced by the Resource Renewal Institute, "No matter what you do, you enjoy your life more."