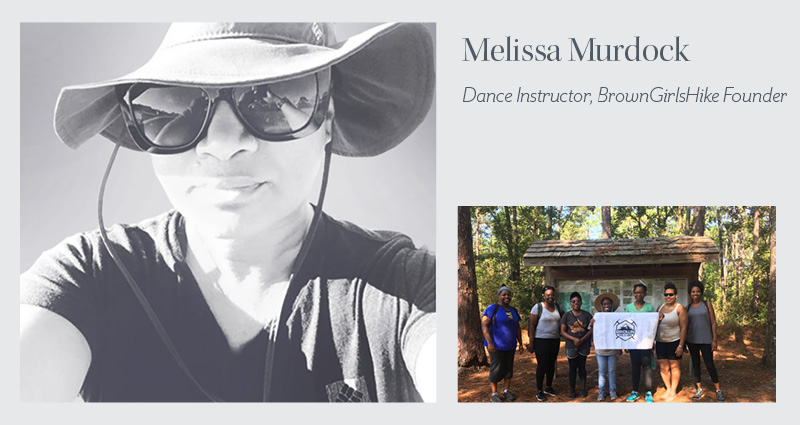 Melissa Murdock, like many others, spends most of her workdays trapped inside. A former television news producer, she now teaches dance in K-12 public schools. But whether logging hours in the office or the classroom, she has always made time for solitary wilderness experiences. Today, as the founder and leader of the Charleston-based organization, BrownGirlsHike, whose mission is to center black women and indigenous women of color in nature, she seeks opportunities to share her passion for the wild life with newcomers to outdoor activities. At a grassroots level, she is helping to lead a growing movement of communities looking to disconnect from electronics and reconnect with nature.
"I find that more and more people are seeking to unplug," she says. "But 20th & 21st century black women have kept away from nature, whether from growing up in an urban environment, or maybe because of historical trauma associated with being in nature. You don't see many images of black people in nature, certainly not women. So black women can't see ourselves there. We have to change that—and I figured who better to change it than me?"
Although Murdock is an avid solo hiker who treasures her solitude on the trails as a form of moving meditation, she finds that being part of a group is often a comfort to those being drawn into new experiences. Inexperienced hikers often want to know what to expect from the outdoors, so she frequently steers participants towards tools that can enhance their experience of wild nature, with apps such as MapMyHike or PictureThis to help identify flowers.
During BrownGirlsHike events, Murdock also makes a point of centering on blackness in some way, whether by explaining the history of the place, or sharing a story of an African American inventor or leader in natural science. She sees BrownGirlsHike, and related groups, as part of an important and exciting new growth in the black outdoors community and notes the importance of connection and social media in the community's development.
"People are finding their niche and connecting through social media. Through Instagram I've made some great connections with other communities and outdoor festivals that center on black people in nature. And they all share a need to disconnect. We are so locked into unnatural atmospheres of light and telecommunications, and electronics. But in being outside, we reclaim things that we lost in the industrial revolution and as people moved indoors."
Murdock grew up in York, SC, in a suburb where ponds and trails were an easy bike-ride or walk away for her and her sister, giving them the opportunity to spend their childhood exploring nature together. Ever since, she has found peace and clarity in the outdoors, and is now committed to helping other women of color find the same joy in those experiences.
"When I talk about hiking or camping, I sometimes hear, 'What? That's crazy' or 'I don't like bugs.' And some black people will tell me that stuff is for white people. I believe nature is for everybody. In those moments, I find the opportunity to find out what their fears are and how I can get them outside," says Murdock. "Often, as people get started with a new experience, they need a guide. And I want to be that guide."