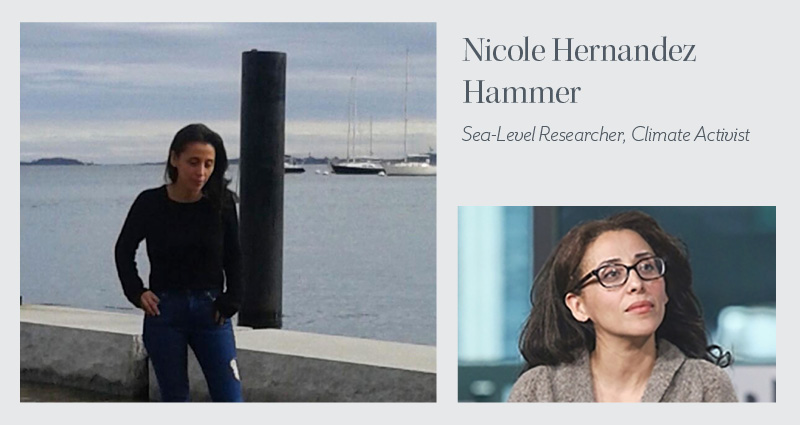 Photos: Nicole Hernandez Hammer
From the 'super fires' raging across California to the frequent hurricanes barreling through American coastal cities, the United States is already experiencing the effects of climate change. Translating this reality into terms that an individual can understand and grapple with is not an easy task, but it is one to which Nicole Hernandez Hammer has committed her career.
Ms. Hernandez Hammer began her career in academia, researching the impacts of climate change and sea level rise, specifically on vulnerable communities like those in her native South Florida. Her shift from academia to advocacy came, in large part, because Nicole believes that it "takes a long time for the work that comes out of academia to impact folks that are most vulnerable" and that "that kind of delay is something that we can't afford considering the urgent need to deal with climate change impacts."
In 2012, Nicole joined the Union of Concerned Scientists (UCS), first as their Florida Coastal Expert and then as their Southeast Climate Science and Community Advocate. During her time with UCS, Hernandez Hammer also worked with the Moms Clean Air Force, a national group of moms and dads championing the fight against air pollution and, by extension, the effects of climate change. Through both organizations, she helped residents of South Florida, particularly Latino communities that often receive fewer educational and protective resources than more affluent communities, understand the realities of climate change and what they can do about it. South Florida communities are in a more vulnerable position than most within the United States. A report published by UCS earlier this year found that more than one million properties within Florida will experience chronic flooding by 2100, making it the highest risk state within the continental U.S. A 2015 poll conducted by EarthJustice & GreenLatinos found that 67% of Latinos surveyed within Florida felt as though they were already experiencing the effects of climate change in their state.
Nicole Hernandez Hammer now lives in Rhode Island and, although she has moved away from the South Florida communities for whom she spent years advocating, she remains committed to serving vulnerable communities. She is bringing her own unique perspective, as a woman of color and as a trained scientist, to advocacy projects that truly excite and interest her. In the past year, Nicole has been interviewed about climate change on Telemundo, assisted several Rhode Island government agencies that are contending with the disproportionate effects of climate change along their northeastern coasts, and consulted on a slew of other projects related to the effects of climate change on vulnerable communities.