In the early 2000s, while working on water quality improvement projects for Watershap Hunze en Aa's, a regional water authority in the Northern Netherlands, ecologist Herman Wanningen began noticing river lamprey (Lampetra fluviatilis) in the region's waterways. The lamprey were swimming distances of 50-100 kilometers from the North Sea up into the region's river to spawn. "If these fish are moving up and down our rivers," Wanningen remembers thinking, "we should at least create habitat for them and keep these routes open."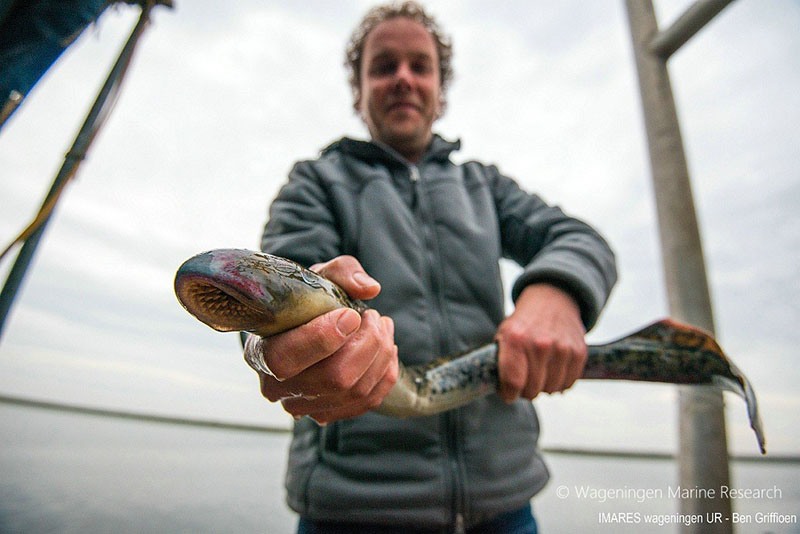 ©Ben Griffioen
Wanningen knew that doing something to improve the plight of migratory fish in his region would require support—from both the water authority and the communities they served. Although Wanningen had struggled in the past to garner funding and interest from colleagues and board members for his work related to midges and water insects, he had no such difficulty when he started talking about fish. "We all eat fish," he said of his colleagues, "and people love fish."
Fueled by the enthusiasm and positive energy he discovered among his colleagues for fish, Wanningen came up with the idea to host a one-day, public event he dubbed "Fish Migration Day." Wanningen's agency had recently installed a fishway along the Wadden Sea coastline.  The fishway had a viewing window, but it was located behind a locked door, and it was not accessible to the public. Wanningen's idea for Fish Migration Day was to allow people to come to the fishway, look through the window, and see the migrating fish. Wanningen envisioned the event as a win-win, since it would help citizens better understand the water authority's work while also generating awareness of and excitement about fish migration. He was right.
It turned out a lot of people felt the same enthusiasm for fish that Wanningen witnessed among his coworkers. Thousands of the region's residents came to peek through the fishway window, instantly making Fish Migration Day the largest event ever organized by a water authority in the Northern Netherlands.
The event was so successful the water authority decided to hold it again. And again. Wanningen then invited water authorities from other regions of the Netherlands to host their own Fish Migration Days. Many did, and they experienced the same success. "From that moment," said Wanningen, "I thought this needed to grow into something international." In 2014, it did, with the first ever World Fish Migration Day. The one-day celebration connected a growing, global network of people and organizations working to improve conditions for migratory fish. Over 1,000 organizations from 50 different nations held more than 270 events related to migratory fish.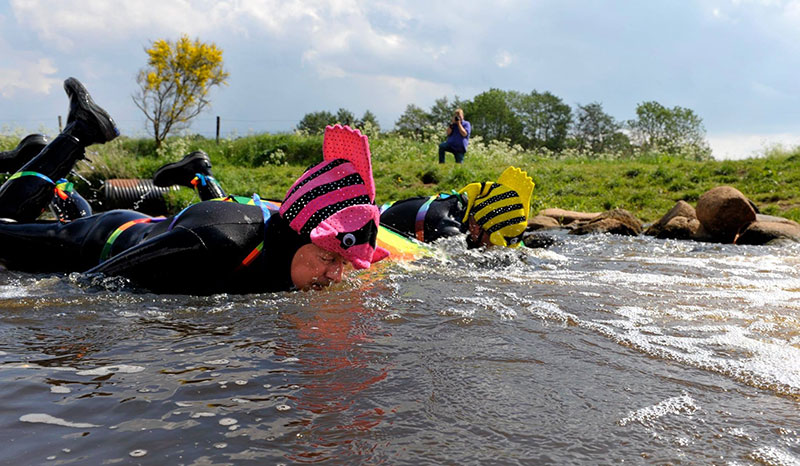 North Sea Fish Migration Day, 2011.
Now occurring every two years, World Fish Migration Day aims to generate global awareness, action, and commitments related to migratory fish and the protection of the free-flowing rivers on which they depend. Typically held in May, when many species are migrating, World Fish Migration Day connects a growing, global network of people and organizations who all share a passion for protecting fish and rivers. Thousands of organizations collectively host hundreds of events celebrating fish and rivers all over the world.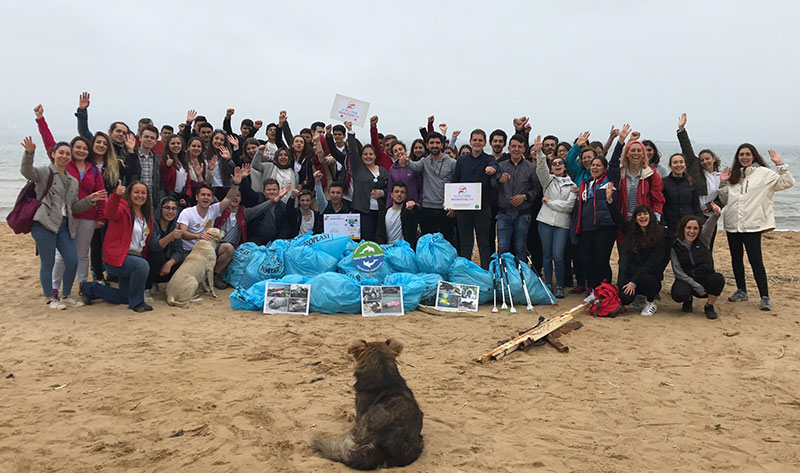 A World Fish Migration Day beach cleanup in Turkey
In addition to increasing awareness, some involve direct action, such as the removal of a dam or other barrier. Some, like a fish monitoring field trip, yield data. And some even result in changes in policy. For example, the 2018 World Fish Migration Day included a seminar led by WWF  called "The Future of Rivers in Finland." The seminar, which featured celebrities, national and local officials, and NGO representatives inspired participants to take action to improve their fish and rivers. After the event, the Finnish government developed a new river restoration policy that included—for the first time in the nation's history—the option to remove dams. The policy also established a fund of €20 million for dam removal.
When it comes to the types of events suitable for World Fish Migration Day, guidelines are as free-flowing as the rivers the day helps celebrate and protect. Events can be hosted by individuals or organizations, and in the past, they have included activities such as stream cleanups, festivals, barrier removals, paddling excursions, art exhibits, dances, and educational workshops. The celebration not only connects people who are working toward a common mission, but also infuses in them a shared sense of pride…and fun. The most recent World Fish Migration Day, which was conducted virtually, even included an international fish migration song contest called "EuroFishion," modeled after the world-famous Eurovision competition hosted by the European International Broadcasting Union.
The next live World Fish Migration Day will take place on May 21, 2022. The theme of the 2022 celebration will be "Break Free," and Wanningen and fellow organizers aim to connect 200 million people to 1000 events in 100 countries. The goals of the one-day festivities extend beyond awareness building, with targets of 100 river opening events and 2,000 kilometers of restored and protected rivers. The 2022 World Fish Migration Day will also feature a live celebration in Sweden that anyone from the world can virtually attend, and the release of the documentary film "Dam Busters," which follows Spanish engineer Pao Fernandez as she visits dam removal heroes from all over Europe. Anyone can host a World Fish Migration Day event, regardless of the size, location, or number of anticipated participants. Event hosts simply need to register their event and agree to the terms of the central organizers.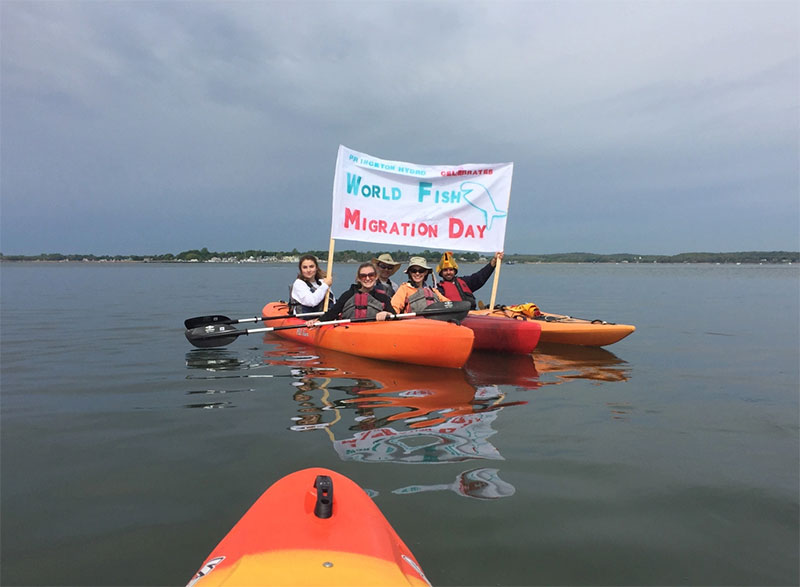 Image courtesy of World Fish Migration Foundation
Building on the momentum generated by the first World Fish Migration Day in 2014, Wanningen and fellow organizers soon founded the World Fish Migration Foundation (WFMF), a nonprofit organization with a mission to save the world's migratory fish in rivers. Maintaining the fun spirit of World Fish Migration Day, and manifesting the organization's strapline of "connecting fish, rivers, and people," WFMF pursues its mission through international, collaborative projects aimed at removing obsolete dams and reconnecting migratory routes. In doing this work, WFMF brings people together to create and share knowledge and tools, celebrate success, inspire others to join the movement, and ultimately open up rivers.
In addition to serving as the central organizing body for World Fish Migration Day, the WFMF implements numerous programs, initiatives, and publications. Improving the plight of the world's migratory fish requires an understanding of their status. Last summer, WFMF collaborated with the Zoological Society of London (ZSL) to produce The Living Planet Index for Migratory Freshwater Fish, the first comprehensive global report on the status of migratory fish.
Data for the report was collected and managed by the ZSL. Wanningen expects that the growing use of Environmental DNA—organismal DNA from skin, excrement, etc. found in the environment — for biological monitoring will make the report even more powerful as it is updated in the future. For now, according to Wanningen, the Living Planet Index provides the best available global snapshot of migratory fish, and also a benchmark from which real change can be made. "This is the best available data," he said, "and it's our starting point for improvement." There is indeed room for improvement. According to the report, monitored populations of migratory freshwater fish have declined by an average of 76% between 1970 and 2016, with the most pronounced declines occurring in Europe (-93%) and Latin America and the Caribbean (-84%). The report identifies habitat degradation/loss as one of the primary drivers of the decline.
Rather than dwelling on the negative impacts of humans on migrating fish, Wanningen prefers to direct his palpably positive energy toward the promise of what is possible when people work together to improve the plight of migrating fish. The optimism of the organization and its movement is visible on World Fish Migration Day, when it is not unusual to see participants dancing, singing, smiling, or even wearing fish costumes. But it pervades every aspect of the WFMF work.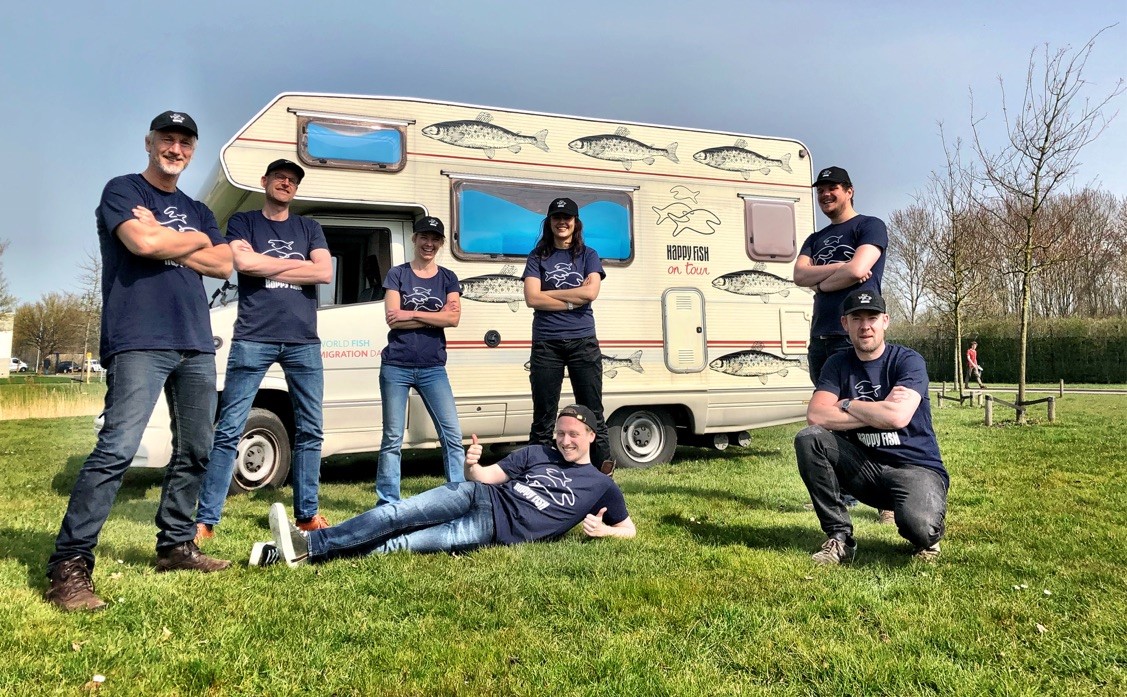 The team behind World Fish Migration Day 2018 and the Happy Fish Bus
"We are doing serious work," says Wanningen, "but we do it with a positive vibe."
Indeed, the WFMF has—and liberally shares—its own "Happy Fish" icon, which it describes as "the symbol for people, organizations and projects aiming to restore migration routes for fish populations."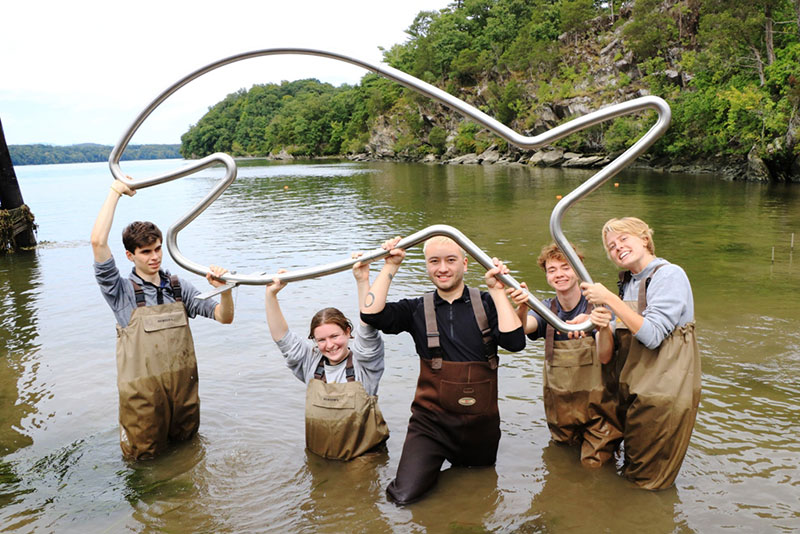 WFMF's happy fish sculpture, seen here in the Hudson River, travels the globe. ©Chris Bowser
In addition to knowing the status of global migratory fish is knowing where they are swimming when they migrate. In partnership with the IUCN and the UN Environment Programme, and with funding from the Cambridge Conservation Initiative, the WFMF is doing just that with the Global Swimways Initiative. The project aims to map the locations of rivers that support migratory fishways, the routes different species are traveling, and how far up and downstream they can move. The project is ongoing and will ultimately yield an online tool that can inform decision makers of potential ecological impacts of infrastructure projects. As with the Living Planet Index, Wanningen is enthused about the use of eDNA to help locate swimways and determine where they are and are not functioning well.
Like World Fish Migration Day, the Global Swimways Initiative really began with Wanningen in the Northern Netherlands. Wanting to better understand the routes of the migratory fish he was observing while working for the water authority, he attempted to draw them on the back of a piece of paper. He shared his "map" with a local journalist. When his colleagues at the water authority saw his hand-drawn map published in the regional newspaper, they told him that if he wanted to publish data about migratory fish routes, he needed to improve that data. A savvy communicator who understands the power of language, Wanningen knew that he also needed to give it a name.
"The term 'flyways' was well known and used by people in the bird conservation community," said Wanningen. "Together with colleagues from the Program towards a Rich Wadden Sea we thought we needed a similar term." Many colleagues scoffed at the idea of using a term like "swimways," but like a migrating fish following its instincts despite potential barriers, Wanningen persisted.

He has been equally upbeat and unflinching in his pursuit of the Foundation's mission through collaborative programs and initiatives and the creation and sharing of important information related to migratory fish. One such program is Dam Removal Europe, which aims to restore rivers in Europe that have high natural or cultural importance by removing out-of-use dams. According to a European study in which WFMF participated, more than 150,000 obsolete dams are currently blocking and fragmenting European rivers.
"Europe is full of dams," said Wanningen. "We started blocking rivers and building mills in the Middle Ages."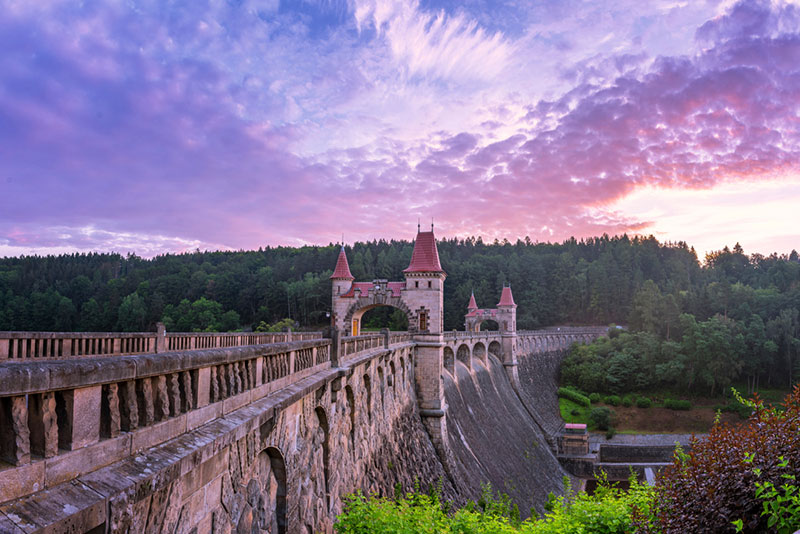 Les Kralovstvi dam, Czech republic
Formed in 2016 as a partnership of WFMF, the World Wildlife Fund, The Rivers Trust, The Nature Conservancy, European Rivers Network, Rewilding Europe, and Wetlands International, Dam Removal Europe links practitioners and specialists who are working throughout Europe on dam removal and river restoration. That connection helps address the lack of awareness, knowledge, support, and funding that can create bottlenecks for dam removal. Dam Removal Europe provides a website to facilitate communication and information sharing. It also collects, creates, and shares resources, such as case studies, webinars, presentations, reports, interviews with people who have removed dams, and links to guidance documents, such as The Nature Conservancy's Pracitioner's Toolkit for Dam Removal. There is even an online store, where people can purchase Dam Removal Europe hoodies (and in the future, cycling apparel!) to further unify and celebrate dam removal efforts across the continent.

WFMF also worked to advance dam removal in Europe through its involvement in a €6.2 million, multi-disciplinary EU Horizon 2020 research project called AMBER (Adaptive Management in Barriers of European Rivers.) Coordinated by Swansea University, AMBER used citizen science, drones, cutting-edge advances in environmental DNA, and ecosystem services valuation to map the distribution of Europe's estimated 1.2 million instream barriers and assess their effects on freshwater habitat and organisms. Twenty partners from 11 countries collaborated to create this Pan-European Atlas, and WFMF's role has been to lead communication efforts to inform researchers and policymakers and to inspire the European public to care about migratory fish. AMBER shared its progress, along with important information relevant to European dam removal, in its free, downloadable publication, LET IT FLOW.
Speaking of free, informative publications, Wanningen and WFMF also helped produce From Sea to Source, a guidebook intended to inform, educate, and inspire people who wanted to learn more about addressing the challenges of fish migration in rivers around the world. The book, originally published in 2012, was created with input from more than 100 fisheries professionals from all over the world. The guidebook was updated in 2018, and From Sea to Source 2.0 can be downloaded for free.
"We started with awareness and growing a network," said Wanningen. Today, however, replicating and scaling up dam removal has become the WFMF's top priority. Although Wanningen began his career focusing on fish passage facilities, he no longer sees them as the main solution. "Dam removal," he said, "is the way forward to restore rivers, because it's simple: rivers need to flow"
Policymakers and philanthropists are beginning to agree, according to Wanningen, who referenced an impending, philanthropic fund to stimulate dam removal, and an exciting development in EU policy. The Directorate-General for Environment, the European Commission department responsible for EU policy on the environment, recently sought guidance from WFMF, in cooperation with the AMBER network and Dam Removal Europe coalition, in establishing a target for European river restoration to support the EU's biodiversity strategy.
After reaching out to the WFMF network to solicit input, the group suggested the goal of 25,000 kilometers by 2030. Not long afterward, the EU announced its target for river restoration: 25,000 kilometers of restored rivers by 2030. According to Wanningen, WFMF is now ready to support EU countries determine how to do their part toward achieving that goal.
"Dam removal is the way forward to restore rivers, because it's simple: rivers need to flow"
What began as a one-day event at a fishway in the Northern Netherlands has become a global network that connects and motivates people all over the world to work together to protect and restore swimways.
A paper published last spring in Fisheries Magazine (Twardek et al., 2020) attributes much of  WFMF's success to the organization's local-to-global approach, its ability to identify change-makers at various scales of operation, and its conservation optimism. (Twardek et al., 2020). Wanningen also credits his colleagues at WFMF and the contributions of founding partners, the World Wildlife Fund and The Nature Conservancy.
For anyone who has met Herman Wanningen, it is easy to identify the original source of that optimism.
"He is so positive and fun," said fisheries/water resources engineer and dam removal expert, Laura Wildman, who has been involved with WFMF since 2011. "Herman's genius is connectivity," said Wildman, referring not only to his understanding of fish migration but of people. "He connects people and efforts into a much larger network with a larger vision, and in the process, he is creating a movement."
Herman Wanningen (center) receiving the President's Fishery Conservation Award at the 2019 American Fisheries Society Joint Conference with The Wildlife Society
"We cannot do this alone," said Wanningen of his staff of five. He encourages anyone who has a passion for migrating fish and free-flowing rivers to host a World Fish Migration Day and to reach out to WFMF. "If I discover someone who can really make something happen," he said, "I'll do my utter best to help." For example, when he was approached by a student named Karolina Gurjazkaitė who wanted to start a dam removal movement in her community in Lithuania, Herman sprang to action. He helped her organize a workshop and invited water management and dam removal experts from around the world to attend. As a result of that workshop, the community created a new dam removal policy and removed the first dam in Lithuania.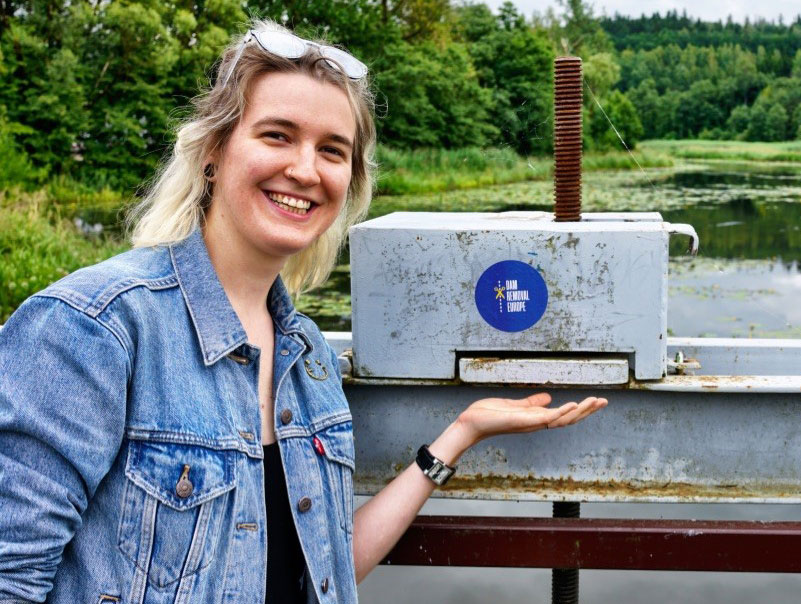 Karolina Gurjazkaitė
Wanningen also encourages companies with an interest in protecting and restoring migratory fish routes and who profit from such work to direct some of that profit toward the WFMF. "It's a win-win," he said of such supporters. "They see that their annual donation is creating new work for them because they become part of this bigger network."