According to the United Nations Population Fund, we are in the midst of the largest wave of urban growth in history. Today, towns and cities are home to 4.2 billion people—more than half of humanity. And with urban population growth outpacing that of general population, the wave does not appear to be cresting anytime soon. In fact, thirty years from now, it is projected that two out of every three people will live in a city. For cities accommodating these people, this poses some interesting challenges. In addition to providing and maintaining the infrastructure, housing, transportation, employment opportunities, and services to support these increasing populations, cities must also address issues of declining biodiversity, a changing climate, and, in many cases, legacies of inequity. While this puts unprecedented pressure on our cities, it also places them in a position to be powerful agents for change.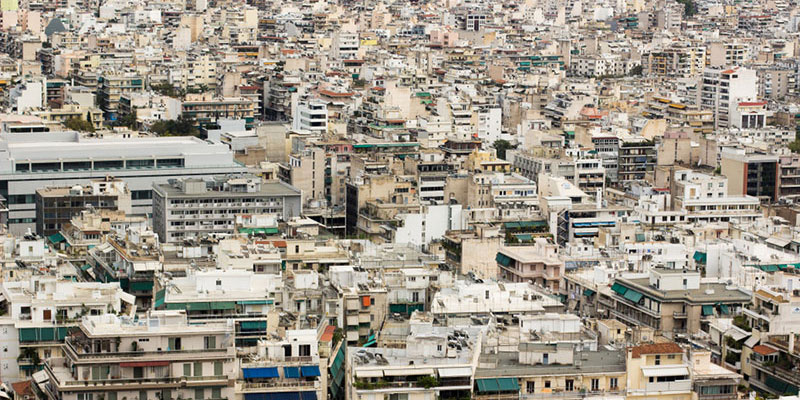 In the U.S. and elsewhere, forward-thinking cities are not waiting for national leadership to take meaningful action to build and strengthen their resilience. In doing so, many urban communities are turning to ecology to guide and inform their future planning. Just last month, the U.S. Green Building Council's two-year-old LEED for Cities & Communities certification program released version 4.1, which expands the program to include planning projects, and includes "Natural Systems and Ecology" as one of its six core components. Following examples set by eco-leaders like Singapore, Barcelona, and Portland, Oregon, more and more cities (including Edmonton, Baltimore, Halifax, Atlanta) are applying the science of ecology to plan the expansion and linkage of parks, open space, community hubs, green and blue infrastructure, and people in exciting and equitable ways.
Join us as we explore the topic of ecology in urban planning.
We begin by chatting with some experts. Dr. Steward T.A. Pickett of the Cary Institute of Ecosystem Studies helped pioneer the practice of urban ecology. He discusses the evolution of this dynamic field and its important role in urban planning. We also speak with Dr. Frederick "Fritz" Steiner, Dean of the University of Pennsylvania Stuart Weitzman School of Design, who is building upon the legacy of his role model and mentor, Ian McHarg. Dr. Katherine Lieberknecht of the School of Architecture at The University of Texas at Austin tells us about the emerging—and rather promising—concept of "ecological wisdom" and its application to urban planning.
In exploring the importance of equity and inclusion in urban planning, Jessica Hardesty Norris takes us to Scanlonville, South Carolina, a marsh-front community founded after the Civil War as a cooperative of freed African Americans. For those thinking about building an ecology-based framework for urban planning but not sure where to start, Jennifer Dowdell, shares a step-by-step approach. Can ecological urban planning be scaled up? According to David Yocca, who highlights the Chicago metro region's efforts at regional-scale ecological urban planning, it most certainly can.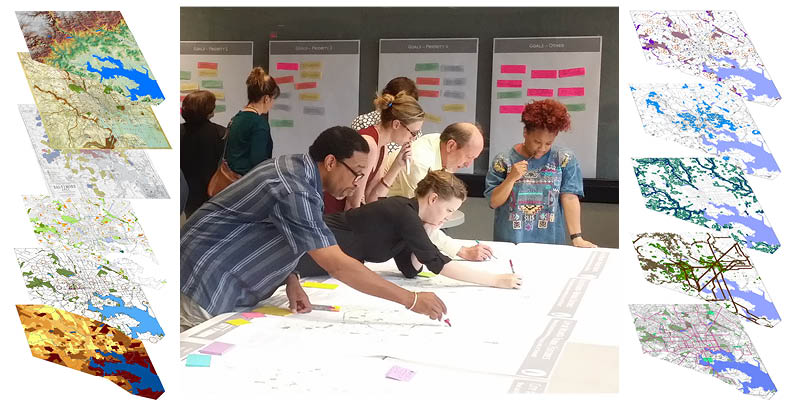 Anne Berg shines Leaf Litter's Non-Profit Spotlight on The Nature of Cities, a platform and organization that is using the power of transdisciplinary conversation to advance the design and creation of resilient, sustainable, livable, and just cities.
Resilient urban planning has come a long way since the UN Earth Summit first convened in 1992, but how do we bridge landscape ecology and urban ecology with the policies that give form to a city? Keith Bowers explores this very question in his article "On the Road to Resilience: Turning Ecological Thinking into Action." Katherine Bartter reflects on urban planning landmarks in history, from prehistoric earthen mounds to the Acropolis, from the structures of the Industrial Age to the eco-villages of the late 20th century. Might we be coming full circle?
When you think of nature in your city, what's the first thing that comes to mind? We ask residents of the cities that house our bioregion offices this question, and present their responses in a photo essay. For further inspiration, check out Tanaira Cullen's poem, "City Song-The Green Refrain" and comic illustration by Emma Quinn.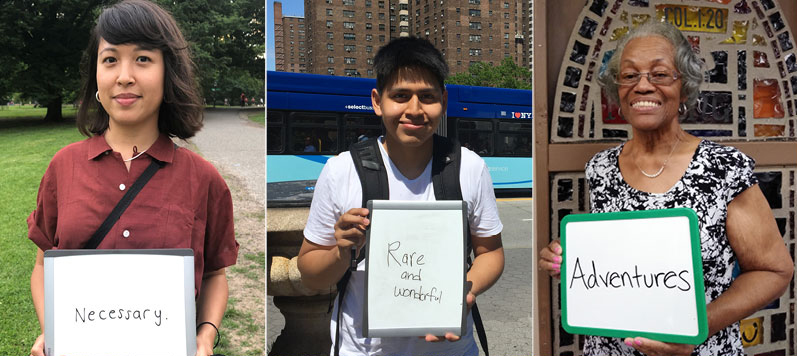 For a deeper exploration of the topic of ecology in urban planning, we share a list of Resources. A great deal of our work at Biohabitats involves the application of ecology to urban planning and design. We share highlights of some of that work, along with news about where our staff will be in the coming weeks, and introductions to our newest team members.
Let us know what you think. Share your thoughts about this issue by contacting me or commenting on our Facebook or LinkedIn pages.
Wishing you a peaceful Summer Solstice and happy reading!
Amy Nelson, Editor