In this year of heartache, we mourn the loss of a true champion of goodness: our client and friend, Mark Biedron. The co-founder of The Willow School, and former president of the New Jersey State Board of Education, Mark was a true visionary in the integration of nature and education. It is impossible to know how many young people's lives and how many aspects of the natural world have been made better because of Mark's touch, but we're pretty sure his handprint will continue to expand well into the future.
Projects
NYC's Pier 26 is coming to life. Literally!
Earlier this fall, the Hudson River Park Trust opened Pier 26, a 2.5-acre site within Hudson River Park that is devoted to the science of the river and its surrounding environment. The pier has a mission to highlight the regional ecology of the Hudson River Estuary, and we're honored to have helped bring it to life. We worked closely with the design lead, OLIN, to advance a concept which revolved around a dynamic, gradient experience of the Estuary's representative habitats, from upland to open water. This included the design of a constructed floating wetland, planted on PET planting media units from Floating Wetland Solutions, that mimics the ecotones of a coastal ecosystem. It features a rocky intertidal zone, low marsh, high marsh, and a coastal tree and shrub area. Boulders around the edges of the wetland area are designed with depressions to create tide pool habitat which may be used by various bivalves, crabs, and small fish species. The Pier provides beneficial ecological function while offering people extraordinary opportunities to experience the estuary. To learn more about this project, visit our website or contact Kevin Dahms.
Ecology enhances resilience on South Carolina's largest island
Spanning 84 square miles, Johns Island is the fourth largest island on the east coast of the United States, and the largest in South Carolina. It is a cultural hub for and home to many Gullah Geechee people. With its saltmarsh, robust forest canopy, and coastal dunes, the island retains its rural character and open space. Despite the fact the Island naturally regenerates itself through the accretion, migration, and dissipation of sand dunes and ridges, it is vulnerable. Separated from urban Charleston by the Stono River and located just inshore of five barrier islands—including the retirement community and tourist destinations of Kiawah, Folly, and Seabrook Islands—Johns Island faces pressure from development and a changing climate. The island is particularly challenged by the ponding, pooling, and draining of stormwater. To address these and future flooding challenges, the City of Charleston is seeking to reduce barriers to coastal resilience by carefully examining opportunities to mitigate flood risk via land use. As the ecological lead on a planning team helmed by WK Dickson, we are helping to craft and integrate ecological function into the Johns Island Restoration Plan. We are currently identifying where forest protection, floodplain protection and enhancement, wetland restoration and creation, or other nature-based infrastructure can mitigate flood risk and enhance overall resilience of Johns Island's human and wildlife communities. For more information about this project, please contact Jessica Norris.
Baltimore's Middle Branch communities becoming front and center
The Middle Branch of the Patapsco River is located less than two miles from Baltimore's lively Inner Harbor, but its long history of heavy industry, aging infrastructure, and fragmented neighborhoods has severed it from the heart of the city. That same history, along with a legacy of racism and environmental injustice, has negatively impacted many communities along the Middle Branch. In an effort to bring environmental justice and greater resiliency, vibrancy, and connectivity to the communities and waterfront of the Middle Branch, the City of Baltimore launched a design competition to kick off a large-scale revitalization effort. The winning concept is built around the theme of Justice, Equity, Diversity, and Inclusion, and it combines ecological restoration with the creation of open, inclusive spaces for commerce, economic development, and leisure. As ecological consultant on the winning design team, Biohabitats is assessing and inventorying baseline ecological conditions, identifying data gaps, and developing a long-term monitoring program. We're currently studying over 550 acres of terrestrial and inter-tidal area to provide the team with a more complete picture of the current conditions and better understand ecological assets and liabilities. Guided by the needs, concerns, and desires expressed by Middle Branch neighborhoods the plan weaves the unique urban character of Baltimore and a mosaic of natural systems reflective of the Chesapeake Bay estuary. It integrates connectivity across neighborhoods and greatly enhances and improves access to biodiverse, functioning ecosystems, spaces to celebrate culture, and new ways to experience education and outdoor recreation. We're honored to be working with the City and a truly collaborative design team (link to profile), and look forward to the next phase of work: ideation of early projects. For information about this project, please contact Chris Streb.
More nature-based, resilient shoreline protection coming to Raritan Bay, thanks to NY/NJ Baykeeper
We are delighted to be partnering with New York New Jersey Baykeeper on a project funded by the National Fish and Wildlife Foundation to determine the most suitable and resilient design alternatives for a nature-based approach to protecting communities along a portion of the coast of Sandy Hook Bay. To do this, we are performing a coastal engineering study to evaluate the hydrodynamics and sediment dynamics along the shoreline of Naval Weapons Station Earle. This includes analyzing specific factors, such as wave energies, flow regimes, and coastal dynamics, that influence the effectiveness of the shoreline design and marsh restoration resilience strategies. Building upon Baykeeper's impressive work in the Raritan Bay region (including oyster castle pilots and past collaborations with Biohabitats and other partners) we look forward to demonstrating the power of natural infrastructure for coastal protection. For more information about this project, please contact Kevin Dahms.
Lowland region of South Carolina will soak up Nature-based solutions
Charleston, South Carolina's Church Creek basin drains nearly 5,000 acres along the Ashley River. Before becoming heavily developed in the 1970s and 80s, the area consisted primarily of old phosphate mines and marshland. Today, it experiences persistent flooding from rain and tidal events. As part of the City of Charleston's ongoing efforts to improve flood control in the basin, and as an outcome of the 2019 Charleston Dutch Dialogues, a multi-day collaborative workshop involving local and Dutch experts, the City sought some new, multi-benefit solutions. We are honored to announce that we have begun working with the City to identify, evaluate, and prioritize opportunities to implement nature-based solutions and green infrastructure to protect the basin, promote community resilience, improve recreation and connectivity to natural spaces, and enhance ecosystem services and hydrological function. We're delighted to have teammates like Weston & Sampson, Surculus, Wildlands, and Resilient Land Matters on board, and we look forward to collaborating on an Action Plan to help the City move toward implementing top priority opportunities. For information about this project, please contact Jessica Norris.
Quantifying the Stacked Benefits of New Green Infrastructure in Colorado
Denver Water's historic High Line Canal, once used solely to transport water to irrigation customers, provides communities much-loved recreational opportunities along its 71-mile course. With reduced water flows, however, the future of the Canal corridor was uncertain. After determining that even with those reduced flows, the Canal could provide water quality benefits, the nonprofit High Line Canal Conservancy and its partners at Denver Water, Mile High Flood District, and adjacent jurisdictions sought to transform it into a model of urban green infrastructure and smart water planning. As is often the case with inspiring visions, this one required some justification that the benefits would be worth the cost. Building on a framework developed by the Conservancy, we helped implement two grants from the Pisces Foundation to do just that. We began by working with a Technical Leadership Team comprised of 10 stakeholder representatives to determine the goals and benefits they desired. Guided by that input, we mapped the entire Canal, identifying and analyzing opportunities to implement green infrastructure.  We then developed concepts for three pilot locations and tested a benefit cost analysis for those concepts under different stormwater scenarios. Using GIS data to quantify resources along the Canal in the three pilot reaches and gathering unit cost information for the three pilot projects from the Conservancy, engineering reports, national precedent analyses, and stakeholder input, we were able to illustrate the ecological and social benefits the reimagined Canal could bring to the region's communities and waterbodies. Because the integration of green infrastructure would improve the ecological function and resilience of the canal corridor, those benefits were substantial. Moving forward, the Conservancy will use the mapping and analysis to communicate benefits and work with partners to help maximize potential stacked benefits of their projects. For more information about this project, please visit our website or contact Claudia Browne.

Restoration construction complete; let the rippling protective effects of begin!
Earlier this month, construction wrapped on restoration of Wissahickon Creek, a tributary to Pennsylvania's Schuylkill River. Degraded by development in its surrounding watershed, the creek had become entrenched and eroded, and was threatening nearby property and utilities. Working closely in a design-build capacity with the Wissahickon Valley Watershed Association, we developed and then implemented a design to restore stability, floodplain connectivity, and ecological function to the degraded stream while enhancing utility and property protection. We created significant floodplain benching and depression storage, and we reconnected the creek with its floodplain by creating riffle grade control structures and filling the existing channel. Native trees, shrubs, and herbaceous plants went in the ground during the final stage of construction, and now it's time to let nature do its thing! For more information about this project, please visit our website or contact Brett Long.
Formerly contaminated coast to be (truly) revitalized
In the early 1900s, hundreds of acres of San Francisco Bay's open water and tidal mudflats were filled in and sometimes contaminated by landfill debris and industry. Such was the case for the 700-acre site of the proposed Baylands redevelopment. Located in the city of Brisbane, the redevelopment is envisioned as an opportunity to revitalize the region while enhancing its resilience. The mixed-use development project plans to include more than 130 acres of open space and restored native habitat, including tidal and freshwater wetlands, upland areas, and marsh-to-upland transition zones. We have been working with the developer, Baylands Development, to integrate open space design and restoration planning into the site master plan. We have prepared several plans and reports (including a Butterfly Protection Plan!), collaborated in numerous multidisciplinary project team meetings, and engaged with regulators at all levels of government. While sometimes challenging to address issues of a coastal community degraded by decades of industry, to us it is a privilege to be a part of this effort to help regenerate natural systems, vibrancy, and resiliency! For more information about this project, please visit our website or contact Claudia Browne.
New crop of ecosystem services to sprout along Ohio's Sandusky River
Centuries ago, the area around Fremont, Ohio was part of the Great Black Swamp, a 4,800-square-mile forested wetland. In the 1800s and early 1900s, much of that wetland was cleared and drained for agriculture. Today, runoff from changed land use has impacted water quality. We've been working with the Black Swamp Conservancy (a Northwest Ohio Land Trust) and the Ohio Department of Natural Resources to transform 54 acres of frequently flooded farmland along the Sandusky River into a nature preserve. In the past, riverine flooding and stormwater would carry soil and excess nutrients directly from the fields into the Sandusky River through drainage ditches. That water would then flow into Sandusky Bay and ultimately, Lake Erie. Once transformed into the preserve, the land will begin to become a diverse and functioning floodplain that will filter nutrient loaded floodwaters, regenerate habitat, and provide new ways for people to enjoy and experience nature. The project is being funded by a grant from the Ohio Department of Natural Resources under the H2Ohio Program, Governor DeWine's initiative to ensure safe and clean water for all Ohioans. After construction and planting are completed in spring of 2021, the site will be monitored for two years to ensure that plants become established and the ecosystems function as designed.  The Sandusky County Park District will ultimately take over management of the preserve and residents and visitors will be able to access and enjoy the natural, riverfront beauty of northwest Ohio for passive recreation such as hiking, fishing, and birdwatching.  For more information about this project, contact Tom Denbow.
Large Colorado watershed now has blueprint for future stream management
Colorado's Water Plan, the states roadmap for addressing projected future water needs, calls for development of Stream Management Plans (SMP) to address local concerns such as fire mitigation, water quality, potential impacts of legacy mines, flood mitigation and recovery, habitat enhancement, and land use change. The St. Vrain and Left Hand Water Conservancy District (SVLHCD) responded to that call and turned to us for help in developing an SMP to improve environmental and recreation conditions in the St. Vrain Creek watershed while meeting the needs of current and future water users. Stretching from the mountains to the plains, the 500-square-mile watershed contains 150 miles of major creek channels and an increasing population with a wide spectrum of needs. The SMP needed to balance the agricultural and recreational needs of that publication with the needs of diverse populations of native fish. We started by collecting, analyzing, and synthesizing data in a user-friendly way that would empower stakeholders to prioritize projects. Informed by local knowledge and guided by stakeholder and stream health goals, we identified, in the form of an SMP, opportunities where future ecological restoration projects can inspire partnerships and transform challenges into benefits. With the SMP complete, the SVHCD now has a blueprint for improving and protecting waterways while also meeting the needs of its growing human population. For more information about this project, please visit our website or contact Claudia Browne.
Improving water quality in one of the country's oldest counties
Fairfax County, Virginia is one of the oldest counties in the United States, and the most populated in its state. Much of its development predates stormwater regulations. For Long Branch Central, located in the County's 51-square mile Accotink Creek watershed, stormwater from that development has caused significant degradation. In 2017, the Virginia Department of Environmental Quality (DEQ) issued a Total Maximum Daily Load (TMDL) requirement to reduce sediment for Accotink Creek Watershed. They also declared Long Branch impaired and assigned its 3.7-square-mile subwatershed a waste load reduction of 2,433 tons per year. We are happy to be helping the County with its efforts to meet that target, improve water quality, and restore ecological function, habitat, and health to the watershed. All fall, we've been putting on our waders (and of course our masks) and getting out into the field to assess the watershed and identify opportunities for restoration projects. This has included stream scoping to evaluate stream channel and riparian conditions and determine the restoration need of impaired reaches. Once the assessment wraps up, we'll be working over the coming year to meet with the public, prioritize projects, develop designs, and establish monitoring protocols. This time next year, we hope to report on projects slated for construction! For more information about this project, visit the County's project website or contact Jennifer Missett.
Engineered salt marsh is critical part of SeaWorld San Antonio's state-of-the-art Sea Turtle Reef Habitat
Much more than an exhibit, SeaWorld San Antonio's Turtle Reef allows guests to get an up-close look at endangered and rescued sea turtles while learning more about the human impact on the ocean. But it is not just the subject and content of Turtle Reef that aligns with SeaWorld's mission to foster conservation awareness and inspire the preservation of wild animals and places; it is also the design of its water filtration system. Large aquatic exhibits like Turtle Reef's 126,00-gallon saltwater habitat typically require substantial 'life support systems' that mechanically circulate, filter, and disinfect the water. While they provide excellent water quality, they require significant energy and cost to build and operate. For Turtle Reef, SeaWorld sought a solution that would reduce their carbon footprint and energy use while also adding ecological benefits. Working alongside Sea World scientists, Biohabitats and the engineers at TJP developed a nature-based solution: a 2,200-square-foot engineered salt marsh filtration system. Densely planted with Spartina alterniflora, a marsh grass commonly found along the Gulf Coast, the marsh wraps around a portion of the turtle pool, forming an integral part of both the Turtle Reef experience and its water quality solution. Mimicking the natural function of coastal marsh, the engineered salt marsh, the first of its kind in a zoological setting, biologically removes excess nitrogen from water, eliminating the need to do so chemically through the life support system. "Turtle Reef exemplifies SeaWorld's commitment to ocean protection," said Dan Ashe, President and CEO of the Association of Zoos and Aquariums, and former U.S. Fish and Wildlife Service Director. "This amazing exhibit couples endangered sea turtle rescue with an engaging and inspiring guest experience, and employs state-of-the-art, biodynamic filtration. It demonstrates the leadership that modern and accredited aquariums and zoos are providing in saving animals from extinction." For more information about this project, contact Erin English.
Places
Our Wednesday at the Watering Hole webinar series continued through the fall with two inspiring presentations very relevant to nature-based approaches to urban shoreline protection.
Earlier this month, Biohabitats President Keith Bowers, and DesignWorks Co-Founder Scott Parker shared their envisioned alternative to a proposed 7.8-mile seawall to protect Charleston, South Carolina. "Imagine the Wall" was conceived by Keith and Scott during the early days of the pandemic, and with input from other collaborators, it quickly developed into an uplifting rethink of a "wall," one grounded in the ecology and storied urban fabric of Charleston.
In October, Biohabitats Senior Ecological Engineer and Practice Leader, Chris Streb, presented "Ecosystem Prosthetics: A Pier Review." In this engaging talk, Chris guided participants through a fascinating exploration of the ecological potential of the urban pier.
On February 9, Conservation Biologist Dr. Jessica Hardesty Norris will be moderating a panel on alternative coastal erosion controls at the South Carolina Association of Beach and Shoreline Protection's annual conference.
From February 21-24, Ecological Engineer Suzanne Hoehne will be virtually attending the Upper Midwest Stream Restoration Symposium. Suzanne will present "The Science of Nutrient Reduction with Stream Restoration." Her talk will explore the viability of mimicking methods used by beaver to reduce nutrient loading to downstream waterways.
People
Meet Laura Wildman, our newest team member
We're delighted to welcome renowned fisheries and ecological restoration engineer Laura Wildman to our team! In her role as Senior Engineer and Practice Lead, she'll apply her 30 years of expertise in dam removal and the design of nature-like fishways to the regeneration of healthy streams, rivers, and floodplains throughout the U.S.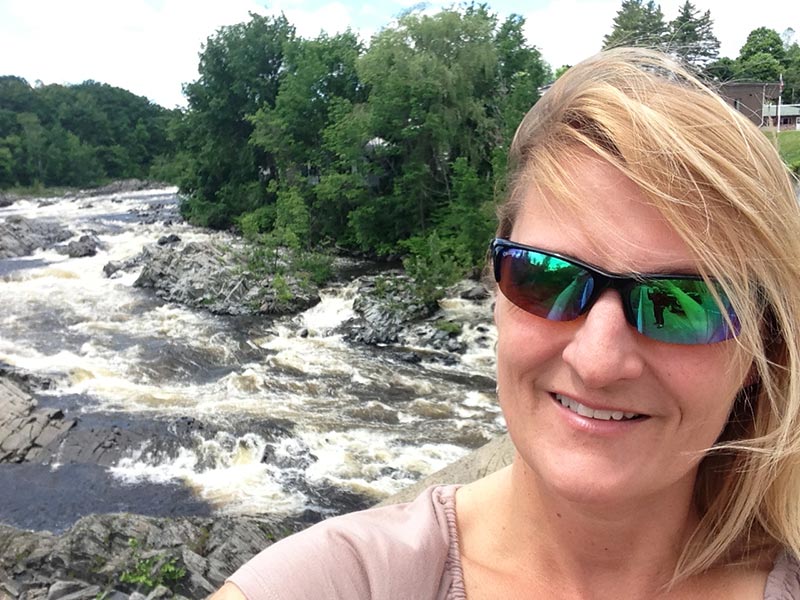 "Biohabitas' mission to 'Restore the Earth and Inspire Ecological Stewardship' truly speaks to me," said Wildman. "I look forward to working with Biohabitats' world-class team to reconnect waterways to the human and ecological communities through which they flow."
Considered one of the nation's foremost experts on barrier removal and alternative fish passage techniques, Laura has led or partnered in almost 200 dam removal projects around the U.S.
"Many of the dams and instream infrastructure that powered America's growth have degraded our natural, life-supporting riverine ecosystems," said Biohabitats founder and president, Keith Bowers. "Laura will strengthen our ability to restore and regenerate those systems and bring greater biodiversity and resilience to more communities."
Want to know more about Laura? Things you won't find on her CV? Check out this blog post.
Elevating leadership
We're happy to announce that Senior Ecologist, Mike Trumbauer, has been promoted to the position of Chesapeake/Delaware Bays Bioregion Team Leader.
In his new role, Mike will guide our team and work within the watersheds of the Chesapeake and Delaware Bays. In the nine years since Mike joined Biohabitats, he has shown an unwavering commitment—not just to our work and mission, but to the clients and communities he serves. He is also one heck of a nice guy. Mike's contact information remains the same: mtrumbauer@biohabitats.com
Professional achievements and other good stuff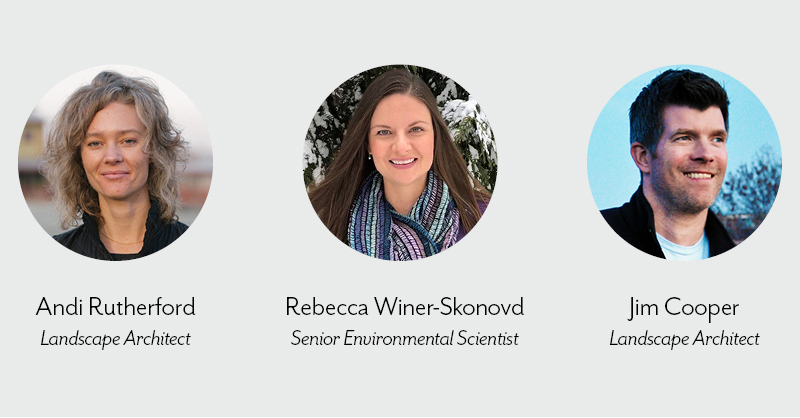 Landscape Architect Andi Rutherford is now a member of the Green Business Credentialing, Inc. (GBCI) Credentialing Steering Committee as the SITES AP Representative. During this two-year commitment, Andi will support the development and ongoing administration of GBCI professional credentialing programs, including the LEED Green Associate, LEED AP with specialty, WELL AP, SITES AP, and Urban Greenhouse Gas Inventory Specialist. Earlier this fall, Senior Environmental Scientist, Rebecca Winer-Skonovd was elected to the Chesapeake Water Environment Association's (CWEA) Board of Officers where she will serve as the Delaware Trustee. Senior Landscape Architect Jim Cooper is now a licensed Landscape Architect in Washington, DC.
Award-winning team members
Biohabitats' quarterly Golden Acorn award is presented to a team member who has excelled in demonstrating our mission to "Restore the Earth and Inspire Ecological Stewardship." The gold color symbolizes purity of purpose in protecting and defending nature, and the acorn symbolizes strength of resolve. Our most recent Golden Acorn winners were Claudia Browne and Bryon Salladin.  Golden Acorn winners get to direct a monetary donation to the non-profit organization of their choice.
Claudia Browne chose to direct her donation to an organization working on Arapaho tribal food issues, which she discovered while exploring sources of traditional plant knowledge to integrate into a project highlighting Colorado's different ecosystems for the Denver Museum of Nature and Science. In the process, she learned of the Wind River GrowOurOwn307, a group teaching community members gardening skills to grow their food, and she decided to contribute to their efforts to reconnect to traditional and healthier food systems and restoration of food sovereignty.
When forester, arborist and environmental scientist Bryon Salladin isn't figuring out the best ways to regenerate healthy forest communities, he spends time in the garden fostering his love of growing plants on a more local scale. When it came time for Bryon to choose a recipient for his Golden Acorn donation, he selected an organization whose composting program has multiple benefits for the City of Baltimore, both ecologically and socially. The Baltimore Compost Collective is a local service that collects food scraps from residences in the Curtis Bay, Federal Hill, Riverside Park, and Locust Point neighborhoods and composts the material to grow fresh produce at a community garden. It is also a youth entrepreneurship program that employs local teenagers and trains them in workforce skills, food access programming, and community-scale composting.