Over the last 70 years, the world's urban population has increased nearly six-fold, and much of that urbanization has occurred along coastlines. Today, nearly 40% of the world's population lives in coastal areas, and at least 600 million of those people live on land that is less than 10 meters above sea level. Meanwhile, global mean sea level continues to rise at an accelerating rate and hurricanes are becoming increasingly destructive.
Once the domain of "what if?" discussions, the risks associated with flooding, erosion, subsidence, and saltwater intrusion have become somber "when?" "how much?" and "how bad?" realities. The irony is that all of that coastal development, including the armoring of its edges, the draining of its wetlands, and the piping and channelization of its inland waterways, has further degraded the very ecosystems that might otherwise naturally protect it. These ecosystems, by their very nature, equitably provide benefits like habitat, water quality improvement, heat island mitigation, economic opportunity, and important forms of recreation and education.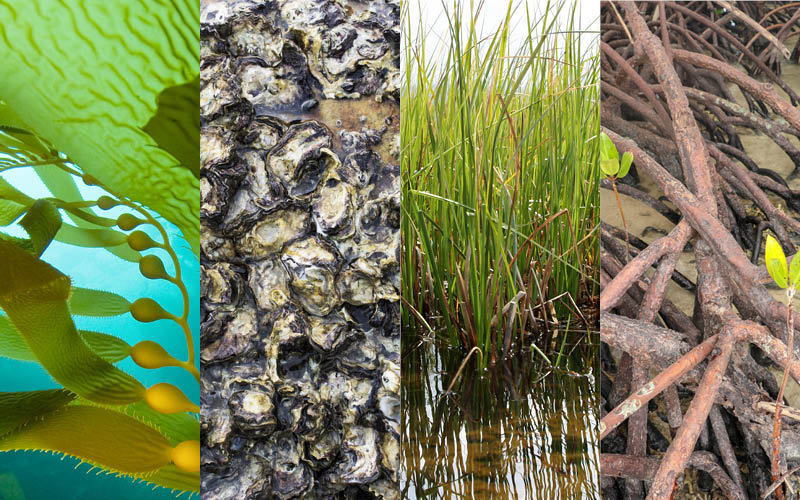 As the world continues to awaken to the realities of a changing climate, many coastal communities, and even large government agencies, are beginning to rethink or eschew traditional, "hard engineered" coastal protection solutions and turn instead to approaches grounded in ecology and place. These approaches integrate the protection, restoration, or emulation of natural coastal ecosystems like dunes, mangroves, reefs, and wetlands in ways that lead to lasting resilience.
Join us as we explore the topic of nature-based approaches to urban shoreline protection.
To kick things off, Biohabitats President, Keith Bowers, makes a compelling case for such approaches in his piece, Why Lead with a Nature Based Approach?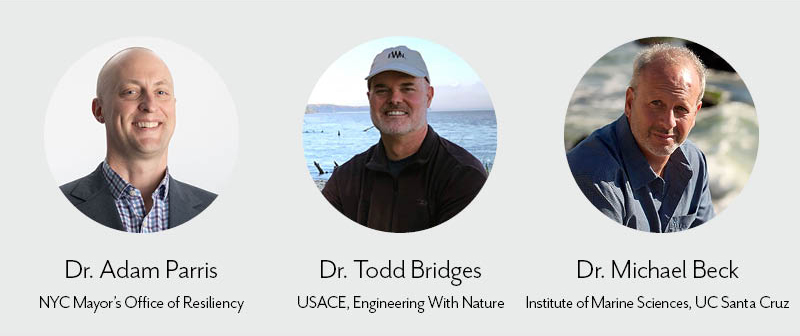 Then, we chat with the experts. First, we virtually sit down with Dr. Adam Parris, the Deputy Director of Climate Science and Risk Communication for the New York City Mayor's Office of Resilience. As a former restoration practitioner, and the person responsible for bringing the latest science to bear on how New York City responds to and prepares for climate change, Adam is no stranger to nature-based solutions.
When it comes to organizations testing and implementing natural and nature-based solutions, the massive, 37,000-person U.S. Army Corps of Engineers may not be the first to come to mind. But Dr. Todd Bridges, the U.S. Army's Senior Research Scientist for Environmental Science, might disagree. In 2010, he and a team of colleagues from across the Corps began "Engineering With Nature," an initiative aimed at advancing infrastructure practice by aligning natural and engineering processes to deliver lasting economic, environmental, and social benefits. On the initiative's 10th anniversary, there is much good news to share about its progress.
One common hurdle to implementing—or even considering—nature-based solutions for urban shoreline protection seems to be the lack of accounting for the economic value of the protective services provided by coastal ecosystems. Dr. Michael Beck is working to change that. The AXA Chair in Coastal Resilience and a Research Professor in the Institute of Marine Sciences at the University of California Santa Cruz, Dr. Beck is not only uncovering and quantifying these oft-hidden values, but working with governments, conservation groups, the World Bank, and giants of the global insurance and risk management industries to measure and factor them into decisions about coastal protection.
Conservation Biologist, Dr. Jessica Hardesty Norris, examines another shortcoming of the standard cost-benefit analysis: its failure to fairly protect and enhance the resilience of communities of color and neighborhoods with a history of under investment. In her article Priorities in Protection: Climate Justice and Environmental Equity, Jessica argues for a more progressive method of weighing the pros and cons of nature-based solutions.  
Hurricanes Katrina and Sandy were two of the most destructive and costly storms in U.S. history, but in the devastating void of their wakes, signs of hope rose to the surface. Two of those signs came in the form of initiatives that shifted the coastal conversation from storm surge protection to holistic and integrated water management, and from recovery to resilience. Learn about the catalyzing initiatives-turned-programs, Dutch Dialogues and Rebuild by Design.
One duo of designers was so inspired by the Dutch Dialogues program in their hometown of Charleston, South Carolina, that they collaborated to re-envision a proposed 7.8 mile seawall to incorporate more nature- and place-based solutions. The two visionaries, Biohabitats' Keith Bowers and DesignWorks' Scott Parker, recently presented their alternative vision, "Imagine the Wall," in one of Biohabitats' Wednesday at the Watering Hole webinars.
Any discussion of sea level rise impacts to coastal communities would be incomplete without an honest look at something few are eager to discuss: migration from our coastlines. In her article Retreat: Embracing the Inevitable, Senior Landscape Ecological Planner and Designer, Jennifer Dowdell, explores the changing perceptions of retreat, or managed migration, the reasons why it should be discussed, and the communities who are already starting to plan for it.
"As the world grows more populated, we must make cities function like ecosystems," writes Senior Ecological Engineer and Practice Leader, Chris Streb, in his article, Fitting (place- and nature-based) Solutions into the Urban Fabric. Chris offers suggestions and inspiration for creating nature-based  solutions that both emulate a city's historic ecosystems and honor it's context of place. As interest in nature-based solutions grows, so, too, does the literature.
In the Resources section of this issue, we're happy to provide links to websites, publications, and other sources of information relevant to this topic. In Biohabitats Projects, Places, and People, we also share news about our team members and bring you up to date on some of our projects, including several involving nature-based approaches to urban waterfront protection.
If you have thoughts to share about this issue, or suggestions for topics you'd like us to explore in the future, please let me know! In the meantime, I wish you all a happy and HEALTHY Winter Solstice.