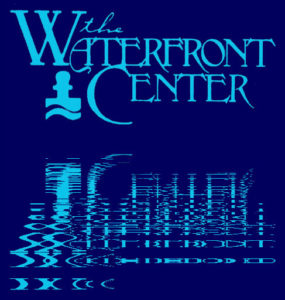 For Ann Breen, this was a particularly thrilling time. Fascinated by both the rich history of working waterfronts and their potential for urban revitalization, Ann was putting her recently earned Master's degree in Urban and Regional Planning to use for NOAA's Office of Coastal Zone Management, where she was providing technical assistance to communities interested in waterfront renewal. A few years later, however, a change in administration reduced the agency's capacity for technical assistance. In 1981, intent on continuing her work to ensure that waterfront revitalization initiatives emphasized public access and environmental value, Ann and her colleague Dick Rigby left NOAA and created the Waterfront Center, a non-profit organization dedicated to helping communities integrate environmental, cultural, and economic enhancement into their waterfront renewal efforts.
"Our friends and colleagues asked, 'Why would you start a center on waterfronts? That is crazy!'" said Breen. "Well it was crazy, but there is barely a city that isn't on a water body of some kind."
Thirty-seven years later, the Waterfront Center has helped connect people all over the world to the water bodies that defined their cities' origins and are redefining their futures. The Center has done so through consulting on waterfront redevelopment, administering the annual Excellence on the Waterfront Awards, and creating opportunities for waterfront communities to network and learn from each other by hosting the international Urban Waterfronts Conference.
The conference, which does not require papers in order to present and share expertise, is not designed for academics. "We want to attract the doers," said Breen. Typically, the event draws a diverse mix of planners, designers, environmentalists, developers, community groups, and representatives from city agencies such planning and parks and recreation. Participants learn from and network with each other. They also now find points of connection that were harder to realize in the conference's early years.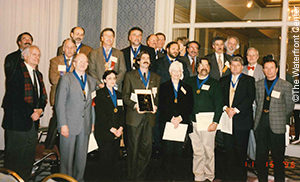 1996 Excellence on the Waterfront Award winners
"Back in the day, I would give a presentation and the developers would say 'You're too green,' while the environmentalists would say 'You're too development-oriented.'" Said Breen. "They were seeing the same presentation! Today, those two sides aren't battling each other the way they used to. Most developers now understand the environmental underpinning of the waterfront."
According to Breen, talks at the Urban Waterfront Conference typically center around themes such as: finance, environment, design, management and what Breen refers to as "the fruitcake"- topics such as festivals, fountains, fun and public art. In the earliest years of the conference, sessions on economic matters and wetlands were the most popular. In more recent years, she has seen much greater interest in public art. There has also been increased interest in brownfield redevelopment, shoreline stabilization, new technologies for restoring habitat along bulkheads, and, not surprisingly, enhancing resilience in the face of rising waters and water scarcity.
The 2018 conference will be held in Yuma, AZ. To the geographically uninformed, Yuma might seem an odd choice for the site of a waterfront conference. But Yuma is located on the Colorado River, and it is home to the 21-square-mile riverfront Yuma Crossing National Heritage Area.  Over the last 15 years, Yuma's has transformed its waterfront, once full of trash and non-native vegetation, to a riverine park that enhances the region's ecology and quality of life.
Pivot Point Plaza on downtown Yuma's riverfront
The Waterfront Center's annual Excellence on the Waterfront awards program is a chance for cities, designers, developers, community groups, and students to receive recognition for their waterfront achievements. The awards, which are selected by an interdisciplinary jury, are offered in several categories, including Environmental Protection/Enhancement.
This waterfront includes nearly 400 acres of restored wetlands. The City of Yuma, along with Quechan Indian Tribe, the Heritage Area, the Arizona Game and Fish Commission, and other agencies removed over 500 acres of invasive species and replaced them with a mosaic of marsh, mesquite, and cottonwood-willow. Located within the Pacific Flyway, the site not only offers new opportunities for people to access and enjoy the river; it benefits hundreds of species of birds. The Yuma Crossing Riverfront Project, which benefited from early consultation from the Waterfront Center in the strategic planning phase, went on to win a 2014 Excellence on the Waterfront Award in the Environmental Enhancement category.
"One of the reasons we started the awards program 30 years ago is that people began to equate the waterfront revitalization with the festival marketplace concept," said Breen. "We wanted to honor other categories of excellence, such as environment, recreation, the working waterfront, history, art, mixed use, and others. Award winners are showcased in books published by the Waterfront Center, and in a searchable database on the Center's web site. (2017 Awards submittals are due June 30, so there is still time to enter!)
Mud Island River Park in Memphis, TN features "Riverwalk"
In her 40 years working on urban waterfronts enhancement, Breen has seen the bar rise significantly in terms of design and awareness. "Today's waterfront design is so sophisticated and wonderful," she said. She is also impressed with the increased level of interpretation along urban waterfronts which often integrate information with recreation and public art. She points to the example of River Park on Mud Island in Memphis, TN, where visitors can stroll through Riverwalk, a scale model and map of the entire drainage area of the Mississippi River.
"At root, we are an educational organization," said Breen. "The big cause that we have championed all these years has been public access-physical, visual, and psychological-to and along the waterfront." Early on in the Waterfront Center's history, a great deal of that education occurred through consulting. They have helped communities in 38 states, six Canadian provinces, and 10 countries overseas to enhance, connect, and enjoy the culture, economy, and ecology of their urban waterfronts.
Though the Center continues to consult periodically, the need for this service has diminished, as they have helped create a new generation of informed urban waterfront experts who are serving their communities and others. "We've done ourselves out of a job because we have educated so many people," she joked. The opportunities for those experts to network, share best practices, and gain inspiration from one another through the Waterfront Center's conference, newsletter, and awards program still serve as powerful tools in advancing urban waterfront planning and design.
After devoting 40 years to their self-described "labor of love," Ann and Dick are now trying to find succession for the Waterfront Center, which they hope to continue to serve in an emeritus capacity.
"It turns out we weren't crazy."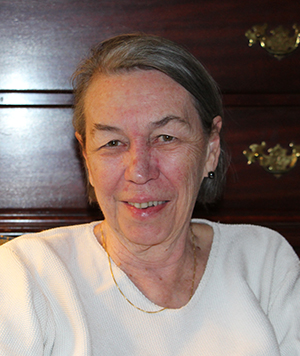 Waterfront Center co-founder Ann Breen
Serving as a lasting guidepost for the Waterfront Center and the communities it helps is its Urban Waterfront Manifesto. This document's principles aim to ensure that sensitive, site-specific urban waterfront planning and development that reflects the individuality of each place will be chosen over cookie-cutter strategies or trends.
The Waterfront Center has had a lasting and positive impact on urban waterfront planning and design worldwide, one that is likely to continue.
"It turns out we weren't crazy," said Breen.
Indeed not. To learn more about the Waterfront Center, including how to submit your project for an Excellence on the Waterfront Award, receive their newsletter, search their database of 400+ award-winning waterfront projects, attend the 33rd International Urban Waterfront Conference in Yuma, and support the organization, visit their web site.