A New Collaboration!
For over 20 years, Conservation Design Forum (CDF), has been at the forefront of the ecological design movement throughout the western Great Lakes and upper Mississippi valley. Their pioneering work in ecological restoration, holistic water planning, and green infrastructure has helped shape and influence public perception and policy while creating ecologically vibrant landscapes across the Midwest.
Recognizing CDF's unique skill-set and overlapping values with Biohabitats, we are excited to announce a formal collaboration between the two firms. CDF will bring expanded capacity to Biohabitats' ecological design and green infrastructure services, especially in urban-scale applications. In turn, Biohabitats brings to CDF a multi-disciplinary team of scientists, engineers, landscape architects and planners to work on conservation plans, ecological restoration projects, green infrastructure, climate change adaptation strategies, and environmental justice issues.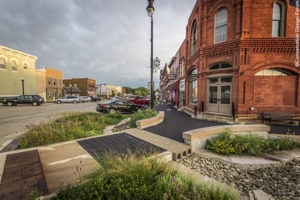 West Union, IA Green Streets Pilot Project
"My CDF partners and I are absolutely thrilled to formalize our long-time partnership with Biohabitats in a way that allows our clients and collaborators to capitalize on our shared vision and optimism," explains David Yocca, CDF partner.
"It's rare to run across a firm that shares your values, complements your work, and makes the whole greater than the sum of its parts. CDF is just that firm," said Keith Bowers, Biohabitats President and Founder.
We look forward to collectively applying a blend of sound science, place-based design and ecological democracy across the Midwest.
PROJECTS
Showcasing Estuarine Ecology on a NYC Pier
An ecological treasure is poised to emerge from an unlikely place-the heart of Lower Manhattan. Pier 26 is located in the Tribeca region of Hudson River Park, the longest waterfront park in the U.S. The 2.5-acre site currently features a boathouse and restaurant, and it is the future home of the Hudson River Park Trust's "Estuarium," a research and education facility devoted to the science of the river and its surrounding environment. The pier has a mission to highlight the regional ecology of the Hudson River Estuary, and a design team led by OLIN is bringing that mission to life in the pier's landscape.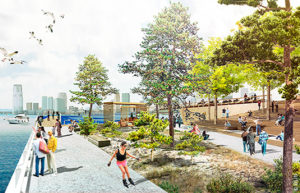 ©OLIN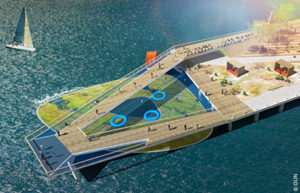 ©OLIN
As a member of that team, Biohabitats prepared site analysis and design services to inform the Estuarium's proposed ecological programming. Working closely with OLIN, we advanced the design concept, which revolves around a dynamic, gradient experience of the River's habitats, from upland to open water. These features will enable visitors to experience, enjoy, and better understand coastal ecology within a highly urban environment.
We're proud to have helped establish ecological goals for the design and recommended the best alternatives for observing and interacting with the many fauna that are characteristic of the Hudson River Estuary. Many of the design's proposed habitat features are currently experiencing disruptive impacts and regional decline, so their representation at Pier 26 will provide beneficial ecological function, while also enabling people to experience extraordinary ecological encounters.
What Would Nature Do? Biomimicry Inspired Habitat Restoration along an Urban Waterfront
Cleveland's Cuyahoga River is an important passageway for maritime commerce, but its 4.5-mile navigation channel is a daunting corridor for "transient" fish that migrate upriver to spawn as adults, and downriver to return to Lake Erie as juveniles. In this highly altered channel, with its maintained depths, steel bulkheads, industrial discharges and shipping traffic, larval and juvenile fish migrating from their spawning grounds on their way to Lake Erie experience high attrition rates.
The concept of "greening" the bulkheads to provide supportive habitat began in 2006 with two phases of pilot testing three different green bulkhead habitat solutions. Though each failed for a variety of reasons, important lessons were learned. The Cuyahoga County Planning Commission (CCPC) initiated a third phase of the project in March 2013 with Biohabitats as the prime consultant. This three-year effort built on past efforts but incorporated a unique biomimicry approach that guided the design to focus on addressing specific ecological functions. After identifying targeted functions for the bulkhead retrofits – shelter and nourishment – a collaborative design process that included a stakeholder workshop ensued. The concept design, a hexagonal shape inspired by honeycomb, matched the pattern of the steel bulkhead and included permanently installed casing with removable inserts that could be filled and refilled with variable habitat supporting materials. Then the fun really began.
Preparing three types of structures: brush, bioball, and stick
In October 2015, 36 metal baskets were filled with one of three different test materials and then attached to the steel bulkheads at two locations. Some baskets were filled with sticks, others with brushes, and the rest with ordinary whiffle balls. Monitoring then began to see which habitats attracted algae and other aquatic components needed for quality fish habitat.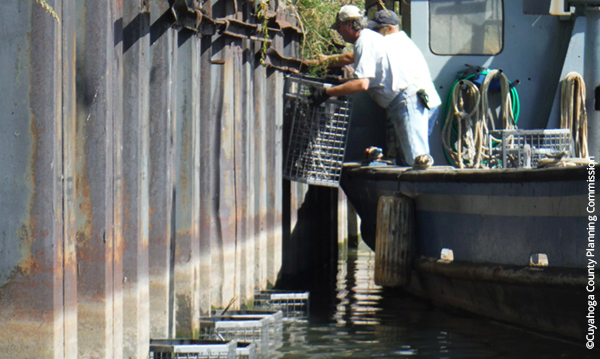 Installing stick baskets
The biomimicry approach to this project facilitated fresh thinking and inspired innovation. The process of working through the phases of the biomimicry framework led to the creation of a unique habitat solution that is adaptable and focused on meeting the ecological functions of providing shelter and nourishment. This pilot-scale project proved that a durable green bulkhead solution is possible, and provided a model approach to future work: first, establish context. Then, focus on meeting desired functions for specific ecological needs to support larval and juvenile fish populations during spawning and development.
Conducting field observations 10 months after installation
High attrition rates of larval and juvenile fish in the Cuyahoga River shipping channel is a challenging and complex problem that will likely require many small-scale and system-wide efforts to improve. This project provides an example solution and one that welcomes further investigation, future iterations, and more collaboration. Speaking of collaboration, our team included biomimicry experts Karen Allen and Barry Patterson, Ocean & Coastal Consultants, Ecocean, fisheries biologist Dr. Jeffrey Miner, and KTN Interior Products Co. Elaine Price, Greenspace Principal Planner with the CCPC, had this to say about the project:
"The Green Bulkhead experiment, combined with other habitat approaches, creates a unique platform for developing a habitat 'master plan' for an industrial waterway. What's most impressive is the boundary-less teamwork of the organizations and agencies passionate about the recovery of the Cuyahoga River, the 'Habitat for Hard Places Team,' who came together, shared resources and expertise, and continues to rally for making our living river more vibrant every season."
Mariners & Arlington Marsh Master Plan
Biohabitats was in the field in May at Mariners and Arlington Marshes, located along the northern coast of Staten Island. Our field efforts were in support of NYC Parks' efforts to enhance public access and environmental conditions at these two areas. We are part of the SWA/Balsley team, working to craft a strategic approach to restore and remediate the sites in a way that transforms the land for the benefit of the local ecology and adjacent human community.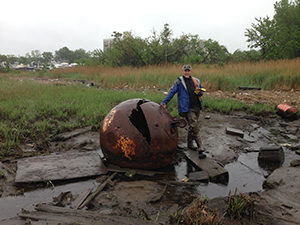 Field work was focused on assessing the existing ecology of the site, with a focus on the hydrological conditions – which was timely since it was pouring rain during a good portion of the field work. Our site findings will be used to inform our design, with a goal of sparking public imagination, fostering waterfront access and environmental education, and creating opportunities for partnerships or local stewardship. The final result of our efforts will be an actionable Master Plan that compiles plan goals, prioritizes investments, identifies capital inefficiencies, and recommends a balance of restoration and public access.
Put Annelid on it
The Lower East Side Ecology Center (LEEC) works toward a more sustainable New York City by providing community-based recycling and composting programs, developing local stewardship of green space, and increasing community awareness, involvement, and youth development through environmental education programs. As the organization formalizes its composting facilities, located in Manhattan's East River Park, they seek to redesign the site to prevent stormwater runoff from contaminating the East River and the combined storm and sanitary sewer system. W Architecture & Landscape Architecture is leading the site design efforts with low impact design (LID) stormwater infiltration gardens and wetlands. The first step in the composting process creates a very high-strength leachate that must be pretreated before discharge to the stormwater gardens or the sewer system. Biohabitats is designing a unique biological treatment filter to process the leachate. We are calling it a "vermi-filter." In keeping with the nature and the mission of the LEEC, we are pilot testing, then designing a full scale vermiculture filter; a multi-media biological filter that uses worms to assist in treatment and production of compost byproduct. Stay tuned for more information about this project.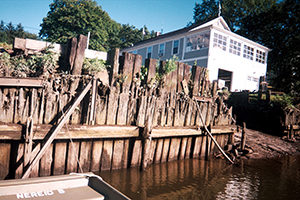 Old bulkhead
To resolve the club's shoreline and stormwater issues, Biohabitats designed a natural system featuring a living shoreline and rain garden. We worked with the Passaic Valley Sewerage Commission to build the shoreline and rain garden using the remnants of the wooden bulkhead, boulders, coir fabric and sand. Biohabitats then worked with club members to plant the shoreline and rain garden. Since its construction five years ago, the site's plantings continue to grow and flourish.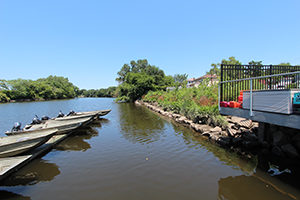 Living Shoreline Continues to Enliven Boat Club's Riverfront
In 2012, Biohabitats helped the Nereid Boat Club, a not-for-profit rowing club located 12 miles from New York City, to upgrade their facilities located along the Passaic River in Rutherford, NJ. The upgrade included an expansion of the site's dock, deck, and boat storage space, but also included the installation of a living shoreline along the river and a rain garden around the club house. The old wooden bulkhead along the Club's shoreline had deteriorated due to stormwater erosion. Club members had originally planned to replace the wood structure with steel, but found the cost too high. It was also determined that the stormwater flowing through the site to the river would continue to back up behind the bulkhead and erode the shoreline.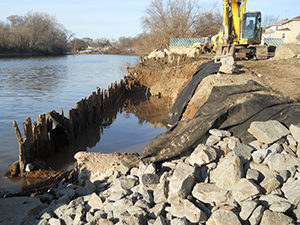 During construction
The new shoreline restored the river bank to a more natural state, continues to prevent erosion, and enhances stormwater management and local ecology. Within the lower, tidally influenced portion of the Passaic River, this living shoreline restoration was the first of its kind and continues to serve as a model for future restoration.
California Landfill Transforming Into Wetlands Park
Working alongside RJM Design Group, we are helping the City and County of Los Angeles, CA and the Sun Valley Watershed Stakeholders Group transform a 46-acre landfill into a multi-purpose, public wetlands park. The Rory M. Shaw Wetlands Park, one of several projects to come out of the Sun Valley Watershed Management Plan, will include 15 acres of open space and a wide range of sport and leisure features to a community that is underserved for recreational opportunities. It will also provide, in the form of a 21-acre detention pond and 10-acre wetland, treatment of stormwater from its 2,800 acre urban watershed, groundwater recharge, reuse water for irrigation, wildlife habitat, and a living demonstration of the power of complex, healthy ecosystems to provide services that help people and ecology. We were involved in early phases of the project several years ago, and we are delighted to be facilitating the detailed design of the wetlands component by PSOMAS.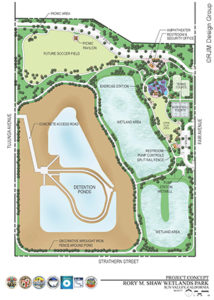 A Truly Restorative Spa
The Spa Creek watershed, which spans historic Annapolis, MD and the surrounding area, provides numerous recreational opportunities for people and important habitat for wildlife. Its headwaters eventually open into the Chesapeake. Biohabitats is thrilled to lead restoration design efforts for the Spa Creek Headwaters Retrofit and Stream Restoration Design-Build. The project includes restoration of 5,000 linear feet of coastal plain stream and the removal of two acres of invasive common reed (Phragmites australis). The project, which presents the unique opportunity to restore one of the major waterways in Maryland's capital city from its inception at the storm drain network to its tidal interface, is sponsored by the Spa Creek Conservancy and funded by Maryland Department of Natural Resources grants. Meadville Land Service, who provided this video via Houston Heavy Machinery, LLC, is currently constructing the project. Meadville is nearing completion of Phragmites removal and employing specialized equipment to do so, including the featured buoyant excavator, to scoop out the invasive plants and runners below the marsh surface.
2017 AIA COTE Top Ten Award Winners
In April, the American Institute of Architects' (AIA) Committee on the Environment announced its Top Ten Awards. These awards highlight projects that meet COTE's rigorous criteria for social, economic, and ecological value. We're proud to have contributed to two 2017 AIA COTE Award winners, and we congratulate our team leaders, who are noted.
Chatham University Eden Hall Campus, Pittsburgh, PA. Mithun for Chatham University. Biohabitats provided design & engineering of wastewater treatment/reuse infrastructure.
Brock Environmental Center, Virginia Beach, VA. SmithGroupJJR for the Chesapeake Bay Foundation. Biohabitats provided peer review & permitting for rain to potable water infrastructure
It's Alive! New Certified Living Building
This spring, at its annual "unconference," the International Living Future Institute announced the latest projects to achieve Living Building Challenge certification. We are thrilled to have helped the Potomac Watershed Study Center at Hard Bargain Farm in Accokeek, MD  meet the world's most rigorous sustainability standards and become an officially certified Living Building. It was an honor working with Re:Vision Architecture and the Alice Ferguson Foundation on this project and leading the design and engineering for the site's greywater treatment/dispersal infrastructure. We are also proud to see the Willow School in Gladstone, NJ reach this same milestone achievement. Working with Farewell Architects, we helped the school by designing sustainable water infrastructure.
Places
From August 6-11, Biohabitats will be attending the Annual Conference of the Ecological Society of America. On August 9, we will present an "Ignite" session on "Putting Ecology to Work: How to Design for Nutrient Spirals, Biodiversity, and Biophilia Along the Urban-to-Rural Gradient." For this session, our own Pete Munoz and Chris Streb join colleagues from Clean Water Services, Cleveland Metroparks, Yale University, Evergreen State College, and Sidwell Friends School in sharing projects along the urbanization gradient that aim to uplift biodiversity, material cycling, and ecosystem services. In a separate session, "Planning and designing green infrastructure: Lessons from practice," Biohabitats president Keith Bowers reveals the advantage of broadening our definition of 'green infrastructure.' Practice Lead Joe Berg and Josh Burch of the District Department of Energy and the Environment will present a case study on the restoration of Pope Branch in Washington, DC. This project illustrates how a regenerative stormwater conveyance approach can yield habitat improvement, parkland access and enhancement, and infrastructure protection.
Senior ecologist Peter May will head to Iguassu, Brazil on August 27 for the World Conference on Ecological Restoration, hosted by the Society for Ecological Restoration International's Annual Conference.
Pete Munoz will be in Seattle, WA, September 19-21 to attend CitiesAlive®, the 15th Annual Green Roof and Wall Conference. Pete will join David Yocca, Senior Partner at the Conservation Design Forum, in delivering a presentation on the performance of the full range of potential benefits and performance attributes-beyond those related to urban stormwater- that can be accomplished with integrated living architecture design.
The Mid-Atlantic Stream Restoration Conference will be held in Baltimore, MD, September 20-22. Practice Lead Joe Berg will present "Get the Rock Out, the Mid-Atlantic is Poised for Wooden Stream Restoration Structures." Water resources engineer Bryan Arvai will present the case study "Paint Branch Fish Passage Project – An alternative steam mitigation approach." Senior ecologist and Hudson River Bioregion Lead Terry Doss will deliver a talk on "Stormwater to Stream Flow through Surface Storage and Hyporheic Flow." Senior restoration ecologist Mike Trumbauer and water resources engineer Doug Streaker will also be on hand for this exciting gathering.
People
Jennifer Missett named Chesapeake/Delaware Bays Bioregion Team Leader
We're delighted to announce that senior water resources engineer Jennifer Missett has been promoted to the position of Chesapeake/Delaware Bays Bioregion Team Leader. In this role, Jennifer will guide our work within the watersheds of the Chesapeake and Delaware Bays. "Jennifer has helped communities throughout the country to apply green infrastructure solutions and water resource restoration measures to achieve their goals," said Biohabitats president, Keith Bowers. "Her attention to detail, communication skills, and expertise in time and budget management have also helped ensure that our clients' needs for clean water and healthy ecosystems are met efficiently." Way to go, Jennifer!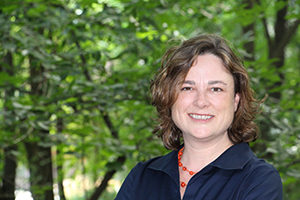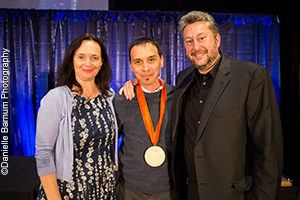 Pete Muñoz, flanked by ILFI CEO Amanda Sturgeon and Board Chair Jason McLennan
Pete Muñoz Declared "Living Building Challenge Hero"
We've known it all along, but now it's official. In addition to revealing the latest projects to achieve Living Building certification, the International Living Future Institute (ILFI), the organization behind Living Building Challenge, announced another bit of exciting news at its annual "unconference" last month. Among the nine leaders designated by the organization as "Living Building Heroes" is our own Pete Muñoz. In presenting Pete with his award, ILFI CEO Amanda Sturgeon referred to him as "the go-to person around water." We couldn't have said it any better. Congratulations, Pete!
Biohabitats Contributes to New Ecological Restoration Handbook
The Routledge Handbook of Ecological & Environmental Restoration (2017), is a comprehensive guide for practitioners and an attempt to update our understanding of the practice of restoration in light of the emerging green economy, climate change, and the latest techniques. Biohabitats authored two of the chapters. Keith Bowers drew on his personal experience as a restoration entrepreneur to describe "Ecological Restoration as a Growing Part of the Green Economy," and he and Jessica Hardesty Norris compiled a set of urban restoration examples as food for thought in "Ecological Restoration in an Urban Context."
Meet the newest member of our team: Ecological Restoration Specialist Jacques Varvel
What drew you to Biohabitats?
I was drawn to Biohabitats because of the firm's mission statement and the talented group of professionals that brand the team.
Area of expertise?
My strong suits include cost estimation, client communication, construction implementation and native plant identification (within the Pacific Northwest).
Favorite type of projects?
Design-build. Initiating the concept/design, and then executing the build is a rewarding process to be involved with. It gives one the opportunity to connect with all the aspects of the project from initiation to completion and generally translates into cost saving for the client, which ultimately benefits the resource we are trying to preserve.
What do you like to do when you're not working?
If it involves H2O, then count me in! My favorite extracurricular activities include navigating waterbodies, fishing, surfing, and exploring the many scenic gems of the Pacific Northwest.
One thing about you that people may not know?
I used to play the cello and the flute in band class, don't tell anyone!
Where are you from, originally?
Born in Oregon City, Oregon. Grew up across the river in West Linn, Oregon and have not migrated far as I now reside in the Northern tip of the Willamette Valley.
When you were a kid, what did you want to be when you grew up?
A dermatologist or a professional motocross racer, LOL!
Favorite ecosystem?
The estuary. Where the fresh and salt water mix, delicate, productive, and diverse.
Academic Achievements
Congratulations to accounting and contracts coordinator, Erica Robak, who earned an M.A. in English Literature from Morehead State University.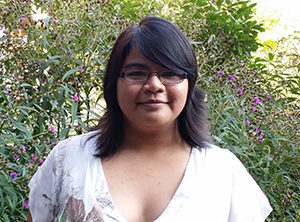 Zenali Martin
Kudos to CADD technician, Zenali 'Zen' Martin, on earning a degree in Computer Aided Design for Architecture & Engineering from the Community College of Baltimore County.
Golden Acorn Winners
Every quarter, Biohabitats awards one staff member with something we call the Golden Acorn. The award recognizes employees who, through their actions, embody the Biohabitats mission to "Restore the Earth and Inspire Ecological Stewardship." The gold color symbolizes purity of purpose in protecting and defending nature, and the acorn symbolizes strength of resolve. Nominees are submitted by the staff. Our most recent Golden Acorn winners were Adam Feuerstein and Jennifer Missett.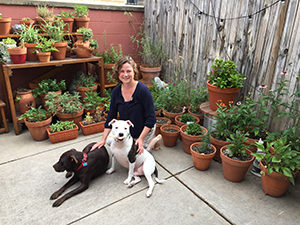 Jennifer Missett with her dogs Bellum (L) and Pax (R)
Recipients of the Golden Acorn get to direct a monetary donation to the non-profit organization of their choice. Adam chose to direct his to the Jewish National Fund's Water Solutions Program. Jennifer directed her donation to Baltimore Animal Rescue and Care Shelter (BARCS), an organization that cares for homeless, neglected, and unwanted animals and promotes responsible pet ownership for a more humane community in Baltimore City.