News
Biohabitats Recognized as Best for the World!
Earlier this month, B Lab, a nonprofit organization that awards B Corp™ certification to companies that meet rigorous standards of social and environmental performance, announced its 2019 "Best For The World" honorees. We are honored to be among them! The list recognizes honorees are top-scoring Certified B Corporations that are leading by example by valuing people, purpose and transparency along with profit. Biohabitats was recognized in the categories Governance and Environment. To learn more about what it means to be a B Corp, visit the B Corp website.

Projects
Resilient Water Solutions for Georgia's First Living Building
Currently nearing completion, Georgia Tech's Kendeda Building for Innovative Sustainable Design is poised to become the most environmentally advanced education and research building ever constructed in the Southeast and the first building in Georgia certified under the Living Building Challenge (LBC).  This building harvests all its own water and treats 100% of its waste. To help the design team led by  Lord Aeck Sargent  and the Miller Hull Partnership meet the Water and Ecology of Place Petals of the LBC, Biohabitats developed resilient solutions for supplying and cleaning water in a hot region whose water needs and quality are stressed by drought and the vulnerability of a combined sewer system.
Mimicking the Piedmont forest that once covered the site, the stormwater strategy devised by the landscape architect, Andropogon, and civil engineer, Long Engineering, includes permeable paving and underground cascading basins to treat and infiltrate water while vastly minimizing runoff. Rainwater harvested from the building's roof and porch-top solar array is treated and disinfected to provide all of the site's potable water demand. Excess harvested water is returned to groundwater via overflow infiltration. Foam flush toilets, waterless urinals, and composters transform waste into compost, while helping the building meet its Net Positive Water goals. The building's greywater is treated on site and filtered through a highly visible constructed wetland before percolating back into the groundwater through a drainfield. Condensate from the building's cooling system is harvested in a storage tank in the basement and used to irrigate the landscaping. Highly visible rather than hidden, the water infrastructure reminds occupants and visitors where their water comes from, where it goes after it is used, and the vital connection that exists between it and themselves. The Building is anticipated to be operational in the coming months.
Homeowners Move into First Residential Remodel to Pursue LBC
Anyone who has remodeled their home is familiar with the sense of joy and relief experienced on move-in day. It's hard to imagine, however, the thrill felt by Todd Vogel and Karen Hust, owners of the first residential remodel to pursue the Living Building Challenge, when they moved into Loom House this summer. Originally designed by mid-century modern architect, Hal Moldstad, the 2,000-square foot property is located on Bainbridge Island, an area where groundwater provides the only source of drinking water. They also wanted to do so affordably, using practices that could be replicated by others. As a member of the design team, which was led by Miller Hull Partnership, we developed strategies to achieve the LBC's stringent Water Petal. Collaborating with Todd, Karen, and the team, we developed a rainwater-to-potable system to meet the home's water demand for drinking, bathing, laundry and toilet flushing; a rainwater harvesting system for use in irrigation, and an onsite wastewater system. As many LBC project owners and designers say, there is a reason they call it a "challenge." We certainly encountered our share of obstacles, but our team remained steadfast in our commitment to the LBC imperatives and together, persevere–even in convincing the City to change a policy requiring buildings within the sewer service are to connect to the sewer main. We're thrilled that Todd and Karen are in their home, happily unpacking boxes and looking forward to sharing their LBC experience with others interested in pursuing the challenge. "Living in this house," said Karen, "is going to help us be better humans." That's saying a lot, because we thought they were pretty awesome to begin with.
Looking Back at the Future: Omega Center For Sustainable Living Celebrates 10th Anniversary
Ten years ago this summer, the Omega Institute unveiled the Omega Center for Sustainable Living (OCSL), the first building ever to achieve both LEED® Platinum and Living Building Challenge™ certification. Several members of the Biohabitats staff, who were then affiliated with Natural Systems International and John Todd Ecological Design, had the honor of working on the groundbreaking project. One of them was Erin English, who collaborated with John Todd on the design of the OCSL's unique natural wastewater treatment system, the EcoMachine™. "Designing the Omega wastewater system with the hope of it becoming the world's first Living Building was like navigating in the dark," she said. "We knew the natural treatment would function and thrive but creating such an audacious project with seemingly impossible requirements (no PVC!?) really challenged us as engineers and environmentalists."
Since it opened in 2009, this state-of-the art water reclamation facility and environmental education center has reclaimed 45 million gallons of wastewater and prevented 867,000 pounds of carbon dioxide from being released into the atmosphere. It has hosted visitors from all over the world for tours and sustainability education. We remain inspired by both our initial and ongoing collaborations with the Omega Institute. "This project resonates with us to this day," said English. "It shifted who we are, and what we know to be possible." Congratulations on this milestone, Omega! We applaud and admire your ongoing commitment to climate action, and your tireless work to awaken the best in the human spirit. We can't wait to see what you do in the next decade!
Reaping Harvest of Water Low-Income Housing for Agricultural Community
When the Housing Authority of the City of Buenaventura, California was developing Rancho Verde, a multi-family, rental low-income housing community for agricultural workers, they sought a sustainable and precedent-setting solution for water management. The site was originally left in trust to the University of California for use related to regional sustainability and agriculture. Working with an integrated design team, Biohabitats developed a system that collects and treats greywater from the community's laundry facilities and recycles it for use in landscape irrigation. The design criteria required the system to be simple to construct, simple to operate, simple to maintain.  The system, which includes a self-cleaning cascade pre-filter, pump basin, recirculating sand filter, and tertiary filtration, reuses treated water for landscape irrigation, offsetting a minimum of 50% of the demand. It is capable of recycling approximately 600 gallons of water per day into a consistent, sustainable supply. While making a positive impact on local water use and educating tenants and owners, the system also allowed the developer to obtain sizable USDA Rural Farmworker Housing Grant program and achieve LEED Platinum certification.
Green Infrastructure and Ecological Restoration in the Nation's Capital
Over the last several months, we've been honored to apply our design-build expertise to help the District Department of Energy and Environment (DDOE) improve the quality of life for residents and natural inhabitants of the nation's capital by integrating green infrastructure and restored ecosystems into the DC landscape.
We're currently finalizing design and looking forward to ground on a Low-Impact Development (LID) retrofit a beloved community resource. The Benning Park Recreation Center is located about two miles from the Anacostia River, a body of water that suffered centuries of industrial pollution and to this day contends with pollution from trash, stormwater runoff, and overflows from an aging combined sewer system. Low-income communities along the Anacostia suffered, too, and a legacy of environmental injustice and disinvestment is still evident in many areas. The Recreation Center is an important place for residents of southeastern Washington, DC's Ward 7, providing abundant indoor and outdoor recreation amenities, several of its paved outdoor areas, such as its four basketball courts, two tennis courts, and an unused right-of-way. However, the 8.5-acre site sits atop a piped section of stream that flows into the Anacostia, and its basketball and tennis courts do not have any stormwater management features. Working with ER&M and Triangle Contracting to retrofit the site, we will transform a 5,000-square-foot, drab, vacant, asphalt right-of-way into a colorful, native meadow with a pedestrian trail. We will also create bioretention areas and a Furbish SmartSlope Vegetated Retaining WallTM to capture stormwater from the courts and hard surfaces while adding beauty and habitat to the landscape. The new site should be ready to serve its community of people and wildlife in the spring of 2020.
In the spring of 2019, we wrapped construction of another exciting retrofit. The 26-acre Rock Creek Tennis Center, a popular spot for tennis enthusiasts and concertgoers is situated at the headwaters of Blagden Run, a tributary to Rock Creek and ultimately the Potomac River. In addition to its 25 tennis courts, large tennis stadium, and 3,700-seat amphitheater, the Center contained an awful lot of pavement. Developed before the District enacted its stormwater regulations, the site experienced more than its share of uncontrolled, concentrated storm flows, which ultimately carved gullies in the surrounding forest, lowered infiltration and groundwater tables, and degraded habitat for native protected species. Today, the Center's retrofitted landscape, which includes eight bioretention basins, sub-soiled fields, and stabilization structures in seven outfall channels is already hard at work, capturing and controlling stormwater from the site's reduced impervious surfaces and adding habitat and beauty to the site. The retrofit, which was completed with subcontractors Triangle Contracting and ER&M, was deemed so successful by members of the Chesapeake Bay Stormwater Network, they named it 2019's "Best Retrofit in the Bay." We'd give this tennis-related endeavor a score of love-love.
About five miles west of the Rock Creek Tennis Center, in another neighborhood built before the enactment of the District's stormwater regulations, we just completed construction of the restoration of a tributary to the Potomac River that flowed through the popular Spring Valley Park. Over the decades, fast-flowing stormwater eroded the stream, degraded its water quality and habitat, exposed sanitary sewer lines, and damaged a popular hiking trail. To help DOEE restore stability, natural hydrology, ecological function, and safety to the tributary, we created a cost-effective design to reduce the volume and velocity of stormwater discharged into the park while covering and protecting sanitary sewer lines. The design also rehabilitated and enhanced the public trail and added beauty and habitat to the highly visible restoration site. DOEE contractor, ARRC, contributed to the construction of this 1,000-linear-foot restoration project.
Places
Look for Biohabitats team members at the following upcoming events and conferences:
Sept. 24-26: The National Recreation and Parks Association Annual National Conference is taking place in Baltimore this week. If you're there, keep an eye out for Biohabitats Chesapeake/Delaware Bays Bioregion Leader Jennifer Missett.
October 2-4: The world's largest Net Zero building conference and expo will take place in Los Angeles. Hosted by the ILFI and featuring tracks on carbon, water, energy, waste and transit, NZ19 will feature visionary thinkers from a variety of industry-leading organizations. Senior engineer, Pete Muñoz will be among them. Pete is co-presenting two talks on October 3. First he'll join Heather Schrock of the Bonneville Environmental Foundation and Pat Lando of Lando and Associates, Landscape Architecture to present ""H2O: Within and Beyond Your Four Walls." Later, he'll present "N Net-Zero Nutrients: The Next Frontier," along with Joel Cesare of the City of Santa Monica, Warren Neilson of Flow Kana, and John Marler of AEG.
October 8-10: Learn about the latest, most innovative building products at the 2019 Living Products Expo in Nashville, Tennessee. . Senior engineer, Pete Muñoz will be there to present a talk about "Making a Splash in Water Handprinting."
October 8-10: Landscape Ecologist, Kevin Grieser will present "Urban Headwater Stream Restoration:  Maximizing Funding & Resources to Meet Multiple Objectives" at the 46th Natural Areas Conference in Pittsburgh, Pennsylvania.
October 16-17: Join some of our Chesapeake/Delaware Bays Bioregion team members at the  PA Stormwater Management Symposium in Philadelphia, Pennsylvania.
October 18-20: Practice Lead and Senior Engineer Erin English and Senior Writer Amy Nelson will be in San Rafael, California to attend the annual Bioneers Conference. Erin will participate in a panel discussion on "Designing and Building a Biophilic World" and Amy will be interviewing some of the many solutions-focused thought leaders and innovators at the event for the Winter Solstice issue of Leaf Litter.
October 23-24: Environmental Scientist Tanaira Cullens and Landscape Architect/Urban Ecologist Aiman Duckworth will attend the Baltimore Ecosystem Study's Annual Meeting in Baltimore, Maryland.
November 4-5: Senior engineer, Pete Muñoz will be in Pittsburgh, Pennsylvania to attend the EcoDistricts Summit. Pete will be part of a Pecha Kucha talk (featuring 20 slides lasting 20 seconds each) entitled "Water, Nutrients, and Food: Innovation at the District Scale." We'll share more details as they become available.
November 15-18: The American Society of Landscape Architects Annual Meeting will take place in San Diego. Several Biohabitats team members will be there, including President Keith Bowers who will present "IT Flows Downhill: CSO and Wastewater Treatment as an Integrated Design Strategy" and "Greenways to Gene-Ways: A Call to Action." Senior Ecological Engineer and Practice Lead Chris Streb will present "Soundscape Ecology: How Listening to the Environment Can Shape Design and Planning." And don't miss "Inside the LA Studio" with our friends at Andropogon!
November 18-20: We are honored to sponsor the Mid Atlantic Stream Restoration Conference, which will take place in Baltimore Maryland. The November 19 agenda features a full array of Biohabitats speakers: Katie Talley will present "Where did all this Sand Come From? Observations from a Recently Constructed Stream Project Near Ellicott City;" Mike Trumbauer will present "Managed Succession as a Restoration Strategy;" Meghan Gloyd will present "Incorporating Stream Restoration Techniques in Stormwater Management;" Joe Berg will present "Stream Restoration Using All Wood Structures;" Mike Thompson will present  "Semi-Dynamic Cross Section Design: Creating Stable Fish Passage While Encouraging Riparian Encroachment;" and Brett Long will present "Finding a Balance Between Stream Restoration Goals and Floodplain Regulations." On the final day of the conference, we will join our partners from Meadville Land Services, Environmental Quality Resource, Arundel Rivers Federation and GreenVest in presenting a tour of the first stream in Maryland to be restored using only wood, harvested on site, for structure. We hope to see you at our talks and trip, and we look forward to swapping stream talk at the Biohabitats booth!
November 19-20: In addition to featuring a keynote "Conversation with President Barak Obama," Greenbuild 2019, which will take place in Atlanta, Georgia, will feature talks by our very own Erin English and Keith Bowers.  Erin will present a talk on Net Zero Water at the Kendeda Building for Innovative Sustainable Design and Keith will present "Urban Eco-Networks: Resilience Planning for Our Cities," a session that will explore the ways that we can re-envision our cities as functional ecosystem. Pete Muñoz will also attend this exciting event.
December 6: Senior Ecologist, Mike Thompson, will be at the Maryland Water Quality Monitoring Council's annual conference in Linthicum, Maryland.
People
Certifiably Awesome!
Congratulations to these Biohabitats team members on their recent achievements: Senior Restoration Ecologist, Mike Trumbauer, is now a certified Ecological Restoration Practitioner. Landscape Architect, Andi Rutherford, is now a SITES Accredited Professional. Construction Coordinator, Jim Favret is now a certified Associate Design-Build Professional™. Senior Environmental Scientist, Rebecca Winer-Skonovd was awarded the Chesapeake Water Environment Association (CWEA) Stormwater Committee's Golden Raindrop Award. The award acknowledges extraordinary service to the Association and contributions to the advancement of the state of the art of stormwater management.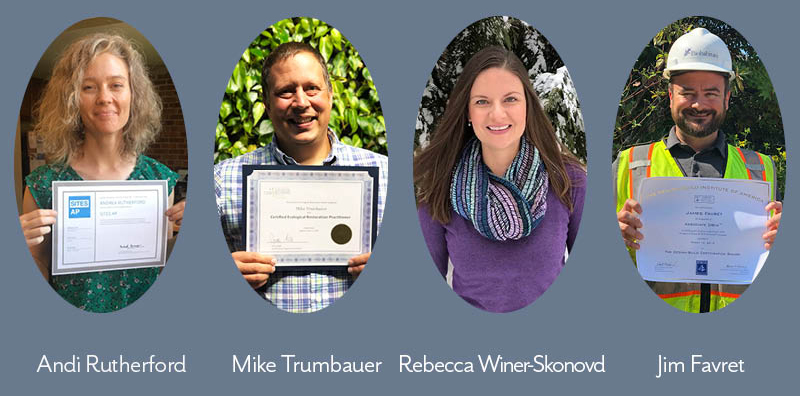 Golden Acorn Winner
Every quarter, Biohabitats awards one staff member with the Golden Acorn, an award recognizing an employee who embodies the Biohabitats mission to "Restore the Earth and Inspire Ecological Stewardship." The gold color symbolizes purity of purpose in protecting and defending nature, and the acorn symbolizes strength of resolve. Nominees are submitted by the staff. Our most recent Golden Acorn winner was Michael Spina. Recipients of the Golden Acorn get to direct a monetary donation to the non-profit organization of their choice. Michael directed his donation the New York/New Jersey Baykeeper. "They are a strong and effective stewardship group fighting to protect the ecological integrity of critical resources throughout the harbor estuary," said Michael. "I'm proud to collaborate with them in the Hudson River Bioregion!"