Projects
Renewing a Rural Economy in Southern Appalachia
Thanks to the love, hard work, and dedication of the people who live there, a renaissance is underway in Morganton, North Carolina. Manufacturing is making its way back to the city after local textile and furniture companies migrated offshore in the 1980s and 90s, and residents are hopeful that a thriving economy will return. Among the institutions and community members working to move the region forward is The Industrial Commons, a nonprofit started by two Morganton women with a knack for uniting diverse groups and a brave vision to rebuild locally rooted wealth in Southern Appalachia. The Industrial Commons aims to build an economy and future for all by repairing generational poverty and supporting the Southern working class. One of the ways The Industrial Commons does this is by offering resources and support to sustainable businesses, social enterprises, and industrial cooperatives in the area.
This past January, The Industrial Commons' Co-Executive Directors Sara Chester and Molly Hamstreet welcomed Biohabitats to Morganton for a community reception, site tours, and ideation sessions as part of Mithun's integrated design team on an exciting project within The Industrial Commons ecosystem: The Innovation Campus. Once the site of the Drexel Furniture 3 & 5 Plant, the flagship Innovation Campus will be a sustainable, employee-owned, democratic workplace and community hub that includes an incubation space for new businesses and industrial cooperatives, worker training and education facilities, daycare, and a creative art space; all surrounded by acres of public parks, trails, and gardens. Biohabitats provided an integrated water infrastructure plan addressing Living Building Challenge criteria and provided a deeper understanding of existing site ecology on this visionary effort. The work hits close to home for Biohabitats team member Kevin Nunnery, an environmental scientist originally from the area. Helping the Industrial Commons connect the natural environment of Western North Carolina to their community and restore Morgantown's social connections, economic wealth, and identity is a challenge that we are honored to undertake. For more information on this project, please contact Jennifer Dowdell.
Eight Colorado Ecosystems in One Museum
Earlier this year, we celebrated the groundbreaking for the Denver Museum of Nature & Science's Nature Play & Waterway Restoration Project! With construction set to wrap in late 2024, it won't be long until visitors can encounter the eight Colorado ecosystems exhibited in the Museum's immersive, accessible, multi-sensory "Explore Colorado" outdoor experience. The design for the nature play exhibit will also restore portions of a historic waterway in the southeast corner of the park, transforming it into a flowing creek that will connect different play experiences. Working collaboratively with a team led by Dig Studio and integrating years of community input, Biohabitats provided analysis, ecological design concepts, and restoration planning. For more information on this project, please contact Claudia Browne.
Reducing Wildfire Risk During the Shoulder Season
For Biohabitats Construction, the recent shoulder season was a great opportunity to reduce wildfire risk across a total of 123 acres of forest as part of two projects for the Clackamas Soil & Water Conservation District. With funding from the Oregon Department of Forestry's Small Forestland Grant, our crew worked with Clackamas SWCD throughout the fall and winter to thin underbrush and plant native seedlings in both the rural community of George, Oregon, and in the Eagle Creek Watershed. Wood was cleared as part of the George Community Fuels Reduction and Sidey Forest Thinning projects, was repurposed as 10 cords of firewood that were donated to the non-profit Estacada Area Food Bank. This was year two of ongoing efforts to make these forests healthier and less of a wildfire risk for a vulnerable ecosystem and the people living within it. We love that excess wood that was once fuel for potential wildfires can now be used to heat Oregonians' homes and we look forward to continuing this work during our next shoulder season! For more information about these projects, please contact Michael Daley Peterson. For more information about the role of fire in ecology, and the importance of forest thinning, see this 2022 issue of Leaf Litter.
Project Partners and Community Prepare for Restoration
Last month, Biohabitats and District Department of Energy & Environment (DOEE) staff joined community members to clean up an area of D.C.'s Fort Dupont Park that is set to be restored but was frequently being used as a dump site. In partnership with the National Park Service, DOEE aims to restore approximately 19,000 linear feet of stream and five acres of wetland in the park, which is part of a unique, highly forested urban watershed that ultimately drains to the Anacostia River. Biohabitats, supported by Timmons Group, developed a regenerative design to restore the entire stream network while maximizing ecological function and minimizing disturbance to the park and its resources.
While the clean-up to prepare for the area's upcoming restoration was the first time Biohabitats' interns Kayla Brown and Paul Soh-Koo Wisner were introduced to the project, Environmental Scientist Tanaira Cullens has been involved since she first started working at Biohabitats. "This was one of the first projects I got to truly dive into from the beginning," she said, "it's been cool interacting with community members in different ways." It is always exciting to work with the people who our projects serve, and we're so ready for construction to begin. For more information about this project, please contact Doug Streaker. You can also learn more by watching Josh Burch from DOEE explain the details of the Fort Dupont Park restoration in this video from WUSA9.
A Park Preserved in Perpetuity
Integrating ecology in a community-informed park planning process that extends the Olmsted legacy, enhances biodiversity, and preserves open space? If it sounds like a dream come true, that's because it is. In 2021, purchased 25 acres of land to expand Louisville Kentucky's Frederick Law Olmsted-designed park system, and put restrictions in place to ensure that it would will forever remain a public park. This February, the Taylor Siefker Williams Design Group was selected to lead that expansion by developing the Beargrass Valley Preserve Master Plan. Biohabitats is part of the design team along with Studio Kremer Architects, Mindel Scott, and Corn Island Archaeology. Our work includes ecological assessments and green infrastructure evaluations that will inform conservation and restoration choices and will culminate in master plan recommendations focused on ecological sustainability, resilience, and sustainable green infrastructure. We're thrilled to be collaborating with these visionary firms on a rare opportunity to add permanent green space to a unique park system, and are looking forward to a new, ecologically connected community haven in Louisville. For more information on this project, please contact Suzanne Hoehne.
Places
Raising Awareness about Disappearing Biodiversity Hotspots
Senior Engineer and Practice Leader Erin English is currently participating in Springs of Southwest, a visual storytelling project highlighting the Southwest's unique ecosystems and biodiversity hotspots that are vulnerable to the threats of development, drying, and climate change. Erin will spend five days supporting an expedition to the bottom of the Grand Canyon to assist in documenting the delicate and vital springs that provide water and support biodiversity within Grand Canyon National Park.
These springs, and many other resilient but threatened ciénegas–wet meadows or marsh found in arid landscapes that form around groundwater aquifers–are at great risk in the Southwest. An estimated 95% of ciénegas have been lost or damaged, and more research is crucial to the preservation of these lush and biodiverse ecosystems. To learn more about how to help conserve these disappearing wetlands, visit the Springs of Southwest website.
The Wonders of Water Tasting
Last month, Senior Water Resources Engineer Meghan Gloyd presented a talk entitled "Behind the Buzzword" at the Berkeley Springs International Water tasting. Meghan spoke about the importance of watershed planning and nature-based solutions and participated in a panel discussion with professionals from different sectors of the water industry. Learn more about this thrilling event and check out the 2023 Water Tasting winners.
M.A.R.S.H. Madness in Charleston, SC
Earlier this month, Landscape Ecological Designer Sarai Carter enjoyed a fun day of removing invasive tamarisk shrubs and planting native species on the border of Halsey Creek, one of the last tidal salt marshes remaining on the peninsula of Charleston, South Carolina. Volunteers with the M.A.R.S.H. Project  and their partners planted over 160 native plants in the neighborhood that sits alongside the marsh, kickstarting a new era of stewardship for a vital but neglected waterway.
While the M.A.R.S.H Project is a recently launched grassroots community group, they have the hallmarks of a sustainable, long-lasting endeavor; a love for place that shines through in their work, multigenerational involvement, an attitude of invitation and eager collaboration, and great storytelling. Sarai says they are "looking forward to more days on the marsh edge, meeting new friends and enhancing our collective resilience with sweat, laughter, and a better story for the future."
Collaborative Workshops Enhance Understanding of Nature-Based Solutions
You've heard the hype around nature-based solutions, but they're more than a green industry buzzword. The Nature-Based Exchange workshop series, a collaborative effort from The Nature Conservancy, Clemson University's Resilient Urban Design Program, and the City of Charleston, brings expert speakers and practitioners together to educate attendees about natural and nature-based solutions and discuss and implement these solutions in South Carolina. As a sponsor and core planning committee member of the Nature-Based Exchange for the past two years, we are excited to see the participation and enthusiasm around employing nature-based approaches in South Carolina. Takeaways from Workshop 1, which launched the series and solicited feedback for future topics, can be found in the Introduction to Natural and Nature-based Solutions Compendium. Video recordings of the panels and presentations from each workshop are available on the Nature-Based Exchange website.
With a focus on the living systems and communities that restoration practitioners must consider when designing nature-based solutions, Biohabitats' President Keith Bowers recently presented during the first of a two-part workshop, "Design Standards for Natural & Nature-Based Solutions." On May 17th, the Clemson Design Center will host the second part of the workshop, and we hope to see you there!

Upcoming Presentations & Events
April 23-24: The Georgia chapter of the American Society of Landscape Architects will host the 2023 Southeast Regional ASLA Conference. If you're planning to attend, don't miss "Urban Ecological Frameworks: A Case Study for Resilience Planning in Atlanta" with the City of Atlanta's Andrew Walter, The Conservation Fund's Stacy Funderburke, and Biohabitats Senior Landscape Ecological Planner, Jennifer Dowdell.
May 3-5: Stop by the Biohabitats booth at Living Future 2023: Advocacy + Belonging, the International Living Future Institute's annual conference, and catch two great continuing education sessions with Biohabitats team members! The conference takes place in Washington, DC. On May 5th, Join Project Engineer Shayla Woodhouse and Ecovie Water Management's Robert Drew for "Achieving Water Petal with Potable Rainwater Systems," and check out "It WILL take a Village – A Transformative Path," with Senior Engineer/Practice Leader Pete Munoz, Andropogon Associates' Hannah Barefoot, and Bruner/Cott Architects' Jason Jewhurst.
May 10-12: The 2023 Ohio Stormwater Conference, an annual event dedicated to comprehensive stormwater and watershed management is coming up soon, and we are honored to be a sponsor and exhibitor. This year, attendees won't want to miss two presentations from Biohabitats on May 11th: "Converting Agriculture Fields to Wetlands in NW Ohio" with Senior Landscape Ecologist/Great Lakes Bioregion Team Leader Kevin Grieser, and "An Urban Watershed Story: From Homestead to Habitat," with Water Resources Engineer Erin Mundorf and Cleveland Metroparks' Elizabeth Hiser.
June 1-3: This June, the Stanley Center for Peace and Security, an organization that advocates for global policy progress towards halting the spread of nuclear weapons, preventing mass violence, and mitigating climate change, will celebrate the multi-day grand opening of their new headquarters in Muscatine, Iowa! As part of an integrated design team led by Neumann Monson Architects, Biohabitats was honored to lead the design, engineering, and permitting of the headquarters' sustainable water infrastructure, which aims to help the project meet the rigorous requirements of the Living Building Challenge's Water Petal. The Center's opening will be celebrated during a public Sustainability Fair on June 2. Fair goers will enjoy live music and performances at one of the most environmentally friendly and ecologically sustainable buildings in Iowa.
June 11-15: The RE3 (Reclaim, Restore, Rewild) Conference 2023 is a joint conferenced hosted in Québec City by the Society for Ecological Restoration of Eastern Canada and the Canadian Land Reclamation Association. Dig into this year's theme "From Reclaiming to Restoring and Rewilding" with a session from Senior Scientist Tom Denbow and Senior Ecologist/Practice Leader Joe Berg about Biohabitats' work on Sandusky Bay, Ohio's largest lacustuary system adjacent to Lake Erie and an important recreational hub for Northern Ohio.
August 21-23: Connect with over 600 stream restoration professionals at The National Stream Restoration Conference in Baltimore, Maryland! This year, the theme is "Finding Common Ground," which you're sure to do if you meet the Biohabitats team members who are attending. Keep an eye out for sessions from Water Resources Engineer Katie Talley  (Unearthing Ecological Potential: Daylighting and Restoring A Stream that had Been Buried for a Century), Senior Restoration Ecologist/Chesapeake & Delaware Bays Bioregion Team Leader Mike Trumbauer (To Remove or Not to Remove: The Tree Removal Question), Senior Water Resources Engineer Brett Long (Raise the Channel or Lower the Floodplain? Methods for Floodplain Reconnection), and Senior Water Resources Engineer Meghan Gloyd (No Rise and Reconnection – The Delicate Dance).
People
Meet our Newest Team Members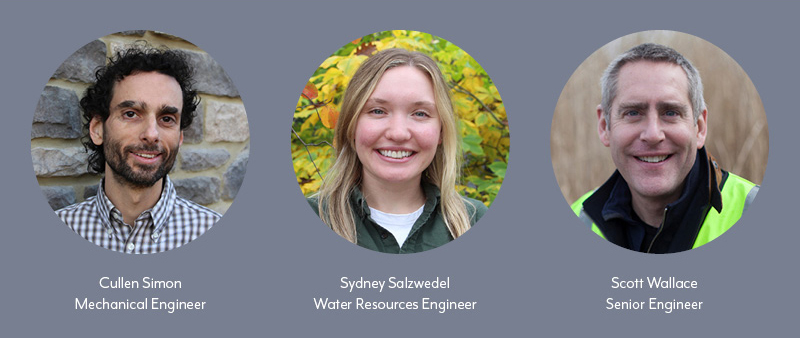 Please join us in welcoming Cullen Simon, Sydney Salzwedel, and Scott Wallace to the Biohabitats team! Can you guess which new team member enjoys stargazing in their spare time? Or which one was in the top 0.05% of Dolly Parton listeners on Spotify in 2022? Or how about the funk music fan who's pretty good with a yo-yo? Check out the Rhizome blog for the answers you seek.
Summer is Never a Bummer for Bio Interns
The next generation of restoration professionals are motivated, dedicated, and ready to work for nature. How do we know this? Because these are the qualities we continue to see in our interns! This summer, we're honored to host Uzoma Aneke, who is pursuing a Master's in Environmental Engineering from the University of Maryland Baltimore County; Kayla Brown, a recent Morgan State University graduate with a Bachelor's degree in Civil Engineering; Marci Smith, a Master of Landscape Architecture candidate attending the University of Maryland College Park; and Paul Soh-Koo Wisner, an Environmental Science and Economics undergrad at Johns Hopkins University. Stay tuned to the next issue of Leaf Litter to learn more about our interns' experiences!
Speaking of Intern Experiences…
This January, Master of Landscape Architecture student Amy Schulz participated in an externship program through the University of Virginia that brought her to Biohabitats for a week of professional experience. While shorter than a traditional internship, an externship can provide some quick insight into what it's like to work in your chosen field. "There are skills to gain from plugging in for a very short time, especially in a place like Biohabitats that has a large range of expertise," said Amy.
Disturbed by the loss of green space in her hometown of Istanbul, Morgan State University School of Architecture and Planning student, Azade Diykan-Hubbell chose to pursue a Master's Degree in Landscape Architecture and engage in a multidisciplinary internship with Biohabitats in 2022. Learn more about Amy and Azade's time with Biohabitats on the Rhizome blog.
Hooray for an Amazing Milestone!
Congratulations to Shayla Woodhouse for passing her P.E. exam and obtaining her Professional Engineering license! This is a huge accomplishment, and it's awesome to have Shayla on our team.
Award-Winning Team Members
Biohabitats' quarterly Golden Acorn award is presented to a team member who has excelled in demonstrating our mission to "Restore the Earth and Inspire Ecological Stewardship." The gold color symbolizes purity of purpose in protecting and defending nature, and the acorn symbolizes strength of resolve. Golden Acorn winners are awarded $1000 to donate to non-profit organizations of their choice. The most recent winners of the Golden Acorn award were Senior Ecological Designer Suzanne Hoehne from our Ohio River Bioregion, Senior Landscape Architect Aiman Duckworth from our Chesapeake & Delaware Bays Bioregion, and Senior Engineering Technician Olin Christy from our Southwest Basin & Range Bioregion. Suzanne chose the Steam Exchange Community Arts Center and Louisville ECHO as the recipients of her Golden Acorn donation. Aiman directed his donation to Asociación Andes as well as the Huni Kuin, via The Living Gaia. Olin is still choosing his organization with thought and care, he'd like to give locally, and we're working together to make that happen. Congratulations to Suzanne, Aiman, and Olin!