Projects
Restoring a Maar crater in South Korea
Earlier this winter, Biohabitats president Keith Bowers traveled to Jeju, South Korea to conduct reconnaissance for the restoration of a lakebed and native vegetation to the Hanon Maar Crater, the only Maar crater in South Korea.  Maar craters are created when rising fissures of magma come into contact with groundwater. The resultant explosion creates a shallow, steep-sided crater, which typically fills with water. One wall of the Hanon crater has been largely removed to drain the lake and allow rice cultivation and other activities on the crater floor. The surrounding walls are planted with citrus orchards. As Jeju has blossomed as a tourist destination, agriculture is no longer considered to be the best use of the crater. There have been a few proposals for developing the crater for recreation, but at the 2012 World Conservation Congress, Korean ecologists introduced a motion requesting that the IUCN advocate for the restoration and protection of the crater lake and its native vegetation. As a result, Biohabitats was contracted to write a master plan for the restoration of the crater. The master plan, currently in progress, will be an important tool in garnering Korean and international support for the project's implementation.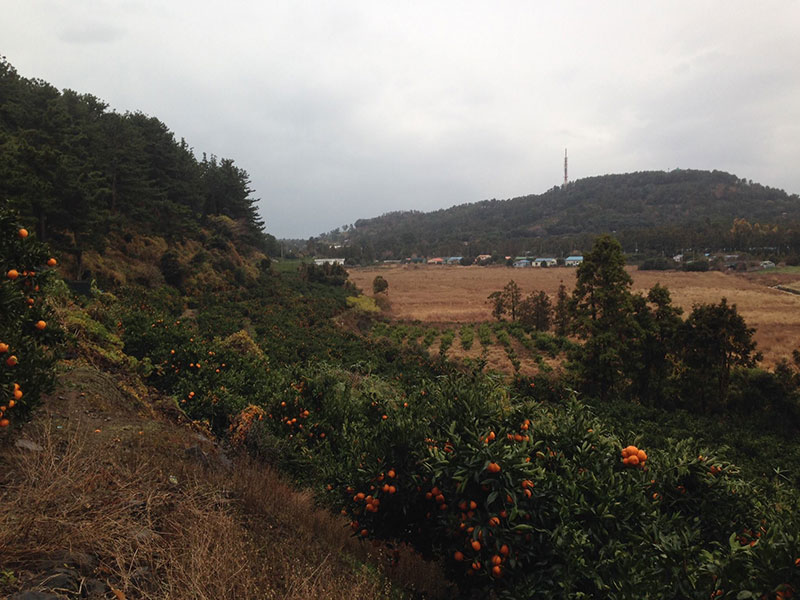 Dig This: Grading Near Complete for Riparian Restoration
In our last issue of Leaf Litter, we told you about our work with the City of Fort Collins, Colorado to transform two former gravel mining ponds at the McMurry Natural Area into a well connected riparian corridor.  During mining operations a high berm had been constructed along the Poudre River to protect the gravel pits from flooding.  We have removed the berm and placed that material in the two ponds to create five types of native riparian habitat: emergent wetland, wet meadow, riparian grasses, willow, and cottonwood.  We also moved a small reach of the Poudre River back to previous flow path after high flows threatened to scour-out some prime cottonwood habitat.  We're stoked to report that grading is almost complete and we look forward to start planting in the spring.
Rowan is Growin'…Wisely
Biohabitats, along with our project partners ASG, Urban, and Kernan Engineering are pleased to be getting underway on a two-pronged initiative at Rowan University in Glassboro, NJ.  Rowan University is in the midst of an exciting and unprecedented expansion.  Over the coming decade, the 225-acre Glassboro campus will be fundamentally transformed as a result of this growth.  Biohabitats will help Rowan develop a Stormwater Management and Landscape Master Plan. The plan will devote critical attention to the environmental performance and character of the campus landscape.  Working together, we plan to craft a strategy for campus development that accommodates significant building space expansion, but within a network of thriving campus landscapes and high-performing ecological infrastructure. The work consists of two distinct, but related initiatives.  Initiative A will be primarily a planning initiative with some development of design typologies, while Initiative B focuses on design documentation and implementation, with transformations of several specific campus landscapes.
Fort Wayne, IN to Maximize Riverfront
The Miami nation, original settlers of what is now known as Fort Wayne, Indiana, recognized the value of a location at the confluence of three rivers. French traders soon caught on and the area became a popular trading post. Today,  Fort Wayne, Indiana, where the St. Joseph, St. Marys, and Maumee Rivers meet,  is now the state's second largest city and home to more than a quarter million residents. To maximize the potential of the city's miles of riverfront city leaders envision a cohesive waterway system that optimizes natural resources and enhances opportunities for recreation, retail, entertainment, and housing. To begin the process, they selected a design team led by SWA Group to conduct the first comprehensive riverfront development study. A key member of this team, Biohabitats is deeply involved in the aquatic and terrestrial ecology and green infrastructure components of the study, and we're helping to ensure that the ultimate outcome—a comprehensive master plan—integrates habitat, landscape ecology and function, and water quality improvement. Last week, the design team met with citizens, stakeholders and representatives of Fort Wayne to seek their input into the visioning process. The City recently set up a web site to keep people informed about this exciting project. Check it out!
Development Goes with the Flow in Texas
Not long ago, Flewellen Creek in Fort Bend County, Texas, was in trouble. Years of ditching by rice farmers,  and then grazing by livestock, had taken a toll on the stream, leaving it severely eroded, separated from its floodplain, and lacking habitat and ecological function. Today, however, Flewellen Creek is not only flowing and functioning naturally, it has become the centerpiece of the 3,200-acre Cross Creek Ranch community. Since we worked alongside SWA Group, Brown & Gay Engineers to help the Johnson Development Corporation restore the creek in 2005 the project has garnered many awards, including Houston-Galveston Area Council's Parks and Natural Areas restoration award, which was just announced last month.  And the good news gets better. D.R. Horton, the developer of a community upstream from Cross Creek, is now collaborating—not only with the design team but with the Johnson Development Corporation—to restore more of Flewellen Creek in Cross Creek Ranch. The final phase includes two miles of restoration, which will include oxbow wetlands, and riparian habitat, and will result in a 260-acre wide park corridor. The developers recognized that working together to restore the upstream reach, rather than simply widening the ditch to convey stormwater then coming in and restoring it, would not only save effort on their part, but also limit impacts on the ecosystem and the lives of residents of the community.
Ranchers Walk the Talk of Sustainability
The Dixon Water Foundation is a unique, Texas-based nonprofit that promotes healthy watersheds through good ranch landscape management. The organization does this through its grant program as well as through four demonstration ranches, where ranchers can learn about land conservation, ecological restoration, and sustainable ranch management. Last summer, the Foundation broke ground on the Betty and Clint Josey Pavilion, a 5,000 square foot gathering place designed to host meetings, workshops, and educational events. Given the organization's mission, it is not surprising that they intend for the pavilion to become the first "Living Building" in Texas. The Living Building Challenge™ is the most advanced measurement of sustainability in the built environment. Achieving this designation requires adhering to rigorous imperatives under the categories of site, water, energy, health, materials, and beauty.  As a key member of the integrated design team led by Lake Flato Architects, Biohabitats helped the Foundation move toward this achievement by creating a decentralized, sustainable wastewater treatment approach for the pavilion. The system, which naturally treats wastewater and then applies it back into the land so that it can percolate back into the ground, includes a septic and equalization tank, a constructed wetland planted with native species, and a subsurface drip irrigation field.  Construction of the site is being wrapped up this month and this innovative water system will soon be at work, protecting Texas's resources and educating others who will do the same, all while keeping in harmony with the local ecology.
Urban Ecosystem Restoration in the Crossroads of the West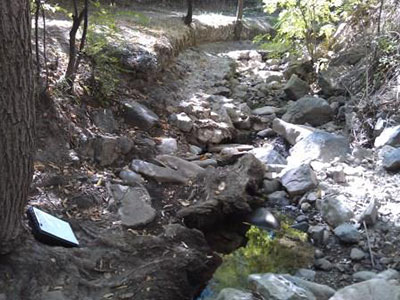 In the summer of 2010, a pipeline carrying crude oil from western Colorado and eastern Utah into the Salt Lake Valley ruptured, releasing thousands of gallons of oil into Salt Lake City's Red Butte Creek.  Following a major cleanup and legal settlements, the City of Salt Lake initiated mitigation activities, including the restoration of a reach of Red Butte Creek that runs through a public park. Within Miller Park is a well-loved, wooded haven for the community, but 80% of its trees are non-native, and development upstream has drastically changed the hydrology to the creek, which has severely impacted the its stability, function, and habitat. The little creek (about 5' wide) had incised 3' – 4' in places.  Working with the City, Biohabitats crafted a plan to remove the most aggressively invasive tree species and replace them with native forest and riparian vegetation.  Red Butte Creek will be restored with minimal impact to the park by raising the channel bed and creating a stable channel cross section.  Once restored, the creek will also help improve water quality. Construction is slated to begin this summer, and we look forward to seeing more ecological function and biodiversity in this special place.
We are also helping Salt Lake City restore ecology and enhance the environment of Liberty Lake, a major feature within the City's second largest public park. Lined with rip rap and concrete, Liberty Lake offers little wildlife habitat and suffers from poor water quality. Working with the City and community members, Biohabitats created a plan to convert nearly half of the Lake's hardened edge to wetland and improve the vegetative cover on the Lake's islands using native wetland species. The project also includes the installation of two floating wetlands in the Lake. Construction has begun, and we look forward to seeing the new and improved Liberty Lake late this summer.
Places
Keith Bowers is at The Johnson Foundation's Wingspread Conference Center in Racine, WI, engaging with other leaders on the role for, and pathway toward, right-sizing the nation's water infrastructure for the demands ahead. This national dialogue, part of the Foundation's Charting New Waters initiative, is focused on transforming water and wastewater infrastructure to achieve long-term sustainability and resilience of the nation's water resources in the face of climate change, energy constraints, diminishing groundwater supplies, financial challenges and other resource constraints.
Biohabitats staff can be found at two Society for Ecological Restoration International (SER) chapter events this month. The Mid-Atlantic chapter holds its annual conference this week at Temple University, and senior scientist Joe Berg, who was recently elected chapter president, wouldn't miss it for the world. Next week, landscape ecologist Kevin Grieser will be in Minneapolis for the Midwest-Great Lakes chapter's annual meeting, which will emphasize linking theory and practice.
Next week, senior scientist Kevin Nunnery will be at the Southeastern Lakes Management Conference. Presented by the North America Lake Management Society, this year's event will be on March 26-28 in Asheville, NC.
On April 25, Keith Bowers will deliver the keynote address at Designing for Success: Ecological Restoration in Times of Change, an event co-sponsored by the New England Chapter of the Society for Ecological Restoration and The Conway School.
Senior ecologist Terry Doss will join colleagues from Mithun, Moffat & Nichol, and Western Washington University to present "A New Aesthetic for the Post-Super Storm World: Marshland to Dunes to Storm Surge Barriers" at the Living Future 2014 unConference in Portland, OR. This year's unconference takes place May 21-23, will explore the transformative power of beauty and inspiration.
From May 28-30, you can find Neil Williams and Joe Berg in San Antonio, TX at the 2014 Stream Restoration in the Southwest Conference. Joe will present a talk on stream restoration in ephemeral gullies, and Neil will share his experience in the restoration of the urban reach of the Santa Fe River.
This year's River Rally will take place in Pittsburgh, PA  May 30-June 2. Suzanne Hoehne will be one of five urban water experts who will offer advice onengaging communities in watershed planning, restoration & education projects. Don't miss it!
Water Resources Engineers Phil Jones and Ted Brown will be in Portland, OR June 1-5 for the ASCE EWRI World Environmental and Water Resources Conference Ted will present talks on regenerative stormwater conveyance and a rapid desktop method for screening stormwater outfalls for retrofit potential. Phil will give a talk on green street neighborhood prioritization.
On June 4-5, Ted Brown and Jennifer Zielinski will join federal, state, local and NGO leaders from across the Chesapeake Bay watershed at the Baywide Stormwater Retreat. Hosted by the Chesapeake Stormwater Network and the Alliance for the Chesapeake Bay, the retreat gives leaders the chance to share information and discuss collaborative strategies to improve stormwater management in the Bay region.
Biohabitats is proud to sponsor the 2014 Ohio Stormwater Conference, which will take place June 4-6 in Akron, OH. Attendees will not want to miss Jennifer Zielinski's talks on green bulkheads and watershed planning, and Kevin Grieser's presentation on maximizing funding and resources to meet multiple objectives in stream restoration. In between sessions, be sure to stop by the Biohabitats booth and say hello to Jennifer, Kevin, and Biohabitats Great Lakes Bioregion leader, Tom Denbow.
People
Crystal Grinnell, Water Resources Engineer & Landscape Architect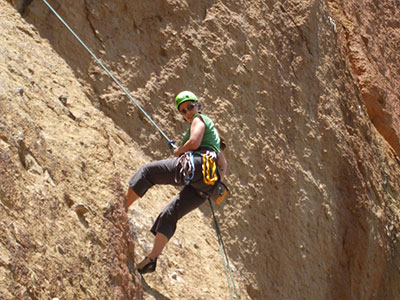 As a child growing up in Southwest Montana, Crystal Grinnell spent many a happy summer hiking in the alpine and subalpine environments of the Cascades and Rocky Mountains, captivated by the diversity of wildflowers, including mule's ear, paintbrush, and wild geranium. Back then, Crystal contemplated becoming a doctor. By high school, her aspirations shifted toward architecture. Little did Crystal know that she would someday apply her affinity for healing, her fascination with plants, and her passion for design to the very environment she so loved as a kid. After working as a landscape architect for seven years and then earning an M.S. in Civil and Environmental Engineering from the University of Washington, Crystal joined Biohabitats. She is already applying her expertise in the holistic treatment and management of water and wastewater to several projects in the Cascadia Bioregion, and we couldn't be happier. She may not be a doctor, but her work makes us feel pretty great.