PROJECTS
Projects come alive with integrated water strategies
Imagine a building that operates as cleanly, beautifully and efficiently as nature's architecture. This is the aim of the Living Building Challenge™, the built environment's most rigorous performance standards. To be a certified Living Building, projects must meet a series of ambitious performance requirements in the categories of Place, Water, Energy, Health/Happiness, Materials, Equity, and Beauty. Up until this year, only eight projects had achieved this certification, including two in which we were involved: Seattle's Bullitt Center and the Omega Center for Sustainable Living in Rhinebeck, NY. This spring, it was announced at the 2016 Living Future UnConference that three new projects have been added the list of certified Living Buildings, and we are very proud to have contributed to two of them
The Chesapeake Bay Foundation's Brock Environmental Center in Virginia Beach, VA, is a fitting regional home for a conservation organization dedicated to the protection and restoration of the Chesapeake Bay. Designed by SmithGroup JJr, it is among the first sites of its kind in the nation to embrace energy and water independence. Biohabitats provided peer review for the design of the building's rain-to-potable-water infrastructure, a system consisting of rain cistern, filtration, and disinfection components. We also helped the design team obtain permitting for the project.
The Dixon Water Foundation is a non-profit organization that demonstrates and promotes sustainable land management practices for healthy watersheds in North and West Texas. Working with Lake Flato Architects, Biohabitats helped design water systems for the Foundation's Josey Pavilion, a 5,000-square-foot meeting and event structure. These systems enabled the site to meet the Living Building Challenge's "Net Zero Water" water requirement. This requirement states that all water used on site must come from rainwater harvesting or closed-loop water systems and all treated water must not impact downstream ecosystems or use chemicals. It also calls for "Ecological Water Flow," meaning all stormwater and building water must be managed on-site. We are thrilled to have helped design the first Living Building in Texas and one of the first 11 in the nation! We are also pleased to share the news that this awesome project was recognized by the American Institute of Architects Committee on the Environment as a 2016 Top 10 Award Winner.
Baltimore Communities are Getting Greener
In past issues of Leaf Litter, we have reported on the transformation of Library Square, a project we designed with Blue Water Baltimore. Once a barren, 1.1-acre wedge of urban open space whose lack of stormwater management was contributing to local flooding and impacting downstream water quality, Library Square is now an engaging city park that not only celebrates but regenerates ecology and community while it treats stormwater runoff. Features include bioretention basins, colorful, permeable paving, and seating designed to reflect the area's well-loved "stoop sitting" culture. Along with project partners Banner Neighborhoods, Friends of Library Square, Angler Environmental, and the Southeast Community Development Corporation, we were thrilled to see the transformation come to life. At a community greening event held on Library Square last month, were delighted to join community members as they celebrated the opening of Library Square and learned about the work it does for their environment.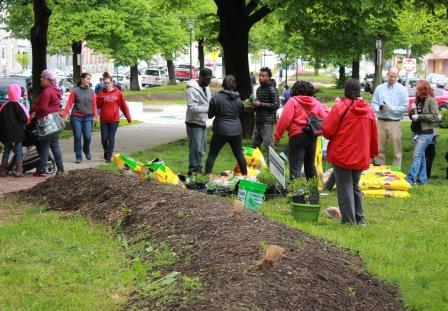 Community opening of Library Square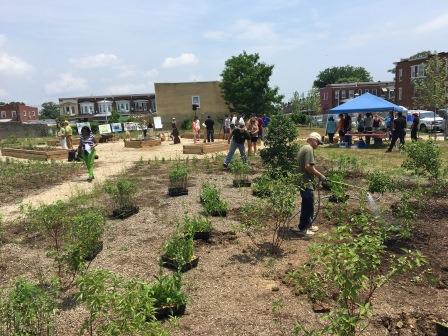 Community greening at Riggs Ave. Park
Community greening at Riggs Ave. Park
We were thrilled to be on hand earlier this month for the dedication of another community greening project in Baltimore, the 30,000-square-foot Riggs Avenue Park, which only two years ago was primarily a slab of concrete. With a Growing Green grant from the U.S. EPA and the Chesapeake Bay Trust, and under the leadership of the Chesapeake Bay Foundation, we worked hard to create a design that would not only reduce annual stormwater runoff by 242,000 gallons, but enhance urban ecology and add beauty and connection to the community. Construction of the new space, which now includes rain gardens, winding pathways, shade trees, and native plantings, was led by First Impressions, with support from Civic Works. The community connection the site inspires was evident at the dedication, where neighbors, local church members, Baltimore City representatives, and members of the restoration team joyfully celebrated the new green space.
100-yr-old Botanical Garden Re-envisions Water
Located in La Cañada Flintridge, a city only 20 miles from downtown Los Angeles but bordered by the San Gabriel Mountains, Angeles National Forest, and the San Rafael Hills, the 160-acre Descanso Gardens provides refuge for people and wildlife alike. Situated at the base of several canyons, the 100-year-old site includes two water features—a small recirculating stream and a two-acre lake–fed partially by stormwater from the adjacent hillsides and from a spring located high up in the mountains. The Gardens wanted to improve the water quality, habitat value and aesthetics of the lake while also addressing the aging liner to ensure that water was being used wisely in the drought-stricken state. Along with The Portico Group, we helped Descanso Gardens develop a new, more sustainable vision for the way it receives, uses, treats, and releases the precious water that sustains the Gardens—one that will not only further reduce its water footprint, but enhance the  impact of this treasured place on both its visitors and regional ecology. The new concept links the site's arroyos, lake, and winding waterway in an interconnected system through which water is continually filtered and recycled with the help of upgraded recirculation pumps and ecological features like living shorelines, biofiltration wetlands, and check dams to better manage incoming sediment. These features not only remove sediment and nutrients from the water, but add habitat, diversity, beauty, and new visitor experiences to the Garden's landscape. We were thrilled to collaborate with Descanso Gardens and The Portico Group on developing this new vision, and we look forward to seeing it come to life!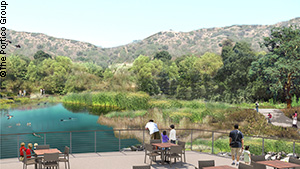 From failing pond to functioning stream
In the last issue of Leaf Litter, we wrote about a 75-year-old, man-made pond in Concord Township, Ohio, just a few miles from Lake Erie, that would soon transform into an ecologically functioning stream reach. Biohabitats and Meadville Land Services teamed on this 319 grant-funded project for the Lake County Engineers Office, and we're pleased to report that the transformation is now complete. Check out this video.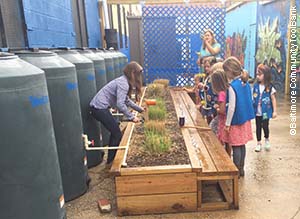 Daisy troop visits "stormwater factory"
Daisies Bloom in Industrial Neighborhoods
The folks at the Baltimore Community ToolBank, a nonprofit organization that lends tools to hundreds of charitable organizations for neighborhood improvement projects, know a thing or two about community greening. They understand that stewardship and demonstration are among the most powerful tools for creating sustainable neighborhoods. That is why, when the ToolBank set up its large warehouse facility in Baltimore's industrial Carroll-Camden/Pigtown neighborhood, they sought a sustainable solution for managing the facility's 50,000 square feet of rooftop runoff. Today, the rain gardens and Stormwater Factory we helped the ToolBank create not only provide that important service; they serve as great teaching tools for ToolBank clients and community groups. Last month, a local Daisy troop took a field trip to the ToolBank, where they learned about pollinators. They toured the rain gardens, created craft bees, and ceremonially placed a bee box they built in one in the Stormwater Factory's raised bed of native plants. According to Rachel Thompson, program manager for the ToolBank, the Daisies came away from their trip with a better understanding of pollinators and urban pollinator habitat, as well as a new curiosity about the way rainwater moves.  "The Daises were fascinated by our Stormwater Factory," said Thompson. "Their eyes lit up at the very unique gardens that had tubes sending rainwater to them."
We are delighted to share the City of Fort Collins' news that it recently achieved a Class 2 rating under FEMA's Community Rating System. We applaud the City of Fort Collins' proactive approach to resilience, and we're proud to have worked with the Fort Collins Natural Areas Department on floodplain restoration projects!
Restoring Salmon Habitat in Portland, OR Region
One of the largest habitat restoration projects in the Portland region's history is happening this summer, and we're proud to be involved. Nestled on the Clackamas River, River Island provides 240 acres of habitat for plants and wildlife, including endangered salmon and steelhead, native turtles and migratory birds. Years of gravel mining and a 1996 flood, however, resulted in degradation of some of this important habitat. Thankfully, a two-part restoration was initiated by Metro, a region government agency responsible for managing planning, growth, infrastructure and development issues across three counties. Work on the south side of the Clackamas River was completed last year. As ecological construction consultant on a team led by K&E Excavation, Biohabitats is currently leading the installation of woody debris to restore fish and wildlife habitat and improve water quality. By the end of construction, we'll have installed more than 1200 logs, root wads, and vertical snags. We look forward to watching wildlife—especially salmon—return to this restored, and  important habitat.
PLACES
The College of Agriculture, Urban Sustainability and Environmental Sciences at the University of the District of Columbia will host the 2016 Conference of the International Society for Ecological Economics June 26-29. This year's gathering, "Transforming the Economy: Sustaining Food, Water, Energy and Justice" will bring together researchers, policy makers, and practitioners from all over the world who are working to find solutions for a socially and environmentally sustainable future. Biohabitats senior environmental scientist Peter May is one of them, and joins former Ministers of the Environment from India and Brazil, environmental officials and NGO leaders from Botswana and China, and others on an impressive list of plenary speakers.
Biohabitats is delighted to be assisting the Colorado Water Trust in organizing a Stream Management Planning (SMP) Workshop. The recently released Colorado Water Plan included a goal of developing Stream Management Plans for 80% of the state's priority streams. SMPs focus on integrating environmental and recreational values with traditional agricultural and municipal values. The SMP workshop, which will be held on August 23rd in conjunction with the Colorado Water Congress Summer Conference in Steamboat Springs, CO, will help attendees prepare strong grant proposals and effective SMPs.
Landscape Architect Justin Park Wins Prestigious (well, we think it is!) Golden Acorn Award
Every quarter, Biohabitats awards one staff member with something we call the Golden Acorn. The award recognizes employees who, through their actions, embody the Biohabitats mission to "Restore the Earth and Inspire Ecological Stewardship." The gold color symbolizes purity of purpose in protecting and defending nature, and the acorn symbolizes strength of resolve. Nominees are submitted by the staff. Last quarter, our winner was landscape architect Justin Park. Justin was recognized not only for his production of high quality project and public meeting materials, but for his efforts on a very successful volunteer floating wetland planting and installation event.  Recipients of the Golden Acorn get to direct a monetary donation to the non-profit organization of their choice, and Justin chose to direct his to the Oyster Recovery Partnership, a non-profit that plans, promotes and implements science-based and sustainable shellfish restoration, aquaculture and wild fishery activities to protect the environment, support economy and preserve the cultural heritage of the Chesapeake Bay.
PEOPLE
Meet the newest members of the Biohabitats team
George Battersby
The adjective "multi-talented" seems to fall short when it comes to describing water resources engineer George Battersby, who joined Biohabitats this spring. Not only can he handle every aspect of stream restoration and stormwater management planning and design, but he plays several different instruments (well enough to have earned an income as a musician while attending college!). He's also very likely the only person in the Chesapeake/Delaware Bays Bioregion who can claim to have bagged his first hole-in-one (on anything other than a mini golf course) at age 14. Before joining Biohabitats, George, who has helped clients like WSSC and the City of Baltimore with large stream stabilization projects, is already playing an important role in Biohabitats projects like the restoration of Paint Branch in Beltsville, MD and stormwater management planning for the University of Maryland Baltimore County. When he is not busy working, sinking holes-in-one, or playing music, this avid outdoorsman can be found on the trails or on the water with his dog, Tiger. We're thrilled to have George on our team, especially knowing that the real beneficiaries of his many talents will be the Chesapeake and Delaware Bays.
Michael Moore
Back in 1988, when 11-year-old Michael Moore first learned about ozone depletion, a prominent headline of the time, he knew he wanted to do something about issues plaguing the environment. Today he is, and we are happy that he is doing so as the newest member of our Cascadia Bioregion team. With over 10 years of ecological design experience, including a background in wetland treatment systems and three-year stint with a restoration design-build firm, Michael has managed all aspects of watershed enhancement projects. Fluent in French and Spanish, he has also devoted a considerable amount of time and expertise to Engineers Without Borders, where he has designed and coordinated a variety of water resources projects in Central America. Michael is already applying his design-build expertise in Pacific Salmonid habitat restoration to our river restoration projects in the Portland region, and he looks forward to more interdisciplinary work, including projects involving integrated water strategies. When he is not working, Michael can likely be found enjoying music or playing it himself on his Kora (that's a harp/lute from the West African Griot tradition, for those of you who don't know). Michael also enjoys spending time with this 4-year-old son, and perhaps wondering what current headlines might inspire his future work with Biohabitats.
Rachel Whiteheart
Water resources engineer Rachel Whiteheart likes a good puzzle, and when it comes to environmental engineering, the more complicated the challenge, the better. Perhaps that is why she is drawn to projects that require multidisciplinary collaboration, something she did not have an opportunity to do in her previous post at a traditional civil engineering firm. Rachel is already diving into complex work and comingling with the biologists and landscape architects here at Biohabitats, and we couldn't be happier. She not only brings expertise in Low Impact Design but an environmental ethic she demonstrates in and out of the office. In the last year alone, Rachel has helped a nonprofit organization in her local neighborhood plant more than 400 native and non-invasive street trees. When she is not busy working and greening her community, she can be found rock climbing or playing soccer.
Jeff Reagan
"No one knows this, but I was born water proof," says environmental scientist Jeff Reagan. Indeed, in the 10 weeks since he joined Biohabitats, Jeff has already gained a reputation for extreme hardiness throughout a seemingly endless stretch of rainy spring field work days in the Chesapeake/Delaware Bays Bioregion. Jeff's certainly not wet behind the ears when it comes to stormwater management. Jeff brings public and private sector experience in stormwater management and compliance, as well as a palpable passion for ecological stewardship. He volunteers and serves on the boards of several local environmental organizations, including his home state of Maryland's Water Monitoring Council, State Water Quality Advisory Committee, and the Anne Arundel County Watershed Stewards Academy. When he is not busy working to improve the environment, this avid camper and beach lover can likely be found playing in it. We're glad to have Jeff on board and delighted to see him diving into projects with such enthusiasm!
Movin' on up
If you've ever called or visited our Chesapeake/Delaware Bays Bioregion office, then you, like us, have benefitted from the bright mind, quick wit, and warm, professional demeanor of our administrative assistant, Erica Robak. We're very happy to announce that Erica has been promoted to the position of contract and accounting coordinator. Now she gets to be extraordinary in a whole, new way. Congratulations, Erica!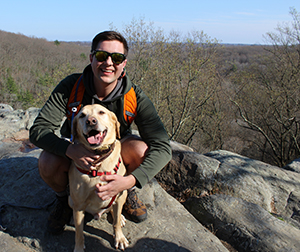 George Battersby & Tiger
Michael Moore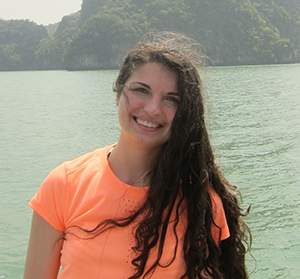 Rachel Whiteheart
Jeff Reagan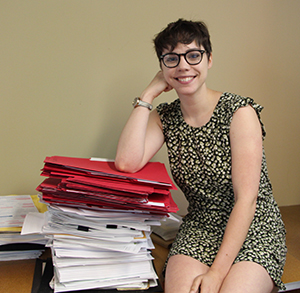 Erica Robak