Working with RKK, we have crafted a design to restore habitat and function to the urban stream while also strengthening its resilience to future pressures. The design includes bank stabilization, restoration of native riparian vegetation, creation of wetlands to better manage stormwater, and treatment of invasive species. When the project is complete, we imagine this little guy will be eager to move in.
No cavalier attitude about stormwater at UVA
The past decade has been one of tremendous growth for the University of Virginia. At the same time, the University holds a strong commitment to sustainability, which is backed by aggressive goals like a 25% reduction in greenhouse gases and nitrogen from 2009 levels by 2025. We're proud to be helping UVA work towards those goals and meet new, stringent MS4 permitting requirements tied to its local watershed and the Chesapeake Bay. As part of a utility master planning effort led by Affiliated Engineers, we identified infrastructure pinch points and opportunities to address ineffective and inefficient systems in ways that improve performance and sustainability while engendering environmental stewardship. We developed a detailed, campus-wide hydrologic and hydraulic model for drainage and stormwater. Integrating GIS and the EPA SWMM model, it will act as "living model" that UVA can use to continually update their system and evaluate alternatives.
One infrastructure pinch point was the Lambeth Field Apartments, where stormwater runoff from the building's rooftops and hardscaped areas flowed directly to the storm drain system or into mulch beds, where it caused erosion. We were able to identify several opportunities for stormwater BMPs, which we provided to UVA along with projected pollutant treatment credits for each. We also performed a water budget analysis for a pond that receives runoff from the Health Systems area and School of Medicine campus. The analysis helped determine if flows to this facility could be used to supplement cooling water demands without impacting downstream resources. By initiating and implementing an integrated stormwater management plan, and with opportunities for riparian buffer plantings, stream restoration, pond retrofits, LID practices, and onsite wastewater treatment now identified, UVA is ensuring that as it grows, the efficiency and environmental sustainability of its campus utilities will increase.
A Win for the Rio Grande
For the past four years, we've been helping a committed group known as 
Communities for Clean Water
 ensure the implementation of an individual stormwater permit that was established for Los Alamos National Laboratory (LANL) in response to a Clean Water Act citizen's lawsuit they filed in 2006. The lawsuit stemmed from concerns about industrial stormwater flowing off of LANL's 40-square-mile campus and into the Rio Grande. The Rio Grande is not only a drinking water source for the cities of Santa Fe and Albuquerque, but an important habitat, recreational, and agricultural resource for New Mexico, Texas, and Mexico. While serving as technical experts to help the group navigate the permit implementation, we collectively reached the conclusion that LANL's stormwater problems were not limited to industrial runoff, and extended beyond LANL's boundaries to the urbanized areas of Los Alamos County. Recognizing that a new strategy was needed to improve overall water quality for everyone downstream, 
Communities for Clean Water
 petitioned the USEPA for the creation of an MS4 for the Los Alamos area. In response to the petition, which was the first of its kind, the U.S. EPA Region 6 (EPA) announced earlier this month its preliminary determination that storm water discharges from LANL and urban areas of Los Alamos County are contributing to exceedances in water quality standards and therefore require a Clean Water Act permit. This is encouraging news for all communities—human and otherwise–downstream of Los Alamos County. We look forward to reviewing the permit draft during the public comment period in the coming weeks.
Raising Hope for Urban Waterfronts in the Land of the Rising Sun
In January, Biohabitats senior engineer Pete Muñoz was part of a delegation sent to Japan by the Portland Development Commission to take part in the Mizbering project," an effort to re-envision Tokyo's riverfront. The trip included a tour of multiple waterfront redevelopment sites, a brainstorming charrette with Nikken Activity Design lab, and culminated with a sold-out "Portland Innovation Talks" event. The event, which was designed to inspire the Tokyo public about the potential of its waterfront to regenerate the city's economy, ecology, and vibrancy, featured inspiring thought leaders from Portland, Oregon, which is regarded as being at the forefront of urban waterfront revitalization. We're proud to say that Pete was one of them!
Lardner's Point Park wins Green Park Award
We were delighted to learn that Philadelphia's 
Lardner's Point Park
 is the recipient of the 2015 
Green Park Award
, an award presented by the Pennsylvania Departments of Conservation & Natural Resources and the Pennsylvania Recreation and Park Society. Our history with Lardner's Point, located on the Delaware River, dates back to 2003, when we began working with the Pennsylvania Environmental Council and later the Delaware River City Corporation to convert an abandoned commercial/industrial riverfront site into an ecologically rich and sustainable greenway park.
Today, Lardner's Point is part of a proposed trail and riparian corridor that spans more than 10 miles along the Delaware Riverfront in northeastern Philadelphia. If you find yourself in Philly on April 11th, come enjoy Lardner's Point Park and join us for the awards ceremony!
Lakota Nation Building at Key Wakpala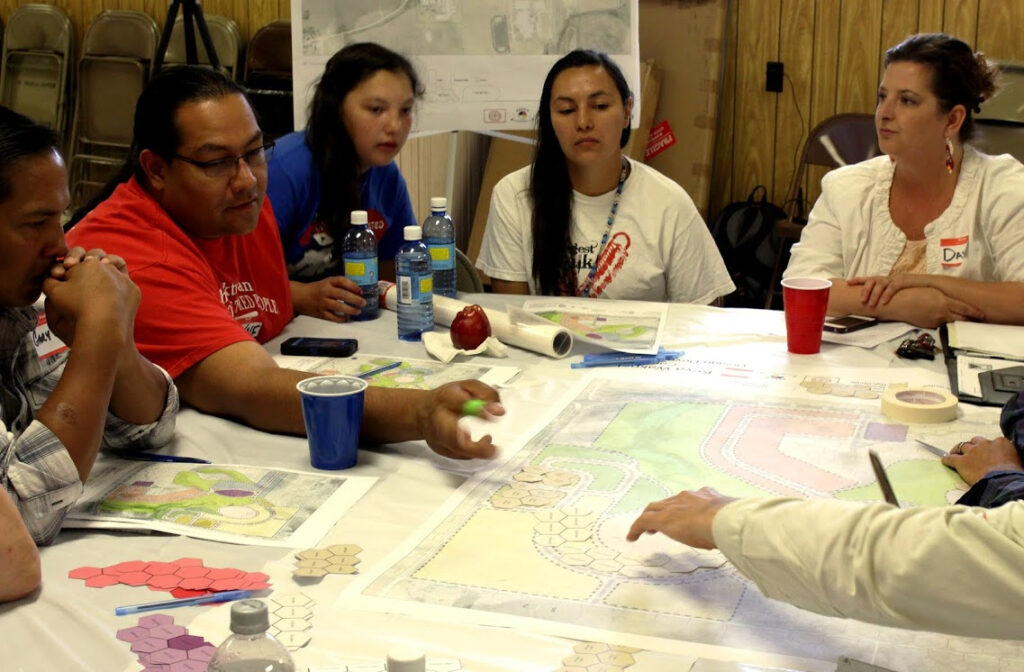 When the Rosebud Economic Development Corporation (REDCO) took charge of 590 acres of tribally controlled trust lands for development, they knew they had an opportunity to fill a great need for affordable, well-built, and sustainable housing within the Rosebud Indian Reservation, home to the Rosebud Sioux Tribe, a sovereign Native Nation. They also recognized the chance to integrate the community's deep history of connection to its landscape into the development.
As part of a team led by Blue Star Studio, Biohabitats is helping REDCO realize its vision for the mixed-use housing development of Keya Wakpala ("turtle creek" in the Lakota language). As lead engineer, we have worked with the Tribe to develop concepts for suitable–and sustainable–wastewater treatment and stormwater management approaches.
This January Key Wakpala became one of six public interest design projects to receive a 2015 Social Economic Environment Design (SEED) Award.
Antioch College to Create "Living Community" on Campus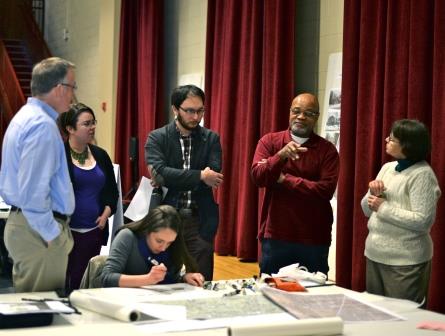 Founded in 1852 in Yellow Springs, OH, Antioch College was among the first nonsectarian educational institutions in the U.S., and one of the first co-educational colleges in the nation to offer the equal educational opportunities women and African Americans. It is not surprising, then, that the institution still embraces inclusiveness.
Evidence can be seen in the proposed Antioch College Village, a project to create and weave a 160-home residential neighborhood into the campus. Antioch Village is not only envisioned as a neighborhood that includes adults and families with and without affiliation with the College, but one that will become a certified "Living Community." The Living Communities Challenge, established by the Living Future Institute, introduces a new, higher level of standards for sustainable, equitable communities.
We are thrilled to be part of the design team for this project, especially when more than 200 members of the Antioch community show up on a snowy, frigid night to contribute input in the planning of the neighborhood! Many of those same members frequently visited the team's open studio design sessions as well. We look forward to helping Antioch College realize its vision for this unique neighborhood, and seeing the benefits it will yield—not only for the College and its community, but for the broader ecology.
Places
Penn Urban Ecology Roundtable
Last month, Keith Bowers was invited to participate in an urban ecology roundtable, hosted by Richard Weller, the Meyerson Chair of Urbanism and Landscape Architecture at the University of Pennsylvania. The Urban Ecology Roundtable brought together professionals and academics who share a commitment to the ecological improvement of urban environments.
The purpose of the roundtable was two-fold: to share current research and professional activities, and to discuss issues related to the advancement of research in relation to urban ecology. The Roundtable built upon the successful 2014 launch of a new Urban Ecology seminar at Penn and an affiliated design studio, both of which seek to apply urban ecological knowledge in innovative, productive and practical ways. Each participant gave a short presentation on their current urban ecology initiatives, with the following questions in mind:
What are the pressing topics in regard to urban ecology in the North American context?
What are the major gaps and most exciting research opportunities in the current theory and practice of urban ecology?
What is the current relationship between theory and practice professions, and organizations responsible for the built environment, in regards to urban ecology and how can it be improved?
How can we work together and in particular, what can Penn do to help build better research alliances to more actively progress emerging theories and practices of urban ecology?
Forging relationships, learning more about ongoing work in urban ecology issues, and exploring collaborative initiatives with like-minded firms and institutions greatly reinforced urban ecology as one of our core research areas.
Keith Bowers will be the keynote speaker at the Mid-Atlantic chapter of the Society for Ecological Restoration's annual conference in Newark, DE on March 27. His talk, "Looking Back to Move Forward–Celebrating Ecological Restoration," is sure to be inspiring. Biohabitats Hudson River Bioregion leader, Terry Doss, will be there as well. Don't miss it!