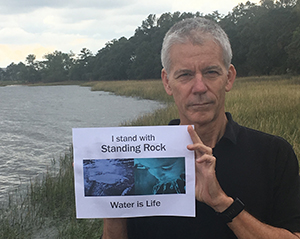 Biohabitats Continues to Stand with Standing Rock
Last month, we proudly and publicly stated our support for the Lakota, Dakota, and Nakota people of the Standing Rock Sioux Tribe in their opposition to the Dakota Access Pipeline, and in their prayerful and peaceful actions to protect their culture, heritage, and natural resources. While we applaud the U.S. Army Corps of Engineers' decision not to allow the Dakota Access pipeline to cross the Missouri River a mere half-mile from the Standing Rock Sioux Reservation, we continue to Stand with Standing Rock. We are firmly committed to the creation of a camp of Earth Lodges that will include gathering spaces, traditional native lodging, and kitchen and rest room facilities on the reservation. This 54-acre "spirit camp," as it is described by Cody Two Bears, Cannon Ball Councilman of the Standing Rock Sioux Tribe, will stand not only as a testament to the historical gathering of tribes that occurred at Standing Rock this year, but as a permanent facility dedicated to sustainability and to the reinvigoration of the genetic memory of the indigenous.
Biohabitats is honored and proud to be contributing planning and design services related to stormwater, greywater, and wastewater management. Last month, senior engineer Erin English traveled to Standing Rock and the Oceti Ŝakowiŋ camp, where she had the honor of working alongside Tribal leaders, The Indigenous Environmental Network, and other collaborators in the planning of the new camp. Construction will take place in the spring, when there is no longer a threat of sub-zero weather conditions. We look forward to returning to the site to participate in the installation of this most significant camp and gathering place.
Working with Tribal leaders, Blue Star Integrative Studio, and the Indigenous Environmental Network on the winter camp design
Oceti Sakowin Camp
Biohabitats is just one of many organizations that, along with thousands of people, contributed funds, services, and products toward the creation of the new camp. The Standing Rock Sioux Tribe is dedicating a great deal of its own financial resources and staff to assist with site development. Tribes from all over the U.S. are donating materials and labor. The Indigenous Environmental Network is providing project coordination. Blue Star Integrative Studio is contributing architectural services, Solar City is donating solar power, and the Give Love organization is donating composting toilets. Despite the swell of support, there are still needs. To learn how you can support the creation of this special and sacred place, please take a moment to watch this video.
Biohabitats is just one of many organizations that, along with thousands of people, contributed funds, services, and products toward the creation of the new camp. The Standing Rock Sioux Tribe is dedicating a great deal of its own financial resources and staff to assist with site development. Tribes from all over the U.S. are donating materials and labor. The Indigenous Environmental Network is providing project coordination. Blue Star Integrative Studio is contributing architectural services, Solar City is donating solar power, and the Give Love organization is donating composting toilets. Despite the swell of support, there are still needs. To learn how you can support the creation of this special and sacred place, please take a moment to watch this video.
Baltimore's Green Network
The landscape of Baltimore, Maryland is defined by many things: its famous harbor and the stream corridors that lead to it, its unique and diverse neighborhoods, its iconic industrial and historic structures, and for the time being, thousands of abandoned buildings and vacant lots. Rather than viewing vacant property as "blight," however, the City of Baltimore sees it as a unique opportunity to connect, revitalize, and enhance the sustainability of its communities. For the past few months, we have had the honor of working with the City of Baltimore Department of Planning to begin creating the Baltimore Green Network Plan, a comprehensive, interconnected system of functional green spaces across the city.
Floura Teeter's Zolna Russell & Biohabitats' Jennifer Missett collaborate during a charrette
To help the City in its effort to protect, create, connect, and improve access to green spaces for all community members, we began where we scientists often do: data analysis. After examining what the data told us about the opportunities and needs for green space and community access, we joined the City in seeking input from real people. During public meetings, through productive and honest dialogue and hands-on mapping exercises, community members told us how they really felt. They shared not only their concerns and frustrations over previous planning initiatives, but also their neighborhoods' successes stories and genuine hopes for the Green Network Plan.
Throughout the process, we've sought the input of an advisory team and a leadership team comprised of representatives from community and non-profit organizations, partnering institutions, and state and federal agencies. We're now in the process of incorporating public input into the data to create the final vision for a city-wide Green Network. It will celebrate the city's historic stream corridors, connect open space via safe and increasingly green corridors, promote healthy and safe access to open space for all city residents, provide new opportunities for economic revitalization and stabilization, and increase ecological function of the unique natural resources that define the City of Baltimore.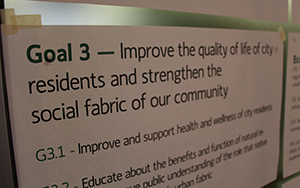 Former Golf Course Transforming into Urban Eco-Park
In 2012, when Cleveland Metroparks acquired the 155-acre former Acacia golf course in Lyndhurst, Ohio, they recognized its potential to enhance local ecology and become a new gem in the region's "Emerald Necklace" of green space. They envisioned the new "Acacia Reservation" as a model urban ecological preserve that would provide wildlife habitat, stormwater treatment and filtration, and unique opportunities for people to enjoy and appreciate the plants and wildlife native to northern Ohio. After working with Metroparks to craft an ecological restoration master plan to guide this transformation, we were selected to initiate a design-build project to begin advancing the ecological restoration goals.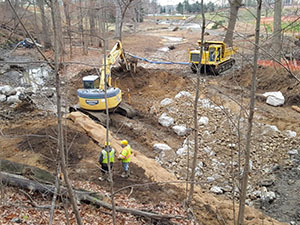 When the 100-year-old golf course was initially built, the landscape was rural. But decades of urbanization and its associated stormwater flows had caused Euclid Creek, which flowed through the golf course, to become eroded, incised, and disconnected from its floodplains. Stormwater had also degraded the creek's headwater streams and associated wetlands. Much of the former golf course's landscape was underlain with drainage tile to eliminate ponding.  As a result, Euclid Creek had become a direct expressway for stormwater to flow into Lake Erie. To restore ecological function and habitat to this prominent feature in the Reservation while also enhancing stormwater retention and treatment, we worked with Metroparks to restore a 1,000-foot reach of Euclid Creek. Earthwork for this project is just wrapping up.  Over the winter and into the spring we will be restoring swales and reestablishing natural flow paths by removing drainage tile and creating small pools to promote surface ponding and the creation of wetland habitat. We are also in the design phase of another restoration project in the Reservation on a tributary to Euclid Creek. This restoration project involves daylighting a 150-foot reach of stream and relocating another reach away from an eroding hillslope. These projects will enhance stormwater management while fostering the regeneration of riparian areas and the development of a new layer of urban ecology. Planting on Euclid Creek, restored swales, and the daylighting project will take place in the spring. Until then, stay tuned!
Green Infrastructure Gaining Ground in Greater KC
Like many metropolitan areas, the Greater Kansas City region, which contains the confluence of the Kansas and Missouri Rivers, experienced significant sprawl in recent decades. Along with the sprawl has come flooding, pollution, and other environmental degradation. To help address some of these issues, the Mid-America Regional Council, a nonprofit planning organization which serves the bistate region's nine Counties and 119 cities, intends to craft a complete green infrastructure plan for the region. The plan will build upon and link the region's many existing initiatives related to climate resilience, air and water quality, and urban ecology. In partnership with BNIM and the non-profit organization BikeWalkKC, we're helping MARC with initial tasks necessary to begin developing the plan. After collecting data, conducting a systems inventory, and analyzing overlays such as income and brownfields, we facilitated productive dialogues with stakeholders representing the region's broad range of geographic areas, socioeconomic backgrounds, and perspectives. We also identified the nation's most promising and relevant green infrastructure strategies related to natural systems.  Our team is currently developing goals and strategies while drafting the framework and prototype atlas that will establish a planned and managed network of natural and semi-natural systems to support the people and ecology of Greater Kansas City. We'll keep you posted on our progress!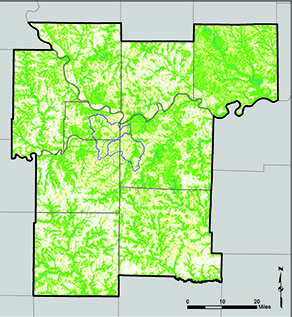 Base map to guide network of Green Infrastructure projects based on high value resource area & pressures or needs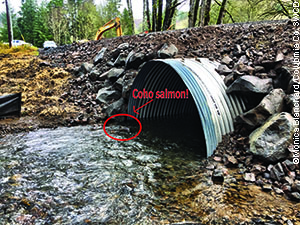 People and Salmonids Benefit from Post-Flood Restoration
The restoration of fish passage in a tributary to northwest Oregon's Clatskanie River, which flows into the Columbia River, is proof that every cloud has a silver lining. In December 2015, western Oregon was hit with severe storms that caused damaging floods. When the Columbia County Soil and Water Conservation District acquired FEMA Emergency Watershed Protection funds to help landowners recover from flood damages, they initiated a project that not only benefitted landowners, but enhanced the local ecology. The Clatskanie River is host to abundant Threatened and Endangered salmonids, including coho salmon and steelhead. Keystone Creek, which sits in the lower third of the Clatskanie's watershed, provides spawning and rearing habitat within its lower reaches. In addition to damaging a small culvert on a private landowner's property, the 2015 flooding caused severe bank and channel erosion within Keystone Creek. The District then crafted a design to provide passage to all aquatic species during all stream discharge stages. After obtaining an in-water work extension from the Oregon Department of Fish and Wildlife to replace the existing culvert with a fish-passable simulated streambed culvert capable of handling flood flows, we implemented the restoration last month. The project involved temporary utility relocations, site dewatering, diversion, fish rescue, native seed and willow revegetation, road reconstruction, and the restoration of Keystone Creek above the culvert to its pre-flood alignment and condition. Immediately following the re-watering of the simulated culvert, our crews observed several adult coho salmon travelling upstream through the culvert toward their spawning areas on Keystone Creek.
PLACES
Senior ecologist Ed Morgereth will be in Cape May, NJ January 22-25 for the Delaware Estuary Science and Environmental Summit. Ed and other scientists, managers, and educators will focus on developing practical solutions to the challenges facing the tidal Delaware River and Bay.
The Gulf of Mexico Oil Spill and Ecosystem Science Conference will take place in New Orleans, LA  February 6-9. Ed Morgereth will present Lardner's Point Park, Ecological Restoration of a Living Shoreline – An Athos Oil Spill Trust Fund Supported Project."
Matt Koozer, Ellen McClure, Crystal Grinnell, and Michael Moore from our Cascadia Bioregion office will join other regional river restoration professional at the River Restoration Northwest Symposium in Stevenson, WA from February 7-10.
Environmental Scientist Suzanne Hoehne will head to La Crosse, Wisconsin February 26-March 1 for the Upper Midwest Stream Restoration Symposium, where she will present a talk on "Restoring Ecological Function to Headwater Streams."
March 7-9, Ft. Collins, CO, Susan Sherrod will attend the 2017 gathering of the Central Rockies Chapter of the Society for Ecological Restoration, which will include the High Altitude Revegetation Workshop.
Watershed Congress along the Schuylkill River will take place on March 11. If you plan to be there, don't miss Brett Long's presentation on the Wissahickon Creek Stream Restoration project.
March 12-14, Michael Spina will attend the annual meeting of the New Jersey Chapter of the American Society of Landscape Architects.
Senior ecologist Kevin Nunnery will attend the annual gathering of the Water Resources Research Institute in Raleigh, NC March 15-16. The 2017 conference will bring an international perspective through the Nile Project that will relate to problem solving and collaboration here in our state.
On March 16th, senior engineer Pete Muñoz will participate in Go Green Seattle, a regional sustainability learning experience for business and government decision makers.
Biohabitats president Keith Bowers will speak at the 2017 LA Bash, which will take place at the University of Maryland on March 23-25. This year's conference, which is planned by students for landscape architecture students and professionals in North America, is designed to provoke ideas about the role of art, urbanism, and time in the field of landscape architecture.
EOPLE
Aiman Duckworth, Landscape Architect & Urban Ecologist
As a child, Aiman Duckworth was fascinated with two things: the dream of becoming an astronaut, and an indigenous ancestry which connected him to the Quechua people of the Andes. Perhaps it is no surprise that Aiman's favorite ecosystem is the one in which the high mountains and the rainforest converge: the cloud forest. It was in later travels in those ecosystems in Costa Rica and Peru that Aiman learned that the line separating culture and landscape is as nebulous as a cloud forest's enveloping fog.
Aiman, with Machu Picchu and cloud forest in the background
This interest in the interconnectedness of people and the environment ultimately compelled Aiman to pursue a career involving both landscape architecture and urban ecology. Aiman earned an undergraduate degree in Landscape Architecture from the University of Maryland, and then went on to earn a Master's degree in Environmental Management with a concentration in Urban Ecology from the Yale School of Forestry and Environmental Studies. Aiman's association with Biohabitats actually began several years ago, when he worked as an intern with us while completing his undergraduate degree.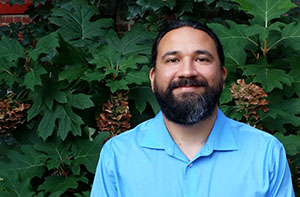 After spending 12 years as a project manager in the private sector, focusing on urban design and site sustainability initiatives, Aiman found himself drawn back to Biohabitats' ethics and true integration of his disciplines.
"At the end of every day," he says, "I think that we're making a real difference in the health of communities and habitats that are inclusive of humans and our built environments, and I am very happy to be a part of that."
We're pretty happy about that, too. In fact, we're on cloud nine.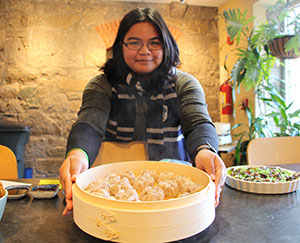 Zen also makes fantastic pork siomai. See "Fungi Feast" for details.
Zenali Martin, CADD Technician
Some people simply ooze creativity and positivity. Biohabitats' newest CADD Technician, and perhaps the most aptly-middle-named person on the planet, Zenali Joy Martin, is one of them. Zen not only brings a fresh perspective to Biohabitats' design process and work, she does so with unbridled enthusiasm, even when working on the most laborious of tasks. Whether she is setting up sheet sets, editing details, or generating cut/fill volumes, she approaches her work with a can-do attitude, a sense of humor, and an energy level unmatched by anyone over the age of two. In fact, Zen is as likely to break out into a vaudeville song and dance number as she is to expertly and enthusiastically geo-reference an aerial image.
Zen's creativity and joie-de-vivre is not limited to her work. Originally from the Philippines, she spent much of her teen and young adult years immersed in the art of "cosplay," a practice involving dressing up and performing as a fictional character from film, video, or literature. Always one to embrace a challenge, Zen preferred to take on the male roles (she's the guy with the blonde hair in this photo). After studying Architecture at the University of San Carlos in the Philippines, Zen moved to the U.S. to pursue an Associate's Degree in Computer Aided Design in Architecture & Engineering at the Community College of Baltimore County, where she was named CAD Student of the Year in 2015-16. While working towards that degree, she visited Biohabitats' table at her college's job fair and was impressed with both the variety and creativity of the firm's projects. "When I got the news that Biohabitats was hiring a CAD Technician, I immediately sent my resume," she said. "Lo and behold, here I am!" Indeed, Zen is living proof that it pays to attend your college job fair. We know it has for us!
Adam Feuerstein Promoted to Operations Team Leader
Adam Feuerstein, CPA who joined Biohabitats in February 2015 as Chief Financial Officer, has been promoted to Operations Team Leader. In his new post, he will shift his focus from day to day accounting to serve an even greater role in leading the company, shaping a strategic vision consistent with our Values Blueprints and working closely with all team members to ensure a successful future for Biohabitats.
Adam Feuerstein
"Adam fully embodies our core values, believes whole-heartedly in our mission and has the leadership skills necessary to lead the operations of Biohabitats far into the future," said Biohabitats president, Keith Bowers.
Adam has more than two decades of professional experience in all areas of accounting and human resources. In his time as CFO, he has not only streamlined many of our systems and processes, but he has managed to do so while keeping a consistently full candy dish! Kudos Adam!