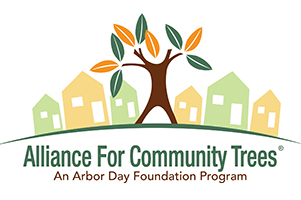 Established in 1993 and recently folded into the programming of the Arbor Day Foundation, ACT provides community forestry organizations with access to educational, technical, and outreach resources, as well as funding sources and networking opportunities. As a member of the Sustainable Urban Forest Coalition, ACT also offers its members access to policy information.
By forming partnerships with businesses, schools, government agencies, and other non-profit organizations, ACT members are increasing canopy and improving neighborhoods. In 2016 alone, tens of thousands of ACT member volunteers helped make their communities greener and healthier by planting and caring for trees.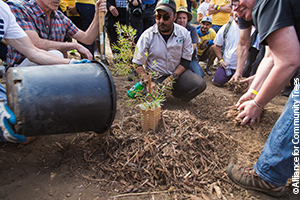 How can you support your local ACT member? "Offer your skillset to continue to educate an organization's staff, members, and volunteers," suggested Karcher. "Most of our member organizations would open their arms and really appreciate that support." The San Francisco Bay nonprofit Canopy, for example, uses an extensive network of professionals to help them do tree walks and explore projects in the city to help residents understand the importance of urban forestry.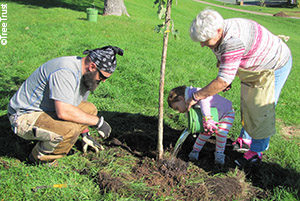 As is common with nonprofits, funding is the number one challenge shared by ACT members, according to Dana Karcher, ACT Program Manager. Karcher views other shared challenges, such as exotic pests, as opportunities to do urban forestry in a way that is more scientifically beneficial to communities. "We're in the position we're in with emerald ash borer because we overplanted ash trees," she said. "Now we have an opportunity to work with organizations to make better decisions that include citizen input and proper arboriculture and urban forestry tools."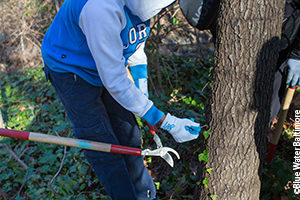 Help can go both ways, as ACT members can aid practitioners working on projects that involve trees in urban neighborhoods. "Nobody has the pulse of the community like the people on the ground," said Karcher. "Our member organizations can really help you know where the landmines are, and where your supporters are."
With members in almost every state, ACT is helping to ensure that America's urban forests have a support network that extends well beyond municipal agencies.
"Nonprofits are very nimble," said Dana Karcher, ACT Program Manager. "They can raise money, move quickly, and make a difference right away."
This efficiency and effectiveness are demonstrated in the work of the four ACT members we highlight below: Up With Trees, Tree Trust, ReLeaf Utah, the Savannah Tree Foundation.

Since becoming established in 1976, they have planted more than 30,000 trees at schools, parks, neighborhoods, and private properties.  Every year, through their outreach programs, they educate more than 2,400 children and adults about the benefits of urban trees. In 2015, they did something rather monumental for Tulsa's trees: they clarified a vision for the urban forest, and crafted a master plan to bring it to life.
"Winds really do come sweeping down the plain here," said Steve Grantham, Executive Director of Up With Trees, an organization with a dual mission to increase urban forestry awareness and beautify greater Tulsa, OK by planting trees. According to Grantham, high winds, ice storms, drought, and other weather extremes are a constant threat to Tulsa's trees. Thankfully, Up With Trees is helping to protect and enhance Tulsa's urban tree canopy, today and into the future.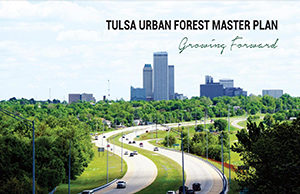 "Tulsa is nicknamed 'Green Country' for a reason" said Grantham. "People love the trees in Tulsa, and they want more of them. But with stagnant and declining budgets, we needed to figure out how to deliver more with the same or fewer dollars."
Having previously served as the organization's Operations Director, where he worked closely with many different groups and government agencies, Grantham was in a unique position to begin answering that question.
Tulsa Urban Forest Master Plan Advisory Council meeting
Seeing tree canopy data from the plan helped the local school district better understand the social, educational, and energy conservation benefits they could reap from an investment in trees. This more informed cost/benefit analysis enabled them to analyze and budget for tree canopy enhancement on individual school properties.
"I saw the overlap and inefficiencies," he said, "but I also saw the possibilities." This prompted him to partner with the City of Tulsa, other urban forest management agencies, and many stakeholders. Together, with an eye toward increased efficiency and long-term effectiveness, they began crafting the Tulsa Urban Forest Master Plan. Revealed in December 2016, the plan is already having an impact.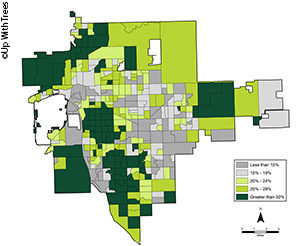 Tulsa's Tree Canopy spread
The emerald ash borer (Agrilus planipennis) EAB has made its way to Oklahoma, and it is now only 70 miles from Tulsa. According to Grantham, the master plan has helped the City to project the impact of the EAB and prepare for its arrival. "We now know we have 5.8 million trees in the city of Tulsa, and four percent of them are ash," he said. "That data helps inform our elected officials." A recently established EAB work group is currently finalizing a plan that will be rolled out this spring. The plan also helped Up With Trees target future efforts toward Tulsa's food deserts and areas with poor air quality, high rates of health problems, and high temperatures.
For Grantham, the rewards of his work often come on Saturday afternoons, during the final moments of one of Up With Trees' many community planting events. "We walk away and everything is mulched, staked, and wired, and it immediately looks better," he said. "But I can also imagine the next 5, 10, 25 years and what a better place our community will be because we did the work that day."
Indeed, with a master plan in hand, and a committed organization like Up With Trees, Tulsa's forested future looks bright.

In the 1970s, the Twin Cities of Minneapolis and St. Paul, MN experienced record high unemployment and poverty rates. During that same time, Minnesota suffered widespread loss of elm trees to Dutch elm disease. The Twin Cities alone lost over 192,000 elm trees in a single year. In 1976, Tree Trust was formed to address both forms of devastation, and its work continues today.
With a mission to "improve the community environment while investing in people," Tree Trust runs programs throughout the Twin Cities area and parts of greater Minnesota that aim not only to improve landscapes, but lives. Through community forestry and environmental education, Tree Trust teaches practical job skills and provides case management services to youth and adults who have barriers to employment or education. With a primary focus on underserved populations and distressed communities, Tree Trust is enhancing much more than tree canopy in the Twin Cities.
While the organization's initiatives generally fall into one of two categories, community forestry or employment training, there is a significant amount of program overlap. Many of their "JobPrep" programs, for example, offer youth and adults the opportunity to earn wages and build job skills by planting and caring for trees and improving community parks.
"Urban forestry is most successful when those who will be benefitting from urban trees have a hand in implementation," said Tree Trust's Director of Community Forestry, Karen Zumach. She points to the organization's Learning with Trees program as an initiative that best exemplifies the intersection of urban forestry and community development. With this program, Tree Trust establishes a year-long partnership with an elementary school. The school forms its own 'Green Team' comprised of faculty, parents, community members, and in some cases, students. Working alongside Tree Trust experts, and with the school's environmental objectives in mind, they plan, design, and create their own living, outdoor classroom.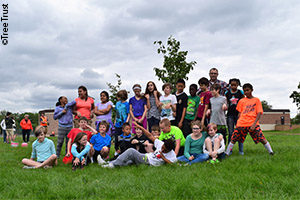 Return visits to see how large the trees have grown or how well-used and well-maintained the site is help Tree Trust staff assess the effectiveness of the program. According to Zumach, there are also less tangible metrics, such as the feedback of "a kindergartener who tells you that trees are great because they give us shade and clean our water and make oxygen."
"Those kids will always remember the day they planted a tree at their school," she said, "and hopefully, that means they'll think about trees differently into the future."
Getting people to think about trees differently is one of Tree Trusts greatest challenges, said Zumach. "They are more than the sum of their leaves and branches, they are an integral part of our communities."
As Tree Trust continues the work it began in 1976, trees are indeed becoming more integral to life in the Twin Cities.
ReLeaf Utah, previously known as Wasatch Back Trees, works to plant, protect, and preserve trees through outreach, advocacy, and action. Though all of the organization's programs aim to educate people about the benefits of trees, they deliver benefits to participants, volunteers, and the broader community that are beyond important knowledge.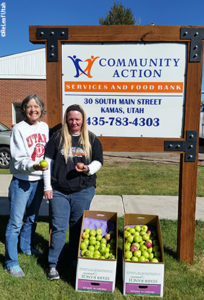 For PTSD-stricken veterans and public safety workers, one of these benefits is the healing that comes from engaging in the nurturing, life-giving activity of planting and caring for trees in the organization's "Hope for Heroes" program. For patrons of local food pantries, it's the crates of donated, fresh, high-quality, organic fruit from ReLeaf Utah's "Fruit Nuts" program, which teaches people how to prune, provide organic integrated pest management for, and harvest fruit trees. For working prison inmates in Summit County, it's the mastery of green job skills. For underserved communities in Utah's West Valley City, South Salt Lake and Salt Lake City, it's the neighborhood connection and pride that comes with planting and caring for trees near their homes.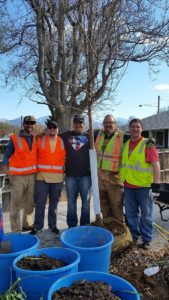 Veteran's Day Planting
"Collaboration has been the foundation of our success," said Jason Barto, the organization's Executive Director. Partnerships with utility companies, ski resorts, schools, government agencies, businesses and other non-profits have resulted in the care, adoption, and planting of thousands of trees.
Getting more trees in the ground is one thing; keeping them there is another. In addition to training communities in forestry management, ReLeaf Utah takes great care to select the best trees for the region's climate and soil conditions. They also require pressurized drip irrigation and monitoring with moisture meters for every project, and they pay special attention to providing adequate volumes of good quality soil.
Clearly, ReLeaf Utah enhances the growth of more than just trees. According to Barto, the act of joining together to plant and care for trees can "bring together dissimilar communities and demonstrate that we all share common goals."
Savannah Tree Foundation
Savannah, GA is known for its lovely trees. Palmettos (Sabal palmetto), magnolias (Magnolia grandiflora), and majestic live oaks (Quercus virginiana) adorn streets, parks, and public areas throughout the city. But in 2016, Savannah's trees took quite a blow from a tropical storm and Hurricane Matthew.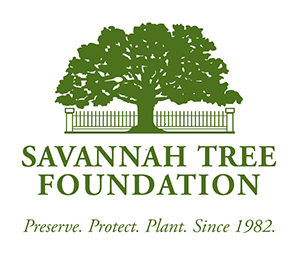 Fortunately, the Savannah Tree Foundation is working with local municipalities and private property owners to offer guidance on replanting and maintaining trees in areas where trees were felled by the 2016 storms.
"There are still plenty of tree trunks needing to be removed and stumps ground to create new planting areas," said Karen Jenkins, the organization's Executive Director. "Replanting will continue for years."
The Savannah Tree Foundation, its partners, and volunteers are committed to the city's existing and future trees. In addition to offering guidance and organizing volunteer tree plantings, the organization delivers educational presentations and programming to help ensure that residents continue to understand the value and benefits of trees beyond their beauty. They also contribute to projects that foster the enjoyment of urban trees, such as developing trails in forested parks.
"Volunteers come out to our events because they love the trees in our community," said. "Plus, planting trees is very fun and very satisfying."
Savannah Tree Foundation also advocates for the city's trees and neighborhoods. Evidence of their success in this arena can be seen in a single live oak tree: the Candler Oak. In 1984, the organization successfully secured a conservation easement for the tree. Estimated to be over 300 years old, the Candler Oak still stands on the property of the Savannah Law School, where it is admired by thousands of visitors daily.