Restor was an Earthshot Prize finalist in 2021. The Earthshot Prize website describes Restor as being "…like a Google Maps for nature." How do you describe Restor?
Before diving into the "what" of Restor, it helps to take a step back and talk about the end vision for Restor, which is really to connect all the people and organizations around the world who are working to protect and restore nature. That's our north star. We believe that by raising awareness of, and providing data and information about, how our actions and decisions impact nature, we can be empowered to change our behavior and do things that restore nature for the good of our families, health, economies, and planet. Our vision is for a world where every action positively impacts nature.
We believe we can do that by connecting all of the people and organizations around the world who are stewards of nature. That includes restoration and conservation practitioners, but also the people and organizations who may fund that work or supply goods and services into that sector, as well as any person or organization responsible for managing land: private landowners, food and agricultural companies, and governments. We want to connect those people to scientific data, and to the knowledge, resources, and sustainable markets they need in order to accelerate their impact. That's a big piece of Restor: connecting.
The second piece is about bringing much more visibility and transparency to nature efforts so that we can really see scale and impact. Satellite imagery allows us to literally see with our own eyes, where in the world restoration is taking place, and the changes to the landscape. Transparency drives trust, and where there's trust, we believe resources and support will flow into those projects.
Restore uses geospatial technology to map all of the places on Earth where land is being managed and, critically, technology to enable nature stewards to connect to the resources they need to make that happen sustainably. Practitioners and project implementers, funders, farmers, local communities, tree nurseries, seed banks… we are bringing all of those individual notes together in a network and connecting them so that we can ultimately achieve more.
Our vision is for a world where every action positively impacts nature.
Does Restor help people identify the best opportunities for restoration in a given area? Connect them with possible funding sources? Help them monitor the progress of restoration efforts?
Restor adds value in different ways for the different kinds of stakeholders. There are three ways in which Restor can support the efforts of practitioners. One is all around visibility, transparency, and reputation. Restor is an open platform. Anybody can join it for free and add a project and an organization profile. All profiles have equal space on the platform. Whether you're with a tiny, community-led initiative or a big, international NGO, you get equal visibility. That is a first step to becoming visible in a global restoration network. And Restor offers you a story-telling tool to share your work with your stakeholders.
The second big area of benefits has to do with collaborating and connecting. The platform allows you to invite other members of your project team—or even your entire organization—and everybody can work together and access the same data about a project. You can also see where other organizations are working on similar projects or where organizations may be working in the same geographic region, and once you know that you can reach out and connect, share knowledge, and maybe even exchange some hard-earned lessons. And sharing your work on Restor means you are featured in the Restor directory, which is used by nature funders and investors to identify nature projects of interest to them.
A third way in which Restor helps, very pragmatically, is with tracking project progress and reporting to stakeholders. With Restor, you can get a very rapid, and easily accessible, assessment of what's happening with your project on the ground. You can share it with funders, the local communities you're working with, and internal stakeholders like a communications team. The science and tools on the platform, like access to high resolution satellite imagery and ecological data layers, also provide independent evidence of the action and the impact of what's happening on the ground. Those tools enable much more visibility and transparency for your efforts.
What can Restor practitioners learn in terms of the progress of their project that they couldn't learn otherwise? Can you share a little more about what some of those variables might be.
There are more than 30 global datasets that we host on the platform. We host satellite imagery, ESRI Wayback high resolution satellite imagery, and Planet Labs NICFI satellite imagery for tropical areas. So depending on where the project is located, Restor users have access to at least one type of satellite imagery, if not both. Just that satellite imagery, to begin with, provides good visual evidence of what's happening on the ground. You can look back and see what happened, say, 10 years ago. What did the site look like then? What does it look like today? That satellite imagery is something that the community tells us is very important and useful to them.
Then we have other datasets which we roughly group into biodiversity datasets, carbon datasets, water datasets, general environmental factors, and land cover datasets. You can come to the Restor platform and map out the area of land that you are working on, or planning to work on, and get a very rapid assessment of, say, the carbon potential of that site. Or you can get the species distribution for the area you're working on. Or you can get an estimate for the tree cover potential. Tools on the Restor platform can help you with decision-making, planning, and communicating and storytelling.
How large is the Restor network, and who are the people in it? What disciplines do they represent and where are they geographically? How is the network growing?
We currently have 15,000 members in the user community, and it is growing from month to month. We have members from more than 140 different countries.
The platform is translated into seven different languages. Around 1,500 diverse organizations have joined Restor, ranging from farmers and individual landowners, communities, local NGOs to local municipalities, governments, businesses, and big international NGOs like WWF. The government of Costa Rica, for example, is hosting its Payment for Ecosystem Services (PES) program on Restor. The community is diverse, but the largest proportion are the practitioners, the project implementers.
How do we reach those members of the community? It's a three-pronged approach. We have a wonderful team of local leads who are based around the world in key areas like in Indonesia, India, Africa, Europe, and Latin America whose key role is to reach out to local networks and groups and tell them about Restor, show them the platform, and support them with onboarding.
The second way is through partnerships. For example, we are a partner of the UN Decade on Ecosystem Restoration. And through that partnership, we are linked into the 250 plus partner organizations that are part of that ambitious initiative. Through that, we also grow the network and reach other organizations as well. Of course, finally, we use media, social media, and marketing campaigns to spread the word and reach folks we think can get value from the platform.
The platform is for conservation and ecological restoration practitioners, but it's much more than that. It's an open platform for anyone who is interested or engaged in managing land sustainably. Barriers to entry are deliberately low. There are no size limits in terms of hectares, for example. You can be an individual user or part of an organization. It can be any habitat. We are largely a terrestrial platform, but still, we have marine and coastal projects on the platform simply because the practitioners enjoy the visibility and connectivity benefits of Restor. There are no geographical limits.
A key part of our future focus is to diversify the Restor community and bring all nature stewards together to learn from one another. We want to make sure that Restor gets into the hands of community led projects that would otherwise never have the resources to access this kind of science and high resolution satellite imagery. But we also want to multiply our impact and engage organizations that have significant nature footprints, like governments and the food and ag sector to be transparent.
Can you share Restor's origin story, and the lessons learned from it?
Restor has come out of research at the Crowther Lab at ETH Zurich University, which is led by Professor Tom Crowther. It originated in 2019 when the Crowther Lab released a research paper that is commonly known now as "the tree restoration paper." The paper estimated the potential for tree restoration on Earth. It estimated that there was potential for one trillion trees. As you probably know now, that led to a surge of interest in the power of nature to combat climate change and a number of high profile initiatives, like the Trillion Tree Campaign and the World Economic Forum's 1t.org.
The research lab was inundated with requests from all around the world, from people who were managing land and asking, "What can I do? What species should I be planting? What kind of strategies can I use? Where can I get access to the information that I need to help me plan and prepare this work?" That was really where Restor began—with a desire to support all of these grassroots initiatives around the world by, firstly making their incredible and important work visible, and, secondly, give them easy and quick access to data and the connections they needed to help them get started. Google.org, the philanthropic arm of Google, then offered to help build the first version of Restor. That's where the first version of the platform came from. And then we've just been continuously refining and iterating on that since then.
In terms of lessons learned, I would say we are constantly learning lessons. Wonderfully, we have this growing community of users who tell us when something's missing or when something isn't working as well as they'd like it to. We are always asking for feedback. It is a continual learning process. We are still building the platform, still iterating and improving all of the time.
Can you share an example of how a restoration outcome might be improved through Restor?
There's an organization, Instituto Quintal, based in Brazil that is working to improve children's lives and education through conservation, restoration, and environmental education activities. It has used Restor to communicate their work to landowners and donors and secure support that allows them to scale up their projects. In talking to stakeholders and making the case for restoration or protection, they use the Restor platform to tell the story. They can show them satellite imagery. They can show them carbon potential. They can give them information about what kind of threatened or native species they might be interested in planting. They tell us that Restor really helps them by lending much more credibility to the story they're trying to tell because it's based on scientific evidence.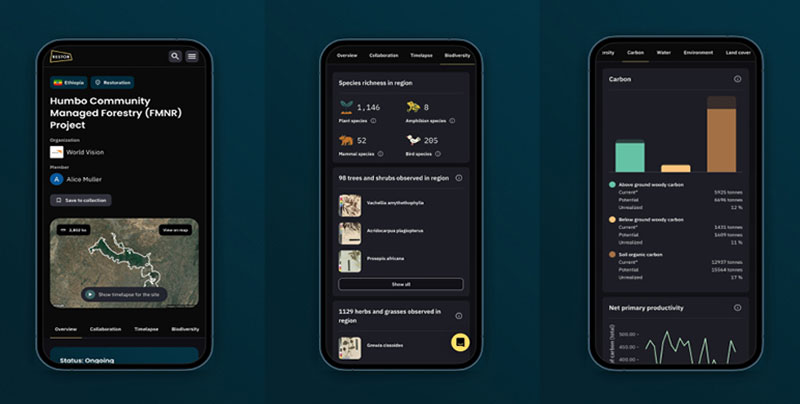 Just recently, I heard from one of our user organizations in Indonesia, an organization called KKI WARSI. They use Restor as a ready-made tool for communicating with their stakeholders and the media. They have an organizational profile on Restor. They upload the boundaries of the areas of land that they're working on, and that helps them to get baselines. Then, they go back and see what the land cover was when they started working on the site, let's say, 10 years versus what it looks like today. All of this is readily and rapidly accessible on Restor, and they use it to help tell the story of their work. Before Restor, they were doing all of that work manually: buying satellite imagery each year and manually mapping out the differences from year to year. Now they have Restor.
You mentioned the UN Decade on Ecosystem Restoration and your connection to the network there. Can you tell us more about this? How is Restor helping to scale things up globally?
We are involved on a number of different levels. Tom Crowther, the founder of Restor, is Co-Chair of the Advisory Board to the UN Decade on Ecosystem Restoration. The UN Decade has a profile on Restor, and we're working with them to onboard all of the partners that are part of that initiative so that the UN Decade can showcase and display its network on the Restor platform. Taking that a step further, some of the new technology we're developing on the platform will support the UN Decade impact analysis. Bringing all of the organizations and their project data together, and hosting that on Restor means that there will be, in one single place, an aggregated analysis of the impact of that initiative. We are also leading one of the UN Decades' Action Plan Challenges, which is focused on bringing together the UN Decade community in one place to really showcase the ecological impact of everything that those organizations are working on.
We are also linked with the UN FAO's FERM platform, [the official monitoring platform for tracking global progress and disseminating good practices for the UN Decade on Ecosystem Restoration. It also supports countries in reporting areas under restoration for the Kunming-Montreal Global Biodiversity Framework Target 2], supporting the UN Decade partners around data collection and monitoring of the efforts on the ground. There are a lot of different global initiatives that we're open to connect into. The challenge is always the interoperability of platforms, but where there is a will there is a way, and we're doing our best to try and find ways to make that happen.
You've talked a lot about the visibility benefit of the platform, and you have said of Restor, "We shine a light on what would otherwise go largely unseen." Can you share an example of an effort you're pretty sure would have gone unseen had it not been for Restor?
There are so many. There is actually a whole set of such stories, which we call "Restories," on the Restor website. One wonderful example is Desta's Coffee Jungle Farm in Ethiopia.
Because of the changing climate conditions in Ethiopia, and decades of intensive farming practices, it is becoming increasingly difficult to grow coffee there, and the whole coffee-growing community is coming under a lot of pressure. Desta's Coffee is working with the forest and growing their coffee [in a permaculture] underneath the shade of the trees. And business is thriving. Desta's Coffee uses the Restor platform to tell the story about how and why it's working, and that is having a ripple effect. Coffee farmers in the local community are now adopting similar practices to Desta's Coffee, working in sync with nature and maintaining an economically viable business.
Stories like Desta's are critical, stories of people and organizations that work with nature and still build sustainable livelihoods. One of our key beliefs is that [restoration projects] must be community-led.  This has nothing to do with the scale of the project, but rather the level of buy-in and support from the local communities. If a project doesn't offer long-term sustainable livelihood opportunities for local communities, then it's not going to be a sustainable option for nature. A key priority for Restor is shining a spotlight on great examples of where that happens and helping people understand that there is a more nature positive choice that you can make while still earning a livelihood.
The economic and social benefits of ecological restoration can be very difficult to quantify, let alone communicate, and they're probably very under appreciated. Does Restor also share data related to the potential for not just environmental, but social benefit?
That is a great question, and one that we think about a lot. Whilst we come very much from an ecological science side from the Crowther Lab, we are keenly aware that the social and economic sides of conservation and restoration work are super important. As part of joining the platform and adding organization profiles and project profiles, we do ask for social information, like, "What is the ownership status of the land? Who owns it? Who is managing it?" And we are always thinking about the ways that we can improve this and what else we could capture, what are those metrics that are important for projects to share.
We also regularly scan for relevant global data layers that may give us social insights. It is challenging for economic and social factors, there are limitations to how deep you can go with that with global datasets, but we are thinking about what we can do here. We know that the most valuable social information will come from the projects themselves and knowing about the diversity of the groups they work with, and what kind of job and other economic opportunities are being created.
Many of our readers are conservation and ecological restoration practitioners in Europe and North America. They may be wondering if the work they are doing is appropriate for the Restor platform, and if they might be able to plug into the many benefits that you've been describing.
If your readers are involved or even interested in managing land in any way, then yes, absolutely, Restor is for them. There are no limits in terms of the size of the initiative or project. It doesn't matter what kind of ecosystem you're working in. There are wetlands, forest, grasslands, sustainable agriculture, and peatlands projects on Restor. We also have marine and coastal projects. The platform is truly global. It doesn't matter where you are in the world; everybody will have access to the same data analytics. Barriers to entry are deliberately low because we want to encourage even the smallest of efforts to get the visibility we believe they deserve.
Restor is a very open platform and a place to get information, but it is also a place to connect. We often hear from the community, "It's so great to know that there are others out there doing similar things to what I'm doing," or "I never knew that 40 kilometers away there's a woodland restoration project similar to mine." They suddenly start to see on this map that there are thousands of others who are doing similar work, and they see that there is a support system. Even if they don't reach out, that sense of belonging to something that's bigger and a global movement is a key piece of value we add.
What kind of effort is involved in putting a profile or project on Restor?
Putting on an organizational profile is very quick and easy. You just sign up for an account, and you really just need a logo, a description, contact details, and then anything else that you wish to add.
In terms of adding a project, what we need is the boundaries of the area of land. If you have an area file, that can just be uploaded automatically. If you don't, we have a drawing tool that allows you to just map out the area using the drawing tool. It's very simple and intuitive. As long as you have the boundaries, that's the basic piece of information that's needed for adding a project. Then you add a title, a description, contact details, and so on.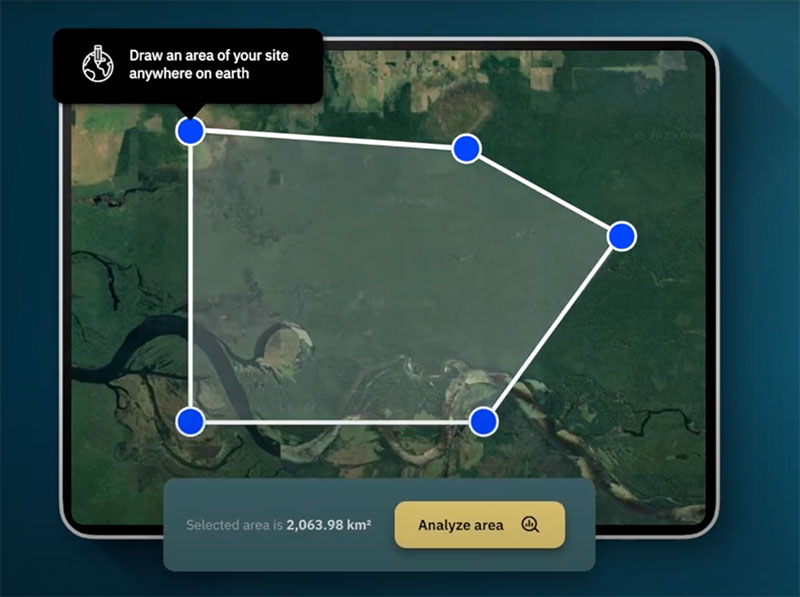 You mentioned Restor's north star and overall intent earlier, but is there a vision in terms of the functionalities you imagine in the years to come, or what might be on the horizon for Restor?
Medium term we are focused on building intuitive and innovative functionalities that will enable people and organizations working with nature to do three things: first, creating powerful project showcases, underpinned by scientific insights that will increase the visibility of the hundreds and thousands of nature initiatives around the world; second, making it faster and easier for nature funders and investors and other stakeholders to find your project and connect it to the resources it needs to scale-up; finally, building powerful analytics and transparency tools for organizations working with nature at scale so that they can measure and show impact.
One key thing is engaging a more diverse community within the global nature movement. It is widely recognized that restoration and conservation practitioners play a very key role in that, and we want to continue to support them, and there are organizations out there that have—either directly or indirectly—large nature footprints, and we'd like to enable and encourage them to be more transparent.
Why? Because ultimately, this is going to empower all of us to make decisions and take the right course of action. Imagine if you could walk into a supermarket and know exactly where the products you want to purchase have been sourced, and the impact of their production on biodiversity. Or imagine being able to decide where you go to drink your coffee because you have that information in your hands. I know that would influence my buying power enormously.
That is the ultimate long-term vision—a world where we are empowered to make every action positively impact nature.
Does Restor feed its information into other global platforms focused on biodiversity or climate resilience?
One key way in which we feed data into science is through our partnership with Crowther Lab. We share data with the research lab in order to help the models that we host on the platform to become more refined and accurate over time. We recently shared data with the Forest Declaration Assessment. And I mentioned already initiatives like the UN Decade and the FAO FERM platform for monitoring for Target 2 of the Global Biodiversity Framework -we are getting involved with that as well. We're generally a very open platform and always looking for ways to connect. There are so many great initiatives out there. When we spot an opportunity and think it makes sense for us to share data because we believe it would help advance understanding and progress of global restoration, then yes, for sure, we are open to doing that.
How can Leaf Litter readers get involved with or support Restor?
We are here to support you! Restor is an open platform, so just come and try it. If you are involved in conservation or restoration work, then join the platform and the community. Share your work, your knowledge, and your lessons learned. If you're simply interested in supporting restoration efforts around the world, you can also use Restor to find projects you're interested in supporting. Many of the projects on the platform state the kind of support that they're looking for (volunteers, expertise, funding, etc.)  You can search and filter projects based on those criteria. If you're a funder, an expert, or you simply want to volunteer, Restor is a place to find those opportunities. You mentioned in the beginning the "Google Maps for nature." That's really what we strive to be—the go-to place for anyone who is involved in nature or wants to support that kind of work.
Practitioners with a profile on Restor can be seen by the global community. Restor is about showcasing, communicating, and connecting to others who need the kinds of resources that you can offer. Give your work the show platform it deserves by having a presence on Restor and on the global restoration map.