"With every new headline about climate change and biodiversity loss, I felt I needed to be working at a scale where I wasn't so compartmentalized… I needed to do more."
That is how Ashley Traut felt two years ago. He had just launched his own consulting firm after ending a 12-year stint as a senior manager for Blue Water Baltimore, a powerful and effective watershed organization. Yet still, he sought the opportunity to do "more."  That opportunity came when he took on the role of senior advisor to the Greater Baltimore Wilderness Coalition. Formed in 2015, the Coalition is an alliance of public agencies, NGOs, and professional associations all working together to protect, restore, enhance, and knit together a network of green and blue spaces to benefit the people and wildlife of central Maryland. Today, the Coalition is in the midst of updating a robust, region-wide map of existing and potential green infrastructure, which will help prioritize restoration and conservation opportunities in jurisdictions throughout central Maryland. It is also in hot pursuit of a goal to triple the rate of 2019 tree planting in the region within three years. In a coalition, Traut is finding his "more," and he is not alone.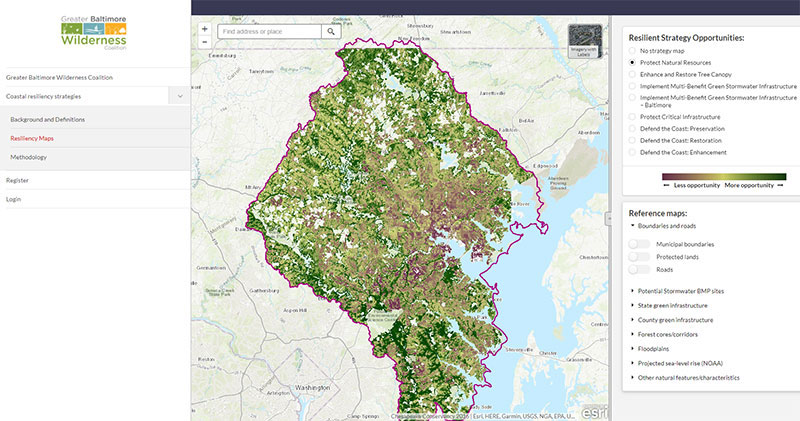 Alliances & Coalitions
Throughout the nonprofit sector, many organizations are striving to scale their impact by joining forces with one another and forming coalitions, collaboratives, and alliances. Such arrangements allow a nonprofit to benefit from the collective action, powerful voice, and expanded connections and capacity of a larger organization while still maintaining their identity and autonomy. For some organizations, alliance membership might bring enhanced technical capacity or new opportunities for funding. For others, it might strengthen advocacy, outreach, and education. It might extend the reach of an organization's services into other jurisdictions, or it might lessen administrative burdens.
For Traut, and members of the Greater Baltimore Wilderness Coalition, it offers an opportunity to widen the lens and think big, and it provides a sense of camaraderie. "When I reach out to new and potential partners," he says, "Many of them have said, 'I so value the opportunity to talk with other people doing this work. We're just in the trenches all the time.'"
There are other benefits as well.
"We can be as innovative as we want to, we can fail as much as we want to, and we can be okay with failure because we're collectively sharing that failure and learning." According to Leander Lacy, Interim Director of the Metro Denver Nature Alliance (Metro DNA), this kind of freedom is one of the most exciting benefits that comes with membership in a coalition or alliance. He should know, as his organization is currently doing something that has never been done before: assessing the ecology of the entire, seven-county Metro Denver area.
Metro DNA was formed in 2017, when a group of governmental, academic, nonprofit, and private sector organizations—united by concerns about the region's population growth and the need for equitable conservation that would support healthy, vibrant communities throughout the region, and not just in the most affluent areas—decided to work together. Fueled by a mission "to facilitate an inclusive regional alliance that enhances the alignment and impact of nature-based efforts in order to champion more equitable access to nature and to promote healthy people, communities, and natural places in the metro Denver region," Metro DNA is well on its way to developing a long-term "Regional Vision for People and Nature."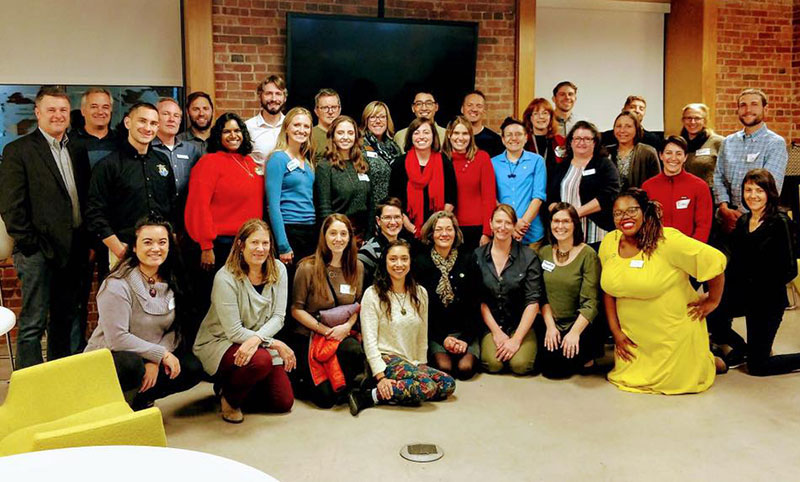 Metro Denver Nature Alliance ©Metro DNA
Individual members of Metro DNA not only become connected to the larger, seven-county Metro Denver area, but the larger landscape of intersecting environmental and social issues. The Regional Conservation Assessment is a critical step in developing the vision that addresses that intersectionality. According to Lacy, "Areas like the seven-county Metro Denver area are ignored ecologically," he said, "because it is assumed that they have no ecological value." Such assumptions, according to Lacy, result in missed opportunities–for innovation around ecological corridors and climate change adaptation and for bringing good conservation work to the backyards of people who have never had it.
"We put blinders on for so long, we can't even see the opportunity right in front of us," said Lacy. Metro DNA's Regional Conservation Assessment can begin to change that.  "We just need to look at a map and see it for the first time," says Lacy.
But a rigorous ecological assessment is not enough. The organization seeks an equally rigorous exploration of the "people side" of the vision, work that includes exploring the justice/equity/diversity/inclusion aspects of the Regional Vision for People and Nature. Lacy's background in wildlife biology and social science is coming in handy in this regard, as are his relationships with Metro DNA members. Lacy is in the process of engaging researchers and graduate students from the University of Colorado-Denver, a member organization, in research to address the social science elements of the project. It is work that is neither easy nor comfortable.
"Work around JEDI is very emotional," says Lacy. "It can be hard to take the first step because you are paralyzed with fear of doing the wrong thing. I think you should just do something. Something is better than nothing at all. You have to be comfortable with making mistakes and owning them, and you have to just keep going."
Metro DNA "Stakeholder Convenings" bring partners and friends together to network, learn, and co-create collaborative projects. ©Metro DNA
One thing that helps ensure Metro DNA to keep going was the organization's establishment of guiding principles and a common language around conservation early in its formation. Such steps are recommended by others involved in the forming of coalitions and alliances.
"It's really helpful to have a set of guiding principles for how you work together," said Heather Elmer, who, as Executive Director of the Chagrin River Watershed Partners, helped create the Central Lake Erie Basin Collaborative, a network of organizations throughout Northern Ohio working together and trying to share resources to accelerate progress toward protecting and restoring watersheds throughout our region and improving water quality in Lake Erie.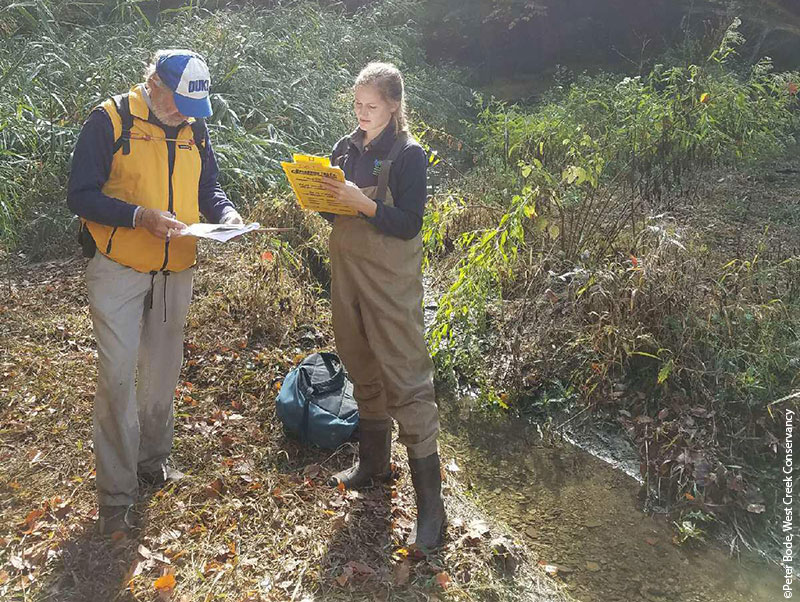 Members of Central Lake Erie Basin Collaborative team up on a project.
"For the Collaborative," said Elmer, "we have established principles such as 'we really can achieve more working together than on our own.'" Transparency, trust, and the use of a third party to guide the process were also cited by Elmer as critical to the successful formation of the collaborative.
Organizations considering alliances, collaboratives, and coalitions would also be wise to examine alliances such as Chicago Wilderness, the Portland-Vancouver region's Intertwine Alliance, and Los Angeles' Amigos De Los Rios, all regarded as model alliances that demonstrate best practices in urban conservation.
In any alliance comprised of organizations with wide-ranging staff sizes, budgets, locations, and areas of focus, there are bound to be some challenges. According to Lacy, even the structuring and pricing of memberships can be a hurdle. "How do you price membership dues when you have a single mom with her own business trying to care about the environment, while at the same time you have large organizations with millions of dollars coming to the door?" In resolving such challenges, Metro DNA must apply its commitment to equity to itself.
In an alliance or coalition, each member organization also has its own mission and goals. That, according to Lacy, creates additional challenges. "How do we make sure that those who are trying to protect the deer get the same thing out of membership as those who are trying to protect a watershed or those who are trying to address social justice issues?"  Rather than choose one member's issue over another's, Metro DNA tries to address multiple goals at once. "We don't say it's one or the other," said Lacy. "We do a lot of, 'yes ands.'"
Traut believes that the central foundation to any good coalition is trust. "We all move together at the speed of trust," he says, "and if we don't have it, we're not going to get where we need to go." Traut likely learned a great deal about building trust when he was with Blue Water Baltimore – not only because he worked in communities where that trust had to be earned, but also because the Blue Water Baltimore itself was the product of another type of joining together: a merger.
Mergers
Like the waterways they steward, many local, nonprofit water and watershed protection groups have merged together. In fact, among merging watershed organizations, Blue Water Baltimore was a pioneer. The creation of Blue Water Baltimore in 2010 was the culmination of a complex, multi-year process to merge five nonprofit watershed groups-groups that likely had to compete with one another when the economic downturn of 2008-9 reduced the flow of grant dollars into watershed protection.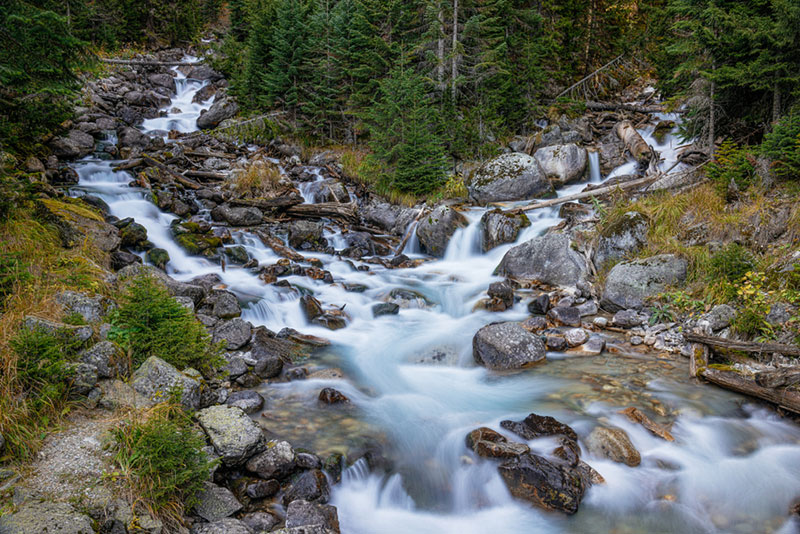 A merger can be a successful strategy for organizations seeking to expand capacity, increase impact, strengthen resilience, and even bolster financial stability. Just last month, for example, the boards of the Lake George Association and The FUND for Lake George approved a merger that will create a single, more powerful protector for New York's Lake George. "We are able to do more now, and the lake requires we do more," said the Association's president, Pete Menzies, in an article in the Adirondak Explorer. And they will need to do more. Already contending with the impacts of road salt, nutrient pollution from stormwater runoff, and aquatic invasive species, Lake George was hit more recently with quite a double whammy: its first Hemlock Wooly Adelgid infestation and its first Harmful Algal Bloom.
A case study of the Blue Water Baltimore merger provides a summary of the process and names four factors that were critical to the success of the merger:
Sound reason for merger
Compatible organizations and inter-staff relationships
Shared organizational awareness of long-term needs
Encouragement from grantmakers
The success of Blue Water Baltimore demonstrates that mergers are not just for the private sector. Research seems to confirm this. A 2014 survey conducted by the Bridgespan Group and the Lodestar Foundation revealed that both funders and nonprofits sought more collaboration, particularly in the form of shared support functions and mergers. In a 2016 study conducted by the Stanford Social Innovation Review in partnership with Northwestern University's Kellogg School of Management, Mission and Strategy Consulting, 88% of the participating nonprofits reported that their organizations were "better off after the merger."
The strategy of merging has also been deployed by plenty of land-based environmental nonprofits, particularly land trusts. The largest land trust merger ever undertaken in the U.S. occurred in 2006, when eight northern Ohio land trusts – two of which were themselves the product of mergers— joined together to form Western Reserve Land Conservancy.
The Conservancy has since grown to include 13 organizations, and its footprint has expanded to 28 counties, comprising more than four million acres. The eight local land trusts that originally merged to form the Land Conservancy had collectively preserved about 8,000 acres at the time of the 2006 merger. As of today, the Conservancy has preserved over 66,000 acres through the creation of conservation easements and publicly owned and accessible parks and preserves throughout northern Ohio. They also created Thriving Communities, which revitalize urban centers statewide that were hit hardest by the Great Recession and the housing collapse by transforming vacant, unsafe, and unproductive properties into useful ones. This program helped establish more than 50 county land banks throughout Ohio and secured millions in demolition funding for communities around the state.
"The hallmark of our growth and organization has been a devotion to strategic planning," says Rich Cochran, President and CEO of Western Reserve Land Conservancy. Such careful planning has enabled the organization to gradually expand its focus from the conservation of "natural areas" to include the conservation of land in agricultural and urban areas.
"With the merger, we were suddenly serving this very geographically and ecologically diverse region, and we said, 'We've got to learn how to protect farmland.'" After studying agricultural conservation, conducting research among farmers and land trusts that worked in farming communities, and hiring a consultant to help in the process, they began conserving working farmland. "It was hard," admits Cochran. "It was a cultural shift." But it paid off. Cochran estimates the Land Conservancy has preserved 30,000 acres of working farms. Healthy farmlands are a critical part of Ohio's economy as agriculture continues to be the state's largest economic driver; one in seven jobs in Ohio are in the agricultural industry.
As the Land Conservancy continued adding capacity, it began considering opportunities to create more environmental health in the urban context. Again, they planned. Again, they studied, examining local and regional models for three years before they launched Thriving Communities.
"When I do a presentation, I show a photograph of a classic natural area, a photograph of a farmer in a huge grain field, and then a photo of people doing urban reforestation work. Most land trusts focus on one of those things, but we do all three. But we feel like it's a holistic approach and a comprehensive approach to what are really regional dynamics. That's the strength that the merger gave us," he said. "We could start addressing all of these things at the regional scale rather than putting band-aids here and there."
Cochran was executive director of the Chagrin River Land Conservancy when that organization and seven others merged to form the Western Reserve Land Conservancy. The lessons learned through the creation and growth of the Land Conservancy have also come in handy when it comes to establishing outside partnerships and programs. "There's no way we could merge with the city of Cleveland, Cuyahoga County, Cleveland Metroparks, and the Northeast Ohio Regional Sewer District," says Cochran, "but we can create a strategic alliance." That is exactly what the Land Conservancy has done in establishing the Cleveland Tree Coalition, an organization made up of 52 public, private, neighborhood and nonprofit entities that is collaborating to create a healthy, vibrant, sustainable, and equitable urban forest in Cleveland.
"If I had tried at the Chagrin River Land Conservancy to create the Cleveland Tree Coalition, it couldn't have existed. They would have been like, 'We don't even operate in Cleveland,'" says Cochran. "The merger gave us a political footprint where we could really establish coalitions and associations that give access to lobbying power that we could have never imagined."
The Land Conservancy applies a "rising tides lift all boats philosophy" to their approach. "One of the main goals of the merger was to increase our 'collective capacity,'" says Cochran. "By collective capacity we refer not only to the land trusts, but to all of our public and nonprofit partners."
In addition to the Cleveland Tree Coalition, the Land Conservancy formed the Ohio Land Bank Association to serve as a voice for the county land banks created through Thriving Communities. They also formed the Ohio Coalition of Land Trusts and the Great Lakes Land Conservancy Coalition.
"All of these collaborations have been meant to create platforms where we could lobby for massive amounts of resources and capacity to advance things that we believe in," says Cochran. "Often, it doesn't go to us, but again, it brings all boats up."
That is not to say there are no waves. Having been there from the beginning, Cochran has likely seen them all.
"When an enterprise already exists, it has a culture, an identity, and kind of a sovereignty that they don't want to give up," said Cochran. "The biggest hurdle to a merger is always creating some kind of shared vision among multiple enterprises that they agree could accomplish better if they were to merge than if they were to stay separate."
Another obstacle to merging, according to Cochran, is cultural integration. "Every board runs differently. Some boards are very hands-on and some are more governance focused. Some boards are made up of affluent individuals, and some are made up of biology teachers and environmental consultants. For some, involvement is a vocation; for others it's an avocation. Merging those cultural dynamics is not always easy."
For these reasons and others, many merging organizations bring in a third party to facilitate the process.
With a large and diverse membership, there are also political divides to navigate, particularly in recent years. "This is the really fascinating thing about our organization," said Cochran. "We have staff who are passionate supporters of Donald Trump, staff who think Donald Trump is the second coming of the devil, and everything in between… and somehow culturally, we're all able to set those things aside and say collectively, we can accomplish this mission so much better. It really has been magical to see how it worked." The key to such magic, according to Cochran, is the mission. "We have this wonderful mission that unites us and transcends politics, which is making our communities healthier places filled with healthier, happier people. People of all political stripes have that desire."
When there is shared dedication to the mission, political differences among a merged organization's members and board can be beneficial when it comes to the policy front, as it facilitates the forming of relationships with officials in all parties.
Like any enduring, fruitful relationship, a successful merger, alliance, coalition, or collaborative requires the commitment and trust of the parties involved and the communities they serve. By extension, that means patience.
"That was one of my major quandaries early on," Traut admits, discussing his initial thoughts about leading a coalition. "I was like, 'I have 10 years to save the planet and you're telling me I need to spend three of them developing trust with my community partners?' That's killer, but it has to happen. If we establish that really long enduring trust, we can do amazing things together."
For those considering a merger, the Land Trust Alliance 2017 publication, An Introduction to Mergers for Land Trusts, provides helpful guidance based on established best practices. They recommend a seven-step process: preliminary conversations, evaluation, negotiation, due diligence, integration planning, legal execution, and finally, integration. They also recommend a neutral third party to help manage the process. The report also presents informative case studies of the mergers that created the Cardinal Land Conservancy in 2015, and the Midcoast Conservancy and Colorado Open Lands in 2016.
To learn more about the organizations mentioned in this article, please see the Resources section of Leaf Litter.