2021 marks the beginning of what the United Nations has declared the "Decade on Ecosystem Restoration," a global effort to scale up restoration. Imagine how little there would be to scale up were it not for the work of local environmental nonprofit organizations over the past decades.

In recent years, on Earth Day, we have dedicated our social media platforms to highlighting the work of environmental nonprofits. This year, we wanted to do more. That is why we are devoting this issue of Leaf Litter to local and regional environmental nonprofits—people who are putting projects in the ground, bringing the benefits of nature to their communities, inspiring stewardship, and advancing awareness and advocacy around environmental and social issues.
What role will local and regional nonprofits play in the Decade on Ecosystem Restoration and beyond? How has their work been affected by the pandemic? To what extent are they weaving equity, diversity, inclusion, and social justice into their work? What do they they look for in a partner? These are just some of the many questions we wanted to explore in this issue.
We begin by chatting with Tim Purinton. As the Executive Director of The Nature Conservancy's Maryland/DC chapter, Tim has created new conservation solutions on the program, project, and policy fronts. Having previously worked in the public and private sectors, Tim shares a well-rounded perspective on both the joys and challenges of environmental nonprofit work.
Leaders from five environmental nonprofits from different parts of the U.S. shared their voices and wisdom in a panel discussion. Trust, equity, and partnership are just three of the topics that emerged.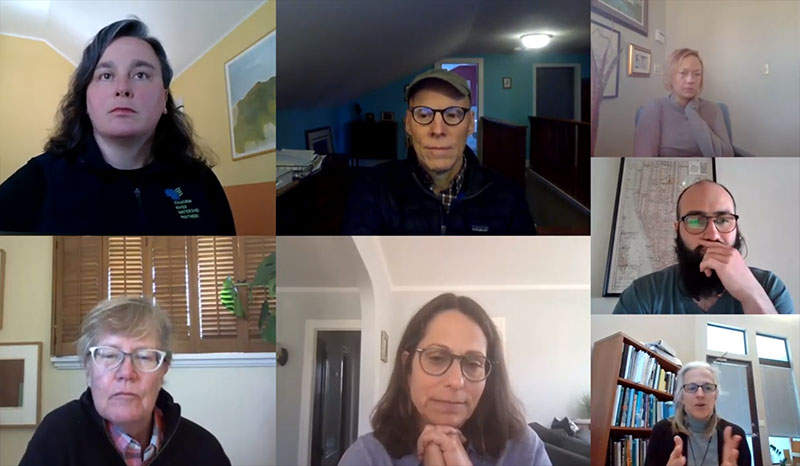 Nany local nonprofit organizations are striving to scale their impact by joining forces with one another, through mergers and alliances. We examine these strategies, and speak to nonprofit leaders who have implemented them, including Rich Cochran, president and CEO of Western Reserve Land Conservancy. His organization is the product of the largest land trust merger ever undertaken in the U.S.
Earlier this spring, we invited people affiliated with local and regional environmental nonprofits to participate in a survey. Participating organizations ranged in size, location, and focus, but the survey revealed some interesting themes, and we are happy to share them.
Among the resources provided in this issue are the names and missions of organizations that participated in some way in the creation of this issue of Leaf Litter. We are grateful for their participation, and we encourage you to learn more about them.
We also provide updates on some of our recent collaborations with local and regional nonprofits, and we share news about newly promoted, hired, and certified team members in the Biohabitats Projects, Places, and People section of this issue.
So happy Earth Day, friends. As we enter a promising "Decade on Ecosystem Restoration," I hope you'll join Biohabitats in acknowledging, celebrating, and supporting the work of local and regional nonprofit organizations in your community and beyond.
Be well… and be wild.