Other articles in this issue focus on the mechanics of species movement, but this Spotlight focuses on what conservation actions are underway and necessary to facilitate it. One organization is hard at work creating just such corridors in North America: Wildlands Network (WN).Founded in 1991 by the "father of conservation biology," Michael Soulé, and other scientists like Reed Noss, who recognized the need for landscape connectivity in conservation, WN is devoted to protecting enough connected wild places in North America to sustain wildlife and people through the 21st Century. The organization's number one priority is completion of four North American "Wildways," large, protected landscapes that would allow plants and animals to move along the continent as they adapt to climate change. Though the vision of these four continental wildlife corridors originated as a reaction to human development and related fragmentation of the landscape, it is now recognized as the most important adaptation measure we can take in response to the unavoidable impacts of climate change.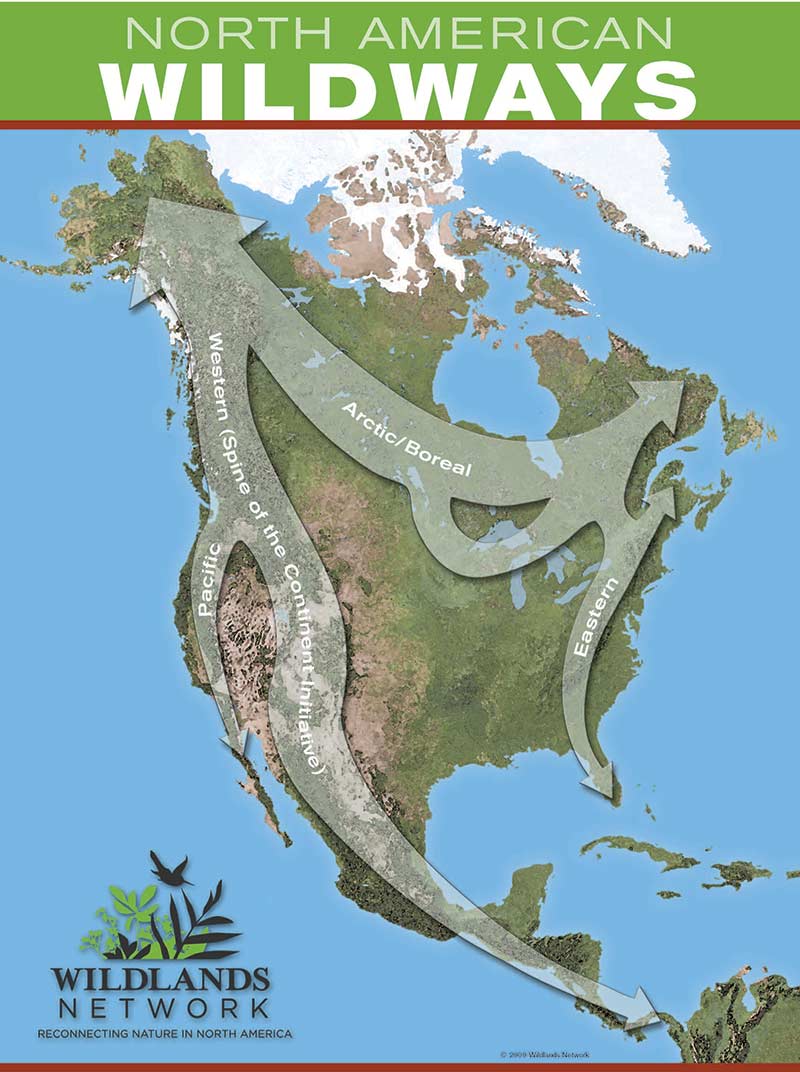 Together, the four envisioned Wildways will encompass millions of acres of protected land. The Eastern Wildway, which extends from the Everglades, along the Appalachians, to the Arctic, traverses a wide array of eco-regions including the Northern and Central Appalachians, the High Allegheny Plateau, the Southern Blue Ridge and Tropical Florida. The Western Wildway, also referred to as the "Spine of the Continent," spans from the Mexican Sierra Madre Occidental range, through the Rockies, to Alaska's Brooks Range. The Pacific Wildway runs along a fairly intact chain of mountains, from Baja, Mexico to the Prince William Sound in Alaska. The Boreal Wildway, built around the 1.2 billion acre Canadian boreal forest, runs from Alaska to the Maritime provinces of Canadian.
WN fully intends to bring its vision to life, and the organization is coming at it from every angle: linking and leveraging existing conservation programs and providing them with a continental-scale master plan; advancing the science and public access to information; informing policy; and generating awareness of the need for continental wildlife corridors in the hope that a growing groundswell of support will convert to political power.
"From the start," said WN Executive Director, Greg Costello, "the strategy was to spread the word on the need for connectivity and look for local proponents to embrace that concept and begin to apply it in their region." Outdoor adventurer John Davis' high profile, human-powered TrekWest and TrekEast campaigns are just two examples of the unique ways WN goes about spreading that word. The concept of continental-scale corridors caught on, as evidenced by the 2010 signing of Secretarial Order No. 3289, which launched the creation of regional Landscape Conservation Cooperatives, and efforts like the Western Governors' Association's Initiative on Wildlife Corridors and Crucial Habitat.
"Today, if you look at almost any conservation organization in North America," said Costello, "you will see a discussion of wildlife corridors, connectivity, large core habitats, and the importance of carnivores –all guiding principles of Wildlands Network." Now that so many others share the vision of continental Wildways, WN is busy connecting, strengthening, and supporting their growing network of conservation partners.
Each Wildway is progressing at its own pace and through its own process, but all four are moving forward. Progress has been greatest with the Western Wildway. According to Costello, this is because WN's founders' relations and ties in the interior West quickly lead to regional efforts that were inspired by and embraced the WN vision. At the northern end of the Western Wildway, for example, the Yellowstone to Yukon Conservation Initiative (Y2Y) was formed and quickly began developing plans, raising funds and awareness, acquiring land, and working with Native American tribes and Canadian First Nations. Further south, WN helped launch the Sky Island Alliance and Grand Canyon Wildlands Council which have made great strides in the Southwest.
In Colorado, the Southern Rockies Ecosystem project (now Rocky Mountain Wild) adopted the WN vision and mapped the state from a connectivity perspective. These and other partners now all work collaboratively as members of WN's Western Wildway Network.  To maintain momentum, WN is focused on developing more local organizations and reaching out to nontraditional partners to do the place-based work necessary to take action from the map to the ground. One example is the Western Landowners' Alliance, a group of conservation-minded ranchers who have committed to managing their land according to conservation biology principles. Originally formed by WN, the Alliance now operates on its own, and has dedicated more than 13 million acres of land to the Western Wildway. Within the next two years, WN hopes to develop a WN affiliate in northwest Mexico.
Even without such an office, WN was able to establish an annual agreement with local ejidos in northern Mexico to protect habitat home to the last remaining thick-billed parrots, jaguars and ocelots.
Along the Eastern Wildway, WN has successfully collaborated with both the federal government and local conservation organizations. On the southern end of the Wildway, WN has been working with the South Atlantic Landscape Conservation Cooperative (LCC) and the US Geological Survey's Southeast Climate Science Center to conduct habitat connectivity mapping and climate change analyses for a number of rare species.
WN played a key role in helping Two Countries, One Forest (2C1Forest), a Canadian-U.S. collaborative focused on protecting, conserving and restoring forests from New York to Nova Scotia, prioritize areas for conservation. 2C1 combined information from several studies with the Wildlands Network Design Tool, a mapping and planning tool built around cores, linkages, and compatible use or stewardship lands, to create 2C1's report on Priority Locations for Conservation Action in 2008. "Wildlands Network brought a lot of science to the table," said Gillian Woomer, 2C1 Forest treasurer and Assistant Director of Wildlife Conservation Society Canada. According to Woomer, when a U.S. Fish & Wildlife grant made it possible to implement some of that conservation work in the U.S portion of the region through the Staying Connected Initiative, WN played an important role in coordinating the Initiative's many partners.
Though progress has lagged on the Pacific Wildway, (largely due to lack of capacity, according to Costello) groups such as Conservation Northwest, Cascadia Wildlands, are making strides. Progress on the Boreal Wildway has been made without a tremendous outlay of WN's limited resources. Thanks to the Pew Charitable Trust's strong support of the International Boreal Conservation Campaign, and the fact that portions of the Boreal Wildway already being covered by the Yellowstone to Yukon Initiative, 350 million acres of Canada's Boreal Forest have already been conserved.
In addition to building its network, WN is helping to advance science related to climate-driven species movement and connect it to the organizations and agencies that need it. For example, WN is working with the U.S. Department of Interior to provide a comprehensive package of data and landscape modeling for the entire United States. The package will be used to help the federal government determine what areas will be important for connectivity. While this effort is associated with mitigation for large energy development, Costello sees it as an opportunity to work with the administration and have a say in what areas of the country they pursue for large, comprehensive protection.
Costello admits that the array of climate models available to conservation practitioners, each with its own degree of uncertainty, can be dizzying. "One of the challenges for any scientist or organization working on this," he says, "is that there are so many models out there, how do you pick?"
"My life has become a little simpler in this regard thanks to the work of Dr. Carlos Carroll," said Costello. Dr. Carroll, Director of the Klamath Center for Conservation Research and science advisor to WN, developed a model called AdaptWest, a spatial database and synthesis of methods for conservation planning aimed at enhancing resilience and adaptation potential of natural systems under climate change. AdaptWest, which amalgamates several different climate change models, has now been integrated into the Conservation Biology Institute's (CBI) Data Basin, a mapping and analysis platform that gives people access to spatial data, non-technical tools, and collaborative networks. "Working with Carlos Carrol and CBI to have a resource out there that organizations can use to fuse all of the climate modeling data for their particular region is exciting," said Costello.
The uncertainty of projection models does not stop WN from pursuing its mission. "Scientists like 95% certainty with robust sample sizes," said Costello. "That doesn't work when you're an advocate in conservation. We don't know enough to have that level of certainty, but we know enough to make wise decisions."
WN also knows enough to inform policy. Since 2008, WN has organized and run a Connectivity Policy Coalition. Jointly with Yellowstone to Yukon and the Center for Large Landscape Conservation WN recently hired a Washington, DC-based coordinator who is dedicated to this Coalition and who is already working the halls of Congress on behalf of large-scale conservation. "This has helped us establish a much more direct line to federal agency staff," said Costello. For example, some Connectivity Policy Coalition members participated in a Federal Advisory Committee that worked with Forest Service in 2012 to revise the National Forest Management Act Regulations. For the first time since the Act was passed in 1976, regulations now specifically state that "connectivity" must be incorporated into national forest and grassland plans. The new regulations now provide WN with an opportunity to help local conservation groups get the data and expertise they need to work with their local national forest managers to make the right decisions regarding connectivity.  This also presents an opportunity to reduce some of the uncertainty associated with modeling by incorporating local knowledge and citizen science.
The vision of four North American Wildways is utterly inspiring…but also daunting for a WN staff of nine with an annual budget of less than $1 million comprised mainly of donations. "There are a lot of downsides to being small," said Costello, "but one of the upsides is you can be nimble."
Remaining nimble will be important. Conservation approaches like Dr. Paul Beier's corridor design-permeable landscape toolthat focuses on maintaining ecological processes and provides for the movement of all native species, linkages, between wildland blocks and E.O. Wilson's "Half Earth," (based on his calculation that we need to set aside half of the planet for conservation in order to stave off a sixth mass extinction) are gaining support. "When you see an opportunity, you can figure out how to leverage a small group and create a larger group," concludes Costello. That is precisely what WN is doing, and that larger group continues to grow as the need for continental –scale wildlife corridors becomes increasingly obvious. For more information, including how you can support Wildlands Network with a donation, click here.