ANNOUNCEMENTS
Walking the Talk of Corporate Social & Environmental Responsibility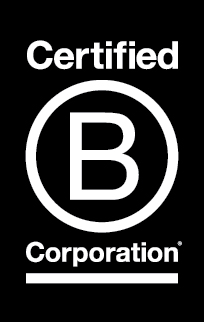 With Biohabitats' mission to restore the Earth and inspire ecological stewardship, and our focus on environmental and social justice, we believe that our work improves environmental and social wellbeing. But what about our business operations? How do our daily business decisions impact our clients, partners, the communities we serve, our team members, and of course, the environment? Last year, we chose to address that question by going through two highly regarded certification programs: B Corp and JUST Label.
The nonprofit B Lab® awards B Corp certification to companies that meet rigorous standards of social and environmental performance. Created by the Living Future Institute, The JUST Label provides a transparent platform for organizations to voluntarily disclose initiatives in the categories of Diversity, Equity, Safety, Worker Benefit, Local Benefit, and Stewardship.
We are proud to announce that earlier this year, Biohabitats became a Certified B Corporation and earned the JUST Label. As a Certified B Corporation, we join a vetted group of more than 2,200 corporations in over 50 countries unified by one goal: to redefine success in business. Biohabitats is one of only 63 companies from around the world who have earned the JUST Label since the program launched in 2015.
We truly believe in the power of business to catalyze good in the world, and we plan to continue measuring success primarily by the degree to which we enhance biodiversity, ecological democracy, and the resilience of life on this planet.
(Biohabitats founder and president, Keith Bowers, explains why we became a Certified B Corp)
Joining Forces With the Legendary John Todd
Earlier this month, we announced that we have joined forces with pioneering ecological designer and living machine originator, Dr. John Todd, to engineer and build natural systems for the treatment of wastewater and the restoration of degraded water bodies. John will work exclusively with our interdisciplinary team to ensure that his nearly 50-year legacy of visionary work continues to grow and push the boundaries of ecological design and engineering. John is known for his groundbreaking work designing analogs of natural ecosystems for the purposes of treating wastewater and remediating environmental contamination. Influenced by Buckminster Fuller and H.T. Odum, he was one of the original "bioneers," and has influenced a generation of designers-including many members of our staff! His Eco-Machines® and floating restorers have helped rehabilitate a wide range of water bodies throughout the world and inspired a generation of wastewater technologies. While John will continue to pursue work through John Todd Ecological Design, the firm he founded in 1988, he views the partnership with Biohabitats as a way to bring his pioneering water treatment and recycling technologies to many communities throughout the world. We can't wait to get started!
PROJECTS
Davis Branch: Beaver activity was already apparent throughout the course of site assessment work at Davis Branch, a recently completed stream restoration project in Howard County, MD. Due to the high degree of channel incision, the existing stream's banks were three to four feet high, even higher in some reaches. Building two dams that spanned the width of the unstable, oversized channel near the upstream limits of restoration, the beaver easily overcame the elevation and steepness of the banks, their robust work creating a long, narrow impoundment within the existing stream alignment. The dams needed to be breached in order to complete the project, though evidence of the beaver persisted throughout the course of construction—a slide here, a gnawed tree there.
Once construction was complete, the prior disparity between the channel thalweg depth and floodplain grade was eliminated, floodplain reconnection being a paramount goal of the project. This was quite amenable to the beavers, who had lingered in refugia upstream of the work area. With the equipment gone, they got right back at it, building a dam complex that spanned the width of the restored stream/floodplain, creating a larger, wider impoundment. A boon to waterfowl and wetland creation, the impoundment persists, as do other smaller, in-channel dams that the beaver have created at the crests of constructed riffles throughout the length of the project. Although not fully anticipated, their contributions have resulted in a more nuanced riparian system, a fortuitous development in an already successful project.
Cove Spring: The Cove Spring Stream Restoration project is located along a remnant oxbow of the Kentucky River in the city of Frankfort. From the 1970s through the 1990s, much of the floodplain within the project area was impounded by beaver, whose dams created a large wetland complex. When the beaver were removed because of flooding concerns upstream, the wetland complex was lost. By the mid-2000s, the community wanted to restore the stream and wetland to regain the beauty and function they realized they had lost. At the time we were hired to restore the stream and wetland complex, beaver had already returned to the degraded stream and begun the restoration process by building a dam across the stream.
Initially we considered simply letting the beaver continue their restoration efforts, but since the site was within the city's designated flood control zone, management of the beaver population was necessary (i.e., the beaver were periodically removed from the area). We ended up crafting a "beaver-friendly" design, meaning the restored stream/wetland system would be ecologically enhanced by the beaver, but if they left there would be no long-term, detrimental loss of habitat. To do this, we designed constructed riffles that could be (but did not need to be) built upon. When construction wrapped in 2013, beaver moved right in and began building their dam on top of our constructed riffles. Since then, they have helped to raise the water table, which has modified the vegetation composition of the downstream end and expanded the existing emergent wetland.  So far, our partnership with beaver on this project is a win, win!
Spa Creek: There was evidence of beaver in the headwaters of Spa Creek at the start of our Spa Creek restoration project in Annapolis, MD.  Beaver often move between two locations to maintain a fresh food supply, so although the beaver were not on site when we started the project, we knew they would be back. With this in mind, we designed the restoration in a way that encouraged the beaver to build their dams in specific locations. We installed Beaver Dam Analogs (BDAs). Built with woody debris, the BDAs are less intrusive and impactful on the stream/wetland complex, and their construction does not require the use of heavy machinery. By the time we began construction, the beaver had moved back into the valley, building dams and channels all across the floodplain.  Construction ended in fall 2017, and the beaver have been busy ever since. They are building a dam across the constructed riffle just downstream of the wetland complex, raising the water table, and expanding the wetland even further. Overall, the Spa Creek project restored over 4700 linear feet of stream/wetland and approximately two acres of tidal marsh!
Atlanta's Urban Ecology Framework Kicks-Off
With much fanfare, high hopes and a sense of urgency, the City of Atlanta kicked off the Urban Ecology Framework this month.  The Department of City Planning hosted a two-day open house event to introduce city agencies, stakeholders and the general public to this groundbreaking 18-month study. While the City of Atlanta has looked at ecological systems in its long-range planning on a number of levels–greenways, watershed management, multi-modal transportation, the BeltLine, and conserving tree canopy–there has never been an effort that ties them all together into a truly comprehensive study. Attendees to the open house journeyed through seven choreographed stations that included an interactive map, visual preference surveys, and storylines, among others. In collaboration with the 
Department of City Planning's
 Commissioner Tim Keane and Contract Manager Heather Alhadeff, Biohabitats' Jennifer Dowdell is leading this pioneering effort along with team members 
Perez Planning and Design
, 
Planners for Environmental Quality
, 
American Forests
, 
Conservation Fund
, 
Alta Planning and Design
 and 
Tree Inspection LLC
.
A Pioneering New Community in the Foothills of the Pioneer Mountains
In the foothills of the Pioneer Mountains and adjacent to the city of Hailey is the future home of a new kind of development. Envisioned not just as a "community development," but as a way to genuinely develop community, Quigley Farm aims to be a self-sustaining community that will produce sustainable economic, social, and environmental benefits to the greater community of Hailey.  The 1,500-acre development will incorporate housing, organic food production, an agricultural center, and an ecologically-centered school.
Biohabitats was a key member of the master planning team, which was led by SERA Architects and included the Regenesis Group. Guided by the input of stakeholders and the site's ecology, culture, and history, the team delivered a plan for a community that "sits lightly on the land, restores soils damaged by past overproduction of agricultural land and ultimately enhances the natural function of the site."  To help achieve this vision, Biohabitats is in the final stages of designing water recycling facilities to treat and recycle the community's wastewater. The system, which consists of four wetland cells with underground tanks and trickling filters, will treat all wastewater and repurpose it for use in commercial toilet flushing, landscape irrigation, and snowmaking.
Never Mind Feeding the Ducks; Let's Feed the Pond
Nestled within the neighborhoods of Ridgewood, NJ is one of Bergen County's earliest recreational areas, Wild Duck Pond Park. A popular spot for summer fishing and winter ice skating, the park is located along the banks of the Saddle River, near the start of a seven-mile bike path. For many years, Saddle River flows fed Wild Duck Pond, but over time, the pond's water levels decreased along with the benefits it delivered to the neighboring community and local ecology. To help the Bergen County Department of Parks restore the pond, Biohabitats is partnering with Louis Berger US to investigate the causes of the pond's diminishing water resources and develop cost effective alternatives for regulating water levels in the pond with a stable water source. The team will be seeking to implement some of the ecological and stormwater improvements recently put forth in the County's Parks Master Plan. We look forward to helping the County restore recreational and ecological value to this treasured community resource.
The Heart of one of the Nation's First Planned Communities Now Stronger Than Ever
After 10 years of working with the Howard Hughes Corporation to integrate watershed planning and ecological restoration into the redevelopment of downtown Columbia, MD, we are delighted to report that construction recently wrapped on the last of our recommended ecosystem restoration projects. Columbia was founded as one of the nation's first planned communities in 1967, long before the establishment of stormwater management regulations and best practices. For decades, stormwater flowed from the community's large mall, community college, and other downtown development into an unnamed tributary to the Little Patuxent River and ultimately, to the Chesapeake Bay. Over time, the stream channel had severely eroded and had become degraded and disconnected from its floodplain. A neglected, unmanaged woodland area had become overrun with invasive species.
Working in partnership with Meadville Land Service and Ecological Restoration and Management, Biohabitats designed and constructed 3,000 linear feet of stream and approximately 13 acres of native forest. With the tributary now reconnected to its floodplain, the invasive species removed from the forest, the valley bottom is now an integral, safe, inviting, and ecologically functioning part the Columbia community's open space network.
PLACES
Look for Biohabitats at these upcoming conferences:
On March 25, Jennifer Dowdell will be in Atlanta to participate in the 17th Annual Parks & Greenspace Conference, hosted by the Park Pride. Jennifer will present "Prioritizing Nature in Design and Planning," along with Alfie Vick, Georgia Power Professor in Environmental Ethics at the University of Georgia.
Keith Bowers will give the keynote address at the Biophilic Leadership Summit April 8-11, hosted by The Biophilic Institute, Biophilic Cities, and Serenbe.  Keith will be highlighting Atlanta's Urban Ecology Framework and its relationship to biophilic design principles.
On April 10-12, Ellen McClure and Matt Koozer will attend the Columbia River Estuary Conference, Astoria, OR.
If you plan to attend Ocean Connect 2018 in Seaside, OR April 17-19, be sure to stop by the Biohabitats exhibit and say hello to Michael Moore.
From April 19-21, Ellen McClure will join with other geomorphologists from the Pacific Northwest for the 9th Annual Bretz Club meeting, which will take place in Warrenton, OR.
On April 26 and 27, Biohabitats Southern Rocky Mountain Bioregion leader, Claudia Browne, will attend the inaugural Water in the West Symposium. Hosted by Colorado State University, the symposium is designed to provide a platform for experts, policymakers, researchers, and investors to collaborate and lead discussions around water challenges.
Next Generation Water Summit will take place in Santa Fe, NM April 29-May 1. Don't miss Justin Lyon's presentation on Natural Systems Treatment & Reuse in Arid Climate on May 1!
As an organizational Partner of the Living Future Institute, we wouldn't miss the annual Living Future unConference! This year's event will be held in Portland, OR May 1-4. Pete Muñoz will present "The Bleeding Edge of Water, Waste, and Food Infrastructure" and Crystal Grinnell will speak at the event's special Water Summit. Also on hand from Biohabitats will be Michael Moore, Ryan Case, and Rob Von Rohr.
Biohabitats is proud to sponsor the 2018 Ohio Stormwater Conference, which will take place May 9-11 in Sandusky, OH. Biohabitats' Suzanne Hoehne will join Cleveland Metroparks' Jennifer Grieser in delivering a presentation on the transformation of an old golf course into Acacia Reservation. Tom Denbow and Aaron Klein, Public Works Director for the City of Sandusky, will present a talk on East Sandusky Bay Pilot Project 3. Jennifer Missett will present talks on "Learning from Challenges Faced by Others – Reflections for Ohio MS4s," and "Creating Green Networks of Community Assets in our Post-Industrial Cities."
Biohabitats Great Lakes Bioregion team leader, Tom Denbow, will be in Sheboygan, WI May 15-16 attending the 2018 Great Lakes Areas of Concern Conference.
On May 18, Michael Spina will be aboard the Hornblower Infinity in the Hudson River for the 2018 Waterfront Conference in New York City.
The Society of Wetland Scientists will hold its Annual Meeting in Denver, CO May 29-June 1. Susan Sherrod will present a talk on using hydrogeologic zones for wetland conservation planning. Chris Streb is participating on a panel about floating wetlands, and Joe Berg will lead a workshop on Wetland Creation for Water Quality Enhancement: Elevating Treatment Values to Capitalize on Green Infrastructure Funding.
The 2018 State of the Coast Conference will take place in New Orleans, LA May 30-June 1. Ed Morgereth will present a poster on Coastal Green Infrastructure Opportunities for Urban Communities.
Vince Sortman will be in San Antonio, TX May 30-June 1 for the Southwest Stream and Wetland Restoration Conference.
The World Environmental & Water Resources Congress will take place June 3-7 in Minneapolis, MN. Ted Brown will present "Pushing the BMP Envelope: Traction of Novel Ecotechnologies in the Chesapeake Bay Watershed."
From June 4-8, ecological engineer Michael Moore will be in Lyon, France for the Integrative Sciences and Sustainable Development of Rivers International Conference. The conference, which is held every three years, aims to promote multidisciplinary approaches and build links to stimulate international collaborations between scientists and river managers. Michael will present a poster on the use of large wood in river restoration, a practice that is not commonly used in Europe
From there, Michael will travel to Provence for a five-day course on Fluvial Geomorphic and Ecological Tools for River Restorationpresented by Dr. Matt Kondolf of the University of California, Berkeley, and Dr. Hervé Piégay of the National Centre for Scientific Research. The course, which will take place June 11-15, will feature lectures, field visits to the Rhône River and several pre-Alpine tributaries, and workshops on geomorphic river restoration problems identified by participants. Michael helped coordinate the course, and he will serve as instructor during a session on the use of large wood in river restoration. To learn more about this exciting opportunity to learn from leading researchers in the U.S. and Europe, visit the Intistut Beaumont.
PEOPLE
ACHIEVEMENTS
Kudos to Greg Zuknick on becoming a certified FAA Remote Pilot.
Biohabitats president Keith Bowers has been invited to serve on the Advisory Board for the Ian L. McHarg Center for Urbanism and Ecology at PennDesign. The Center's mission is to "build on PennDesign's position as a global leader in urban ecological design by bringing environmental and social scientists together with planners, designers, policy-makers, and communities to develop practical, innovative ways of improving the quality of life in the places most vulnerable to the effects of climate change."
Congratulations to Keith Bowers, who will be inducted into West Virginia University's Academy of Distinguished Alumni. Keith will join four other leaders in the fields of engineering, business, athletics, and healthcare as WVU's 30th class of honorees. He will be inducted on May 18 in a celebration at WVU's Erickson Alumni Center. This is the highest honor awarded to graduates of West Virginia University, and we couldn't be prouder of Keith.
MEET OUR NEWEST TEAM MEMBER
Jim Favret, Construction Coordinator
Professional expertise: Water Quality Construction and Construction Project Management with a focus on value engineering.
Most enjoyable project work: Construction oversight is an easy favorite because of my love for the field, but I also very much enjoy reviewing our designs for constructability, cost estimating, and specification QAQC. Although the results of this work are hard to measure, and some may think I'm crazy for saying I enjoy specification QAQC, there is nothing like a smooth, well-run construction project.
Best Biohabitats moment: Choosing one is hard but I'll say that the company culture I've experienced here is incredible and far surpasses anything I have seen elsewhere in my professional career. I still feel very new but also very lucky to be a part of this team doing the work I love. I'd have to say one of the best moments so far was getting the offer letter.
Hobbies:  At home, we strive for a very hygge household, so simply being with my family is very high on the list. I also love to work with my hands, and I completely re-built my two previous homes. I love to garden with a focus more on food production than anything aesthetic. Gardening is kind of a natural extension of my long-term love of cooking. Hiking, brewing, and biking are three things I endeavor to do as much as possible with mixed success, but lastly and most importantly, fishing. The Chesapeake has always had a special place in my heart.
Interesting tidbit: I am a huge proponent of education and continuing education and always have been. Through college, I worked part-time in a high school science department as a teacher's aide. After college, I moved to the Czech Republic to further pursue teaching and lived there for 2 years. Ale muj Cesky je velmi spatny.
Role model: My grandfather Andrew Favret. He was an electrical engineer via West Point, who could speak three languages and went on to have an amazingly distinguished but varied career ranging from ballistic missile testing in the 1950s, to improving sonogram technology, to working for the CIA and acting as the Dean of Engineering and Architecture at Catholic University, all while raising 11 children!
Childhood ambition: When that astronaut thing just got so competitive in Kindergarten, I changed my mind and wanted to be a farmer.
Favorite book and/or movie: I'm currently reading the A/E Guide to Design Build Construction from our library.
Favorite ecosystem: All of them.