Biohabitats Projects, Places, and People
Projects
Integrated Water Strategies for Affordable Housing in California
In Los Angeles, CA, where housing prices have grown four times faster than incomes in recent years and the number of homeless people exceeds 44,000, the need for affordable housing is dire. With unprecedented drought impacting the state of California, there is also a great need for housing that maximizes the use of this precious and dwindling resource. Fortunately, there is A Community of Friends, a non-profit organization dedicated to providing affordable, sustainable housing for homeless individuals and families living with mental illness in Los Angeles County. Biohabitats is proud to be working with this organization to develop greywater treatment and reuse systems for two of its newest affordable housing communities: Cedar Springs and Silver Star Apartments.
The integrated water systems designed for both sites will collect greywater from lavatory sinks, showers, and laundry machines and treat it to meet 100% of the non-potable demand for in-building toilet flushing and site irrigation. The system consists of a textile filter, followed by microfiltration and disinfection. Cedar Springs, which should be completed this spring, and Silver Star, which is slated for completion in 2017, are among the first permitted greywater projects for multi-family housing in southern California. Together, these communities will provide housing for 85 families, and they will save an estimated 1,062,000 gallons of potable water every year. The talented team for these projects, which includes Green Dinosaur, Gonzalez Goodale Architects, MJS Design group, and others, is pursuing both LEED and Living Building Challenge petals.
Stream Restoration Marks Start of Transformation: Golf Course to Urban Ecological Park
When Cleveland Metroparks acquired a 155-acre former golf course in Lyndhurst, Ohio, they recognized its potential to enhance local ecology and become a new gem in the region's "Emerald Necklace." Metroparks envisioned the new "Acacia Reservation," as a model urban ecological preserve that would provide wildlife habitat, filter and treat stormwater, and provide a unique opportunity for people to enjoy and appreciate the plants and wildlife that are native to northern Ohio. We were honored to help Metroparks craft a master plan to guide this transformation, and we are now delighted to be working on a design-build project that will help advance the ecological restoration goals. The project involves restoring Euclid Creek which flows through the site, an intermittent stream to Euclid Creek, and swale complexes which traversed portions of the former golf course had been underlain by drainage tile. Decades of stormwater flows from the densely developed area adjacent to the site had caused the channel to become eroded, incised, and disconnected from its floodplain. It currently serves somewhat as a stormwater expressway to Lake Erie. This restoration project will not only help provide better stormwater retention and treatment, but it will foster the regeneration of riparian areas and a whole new layer of urban ecology. Design is just getting underway with the plan to initiate construction in the fall, 2016.  We look forward seeing this stream, and this site return to life.
Long Wharf to Become a New Haven
With its commercial, educational, industrial, port, and recreational facilities, the Long Wharf district of New Haven, CT is an important regional hub. But its location along New Haven Harbor, directly off of Long Island Sound, makes it susceptible to flood damage from extreme weather events. Most recently, the area suffered flooding and structural damage following Hurricane Irene and Superstorm Sandy. Biohabitats is proud to be working with the City of New Haven to enhance the resiliency and safety of Long Wharf in the face of future storms and sea level rise while also potentially improving the local ecology in this urban setting. As part of a team led by GZA, we are working to develop design strategies for a flood protection system for the City's vulnerable resources. Our first day of field work coincided with record cold temperatures, but that didn't hamper our progress or enthusiasm for a project that combines both human and ecological protection.
Restoring a Canyon Stream: When the Right Hand Knows what the Left Hand is Doing
In the fall of 2013, a huge storm dumped anywhere from 10-20 inches of rain along Colorado's northern Front Range. This 100 to 500-year storm event, which caused severe flooding in the foothills, wiped out Left Hand Canyon Road, the main road leading in and out of the mountains northwest of Boulder. The road follows the path of Left Hand Creek, which was also damaged by the storm. The creek, which begins in Niwot Mountain and flows through the canyon and onto the plains where it confluences with St. Vrain Creek and eventually the South Platte River, suffered severe erosion, extreme deposition, and subsequent habitat degradation.  Working with AECOM, Biohabitats is helping the Central Federal Lands Highway Division of the Federal Department of Transportation to help make sure that both the road and creek are more resilient in future storms. While AECOM leads the effort to relocate the roadway further from the creek, Biohabitats is developing a design to restore stability and habitat to nearly 2.5 miles of the creek and its floopdlain. Having recently wrapped up our assessment, we are now in the design phase of the project. Despite the challenges of working in a canyon with limited floodplain area and an adjacent roadway, we see many opportunities to incorporate aquatic habitat features–such as riffles, pools, and woody debris—that will also enhance the creek's ability to handle large storm flows.  The road relocation is slated for completion later this summer, with the creek restoration coming on its heels. We are proud to be part of this effort to improve public safety and ecology.
Ecology Informs Campus Master Plan at Ohio University
In 2014, Ohio University, known for its leadership in sustainability, experienced a surge of growth. To maintain highest quality academic and campus experience while ensuring that future growth happens sustainably, Ohio University initiated an update the Comprehensive Master Plan for its Athens campus. As the ecological and landscape sustainability lead on a master planning team led by Ayers Saint Gross, Biohabitats provided guidance on ways to maximize opportunities presented by new construction and renovations to integrate ecological function and green infrastructure practices throughout the campus landscape. Much of Ohio University's main campus lies within the floodplain of the Hocking River, which was channelized after historic flooding in the mid-1960s. A remnant of the original river bed, an oxbow stream, now runs through the center of campus. We pointed out that these two waterways provide much of the ecological and hydrological bones of the campus, and significant potential for enhancement as green infrastructure is considered with new building projects. We also identified opportunities to increase tree canopy coverage with a more diverse, native plant palette that ties into the regional ecology. We're delighted to report that the final master plan, which celebrates the relationship between the campus and the Hocking River corridor, was approved earlier this month by the University's Board of Trustees.
Restoring a Dammed Stream in Northeast Ohio
A 75-year-old, man-made pond in Concord Township, OH will soon be transforming into an ecologically functioning stream reach, complete with a riparian forest that will not only add habitat and native biodiversity, but improved stormwater management to this suburban site located just a few miles from the coast of Lake Erie. When the pond was drained due to a failing dam and outlet, the site became a 2.4-acre mud flat comprised of four feet of soft sediment. With funding from a 319 grant, the Lake County Engineers Office turned to Biohabitats and Meadville Land Services for help in restoring the previously dammed stream. Both the soft sediment and limited budget associated with this design-build project posed challenges, but we were able to address them by developing an adaptive management approach and design that incorporated riffles along the now visible channel and creating a low-floodplain bench. This approach helps address potential oxidation of the sediments, thus improving the site for plant life. Grade controls were also incorporated to help prevent incision and lateral movement of the channel. Native riparian vegetation was selected and designed to withstand repeated inundation with stormwater, existing soil conditions and competition from herbaceous plant material. Construction is slated for this spring, and we know it won't be long before this site comes alive with flowing water, beautiful native trees, and all the life that tends to be drawn to a place with improved ecological conditions!
Award-winning work for Rutgers University
We were delighted to share the news that the work we did with Rutgers University to craft a Campus Stormwater Master Plan and the design of stormwater practices by Design Collective received a Merit Award for General Design from the Maryland ASLA.
Places
This year, the Colorado chapters of the ASLA and SER are joining forces to host an Ecological Restoration and Design Symposium on March 31 at the Denver Botanic Gardens. We are pleased to share the news that Biohabitats president Keith Bowers is among the event's key speakers.
On April 1, landscape ecologist Kevin Grieser will head to the 2016 Midwest/Great Lakes Society for Ecological Restoration Conference in Bloomington, IN to present a talk about how to build on the success of past restoration projects. Kevin's talk will feature efforts such as those in Fort Wayne, IN, which began with master planning and carried through to projects in restoration design and riparian management plans.
Biohabitats ecological restoration practice lead Joe Berg wouldn't miss the April 2 Conference on The Future of Stream Restoration and Preservation in Maryland for anything. He'll be participating in a panel discussion and chairing a session on stream preservation.
Ecological planner/designer Jennifer Dowdell will head to Asheville, NC April 3-5 for the annual meeting of the U.S. Regional Association of the International Association for Landscape Ecology. The meeting's theme is "Landscape Change," and Jennifer will present "Ecological planning in parks and open space along the Gulf Coast."
From April 4-8, fluvial geomorphologist Ellen McClure will be joining fellow members of the Northwest Chapter of the Society for Ecological Restoration at their annual conference. This year's theme is "Measuring Change and Seeing Results."
On April 12, the Center for Watershed Protection will host the National SW & Watershed Conference. There are two ways to attend this conference: in-person or on line. Biohabitats water resources engineer Ted Brown will present an overview of special Ms4s.
The National Conference on Ecosystem Restoration will be held in Coral Gables, FL April 18-22. If you plan to attend, keep an eye out for Biohabitats senior ecologist, Terry Doss.
Biohabitats is very proud to sponsor this year's Ohio Stormwater Conference, which will take place in Sharonville, OH May 4-5. Senior water resources engineer Jennifer Missett, environmental scientist Suzanne Hoehne, and ecological planner/designer Jennifer Dowdell will all present talks.
"Truth and Transparency" is the theme of this year's Living Future UNConference, which will take place May 11-13 in Seattle, WA. Biohabitats senior engineer Pete Muñoz and fellow panelists Skip Backus of the Omega Institute and Lori Singleton of Smith Group JJR will lead an honest discussion of the importance of the health and wellness of the Living Building Challenge community to its work.
Biohabitats water resources engineer Ted Brown will be in West Palm Beach, FL May 22-26 to participate in the 2016 World Water and Environmental Resources Congress. The theme of this year's gathering is "Critical Infrastructure Needs."
Senior fluvial geomorphologist Vince Sortman will present "Channel Restoration on a Dynamic Arroyo, Galisteo Creek, New Mexico"at the Southwest Stream Restoration Conference, which will take place June 1-3 in San Antonio, TX.
On June 10, The Landscape Architecture Foundation will convene a group of preeminent thinkers and influencers from around the world to set the course for landscape architecture to make its vital contribution in the 21st century. Biohabitats president Keith Bowers is one of them. Registration for the Summit on Landscape Architecture and the Future is now open.
People
Every quarter, Biohabitats awards one staff member with something we call the Golden Acorn. The award recognizes employees who, through their actions, embody the Biohabitats mission to "Restore the Earth and Inspire Ecological Stewardship." The gold color symbolizes purity of purpose in protecting and defending nature, and the acorn symbolizes strength of resolve. Nominees are submitted by the staff and shared at a quarterly meeting we call our "Tribal Council" (we started holding these meetings around the time the popular TV show Survivor first aired).
Last quarter, our winner was landscape ecologist Kevin Grieser from our Great Lakes Bioregion office. Kevin was recognized for his tireless dedication to the clients and communities he helps through his project and volunteer work in ecosystem restoration. Recipients of the Golden Acorn get to direct a monetary donation to the non-profit organization of their choice.
Kevin chose to direct his to Reel Recovery, an organization that provides fly fishing retreats to cancer patients, providing them with a way to connect to nature, but also discuss their cancer with other cancer patients. Six years ago, Kevin's father, Ray Grieser, an avid fly fisherman who was battling cancer, went on a Reel Recovery retreat in Pennsylvania. Sadly, Kevin's father passed away in November of 2010. According to Kevin, his dad thought the Reel Recovery trip was one of the best experiences in his life, and a unique opportunity to open up to others in his situation while fishing a world class trout stream. "I think it's only fitting that this donation will help another cancer patient attend a retreat, catch some trout, and connect with nature," said Kevin. To learn more about Reel Recovery, visit their web site. While Reel Recovery retreats are for male cancer patients, the resources page of their web site includes links to fly fishing programs for women with cancer.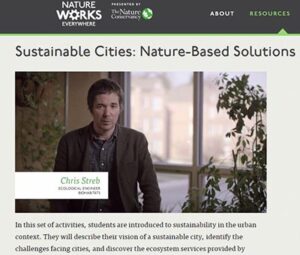 Biohabitats featured in "Sustainable Cities: Nature-Based Solutions in Urban Design," an educational video from The Nature Conservancy's NatureWorksEverywhere program.
Claudia Brown, water resource specialist and leader of Biohabitats' Southern Rocky Mountain Bioregion office, recently completed training and became a member of the Conservation Coach Network—an international community of conservation practitioners with a mission to catalyze transformational conservation by empowering people to develop, implement, evaluate, adapt and share results-based implementation strategies. Claudia joined fellow trainees from the World Wildlife Foundation, BLM, TNC, USFWS, USAID, Denver Zoo and River Network, among others. To learn about this organization and how you can become Conservation Coach, see  http://www.ccnetglobal.com/