Olin, sniffing biofilter media at the on-site wastewater treatment/dispersal system at the Summit Bechtel Family Scout Reserve in WV
Ryan and Olin have likely had their hands on more knobs, dials, meters, sensors, pipes, pumps, filters, bulrushes, sand, and, well…wastewater, than your average plumber and wetland ecologist combined. We asked Ryan and Olin to share some wisdom and they came up with eight things to keep in mind when it comes to the realities of decentralized wastewater treatment and reuse systems.
1. Put yourself in the operator's shoes. And office.
Things look different on paper than they do in real life, and the mechanical room for an onsite wastewater treatment/reuse system is a perfect example. It may be easy to look at a plan and think you're providing enough space for an operator to comfortably run and maintain your system, but according to Ryan and Olin, this usually requires more space than you think.
"There is probably a very high percentage of wastewater plant operators who hold a grudge against engineers because of the lack of space they've been given to do their job," said Ryan. Just how uncomfortable can things get? "There may be a meter that the operator has to read," says Ryan, "but he or she has to get up on a ladder and hang sideways off of a pipe in order to see it." Things also sound differently than they do on paper. Olin and Ryan shared an example of an operator's office that was placed in the same room as the system's noisiest equipment. "The operator couldn't even hear his phone ring," said Olin.
Because operators are typically contracted after the system is built, the possibility of including them early in the design process is unlikely. And while architects use 3-D modeling to help bridge the gap between design and reality, this rarely happens with small and medium scale onsite wastewater projects. According to Ryan and Olin, the best remedy for this challenge is to "imagine the operator is your best friend and be nice," advises Ryan.
Ryan in the well-designed mechanical room of an on-site wastewater treatment/reuse system in Portland, OR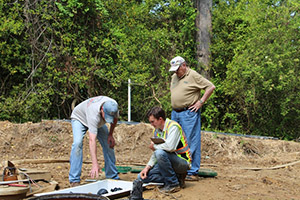 2. Establish mutual trust and respect with the contractor.
Engineers and contractors do not have to be arch nemeses, say Olin and Ryan. Just as engineers want contractors to trust the intent of their design, recognition of a contractor's history of practical experience can go a long way toward establishing a productive relationship.
"A contractor who has been in the business a long time may have insight that an engineer does not," says Olin. "Every time we show up on a job site we have to earn trust."
"The last thing you want a contractor saying is, 'Oh great, here comes the guy with the clean clothes and the clipboard," says Ryan.
One strategy Ryan and Olin use in building trust and respect is to hold a pre-construction meeting with the owner, architect, members of the design team, general contractor, and any subcontractors that will work on the wastewater system. The approach they take to that meeting is also key.
"We don't go into that meeting saying 'This is our design, this is what it is supposed to do, and this is how you are going to build it,'" says Ryan. "Instead, we go in with a team attitude and say, 'Here are the design documents. What do you think? Do you see any potential issues, or any ways to make this a better system for the owner?"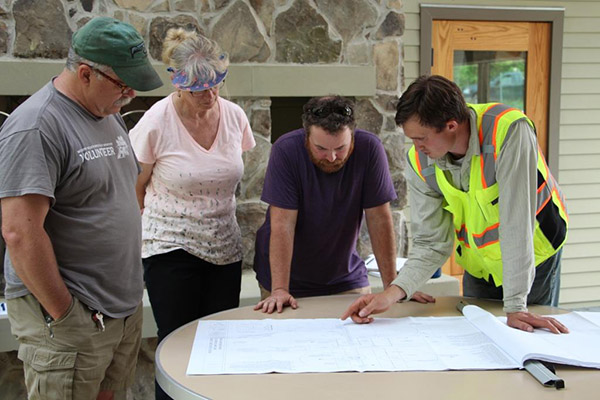 3. Make sure your general contractor understands your need to interface with other subcontractors.
Decentralized wastewater treatment and reuse can have some fairly complex controls that are needed in order to comply with monitoring and reporting requirements. This requires a lot of coordination with the site's mechanical, electrical, and plumbing contractors—folks who have a lot more than just your wastewater system on their to-do lists.
"We are often a tiny piece of the whole project," said Olin, "so it can be challenging to get the attention we need when we are working through our punch list."
At a construction site, the general contractor runs the show. One way to help ensure that the general contractor understands the degree to which you will need to interface with other contractors is to address this at that same pre-construction meeting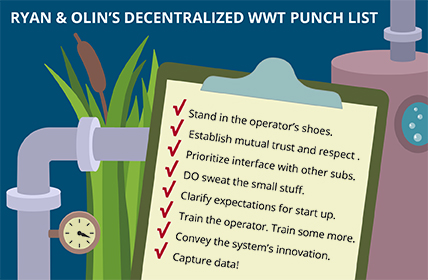 4. With constructed wetlands and sand filters, DO sweat the small stuff.
Most gravel and sand products readily available at local quarries are designed to meet standards established for road construction or backfill for structures. Gravel and sand specifications for constructed wetlands and sand filters, however, are a bit different.
"These systems require unique attention to the gravel products used," explains Ryan, "because particle sizes have to be within a specific range, it has to be very clean so the system doesn't become clogged with fines, and you need to avoid certain rocks, such as limestone, that will have adverse chemical reactions with wastewater."
Ryan and Olin like to bring this issue up at the pre-construction meeting to be sure contractors are fully aware of the requirements well in advance of sourcing the gravel. Local quarries may have to do a custom batch that meets the system's unique specifications and not all may even be willing to do that for a relatively small quantity.
5. Manage expectations regarding the system's ramp up.
"All wastewater treatment systems are biologically driven, and in the wastewater field, it is known that there is a period when the biology is getting acclimated and ramping up to capacity," explains Olin, "but outside of that field, there can be the expectation that once in place, the treatment system is ready to go." There can be some unpleasant odor initially while the biological is developing an equilibrium and that can be quite concerning to people. Most of us are not accustomed to spending time near wastewater treatment plants.
Understanding and managing your client's expectations regarding plant growth in constructed wetlands is also important. According to Olin, it is important for your client to know that the wetland will not necessarily look lush and robust during the first growing season.
"Sometimes, when we are able to have that conversation up front we get feedback that an owner wants it to look great right off the bat and is willing to spend the extra money to plant it more densely, put larger plants in, or plant native vegetation around the edges," says Ryan.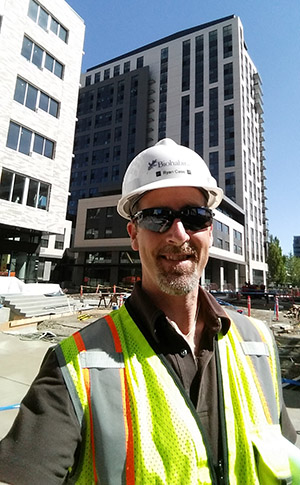 6. Train the doer, not the trainer. And follow up with more training.
The natural systems Biohabitats employs for wastewater treatment/reuse may be mechanically simple, but they do have many intricacies and are not conventional technologies. According to Ryan and Olin, an operator's manual alone is often not sufficient to ensure proper operations and maintenance. It is not common that operators have training or prior experience with managing constructed wetlands or other natural systems where a bit of botany and ecology knowledge comes in useful.
Olin training operators
On site, hands-on training with the actual operators is critical, according to Ryan. So is follow up training. "The biggest problems we see are the result of a lack of preventative maintenance," says Ryan. "The investment in follow-up training and continued support from the designers always pays off. "
7. Let people know that they are witnessing innovation.
On site wastewater treatment/reuse systems can tell compelling stories," says Ryan, "particularly in the years ahead where water issues will become more prevalent in more places." They can also be powerful teaching tools.
"You could be standing next to a constructed wetland, but if there are no signs explaining what it is, you'd have no idea that this particular place is doing something innovative with the wastewater."
Both Ryan and Olin say that the sites that recognize the educational potential seem to inspire stewardship and outreach related to the wastewater systems.
"As part of the curriculum at Sidwell Friends School in Washington DC, middle school students pick a part of the on-site wastewater treatment system located in the middle of their campus and make some kind of multimedia sign to inform people about it," says Olin. "This activity not only educates the students, but all of the campus visitors who see their signs."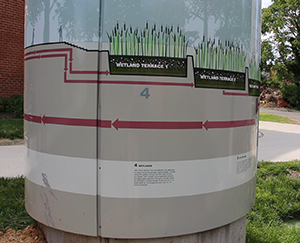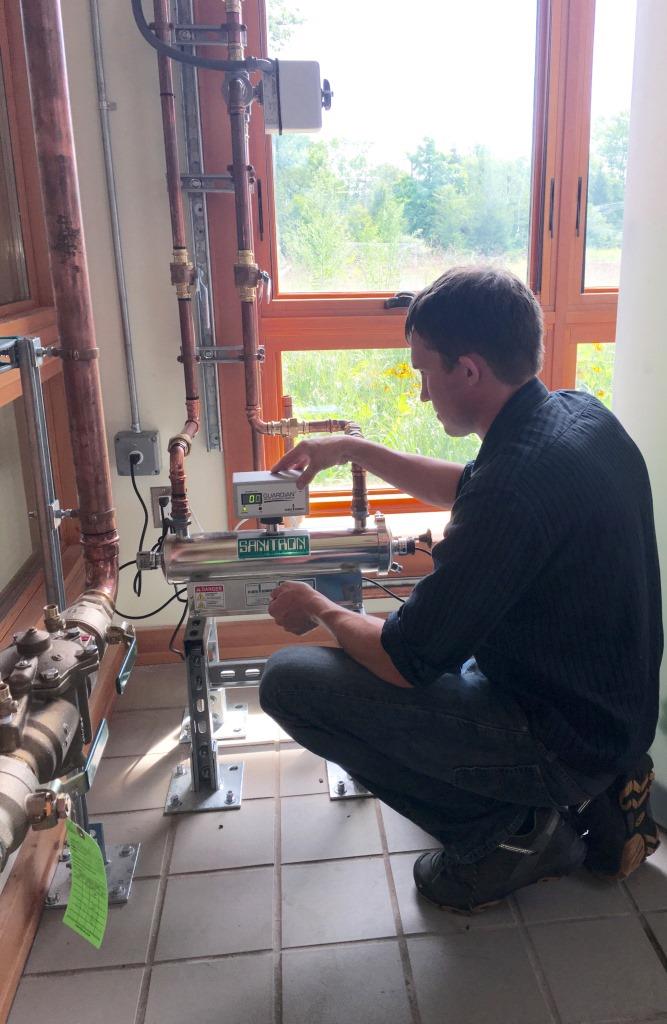 Olin capturing data from the integrated water system at The Willow School in New Jersey
8. Capture data!
A big part of the story a decentralized wastewater treatment/reuse systems can tell comes in the form of numbers, such as the decreased amount of potable water use at your site, how much money it is saving, and how many new species of wildlife have sought habitat in your constructed wetland.
"Having the extra capabilities to capture and show some of this data may be an added cost," says Ryan, "but it really legitimizes the story and grabs people's attention.