The Next Generation
Ecological restoration students and emerging professionals will have a profound impact on the UN Decade on Ecosystem Restoration and on the future of the field. Where do you they ecological restoration can have the greatest impact? What do they think can be accomplished in the next ten years?
Texas A&M sophomore Vanessa Rebentisch plans to major in environmental engineering major and minor in environmental soil science. She tells us about her studies, career aspirations, and hope for the Decade on Ecosystem Restoration.
Marina Morais Monteiro is in the first-year of post-doctoral research at the Universidade Federal do Rio Grande do Sul, where she is focused on conserving the biodiversity of Brazilian grasslands and savannas and making Brazilian ecological restoration research available to policymakers and other scientists. Learn what she thinks needs to be accomplished during the Decade on Ecosystem the future of ecological restoration.
Tales from the Field
Ecological restoration is serious work, and it is responding to some of the world's most pressing challenges. But for most of us, its a source of joy. let's face it, we've all had those moments where it makes us laugh out loud. If you've ever come across footage of surprising human activity on your wildlife camera or discovered your boots were leaking while electrofishing, you know what we mean. A few Biohabitats team members shared some giggle-worthy stories of their own.
A few years into my career, my supervisor invited me into the field with him for a meeting with a municipal client to discuss some upcoming stormwater maintenance work they were planning for a residential dry pond. My supervisor knew I was from the area where the work was being planned, so it was a neat opportunity to work where I grew up; but I don't think he knew how close I grew up to the site. The client was talking to us about how they thought the culvert to the pond needed a replacement based on a "sink hole" that looked like it was right on top of the pipe's alignment. I confidently spoke up to let them know that the depression was definitely not from a failing pipe. Both my supervisor and the client were a little surprised by my sudden conviction, but I explained how the hole was the result of some neighborhood kids playing around. I was so sure because my friends and I had dug the hole maybe 10 or 15 years earlier to build a bike ramp in the grass. You could still see the remnants of the ramp in a small mound on the side of the "sink hole," since beaten down from thousands of bike tires and over a decade of time. -George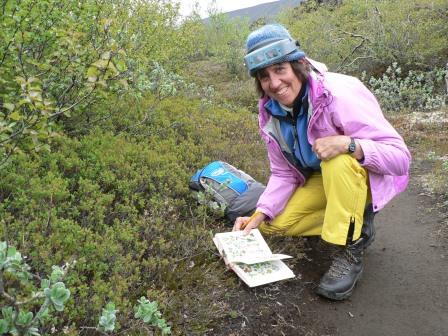 Stuck in the mud at one of my dam removal sites.  It was a months after we removed the dam and I had thought the impounded sediment would have consolidated enough for me to walk on it.  It was going well but then I took two steps out further and immediately sunk to my knees, of course the flip flop shoes I was wearing came right off and were now about two feet sunk into the mud. I had to lay down flat on the mud and shove my hand down each hole to find the shoes after I managed to crawl out myself. Dumb move, but we were laughing our heads off at the time.  My friend, Margaret Murphy, was flying the drone and found it funny enough to get out her camera before helping me. Margaret is now a Fish Program Manager with Vermont Fish & Wildlife. -Laura
Back in the early 90's I hired a DEQ permit writer with little field experience to work for me. We were working on a stream in a highly urbanized area near a shopping center outside of Richmond. There was all sorts of debris in the steam. My new employee saw a hollowed out coconut on the side of the stream picked it up and then looked up to see the tree from which it had fallen. We had a good laugh as she realized what she had done. I still have the coconut. – Lee
It was a full moon, spring weekend in late 2000s in southern New Jersey. Along with a colleague who is a birder, I was tasked with seeing if any barred owls (they are a species of concern in NJ) were nesting near our project, which was a Superfund site being remediated. I was chosen for this job because I had HAZWOPER training. We set up a grid pattern in this flattened wetland, and at each point, we were to play barred owl calls in all directions and record any replies. We did this from 8 am to 5 pm, from 8 pm to 12 am, and again from 5 am -9 am. Highlights of the trip: duck taping my 4'11" coworker into a men's extra-large hazmat suit; buying bright neon green capri leggings at Walmart to wear as an extra layer because it was so cold; a nasty hotel room with holes in the wall; and a man who had to travel with us as a safety officer, who just sat on the side of the road on a bucket the whole time we were in the marsh.. We did not find any owls.  – Suzanne
Of course I got stuck in the mud more than once. I recall having to sacrifice a hip wader to the mud god, Gilgamesh, in order to escape his realm. It was quite harrowing and I recall being grateful that my trousers were intact. Alas, I have no photographic testament of my exploit. – Vince
Inspiration