Thoughts On Stakeholder Engagement
How do you define "stakeholder?" Land owner? Elected official? Business person? Recreational visitor? Leader of a cultural group? To begin examining stakeholder inclusion in ecological restoration, conservation planning and regenerative design, we must first present a clear definition of the term. At Biohabitats, we define a stakeholder as any person who is – perhaps even unknowingly – a critical component of a place. A person who is directly or indirectly affected by the work we do. By stakeholder engagement, we mean an ongoing exchange of information and inclusion of all stakeholders – not just the wealthy, powerful and loud – throughout every phase of a project.
Because stakeholders have something to gain or lose by the outcome of our work, it seems only natural that they be involved throughout the many stages of an environmental project. One would assume that effective stakeholder involvement would result in mutual benefit, for the project and the stakeholders. Sadly, though, this is not always the case. According to our survey, Leaf Litter readers have conflicting thoughts on this subject. Many of you support the idea of stakeholder inclusion, but find it very difficult and expensive to put into practice.
The benefits to stakeholder inclusion are abundant and obvious. Talking with home owners in the planning stages of a nearby wetland restoration, for example, may allow you to gather values-based, anecdotal information you might have otherwise missed if relying only on data obtained from studies and experts. A stakeholder who receives accurate information and believes as though his or her voice has been heard may be much more likely to embrace the project than someone who has been left out process. When done well, the act of inclusion can not only lead to broad-based project approval, but it can also help bridge the gaps between power and powerlessness, politics and populace, and people and place.
But how can we possibly identify all stakeholders? How can we motivate disinterested parties to participate? Even if we can, how will we afford it, and how can we ensure that our project is not compromised or slowed down by a bottleneck of debate?
While Leaf Litter can't answer all of these tough questions, we hope this issue helps us all make some progress in our efforts to involve stakeholders. We'll begin by taking a look at folks who do it well – from those at Wildlands Restoration Volunteers, who are making local connections as they recruit and work with volunteers, to Pamela Mang, who incorporates a wide-scale comprehensive system of stakeholder inclusion in projects to. We also include recommended resources, tips from Biohabitats staff, and some examples of how we are involving stakeholders in our projects.

Leaf Litter Talks With Pamela Mang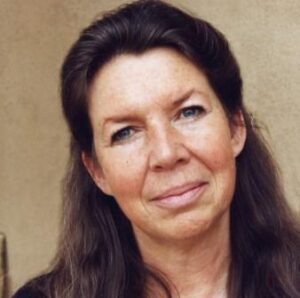 Principal/Designer, Regenesis Group
Pamela Mang spoke with us from her office at Regenesis Group. This innovative firm, based in Santa Fe, New Mexico, offers an array of services to help clients "understand the land…engage the community…design in harmony with place" and "speak to the future." A founding member of Regenesis, Pamela draws on 25 years in management consulting experience specializing in LivingSystems Thinking and human development processes. She has worked in cross-cultural settings with up to five different nationalities at a time, helping people develop a common "language" based on systems thinking frameworks that facilitate cross-cultural and cross-disciplinary communication and collaboration. Her experience includes community relations, leadership and team development, design and implementation of effective meeting processes, strategic and operational planning, marketing and public relations. Pamela holds an undergraduate degree in International Relations and the Economics of Development from StanfordUniversity. She did post-graduate work at Columbia University's China Institute and was a founder of the National Committee on U.S.-China Relations.
Can you tell me more about the phrase "…partnering people and their place to regenerate ecosystems and the human spirit," which appears on the Regenesis web site? This sounds like a lofty mission. Can you tell me a little more about what this means and when you first started to think that it was possible?
Let's start with the second part of your question. History says to us over and over again that it is not only possible — it is essential. The question that should entertain us is: why is it not possible today in Western culture? It's not an equation of whether it is possible or not, it is simply our role, and we must return to it.
It might be helpful to unpack some of the key concepts in that phrase. At the heart is the concept of place, the hook on which all of the rest hangs. Place is intimate, personal, filled with meaning and potential. It grows out of the rich interrelationship of earth energies, biotic energies, and human cultural energies to create a living whole with its own distinctive nature and spirit. When we experience where we live and work as such a place, it becomes a powerful source for the continuing caring required to sustain sustainability.
Place is where we – Regenesis – see ourselves working. We never think of ourselves as working on a project or a problem per se. We view whatever project we've been called in on as an invitation to engage with the ecological, social and geographic whole that gives meaning and significance to, and is the source of potential for that project. The project then becomes an instrument for enabling the whole of its place to move to a richer and healthier expression of life. And in turn, a healthier whole grows the viability and vitality of the part (be it a river restoration or a housing development). And working in place, we work with people who, whether collectively or individually, are seeking to create or recreate a new way of being in their place. In many ways, I think it's very similar with your readership. You don't do restoration on a global, abstract scale; you do it in a place.
We're starting to see more and more people writing and speaking to this notion of place, with increasing recognition of how critically important it is to sustainability. We see working in place as a gift, but only if we consciously recognize and hold it as the context and focus of all our work.
Unfortunately, we're losing our places because we have divided them into abstractions called economies, cultures, societies and environments. Wendell Berry, a powerful but undervalued voice in our field, writes about the danger of abstraction:
"The evil of the industrial economy, capitalist or communist, is the abstractness inherent in its procedures – its inability to distinguish one place or person or creature from another… Abstraction is the enemy wherever it is found. The abstractions of sustainability can ruin the world just as surely as the abstractions of industrial economies. Local life may be as much in danger by those who would save the planet as by those who would conquer the world, for saving the planet calls for abstract purposes and central powers that cannot know, and thus will destroy, the integrity of local nature and local community."
One of the biggest sources of hazard for the sustainability movement is that we still have not figured out how to sustain sustainability. The landscape is littered with wonderful projects that got started with full energy and lots of expertise and over time they gradually drifted into monotony and the spirit went out of them. How do we create the kind of spirit around our work that taps into a powerful enough source of caring that we can continue it and continuously regenerate it? How do we really tap into the wisdom that local cultures embody to work more effectively on the restoration projects, the development projects, etc.? This has tremendous implications for this issue of stakeholders.
By seeing the ultimate aim of all our work as the regeneration and evolution of increasingly vital, viable and inspiriting places, we can reverse this loss. The good work we can do needs to be done in place, where we can experience ourselves as being connected with and relevant to the natural and social world in which we live, as playing a meaningful role as co-creators. When we allow ourselves to be touched by the spirit of a place, we come alive. That is a source of power for us that can enable a continuing caring, as well as a source of local wisdom.
So part of the gift of working in place is tapping into a source of caring, of spirit. Another part is we can be more intelligent in how we care for our biotic and social communities. Berry notes that "You can't act locally by thinking globally. No one can make ecological good sense for the planet, but everyone can make ecological good sense locally if the affection, the scale, the knowledge, the tools and the skills are right."
He further writes that "No human being will ever write a manual for how to operate spaceship Earth. That manual is being written by thousands upon thousands of local cultures." The notion is that culture, if it's a culture of place, is a repository for the memory of how to live appropriately in that place. When we lose local cultures, we lose that understanding and knowledge and we end up relying on abstractions and scientific principles and expertise that further separate the average citizen from their place and the feeling they make a difference.
The next key concept in the phrase is partnering. Place gives us a context for understanding our role as humans on the planet, and it's really as a partner. For us it's not just partnering to try to fix things or solve problems. We're partnering because together we can create something of a much greater order of abundance. Partnering creates an entirely different mindset about how we think about our relationship to nature. As in a human relationship, good partners really understand each other at an essence level. Being a partner to our place requires appreciating and understanding the essence and potential of that place as a whole—its ecological as well as social dimensions, and what it can become if enabled to fully express that essence. When we understand that, we can see who we need to be in relation to that place, what our potential is.
Being a partner in evolution requires regenerative work. Living systems are so elegantly sustainable through time. They have, inherent to them, the capacity for continuously regenerating their life generating capacities and presence. So our work as partners aims to restore those capacities when they are missing or disrupted, whether in ecological or human living systems. A big part of that is finding ways to continuously, consciously regenerate ourselves and our thinking, to continuously see ourselves and our place in new ways, with new possibilities.
Finally, as to regenerating human spirit, even if we are called in to deal with a problem, we don't start there. We start with a process envisioning a way to be in this place given an understanding of what it can become. When you lift up and engage people with that way of being as a possibility, they start from a different plane than if they started at the issue or problem, and with a new spirit.
Can you tell me briefly about Living Systems Thinking?
It's a way of thinking, but it's even more deeply about a way of being. Let's look at systems thinking vs. conventional thinking. Conventional thinking is based on using our five senses to gather data. When this is the source of our thinking, we're trapped in a world made up of separate physical objects, because that's the way our senses perceive the world. We're looking at something that has already come into existence and is now in a process of decay or degeneration. This elemental thinking is good for fixing problems. But if we're continuously fixing problems, we're never participating in creating something new into existence. And if we can't "see" the larger systemic dynamics that are creating the problems, we can't see what's sourcing the problem or what are the systemic consequences of our solutions.
Systems thinking is much closer to understanding how the universe actually works, but it requires a different mind to "see" that reality. When we look through the elemental mind we see a world of things. When we look through the systems mind, which is our imaging mind, we "see" dynamic sets of interrelationships and patterned flows of energy that are continuously evolving toward increasing levels of complexity. We recognize the complexity and richness of life.
Living systems thinking shares that aspect of systems thinking, but unlike the cybernetics branch of systems thinking as a discipline, it is more focused on understanding how life works in a specific situation than on being more systemic in solving our problems. Living systems thinking enables us to align ourselves more effectively with the evolution that is going on (or wanting to go on) around us so we can enable, rather than disenable it. Most of the time we get in the way of nature's desire to continue to evolve, but if we can understand better how that works, that's when we can become effective partners.
You talked about tapping into the wisdom that exists in a place through interviews. How do you find people to interview, and how do you engage them?
We want to tap into whatever wisdom still exists in a place as a source of thinking about whatever evolution we're trying to encourage. We track down the people who are sometimes the least likely to be considered because they are far from the realm of "expert." They are usually the curmudgeons and characters, the grandmothers or grandkids who have sat at the grandmother's knee and heard stories about a place. Even in the most disruptive and dysfunctional places, it's amazing how many of these sources you can find. If you start to tap into that, you do two things. One: by appreciating them you start to reawaken in that place a remembering of who we are and what this place is. You also begin to gather an understanding of the place as a whole – what its path in the past has been and where it can be. This reshapes how you think about working with that place.
I think of it as a series of conversations, each of which ripples outward. We start by developing an understanding the place—landscape and community as a living entity. Then we work with the client to get a sense of what is at the core of the project. When you put those two together, you begin to see where the opportunities are for real engagement. If, for example, it touches on marine life, we ask, what's traditionally been the relationship of this culture and economy with the sea? Who is still around who makes their living that way or had relatives who did? In the St. Mary's River Watershed in Maryland, we ended up finding a project at the University that had documented stories of the old waterman culture through taped interviews. This became a tremendous resource for us that led to many contacts. Many communities have people doing that kind of work.
As to how we engage them, we have to understand what the new, more holistic sciences are saying over and over again—that there is no way we can be an expert given the complexity of the way life works on the planet. Scientists can sometimes get caught in the trap of expertise. We try to start from a place of humility and a deep appreciation for the wisdom of place that comes from people who have lived and worked in place. When you approach people from that perspective, 99% of the time we find that people come alive. In most communities, people who hold this wisdom are largely overlooked because they are not seen as experts, they don't have scientific language, and they don't have positions of power. But they have a deep wisdom. Most people come to them to ask, "What's your opinion on whether this should be this way or that way?" as opposed to starting with, "How does this place work? How have you seen it change over time? What is really critical for it being a healthy place to be?" Then, we bring the sciences in and adapt them to enable the evolution of that place. So the first step is recognizing these are not people we have to somehow "include." They are the sources of new potential. They will have insights that we will never have coming from the outside. If we know how to ask the questions, we can unlock that wisdom and in the process, tap into their spirit.
Our readers are involved in conservation planning, ecological restoration and regenerative design. All of these types of work are processes. Stakeholder engagement is also a process. How should these processes overlap?
The question implies those are separate. Regeneration, which is a way of working, embraces them all. From the very beginning, we try to work in a way that is regenerating our understanding and other people's understanding of a place. That can begin to build the capacity within the community to see new spirit and new potential in this place. The same thing is true with the biotic communities. Our overall aim for any work is, as stated earlier, "the regeneration and evolution of increasingly vital, viable and inspiriting places", and that can only be accomplished if people have a stake in that aim. Stakeholder engagement is an essential component throughout, though its form changes as appropriate.
What about when this wisdom is conflicting? Our readers seemed frustrated with situations such as public meetings, where there can be many dissenting voices.
I think large community meetings and surveys are the least effective methods of engaging stakeholders. Large scale visioning processes end up with long, unintegrated lists of things, which further fragment and continue to make more abstract people's connection to their place. Many communities have lost their civic processes, so people have no place to take the issues around which they've built energy. Any forum then becomes an opportunity to let loose that energy that's been growing in them. When you begin with problems or issues, everyone is starts from the world of division and separation.
[We use] the concept of "kitchen table conversations"– but never in an abstract way. It's always holding the notion of partnering, going to someone because you honestly believe they have some insight and wisdom to share. You use the process of the conversation to help deepen an appreciation for and reawaken a connection to their place and what's really at the core of that place…what really touches their heart about it and that vitalizes the larger process.
Frustration often results when we're fixed on moving something forward. We have a job to do, a contract, a timeline, a problem to solve, and we're the ones who know how to do it. If we start with that mindset, it is guaranteed to lead to frustration. People pick up on that and the situation will continue to deteriorate. If there is no way to avoid these large meetings at the beginning, then you must come with a very deep sense of compassion for this community as a whole, and for the people who stand up and speak. Try to hold the fact that, here's somebody who cares. Here's somebody who has energy about something. So let that steam blow off, and then come back around to them – not in the meeting, but individually – and express, "you are someone who has a lot of energy about this. We'd love to talk to you some more." If they really aren't connected and this was purely a forum for them to blow off steam on an unrelated issue, they're going to melt away. But if you look at your project as working on the whole of the place, what seems unrelated may be a source of new potential.
Let me give you an example. We were recently asked to do a farm plan for a National Park Service monument, a trading post, that wanted to revive the original farm that had been abandoned decades ago. They recognized the need to connect with the local Native American community, and they wanted to find a way to make it self-supporting. They said, if you can create a farm plan, we'll get a farmer from the local community to farm it and he can make a living and we'll have our living museum. We said no, you can't do that because you will continuously have to put new energy and resources into it if it's treated as an isolated element of the larger community. Let's step back and look at the whole that this is a part of. We started talking to a few people in the community, looking for what were the sources of energy, where you could really feel that people had commitment and excitement and were actively working to create something positive for their community. And we asked, how can those "nodes" or "attractor points" be connected into a web that both used and served this farm?
We found a teacher at the high school who was working with Future Farmers of America to connect kids to more traditional, agricultural ways. A woman [at the local hospital] had started a diabetes education program. One part of that program was to shift diet, and she was hoping to get people gardening again. Instead of seeing them as separate from the farm, we began to talk to them about what they were trying to do and together we painted a picture where the farm became a source of energy and opportunity for each of their programs. They then began to connect to each other in terms of how they could support each other in what they were doing. We didn't even start the farm plan until all of those initial connections had been made. Out of those conversations emerged a farm plan that could actually serve as a place for kids to carry out the kinds of agricultural practices and for the hospital to engage people in growing native crops and learning to change their diets. And now community institutions had a stake in maintaining the farm. Essentially, it created a whole new system around the farm that helped revitalize the sense of connection to that place and an agricultural tradition.
Cost was another obstacle to stakeholder engagement cited by many of our readers. On the Regenesis web site, you mention that one of the results of engaging the community is a "decrease in process costs and approval time." How do you assure people that the cost they must outlay for stakeholder engagement is worth it and then some?
We've consistently found this to be true. Engaging people in the community in a way that they see a whole new set of possibilities for what they care about helps, but it's not the only source. We start with connecting ourselves, and through that process anybody who gets involved with the project, with a much deeper understanding of who this place is, how it works and how we can live in it in a way that seeds itself toward increasing health. The case that gets made as a result of that is so much more extensive, grounded and whole, that when it's presented to regulators, it goes beyond what they were expecting. It usually ends up educating them about the fact that their regulations are limited and aren't actually going to be helpful in terms of the larger evolution that's possible.
Most regulations are intended to limit and stop harmful behavior. Harmful behavior is identified when a problem comes up. The problem is a result of a past set of conditions. So we're constantly working on the past instead of creating a future. We help people see that if we focus on creating the future, the problems get fixed and they get fixed much more effectively and permanently. So it's both the wholeness of the understanding of that place and the focus on its potential, combined with the way we have engaged people that creates a difference.
We have heard that you are not afraid to get personal, and that you have been known to spend time in a client's home to better understand what motivates him/her on a personal level. You mentioned "kitchen table conversations." Say you're working on a master plan for a university, and you want to engage residents, students, faculty, etc., how can you conduct such intimate conversations with so many people and different types of people?
Part of it is how you structure it from the beginning. The other part of if it is what you are having those conversations around. If you're starting off the conversations at the traditional, architectural programming level, which is "what are all of the functions you need or want to be doing in the future and therefore what's needed?" you are in the world of things, which is where we have most of our arguments. It's the state of mind and being that you bring into this that can shift how people engage with it. It's so critical. It feels subtle to people, yet when they experience this, it's makes an enormous difference. Rather than looking at the university as a collection of things—buildings, infrastructure, classrooms, etc., it's getting people to think about what's really the essence of this university as a living system. Why have you come to this university to teach here, be a student here, to be an administrator here? What is it that is really core to this place, and how has that touched you? What's the core set of qualities that make this place really special? That's what we call looking for the essence of the place, and that then becomes the source for reconciling differences.
In development we often get lost in fascination with all of the do-dads, the physical amenities and lose what a place really is about. Development becomes a continuous process of small compromises as we start with an ideal and then meet the physical reality. When we are working with a collective appreciation of what core to a project and a place, what is real, we can find creative reconciling solutions. So you start with connecting people at a spirit and essence level with what needs to be preserved and enhanced for the university as a whole to evolve its distinct identity and ability serve all its stakeholders.
You don't have to go out and touch everybody. If you start with a few key people and small groups, they seed the larger field with that renewed sense of connection because it is so inspiriting they can't not share it. If you think about yourself as creating an energy field that's most conducive to being creative and being able to help this place express its nature more fully, then it's almost like you don't have to do the work. The people you engage in that way become sources of that way of being in the place. When they go out and connect with people, they're starting to bring new eyes and new experiences of that place. Then you can move to your larger meeting – once that energy shift is starting to occur. It continues to grow. It's what brings a place alive ultimately.
So if you are working in a place in which you want to tap into the local wisdom of many and reignite the human spirit, it's okay to start small?
I would say it's not just okay. It's the only practical way to actually work on it — particularly if there has already been pre-established divisions and dissentions. What we're working on is changing who we are in that place. That's a much deeper process that requires real engagement. It may take longer but it's much longer lasting and more profound transformation occurs out of that.
It's also good to hear, because our readers consistently cited cost and manpower as obstacles to engaging stakeholders.
It has enormous rewards. You're looking for those repositories of local wisdom. You're also looking to engage people in a regenerated image of how to be in this place. You're then looking to connect people to a deeper understanding of what their role can be. So you engage students not for their opinions about how many walkways needed. You start by saying, "If this is what this place is about and what it could become if it were really whole and generative for all its members, what's the role the student plays? How would you want to be invited in to play? What would enable you to play that role?"
David Orr talks about the difference between residents and inhabitants, and that all residency requires "is cash and a map." We have a lot of residents in our society these days. If we can help them change into inhabitants, with a deep sense of affection, understanding and caring, it immediately shifts the whole conversation and the way we can work together.
I'm assuming, then, that you would consider those initial conversations to be the most effective way to engage stakeholders. Is that true?
Yes. One-on-one or small group conversations that are not about soliciting opinions, but about tapping into the wisdom and awakening caring and a sense of possibility. It's coming and saying, "We're working on something important. Work with us." It's a process of co-commitment. That, to me, is what 'engage' means.
There's a wide venue of options for reengaging people with their place as something they care about and want to play a role in. Art, storytelling and poetry, for example. Children are also an extraordinary way to engage a community. If you have an opportunity to work with a school or after school group to create a subsystem of your project that's an educational opportunity for kids, they go back and talk to their parents. You suddenly have these little seeds spreading out into the community. In working on restoring an eroding city arroyo, we partnered with a neighboring elementary school. We hired an environmental educator to take the kids through a parallel process to what we were doing. They did an assessment and presented it to parents at the school. Then they developed a conceptual master plan and did a modeling of that. It was a magical process.
You have worked with many different cultures in many different countries. Is there anything in particular we can learn from another cultures regarding stakeholder engagement?
If I were to say a culture that we could learn from, I would say look to the growing understanding of how indigenous people and communities work with place. We've tended to either dismiss or romanticize that relationship, but there is beginning to be a body of work by Westerners and indigenous scholars that is translating that into terms we can actually understand from our Western mind. There's a book called 1491: Revelations of the Americas Before Columbus by Charles C. Mann, which is an amazing depiction of what the world looked like before Columbus and what an extraordinarily human-shaped landscape it was. The Amazon basin as we know it today was greatly shaped by human intervention. M. Kat Anderson wrote a book called Tending the Wild: Native American Management of California's Natural Resources, which is a very detailed study of how California native Americans worked in partnership to create the abundance of the landscape we know as California out of a deep understanding of how those places work as well as appreciation of them. If we can begin to understand the power of playing that role, I think we will be better able to shape models that are appropriate to our modern day world but carry that underlying patterning of reciprocal and inspiriting relationships.
Making Local Connections
by Claudia Browne, Biohabitats, Inc., Southern Rocky Mountain Bioregion
Reprint courtesy of the Central Rockies Chapter of the Society for Ecological Restoration.
Most people agree that community participation in restoration projects is a great idea, but the reality is that making it work can sometimes be challenging. Particularly if the goal is not only to successfully complete a project and reconnect people with each other, but also to inspire local and lasting stewardship. Often, volunteers may not live in the immediate area, so they may have limited or no opportunity to revisit a site. It also seems that the short-term, fast-paced nature of restoration projects may limit volunteers from creating a lasting connection to a particular place.
Perhaps restoration projects do not necessarily need to reach local people, and it is enough to inspire a sense of stewardship in the broader community for the planet or region. It is easy to imagine, however, that including more local residents in a project would provide opportunities to reintegrate key people with the land and improve a project. Local people may make frequent trips past a place and could offer an opportunity to monitor and respond to changes. Locals also frequently have useful knowledge that might benefit a project (e.g., about where materials are).
How then could we better inspire a place-based core group of people, or even an individual, to participate in a restoration effort and continue the relationship with a site into the future? Ed Self at Wildlands Restoration Volunteers has a lot of experience in organizing volunteers and reaching out to local people.
With nearly 100 volunteer projects, and over 75,000 volunteer hours contributed by hundreds and hundreds of enthusiastic participants, Ed knows that people volunteer for a lot of different reasons: fun, social needs, exercise, and most often "giving something back" to the places they care about. In an urban setting, he notes that local residents may be more motivated to take care of a local stream or park.
In rural locations neighbors are more spread out and harder to contact, but may care passionately about a special place. WRV project planning efforts involve reaching out to local people through a variety of ways.
Here are some suggestions that Ed offered based on WRV's experience.
Take time to research local place-based groups working in the area like a local watershed organization, hiking group, or a chapter of Trout Unlimited, Sierra Club, or Audubon Society. Often these groups can include a notice in their newsletter or send out an email to their members.
Visit the local gathering places (like natural food stores, restaurants, and sporting good stores) and put up a notice with contact information for interested persons.
Contact local schools, boy scouts and other youth groups.©Wildlands Restoration Volunteers]
Ask the land manager client to send out letters to neighbors around the site.
Ask a newspaper or public radio reporter to come to a project or advertise it in their community calendar
Organizing and efficiently working with volunteers is another story. WRV has built an entire infrastructure (communication, tools, and volunteer leader training) to help make a volunteer project flow smoothly. In the upcoming year they will be looking at how to best to support other groups interested in working with volunteers. Readers from along the Front Range who would like to learn more about getting involved with Wildlands Restoration Volunteers can visit their web site at www.wlrv.org.
Resources
Applied Environmental Education Communication is a scholarly, peer-reviewed quarterly for academics and practitioners. It presents the latest environmental developments in the fields of education, communication, social marketing, journalism, and behavioral science, as well as information on sustainability education, environmental interpretation, risk communication, public relations and outreach, environmental health communication, governmental and corporate public awareness, and environmental campaigns around the world.
Environmental Online Communication, Advanced Information and Knowledge Processing Series, Arno Scharl (Ed.)(c)2004 Springer London, ISBN: 1-85233-783-4
Conservation Education and Outreach: A Handbook of Techniques, Susan K Jacobson, Mallory D McDuff and Martha C Monroe, 256 pages, 60 halftones, 15 line figures. Oxford University Press
Conserving Wildlife: International Education and Communication Approaches, Edited by Susan K Jacobson
302 pages, 78 illus. ColumbiaUniversity Press
Communication Skills for Conservation Professionals, Susan K Jacobson, 350 pages, photos, figs. Island Press
Engaging People in Sustainability, Edited by D Tilbury and K Henderson, 40 pages, col photos. IUCN
Education and Sustainability: Responding to the Global Change, Edited by D Tilbury, RB Stevenson, J Fien and D Schreuder
Communicating Nature Conservation: A Manual on Using Communication in Support of Nature Conservation Policy and Action, Edited by Sandra Rientjes, European Centre for Nature Conservation
Culture, Conflict and Communication in the Urban/Wildlife Interface, Edited by AW Ewert, 288 pages, Westview Press
The Art of Facilitating Participation: Releasing the Power of Grassroots Communication,Edited by Shirley A White
Making Collaboration Work: Lessons from cases in environmental management, Steven L. Yaffee and Julia M. Wondolleck. Conservation Biology in Practice, Vol. 1, No. 1: 17-25. 2000.
The Environmental Communication Network is a community of scholars, professionals and activists concerned with the role of communication in environmental affairs.
The U.S. Environmental Protection Agency's Evaluation Resources Toolbox for Stakeholder and Public Involvement at EPA contains summaries of nearly forty evaluations and reports focused on public involvement activities of EPA and other agencies.
Environmental Protection Agency shares information about public involvement activities across EPA to help users understand how different types of public involvement relate to EPA programs and how public input can be used in EPA decision-making processes.
Outreach documents created by the U.S. Environmental Protection Agency to help you engage and involve stakeholders in your watershed.
International Centre for Conservation Education's mission is to promote greater understanding of conservation, the environment and sustainable development through education and communication, placing particular emphasis on developing countries.
Effective Meetings.com resource center offering hands-on meeting advice for every possible situation. Site includes recommendations regarding planning, making use of technology for virtual meetings, boosting participation, etc.
In its Community Toolbox, the National Park Service Rivers, Trails and Conservation Assistance offers some tried and true methods for working in and with communities to help accomplish shared goals.
Environmental Education and Training Partnership (EETAP) is the national training program of the U.S. Environmental Protection Agency's (EPA) Office of Environmental Education. EETAP's overall mission is to coordinate and deliver training and support services to advance education and environmental literacy in the United States.
Biohabitats Projects, Places and People
Projects
Taking The Bite Out of The Big Apple's Storwmater Management Problems
The five boroughs of New York City are plagued with stormwater management problems. As part of an effort to address these problems, Biohabitatsis assessing opportunities to apply stormwater best management practices (BMP) to mitigate the quantity and quality of runoff entering the City's entire combined sewer system. We are considering a wide array of technologies, including: collection; filtering and treatment systems; non-structural and structural strategies; and changes in management practices, development regulations, architectural guidelines and land use policies. We will also recommend education tools and stakeholder awareness programs. "Out-of-the-box" ideas, tailored to the City's ultra-urban infrastructure and unique environmental conditions, and emerging technologies, such as green roof canopies and green corridors, are also being considered. We are proud to help New York City take this important step toward the development of a comprehensive, long-term approach to stormwater management.
Best Management Practices To Guide Flood Prone Village In Ohio

Little Duck Creek passes through the Village of Fairfax, Ohio. Many homes in the Village sit within the regulated flood zone and regularly experience flash floods from the creek. In July of 2001, one such flood resulted in the deaths of two Village residents, along with significant structural damage. Village administrators have begun buying out the most at-risk properties, and in partnership with the Hamilton County Park District (HCPD), have successfully acquired funding assistance from the Clean Ohio Fund for stream restoration and flood protection. As part of this effort, HCPD turned to Biohabitatsto develop a user-friendly Best Management Practices Plan to help the Village in the short-term, during property acquisition, and over the long-term to manage the acquired land. The plan focuses on protecting and improving stream resources while reducing the impacts of flash floods. We are currently producing GIS-based maps showing existing conditions and conceptual future conditions with stream restoration and park development.
Cooperation Leads to Coastal Bay Habitat Restoration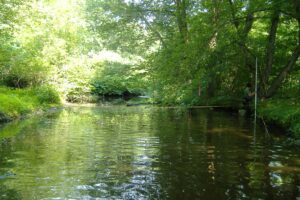 The upper St. Martins River is the most degraded water body in Maryland's coastal bays. As part of a cooperative effort among the Maryland Coastal Bays Program, Maryland Department of Natural Resources, U.S, Army Corps of Engineers, Maryland State Highway Administration, the Worcester County, Maryland government and private landowners to improve the river, Biohabitatsand Keith Underhill are designing a stream and wetland restoration project involving the removal of a dam to open fish access. The 4,000 linear foot stream restoration will open up miles of much habitat for anadromous fish, which have been negatively affected by two centuries worth of dam building. The project will also involve the restoration of approximately 12 acres of associated marsh and forest in the floodplain. Forest floodplain improvement will include plantings of the majestic Atlantic white cedar, once a common forest species in the area, but now virtually absent from the coastal bays. Having recently received national funding from the Estuary Habitat Restoration Council, the project is scheduled for implementation in September. (Government officials, contractors, members of a non-profit organization and landowners gathered for a photo while visiting the restoration site recently.)

Mill Creek Connector Trail and Ecological Restoration
Mill Creek, a tributary to the CuyahogaRiver has played a considerable role in the industrial development of southern Cuyahoga County, Ohio. It has a drainage area of over 20 square miles and flows through nine communities. Human development of the area of has resulted in significant environmental degradation and impaired ecological condition throughout the Mill Creek valley. Using the framework provided in a prior study (The Lower Mill Creek Conservation Greenway Plan Report, Biohabitats, et al. 2004) , we are working with DLZ, Inc. to execute an ecological restoration and greenway plan for this area. The work includes restoration and conservation of native vegetation and wildlife habitat, designing and constructing a stable, natural channel for Mill Creek, and constructing a bike and hike trail to connect people from the upper Mill Creek valley to the larger Cleveland Metroparks, Ohio & Erie Canal Reservation. This plan reclaims and enhances a once abused landscape, and creates a greenway corridor within an urban center that will expand recreation opportunities for approximately 450,000 people living in the surrounding communities.
Improving Stormwater Management in an Urban Ohio Watershed
Big Creek, a tributary of the CuyahogaRiver, flows through the cities of Cleveland and Parma. An analysis of the draining capacity of one of its subwatersheds, Chevrolet Branch, revealed some major problems: significant projected flooding and virtually no remaining floodplain, to name a few. A multidisciplinary team led by DLZ, Inc., is taking on a multi-community, multi-agency project involving a diversion pipe, a storage basin, and the restoration of 4,500 linear feet of Chevrolet Branch. Biohabitatsis creating stream restoration designs using principals of natural channel design. Our primary goals are to realign the stream; develop a riparian zone with native vegetation; remove existing failed retaining walls; and restore both the flow and sediment carrying capacity of the stream.
Planning A Lakefront Nature Preserve On A Former Dredge Dumping Site
As part of an overall plan to improve public access to Lake Erie and stimulate economic development, the City of Cleveland is working with Biohabitatson a plan to create a nature preserve on an 88-acre former dredge disposal site known as Dike 14. The area has become naturalized over the years and is now home to hundreds of species of birds, butterflies, mammals and native Ohio plants. The plan, which was developed with input from a wide array of stakeholders, involves the creation a six-acre wetland on the site. The plan also includes areas designated for hiking, biking, picnicking and observing wildlife. Before the project can continue further, City officials must secure funding to conduct environmental testing of the fill to ensure public safety.
Teaming With MD State Highway Association For Ecological Restoration & Conservation Planning

Last month, Biohabitatsand joint venture partner McCormick Taylor were chosen by the Maryland State Highway Administration to provide up to $2 million worth of wetland mitigation and related environmental services for projects in the state of Maryland. As part of a separate contract, Biohabitats, in a joint venture with Century Engineering, will also provide MSHA with Natural Environmental Inventories and Analysis services on projects throughout Maryland. This work will help MSHA incorporate conservation planning in its efforts to maintain and construct the state's highways.
Places
For those of you planning to attend the 16th Annual Tennessee Water Resources Symposium in Burns, Tennessee April 19-21, keep an eye out for Mike Lighthiser, our Ohio River Bioregional leader. Mike will be attending and exhibiting at this annual conference addressing water issues throughout Tennessee and the surrounding region.
Don't miss Biohabitats fluvial geomorphologists extraordinaire, Vince Sortman and Ellen McClure, presenting at the 2006 Annual Conference of the Mid-Atlantic Sections of the American Water Resources Association , June 14-16, in Branchville, NJ. Vince will highlight the restoration of Cobbs Creek in Philadelphia as an example of urban stream channel restoration. Ellen will present "Design Strategies for a High-Gradient, Supply-Limited Stream Restoration."
We hope those of you who attended the Schuylkill Watershed Congress on March 4th in Pottstown, Pennsylvania had a chance to stop by and visit us at the Biohabitats booth. (With our giant salamander, we're kind of hard to miss.) We were thrilled to participate in this regional gathering of people interested in understanding, protecting and restoring their local streams.
The Virginia Association of Wetland Professionals Winter Workshop on January 25 featured Biohabitats Senior Fluvial Geomorphologist, Vince Sortman, presenting "The Trials and Tribulations of Stream Restoration." With new stream mitigation guidelines recently issued by the Norfolk Corps of Engineers and the Virginia Department of Environmental Quality, Vince's presentation proved to be timely and well received.
January 10 found members of the mid-Atlantic Chapter of the Society for Ecological Restoration gathering in Philadelphia for a forum to discuss "Doing it Right: Putting The Plan Into Practice." To kick off this stimulating exchange of information among regional practitioners, Biohabitats president Keith Bowers delivered the keynote address on "Principles of Ecological Restoration."
People
Welcome Peter May, Biohabitats' newest Environmental Scientist. With over nine years as a wetland ecologist for Washington, DC's Watershed Protection Division, and an impressive dossier of tropical ecology research he conducted in Belize, Brazil, Ecuador and Egypt, Peter brings extensive field and project management experience to our team. A Maryland native, Peter has a B.S. in Natural Resources Management/Water Resources from the University of Maryland. He is currently a Ph.D. candidate in Marine Estuarine Environmental Science at that same institution. His thesis-in-the-making is on the conversion of mud flats to emergent tidal marsh. Between his work at Biohabitatsand his educational pursuits, Peter actually manages to squeeze in some fun sailing on the Chesapeake Bay and enjoying his collection of motorcycles.
Having grown up in a highly urbanized area he lovingly refers to as a "post-apocalyptic landscape," Kevin Heatley has a unique appreciation for natural places. After earning his B. S. in Natural Resource Management from Rutgers, he wasted no time beginning both a career in ecosystem restoration and a gradual emigration to progressively less populated landscapes. Now living in North Central Pennsylvania, surrounded by hundreds of thousands of acres of deep, pristine forests, steep, majestic cliffs, and rugged mountain terrain, Kevin finds himself with over 20 years of experience in ecosystem characterization, integrated vegetation management and community-based forestry. Prior to joining our team, Kevin worked as a Senior Forester and Project Manager for a private consultant. He also provided the conceptual design for a leading GIS-based vegetation management software system. An engaging public speaker and instructor, Kevin recognizes the importance of public education – and fun – in ecosystem protection and restoration. When he's not battling invasive species, or working on his Masters thesis project (modeling the carbon sequestration impact of woody vegetation in a stable suburban institutional landscape), Kevin can be found deep in the woods, practicing sustainable living on his homestead and dreaming about retiring in the Yukon, where he plans to pretend that his first 60 years were nothing but a hallucination due to exposure to petrochemicals.