Thoughts on Giving Children the Gift of Nature
For most of us, this is a season associated with gathering and gift giving. For the children in our lives, it is a particularly exciting time of year. Many a toy, game, action figure, and electronic device will be unwrapped in the next few days.  One very important gift, however, may have been overlooked.
Though it cannot be purchased or wrapped, and though it's unlikely to appear on many wish lists or letters to Santa Claus, a fun and meaningful experience in nature is something we all ought to consider giving to the children in our lives. Their health and well-being (and the future of our planet) may even depend on it.
What do we really know about the importance of unstructured play in nature? How did this topic end up on the agenda at the IUCN's World Conservation Congress this fall?  What can we—as practitioners and as parents, grandparents, aunts, uncles and friends of kids—do to rebuild the deteriorating connection between children and the natural world?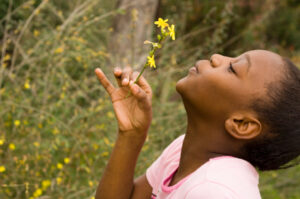 We begin exploring this subject by chatting with author Richard Louv, who coined the phrase "nature-deficit disorder" when he wrote the book Last Child in the Woods in 2005. The co-founder of the Children & Nature Network, Louv is widely credited with sparking an international movement to reconnect children with nature.
One of the first sparks to ignite was in Canada, where Louv's writing provided biologist Bob Peart with such a renewed sense of hope and purpose that he founded the Child & Nature Alliance of Canada. Bob shares his insight and advice.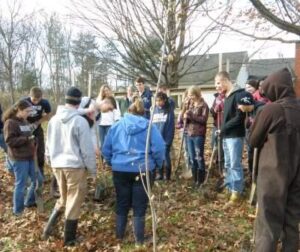 Dr. Stephen R. Kellert, Tweedy Ordway Professor Emeritus of Social Ecology and Senior Research Scholar at the Yale University School of Forestry and Environmental Studies shares a piece he wrote just for this issue. Much of Dr. Kellert's work, including his new book Birthright: People and Nature in the Modern World, focuses on understanding human need and affinity for nature.
We take a look at some communities who are tackling nature deficit disorder through their schools and government.  Learn what can happen When Nature is Your Classroom and when local government officials view Connecting Children to Nature as Public Service.
With help from Biohabitats' Bioregion leaders, we shine our non-profit spotlight on a few organizations that are actively connecting kids to nature through innovative programs and services.
We provide resources for those of you who want to learn more, and we share the latest about what we've been up to at Biohabitats.
This issue of Leaf Litter has given all of us at Biohabitats an opportunity to pause and think about the importance of sharing our passion for nature with young people. Leaf Litter's editor was so inspired, she stepped out from behind her laptop to share a personal anecdote.
We hope that the smiling children in the photos included in this issue (many of whom are members of the Biohabitats family) serve as a reminder of the good that comes from giving the gift of nature.
Leaf Litter talks with Richard Louv
Journalist and Author
Richard Louv has written eight books about the connections between family, nature and community. His book Last Child in the Woods: Saving Our Children From Nature-Deficit Disorder has been translated into 10 languages and published in 15 countries.  The term 'nature-deficit disorder,' which he coined in that book, has become the defining phrase of this important issue.  Louv is co-founder and chairman emeritus of the Children & Nature Network, an organization helping build the movement to connect today's children and future generations to the natural world. He also serves as honorary co-chairman, with Robert Bateman, of Canada's national Children and Nature Alliance.
Louv has written for The New York Times, The Washington Post, The Times of London, and other major publications. He has appeared on many national TV shows, including NBC's Today Show and Nightly News, CBS Evening News, ABC's Good Morning America, and NPR's Morning Edition, Fresh Air, and Talk of the Nation. Louv served as an advisor both to the Ford Foundation's Leadership for a Changing World award program and to the National Scientific Council on the Developing Child. He is on the board of directors of ecoAmerica and a member of the Citistates Group. He has appeared before the Domestic Policy Council in the White House and recently gave the closing keynote at the first White House Summit on Environmental Education.
Louv's latest book THE NATURE PRINCIPLE: Reconnecting With Life in a Virtual Age (Algonquin Books, 2011), offers a new vision of the future, in which our lives are as immersed in nature as they are in technology. This future, available to all of us right now, offers better psychological, physical and spiritual health for people of every age.
How do you define nature?
That's a difficult question to answer. Science has a hard time defining nature, and that's one of the reasons why the relationship between people and nature, in terms of human development, has been so understudied. My personal definition is anytime I'm in a meaningful relationship with species other than my own.
The body of research around this issue has grown since you first published Last Child in the Woods in 2005. What do we know now that we didn't know seven years ago?  
We know more particulars now, but the foundational research was already there, although it was all rather new.  During a keynote speech I gave to the American Academy of Pediatrics in 2010, I said, "I'm not going to ask you to come up with an official policy on nature-deficit disorder because I know you're going to ask for 30-year longitudinal studies, to which I would say 'Where were you 30 years ago?'" I added, "What I will ask you is to use your own best judgment and wisdom to take care of children, and if that involves 'prescribing nature,' that's great." They appreciated that, and many pediatricians are in fact recommending nature time.
But, yes, the research has expanded in the last few years. A large section of the Children & Nature Network web site is devoted to research results. We try to keep abreast of the latest research and provide links to the original research when it exists on the Web.
The movement seems to be gaining support from a variety of sectors in addition to health. Is there an area where it is not gaining support as quickly as you would like?
Ironically, I don't think the organized faith community is paying enough attention to it. Many religious sectors have an almost intuitive sense that all spiritual life begins with wonder. Well, what's one of the first windows into wonder?  Many people intuitively understand how important nature is to spiritual life, but I haven't seen a lot of activity on the part of churches, synagogues, mosques, etc. — efforts to come up with programs to get their young people and families outdoors. There's huge potential here. They could create family nature clubs, for example.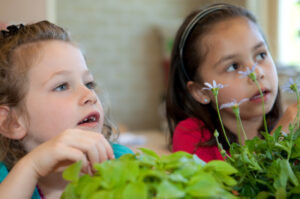 It's moving fairly fast in the education world, but usually that's more of an ad hoc response from an individual school, individual principals, individual teachers, or parents who put positive pressure on their schools. In terms of national education reform, it's moving, but not as quickly as we'd like.
When I first began to give speeches after Last Child in the Woods came out, I learned that one of my guaranteed applause lines was "If we really want good education reform, what we'd really have is a 'Leave No Child Inside' campaign." That has happened, but it has not been top down. That has come from the bottom and from the outside, and from a few education leaders. This is why the Children & Nature Network launched its Natural Teachers initiative, to honor and encourage the educators who insist on taking their students outside to learn.
To what degree are children aware of nature deficit disorder? Are their voices a part of this discussion?  
That's a great question. In the 1980s, when I first started doing interviews as part of my research for Childhood's Future [a book about the changing realities of family life, published by Anchor Books in 1993], the disconnection [of children from nature] had already begun.
I went into classrooms and living rooms and encouraged families and kids to tell me what they thought was changing in family life. One repeating theme was this sense that something profound was changing in the relationship between children and nature. People didn't really have a language with which to talk about it, though. Here's an example of how kids would describe it. They'd watch Lassie on TV, and see Jeff and Porky build a tree house in the woods, get lost, and have adventures. One boy said that, to him, that kind of life seemed like living on Mars. Many children knew nature based on older shows they watched on television, and knew they were missing out on that experience. The disconnection has accelerated over the past three decades.
Today, kids are a lot more aware of [nature deficit disorder].  A 13-year-old Canadian girl named Miranda Anderson did a blog for the Children & Nature Network web site. She cares deeply about this issue and is incredibly articulate. In fact, she did a TEDx talk about it. Miranda is an example [of a child whose voice is part of this discussion]. We'd like to have more of those voices.
The Children & Nature Network sponsors something called the Natural Leaders Network, which was established to galvanize young people to become the real leaders of the child and nature movement.  This is a diverse network of young people in their teens and twenties.
Our most prominent young leader, the coordinator of the Natural Leaders Network, is a guy named Juan Martinez. Juan grew up in South Central Los Angeles. He was headed for gangs, but his life was literally transformed through exposure to nature in an eco club in high school. He has now been to the White House three times to talk about his experiences and to explain how one can be changed through involvement with the natural world.  [National Geographic recently profiled Juan Martinez as an Emerging Explorer.]
These young people in the Natural Leaders Network are extremely articulate. Many of them are from urban neighborhoods. Sometimes it's easier to know what you're missing if you've never had it.
I learned from my chat with Bob Peart of the Child & Nature Alliance of Canada that they, too, have a Natural Leaders program. Are these two youth leadership programs connected?
The Children and Nature Network started the Natural Leaders Network, and then, when the Alliance started up, they wanted to do it, too. We thought that was great. We have talked about coordinating a little more, but it's not really necessary. I like what the Natural Leaders Alliance is doing. I was at a meeting in Washington, D.C., and the young, Canadian Natural Leaders showed up and really took the roof off with their enthusiasm!
Does the Children & Nature Network organize a national, annual day to raise awareness and encourage people to get outside, similar to the Child & Nature Alliance of Canada's "Nature Play Day?"
There's an annual "Take your child outside week." which started in North Carolina. The Children and Nature Network has Let's G.O. (Get Outside) Month. Hundreds of thousands of people have gotten outside through those initiatives.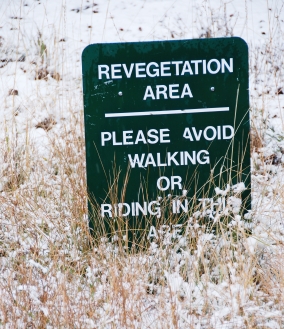 Many of our readers are involved in conservation. In an article in the July/August issue of Orion Magazine titled "Look, Don't Touch" David Sobel criticizes environmental education as being "didactic and staid, restrictive and rule bound." Among the on-line feedback and editorial letters this article elicited were comments from people who work in conservation and whose jobs require them to enforce rules that restrict play and exploration in natural area in order to preserve ecological integrity. How do you respond to the conservationist who says, "I'd love to allow kids to run around in this natural area, but to do so would be disastrous"?
I'm a longtime fan of David's work. I quote him in Last Child in the Woods, and he's on the Children & Nature Network's advisory board. I thought it was an excellent, provocative article. I would bet that David was not saying that every piece of sensitive land should be open for anybody to run across or build a tree house on. He was, however, pointing to an issue that is experienced by those in conservation and environmental education. It is also experienced among wildlife biologists, like Bob Peart.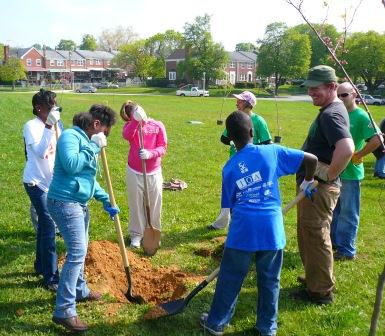 Several years ago, when Bob first brought me up to British Columbia, he gave a speech at a dinner and he turned to me and said, "Rich, the reason you're here is because we wildlife biologists live with grief every day." Bob then said that he had a good friend who was a wildlife biologist who had committed suicide. Bob actually began to weep as he was telling this story. He said that when he started getting involved in connecting kids to nature, it gave him hope.
People are becoming more sophisticated about which environments absolutely need to be protected and which natural areas may be more appropriate for human engagement. If young people don't have wild places to experience, or nearby nature in cities, where will the constituency for conservation come from in future? Environmentalists will always exist, but if we're not careful, environmentalists in the future will carry nature in their briefcases more than in their hearts, and that's a very different relationship. Children can, with a little help, learn to be good stewards. We do have to draw some lines. I'm not a fan of off-road vehicles in the California desert, which can leave tracks that last hundreds of years. But we also must make sure kids have the opportunity to get their hands wet and their feet muddy. Yes, there will be some damage, but in the long term, connecting kids to nature can help build a constituency that will protect nature, from the national parks to the trees at the end of the cul-de-sac.
If the goal is to eliminate or cure nature- deficit disorder, how will we know when we've achieved it?
I'm always careful to say that nature-deficit disorder is not a known medical diagnosis. Maybe it should be, but it's not. The phrase began as a tongue-in-cheek catchphrase, but it quickly entered the language and people know what it is when they see it. I think of it not as a disease of an individual child but as a condition of society.
How will we know when we have eliminated that condition?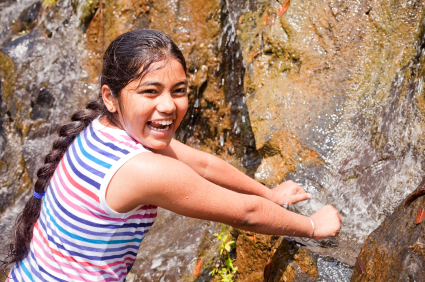 When we see a lot more evidence that we have incorporated nature everywhere in our lives, where we live, work and play. We'll see it in the amount of joy we see in kids' eyes. I don't pretend that technology is all bad, but we'll know nature-deficit disorder has been eliminated when we spend less time viewing screens and more time next to streams. We'll see the evidence around us, and our lives will be much richer. Technology gives us many gifts, but as we move more and more into the virtual world, many of us sense we're becoming impoverished in a new way. Nature is the best antidote. The more high-tech our lives become, the more nature we need.
How significant is the recent passage of the resolution declaring the "Child's Right to Connect with Nature and to a Healthy Environment" at the World Congress of the International Union for the Conservation of Nature meeting in Jeju, South Korea?
I think it is symbolically hugely important. See it as a first step. Positively connecting to nature is fundamental to who we are, to our full humanity. Until that connection is recognized as a human right, it won't be taken as seriously as it should. It will be considered a "nice to have," not a "have to have."
The 2008 edition of Last Child in the Woods includes recommended actions.  You recommend that those in construction and urban design convene conferences on how to create developments that connect residents to nature, and to establish incentives for child-and nature-based development.  Can you share any recent examples where the design community heeded that advice?
In my book THE NATURE PRINCIPLE, I offer even more recommendations. The built environment is hugely important. While wilderness is essential, and we need to preserve every square inch of it that we still have, we need to turn our attention to nearby nature.
As of 2008, more people now live in cities than in the countryside, worldwide. This is a huge moment in human history. This means one of two things: either human connection to nature will continue to disintegrate, or this will lead to the beginning of a new kind of city, one with new kinds of workplaces and homes that actually connect people to nature. There's no reason why we can't begin to think about cities as incubators of biodiversity. When we begin to think that way, the future of the built environment looks very different.
Studies show that parks with the highest biodiversity are the parks from which people benefit the most psychologically. That ought to be a guidepost for how we think about parks in cities. The limited studies that have been done on workplaces that have been designed with biophilic design – weaving nature into the architecture, for example — suggest that those workplaces are different. People are more productive. Sick time and turnover numbers go down. That approach includes but goes beyond energy efficiency, and into the realm of producing human energy. That's the direction that I think we need to move.
If environmentalism, architecture and urban design get stuck focusing only on energy efficiency, we won't achieve energy efficiency. We have to aim higher than that, higher than simply sustainable. As William McDonough asks, "Do you really want a 'sustainable' marriage? Don't you want something better than that?"
I'd like to see LEED (Leadership in Energy and Environmental Design) standards begin to include biodiversity and the impact of nature on human inhabitants, particularly children, in its definition of good green design. It's early, but we do see examples of interest in that approach.
Can you share one of those examples?
Right after Last Child in the Woods came out, I got an e-mail from a very large developer who said that the book stirred him deeply, and he wanted to do something about the issue. He invited me to Phoenix, where I gave my 'sermonette' to about 80 developers and real estate folks. I prepared to run, because I'm pretty tough on developers. But he then said, "I want everyone to go into groups and come up with solutions. How are we going to create residential communities in the future that actually connect kids and their families to nature?" People were very excited, and a lot of good ideas came out of that exercise.
A few months later, Clint Eastwood and a friend of his with the U.S. Fish and Wildlife Service invited me to Eastwood's Carmel ranch, and they brought in some of the biggest developers in California. We did the same thing. We spent the day in workshops considering how new developments, but even more important, redevelopment of decaying neighborhoods, could incorporate more nature.
Then the recession hit, and that stopped all building–or certainly building that was outside the norm. But I was impressed with the interest. These builders saw [connecting children and families to nature] as an amenity that they would market. They already knew that baby boomers who are thinking about future housing don't want golf courses anywhere near as much as prior generations. What they want are nature trails.
In addition to that, there are some ideas on the drawing board that I'm very inspired by. A few months ago, I spoke [at a conference] in Charlotte, and William McDonough's business partner from Germany, who was in the audience, invited me to McDonough's office the next day. I had never met McDonough, but he had been a hero of mine for a long time. We spent the next morning together. When we were walking around his offices, I saw a large architectural drawing on a table that captured my imagination. It was the design for a multi-story, three-sided hospital in Spain. In the design, one side is a green wall. Another side is solid solar panels done in the colors of a butterfly that is about to go extinct in that region. The third side is a vertical farm that will feed people in the hospital.
So here's an example of a building that conserves energy, but also produces human energy – through the food grown, and the view of plants and more natural habitat from the windows. Studies have shown that hospital patients who have a view of some kind of nature, from their beds, get well faster and don't need as much pain medication.  What really captured my attention, though, is that McDonough took the next step. The bottom floor of the hospital will be all glassed in, and anybody who walks into that hospital may have a butterfly – the butterfly that is threatened with extinction in that region — alight on them. The hospital's bottom floor will become a "butterfly factory."
The butterflies emerge from their chrysalises in a synchronized fashion. Their emergence will become a community ritual. When they emerge, the hospital will open the doors and let them loose into the surrounding community. And the idea doesn't stop there. The hospital staff will reach out to every school, place of worship, business, and home and say, "You can do this, too. We can bring this butterfly back." So this building is not only conserving energy and producing human energy through biophilic design, it is, in a sense, giving birth – by helping a species survive..
By the way, two weeks after my visit to McDonough's office, I received that architectural drawing in the mail. It was rolled up in a tube and signed with the word "hope."
One of the messages of THE NATURE PRINCIPLE is that conservation is no longer enough; now we need to "create" nature. If we're going to have the biodiversity we need, we must begin to transform our cities, yards, homes and workplaces into incubators of biodiversity. Doing that we will greatly improve our psychological and physical health, our ability to learn, and our sense of pleasure and happiness.  That's a very different image of the future than the one that is dominant now.
I've become convinced that for most of us in North America, if we are asked to come up with an image of the far future, the images that run through our mind look a lot like Blade Runner, Mad Max, and The Hunger Games. The most popular young adult literature right now is dystopian fiction. We are fixated on that image of the future. I'm not against dystopian literature – we do need to be warned — but if we don't have another set of images to balance that with (and energy efficiency is not enough to capture the full imagination of young people) we are really in trouble. How are we going to get to a better, not just adequate or surviving society if we don't have images we can follow into the future, images of a nature-rich civilization? We have to aim higher.
In the paperback version of THE NATURE PRINCIPLE, we added a section in the back about what I call the "New Nature Movement," which builds on traditional environmentalism. I'm old enough to remember polluted rivers that caught fire when I was of high school age (which were still burning when I graduated from college) that are now good fisheries. That's because of the Clean Water Act. Environmentalism has accomplished so much, and it continues to do so, but today many environmental leaders fear that the movement is stalling. One reason is the disconnection of children from nature. Another reason is the way so many of us, as environmentalists, as journalists, as policy makers, view the future.
A few months ago, I had lunch with some environmental students at DePaul University who said that they couldn't relate to big environmental organizations. They said they went to the meetings and everybody was old. In fact, many of the big environmental organizations are graying. At that lunch, a young woman said, "I'm 20 years old, and all my life I've been told it's too late when it comes to nature." That really struck me. Some of us have had a few decades to have an alternative view of the future, but she had grown up hearing that often subconscious mantra: It's too late.  That young woman, and countless other young people – and older people, too, of course – are fighting hard to slow climate change and preserve wilderness. But only some of us are motivated by despair; most of us need something more than that. I'm not suggesting that we should hold back on communicating the bad news, but if all we're doing is worrying about survival, we won't survive. We've got to describe a future that people of every age will want to be part of, will want to build, will want to go to.
I was once challenged by a high school student who stood up after one of my speeches and said, "Well that's nice, Mr. Louv. You want us to imagine a great future. But what is your vision?" She called me on that. So I gave it my best, wrote it down, and included it at the end of THE NATURE PRINCIPLE. It's an extremely idealistic portrait of the future I'd like to see. The fact that it is outrageously idealistic is exactly the point. We have to aim higher to get where we want to go.
Leaf Litter talks with Bob Peart
Founding Director, Child & Nature Alliance of Canada
Bob Peart has devoted his life to conservation and nature education. A biologist, Bob spent over 35 years in parks management, land use planning and public conservation education for Parks Canada, the Canadian Wildlife Service, the BC Ministry of Aboriginal Affairs and other agencies.
Now retired from "paying jobs," Bob contributes his time and expertise to numerous non-profit conservation organizations.  In 2009, driven by a passion to reconnect children and families to nature, Bob founded the Child and Nature Alliance of Canada.  He continues to serve as a Director with the Alliance, the Young Naturalist Club of BC and Nature Canada; as well as being a Strategic Advisor to the North Vancouver Outdoor School. He also currently serves on the board of The Kesho Trust, the IUCN's Temperate Grasslands Conservation Initiative and the Elders Council for Parks in BC.
In recognition of his outstanding contributions to conservation and environmental education, Bob was awarded Canada's prestigious J.B. Harkin Medal for Conservation, and recently was honored to receive the Queen Elizabeth II Diamond Jubilee Medal.
Can you describe the Child & Nature Alliance, and tell us how it came to be?
From the 1970s to the mid-1980s, I was a naturalist. I gave slide talks, led nature hikes and worked at nature centers. I was outside with kids all the time. Then my life took a curve and I did other things more related to conservation advocacy than education.
In 2006, I stumbled on Richard Louv's book, Last Child in the Woods. I was stunned. Gobsmacked.  When I was a kid, 75% of people played in the outdoors and now it's like 5-8%. It's astonishing. I am who I am because of my experience in nature. I couldn't believe that there were people who weren't in the out-of-doors!
I found his book so stunning that I Googled Richard Louv, found his phone number, picked up the phone, called him, and said, "Hi Richard, I'm Bob. If I can get a bunch of people together in Canada, will you come up and speak?" That's how my relationship with Richard started. He came up a couple of times. Then, in 2009, we had a gathering about children and nature and we were thinking of forming a British Columbia based organization. The people at that gathering said "No, this is a Canada story. We need to have a Canada-wide group, and we need this group to form a relationship with what's going on in the United States with Richard [who, along with others, founded the Children & Nature Network in 2006]."
That was the evolution of the Child & Nature Alliance. We are the Canada-wide organization that is trying to move the movement and trying to help in that conversation of reconnecting children with nature.
How are you moving the movement?
We are an alliance. We haven't got a large program with a lot of people on the ground, but we are working with those organizations and those people who do. Our goal is to build up a broad alliance that will collaborate to figure out how we can get this on the agenda in Canada.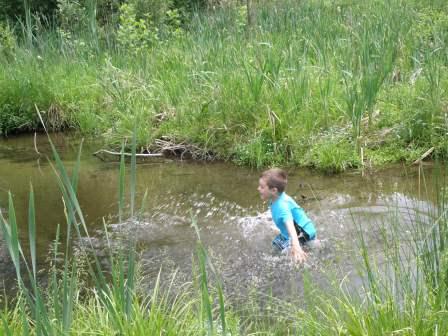 Some of the things we are doing include an annual Nature Play Day and two or three gatherings a year to bring people together and have this conversation. A year ago, we had a major gathering in Vancouver with people in the health profession. We work with individuals who are influential. Here in British Columbia, for example, we work with various senior government officials who are very interested in this conversation and have a fair amount of influence in government. Those are good connections. We try to figure out who those people are who can really help us spread the story.
Another important part of the Child & Nature Alliance is its connection with youth: making sure that this is a youth-led conversation, and that youth are involved in getting the story out and it isn't just a bunch of grey haired, old people. So every time we have a gathering, we make sure we get some kind of grants or something like that to ensure that a minimum number of people in the room are youth. We have youth on our board, and we have a program called the Natural Leaders Alliance, and we are really working hard to play a mentoring role with youth and support them and help them work with their peers.
Can you tell me more about the Natural Leaders Alliance?
The Natural Leaders Alliance is a youth-led initiative that strives to let Canadian youth know about the importance of spending time outdoors, and empower them to engage in their communities in nature.
We received some funding and we're now into our third year of what we call "Get Outside."  We select 30-40 kids who have very little experience in the out-of-doors. We take them to an outdoor school and spend time with them. It's very moving for many of the kids. The other part of the program, and the condition on which they attend, is they then have to go back to the community in which they live and lead two or three outdoor programs in their community. A key element [of the Natural Leaders Alliance] is that people like me are showing these kids our love of the outdoors and sharing with them how important nature is to who we are, so they can have the same kind of love and enjoyment that we have.
Again, the whole idea is to move and grow the movement.
What do you think is the level of awareness (among the general public and, particularly, among kids) of "nature-deficit disorder?"
The average child cannot name five species of animals or plants that are in their backyard.
But I find something encouraging. When I first got involved in this in 2006-2007, you didn't read about it in the paper. It wasn't even on the radar. Today, only six years later, I'm finding that very seldom does a week go by that there isn't a major article or something in the paper or a magazine about this. For example, one of Canada's major newspapers is the Globe and Mail. Our Saturday Globe and Mail is like [the U.S.'s] Sunday New York Times. Everybody buys it. There was a major spread on the importance of natural playgrounds and kids playing in this weekend's Globe and Mail.
How long has Nature Play Day been going on?
We have had it for two years, and we are now preparing for our third. It is community-based. There were activities in something like 45 communities across the country and those activities took place because the Nature Play Day idea really caught them. In Red Deer, Alberta, for example, a large group of parents who made the effort to go outside and spend time in the out-of-doors with their children. They likely wouldn't have done that without the effort of Nature Play Day. It's just starting out, but we hope that ten years from now, it's a really big deal.
When is Nature Play Day?
This year, it was in early June, but it may move to October. One of our board members [Colin Harris] recently ran across Canada to celebrate [and raise awareness of] the importance of reconnecting to nature. He wants to move the day to coincide with the day he completed his run.
You recently attended the IUCN's World Conservation Congress in Jeju, Korea. During the event, the Member's Assembly adopted "Child's Right to Connect with Nature and to a Healthy Environment" which calls upon members and NGOs to "promote and actively contribute to the international acknowledgement and codification of this right within the framework of the United Nations Convention on the Rights of the Child. "What is the Child & Nature Alliance doing to contribute toward that codification?
I'm a member of the IUCN's Commission on Education and Communication, which helped bring this motion to the Member's Assembly, so I'm very involved that way. Richard Louv and Cheryl Charles of the Children & Nature Network were instrumental in getting Obviously, I support it. Children should have the right to have access to the outdoors.
It's very good to have global statements like this, but they're only as successful as they are delivered at the community level. The first thing we're trying to do here in Canada is support everything that Richard Louv and Cheryl Charles of the Children & Nature Network have done. Cheryl was instrumental in getting this motion on the floor, and we are very supportive of her. What we now need to do is make it real and translate it to the community level.
We're trying to find groups that will make it real. For example, there is a group in the city of Kamloops, British Columbia that is working with their mayor and council to get the official community plan for Kamloops to have a statement in it about youth and nature.
An English organization called Natural England has started an interesting conversation. They are saying, "If we want this to be real for children, we should set some standards." A standard might be that every child has a right to grow up and have, say a two-acre piece of green space, within one block of his or her house. We need to start to develop those kinds of standards.
In an article you wrote about your experience attending the Congress, you mention another important item, the Jeju Declaration, which was adopted by CEOs and senior executives of national parks and protected areas around the world. Tell us about this declaration and its significance.
The sub-phrase of that declaration was "connecting people with nature." The significance is that for the first time (to my knowledge, and according to people in the parks movement that I know) that at the very senior level acknowledging that parks not only have a role in protecting the environment and providing jobs, but they also have an extremely important role to play in connecting people with nature.
Again, the challenge, then, is "So what? How do you make it real?"  We're now starting to have conversations with Parks Canada's CEO Alan Latourelle, who signed the Jeju Declaration for Canada. We're saying, "OK, Alan, what do we do now?" Well, six weeks ago, Parks Canada announced a new national park, and its right within the city of Toronto. It was done purposely to have the values of national parks in a large, urban center.
Much of the research suggests that parents value childhood experiences in nature (their own and those of their children) as well of knowledge of nature.  It also suggests that parents are among the strongest influences in getting younger children to participate in outdoor recreation. Why then, are parents not effectively addressing nature deficit disorder? (Are parents not modeling? Are we waiting for others to fix the problem?)
The literature also shows that the value parents have for childhood experiences outdoors is declining. Parents' knowledge of nature is certainly declining. There is quite a lot of literature that shows that with each generation, the amount of knowledge about science decreases by about ten percent.
A lot of this is related to inactivity and the way peoples' lives are becoming around screens rather than the out of doors. Their experiences are becoming vicarious, and they think they've seen everything. But there's a difference between seeing things and experiencing things.
What has happened has been unintentional. It isn't as if 30 years ago, 100 people got together and said, "Let's screw up our kids." But now we need to be intentional about changing it back. We need to get our kids–and ourselves–outdoors.
How big a factor is safety (or the perception of safety) on the part of children and parents, with regard to the children's disconnection from nature and outdoor play?
"Stranger danger" is a huge thing, but statistics actually show that it is safer [to play outside now] than when I was a kid. You would not believe that, but if you look at actual statistics, rather than read the media, it's true. If anyone is going to harm your child, it's much more likely going to be a friend or relative than some kind of weirdo who steps out from behind a bush.
There's also liability. A city builds a playground and says, "If Johnny falls and breaks his arm, the parents will sue us." So safety and liability have had a huge influence on this conversation.
How do we combat that?
As I said earlier, over the last five to seven years, I have seen a real shift in the media regarding the value and importance of being outside and the recognition that free play is important. Now, we read articles about such things as a young child shouldn't be put in front of a screen until they are at least five or six because it changes the formation of the brain. This kind of information is starting to come out, and it is slowly, but surely, having an influence.
We need to think about the role of grandparents, aunts, uncles and the extended family. Parents are so busy right now. It's different from when I was a child. We used to have the one income family. One parent was home. You knew everyone on the street. If anything happened, you'd just walk up to any house and get help. The whole culture was different. Now, with the way families are, with tight incomes, grandparents, aunts, and uncles have a very important role. When I visit my sisters and brothers, I just grab my nephews, nieces, grand-nephews and grand-nieces by the hand and take them outside. I have had a number of them say, "Uncle Bob, because you did that, it was really important to me." I wasn't a parent; I was a mentor.
The Kaiser Family Foundation's multi-year study of American children's media use shows that children's use of media has increased substantially. (From 6.21 hrs. daily in 2004 to 7.38 hrs. daily in 2009). Is media the real foe here?
I'm not a fan of the word "foe" or "enemy," but technology is a huge factor. The amount of time spent in front of screens is astounding.
What do the numbers look like in areas where there is limited access to technology?
A lot of the research is around the U.S., Australia, and England, where people have the 'privilege' of being able to have this conversation. There are so many people in the world who wake up in the morning and wonder where they're going to get their water or food for the day. I'm sure they are in a totally different situation. But in the 'modern' world, this is an issue whether you live in rural environment or deep in the city.
How important is unstructured (vs. structured) play in nature?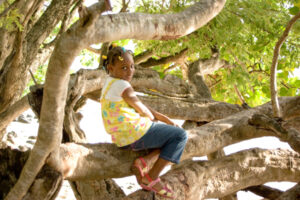 My understanding of the literature is that the play needs to be intentional to ensure the interaction happens, but once you're there, the unstructured, roaming, free-ranging nature of the activity, the accidental stuff that happens when you're just fooling around is fundamental. I'm no brain scientist, but my understanding [of literature related to the formation of the senses] is that sight and sound become so strong in children who grow up in front of screens, that the other senses get lost, and that is harmful to the formation of the brain. The best place to have all of those senses interacting, and playing with each other in an unstructured way is in the out of doors.
Does research suggest the need to approach nature deficit disorder differently, depending on the age of the child?
My experience is that the first step is just making sure children get outside, whether they are five or 25. The next step is to continue reinforcing that value. My hope for the third step is that these children will become so fond of and attached to the environment, they'll become its advocates for the future.
I'm an advocate for nature. I spend my life doing advocacy work, and I do it because I'm in love with nature and it's sad to see her being harmed. My hope is that that people who are being raised today will end up with the same kind of values and behavior.
What do you think should be the role of architects, landscape architects, engineers and environmental scientists in reconnecting children to nature? How powerful could people in these disciplines be the movement?
There is a very strong connection between the children and nature conversation and what you and your readers do. A lot of the principles around ecological restoration and resilience apply totally to human life. You need a healthy environment, but you also need healthy people. Healthy people come from a healthy environment.
Architects design urban areas. Landscape architects think about what the green spaces are going to look like. Engineers can build biophilic buildings. There is a very strong connection to the professions of your readers.
Moving this movement is not just about making sure there are good stories in the Globe and Mail. The only way we are really going to be successful is through a broader collaboration with people who are speaking to its values.
You have devoted a good deal of your career to public service. What do you think the role of government (at various levels) should be in this movement to connect children with nature?
Government has a very important role. On the national level, having messages and policies come out that encourage people to get outside are very important. People who work in the regional and local levels of government can really influence urban planning and ensure that our parks and protected landscapes are connected and functional. There is so much that people in government can do. I know that for many of my colleagues who work in government, this is a tough time. But find those one or two things you can do and plug away at them.
When I first started my career, someone said to me, "Your job as a government employee is to break the limestone so that things happen." The way limestone breaks is to have a drop of water fall on it continuously. So when you walk to work every day, say to yourself, "What's the one drop of water I'm going to drop on the limestone today?"
Any final words of advice for Leaf Litter readers?
This may sound simple, but it's very important that your readers continue to do their work. The restoration and connectivity of the landscape is fundamental to the future. But it's also important that in their day-to-day life, they grab their children by the hand and show them what nature is all about. Turn over rocks and leaves, and share with children your inner thinking and emotions about why you do what you do. What this world is desperately searching for is hope.
Before I read Richard Louv's Last Child in the Woods, as a biologist, I was in a pretty sad place about what was happening to the earth. I read that book and I said, "My God, that is what I can do!" Not only is it important to reconnect children to nature; it was fundamental to me because it gave me the opportunity to find hope again.
When Nature is your Classroom
What happens when a school's outdoor environment is creatively integrated into its  curriculum? Magic. We're happy to share the stories of three schools that have done just that.
Restoration Project Becomes High School Lab
It's a crisp, autumn, school-day afternoon, and more than 200 teenagers are enjoying some time outside the doors of Hudson High School.  Gathered in small clusters, they talk, laugh…and occasionally grunt. But it's not what you think.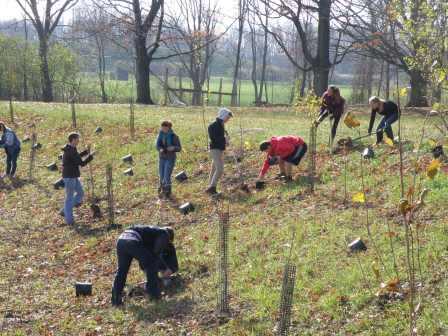 Today, rather than cell phones and tablets, these kids grip shovels and shrubs. Today, instead of gossip, they exchange opinions about the placement of plants. Today, these students are not just on the grounds of Hudson High; they are in the school's 'Land Lab,' a six-acre expanse of Hudson City School District property that includes a small tributary of Tinker's Creek. Today, rather than learning about environmental science in a lab or from a textbook, these students are doing it. They're getting wet; they're getting muddy; and as they plant more than 2,000 native trees, shrubs, and herbaceous plants, they're getting a real, live understanding of what it takes to restore and regenerate a healthy stream system.
"This is what we call authentic learning," said Hudson High School ecology teacher Chris Thaxton. "It's hands on education."
For Thaxton and fellow teacher, Matt Kearns, the Land Lab and the restoration of the degraded tributary is the realization of a dream. Thaxton and Kearns first envisioned an outdoor learning space in 2000, after they visited a school near Columbus, Ohio, where teachers were integrating ecological restoration on school property into their k-12 environmental education. The stream on Hudson's campus was in dire need of restoration. It had become channelized, incised, and disconnected from its floodplain in response to years of suburban development and agriculture in the region. Thaxton and Kearns knew that the restoration of the stream would be an invaluable environmental educational tool for Hudson High students.
"Rarely are students able to learn something in a real-world context," said Kearns. "No matter how hard teachers try to make things real-world applicable in the classroom, there is no substitute for an actual project involving a real piece of land."
With funding from the Ohio EPA, the City of Hudson, and the Cuyahoga County Board of Health, and with strong support from the Tinkers Creek Watershed Partners, the Cuyahoga River RAP, the Summit Soil and Water Conservation District, and the Hudson community, the Land Lab has come to life in the form of a full-scale ecological restoration project. Intended to dissipate stream energy, minimize erosion and downstream sedimentation, increase floodplain storage capacity, protect infrastructure, and improve water quality and habitat, the restoration is providing Hudson High School students with a unique, hands-on, education experience.
Being outside in nature for a class is a welcome experience for the students. Just ask Hudson High senior, Annie Scott. "It's great to spend time in the Land Lab," she said, while planting. "Getting down in the stream is really fun!"
The decision to include students in every stage of the restoration of nearly 2,000 feet of stream and adjoining meadow, shrub, forested and wetland areas was an easy one for Thaxton and Kearns. "We wanted them totally invested," said Thaxton. "Students had to research the history of the watershed and property. They had to do measurements of the stream velocity, width, length and then research how to restore a stream. Their final project was a presentation on the process of stream restoration and design."
"There are textbooks and lab manuals that have simulations of these activities," said Kearns, "but our students did them with realistic equipment alongside the professionals themselves. "
One of those professionals was Biohabitats landscape ecologist Kevin Grieser. Working on the Land Lab was particularly meaningful for Grieser, whose wife graduated from Hudson High and whose in-laws came out to help with the planting. Grieser had worked on restoration projects with students before, but his Hudson High experience was unique in that the students were actually involved in the design. "Knowing that hundreds and hundreds of students are going to learn about ecology from something we designed and built is extremely rewarding," said Grieser.
With construction and planting complete, the restored stream system is now stable and connected to its floodplain. It provides six different habitats and much greater storage capacity for stormwater. It also has a new generation of stewards.
"By helping with the restoration planting we realize that we are part of something bigger than ourselves," said senior Elizabeth Reichart, who plans to study international business but hopes to weave environmental studies into her major and career. "We are excited to come back in the future to see how the site changes."
If project goals are met, those changes will include decreased erosion and sedimentation, improved stormwater management, enhanced habitat and water quality, and a continually evolving and improving Land Lab.
"Years ago, when Matt and I first began taking kids out, I was so scared they would get in trouble or hurt," said Thaxton. "Now we have a totally different attitude: get out, do your work and be respectful. They love it!"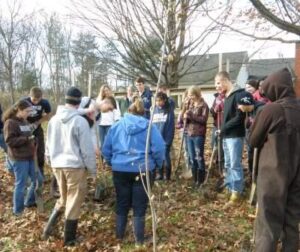 The Land Lab has already generated a ripple effect. A few former students have gone on to study or work in environmental careers; siblings of former students eagerly take the course; and two elementary schools in the district, inspired by Hudson High, now have areas set aside outside for the purpose of studying the natural world.
And let's not forget the parents. Both teachers say they receive a great deal of positive feedback from parents regarding their kids' experience in the Land Lab.  "Many parents tell me that their children previously avoided the outdoors, but now they actively participate in a field-based class and love it," said Kearns.
But Kearns' favorite comment related to the Land Lab is one he hears often from students. It's a statement that is not uncommon among teenagers: "I can't believe I just did that!" In the case of Hudson students, however, it's usually in response to picking up a worm or praying mantis.
Live Streaming at the Miquon School
By Chris Streb
It is strange that in a span of two decades, the idea and importance of children in nature requires special recognition.  Like the vanishing languages of indigenous people, it is possible that for the first time since the beginning of humanity, the primal continuance and connection of kids exploring their world could soon be lost.  If our children do not have the experiences and memories of building mud slides and smelling autumn from beneath a pile of leaves, or the peace of sitting on a perch in a tree as the wind blows while listening to songbirds, how will they grow to become the stewards of our planet? How will they teach their children the names of the plants and animals, let alone address the impacts of climate change?
These questions may elicit despair among those of us who view nature as our church or mother.  I felt this kind of despair after becoming a father a few years back.  Living in the city, I wondered how my daughter was going to feel native to the natural world.  But just a few months into her life, I was inspired by a colleague and little school outside of Philadelphia.
It was 2010 when Stu Appel from the landscape architecture firm Wells Appel asked Biohabitats to help diagnose and develop a strategy for resolving flooding and stream channel erosion problems for an independent elementary school called the Miquon School.  Although I had read about Miquon and its position in the landscape, it did not lessen the surprise of going to the place itself. Upon arriving on the campus for the kickoff meeting, I was struck by the sense that this was not an ordinary school.
Snugly nestled in the forested Wissahickon valley, with rock outcrops and groundwater seeps, the campus seemed apart from the urban world just a few miles away. A stream runs right through Miquon's campus and along old walls of its administrative building.  No fewer than three bridges cross the stream, with ad hoc, student built fords adding bonus features.  But what struck me most with that first impression were the kids.  As they jumped out of their parents' cars and waved goodbye, I noticed that many of them were wearing rubber boots.  They weren't running straight into the buildings to start class, but instead were going to the garden or the creek itself–as if nature is the Miquon School's homeroom.  I was in love with the place, and admittedly, slightly jealous.
We spent the morning learning about the campus, the school and importantly, the changes that had occurred in the stream over the last decade.  The Miquon School is 80 years old this year.  It was not formed on the premise of using the environment to enhance learning; this idea grew organically over the years.  The Miquon School has, literally, grown from and become a part of its place.
Miquon alumni claim that their fondest memories of the school involved playing and learning in the stream.  Floods and erosion were now threatening that heritage.  Stream banks, once less than a foot high, had become four to six feet high in locations and higher than fifteen feet at the downstream end of campus.  For student safety, fences were installed, representing a barrier to the stream that had never been a part of the campus culture.
Our job was to diagnose the source of the storm flows and develop some ideas for mitigating it. The culprit was assumed to be development in the watershed.  However, we found the issue to be more nefarious: extreme storms.  It seems that this particular location in the Philadelphia metro area has had an inordinate occurrence of storms exceeding 25-year to 200-year events in the last decade alone.
Is climate change, or urban heat island effect the explanation behind these more frequent, extreme storms?  We can take our guesses, but we know that for 60 years, students of the Miquon School were able to play safely in the stream.
While the proposed solution to the erosion problem can not diminish the frequency of extreme rain events in western Philadelphia, it can be an example of adaptation, resiliency and the power of a community to restore their ecosystem.  Although it may take some time to acquire land for storing runoff and funds to restore the stream, we can take solace knowing that Miquon maintains its mission to encourage wonder, inquiry, independence and discovery through its programs and place.  I have no doubt that 20 years from now, the school will still cultivate a native interest in nature, the kids will still arrive wearing boots, and who knows, perhaps some of today's Miquon students will have taken it upon themselves to study and solve problems– like understanding the extreme weather that eroded away their stream.
Note: Stuart Appel took it upon himself to champion implementation of the plan we developed to divert, slow and capture runoff to help the Miquon School restore the stream, so that the students of Miquon can continue to play safely within its banks.  Sadly, Stu passed away in September 2012.  He was a gifted landscape architect with exceptional vision, a teacher and mentor to many, and a friend to many of us at Biohabitats. He will be missed.
Children help design Boulder's Burke Park
Boulder, Colorado, a town nestled against the foothills of the Rocky Mountains, is known for its active, outdoor lifestyle. One might assume that kids who grow up with the majestic Flatirons as a daily backdrop are immune to nature-deficit disorder. According Jeff Dillon, Superintendent of Parks & Planning for the City of Boulder Parks and Recreation Department, that's not necessarily the case.
"Boulder has great open space," said Dillon, "but some of that is difficult to five or six-year olds to get to without their parents."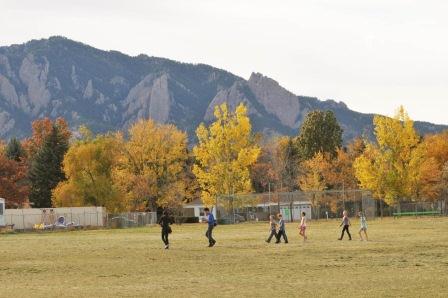 Having spent four decades as a landscape architect, outdoor educator, and nature play expert before joining the Parks and Planning staff, Dillon understands what it takes to connect people to place. He has developed engaging nature areas in places like Denali National Park.
"It's critical for children to have those early, positive outdoor experiences in their backyards, neighborhoods, and schools," said Dillon.
Fortunately, thanks to Dillon, and a unique collaboration he orchestrated, an entire park full of such experiences is in the process of being created. It just so happens that Boulder's six-acre Admiral Arleigh Burke Park, which features ball fields and the popular, two-acre Thunderbird Lake, abuts the grounds of Horizons Montessori K-8, a charter school that includes environmental responsibility among its guiding principles.  Though the City of Boulder and Horizons had a joint use agreement for the land they shared, there hadn't been much collaboration in the past. But sometimes, the stars align.
Horizons had recently constructed a new wing, which took away a portion of their playground and sports field. The school was just beginning to consider the redesign of their outdoor space. The City was managing wetlands around the lake as part of the adaptive management of Thunderbird Lake. The City's Department of Parks and Recreation was beginning to develop strategies to further improve Thunderbird Lake and create an outdoor learning area in the park.
Meanwhile, the City was building a relationship with the University of Colorado's Growing Up Boulder program, a child-and-youth-friendly city initiative that strives to ensure youth opportunities to participate in planning and decision making.  "We had been working with Growing Up Boulder's university students on a number of other projects," said Dillon, "and Burke Park just seemed the perfect opportunity to partner."
Thanks to what Dillon now describes as "a good series of happenstances," the school renovation became a catalyst for collaboration. The City's Parks and Recreation Department, Horizons K-8 School, Growing Up Boulder, and other partners including the Keep it Clean Partnership, Biohabitats, and the City's Watershed Outreach Program, all came together to re-envision Burke Park.
Key to this collaborative effort, known as Explorations in Burke Park, is the involvement of students. Fortunately, the park project fit neatly into the framework of Horizons' yearly, four-week service learning program called Make-A-Difference (MAD).
Led by Growing Up Boulder coordinator and University of Colorado senior instructor Tori Derr, environmental design students participating in Growing Up Boulder put together this year's four-week MAD course for 4th-8th graders at Horizons. Through the MAD course, Horizons students studied, planned, modeled, and communicated about Burke Park.
The first week of the MAD course was spent exploring the site and learning its history, geology and hydrology. Led by two Italian student interns from the University, the kids from Horizons created photogrids of the site, documenting its features and noting its opportunities.
Biohabitats' Claudia Browne led an eco-orientation class early on to talk about the different ways to "see" places, and the past stories that are behind what we see.
"Exploring the lake and wetlands with the kids was wonderful" said Browne. "As they discovered spiders, mice trails, coyote scat, wasps, and fish, their 'windshield-view' of the lake transformed into an understanding of the connections between water, plants and the food web."
During the second week, with help from Growing Up Boulder, Biohabitats, Parks staff,  the Keep it Clean Partnership and the City's Watershed Outreach Program, the students conducted a "bioblitz" of the site, identifying plants and wildlife and testing the water quality of Thunderbird Lake.
"To hear the kids go from calling something a 'tree' or 'bush' to easily using plant names like peach-leaf willow, cottonwoods, cattail, or bulrush," said Browne, "was deeply satisfying."
During the final weeks of the course, the students learned about the design process, participated in design charettes, built models of play and learning areas, and held a community workshop with more than 40 neighbors, including those from a senior community located across the street from the park. The students shared their findings and their suggestions for the park, and the workshop resulted in an exciting, multi-generational exchange of ideas.
"These kids had so much pent up energy from watching the construction of the new wing for about a year," said Dillon. "They were anxious to see something happen, and they were very engaged and very enthusiastic, from 4th grade all the way through 8th grade."
According to Derr, the kids' energy was contagious and inspiring. "From my perspective, the greatest contribution the Horizons' students gave to the project was their infectious enthusiasm for the park," she said.  " While some of their ideas may be wild or unconventional, their excitement for these ideas makes us all think and work a little harder to find ways to make them happen."
The result of all of this youth-infused planning is a strategy to incorporate four key themes in the design of Burke Park: a playground area (the children call it their "river of sand and rock") that emphasizes nature and adventure play; an outdoor learning area where visitors can study habitat around Thunderbird Lake; active living areas that promote exercise, health and wellness for all ages; and community gathering spaces, where neighbors can garden and picnic. In other words, the park will transform into a community hub that is as rich in biodiversity as it is in opportunities for people of all ages to seek connection, solace, fitness, fun, and adventure.
The possibilities created by this transformation are only beginning to be realized.  "Every year, the older kids spend a week off-site at a nature preserve," said Dillon. "One of the realizations [for Horizons] is that they'll be able to bring many of those features they've had to drive to right into their backyard."
For both undergraduate and graduate students in the Growing Up Boulder program, the collaboration provides an opportunity to apply their design training and planning skills to a real project. In doing so, according to Derr, they not only bring their youthful perspective to the project, but they help bring out the ideas and participation of Horizons' students. "They were an integral part of the planning process," said Derr of her students, "and to cultivating and valuing youth voices in park planning."
For Dillon, too, this effort has already yielded benefits. In addition to the smiles they have witnessed while collaborating on the future Admiral Arleigh Burke Park, Dillon's staff now has stronger relationships with the school district and University, and greater skill in planning nature play areas and engaging communities in design.
"We are all aware of the nature deficit disorder that has been impacting the United States," said Dillon. He plans to continue building his department's understanding of this challenge, and as well as its skills to combat it in Boulder. As Dillon and his colleagues take this collaborative, community approach to planning out to other neighborhoods, we can only hope others follow.
Connecting Children to Nature: Public Service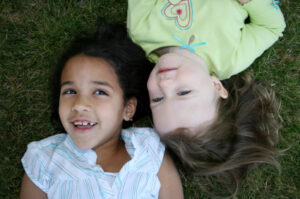 When the health, safety, education, and welfare of an entire community fall upon your shoulders, you probably know a thing or two about prioritizing. On any given day, leaders of local government must formulate policy, develop and manage budgets, decide on ordinances and resolutions, and oversee services ranging from criminal justice to waste treatment to disaster assistance.  Is there room on such a full plate for the service of connecting constituents with nature? Is it even regarded as a public service?
It is if you are Howard County (Maryland) Executive, Ken Ulman. "Connecting children to nature is absolutely critical," said the County Executive. "As we have all gotten accustomed to multiple electronic devices, we have lost touch with the nature around us."
Since his early days serving as a member of the County Council, Mr. Ulman dreamed of helping reestablish that connection by building Howard County's first nature center. Along with other county officials and citizens, Ulman envisioned a center that would serve as a launching pad for exploration of the Middle Patuxent Environmental Area (MPEA), a 1,021-acre expanse of forest, meadows and river valley. Rich in biodiversity, the MPEA is one of the largest undeveloped tracts in this county that is located in the middle of the bustling Baltimore-Washington corridor.
Constructing a nature center in a protected area was not an option, but when the county acquired 18 acres of adjacent land through a generous arrangement with the James and Anne Robinson Foundation, County Executive Ulman jumped at the chance to bring the Robinson Nature Center to life.
"We wanted to make sure it had that wow factor to inspire the next generation of environmentally conscious citizens," said the County Executive, "but we also wanted the outdoor spaces to reflect the Middle Patuxent."
The Robinson Nature Center opened in the fall of 2011, and by all measures, it has achieved wow-worthiness. The three-story, 25,000-square-foot building houses museum-quality exhibits on topics ranging from the Chesapeake Bay to nocturnal forest to the history of Simpsonville, the mill town that once existed on the site. The Center also features a state-of-the-art digital planetarium, a children's discovery room, and several meandering, wooded trails. An amphitheater, butterfly house and more trails are planned for the future.
For five-year-old visitor, Henry Nelson, the showstopper was a multi-level, interactive exhibit called "The Life of the Forest." As Henry put it, "You get to see what lives at the top, the middle, the bottom, and even underneath the tree!"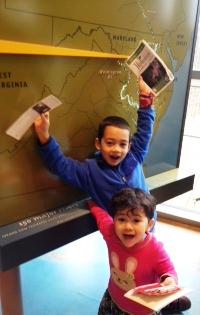 Outdoor experiences at the Robinson Nature Center include the opportunity to visit a mill race and participate in a real archaeological dig at the site of the Simpsonville mill. "The Center also teaches people about the history of the region and the state," said the County Executive, "because so many of our towns really evolved around mills located on the bank of our rivers."
According to Stacey Yankee, Director of the Center, more than 35,000 people visited the Robinson Nature Center in its first year.
Facilitating visitors' enjoyment and understanding of natural resources is central to the Center's mission. Doing so in a hands-on away that bridges the gap between people and nature makes it all the more meaningful.
"Children can hold a caterpillar at our Insect Extravaganza program in the summer, use a dip net to catch insects in the Middle Patuxent River during a field trip, or see live hawks and owls at our annual open house event," said Yankee.
"My kids, who are 13, 10 and 7, love to walk the trails down to the river," said Howard County resident Amie Sevrin "They compare rocks, look for funny faces in the tree bark, inspect the downed trees to see what might be living in the hollow logs, and even make note of what new thing is growing or in bloom."
It's not only children who benefit from the Robinson Nature Center. The Center strives to connect people of all ages with nature.
Stacey Yankee shared a recent story. "One lady once asked why the ground seemed to sparkle everywhere on the grounds at the nature center, as if it looked like fairy dust. I smiled and explained that it was actually a substance called mica that is found naturally in our soil. What I admired most about the question was that an adult had asked me. It just confirmed in my mind that the sense of awe, wonder and imagination is not lost in adults, especially when they are aware of their surroundings in nature."
The Robinson Center not only encourages environmental stewardship through its grounds, programs and exhibits; the building itself was designed with energy conservation and sustainability in mind. Nestled into a hillside, the LEED Platinum-certified center features geothermal heating and air conditioning, solar panels which generate 15% of the electric needs, and innovative stormwater management and water conservation practices.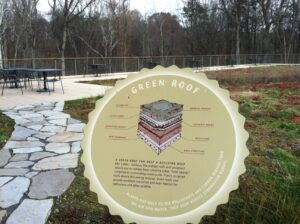 Outside, atop a portion of the building's bottom floor, visitors have a rare opportunity to walk onto, explore, and learn about a green roof.
"I want people to come and be able to touch and feel these techniques and know that they actually work.," said County Executive Ulman. "I want developers to be able to come out and say, 'How does pervious pavement really work? Do the pores get clogged during bad weather? How do you salt it or keep it from icing over in the winter?'"
And they are. The County has hosted many tours and meetings for developers, homebuilder groups, and others in the development community. The County is also beginning to link the Center with other regional institutions such as the National Aquarium and the Maryland Science Center to begin to offer a broad, complementary services and programming.
Not surprisingly, one of the Robinson Nature Center's most frequent visitors is County Executive Ulman. He brought his daughters to the site every weekend during its construction, and his family continues to enjoy it regularly. But to Ulman, the Center is more than a personal dream fulfilled. It's a vital public service.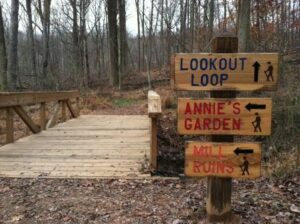 "While there is a budgetary expense to building and operating facilities like this, it is very important to the quality of life for citizens," he said. "At the end of the day, people pay taxes and they expect to get value in return. When they get to experience places like the Robinson Nature Center, I think they appreciate what their government is doing in partnership with them."
Ami Sevrin certainly does. "Living so close to a place that allows us to experience the natural world," she said, "encourages my children to remember that in our fast-paced, urban-centered universe, there is still an ecosystem on which we all depend."
Children, Nature, and the Future of our Species
by Stephen R. Kellert, Professor Emeritus, Yale University School of Forestry and Environmental Studies
The current trend toward an increasing disconnect of children from the natural world constitutes a profound threat to our future as a society and even as a species.  Recent data suggests children are engaged with electronic media (computers, television, games) on average 52 hours a week, while spending less than forty minutes outside. What is at stake here is not simply a dispensable recreational amenity, the chance for children to go outside and enjoy and learn about nature, or even fostering a conservation ethic and an attitude of good stewardship.  Far more, children's healthy maturation and development is in jeopardy and, with it, the future of humanity.
The psychiatrist, Harold Searles, remarked long ago (1960:27): "The non-human environment, far from being of little or no account to human personality development, constitutes one of the most basically important ingredients of human psychological existence." Theory and evidence increasingly suggest that people possess an inherent need to affiliate with nature (something we have called, biophilia) instrumental to human health, fitness and wellbeing, and this relationship is especially important during the formative years of childhood (Wilson, 1986. Kellert and Wilson 1993, Kahn and Kellert 2002, Louv 2008, Kellert 2012, Children and Nature Network 2012).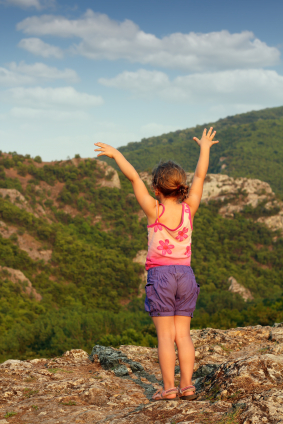 Yet, the importance of children's contact with nature remains of marginal interest to most of the general public, policymakers, and educators. The assumption still prevails that progress and civilization is a consequence of our society's ability to transform, separate from, and transcend the natural world. We have become increasingly blind to the reality that our species, like all species, evolved in a biological not an artificial or human created context, and that our physical, emotional and intellectual fitness continues to be reliant on a vast matrix of experiential ties to the natural world, especially during childhood.
Humanity is the product of its evolved relationship to nature, countless yesterdays of ongoing interaction and experience of the nonhuman environment. Our senses, our emotions, our intellect, even our spirit developed in close association with and in adaptive response to the natural world. Our physical and mental health, productivity, and wellbeing rely on myriad direct and indirect connections to nature, even as our world becomes increasingly fabricated and constructed. This dependence on nature has shaped and continues to shape our capacities to feel, reason, think, master complexity, discover, create, and be healthy. Whether we choose to be farmers or financiers, foresters or professors, labor with our bodies or toil with our minds, our safety, security, and survival remains contingent on the quality of our experience of the world beyond ourselves.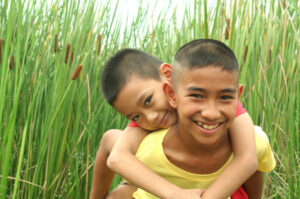 The sparse data available suggests our most cherished capacities – physical health, emotional attachment, self-concept, personal identity, critical thinking, problem solving – depend on myriad and irreplaceable experiences of nature, particularly during childhood. Despite our remarkable capacity for learning and creativity, we remain bound like all creatures by the constraints of our evolved biology in a natural not created world. The extraordinary formative influence of nature deeply effects children's health, fitness, and even moral and spiritual capacity. A child's optimal development, the emergence of a secure and positive identity, the ability to think critically and resolve problems, and the creation of self-confidence and self-esteem are all an outgrowth of a vast web of interactions with the natural world.
Children experience nature in direct, indirect, and symbolic ways at home, at school, and at play. Nature is not just a place to visit outdoors in a park or forest, apart from everyday existence. It is also more than organized programs at school or at a nature center. Children also need unstructured and free play opportunities to experience nature in spontaneous and unsupervised contact in the realm of their everyday lives. Restoring children's connection with nature is not just about enhanced intellectual understanding and outdoor exercise, but also about the experience of wonder, joy, exuberance, challenge, coping, awe, even dealing with fear and anxiety, all and more the basic stuff of normal development. Contact with nature is not just about direct physical contact with the outdoors, but also the representational experience of the natural world in pictures, stories, myth, legend, and design.
Even in the modern age, children's contact with nature continues to be a vital and irreplaceable source of healthy maturation. The profound impoverishment in contemporary times of children's contact with nature constitutes a threat to their physical and mental health and development. Intimating this possibility, the precipitous decline in children's experience of the natural world in recent decades is correlated with alarming increases in rates of obesity, adult diabetes, myopia, attention deficit disorder, and autism among children. The crisis of deeply diminishing connections between children and nature may, in effect, be a threat to the future of humanity. The scale of the problem calls for bold steps and a deeper understanding of what is at stake. Some of this understanding can be found in a new book of mine, "Birthright: People and Nature in the Modern World" (Kellert 2012).
References:
Children and Nature Network. 2008.  Research and Studies, Volumes I-VI. www.childrenandnature.org
Kahn, P. and S. Kellert, eds. 2002. Children and Nature: Psychological, Sociocultural, and Evolutionary Investigations.  Cambridge, MA: MIT Press
Kellert, S. and E.O. Wilson, eds. 1993. The Biophilia Hypothesis.  Washington, DC: Island Press
Kellert, S. 2012. Birthright: People and Nature in the Modern World. New Haven: Yale Press
Louv, R. 2008. Last Child in the Woods: Saving Our Children from Nature-Deficit Disorder. Chapel Hill: Algonquin Press
Searles, H. 1960. The Nonhuman Environment: In Normal Development and Schizophrenia. New York: International Universities Press
Wilson, E.O. 1984. Biophilia: The Human Bond with Other Species.  Cambridge, MA: Harvard Univ. Press.
Non-profit Spotlight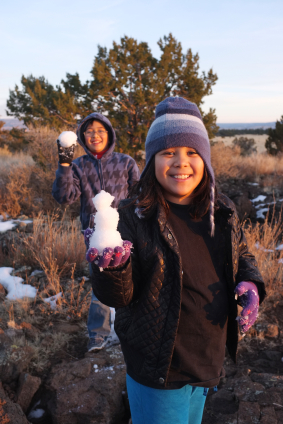 With so many groups, nature centers, schools and organizations around the globe actively connecting children to nature and its benefits, it's difficult to shine Leaf Litter's Spotlight on just one. Instead, we asked the folks in each of our bioregion offices to highlight one organization in their area. We're pleased to feature them here, and we are grateful that they are part of an ever increasing, global network of change makers.
Southeast Bioregion
North Carolina State University's Natural Learning Initiative promotes the importance of the natural environment in the daily experience of all children, through environmental design, action research, education, and dissemination of information.
Southwest Basin & Range Bioregion
The Santa Fe Mountain Center calls itself a "classroom without walls." Their outdoor, experiential adventure activities are designed to help participants, many of whom are native youth, break through self-limiting beliefs, discover their potential, and build positive self-identify and resiliency.
Chesapeake/Delaware Bays Bioregion
The Greater Baltimore Children & Nature Collaborative fosters opportunities for networking and partnerships among the various sectors (health, education, business, faith, arts) involved in efforts to connect children age birth to young adult to nature.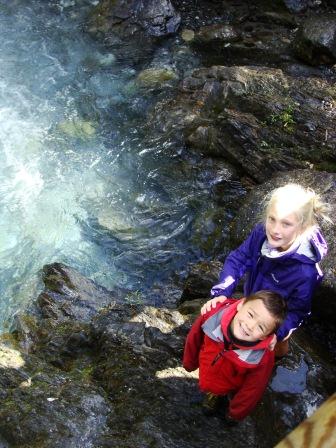 Hudson River Bioregion
The Urban Assembly New York Harbor School provides a rigorous, college-preparatory education built upon New York City's maritime experience. The school strives to instill in its students the ethics and skills of environmental stewardship as well as on water job skills.
Great Lakes Bioregion
The Lake Erie Nature & Science Center in Bay Village, Ohio offers quality nature, environmental and science experiences with planetarium programs, nature hikes and a variety of wildlife exhibits, along with domestic and wildlife close encounters. The Center provides free admission seven days a week and performs wildlife rehabilitation at no charge to the public runs its programs based on the principles that learning is fun and children learn best by doing.
Ohio River Bioregion
The Louisville Nature Center and Beargrass Creek State Nature Preserve has a mission is to provide nature education and encourage stewardship in an urban forest.
Southern Rocky Mountain Bioregion
Greater Outdoor Colorado (GOCO) uses a portion of Colorado Lottery proceeds to preserve, protect and enhance the state's wildlife, parks, rivers, trails, and open spaces. GOCO has committed more than $715 million to nearly 3,500 projects in all of the state's 64 counties. This includes Larimer County's recent "Plug in to Nature" project, a comprehensive analysis to determine ways to combat nature deficit disorder.
Resources
Research
Children and Nature Worldwide: An Exploration of Children's Experiences of the Outdoors and Nature with Associated Risks and Benefits, co-developed by the Children & Nature Network and the IUCN Commission on Education and Communication presents the best collection of research we could find on this topic.
Recent Articles/Editorials
Want to boost your brain? Take a tip from Mother Nature (The Independent, Dec. 13, 2012)
10 ways to connect kids with nature (Providence Journal, Dec. 13, 2012)
Nature Nurtures Creativity After Four Days of Hiking (Science Daily, Dec. 12, 2012)
ECOVIEWS: Develop some natural play areas (Aiken Standard, Dec. 1, 2012
Take Two Hours of Pine Forest and Call Me in the Morning (Outside Magazine, Nov. 28, 2012)
Uganda: New Initiative to Interest Kids in Nature, Environment (AllAfrica.com, Nov. 24, 2012)
How kids can reconnect with nature on the playground (The Globe and Mail, Nov. 23, 2012)
If children lose contact with nature they won't fight for it (The Guardian, Nov. 19, 2012)
Nature, children and play (Times of Malta, Nov. 18, 2012
On Being a Biologist: From "Living Alone in the World of Wounds" to the Joy of Connecting Children to Nature, by Bob Peart (New Nature Movement Blog, April 24, 2012)
Organizations
Appalachian Mountain Club's Great Kids Outdoors
Child & Nature Alliance of Canada
Children & Nature Network
David Suzuki Foundation
The Get to Know Society has been inspiring connections between children and nature in the outdoors for over a decade
Green Hearts Institute for Nature in Childhood
Let's Go Outside Revolution
Nature Explore is a collaboration of the Arbor Day Foundation and the Dimensions Educational Research Foundation
Natural England
Books
The Children & Nature Network provides, on its web site a publications section with links to Guides & Tool Kits, Leadership Writing, and Special Reports.
Selected Books by Richard Louv
101 Things You Can Do for Our Childrens' Future
Childhood's Future
Last Child in the Woods:  Saving our Children from Nature Deficit Disorder
The Nature Principle
The Web of Life: Weaving Values That Sustain Us
Selected Books by Stephen Kellert
Birthright: People and Nature in the Modern World
Biophilic Design: The Theory, Science and Practice of Bringing Buildings to Life, (also by  Judith H. Heerwagen, and Martin L. Mador)
Companions in Wonder: Children and Adults Exploring Nature Together, (edited by Julie Dunlap)
Other Books
I Love Dirt! 52 Activities to Help You and Your Kids Discover the Wonder of Nature, by Jennifer Ward
Making Healthy Places: Designing and Building for Health, Well-being, and Sustainability, by Andrew L. Dannenberg, Howard Frumkin and Richard J. Jackson
The Nature Connection: An Outdoor Workbook for Kids, Families, and Classrooms, by Clare Walker Leslie
Sharing Nature With Children, by Joseph Cornell
Wild Play: Parenting adventures in the great outdoors, by David Sobel
Biohabitats projects, places & people
Projects
Wastewater Treatment/Reuse System Making Headlines
Estadio Omnilife, home of Mexico's Las Chivas de Guadalajara soccer team. The 50,000-seat stadium is the first in the world to integrate a 100% wastewater treatment and reuse system. We're proud to have designed that system, and thrilled to see it featured on the Green Sports Alliance blog!
New Development Pops up Atop Restored Stream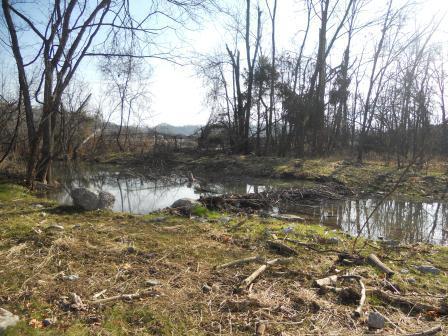 The Cove Spring Stream Restoration project, in Frankfort, Kentucky, is located in Cove Spring Nature Preserve, an ecologically and historically rich park which was once used as a water supply for the City of Frankfort.  Working with the Kentucky Department of Fish and Wildlife Resources, the City of Frankfort, EcoTech and EcoGro/Ridgewater, Biohabitats crafted a restoration design that would limit impacts to the surrounding landscape, reconnect the stream with the floodplain, improve water quality and enhance habitat.  One month after construction was completed for the the downstream section, beaver have built two dams across the stream at the top of the constructed riffles. Biohabitats designed the project to work with the beaver and minimize the disturbance they would have on the ecosystem.  Beaver management is necessary due to the location being upstream of a pump station operated by the U.S. Army Corps of Engineers to control flooding in Frankfort. Construction is currently underway upstream on the second portion of the project.
Could Algae Fuel Maryland?
Earlier this month, Abigail Hopper, Esq., Acting Director of the Maryland Energy Administration, took time to tour the Biohabitats/Univ. of MD Algal Turf Scrubber™pilot water treatment floway on Baltimore's Inner Harbor. This ecotechnology strips nutrients from and injects oxygen into harbor water. Of interest was the potential to use the regularly harvested algal biomass as an energy source. Large scale applications, which were discussed, hold enormous potential for Maryland's efforts to clean up the Chesapeake Bay and for a new fuel source. We'll keep you posted!
Restoring Stability and Ecology in a Salt Lake City Park
We are pleased to share the news that the Salt Lake City Parks Department will go forward with our' concept to use regenerative stream restoration to restore 1700 feet of Red Butte Creek in one of its popular neighborhood parks.  The creek was affected by a 2010 oil pipeline spill that occurred upstream and it has also been impacted by urban hydrology.  Increased discharges from the developed watershed have caused channel erosion.  The regenerative restoration approach will raise the creek bed, widen the channel and reduce stress on its bed and banks; slow down, detain and provide treatment of stormwater, and hydrate the floodplain to allow native riparian vegetation to flourish. Riffle/pool sequences of the regenerative approach will greatly increase aquatic habitat in this reach of Red Butte Creek. We're hard at work developing the design and look forward to seeing it constructed in the coming year.
Surging Ahead with Montgomery County, Maryland
Biohabitats, with our joint venture partner Brown and Caldwell, was selected by the Montgomery County, MD Department of Environmental Protection (DEP) Watershed Management Division (WMD) to partner in restoring stream valleys, improving water quality, and addressing historical damage caused by urban stormwater pollution. These watershed restoration activities are a regulatory requirement of the County's National Pollutant Discharge Elimination System (NPDES) Municipal Separate Storm Sewer System (MS4) Permit.  Montgomery County continues to be at the forefront nationally in watershed restoration and Biohabitats is honored to continue our working relationship with the County on a program with both regional and national implications.
Good News for Fish in the Lower Jemez River
The U.S. Forest Service recently selected Biohabitats to help with the restoration of fish habitat structures along seven miles of the lower Jemez River in the Santa Fe National Forest. In 1989, as part of the Lower Jemez River Corridor Project, nine v-notch log structures were installed in an effort to improve habitat for trout and other fish. Over the years, the structures deteriorated and the channel has become unstable.  Biohabitats will be crafting a design to remove the log structures,  restore the river bed and banks to a stable condition, and improve fish habitat. We can't wait to get started!
Degraded, urban stream begins transformation
Construction is nearly complete for the restoration of Mill Creek in Montgomery County, Maryland. With riffle grade control structures  now in place, Biohabitats' design is beginning to transform what was once a highly degraded stream impacted by intense, surrounding development, into a stable, functioning ecosystem that is now reconnected to its former floodplain. The effort to restore Mill Creek is one of the Maryland State Highway Administration's environmental stewardship  projects, related to the state's Intercounty Connector, an 18-mile, multi-modal east-west highway linking two counties.
Places
Biohabitats staff members have been all over the globe recently, both working to help build resilient communities and to exchange information.
Visiting New Zealand
Ecologist Suzanne Hoehne spent a month in Auckland, New Zealand, as part of a Rotary Group Study Exchange program. While there, Suzanne toured and met with staff from the Rangitoto Island Preserve, Land Care Research, and numerous other sites and institutions. Suzanne shared her observations of Aukland's green roofs, the state of stormwater management in New Zealand, and other topics in a series of blog posts.
Rare Journey into North Korea
Earlier this year, Biohabitats president Keith Bowers traveled to Pyongyang, North Korea as an invited participant in a seminar on the country's environmental crisis. Keith wrote about this journey, one only a handful of western scientists have experienced, in the November 24 issue of New Scientist.
Colombia, South America
Engineers Alan Garrido and Michael Lighthiser went to  San Agustin, Huila in Colombia, South America to speak to attendees at the Uso Racional del Agua (Rational Use of Water) conference, which was organized by Professor Miguel Cifuentes from the Universidad Surcolombiana. While in Colombia, they also had the chance to meet with members of the Colombian Green Building Council. Michael's impressions of the biodiversity and beauty of the region and the environmental ethic of its people are captured in his blog post: "Colombia: observations of a Gringo."
Michael Ogden and Jennifer Zielinski traveled to China's Anhui Province to help a client better understand water resources for a planned development in the region's interior. Michael also returned to Kandahar, Afghanistan, to continue work he began there in 2003. Michael is conducting workshops for Afghan engineers and architects on the design of wastewater collection and wastewater treatment systems.  In his descriptions of both trips, Michael reminds us not only of the comforts, but of the information, tools, and standards we often take for granted in the U.S.
Anhui Province: Back to Basics
By Michael Ogden
We had been asked by our Client SWA to participate in a second regional master planning exercise involving a small (22,000 ha/ 86 sq. miles) portion of Anhui Province. The Chinese government has encouraged the private sector to participate in the Integrated Rural Urban Planning (IRUP) process. The primary goal is to bring development to the interior regions of China. Half the population of China is living in poverty, the other half approaching OECD standards.
Part of our task was to visit the site and review the local water resources. The government's goal is to bring prosperity to the interior regions by incorporating modern agricultural practices, industrialized food processing facilities, farm worker housing, universities, conference centers, medical facilities, tourist accommodations, elder care, and retirement villages in a coherent master plan.
Large tracts of traditional farms are to be converted to peach and pear orchards and organic farms in large contiguous farming operations. Our Chinese Client's model is based on his experiences working with Del Monte in their Central Valley operations in California.  Our particular task is to determine the water demand to support both the existing and proposed new development.
In our tour of the countryside we got to look at irrigation/storm water reservoirs, see municipal water systems, ask questions of the local farm managers and the regional communist party managers. We could make some guesses about run-off coefficients, and current water management practices.
The kind of information that we take for granted in the U.S. is not available so we have work with what is available. For example we would love to know the capacity of this reservoir…how many cubic meters of storage, typical annual volume of discharge. The locals gave us some numbers, but the party officials reminded us that surface water stored in reservoirs cannot be used for irrigation.
Although the Chinese can build a high speed train, they do not have gauging stations on their streams, daily rainfall records for our project area for the past 20 years, or production records of fruit production (it is the same every year, rain or drought and coincidently the same as the FAO averages). We have no idea about whether or not the aquifers are being over pumped, how big they are, or are there such things as downstream users' rights.
Like these villagers we have to go back to basic concepts to develop our report. One of tasks is to estimate the amount of water it takes to wash the peaches prior to packing or canning. In this case we are able to use US practices from California which are incredibly water efficient. We can also suggest standards for water and wastewater treatment and reuse
水是生命 If we could read Chinese, this would have meaning (water is life), as would the rural cultural and farming traditions. Fortunately much of what engineers do is a universal language and is readily understood by our counterparts in China.
Kandahar: A Vision in Need of Protection
By Michael Ogden
Kandahar represents a real challenge for many reasons not the least of which is the climate.
I was first asked to visit Afghanistan in 2003 by the brother of President Karzai.  The Karzai family is from the southern city of Kandahar, which is an extremely hot and dry region of Afghanistan. The annual rainfall averages 4 inches.  The family had been given title to a very larger parcel of land (40+ km2) on the northeast side of Kandahar. As the photo indicates, it was apparently not of great value.
However, Mahmood Karzai, the brother of the President, saw the potential for developing a community of 240,000 people.  There is water in an underground aquifer and in an irrigation canal built in the 60's with US AID funding. So the challenge in 2003 was to teach the Afghans how to design and build wastewater and water systems.  They thought they could do so without any training.  After 9 years, I was again contacted to sort things out.
Afghanistan needs trained engineers and architects. As you might imagine after 30 years of war, anybody who could leave did so, but some returned after 2000 and began the rebuilding process.  So my task while there was to teach classes on the design of a small diameter wastewater collection systems and wastewater treatment, as well as to review site conditions and progress to date.
Design standards that we accept for granted, such as separation of water and sewer lines, were unheard of; sewer lines were placed on both sides of the street, and grossly oversized. Existing sewers discharge into open canals- there is no wastewater treatment.
The scale of the project is quite large with tens of kilometers of sewer lines to be designed and installed. Part of our current task is to review the work of the engineering team, and to ensure that they understand the design principles. Projects of this size are quite unusual and it is unlikely that any of these young men will ever be involved in a project of such scale.
It is hard to imagine the transformation that is taking place that is the result of the vision of the Karzai family. The challenge will be completing the project as many of the Afghans begin leaving the country.

Most Americans have no idea what life is like in this part of the world. Material poverty  is evident, but the children are well cared for, and people are not starving, and right now bombs are not falling. The bread and food are great. Housing is being built and over 700,000 trees have been planted. The potential is there, but this vision will have to be defended.
People
If you've called our Chesapeake Bioregion office any time over the last couple of months, you have likely spoken with life-long Baltimore native (and Orioles fan!) Erica Robak. Erica is now manning the front desk. At York College of Pennsylvania, Erica studied psychology with a special interest in sustainability. She is excited to provide administrative support for projects that positively affect the environment and actively involve the local community. As a kid, Erica wanted to be a storm-chaser (yes, as in the classic film, Twister), which proves helpful as she tackles the daily whirlwind of office activity. Though she no longer spends her afternoons jumping off her porch holding a golf umbrella, Erica is still a shameless cloud-watcher and enthusiastic supporter of all things Biohabitats!
With her passion for the outdoors, love of science, and environmental engineering degree from Johns Hopkins University, engineering intern Emma McGowan fits right into the Biohabitats family. When you add her skills as a pastry chef and chocolatier, well…now we're talking Employee of the Month! A long way from her childhood home in western Massachusetts, Emma is working out of Biohabitats' Southwest Basin & Range Bioregion office in Santa Fe. She is immersed in several projects, as staff members are taking full advantage of her technical skills and enthusiasm (not to mention the pastries she brings to meetings).
From February 3-9, Senior engineer, Pete Munoz will teach a design-build workshop on constructed wetlands at the Cape Eleuthera Institute in the Bahamas. Students will be introduced to the basic principles of domestic wastewater treatment with natural systems and explore the major design considerations including treatment requirements, process flow diagrams, and process selection. System analysis, site investigation, permitting, treatment options, design basics and material selection will all be covered. Click here for more information.
The name "Keith Bowers" is increasingly popping up on the news stands. Biohabitats' president was featured, along with a few of the firm's projects, in a special "Sustainability" section of the November/December issue of Urban Land Magazine. As we mentioned earlier, Keith's description of his trip to North Korea, including his impressions of the country's scarred landscape, was featured in a recent issue of New Scientist.  An editorial entitled "Reestablishing a Healthy and Resilient North America–Linking Ecological Restoration with Continental Habitat Connectivity" can be found in the December issue of the journal Ecological Restoration.
Glossary
Biophilia: The term literally means "love of life or living systems." The term was popularized by E.O. Wilson, who defined it as as "the urge to affiliate with other forms of life." According to Wilson, biophilia describes "the connections that human beings subconsciously seek with the rest of life."(Wikipedia)
A Message from the Editor
In addition to being the editor of Leaf Litter and Biohabitats' communications director, I happen to be a mom.  I'd love to say I'm one of those "I-made-my-own-baby-food-from-veggies-I-lovingly-grew-in-my-organic-backyard-garden" moms, but the truth is I'm an ordinary, working, suburban mom. Though I do have chickens in my backyard, and I do drive a Prius, I'm no eco-hero. I have occasionally (gasp!) eaten an out-of-season fruit, thrown a potato peel into the trash rather than the compost bin, and, in the rush to get dinner on the table after work, allowed my kids a shameful amount of screen time.
Editing Leaf Litter is always inspiring. I get to interview fascinating, brilliant people who are making this world a more just, biodiverse, and hopeful place. (In other words, they're doing a lot more than raising chickens and driving a Prius).  But my work on this issue of Leaf Litter has affected me on a deeply personal level. It has motivated me to get involved in the movement to connect children to nature  (anyone in Maryland wannna help me organize a "Nature Play Day?" ) and it has caused me to seriously examine my own behavior as a parent. On that note, I'd like to share a little story.
After interviewing Richard Louv, the man who coined the phrase "nature-deficit disorder" in his book Last Child in the Woods, and Bob Peart, founder of the Child & Nature Alliance of Canada, I felt compelled to take my son (8) and daughter (9) out for a hike on an old trolley trail in my town.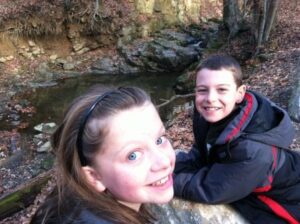 Initially, they didn't want to go, so I bribed them by offering to buy them each a hot chocolate when we got to the end of the trail. Two minutes into the hike, they were laughing, running, noticing birds, and actually being nice to each other. They even smiled together for a picture. (See!→)
Three minutes in, they asked if they could veer off the trail to climb some rocks and explore the nearby stream. My first instinct was to say, "No! That's too dangerous and we have to make it to the coffee shop for hot chocolate before dark!"  Remembering my chats with Richard and Bob, and thinking back to research I had read about how parents' perceptions of safety contribute to the decline in kids' outdoor experiences, I caught myself, and said instead, "Sure! Go explore."
Tears actually came to my eyes as I watched my kids climb up and slide down the rocks on their bottoms (unharmed, I might add). When my daughter fell in the creek (as a girl who hikes in flats will inevitably do) she laughed. We all laughed.
We never did make it to the coffee shop, but we had a beautiful afternoon together that I will remember for a long time.  I view that experience as a gift from people like Richard Louv, Bob Peart, Stephen Kellert, and all of the folks around the globe who give their time to help ensure that a a child's right to enjoy nature is forever protected.  In thanks, I encourage all of you to give the children in your lives the gift of nature!
Share your thoughts and comment with Amy on the Rhizome blog.