Boreal Sounds
By Erin English
"Music is probably the only real magic I have encountered in my life. There's not some trick involved with it. It's pure and it's real. It moves, it heals, it communicates and does all these incredible things." —Tom Petty
"Music doesn't lie. If there is something to be changed in this world, then it can only happen through music." —Jimi Hendrix
Occasionally I encounter music that unexpectedly evokes a certain phase in my life, an old friend, or the itinerary of an epic road trip. Music forges a durable connection between experience and memory. In the moment, a great tune can uplift, console, or relax. Music can define a generation (Beastie Boy's Paul's Boutique in the golden age of hip-hop) or snapshot a social revolution (Jimi Hendrix at Woodstock).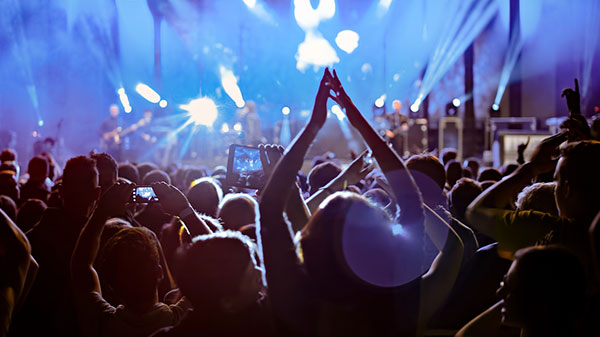 The live music venue is a time-tested gathering ground that has undoubtedly sparked and nurtured countless connections. As the expansion of the internet has linked remote realms of the globe, it has also facilitated rapid and vast sharing of music, exponentially increasing exposure for the producer making music in a jungle studio in Ecuador, a cabin in the forests of Germany, or a northern field station perched above the arctic circle.
When I discovered the ambient music produced by Boreal Taiga, a Seattle-based artist inspired by the landscapes and cultures of the boreal lands of the Far North, I was transported to a region that I have not yet visited and hardly knew. I began digging into the geography, studying maps of the northern climes, researching the fate & state of the shamans and tribes whose voices appear in his field recordings, checking out historical photo essays on peoples like the Samis of northern Scandinavia, and streaming online documentaries about the creatures inhabiting the northern and polar regions.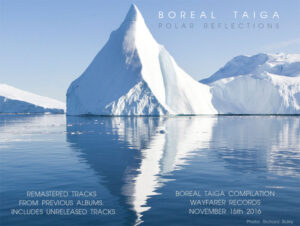 What strikes me about the music of Boreal Taiga is how purposefully he creates an aural connection to these otherwise remote places. Through his music and art, we experience a land that most of us will never have the opportunity to visit. We can almost taste the salt on the air, smell the tundra, hear the people, listen to the wind through the trees, and revel in the magic of the aurora borealis or the never-setting sun of summer.
The polar and boreal regions impact our broader climate, weather patterns, oceanic currents, atmospheric carbon concentrations, and sea levels, even if we don't all yet comprehend the immensity and importance of these functions. Cultivating a connection to this region's landscapes, waters, people, and creatures brings us closer to the urgency to protect it from a warming climate, fossil fuel extraction, and cultural degradation. Boreal Taiga's art inspires, connects, and motivates. His music serves as our link to places we do not inhabit but desperately need to defend. His sound dissolves the barriers between countries and politics.
Perhaps what the world needs is a cadre of musical ambassadors to represent and uplift the most threatened of our places and peoples…to stoke curiosity, inspire hope, and help us forge new memories of those remaining wild, beautiful, and culturally-authentic places.
In this spirit, we reached out to Boreal Taiga about his own musical odyssey and his relationship to the boreal regions and its people. We've linked to some of his music and the stunning film Landscapes at the World's Ends for which he created the accompanying score. Turn up the stereo or que the headphones for this immersive adventure into the soundscape of the great north.
What specific northern regions are you most inspired by and how did you establish a connection with these places?
Greenland fascinates me. Its space, sheer size, and immense ice fields. It really is a frontier which is sparsely populated. The culture of the first peoples there is quite amazing. Greenland is a total Arctic environment as well as a canary in the coalmine for climate change. I feel the same about Siberia, Northern Norway, and Alaska. These environments have inspired my music and research for years.
Why the name Boreal Taiga–what is unique about the sounds of the boreal forest and tundra?
The name Boreal Taiga combines the northern and arctic forests that ring the upper hemisphere of Earth. These environments and the mysteries they hold are what my music reflects. Antarctica is also very inspiring to me.
What do you love most about the northern regions from which you draw your inspiration? What is it about tundra and boreal forest that speaks to the musician in you?
The beauty and contrasts. It's all alive! From the Northern Lights to the reindeer. The forests and coasts, to the ice and water, and of course the living creatures that call it home. Its sheer beauty leaves one speechless. I also love the cold. The dreary, foggy, grey days really help me create. Seeing puffins on the ledges of cliffs, with low, grey clouds and icebergs in the distance, or seeing sunlight breaking through the clouds, creating beams of light on the distant snow or water, is so magical.
Tundra is another inspiration. Its sheer size and expanse is incredible. When I was in Alaska, we wanted to travel as far north as possible. After we passed Fairbanks we started to see the changes. There were fewer trees and we could see greater distances. There were spongy mosses, lichens and sedges, short Arctic grasses, and lots of permafrost as hard as concrete. It's massive! But in the summer months, the flowers are so colorful.
The forests, specifically those in Alaska, are special and important. The trees are so otherworldly, especially when covered in snow. The forest is huge, a true boreal forest biome. It holds mysteries.
You have featured recordings from first nations and indigenous people in some of your music. Who have you included, and what intrigues you about these cultures?  
The album at gutu I wrote is based on the Pacific Northwestern tribes and first peoples. This area is the edge of the boreal forest and where I reside currently. The culture, art, language, and music are incredible and deep. One of my friends is of the Tlingit people, and he has shared recordings with me of prayers, drumming, and language. I find our talks to be teachings really.
As for other albums, I have also contacted people from various regions that fit into the albums' themes and asked for recordings. Sometimes, I am lucky to be present when there is a gathering or ceremony, and I always ask if I can record the audio out of respect. I have recordings from the Koryak, Evenk, Tlingit, Haida, Inuit in Greenland, Sami in Northern Norway, and more.
Listen to his album Northern Shamans
What do you hope people experience or gain when listening to your music?
I hope that people who hear my music will find a deep, relaxed environment that takes them to another place or culture. I am sharing my vision and hoping the listener will create their own. I hope to guide the listener to traverse the fast-paced world and visit natural, inspiring environments with deep, human, spiritual connections that can teach us and inspire us to take care of these places.
Do you believe music can play a role in ecological or cultural stewardship, and if so, how?
Yes. Music is a major part of the human experience. In the earlier days of our history, we used drums to imitate thunder or the gods talking. We used highs like cymbals to add rain and wind. We used chanting and singing to merge human voice to these natural sounds. It is our way of interpreting our nature and environments.
I've created several soundtracks for documentaries about what we currently have, what we see now. They warn us about the future, how if one ecosystem fails, the rest will follow. It is all connected! I want the music to stimulate inspiration to cherish and care for nature, because it is all a part of the chain of life.
Music from different cultures paints a picture of that culture and its environment. Through recordings we can create an historical document that contains culture, art, and soul, and can be heard by others. It holds that within the recording. Like a painting, a scroll, or stone work, it is a peek into the past and a clue to our future. It should inspire others to research, care for, and promote cultures and the environment they reside in. So much history has been destroyed by wars, natural disasters, or other disruption, but luckily people through the ages hid and protected valuable manuscripts, art, and tools, thus helping to preserve their history and culture. Language is also important, yet to this day, various tribes around the world are struggling to pass on these important aspects of their culture to the future generations. I believe music plays a part in this remembering.
What is your music creation process?
I try to keep my process simple. I used to use lot of gear, samplers, keyboards, recording decks, and effect modules. I've stored all that away for now to concentrate on studio software except for my field mics and recorders; those I still lug around.
My creation process is varied and can be different for each track. Living in Norway (250 miles above the Arctic circle), I had constant views of fjords, ice covered mountains, and the aurora. My first few album releases on Wayfarer Records document this period. My first album "Isopectic Isotac" (melt/thaw and freeze) is a great example.
Seeing the Sami culture there also inspired me. The history, culture, language, art, and music are very interesting, and I would try to create a track around these elements. If I knew of a special festival, or tribal gathering, I would record ceremonies, especially if a shaman was involved, and use that in a track.
The same applies to the environment. I take my mics out to a mountain, stream, or coast and record natural sounds, breaking them down to fit into a track and theme.
Do you perform your music in live settings?
Yes, as much as I can. I found performing in Oslo, Norway to be one of the memorable. Each year I play at the Imagine (Orcas Island) and Cascadia (Cascade mountains) festivals in Washington state.
Tell us about your collaborations to create the soundtrack for the film Landscapes at the World's Ends?
When I first saw New Zealander Richard Sidey's work, his photos and films, I had to contact him.  It was when I first started Boreal Taiga. He photographs and produces movies in Arctic and Antarctic environments. We discussed possibly creating a short music video about Greenland, which he filmed on many of his trips there. This was what I had been waiting for. I started work immediately and thus created Froze Drone to his Grønlapse. You can view it here:
After that, he started work on his bigger silent documentary called "Landscapes at the World's Ends". When he contacted me to write the soundtrack for it, I was so grateful and happy. This was really a major part of what I wanted to achieve. It still is one of my favorite recordings because the music just fit so well to his filming and still shots. You can view the entire film here:
Landscapes at the World's Ends from GALAXIID on Vimeo.
What is next for Boreal Taiga?
I plan to release an album with a theme about Siberia. Siberia has a deep history. The people and climate are very interesting to me, especially the Kamchatka peninsula. I'm currently in a research phase.
Anything you want to add?
I wanted to thank Dave Luxton for believing in me and my music. Without his inspiration and label, Wayfarer Records, I might be a wandering musician. Thank you also to Øyvind Lind, who has helped me so much. A true friend and mentor as well as one who kept my music consistent. To Richard Sidey who gave me so much inspiration with his art and films. A kind soul who shared with me something we both hold dear as well as giving me a special chance to work with you. My brothers and sisters of the tribe we call humanity, thank you for listening to my music. Love and light to you all.
For More:
https://soundcloud.com/boreal-taiga