Thoughts on the Ohio River Bioregion
Few can debate the historical and cultural significance of the Ohio River and its surrounding landscape. The land along the 981 mile river served as home to numerous Native American tribes. The river itself was a primary route for westward traveling pioneers and later became a major corridor for the transport of goods. It is now one of the most populated and industrialized regions of the U.S.…but how significant is the Ohio River watershed ecologically?
We define the Ohio River bioregion as the area that drains into the Ohio River, from the convergence of the Allegheny & Monongahela rivers in Pittsburgh, Pennsylvania to Cairo, Illinois, where the Ohio River flows into Mississippi River.
The Ohio River Bioregion happens to include some of the world's richest assemblages of freshwater mussels, as well as some of the best examples of eastern deciduous forests around. An area that includes two climate zones and follows the course of the glacial ice margin, the OhioRiver Basin is home to a wide variety of flora and fauna. Join us as we examine the ecology of the Ohio River Bioregion.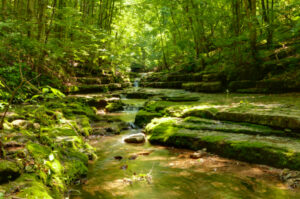 We'll talk with Dr. William H. Martin, who once served as commissioner of the Kentucky Department of Natural Resources and worked to pass the 1998 Kentucky Forest Conservation Act. A 30-year veteran professor of Biology at Eastern Kentucky University, and former co-chair of the Kentucky Biodiversity Task Force, Dr. Martin tell us about the rich biodiversity of the region's forests, waterways and caves.
Peek inside the doors of our Ohio River Bioregional (ORB) office and get to know Mike Lighthiser and Suzanne Hoehne. Read Mike's article "Lost and Found River" as he looks within and outside of the Ohio River Bioregion for inspiration on keeping the River and its Basin on everyone's radar screen.
The resources section of this issue is loaded with links and material to explore for more information on the Ohio River Bioregion. Check out some of the exciting work we're doing the Ohio River Bioregion, meet some new team members, and catch up on the latest Biohabitats happenings.
Leaf Litter Talks with Dr.  William H. Martin
Former Professor of Biology and Director of the Division of Natural Areas at Eastern Kentucky University and Former Commissioner of the Kentucky Department of Natural Resources.
Dr. William Martin began teaching Biology at Eastern Kentucky University almost 40 years ago, 1969, and went on to became Director of the University's Division of Natural Areas. He received a Ph.D. from the University of Tennessee – Knoxville in 1971. Dr. Martin left EKU from 1992-1998 to serve as Commissioner for the Kentucky Department for Natural Resources, but ultimately returned to EKU, where he continued to teach for another eight years. He developed and taught over a dozen courses in general ecology, plant ecology and environmental science and ethics.  Dr. Martin's research interests have concentrated on forests – particularly old growth – of the southern Appalachians and natural grasslands of the Midwest.
Throughout his career, Dr. Martin has devoted a great deal of his time and energy to serving conservation organizations, including, among dozens of others, The Nature Conservancy Board of Trustees, the Bluegrass Area Development District of Natural Resources advisory committee, and the Kentucky River Authority. He has served as chairman of the Education Section of the Ecological Society of America (ESA), President of the Association of Southeastern Biologists, Secretary-Treasurer of the Southeastern Section of ESA, and chairman of many sections of the both the Kentucky and Tennessee Academies of Science. Dr. Martin also participated in the Man and Biosphere Programme and the First Sino-American Expedition to Jiangsu Province in China. He has published at least 21 edited or refereed books and papers. Probably the greatest accomplishment was his lead in editing the three significant volumes on the Biodiversity of the Southeastern United States: Lowland Terrestrial Communities, Upland Terrestrial Communities, and Aquatic Communities. Dr. Martin is now retired and living in Lexington, Kentucky.
LL: Where are you from originally, and how did you become interested in biology?
I was born and raised on a farm in west Tennessee. We were cotton and cattle farmers. I was outdoors all the time. I hunted and fished some, but I wasn't an ardent sportsman. My undergraduate work was at Tennessee Tech. I went into animal science because I was planning on going into vocational ag teaching. That's how I came to have a degree in agriculture.
I became turned on to plants and ecological investigations late, in that I was already out of school. I was teaching high school in Florida and went to a National Science Foundation Institute for high school teachers in the early 60s. I learned a heck of a lot more there than I ever learned at the undergraduate level. It was then that I became interested in looking at things botanical. When I got into graduate school [at the University of Tennessee Knoxville], the faculty members that I had made me really interested in plants and forests and that's the direction I went.
LL: From an ecosystem perspective, what makes the Ohio River watershed special?
There are several reasons that it is interesting. One is that it is the geographic and genetic center of the Eastern Deciduous Forests of North America. The Appalachian Highland streams are headwaters of major rivers going into the Ohio River Basin, and are extraordinarily biodiverse. The rivers of Tennessee and Kentucky [in addition to those of Alabama] are leaders in terms of freshwater mussels and freshwater fishes. They are centers of evolution of these aquatic groups. Our limestone region, which is in the interior Low Plateaus portion of the Ohio River Basin, has extensive cave ecosystems. These systems are unique. Mammoth Cave National Park  has the longest cave in the world. Our cave systems have been studied, and we recognize them as being centers of biodiversity for those kinds of systems and extraordinarily important in terms of aquifers and rare habitat. They contain habitat for bats, for example, to live and overwinter. Those three categories of caves, waterways and forests are what make the OhioRiver Basin systems as diverse and important as they are.
LL: What do you consider to be the biggest threats to biodiversity within the Ohio River Bioregion?
It's like anywhere else — habitat destruction and habitat fragmentation. That's number one. One bird that is becoming very much threatened is the northern bobwhite quail. We also have a number of migratory songbirds with declining populations, such as the cerulean warbler in our forests.  The second is invasive species. Our most invasive species have gotten here accidentally – by commerce or by the traveling of human beings. An example is the zebra mussel, which got in here from ballast water in the Great Lakes region and then invaded the Ohio River.
A major invasive species that is going to have an effect on our forests right now is the hemlock wooly adelgid. It is just now moving into Kentucky, and there is no stopping it. It is going to kill most of our hemlock trees, I'm afraid. I have seen it in the Great Smoky Mountains National Park and I've seen its damage. It is not a hypothetical threat. It is very real.
So habitat destruction/fragmentation and invasive species are two immediate threats. On top of that is air and water pollution that is with us because of a concentration of power plants and industries that have used our waterways as places to get rid of things.
There are some threats due to overharvesting. For example, overharvesting of ginseng is a long term threat to the species.  Kentucky leads in the amount of ginseng that is harvested. Typically, we think that harvesting of plants and animals is controlled and that most harvesting problems are associated with oceanic organisms, but that's not the whole case.
In connection with habitat loss is the growth of the region in population. We're not heavily populated in the sense of New England and lower New York. Nonetheless, the population centers plus the transportation corridors getting to the population centers, make habitat destruction and fragmentation very real and at the top of the list.
In Kentucky, we are losing 130 acres a day. (source: Natural Resources Conservation Service) As far as development is concerned, we're not necessarily at the top of the list in the country, but we're close to it. This means we're losing more than a square mile a week. That is not sustainable. That is converting our forests and fields into concrete. Here in Kentucky, we don't have many counties and areas that have planning and zoning associated with them. So it's based on every person having a right to do what they want to with their property. That's what holds forth here.
LL When we asked our readers to rate the Ohio River bioregion in terms of its importance to the ecological health of North America. On a scale of 1-10 (with 10 being the most important), the largest percentage of our readers (24%) gave it an 8. How would you rate it?
I'd give the Ohio River Basin a 10. What is going to be ranked higher? For the Eastern United States, the Ohio River Basin is unbeatable in terms of the biodiversity it has, the range of ecosystems it has and the value of those land and water ecosystems that have unique characteristics about them. These centers that we're talking about – deciduous forests, fishes, mussels and cave systems – where else are you going to see that? I would rank it a 10 and I would say it's an extraordinarily important portion of North America.
Even within the Basin, though, there's not a widespread appreciation [of the ecological richness of the Ohio River Bioregion]. The average person out here on the street is marginally knowledgeable about it.
LL: Based on what you've observed in your career, how do you think the rest of America rates the Ohio River Bioregion?
Lower. They don't know very much about it.  People are not aware of the biodiversity we have here in the Ohio River Basin. That's been part of my job – to try to get that message out. There has been a large federal effort into the Chesapeake Bay and the Everglades. But the federal effort that we have had in this part of the country as far as conservation is concerned has not had that kind of thrust to it.
LL: What have you found to be the best way of getting that message out and educating people?
The best way to get the message out is a continuous concentration on that in terms of various media. As far as the region is concerned, we don't have the activism that other parts of the country do. For example… the Sierra Club here is a group of very committed people. There's no question about that. But the membership of the Sierra Club throughout the entire Ohio River Basin is not as great as it is in other parts of the country. Our conservation ethic is not as strong as it is in other parts of the country.
Our senators and congressman are not inclined toward conservation, by and large. We have some who are. Representative Ben Chandler,  who represents my district here in Kentucky, is a conservationist and has taken fairly strong, public stands on certain environmental issues. But of the six congressmen we have, he is the only one who talks about [conservation]. We don't have the kind of representation at the national level that is needed to draw the attention of, say, the Chesapeake or the Everglades.
Our ecosystems here are fairly resilient, so they appear to recover quickly from some kind of disturbance. Furthermore, we still have a lot of natural landscape left, in comparison to other parts of the country.  So people here in this region are not struck with any kind of urgency until they hear about this loss of 130 acres a day. Then they say, "Hmm…we need to think about this."
The message we're trying to get out – myself and others – is that portions of the Ohio River Basin are still rural, but there are threats and they are very real. Either they have arrived or they are coming.
LL: When you served as Commissioner of the Kentucky Department of Natural Resources in the 1990s, you were instrumental in the creation of the Kentucky Heritage Land Conservation Fund. Can you tell me about the Fund?
The Kentucky Heritage Land Conservation Fund  is created by three sources of funding that are part of state action – environmental fines, license plate program, and the state portion of the unmined minerals tax. One of the things I did when I was in State government was to help get this funding mechanism in place and get this conservation fund created. I've been chairman of the Heritage Land Conservation Fund ever since it started and I'm still the chairman.
LL: How much has gone into the Fund since it was created?
$33 million. With that, we have acquired almost 28,000 acres that we have obtained from willing sellers. We have been able to conserve a number of areas throughout the state with this fund. It's our State source of funding for natural areas. There was funding at the Fish & Wildlife Department, that came from the federal government, for farmland acquisition, but it was just a mere trickle in terms of what it could do. The Kentucky Heritage Land Conservation Fund has allowed us to make the progress we have made, but there's a long way to go. The amount that is allocated for this program has not increased much over time, but we now have a demand that is at least twice what we have funds for.
LL: Would you say that getting the Fund started is one of your proudest accomplishments? 
That would definitely be one of them. Getting the funding in place was a team effort, of course, and I was a part of the team. I'm also proud of being chairman of that Board from 1995 until the present.
LL: What was the predominant issue facing the Commonwealth of Kentucky at the time you served as Commissioner of the Department of Natural Resources?
In one administration, it was the Heritage Land Conservation Fund. We also had a Biodiversity Task Force that concentrated on biodiversity in our state for about a year. The Task Force made some recommendations that are still in still guiding what we are doing today.
Another issue was forests and forest management. Kentucky is one of the top hardwood producing states in the country. One of the things we tried to do was address conservation of forests and the waterways associated with forests that were being abused by logging practices. That was the other big issue I dealt with.
The Kentucky Forest Conservation Act of 1998 was the culmination of all of the legislative and executive branch activity that was associated with forestry. We did a lot of outreach to educate people about the forests of Kentucky and the timber industry and its value to the state. The Forest Conservation Act is not as strong as a lot of people would like to be – in terms of stopping logging abuses – but there is a program in place that allows the State to monitor logging jobs and fine people when necessary. There is also a training program for people doing the logging to establish best management practices. We did all of that through the Forest Conservation Act of 1998.
LL: Here we are, 10 years later. Are these programs being implemented? Have things improved?
The situation has improved some, but there are still abuses as far as the logging is concerned. This is simply because there are not enough people to monitor. There is also not enough attention given by the people who are in the community where the logging occurs. There is ignorance and apathy in terms of logging and that there are certain best management practices for improving a logging operation so that the soil and waters are not going to be as badly affected as they are by indiscriminate logging. Ninety-two percent of our forests are privately owned. That was one of our struggles with the Act. There are few controls that can be placed on logging when it is done on private land.
LL: You have done a great deal of service work with many different organizations. What have you seen to be the most effective way to help ensure that ecosystems and biodiversity are protected for generations to come?
What has to occur is that there's some kind of recognition of the value of these systems and some kind of formal agreement that allows them to be conserved. The best way, to quote an old advertisement, is "to get these lands protected the old-fashioned way; that is, to buy them." That is one strategy. I don't think it's the only strategy by any means. That has been The Nature Conservancy's strategy. They have not gotten into lobbying and activism as, for example, the Sierra Club has. The conservancy has been very successful – nationally and internationally now. I was with the Conservancy here in Kentucky back when it was an embryonic organization. We've seen it grow to a fairly good size for this state, but there are other parts of the country where it is stronger.
There are several kinds of agreements that provide legal protections that include purchasing, land trust, conservation easements, etc. There isn't any one thing that is magic to conservation. It begins with people who are interested in the land being conserved in the first place. In the long run, all we have to do is have people who are interested in conserving. In answer to your question, the most direct thing is that it has to get out of the private domain and into the public domain where there is oversight and protection in the long run that protects it from being converted into something else.
LL: Are there any organizations – regionally or even nationally – that you think do a particularly good job generating/promoting/inspiring environmental stewardship?
The Nature Conservancy,  The Conservation Fund, The Trust for Public Land, The American Farm Land Trust, and the Natural Resources Defense Council.
LL: We once dedicated an issue of Leaf Litter to the topic of natural capital, the idea of assigning monetary value to ecological systems and processes. Do you see natural capital being addressed in any conservation or restoration efforts in your region?
A lot has been written about natural capital and values of ecological services. A big example, of course, is the conservation of the Adirondack region in New York  and how they have saved money on water treatment by conserving areas providing water to New York City.
Beyond that, there is not a lot of emphasis on natural capital at this time. An awful lot of stuff is written about it. There are a lot of numbers that are kicked around (billions of dollars that pollinators are providing to agriculture; what an acre of trees provides as a sponge against pollution, etc.). In terms of really being something that is a widespread and widely recognized campaign of the value of ecological services, no. I haven't seen that being applied to any great extent yet.
LL: Overall, your focus seems to be on conservation. A lot of our readers are also involved in ecological restoration and regenerative design. Do you see much of these approaches being applied in your region?
Yes, there's some of that here. I've seen that with the Heritage Land Conservation Fund. Some of the acquisition dollars – and acquisition intent – is to conserve a place, but also to restore it. There's some of this going on, but as far as widespread…no, I wouldn't say that.
LL: You have taught biology at Eastern Kentucky University for over 30 years. You must have touched thousands of lives. What were the main themes that you hope your students walked away with?
From the standpoint of the students that were not biology majors, what you want to try to do is give them some knowledge about what these natural systems are, what the ecological goods and services are, and also an appreciation for them. Hopefully they will carry that out with them and keep it over their lifetimes.
For graduate students, you're really training them to go on with their professional lives in biology or ecology. You're trying to make sure they appreciate the natural world and are enthralled by it. The complexity of the natural world is awesome and continues to be completely amazing. One of the things that has guided me is an old saying [by African conservationist Baba Dioum]:
In the end, we will conserve only what we love.
We will love only what we understand.
We will understand only what we are taught.
That's what I'd like people to leave my courses with.
LL: If I wanted to see the greatest amount of biodiversity in the Ohio River Bioregion, but only had time to go to one place, where would you recommend I go?  
To the Great Smokey Mountains National Park in Tennessee and North Carolina. The western part in Tennessee drains into the OhioRiver Basin. If you want one place to visit that gives you a view of the majesty of this part of the country, that's my recommendation.
Get To Know The Ohio River Bioregion Staff
Located smack dab in the heart of the Ohio River Bioregion, near the banks of the Ohio River, is a brick building constructed in the 1870s that has housed the manufacturing of split bottom chairs, saloon fixtures, mirrors and even pies. Today, Bakery Square is home to Biohabitats Ohio River Bioregion office (or "ORB," as we affectionately call it). Among the exceptional goods produced there today: some of the finest conceptual plans, technical reports and construction documents around.
Step inside and say hello to our ORB leader and water resources engineer, Mike Lighthiser and trusty teammate and environmental scientist Suzanne Hoehne. These two truly embody the good natured spirit and hospitality you'll find all over the Bluegrass State. But don't let this fool you. Underneath their smiles lies steely reserve, impassioned tenacity and mind blowing technical and analytical skills that can help you through even your toughest conservation planning, ecological restoration and regenerative design project.
Level-headed and virtually unflappable even in the middle of a crisis (not that we ever have any), Mike has the remarkable ability to investigate, dissect and analyze a challenge in a way that leads him to conceptualize and engineer a creative solution that works with – rather than against ecological systems. Perhaps this is because whether he's working with rivers, grasslands, salt marshes, coastal lagoons, or shorelines, Mike understands the greatest engineer of all time — mother nature.
Among his many projects, Mike is currently leading the Biohabitats team in the development of the Floyds Fork Parks, Open Space, & Trails Master Plan, a project highlighted in this issue of Leaf Litter. Before joining Biohabitats, Mike worked for a West Coast firm, where he played an important role in developing empirical hydraulic geometry relationships for tidal channels in the San Francisco Bay Estuary. Mike earned his Masters of Engineering from the University of California, Berkeley and his B.S. in Civil Engineering from The Ohio State University. An innate do-gooder and heck of a nice guy, Mike also devoted two years of his life to the Peace Corps, working as an Environmental Sanitation Specialist in the Dominican Republic.
When he isn't busy leading the Ohio River Bioregion office, Mike enjoys spending time with his family, traveling, exploring the outdoors and of course, taking things apart and putting them back together.
When she was little, Suzanne dreamed of exploring unknown lands and making new discoveries. Since she couldn't fathom going into space, she settled instead for science. After earning a bachelors degree in Biology from the University of Wisconsin Oshkosh and an M.S. in Civil and Environmental Engineering from the University of Wisconsin Madison, Suzanne boldly ventured into the emerging realm of water resources engineering applied to ecological restoration.
Now a potamologist and a Certified Ecologist, Suzanne applies her expertise in the hydrology, ecology, geomorphology and hydraulics of natural systems to water-resources related projects such as watershed wide strategic plans, stream restoration  projects, storm water best management practices, and hydrologic and hydraulic studies. Recently, Suzanne has participated in several stream mitigation projects for the Kentucky Transportation Cabinet and a habitat enhancement project along a degraded stream in Nashville. She also played a critical role in the restoration design layout and construction oversight of Terry's Branch a stream restoration project featured in this issue of Leaf Litter.
Before joining our team, Suzanne worked on stream restoration projects for Larson Design Group in Williamsport, PA and designed preliminary bridge structures for the Wisconsin Department of Transportation.  As a graduate student, she participated in wetland research that studied the effects of ground water levels and nutrient concentration on reed canary grass and of nutrient concentration on cattail migration.
When she is not working, Suzanne can be found doing a number of things: trying to figure out how to live more sustainably; learning how to build a patio; volunteering in her community; building relationships with people; cooking; hiking; or playing one of the 11 (yes…ELEVEN) instruments she somehow knows how to play. While Suzanne's ultimate dream is to be on a PBS  reality series such as Frontier House or Colonial House, we hope she stays around Bakery Square for quite some time.
The Lost and Found River
By Mike Lighthiser, PE, Ohio River Bioregion Leader
Over the last six and a half years, I have had the opportunity to travel around the Ohio River Bioregion, develop partnerships, and participate in projects that share Biohabitats' mission to "Restore the Earth and Inspire Ecological Stewardship." Through these efforts, I have met a lot of different people in public agencies, non-profit groups, and private firms doing admirable work.  For example, I've gotten to know organizations that are working toward mitigating stream impacts through in-lieu fee programs, such as the Kentucky Department of Fish and Wildlife Resources Stream and Wetland Restoration Program, the Center for Applied Ecology, and the Tennessee Stream Mitigation Program.  I have seen implementation of "green" infrastructure and building projects such as Louisville and Jefferson County Metropolitan Sewer District's pervious concrete installation and rain garden and rain barrel initiatives, 3 Rivers Wet Weather Demonstration Program's green roof project, Sanitation District No. 1 of Northern Kentucky's Public Service Park, and Bernheim Arboretum's Visitor Center  which recently received a LEED Platinum rating – the only such building in this region.
I have also taken part in planning projects, such as the Floyds Fork Watershed Plan led by the Kentucky Waterways Alliance  and the Floyds Fork and Jefferson Memorial Forest Master Plans, part of Louisville's "City of Parks" initiative. I've learned about the The Nature Conservancy's efforts to protect freshwater mollusk and fish species in the Big Darby Creek watershed in Ohio, Green River and Buck Creek in Kentucky, and Cumberland Plateau streams in Tennessee, and the U.S. Army Corps of Engineers' attempt to implement a Ohio River Ecosystem Restoration Program.  All of these programs and projects involve many dedicated individuals working toward a better future for the communities within the Ohio River watershed.
Through Biohabitats' work in the Chesapeake Bay, Great Lakes, and along San Francisco Bay, I have been able to observe projects outside of this Bioregion.  There are lessons that we can learn from these other areas and apply to the unique conditions found here.  For example, many cities in the Ohio River Bioregion and beyond are under consent decrees with the U.S. EPA to clean up wet-weather discharges of sewage into streams.   The initial reaction of sewer districts may be to focus on large gray infrastructure capital projects such as building tunnels or bigger, separate sewers with a smattering of stormwater best management practices.  However, innovative green infrastructure approaches like the ones I mention in the first paragraph, above, make use of natural processes and energy flows and provide numerous additional benefits (such as wildlife habitat and open space).  They are a viable option that should be considered on a larger scale and have been successfully implemented on large scales in other parts of country. Seattle's SEA streets  are a good example.
Many cities also struggle with land use planning and the ongoing conversion of agricultural and natural lands to suburban and urban development.  In the Chesapeake Bay watershed, an initiative known as Builders for the Bay encourages local governments to adopt better site design principles that reduce the environmental effects of residential and commercial development. The effort is pursued under the leadership of the Alliance for the Chesapeake Bay, the Center for Watershed Protection and the National Association of Home Builders, and involves holding facilitated roundtable dialogues with a diverse group of community stakeholders that ultimately result in the adoption of a Consensus Document agreeing to environmentally sensitive development principles. See the following website: http://www.cwp.org/bfb_better_site_design.htm. While development is going to continue, by learning and implementing better development practices we have a chance to make long-lasting improvements to our environment.
When I drive south on I-65 in Kentucky, I pass through cave country and the exit signs for the Lost River. How did we ever lose a river? Well, in this case, the karst landscape and resulting caves are responsible for this "lost" river.  However, I wonder if the Ohio River and its tributaries have also been lost, at least to the public eye.
Outside of the Bioregion, I have noticed that there are numerous organizations, programs, and funding that focus on other natural systems such as the Chesapeake Bay, Great Lakes, and San Francisco Bay. In fact, despite all of the efforts that I've seen in this Bioregion, I come away with the feeling that the Ohio River and its watershed fall under the radar.  How much longer until we really do lose the Ohio River and its tributaries, especially considering the challenges that we face with regard to water quality, biodiversity, and watershed protection?  Historically, the Ohio River has been a downstream sink for our runoff and our sewage. However, as noted elsewhere in this newsletter, approximately three million people get their drinking water from the Ohio River (including me); we really should recognize it as our source and treat it like a spring. Considering the diversity of plant and animal species; the area's critical role in the development of the eastern deciduous forest; the valuable soils and abundant precipitation, and the numerous headwaters, creeks, and streams, this bioregion is our Eden, and we run the risk of losing it.
Can society shift its view and reconsider this Bioregion as the critical resource that it is?  Can we take all the wonderful work that is occurring – the restored streams, the watershed plans, the protected forests, the stormwater BMPs – and make it into a truly regenerative force?  How do we help society find the river?
Resources
In addition to the many links that appear throughout this issue, we have gathered the following recommended resources on the Ohio River Bioregion. They include web sites, recommended reading material, relevant news items and general environmental news links.
LINKS
The 3 Rivers Wet Weather Demonstration Program
End Mountain Top Removal Action and Resource Center 
Illinois Department of Natural Resources
Indiana Department of Natural Resources
Kentucky Department for Natural Resources
Louisville/Jefferson County Metropolitan Sewer District  
Maryland Department of Natural Resources 
The Nature Conservancy, Green River Bioreserve
The Nature Conservancy, Darby Creek Watershed
The Nature Conservancy, Clinch River
Ohio Department of Natural Resources 
The Ohio Environmental Council
Ohio River Basin Consortium for Research and Education
Ohio Valley Environmental Coalition
Pennsylvania Department of Conservation and Natural Resources 
Pennsylvania Environmental Council
Rivers Institute at Hanover College 
Tennessee Department of Environment and Conservation
U.S. Army Corps of Engineers Louisville District 
U.S. EPA Region 3: Nonpoint Source Pollution 
USGS Real Time Stream Kentucky Stream Flow Data 
USGS Real Time Stream Ohio Stream Flow Data 
USGS Real Time Stream West Virginia Stream Flow Data 
U.S. Fish & Wildlife Service's Ohio River Valley Ecosystem (ORVE) Team
West Virginia Division of Natural Resources 
West Virginia Rivers Coalition 
READING
Braun, E.L. 1950. Deciduous Forests of Eastern North America. New York: Hafner Publishing.
Martin, W.H., S.G. Boyce and A.C. Echternacht (eds.) 1993. Biodiversity of the Southeastern United States: Upland Terrestrial Communities. New York; John Wiley. (Dr. Martin particularly recommends chapters 1-3.) 
Martin, W.H., S.G. Boyce and A.C. Echternacht (eds.) 1993. Biodiversity of the Southeastern United States: Lowland Terrestrial Communities. New York; John Wiley.
Hackney, C.T., M. Adams and W.H. Martin (eds.) 1993. Biodiversity of the Southeastern United States: Aquatic Communities. New York; John Wiley.
(Dr. Martin particularly recommends chapters 1-5; 11.)
Hedeen, Stanley, 1994. The Mill Creek: An Unnatural History of an Urban Stream. Blue Heron Press.
Combined Sewer Regulation and Management a Manual of Practice
First American West: The Ohio River Valley 1750-1820 
Diatoms of the upper Ohio River Basin and Selected Tributaries: Atlas of Species and their roles in river ecology
Ohio River Mainstem Systems Study
What are combined sewers and combined sewer overflows? 
Environmental News Links & Relevant Articles
National Watersheds: The Ohio River Basin 
 The Ohio River Valley: Nerve center of the Commonwealth plays big role in nation's economy
Bio Projects, Places & People
Projects
Doing Right By Olmsted
Over a century ago, famed landscape architect, Frederick Law Olmsted, was commissioned to design a park system for Louisville. Going against the design practice of his day – freestanding parks – Olmsted conceptualized a system of parks connected by tree-lined parkways. Metro Louisville is now building upon the framework laid by Olmsted with a multi-million dollar, multi-year initiative to transform Louisville into a "City of Parks." A key component of the initiative is the Floyds Fork Greenway Project, an effort to create a new system of parks, trails and open spaces along a 27-mile stretch of Floyds Fork.  As a member of a multi-firm consultant team led by Wallace, Roberts and Todd, Biohabitats assessed natural resources  for the Floyds Fork Greenway Master Plan. W carried out a watershed-wide GIS-based inventory and analysis of the natural resources to help identify conservation opportunities and guide the arrangement of park uses, programs, and facilities. Our work includes GIS data collection and interpretation of items such as the geology, soils, water resources, and landscape ecology within the watershed. The project team will also use this information to help develop greater understanding and interpretive opportunities of the area's natural resources. We are thrilled to be part of a team that is building on Olmsted's legacy of green space in and around Louisville.
Battered Terry's Branch Gets Some Help
Amidst the rugged hills and hollows typical of Eastern Kentucky, one finds Terry's Branch, a stream that drains a 2.8-square-mile watershed in Knott County. Over the years, Terry's Branch had experienced the effects of logging, relocation, and straightening. Were it not for the efforts of the Kentucky Department of Fish & Wildlife Resources (KDFWR), the stream would likely have remained in a degraded condition. Through an agreement with the Corps of Engineers, KDFWR restores streams to off set impacts caused by activities such as road construction or mining. They turned to Biohabitats for help with Terry's Branch. We jumped at the chance to design, oversee construction, and monitor the restoration of a 2,900-foot reach of the stream. We believe we have the opportunity to reverse years of degradation.  We also developed additional enhancement plans involving bank stabilization and planting for Balls Fork, of which Terry's Branch is a tributary.
Forkin' Over A Great Plan 

When residents of Darlington Farms, a development in Boone County, Kentucky, expressed concerns about flooding and sedimentation of the community's artificial lake, the County's Public Works department and the Northern Kentucky Sanitation District responded by commissioning Biohabitats to study the headwater catchment of nearby Allen Fork. Leading a multi-disciplinary team that included the landscape architects Human Nature, we performed a natural resources inventory and a watershed-wide assessment of channel conditions in the one–square-mile area. Using GIS as a planning tool, we examined issues related to stormwater volume and sediment production and explored the potential for improving stormwater management, creeks and floodplains and passive recreation opportunities throughout the study area. We also assisted the County Engineer in the formation and coordination of a project steering committee. With a watershed approach and the incorporation of stakeholders, the Allen Fork Headwaters Study provided recommendations to implement innovative stormwater management and stream restoration strategies that will improve water quality, decrease flood impacts, reconnect neighborhoods and parks, and serve as a model for other watersheds in the county. Biohabitats has followed up by helping Boone County prioritize and obtain funding for the study's recommendations.
Goodbye Hazmat. Hello, Habitat.
Damaged by channelization and contamination from a nearby steel mill, two streams in southwest Ohio were in desperate need of help. ENVIRON, an international environmental and health sciences consultancy leading the cleanup, brought in Biohabitats to develop a conceptual restoration plan for the streams. This project requires us to use our unique depth and breadth of ecological restoration expertise to come up with a plan that works with the remediation activities and meets the ecological objectives. Working out of our Ohio River Bioregion office, we began by surveying stream morphology and assessing existing vegetative communities. Further work includes more data collection and discharge and sediment assessments. We look forward to restoring warm water habitat to these very degraded but important stream.
Places
Biohabitats is proud to sponsor the Mid-Atlantic chapter of the Society for Ecological Restoration's annual conference on January 9 in Philadelphia.  
Biohabitats Senior Ecologist and Landscape Architect Bill Young will present "Designs for a Changing Landscape" at the 18th Annual Symposium: New Directions in the American Landscape. This year's topic is Native Landscaping Design for the Real World. The symposium will be held in two locations on two separate dates: January 10-11 at ConnecticutCollege and 16-17 at the Villanova Arboretum.
February 21-22 will find Biohabitats president Keith Bowers in the Land of Enchantment for the 13th Water Conservation & Xeriscape Conference. The event will take place in Albuquerque and will feature a sub-focus on art and ecology.
People
Although Sally Hoyt's career choice seems somewhat predetermined (she is a third generation engineer!), it is molded uniquely to her. A native Marylander who grew up sailing and paddling on the Chesapeake Bay, Sally combined her passion for water and nature with her knack for science and math to become a water resources engineer. With more than eight years of experience that includes ecological restoration and watershed protection, Sally brings a strong set of skills in stormwater retrofit design, watershed planning and instruction and outreach to the Bio team. Her experience includes three years with the Center for Watershed Protection, where she guided local governments throughout the U.S. in watershed planning and stormwater management. When she is not developing hydrologic models and designing killer rain gardens, Sally can be found kayaking, hiking and removing invasive species from her yard. Sally has completed graduate coursework at Johns Hopkins University and holds a Bachelor's degree in Civil Engineering from the Georgia Institute of Technology. We're also willing to bet she's the one with the coolest job at the family reunion.
Our Great Lakes bioregional office continues to expand with the addition of water resources engineer, Jennifer Zielinski. An Ohio native and graduate of Case Western Reserve University, Jennifer is thrilled to be back on her home turf after spending ten years in Maryland with the non-profit Center for Watershed Protection (CWP). Jennifer's work at CWP required frequent and numerous hat changes. She not only performed watershed research, assessment, analysis, but she also counseled governments and communities throughout the U.S. on effective watershed management and innovative stormwater management techniques. She has authored and co-authored numerous national guides and handbooks, including Better Site Design: A Handbook for Changing Development Rules in Your Communit a publication outlining model development principles for reducing the impacts of development on water resources. Jennifer was also responsible for increasing the technical capacity of watershed and stormwater professionals across the country through training and outreach. Yes, Jennifer is as comfortable retrofitting a dry pond as she is leading a national webcast on illicit discharge elimination. Drawn to Biohabitats primarily by our environmental ethic, Jennifer looks forward to getting involved in our full range of projects, particularly ecological restoration and regenerative design. We dig her, too. In fact, we say "hats off" to this skilled engineer, researcher, and communicator!
While the other girls played with dolls and tea sets, Jennifer Dowdell preferred tackling 3-D drawing puzzles intended for her father's industrial arts students. This zeal for problem solving ultimately combined with a knack for non-fiction writing. The result? An accomplished landscape architect who not only sees projects through the lens of landscape ecology, but also has the unique ability to incorporate stories of human habitation, landscape history, and ecological change. Jennifer has applied a refined aesthetic sensibility with sound research and analysis in sustainable design projects from Baltimore to Bellingham to Bangkok. She holds a Masters of Landscape Architecture from the University of Michigan and a Bachelor of Arts in Writing and History from LoyolaCollege. Her academic experience includes an International Federation of Landscape Architects award-winning brownfield redevelopment project done with three colleagues at a site in Flint, Michigan. But if you think this over-achieving Maryland native is all work and no play, think again. Jennifer enjoys traveling, photography and — believe it or not — flamenco dancing. She's also the only one in our office who can cook a mean tom kha coconut soup using techniques she learned from street vendors in Thailand. This well-traveled writer and landscape architect certainly brings a world of experience to the Biohabitats team.