Thoughts On Ocean Health
With the onset of summer, our thoughts often turn to vacation. For many of us, this means a journey to the ocean. The mere act of burying one's toes in the sand and gazing at the surf can be more rejuvenating than a full body massage. But despite their restorative power, the world's oceans are sick. Sixteen percent of the world's coral reefs are disappearing within a single year and populations of various ocean wildlife are declining
Can something so vast, so powerful and so plentiful really be in peril? How important is marine biodiversity, anyway? Is anyone doing anything about it? How are our oceans governed?
In this issue of Leaf Litter, we'll plunge into the topic of ocean health as it pertains to the fields of ecological restoration, conservation planning and regenerative design.
We'll begin by talking with Tom McCann, the Director of Strategic Communications for Ocean Conservancy and organization dedicated to promoting healthy and diverse ocean ecosystems on through research, education, and science-based advocacy.  Based on what you told us in your responses to our reader survey on ocean health, public education about this issue is critical, so Tom has his work cut out for him.
All is not doom and gloom when it comes to our oceans. The number of ways to enjoy the world's oceans is as expansive as the oceans themselves.
Many of you will likely want to dive further into this fascinating topic. We encourage you to do so, and hope that the links  we've provided are helpful.
Leaf Litter Talks with Tom McCann
Director of Strategic Communications, Ocean Conservancy
Growing up in the mountains and woods of southern New Hampshire and vacationing on the coast of Maine, Tom McCann developed a passion for the ocean and natural environment early on. As a student at Wheaton College in Massachusetts, he studied environmental science and psychology. An odd pairing, some might say, but as director of media affairs for Ocean Conservancy , Tom undoubtedly draws on his academic experience every day. Tom leads a team in developing, executing and evaluating communication plans for each of Ocean Conservancy's strategic priorities, which include: restoring sustainable American fisheries; protecting wildlife from human impacts; conserving special ocean places; and reforming governments for better ocean stewardship.
Prior to joining Ocean Conservancy Tom was the director of public relations at the World Resources Institute and an account executive at Porter Novelli, a public relations firm in Washington DC. Tom has over ten years of experience in environmental communication around such issues as marine protected areas, fisheries management, ocean trash, marine wildlife protection, legislation and climate change.
LL: Tell us a little about the Ocean Conservancy.
For over 35 years, Ocean Conservancy has been a real leader in finding sustainable solutions for our oceans. The way we work is to anticipate the threats, such as overfishing, habitat destruction and pollution, and address them through science-based advocacy. Our programs focus on delivering sustainable seafood options, protecting marine wildlife and special places in our ocean, and preparing for the coming changes due to a warmer planet. We think that climate change is the environmental issue of our time. Its effect on the ocean is going to be dramatic.
LL: Describe your role as Director of Strategic Communications,
As a member of the communications and outreach team, I work with scientists and policy experts around the country. My role in particular is to bring journalists together with our scientists and experts to help identify the problems in our oceans and advance some solutions that make sense.
LL: There seem to be many organizations focused on ocean conservation and health. How do you work with and distinguish yourself from others?
Ocean conservancy works with a lot of conservation and recreational groups, industry insiders, and different stakeholders. We see many other groups as partners in a lot of our work. I think Ocean Conservancy's successful track record and science-based approach are its defining characteristics — from our work with the seafood industry to improve fisheries management to our International Coastal Cleanup, which brings together the world's largest volunteer network for the ocean. We've really established ourselves as a strong, active voice for the ocean.
LL: Can you give us an example of how Ocean Conservancy works with other groups?
Right now we're working with a group called Common Vision  to put forth a common vision for sustainable seafood. We're working with seafood buyers, fisherman and trying to bring their voices to the fisheries management table to ensure long term sustainability. Overfishing is one of the greatest problems in our oceans today, and if we can bring together those key industry insiders as well as the scientific and conservation community, we can put ourselves on a path to a more sustainable seafood future.
LL: More than half of our readers say they believe climate control to be the most important ecosystem service provided by oceans. What are some of the often overlooked ecosystem services they provide?
The ocean provides the air we breathe, the food that much of the world consumes and, as many of your readers pointed out, it regulates the climate that we need to survive. So in many ways, the ocean is our life support system. There are special places in our ocean, such as coral reefs, kelp forests and even sea ice up in the Arctic, that are critical habitat for much of the life in our ocean. These are the nurseries, the feeding grounds that serve as the foundation – not only for this generation of marine life but also for the next generation. As we're preparing for the coming challenges of a warmer planet, we have to ensure that the resiliency of these ecosystems is strong enough to deal with that. The resiliency of these ecosystems is going to be critical to our own survival.
LL: The web sites of many conservation, environmental and ocean organizations include statements like, "Our oceans are in crisis," "the world's oceans face a bleak future." etc. What do you think? Are we at some kind of tipping point with our oceans?
There's a frightening reality we have to face when it comes to the health of our oceans. Just last week, the Bush administration concluded that the Caribbean Monk Seal had gone extinct.
Earlier this year, one of Ocean Conservancy's senior scientists, Dennis Heinemann, co-authored the first ever Global Map of Human Impacts to Marine Ecosystems. What they did was look at overfishing, pollution, climate change and other human activities and overlaid them all around the globe. What they found is that we have affected and are threatening many different areas of our ocean. Their conclusion is that we are heavily affecting more than 40% of our ocean. The warnings are real, and we must act now if we're going to change the way we manage our ocean.
But I'm also an optimist. Overfishing and bycatch have depleted up to 95% of red snapper. Red snapper, from the Gulf of Mexico, is a popular fish found on menus around the country. Here's an example where Ocean Conservancy has worked with the fishing industry and federal managers to implement the first ever science based fisheries management plan for red snapper in the Gulf. If the plan is implemented correctly, it's going to help the population of red snapper rebound and it's going to allow for greater fishing opportunities in the near future. In California, we're working with other conservation and recreational groups and fisherman to help implement a network of marine reserves throughout State waters (the first three miles out from shore). I think there are solutions out there. It's through these coalitions and determined, science-based advocacy that we can achieve some important gains for our oceans.
LL: What are some of the most threatened and/or endangered ocean species?
Two of the most threatened species are the North Atlantic right whale and sea turtles. Six out of seven species of sea turtles are either threatened or endangered. The North Atlantic right whale is critically endangered. There are only about 350 of them left. The North Atlantic right whale is sometimes called the "urban whale." It migrates up and down the east coast very close to shore. Whale watching trips are going out from Boston to check them out. Unfortunately because these whales are also migrating through industry areas, they're also susceptible to ship strikes.
LL: Is that the main reason for their decline?
It's just one reason. Another is entanglement in fishing gear. We've got to look at these threats and try to reverse trends and help species like the North Atlantic right whale rebound.
LL: While with Ocean Conservancy, have you been involved in any other programs to help turn around any threatened and/or endangered species rebound?
We have a terrific program called SEE Turtles. It stands for Ecological Expeditions. One of our successful programs is down in Baja, where we're linking up with local groups – some of which have been fisherman or even poachers at an earlier stage in their lives. They've seen a decline in sea turtles and other species, and they realize they can actually make more money and produce more economic growth for their communities by actually moving away from fishing and poaching and instead leading expeditions. It's a way for people to have a positive impact on the community and turtle populations while also going on these expeditions and learning about the culture and nature.
LL: What's the key to getting local groups like fisherman and poachers turned around? Involving them early on?
Absolutely. It's people – working with people. Tapping into their inspiration and the solutions they may see. We have an opportunity to draw on their passion, knowledge and experience and promote these types of programs.
LL: Let's talk for a moment about human impacts. Pollution and overfishing are often mentioned in the news, etc. What are some other major, negative human impacts on the health of oceans?
Some of the other, less talked about impacts are: coastal development and how that can affect fish, birds and other marine life; bycatch – the unintended catch of certain animals when you're out fishing. There are also simple things that we do every day that are going to lead to problems in our oceans. An example is the plastic sandwich bag. Say you have a beach picnic and a plastic bag blows away and enters the ocean. That bag can easily be mistaken for a jellyfish, which is one of the favorite foods of sea turtles. When marine life, such as sea turtles, birds and fish, mistake trash for food, they are going to ingest or become entangled in some of this debris. There are big picture solutions and there are everyday solutions. We have to work on both of those levels.
LL: Of those impacts, what do you think are the three most significant?
Climate change, climate change and climate change. It's the defining environmental issue of our time. It's going to lead not only to a warmer ocean, but the ocean also absorbs a significant amount of excess carbon dioxide. That leads to an increase in the acidity of water, and that's going to affect all life in the ocean.
While we have to keep any eye on our solutions for ending overfishing, reducing bycatch and ending pollution in our oceans, ultimately it's about creating a more resilient ecosystem to deal with the coming impacts of climate change.
LL: Where do you think we are in this country in terms of our overall awareness of the declining health of the oceans?
I think it has improved. We have done some research that has shown that the awareness of the problems in our ocean is increasing across the board.
LL: Why is that? Do we credit Al Gore? How do you explain that increase in awareness?
It's a multitude of things. Obviously, Al Gore brought it to the local movie theater. The recent scientific reports, which have shown such dramatic declines in the overall health of the ocean ecosystem have grabbed enough headlines that it's becoming more ingrained in the minds of the average Americans.  It's troubling, because all of these reports have some pretty dramatic headlines, but it's encouraging, because I think it's going to lead to some policy changes that we need.
LL: What are some POSITIVE human impacts? Any great examples of conservation initiatives, restoration efforts, policy changes, etc.?
We have a lot of challenges in the overall governance of our oceans. There are many different agencies at the state and federal level with sometimes competing and conflicting jurisdictions. We have a lot of work to do in streamlining and improving the way we manage our ocean.
A recent, very positive example is the signing of the Massachusetts Ocean Act. The act is calling for the first comprehensive management plan for State waters. The legislation is going to give some of these managers the tools that they need to better manage the ocean. In many ways Massachusetts is providing a road map for how the rest of the country should look to improve the way that they're managing their ocean. We also believe that the federal government should follow their lead and pass a national ocean policy with a mandate to protect, maintain and restore the health of our oceans. All of these legislative fixes need to find a way to balance commercial and recreational activities with conservation needs. That's the bottom line. In Massachusetts, they have developed a plan that has the best chance of doing that.
LL: Any highlights of the plan you can share with us?
By the end of 2009, they will draw up a comprehensive management plan. What that's going to do is identify, with the best available science and stakeholder input, what activities should be going on where in State waters. The act was just signed this month. They have a year and a half to draft the plan, and then it will be implemented right away.
What we have here is a tidal wave of proposed ocean activities – from windmills to desalinization plants, to wave energy production, to pipelines or telecommunications cables to new traffic in our ocean. What you see is a real tidal wave of activity coming to our oceans, the likes of which we've never had before. So what we need is a new approach to managing our ocean and a comprehensive plan is going to look at all of this activity and say, "these things are appropriate for this area of the ocean, and perhaps we've identified this as a critical habitat for, say, cod breeding grounds, and that needs t o be a cod conservation zone." So what the plan will help managers do is decide what types of competing activities should go where.
People have an opportunity to make a positive impact every day. When you're at your local seafood market or restaurant, ask if they are offering any sustainable seafood options. By letting them know that it's important to you, you are going to be affecting market forces on the issue. I mentioned trash in the ocean as a major problem. Ocean Conservancy has been hosting International Coastal Cleanup now for 22 years. Participation in that event seems to be growing every year. Last year, we had about four thousand people participate.
So although we are facing some major challenges, the awareness and the willingness to make changes is growing.
LL: One of Ocean Conservancy's four strategic priorities is to: "reform government for better ocean stewardship." How and to what extent are the oceans of the world currently governed?
The first 200 miles out from shore are called the "exclusive economic zone." The first three miles of our ocean are considered state waters. The 197 in the middle is federal ocean territory. Where our borders bump up with other countries, it's basically cut down the middle.
Most of our work with Ocean Conservancy is focused domestically. We have a lot of challenges, but I think in time, the U.S. can become a real leader on the international ocean conservation stage. Massachusetts has provided us with a great example of how to reform the way we're caring for our ocean.
A simple step we can take on an international level is to finally ratify the Law of the Sea Treaty. Our feeling that leadership on an international stage is going to begin with taking care of our ocean here at home.
LL: I understand that in recent years, two separate commissions – the US Commission on Ocean Policy and the Pew Oceans Commissions –evaluated U.S. ocean management and both found it to be inefficient and uncoordinated (among several agencies). Both commissions also recommended the establishment of a permanent interagency National Oceans Council within the Executive Office of the President. Does Ocean Conservancy also support this recommendation? If so, do you think you will see it in your lifetime?
We're going to see major changes in the way our ocean is managed in our lifetime. We have to. The two commissions have really laid out a road map for improving the health of our ocean, including some specific changes in ocean governance. It involves two things: how we set up and manage human activities and impacts and how we look at areas of our oceans that need special protection.
There is broad agreement that we need to change course. The next question is how. That's why the efforts in Massachusetts and California have provided road maps for some bold actions. The knowledge is here. The call to action is pretty clear. At this point, we're looking for ocean champions to lead this process.
LL: What about some of the other coastal states. Where do you see the most potential to make a big change should attitudes and policies change.
I think Florida has a real opportunity to be a leader as well. There's a recent report that identified some steps that Florida should be taking now to help prepare with the coming challenges of a warmer planet.  The Florida government got a bit of a wake up call and some action steps they should be taking soon. The report was produced by a coalition of environmental groups, including Ocean Conservancy.
LL: Tell me about marine protected area (MPA) and Ocean Conservancy's efforts to increase the amount of MPAs.
Marine Protected Areas can be some of the most powerful tools for maintaining and restoring the health of the ocean. A recent example in the Channel Islands off the coast of California.  The State set up a network of Marine Protected Areas which limited the impact from fishing in certain habitats that were deemed critical for fish and other marine life. The initiative was originally started by a recreational fisherman who saw a real decline in the number of fish and the health of the ocean out there. Years later, with input from scientists, fishermen, the conservation community and local businesses, the State established a network of marine reserves around the islands. They protected the most critical habitat but left the rest of it open to fishing, diving and other activities. In five short years, scientific reports have shown that there has been a rebound in certain fish populations. This is happening much faster than originally anticipated.
We have always known, scientifically, that marine reserves work, but now we know they can work for California. The State is now creating networks of marine reserves throughout State waters through this landmark piece of state legislation called the Marine Life Protection Act. Within those first three miles off the coastline, California is looking at where the critical areas needing an additional layer of protection are. It's a stakeholder process that is involving commercial and recreational fishing communities, recreational groups, conservationists and scientists coming together to figure the best plan to move forward. They have moved about halfway through the state so far, but it's a multi-year process. This is a cause for optimism.
LL:  Do any other states have anything like California's Marine Life Protection Act?
Not on this scale. Hawaii is another example. The Northwest Hawaiian Islands were declared by the Bush administration a Marine National Monument. We are heavily in support of this. The president actually declared, at the time, that it was the world's largest marine protected are on the planet. It is approximately the size of Montana. It was an area of the ocean that hadn't yet been severely degraded, so there was an opportunity to protect a nearly in tact ecosystem.
LL: Most of our readers are involved in conservation planning and ecological restoration and regenerative design. I've heard the words "protection" and "conservation" a lot throughout this interview. What about "restoration?"
Habitat restoration is critical. I would challenge your readers to find ways to work with other agencies and share information. Improving the way we care for the ocean is a balancing act where we balance commercial and recreational uses with the needs of marine life.
Some of the restoration programs in Florida and Baja that we're seeing are protecting nesting beaches for turtles. Those types of restoration projects are critical for creating those habitat areas we may have lost through development or pollution. Restoration of sea grasses, mangroves, kelp forests, etc. is going to help restore ocean health.
LL: We asked our readers what they perceived to be the greatest barrier to improving ocean health and they named Lack of international governance as the number one barrier (40%) with lack of awareness following close behind (34%) What do you think about that?
I would point back to the gains made in Massachusetts. For the first time all of these agencies are going to be communicating with each other to develop an ocean management plan. Communication and information sharing are the keys for helping all of these agencies, each with its own directives and jurisdiction, to develop a shared mandate for conservation. That works on a state and federal level.
LL: Other than the points you have already made in our interview, what is one key thing you'd like to communicate to our readers about ocean health as it pertains to the fields of ecological restoration, conservation planning and regenerative design?
The greatest tool that we have for our oceans is our voice. Look for ways to be an ocean champion. Share your concerns with local officials. Emulate the changes you want to see within your own agency, organization and community.
You Said It" Survey Results [underwater.jpg]
Ah…the beach. Who doesn't enjoy staring at the surf, walking through frothy waves, and marveling at the majesty of the sea? According to the results of our survey, Leaf Litter readers not only appreciate the beauty and power of the ocean; they value its many contributions to life on our planet.
A majority (53%) of Leaf Litter readers believe that climate control is the most important ecosystem service provided by oceans. Food and oxygen provision came in second, earning 16% and 15% of your votes, respectively. 8% of you said greenhouse gas absorption, while 2% of you said provision of habitat. 6% of you were not able to label one ecosystem service as the most important.
When we asked what you consider to be the greatest threat to ocean ecosystems, most of you said either climate change (44%) or commercial fishing (43%). 7% of you said illegal dumping; 5% said pollution; and 1% said acidification
Most of you were reluctant to identify one symptom of declining ocean health you found most alarming. While 11% of you chose loss of marine biodiversity; 9% loss of coral reef; 7% disruption of the food web and 3% water quality degradation, a whopping 70% of you answered "All of the above." Of the readers who responded to the survey, only 16% have been involved in an ocean-based ecological restoration or conservation planning project.
We wanted to know what you consider to be the greatest barrier to improving the health of our oceans. Here's how you responded:
44%     –           lack of international governance
37%     –           lack of awareness
11%     –           lack of interest
4%       –           lack of funding
2%       –           vastness of oceans
2%       –           other
When we asked what types of conservation and restoration initiatives you think can be most effective in protecting ocean ecosystems?
23% said increase in public awareness
21% think sustainable harvesting
18% said pollution abatement
10% said increase in the establishment of Marine Protected Areas

11% of you said you could not select just one initiative. As one reader put it, "It will take a combination of efforts to show results, with a decrease in land-based threats being the top contributor to poor ocean conditions. Sustainable harvest is also critical, and as the water quality improves, more ingenuity can be applied and have a greater chance of success through active restoration and increased public awareness."
None of you chose "control and management of invasive species" or "active restoration initiatives to restore declining ocean ecosystems" but 17% of you offered comments:
Call a Global Summit on the Oceans.
There is no silver bullet. We have to approach conservation from all angles.
A world governing body with clout is needed to push for the uncomfortable changes that need to be made in how we all "do business" with the oceans.
Active restoration–presuming you include education, governance, and removal of degrading factors as much as possible. These should all be implicit in a successful restoration plan.
A number of these are critical elements to any approach. This is a huge system and restoring just one part really will not do much. I chose the first as I've seen sustainable fisheries systems and believe that this is one small attainable goal.
A ten year ban on harvesting any seafood.
Help poor countries become more affluent so they can help the more prosperous nations protect oceans from pollutants.
HEAVY and IMMEDIATE regulations on the things that are doing the damage, and enforcement of the regulations with severe penalties. Economic incentives and penalties that make it un-economic to pillage the ocean and treat it like a dump.
Combination – active restoration initiatives, sustainable harvesting, and pollution abatement.
We were curious to know who you felt should be responsible for leading ocean conservation and restoration initiatives. Many of you had firm opinions about this.
24% of you said that it should be the responsibility of international government organizations. 20% believe it should be the job of all countries of the world, while 8% of you felt that only countries bordering oceans should be responsible for their restoration and conservation. 5% of you said that initiatives should be led by non-governmental organizations. 2% of you think it is a job for citizens and 1% said academic institutions. The remaining 40% of you believe that some combination of parties should be responsible. Many of you included academic institutions in these combinations. Here are some of your comments:
Citizens, governments, and non-profit ocean advocacy organizations
A combination of International governing bodies, academic institutions, NGOs and financial institutions
Governments collaborating with NGOs and corporations (for funding if nothing else)
Realistically, governments are the ones with the clout to back up the initiative.
There must be a groundswell from citizens, through awareness, first.
Everyone has a role to play. Domestically, the National Oceanic and Atmospheric Administration should clearly be the lead, but may need more flexibility and funding to work with international governments, where problems are much harder to address due to some countries' need to meet basic human necessities of food and shelter.
International government organizations, countries, NGOs, citizens
International government organizations & countries that border oceans
When it comes to who should foot the bill for these initiatives, more than one third of you (35%) said all countries of the world. 15% of you said international government organizations, and 8% think the money should come from the pockets of only countries bordering oceans.
Many of you say you'd like to learn more about ecosystem decline in Oceans. We hope the information, news and resources in this issue of Leaf Litter get you off to a good start. Here are some of the items you said you want to learn about:
Links between urban planning and ocean impacts, so training of folks outside the oceanography profession is critical to raise awareness of the impacts of poor decision making. Coral diseases and predators are ravaging the remaining coral reefs, so that ending overfishing and research on coral disease to come up with treatments for sick corals is also needed.
CO2 absorption and coral reef development.
A variety of research is needed, but as a scientist, I believe research needs to be focused on solving problems rather than documenting them.
How to better manage our fisheries, and how to keep all types of pollution from entering our waterways
More research into value and effects of marine protected areas akin to the research that has been conducted on terrestrial protected areas.
Connections between ocean decline and issues related to human populations. Strike at our self preservation motivation.
I think we already know what the problems are. Time to act, not do more research! Pollution, over fishing, estuary and aquatic nursery destruction, and climate change are all things we already know about. Time to take action and stop talking about it.
Tourism-related development of islands (subsequent destruction of coral reefs to allow cruise ship access); also, educational awareness of native peoples of island nations regarding ocean ecology
Modeling of continued degradation from climate change and human interference including over-harvesting of resources.
Ocean acidification, nutrient cycling and ecosystem response and sustainable protein production and harvest all merit vastly increased support.
Research that quantifies the benefits to humans, e.g. health related, such as ocean as a new drug source.
Not so much research as a way of packaging the facts that gets through to the average person. There is a lot of research on how to reach the public, but it isn't put into practice often enough.
As always, we thank you for participating in our reader survey and helping us wade through this vast topic.
Resources
In addition to the many links that appear throughout this issue (including those you provided in response to our survey), we have gathered the following recommended resources on ocean health.
Australian Marine Environmental Protection Association 
Centers for Ocean Science Education Excellence  
Deep Sea Conservation Coalition 
Global Map of Human Impacts to Marine Ecosystems 
The Global Programme of Action for the Protection of the Marine Environment from Land-Based Activities 
International Maritime Organization 
Marine Conservation Biology Institute 
National Marine Protected Areas Center 
NOAA's National Marine Mammal Laboratory  is responsible for conducting research on marine mammals.
Ocean Champions Voter Fund raises the profile of oceans as a political issue by using issue advocacy to create a political environment where protecting and restoring the oceans is a priority of federal and state governments.
The Ocean Channel providing visitors with high quality, educational, and entertaining ocean programming.
Oceana campaigns to protect and restore the world's oceans. Their teams of marine scientists, economists, lawyers and advocates win specific and concrete policy changes to reduce pollution and to prevent the irreversible collapse of fish populations, marine mammals and other sea life.
Ocean News & Technology Magazine reports on the latest ocean industry news, events and technology developments around the world. This publication might help you better understand the perspective of ocean-based industries. 
The U.N.'s Division for Ocean Affairs and Laws of the Sea 
U.S.EPA Oceans, Coasts & Estuaries web page  
World Wildlife Fund's Marine Program 
Relevant News Links
Soundwaves  is a monthly newsletter on issues related to coastal science and research, and a great resource with news announcing teacher institutes around the U.S.
Biohabitats Projects, Places & People
Projects
Large Scale Stormwater Retrofit In Northeast Ohio
Nine Mile Creek, a tributary to Lake Erie is a heavily urbanized stream that has been impacted by runoff and habitat degradation. Recognizing that the Creek is a critical component to the green infrastructure of the eight square mile watershed, the City of South Euclid, Ohio is taking bold steps to begin its restoration. In order to reduce pollutant loads from entering the Nine Mile Creek drainage area and ultimately Lake Erie, the City is proposing to retrofit the Langerdale stormwater management basin with approximately three acres of wooded wetlands.
The goal of this project is to enhance water quality by: introducing naturally vegetated wetland areas and increasing storage areas; restoring a channelized drainage way to a natural channel; and creating aquatic habitat. This work compliments a variety of other initiatives planned for the Langerdale basin including the establishment of a conservation easement on six acres of forested land, the removal of the concrete channel within the basin, the creation of additional capacity within the basin, modification to the emergency spillway and improvement to the primary outlet structure, among others. The basin retrofit is one of the first projects of its kind in Northeast Ohio, and we are delighted to be working with the City of South Euclid to make it happen.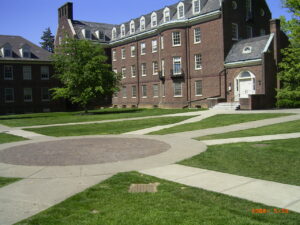 The Future Looks Good (And Green) For Lafayette College
Lafayette College, founded in 1926 and located almost equidistant from Philadelphia and New York City, is one of the nation's premier liberal arts colleges. After completing its new strategic plan, the College is now developing a robust master plan to chart its growth for the next decade and beyond.  With its location adjacent to the Delaware and Lehigh Rivers, just south of Pennsylvania's Pocono Mountains, and with its institutional focus on sustainability, it's no wonder that Lafayette College required that the master plan not only be "environmentally sensitive," but must include green and environmental initiatives. As part of a team led by Ayers/Saint/Gross (ASG), we are providing ecological master planning services as an integral component of the master plan. We are currently working on a characterization of the natural resources on Lafayette's main campus and the important ecological connections that exist between the main campus and its surrounding region. We will also be providing ASG with input regarding green infrastructure, stormwater management and a campus sustainability program. We are thrilled to help Lafayette College with this important step in weaving together its strategic plan, academic programs and unique physical setting.
Extreme Makeover: Landfill Edition
Covering over 2,200 acres, the Fresh Kills landfill in New York City holds the unenviable distinction of being the world's largest landfill. But thanks to the vision of New York City, it is destined to be transformed into a world class park, complete with traditional park amenities, added recreational opportunities like kayaking and canoeing, an equestrian center and – get this – even restored ecological function.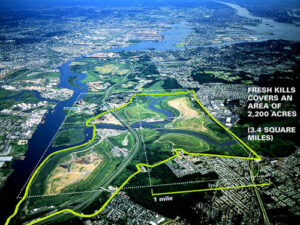 When it was originally established, the Fresh Kills landfill filled what was a complex of coastal habitats that included tidal salt marshes. Closed in 2001 and no longer accepting garbage or municipal waste, the site is now in the beginning stages of its transformation, and we are thrilled to be a part of the effort. The site, now referred to as "FreshKillsPark," is comprised of four areas: North Park, South Park, East Park and West Park. Biohabitats recently helped complete site investigations of the South Park area of the developing FreshKillsPark. The conclusion of this investigation marks the completion of a key step in informing the design process.
The effort is intended to help the New York City Department of Parks and Recreation (DPR), the Mayor's office and various partner agencies understand site constraints and evaluate options for near term development. The reports prepared by Biohabitats, on the ecology of the area, potential restoration opportunities and constraints, and the relevant engineering parameters related to soil and plant elements, were developed to provide information on the proposed capital program that will allow DPR to develop a strategy for designing, permitting, and partially constructing by June 2010, with a capital budget of roughly $35 million. You also might want to check out the New York City Department of City Planning's web pages about this project.
Putting the "Lake" Back In Thunderbird Lake
2002 brought severe drought conditions to the state of Colorado. In the City of Boulder, the effects of the drought are still evident in Thunderbird Lake, where water levels remain low to this day. The resulting increase in water temperature and decrease in  oxygen were severe enough to cause a fish kill in the Lake. In the fall of 2007, the City of Boulder Parks and Recreation Department called upon us to investigate long-term options for management of the lake. After conducting field work and facilitating public meetings to educate the community, discuss options, and solicit input, we completed a report that provided: background information on the environmental setting; an assessment of past and current water conditions and water quality; and recommendations for possible management options.
In response to the feedback from community residents, the focus of the study was to investigate possible sources of water to refill the lake and maintain it at its former level. In addition to aesthetics, considerations included water quality, costs, water rights, and wildlife habitat. The options included retrofitting the tile drain that fed the lake, redirecting storm water, installing a groundwater well, and continuing adaptive management. Monitoring wells were installed to: assist in evaluating the interrelationship between groundwater and surface water;  allow for an aquifer pump test to be performed; and assist in the selection of viable, sustainable options. Using the groundwater data, we will work with the City to re-evaluate and prioritize management options. We look forward to restoring aesthetics, recreational amenities and functioning ecological services to ThunderbirdLake.
Places & People
As you read this, Biohabitats water resources engineer and storm water guru Ted Brown is helping to lead a workshop on Sustainable Watershed Planning and Management at the Water Environment Federation's Sustainability 2008 Conference http://www.wef.org/ConferencesTraining/ConferencesEvents/Sustainability/ in National Harbor, MD. The conference runs from June 22-25.
Biohabitats Southeast Bioregion leader, Kevin Nunnery, will be attending the Low Impact DevelopmentSummit http://www.bae.ncsu.edu/workshops/lid_summit/in Asheville. The Summit is hosted by NC State University Department of Biological and Agricultural Engineering, NCSU Water Quality Group, NC Cooperative Extension, and USDA CSREES Southern Regional Water Program, and sponsored by NC Department of Environment and Natural Resources – Division of Water Quality, LowImpactDevelopmentCenter, and NCSU College of Design. Be sure to stop by the Biohabitats exhibit and say hello to Kevin.
On July 19-23, Biohabitats Invasive Species Management (ISM) vice president, Kevin Heatley, will head north to gather with university planning officials from all over the world for Society for College and University Planning's (SCUP) annual International Conference and Idea Marketplace http://www.scup.org/annualconf/43/ conference in Montreal, Canada.
Biohabitats Great Lakes Bioregion leader, Ivette Bolender, is volunteering her time in Cleveland, OH on August 9 to help out at the Great Lakes Burning River Fest 2008 in  http://www.burningriverfest.org/, a day long festival celebrating the area's waterways, environmental organizations, green businesses, local artists and more. If you're in the area, don't miss this fun, family-friendly event.
Charleston, SC is the location for this year's Southeast Regional Quality Growth Conference http://www.southeastwaterforum.org/roundtables/default.asp. The conference, which will focus on Building Sustainable Communities for the 21st Century, will take place August 12-14. Be sure to say hello to Biohabitats Southeast Bioregion leader, Kevin Nunnery if you plan to attend!
Biohabitats is thrilled to help sponsor the California Society for Ecological Restoration (SERCAL) annual conference http://www.sercal.org/conference.htm on August 13-16 in Santa Rosa, CA. San Francisco Bay Bioregion leader, Allegra Bukojemsky, will join other SERCAL members in "Restoration's Bigger Picture" and exploring ways to "link local restoration to regional and global issues."
Our esteemed leader, Biohabitats president, Keith Bowers, will head to overseas to Ghent, Belgium for the Society for Ecological Restoration International's (SER) 6th European Conference on Ecological Restoration. http://www.ser.org/pdf/2008EuropeConference.pdf The theme of this year's conference, which takes place September 8-12, is "Towards a Sustainable Future for European Ecosystems."
The folks in our Great Lakes Bioregion office wouldn't miss the fourth annual Great Lakes Restoration Conference http://www.healthylakes.org/08conference/ for anything. The conference, which will take place September 10-12 in Milwaukee, WI, will focus on "Healthy Lakes 2009 – New Leadership, Real Success." Be sure to visit the Biohabitats booth. Just look for the giant salamander.
Biohabitats Invasive Species Management vice president, Kevin Heatley, will join conservation minded folks from all over the U.S. at  Rally 2008: The National Land Conservation Conference http://www.lta.org/training/rally.htm, hosted by the Land Trust Alliance. The conference will take place in Pittsburgh, PA August 18-21.