Thoughts on Natural Capital
The idea that a produced good has commercial worth is relatively easy for us to understand. A pair of jeans, a bottle of wine, a piece of equipment…each is a tangible item with an assigned and accepted value. But what about the goods and services provided by natural systems? What is the monetary value of services like carbon cycling and water filtration? Can price tags be applied to fresh air, clean water and green spaces?
According to renowned ecological economist, Dr. Robert Costanza, the answer is yes. In his commonly cited paper, The value of the world's ecosystem services and natural capital (Costanza, R., et al. 1997. Nature 387:253-260), Costanza and his colleagues concluded that the world's ecosystems were worth $33 trillion – and that was in 1997. This study and its applications, along with the growing body of research and projects attempting to link ecology and economics (including Dr. Costanza's current work at the Gund Institute suggest that natural capital could be the key to conserving and restoring Earth's biodiversity.
Yet as you'll see in the results of our reader survey on natural capital, some of you do not believe it is possible, practical or philosophically appropriate to assign monetary value to the goods and services produced by nature.
Whether you see natural capital as a catalyst for economic transformation, a guiding light on the pathway to better land use decisions, or an elusive, idealistic concept, one thing is certain – it is a topic worth exploring.
Join us as we talk with Dr. David Tilley, an ecological engineer at the University of Maryland's Environmental Science and Technology department. Dave is deeply involved in exploring the use of "emergy," or embodied energy, as a tool in ecosystem valuation.
Biohabitats' Kevin Heatley applies the concept of natural capital to tree conservation in his article The Money Tree See how your colleagues are applying natural capital to their work. Read about how we are working with others to preserve natural capital on two university campus sites.
We hope this issue of Leaf Litter generates thought, discussion and hey, maybe even some new research on natural capital. For further exploration, we encourage you to explore our recommended resources.
As always, we welcome your feedback. If you have comments you'd like to share with us about this or any other issue of Leaf Litter, please contact our editor at anelson@biohabitats.com.
Leaf Litter Talks with David R. Tilley, Ph.D.
Assistant Professor, Natural Resources Management Program, Department of Environmental Science and Technology, University of Maryland
"With the combination of my nature experiences as a child and my more recent training as an industrial systems engineer I immediately appreciated the concept that nature had real values that ultimately form the basis for our economic wealth and prosperity."
David Tilley is an Assistant Professor of Ecological Engineering in the newly formed Environmental Science & Technology Department at the University of Maryland (Go Terps!). David double majored in Industrial Engineering and Furniture Manufacturing and Management at North Carolina State University (Go Wolfpack!), but switched to Ecological Engineering after completing his Masters and Doctorate in the Environmental Engineering Sciences Department at the University of Florida (Go Gators!). After UF, David tested the academic profession as an assistant professor in the environmental engineering department at Texas A&M University—Kingsville (Go Javelinas!, not Aggies) for two years. While in Texas, David worked on several ecological engineering projects, including a constructed salt marsh for sustainable shrimp farming, 'soft' engineering of coastal shorelines, and biofiltration for air quality treatment. At Maryland David conducts ecological research in wetlands and pursues ecological modeling approaches to understand the value to ecosystem services.
You have B.S. degrees in furniture manufacturing and industrial engineering. How did you get into environmental engineering?
I am more comfortable calling myself an ecological engineer. I design, build, analyze and learn from ecosystems. I grew up in a rural part of North Carolina that still had large tracts of undeveloped land with healthy forests and streams. As a child and teenager, I spent a lot of time outdoors enjoying the environment. After I was about ¾ of the way through my engineering B.S. degrees at N.C.StateUniversity, I had a personal epiphany that I should pursue a career that would put me closer to my childhood pleasures of working in nature. So I discovered ecological engineering while surfing the library shelves in Raleigh (this was 1991 before the Internet). Bill Mitsch at Ohio State U. and Sven Jorgensen in Denmark had put together a book on the subject (Ecological Engineering : An Introduction to Ecotechnology, edited by William J. Mitsch and Sven Erik Jørgensen). My first thought was, the title of this book is exactly what I've been searching for. Inside was a chapter about using wetlands to treat municipal wastewater. How novel, I thought. Treating the waste generated by humans to benefit nature. Up to that point I naively thought that our wastes were only toxic and destructive of the environment. I applied to the graduate program in Environmental Engineering Sciences at the University of Florida and moved to Gainesville in the winter of 1994 to work with Professor Howard T. Odum, the man who introduced the term "ecological engineering" in the 1960s, and Dr. Mark Brown, who was heavily involved in building wetlands and assessing ecosystem services.
How and when were you introduced to the concept of natural capital? Did you immediately accept the idea?
For my first semester as a grad student at UF, I was privileged to take a course on Ecological Economics taught by Professor Odum. It was in that course that he enlightened me to the concept of Natural Capital. With the combination of my nature experiences as a child and my more recent training as an industrial systems engineer I immediately appreciated the concept that nature had real values that ultimately form the basis for our economic wealth and prosperity.
While most of our readers buy into the concept of natural capital, 16% do not. Reasons why generally fell into three categories. 1) Many question its practicality. As one reader puts it, "…we have yet to find a way to translate this value into the economic system under which almost all business decisions are made. I believe that our current economic model does not and will not accept values that cannot be traded." 2) Some philosophically reject the assignment of economic value to organisms and natural systems. 3) Some reject the concept because they fear that once natural goods and services are assigned values, governments and corporations will attempt to "buy, trade, seize and sell" them, without any moral or ethical implications, and possibly to the detriment of poor people.
1) Will there ever be a practical implementation of valuing natural capital? Slowly, corporations and the public are learning that nature indirectly supports much of our economic well being. Pollination of crops comes to mind immediately. If bees were not able to pollinate our food crops, I think we would quickly realize their economic importance. Eventually, politicians will listen to society when they force them to do a better job of reinforcing the concept that we are a partner with nature and not its master. At the research level, there has been and continues to be many efforts on the part of ecological economists such as David Pearce, Herman Daly, Nicolas Georgescu-Roegen, Bob Costanza, Juan Martinez-Alier, and many others to develop tools that would show how much nature contributes to human well-being and economic vitality. It's called valuation. My personal thinking on the implementation of valuation schemes is that we can not obviously compensate ecosystems for the work (i.e. transforming materials and energy to useful products and services) they do for us, we can compensate good stewards who conserve ecosystem services. On the other hand those of us who enjoy the labors of ecosystems, but are not stewards should be forced to compensate the stewards. Therefore, there needs to be an exchange system setup that forces consumers of ecosystem services to pay into a fund in proportion to how much ecosystem service they use and its value. Money from this fund would in turn be used to compensate ecosystem stewards for their management and willingness to forego land development. Politically, I think it could be a win-win, because if you consider that many of the ecosystem stewards are in conservative rural areas and many of the ecosystem service consumers are in liberal urban areas, the benefit and burden could be acceptable to folks on each side of the political divide. In addition, it would give the public the dual incentive to consume less ecosystem services, but preserve more of it.
2) This was Aldo Leopold's contention in his masterful A Sand County Almanac , when he proposed a Land Ethic. I agree that there are many facets of nature, especially preservation of rare and endangered species, which likely can not be monetized. But I would argue that we have laws that are over 30 years old that protect the most valuable parts of nature. We also have the national park and forest systems that harbor a great deal of important biodiversity. However, there are countless ecosystem services that are common and not rare. Take for example the Urban Heat Island Effect, whereby temperatures in cities are often several degrees higher than the surrounding environment due to the greater absorption and retention of solar heat by asphalt, concrete and roof tops than by trees and waterways. There is a direct relationship between how much additional money city folks spend on summer cooling and how little green space there is in the city. If there were more vegetation and open water, the Heat Island Effect would be less and people would spend less. Of course, some people will never be convinced that valuing nature is a good idea.
3) As I said before, I don't think monetization of all ecosystem services is possible or prudent. Certainly there will always be corporations or individuals who counter the public's interest and abuse privileges. So in addition to valuing natural capital we need to continue our regulatory commitment to protect highly valuable pieces of natural capital. Once we lose a rare species for good, no expenditure of money is going to bring it back.
Within certain ecological systems, what have you found to be the indicators which can most easily and accurately be correlated to dollar amounts?
Using our new ecologically-based technique of "emergy" accounting to place value upon ecosystem services, we take a holistic systems view to quantify how much total work an ecosystem is doing. This first leads to an estimated value of the whole ecosystem. When we have done this we've often found that wetlands, and especially forested wetlands, have the greatest value because they require the greatest total amount of work of nature to make, which we measure using emergy. Emergy is the total amount of work required to make something, which includes the work of nature and people. After evaluating a whole ecosystem with emergy accounting, the next step can be to distribute value to particular ecosystem services generated and provided by the ecosystem. For example, my colleague Mark Brown estimated that the work nature did to make a wetland able to process surface water that recharged groundwater supplies was equivalent to $0.50 per 1000 gallons. In traditional economy thinking, this water would not have any value until we diverted it for human use such as agriculture or industrial production.
Let's talk briefly about "emergy." Who came up with the term, and how long has it been around?
The word itself can be thought of as a conjugation of "embodied energy." The idea of embodied energy got going in the 1970s when the world suffered its first oil crisis. Energy analysis of public expenditures was put forth by Professor Odum. Several other scientists and engineers also started doing their own energy analyses. Dr. Odum [LINK: http://en.wikipedia.org/wiki/Howard_T._Odum] was one of the leaders in the effort back then. With each group doing their analyses a little differently, Dr. Odum and his associates thought it necessary to come up with a term that represented this newly discovered attribute of systems that they thought embodied energy represented. David Scienceman [LINK: http://en.wikipedia.org/wiki/David_M._Scienceman], a physicist from Australia who liked to look into the roots of words, went to great lengths to come up with the term in close collaboration with Dr. Odum.
This is all relatively new, then. "The work of people" is easy to understand, but how do you quantify "the work of nature?"
Another way to think about work is as the transformation of energy from one form to another. For example, photosynthesis is work converting solar energy to chemical energy. Any work that is conducted uses some energy. You can measure how much energy is used, and that's the measure of how much "work" an ecosystem is doing. But in an ecosystem, it's not only the amount of sunlight that's being used; there are all other forms of environmental energies like water, wind, chemical potentials, minerals derived from the bedrock geology, etc. that ecosystems are using. With emergy, we try to quantify all of those inputs, estimate the total ultimate amount of solar energy that went into making each and then use that as our measure of work.
How do you then convert that measure of work into a currency value?
We take an average value of the ratio of the total emergy being used in an economy – say, for example, the state of Maryland—relative to a measure of its total economic activity…in the case of Maryland it would be the Gross State Product and use this ratio to convert emergy values to what could be called "ecological-dollar" values…eco$'s if you will.. If we were interested in using emergy to come up with this equivalent dollar value of an ecosystem in Maryland, we would calculate the total amount of emergy that is being used by the ecosystem and divide it by the average emergy-to-dollar ratio to come up with what emergy analysts have historically called "emergy–dollars," but I like to call eco$. It's an estimate of the equivalent amount of work that nature did in dollar terms.
How is the concept of emergy being accepted in academia and elsewhere?
Unfortunately, there has been a lot of resistance from a lot of people over the history of its development – from economists and ecologists. There have also been many proponents. The science of emergy accounting has been evolving since the late 1970's. There is a treasure trove of dissertations, theses and project reports dating back to then. (See emergysystems.org for more information.) In recent years, however, there has been a concerted effort by emergy analysts to publish more in the peer-reviewed literature about emergy and more demonstrations of its utility. There is progress being made in getting environmental groups and government agencies like U.S. E.P.A. to consider it. At the research level, U.S. E.P.A. is now investigating the utility of emergy for evaluating ecosystems. Dan Campbell at the U.S. EPA Atlantic Ecology Division and John Richardson at the U.S. EPA in Atlanta have been spearheading that. We've been working with both of them and The Conservation Fund. We are trying to [secure funding for a project that will] look at the Chesapeake Bay watershed and come up with values for whole ecosystems – terrestrial forests, wetland, marshes, etc. – as well as the specific ecosystem services that may be provided, such as nutrient cycling, and generating soil. One of the newer approaches in emergy is to do it on a landscape scale using GIS. That is what John Richardson and some other folks in Gainesville are doing. They are taking land use/land cover and coming up with an emergy value – how much energy is being used on average by a commercial, residential or industrial tract of land.
You mentioned the initial resistance to emergy from economists and ecologists. You must still encounter a bit of that today. What are some of the main objections?
From an economists' standpoint, it's very counter to the way they think value is generated and measured in society. Typically, an economist says that the purchasing decisions a person makes tells you the value of something –value is given by the human. Many ecological economists extend this philosophy to generate estimates of the dollar values for ecosystems and their service by interviewing groups to basically ask them how much they would be willing to pay. Our approach assumes that the economy is an extension of ecosystems. The two have very similar workings in terms of energy flow, material cycles and creating information. They both use their information to operate, progress and evolve. Emergy accounting estimates the ecosystem value based on how much work nature did to make and use it. Things of value to an ecosystem are kept, thus how much work it took to make them is an estimate of how much nature is willing to devote to them. If they weren't valuable, they'd probably be selected against and disappear. Some people have characterized emergy as a "donor" value approach, looking at how much is being contributed by nature to make something. The economists' approach is a "receiver" value approach, because the person receiving the benefit determines the value.
One of your questions [about Leaf Litter readers' skepticism of natural capital] really hit it on the head. Some people say you can't value nature; that it has infinite value. By putting a value on it, you run the risk of diminishing its importance. It gives the economic system and corporations the right to control it and forsake environment ethics. I've heard that argument about restoration ecology as well. If we say we can restore ecosystems, then this can be seen as giving a developer the right to destroy an existing one, since it can be replaced.
Emergy also involves such a different approach from the way economists are trained and the way they think. Many see it as too foreign, too complex. My early training as an industrial engineer makes me see the world from a systems perspective. Maybe more economists need to come back to their roots in the natural sciences and not presume that they are only social scientists.
Across all systems, are certain benefits "rising to the top" in terms of what people perceive to be of greatest value? (e.g., water quality, air quality, presence of species used for industry, natural beauty, human health, etc.)
My approach to valuing natural capital does not include "willingness-to-pay" types. Therefore, I can't answer your question directly. As I mentioned above, our emergy accounting technique is ecologically based (some would say biophysically or energetically) and does not rely on asking people to guess what they might pay for an ecosystem service. Rather, emergy approaches it from the point of view of: how much work did nature do to provide an ecosystem service? Philosophically, these are polar opposite approaches. Willingness to pay says only people can place value on goods and services, whereas emergy accounting assumes there are many direct and even more indirect ways that ecosystems support economies and peoples' well-being and they are all quantifiable due to the fact that energy must be used to make all the connections. However, if I must answer the question, I would guess that people place the most value on services that appear to be least replaceable and most rare, namely biodiversity. On the other hand, the quality of water and air has a direct bearing on people's health, so I would venture that these are also high on people's lists.
Where, in this country or in others, do you see natural capital being used successfully to facilitate ecological restoration, conservation planning and/or regenerative design?
I think that natural capital as a metaphor has advanced the concept that ecosystem services are valuable and should be protected and restored. Having lived in Florida for a number of years as a graduate student, I think of the large-scale, multi-decade, multibillion dollar restoration of the Everglades as a premier case where citizens are struggling to balance the allocation of a limited resource, fresh water, to nature and people in order to optimize the whole system that is the ecological-economic system of South Florida. Has valuation of ecosystem services played a significant role in the Everglades restoration? I don't believe so. At that scale it took a tremendous number of years and the life's work of many heroes to foster the political support to make the restoration happen. I would tend to agree that Americans are less willing to spend money on restoration than in other parts of the world. I'm not sure why that's so. I prefer not to speculate, but I would add that it begins with how we educate our children. They need to be taught from an early age that they are agents of the earth and not masters of it.
One of our readers said, "Sophisticated studies using different methods for coming up with eco-services values are difficult to understand and outside most people's frame of reference." I recently read about Robert Costanza's $813,000 grant from the Moore Foundation to create a set of computer models and tools to help people estimate the dollar values of ecosystem services in their areas. What do you think about this effort? To what other studies or resources would you refer people who want to begin applying natural capital to their work?
Dr. Costanza has been a leader in the ecological economics movement since he was a graduate student at UF working with Professor Odum. I'm not familiar with this specific project, but I think it's wonderful that the Moore Foundation is willing to donate that amount of money to a worthy undertaking. There needs to be more funds made available to other universities to undertake similar efforts. At this stage of the science of valuation, I feel strongly that there needs to be a diversity of efforts and philosophical approaches. There are deficiencies in all of the approaches I know of, including emergy. To date, there is no silver bullet…no one tool that gives us the ultimate value. That tells me we need to keep working on it.
As I mentioned above, our emergy accounting approach comes at valuation science from a different point of view than the willingness-to-pay types of approaches. In addition to my own burgeoning efforts to work with land trusts like The Conservation Fund, and state and federal agencies to demonstrate the machinations and utility of emergy accounting to ecosystem valuation, my colleagues at UF continue to promote emergy accounting as well. Certainly, there are many other groups around the world promoting valuation tools. My University of Maryland colleague Dennis King at the Chesapeake Bay Lab is an example.
Some of our readers have incorporated natural capital into their work. But when we asked them what ecological health indicators they used, we received a variety of answers ranging from very general, such as "biodiversity" to specific, such as "the energy consumption of surface water runoff." Similarly, when we asked how they assigned value to Nature's "goods and services," the responses varied tremendously – including one that read, "just went with my gut and trusted my higher self."
Do you believe there will ever be a universally accepted method to assign the value of natural capital?
Highly improbable. And unnecessary. If the self-organizing capabilities of freedom and democracy are fostered, different groups of citizens around the world will discover unique ways to realize the value of their ecosystems.
We also asked those who have incorporated natural capital in their work if they attempted to assign value intangible "quality of life" factors. More than half said they did not – mostly because they did not know how to do so. What do you recommend to folks like this?
I think my training as an engineer lends me to think that almost anything can be quantified. If an intangible can be quantified from the perspective of knowing where and how it fits into the overall ecological-economic system, then we could derive its value using emergy accounting. However, how practical would a valuation be if it found something to be four times as valuable as Gross World Economic Product?
"You Said It" Survey Results
In reviewing the responses to our reader survey, it became immediately clear that natural capital is a subject about which you have varying and often passionate opinions. As always, we thank you for sharing these opinions with Leaf Litter.
While 83% of your believe that mainstream economics have contributed to an unsustainable way of life, it is unclear whether or not you see the incorporation of natural capital as a potential solution. While most of you (84%) say you buy into the concept of natural capital, you seem to do so in varying degrees – and in some cases, with reluctance. Here's what you had to say:
I buy into it only because economics is the only language many power holders in our society understand. I resent that we must use economic arguments to get people to acknowledge the importance of our home. In essence, it is buying into a model that is responsible for habitat destruction.
It makes sense to conserve and take stock of preserving what we have and "spending" it frugally.
I'm hesitant since it sounds like an economical concept. As a sociologist, I tend to address ecosystem services from an esthetic and ethical point of view. However, I can understand the utility of "measuring" or "evaluating" ecosystem services. The concept of natural capital is a useful way to think about the services nature provides to us.
Measurable variables are costs/expenses that have models in the clean air act, clean water act, anti-smoking campaigns, fuel costs for coal vs. biomass, etc. I'm not an economist but I think that monetary values can be developed and assigned. Another example is the insurance companies that lobbied for deer management in PA. Those car v deer accidents costs can be evaluated for a natural benefit cost, as can be other things.
Yes, I think the products of natural systems have value that could be measured and applied in cost/benefit analysis.
"Natural capital" ("value" of "nature") is not a concept, but a reality. Our human-centered view of nature and our over-arching market-based social/cultural understanding of everything has no space for anything not condensable to (agreed-upon) market values. Any attempt to do it will suffice only until tangible value (market / money / profit) gets in the way. Other cultures include value of nature inherently; "western" (Judeo-Christian) culture is (still) burdened by its strict separation of "nature" and "man."
Yes/no. It has pragmatic value but, as an instrumental utilitarian argument, it runs counter to my ethical paradigm. The binary nature of this survey limits a full examination of the issue. A strong argument can be made that by attributing economic "value" to an organism or system you are in fact "devaluing" it. Utilitarian value is a form of preference ranking and some things should not be subject to a cost/benefit analysis. This issue goes to the core of how we define ourselves. "Natural capital", while a useful tool for combating non-sustainable liquidation of natural systems fails to address the core issue of respecting the inherent or "intrinsic" value of non-human entities.
Those of you who do not buy into the idea of assigning commercial value to nature's "goods and services" were very clear about your opposition. Below are some of the responses that best describe this resistance:
Qualified no – issue is measurability and credibility (acceptance) of the measure. Typically natural capitol metrics tend to measure cost savings rather than significant capital generation.
Economic values are easily manipulated. Corps of Engineers are experts at this. Numerous studies have tried to put values on indicators such as these. I yet to see one without glaring holes in their model, assumptions, or basis.
I'm just not sure nature can or should be "dissected" in this way. I can see some advantages to incorporating natural values into the marketplace, yes, but I see more drawbacks in the sense that once "valued" in a commercial sense, they can also be "bought" or "traded" away without any moral/ethical implications, just like other goods and services. I just don't think clean air, water, land, trees, animals, etc. are just like other "goods & services."
I believe that there is a value to ecological services, but after much trial and error, we have yet to find a way to translate this value into the economic system under which almost all business decisions are made. In other words, I believe that our current economic model does not and will not accept values that cannot be traded. To me, this seems like an insurmountable obstacle to getting values for non-tangible services.
46% of you say that your colleagues, clients and/or partners do not buy into the concept of natural capital.
When asked why not, 73% of you cited a lack of understanding of the concept and an unwillingness or inability to think about economics and the environment in a new way. In your words:
They don't know enough about it. Their frame of reference is based on the economic models of the 1st Industrial Revolution. In fact, our entire economy is based on that, so it's pretty against-the-grain.
Long standing paradigms are hard to change.
[Natural capital is] not tied now to the way we currently think. A conceptual bridge is needed.
16% of you believe your colleagues and clients like the idea of natural capital, but consider it too conceptual to apply to actual work. Here's how you describe this challenge:
Generally, I think they might believe in the concept but do not put it into action.
There is buy-in; however, for many there is an unknown as to how to incorporate the concept into daily living.
It's too intangible.
Still too conceptual for most.
According to 8% of you, questionable valuation prevents your colleagues and clients from buying into the concept of natural capital:
It's a great idea. You just can't get agreement on values. Therefore, you're not likely to get buy in.
They do not believe it can be measured objectively.
Too subjective to quantify.
3% of you say your colleagues and clients "don't like putting a value on the environment on principle.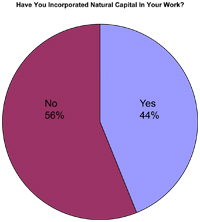 Despite these barriers to the acceptance and use of natural capital, 44% of you say you have incorporated it into your work. When we asked what you used as ecological health indicators, many of you responded in general terms, such as "biodiversity" and "sustainability." Here are some other responses:
carbon cycle, water, air, plant/animal habitat integrity,
Diatoms
nutrient levels
forest composition and structure
I work on restoration of freshwater aquatic habitat. We try to establish channel morphology and riparian habitat that support a diverse plant and animal community that is appropriate to the setting, and that requires a minimum of ongoing human intervention.
Total number of insects, trees, grasses, and other typical indicator species and habitat that go with them.
surface water runoff energy consumption
Forest acres
I work for a research branch of the US Forest Service that works to calculate the financial benefits of street trees, mainly in terms of air quality improvement, stormwater interception, carbon dioxide sequestration, energy use reduction and aesthetic improvement
Sediment, toxic substances, water and air quality, habitat lost, invasive species, etc.
We have tried to assign values to increasing fishable miles to stream, flood control from an acre of wetland, and increase value of property due to aesthetic improvements.
In the context of existing conditions (not the memory of how things were before) what re-growth of desired vegetation, and what population increase of desired wildlife is occurring in a project area? Is it self-sustaining and resilient or is maintenance needed?
human productivity of a certain scale can be indicative of minimal use of technology whose use can contribute to ecological degradation
water quality and quantity, severe weather, coastal erosion and subsidence, trees
Green surface area, improved water quality and quantity, reduced erosion and improved biodiversity
nearby pristine veld with good display of plants & animals (small creatures inc. insects)
I come from the wildlife management arena: traditionally we have been able to generate an estimate of monetary value/economic impact from catch/effort and interviewing consumers regarding the amount of money they spend to utilize the resource in question. Unfortunately, as participants with other government agencies it is more difficult to assign worth to natural treatment of water quality and air quality
Population model predicted level of population needed for survival, levels at which recreational fishing allowable. Then values were different depending on whether each fish was integral to survival of species or if each fish had marginal recreational value.
improvement of the condition for listed species to reduce regulatory obligations
floristics analysis
stream functions; area of wetland and wetland quality; rare species; ground and surface water quality and quantity;
I was coauthor of a book on Biology of Peatlands. I discuss the question of use, management and conservation of peatlands in Chapter 13.
Microbial Community characteristics, energy and material flows, resistance and resilience
at home, not really at work. Recently on Governor's Task Force on Landfill Alternatives, I argued for composting vs. waste to energy and the resistance was unbelievably strong. It made me realize that a lot of work needs to be done to get people to even begin to grasp the concepts.
We're the state water pollution control agency – so the extent to which waters support uses like drinking, swimming, aquatic life is our measure.
Water quality, timing and delivery of water, and key index species
In my profession, there is a concept called No Adverse Impact (see the Association of State Floodplain Managers web site — floods.org), whereby, there are different levels to view development and planning concepts in relationship to natural functions.
While there was some overlap in your responses, the lack of a universally accepted set of ecological health indicators to use in determining the value of a project's natural capital was evident. One reader even questioned the usefulness of indicators he/she uses:
I have used the concept in the creation of wetland and stream mitigation projects. Ecological health indicators have been measured by a variety of ecological "indices") e.g., IBI, ICI, QHEI indices for aquatic life, various wetland "value" indices, etc. To me, they are all somewhat "smoke and mirrors" methods to disguise something inherently subjective and intuitive in terms of value as an "objective" number. I don't much care for any of them.
When we asked what you used to assign value to the goods and services provided by nature, we received a variety of answers, indicating another challenge for which there is no universally accepted answer. Here are some of your responses:
catch per unit effort; estimates of money spent to use resource (expressed as generated dollars; probably not accurate since this is a redistribution of wealth rather than actual generation of wealth); example- would need to survey how much money consumers divert from grocery stores to fuel and gear costs
Valuations of goods and services used in recreation. Survey- based contingent valuations- value of species survival and reproduction. Value of survival different from recreational value.
timber and land values, wildlife values, recreation etc on a forested versus non-forested property
Where we have substituted natural capital for physical capital – the benefit gained by not spending money – not accurate but a start.
base value tied to fees-in-lieu for N and P removal, then goes up or down due to other market factors
The costs we pay to implement the projects are an indicator of value. In other cases, (and far less directly since it's driven by regulatory compliance), the value is more likely expressed as prices other organizations pay us for wetland mitigation sites, for instance.
no formal valuation was done; it was just implementation of best practices
Stormwater Management
I buy into the article by Costanza et. al. in "Nature" (1999? or so) that sets a baseline value for the entire planet's ecosystem services. But I don't know of any models that exist to measure locally. Seems like they would be subjective at best. (But important to try?)
Land value in relation to traditional infrastructure applications.
Existing studies by economic researchers and work of internal resource economist.
Have not done this, but would suggest starting with the cost of services wholly provided by human engineered means.
resources that are used to generate the electricity necessary to power technology that people use to be productive; when people use technology that works *for* them, they can be more productive and, as such, spend less time using that technology, effectively using less energy; said *working* technology may also use less energy than competing products
trees have an economic value in terms of dollars saved by helping minimize stormwater runoff and thus lessening the need for capital infrastructure (public works drainage projects) as an example …… beaches can accrete as well as erode, adding value to property, parks, beaches GIS can link resources and improvements to values
'rescue plants' & 'rescue animals'
At the Anacostia Watershed Society, we say to school kids and community groups participating in wetland restoration outings: restored tidal wetlands will clean the river, and help create more seafood (crabs, fish) from our great, watery supermarket–the Chesapeake Bay.
existing environmental credit markets
traditional population metrics (i.e. numbers of fish); no economic analysis
Certified arborists tree replacement values.
most were ranked rather than assigned values to compare function
soil as growing medium, fertilizer for garden from compost made from organic materials from my home and yard, increased moisture retention and better tilth of soil from increased organic matter, honeybees for pollination as well as honey & wax (I have 7 hives and also keep Japanese Hornfaced Bees for pollination) birds, preying mantis, ladybugs and other beneficials for pest control, Deciduous trees for cooling the house in summer, Small pond in yard breeds dragonflies which also prey on mosquitoes and other insects, Solar outdoor lights
54% of those of you who have applied natural capital to your work said that you did not assign value to any intangible "quality of life" factors (may of you stated this was because you did not know how). One reader offered a suggestion on how to do this, though:
Haven't done this, but would start by finding out the dollars spent for recreation, tourism, and other outdoor activities, then developing a factor that can be applied to the cost of recreating naturally occurring goods and services.
Those of you who did assign value to "quality of life" factors described your methods:
We assign an "aesthetic and other" benefit to street trees based on an increase in property value due to the presence of trees.
So far, I have used studies by people like Heschong-Mahone to quantify employee absenteeism, retention, student learning and test scores, etc. There are a lot of anecdotal stories and papers. RMI also has a good paper, "Greening the Building and the Bottom Line."
We used (I think) some different methods that looked at people's willingness to pay for fishing, nice views, less threat from flooding. We may have used other methods as well, but I'm not versed in all the details.
people are happier when they feel productive and they are productive when they use technology that seems to work and that tends not to break nor work against them
just went with my gut and trusted 'my higher self' knew what it was doing!
Contingent valuations based on distinctions between people who would use and not use resource. Further subsets of users based on extent and type. Also compared against cost of restoration/protection project minus other benefits and asked if this was worth remaining cost.
product of public consultation
Local costs & flooding mitigation
Some of your fellow Leaf Litter readers have actually performed or contributed to any research on how ecological functions contribute to economic activity. Check out the following links and notes:
I don't have web links, but please check out the work of Dennis King and Lisa Wainger at King and Associates.
The National Audubon Society has some data on the amount of money that is spent on birding; most state fish and game departments also have data on the dollars spent for various natural/wildland activities. Additionally, many areas in the arid southwest are doing "restoration" projects along rivers and other waterways to put back "functions" that have been destroyed. What would be the cost to encapsulate and indefinitely store a pound of carbon, for example? How many pounds of carbon does a healthy forest store virtually for free? (If the carbon was not stored, what would be the cost of having it in the atmosphere, for example?)
I wrote an e-presentation for Rand Corporation, who was doing a piece on natural capital for the Council on Environmental Quality.It generally discussed aspects that might be considered natural capital — water, pollination, air, soil.
no link — but I work natural disasters — one example is the value of the "viewscape" lost in forest fires, another would be the economic impact of beach loss on resort communities, another would be the impact of drought on farming economies … and the rest of the economy . . the list is endless
We are tinkering at the edge – trying to rehabilitate farmland with a blend of concepts – cell grazing – (well documented by Ranching for Profit in the US) and Natural Sequence Farming – [http://www.naturalsequencefarming.com/]
Masters' Thesis: Feasibility of Dam Decommissioning as a Management Option, Matilija Dam, VenturaCalifornia. Available from University of California, Santa Barbara.
Scenic America [http://www.scenic.org]did study in 1993 on value of parks.
contributed to understanding how land use affects flooding and hence, flood damages
20 plus years ago I worked with a professor and performed an input-output analysis associated with oil production in the Gulf off Florida's coast; whereby, ecological returns and support to local communities and economies were analyzed with respect to businesses effected by either having and preserving quality natural systems (sea grass beds) with those generated through the extraction and refinement of oil. The outcome is natural systems touch more businesses, generate more income, and generate more flow of income through more avenues (effects more segments of communities) — some areas were shown not to have great salaries however.
97% of you believe that the value of natural capital should be considered in cost/benefit analyses for land development, public works, ecological restoration, conservation planning and regenerative design projects. Yet a smaller percentage of you (82%) say you would be willing to pay more for consumer goods and services to compensate for the depletion of natural capital. Those of you who would be willing to pay more had this to say:
You bet. Because our global environmental issues are going to drastically change in the next 10-15 years. It's like a tax that we've ignored. My hope is that there'll be a hefty tax on gasoline to go towards a failing infrastructure.
A lot depends on how truly that value would be calculated. If the extra payments were used effectively to strengthen the natural life-support system, that would be important to me. How do we tell the difference between essential and non-essential natural capital? How would the proposed system affect the development of a world-wide system of just societies with equitable distribution of resources?
Companies are in business to make money – if they see that they can make money by protecting the environment, they will be more likely to adopt sustainable practices.
Yes, but technically it should not cost more but save us tenfold if the whole process was organic. Waste is what we pay for now.
While I may be willing to pay more for goods and services (rather, the actual value, not the subsidized value), most of our society is not willing to do so. I vote with my dollars, but many people see voting as only something they do every four years. I vote every day.
I strongly believe that we cannot afford anymore depletion of natural capital.
Without including natural resources in the cost of things the true cost is underestimated. When this occurs the true cost may become much more expensive as money must be spent to fix a problem that could have been prevented if the natural resources were preserved.
As an economic means to control consumption. More specifically, however, I am willing to spend more on revamping education system to teach concepts of natural capitalism.
Consumer goods and services should not deplete natural capital. Live off the interest or do without.
No because this depletion is already built into the economic marketplace, i.e., supply and demand. A resource in demand but short in supply already rise in price. Examples include metals and petroleum.
…but, I have a good job and disposable income, unlike many Americans and others around the world. In addition, I will only have the choice to spend more if products and services that factor in natural capital costs are readily available. Right now, that's not the case for most things I buy. And again, I'm not an average person–I have a good job in the environmental field.
I think most of the public is ready to do this now also, providing a sound-bite approach is taken to educate them on why they need to pay more. It might need a two-by-four: Our species will die out in X years if a-b-c isn't done within y years. It will cost $THIS MUCH per person to make this happen.
The costs of all resources and services whose use led to the creation of another product or service should be built into the value of the latter. Now, where can I find the data describing this? What is the impact of standard goods and service categories on natural capital?
However, I don't believe that paying money is the answer – it just continues the diminished responsibility so many of us feel.
Our taxes in Prince George's County [MD] already deduct $80/year for stormwater mitigation. Next step: moving our society toward steeper environmental tax/revenue generation for bad behavior—like burning gasoline. Reward good behavior (like riding your bike to work). And tax bad behavior (owning and operating SUVs).
If the additional monies weren't eaten up by administrative fees and costs.
I believe that there is a way to use resources of nature in a respectful and sustainable way. Do I need to spend more money to have a way of living that respect resources of nature? To think so is to address things from an economical point of view. Building another type of society can also rely on new ethical and social standards. Thank you for this survey!
It would reflect the "true" cost, and eventually lead to restoration of the original resource
I firmly believe that if taxes took into account impacts to natural resources, a dynamic balance between growth and conservation would be reached.
A qualified yes- I am in an income bracket where I have the economic luxury to make purchases guided by philosophical choices. I already pay more for goods and services through my taxes and resulting subsidies that do not consider the depletion of natural capital. I would prefer that people understood the true cost of goods. Then natural capital may take on more importance.
Up to 10% more, which is probably not enough.
I've often said, maybe after listening to Jeremy Rifkin in college, that we aren't really paying the true cost of certain things in society. Like a cheese doodle or a toasted bagel with lox cream cheese. I like prices to reflect natural resource replacement costs b/c then I would consume less and so would my neighbors.
If the quality of the goods was high, I would be willing to pay more.
I would only be willing to pay a marginal bit more. Efficiencies would need to be gained in the mgt. of natural capital before I would be willing as a consumer to cover the full cost.
Those of you who replied that you are not willing to pay more for consumer goods and services to compensate for the depletion of natural capital offered some interesting comments:
Using economics to justify sustaining ecosystems is shortsighted. Sustaining ecosystems should be paramount (we need it to live), and we should not have to provide an economic argument to say no to over development
I think we do need to internalize the costs of environmental degradation so that there is an economic incentive to use renewable resources. There should also be a disincentive to consume limited resources.
Look at the organic food industry. It has grown at least 20% per year for the last several years. So has the solar panel industry. Both of these address natural capital, indirectly and directly. It's important to keep in mind that people make purchasing choices for a cluster of reasons, environmental benefits being just one. It would probably be a mistake (so far) to market just the natural capital aspects of a product or service. That would narrow the potential market too much.
We should work hard to NOT deplete natural capital. So we sure as hell shouldn't be paying MORE to compensate. As for valuation: firm guidelines would need to be in place for projects to consider it as a parameter. Otherwise, it would be a free-for-all.
Not if they are continuing to be depleted. I would pay more for goods and services that were demonstrated to be regenerative.
I already pay for organics but to pay for government greed that destroys natural capital is another thing.
Pay more to avoid depletion of natural capital. These assessments should be cradle to grave where producers should be responsible for disposal. More research is required to establish thresholds of function for natural areas.
Not if the additional cost is being sent to the government.
I think it is more acceptable to pay for incorporating ecologically sound practices instead of paying for the depletion of a resource.
We all pay more when we buy a house with associated infrastructure that required CWA 404/401 compliance. When you folks in MD buy a house, the cost of forest conservation act compliance is passed on in the price of the house. When you buy paper that originated as a stand of SYP, the price of RCW conservation on that paper company's land is rolled in to the price you pay for their paper. Most goods and services are somehow impacted by environmental regulations, even if it's just the cost of gasoline or the electric bill. The cost of regulatory compliance is always passed on to the consumer. While regulatory programs and permitting fees do not truly compensate anyone for resource depletion it will be very difficult to add more environmental costs to goods and services, in whatever form, without reforming the onerous regulations now in place.
The Money Tree
By Kevin Heatley
Yes, I think we can all agree that the money tree is a tired metaphor that should be pruned at the base and thrown directly into the chipper. Yet it is one that very effectively describes the relationship between our forest cover and the tangible economic benefits trees provide. Plus, it got your attention, didn't it? Be honest. Mention free money (or even just money) and a crowd of people will turn their heads in unison so quickly it would make a school of herring jealous. Ever see the Antiques Roadshow? Put a price on what was until moments ago a piece of attic junk and all of the sudden a newfound sense of reverence appears. This is one of the main strengths of quantifying natural capital; it gets the attention of segments of society that would ordinarily not consider native ecosystems as anything more than an impediment. Instead of dismissing ecological considerations as tree-hugging, sentimental fluff, or merely applying an ornamental green veneer to a "business-as-usual" development, understanding that ecological and biological systems represent tangible accrued value can dramatically change the perspective of a land owner or decision maker.
Nowhere is this more evident than when dealing with the protection and conservation of community forests. Although trees frequently elicit a strong emotional response from people and might even be considered as "charismatic mega-flora," our urban environments have unfortunately witnessed a significant reduction in canopy cover over the last several decades. How many of you have experienced that sick feeling in your stomach as you discovered a favored landscape or awe-inspiring giant had fallen victim to sprawl? While it may be a strong motivator for readers of Leaf Litter, it is obvious that appeals to the intrinsic value of trees have not met with great success on a national level. Bringing tree conservation to the table requires us to use a conceptual framework and language that is within the comfort zone of the broader population. To put it simply, "money talks." We have seen it on vegetation and community forest projects across the United States. Natural capital is a very effective tool for improving the dialogue during resource management discussions.
Applying the concept of natural capital to tree cover and vegetation requires a fundamental understanding of the types of value models that can be applied to this resource. Estimates of tree value can be based upon either functional (benefits) or compensatory (structural) appraisal formulas. An easy way to conceptualize the differences between these two values is to imagine a factory that, when operational, produces a net profit of $500,000 per year. Let's say the factory building and equipment inside are worth $2 million. The compensatory value in this example is associated with the $2 million structural asset while the functional value is analogous to the $500,000 annual profit per year. In terms of trees, a compensatory appraisal is an approximation of the structural asset value based upon variables such as species, size, condition, and location. The functional value of the tree cover relates to the many benefits provided by these plants; stormwater interception, air filtration, carbon sequestration, micro-climatic temperature regulation, solar radiation interception, wildlife habitat enhancement, etc.
Recent research by the USDA Forest Service helps to illustrate the different approaches to forest value. Working with community forest information, the forest service has estimated the compensatory value of urban forests in the coterminous United States as approximately $2.42 trillion (yes, trillion) (1) and the functional value of the carbon storage performed by these plants as $14,300 million (2). Given the time required for trees to grow and maximize their value, this tree cover and the accompanying benefits provided represents accrued intergenerational equity, much in the same way that housing, bridges and roads built years ago still provide shelter and transportation corridors. A development or site modification that unnecessarily destroys a healthy viable tree canopy is literally liquidating an asset that has appreciated over decades or centuries.
The Biohabitats team has worked with both compensatory and functional models to estimate forest and individual tree value. The key issue is recognizing which models are appropriate in differing circumstances. For instance, during a recent forest cover analysis at a military installation we made use of the USFS Urban Forest Effects Model (UFORE) to determine the functional carbon sequestration value of the naturalized forests on the base. In addition, we applied the Council of Tree & Landscape Appraisers compensatory Trunk Formula Method to trees growing in more formalized landscapes on the grounds. These methodologies and the areas of the base targeted for each appraisal were identified after careful consideration of the challenges and goals enumerated in the Integrated Natural Resource Plan for the facility. The resulting information has proven valuable in addressing tree retention and forest conservation during construction planning.
So should we run out and put a price tag on everything green? Wouldn't that make it easy to figure out what to save and what to sacrifice? An informed consumer is important to an efficient marketplace, right? Well…..maybe not. Beyond the inherent limitations of trying to place a price on goods and services that are historically not traded in a marketplace and whose benefits may not accrue to a single "owner", a larger philosophical issue applies to the use of economic valuation and cost/benefit analysis. As a society, do we choose to give consideration only to those things that have instrumental and utilitarian value or are some things unacceptable at any price? Markets exist for human slavery and child pornography yet we wisely attempt to suppress them. If a species or ecosystem has no tangible economic value to humanity should it be sacrificed? Ultimately it is a reflection of how we define ourselves in relation to the rest of the biota; is it a part of who we are or merely a tool? These are deep thoughts for a newsletter, so let's unwrap our arms from around that tree and reach out to our less eco-conscious friends and neighbors with the pragmatic tools at hand. Show them that there is indeed money in their trees!
Citations:
(1) Nowak, D.J., Crane, D.E., Dwyer, J.F., 2002. Compensatory value of urban trees in the United States. Journal of Arboriculture 28(4) pp.194-199.
(2) Nowak, D.J., Crane, D.E., 2002. Carbon storage and sequestration by urban trees in the USA. Environmental Pollution 116, pp. 382- 389.
Resources
In addition to the many links that appear throughout this issue (including those you provided in response to our survey, we have gathered the following recommended resources on natural capital.
Recommended Reading
Barbier, Edward B. 2005. Natural Resources and Economic Development. CambridgeUniversity Press.
Berkes, Fikret and C. Folke. 1991. A systems perspective on the interrelations between natural, human-made and cultural capital.
Boyd, James and Banzahf, S. 2006. What Are Ecosystem Services? The Need for Standardized Environmental Accounting Units. Resources for the Future.
Costanza, R., et al. 1997. The value of the world's ecosystem services and natural capital. Nature 387:253-260.
Costanza, R., Daly, H.E. and Bartholomew, J.A. 1001. Goals, agenda, and policy recommendations for ecological economics. In: R. Costanza (Ed), Ecological Economics: The Science and Management of Sustainability. ColumbiaUniversity Press.
Costanza, R. and H. E. Daly. 1992. Natural capital and sustainable development. Conservation Biology 6:37-46.
Costanza, R., L. Wainger, C. Folke, and K-G Mäler. 1993. Modeling complex ecological economic systems: toward an evolutionary, dynamic understanding of people and nature. BioScience 43:545-555.
Costanza, R. and M. Ruth. 1998. Using dynamic modeling to scope environmental problems and build consensus. Environmental Management 22:183-195
Costanza, R. 2000. Visions of alternative (unpredictable) futures and their use in policy analysis. Conservation Ecology 4(1):5. [online] URL: http://www.ecologyandsociety.org/vol4/iss1/art5/
Costanza, R. 2003. A vision of the future of science: reintegrating the study of humans and the rest of nature. Futures 35:651-671.
Costanza, R. (ed.). 1991. Ecological Economics: The Science and Management Of Sustainability. ColumbiaUniversity Press, New York, 525 pp.
Costanza, R., J. C. Cumberland, H. E. Daly, R. Goodland, and R. Norgaard. 1997. An Introduction to Ecological Economics. St. Lucie Press, Boca Raton, 275 pp.
Costanza, R., B. Low, E. Ostrom, , and J. Wilson (eds). 2001. Institutions, Ecosystems, and Sustainability. Lewis/CRC Press, Boca Raton, FL 270 pp.
Costanza, R. and S. E. Jørgensen (eds.) 2002. Understanding and Solving Environmental Problems in the 21st Century: Toward a New, Integrated Hard Problem Science. Elsevier, Amsterdam. 324 pp.
Daly, Herman and Farley, J. 2004. Ecological Economics: Principles and Applications. Island Press.
Daly, Herman E. 1997. The Economics of Sustainable Development. Beacon Press Books.
Daly, H.E.. 1980. The steady-state economy: Toward a political economy of biophysical equilibrium and moral growth. In: H.E. Daly (Ed), Economics, Ecology, Ethics: Essays Toward a Steady-State Economy. Freeman.
Daily , Gretchen C. (ed.) 1997 Societal Dependence on Natural Ecosystems. Island Press. (Read a review of this book)
Daily, Gretchen, K. Ellison. 2002. The New Economy of Nature: The Quest to Make Conservation Profitable. Island Press, 250 pp.
Faber, Malte Michael, Proops, J., Speck. S.,1999. Capital and Time in Ecological Economics: New-Austrian Modelling. Edward Elgar Publishing, Inc.
Folke, C. 1991. Socio-economic dependence on the life-supporting environment. In: C. Folke and T. Kaberger (Editors), Linking the Natural Environment and the Economy: Essays from the Eco-Group. Kluwer.
Foster, John. And Gough, S. (eds). 2005 Learning, Natural Capital and Sustainable Development. Taylor & Francis, Inc.
Hawkin, Paul, A. Lovins, L.H. Lovins. 2000.Natural Capitalism: Creating the Next Industrial Revolution. Little, Brown & Company.
Martinez-Alier, J. Environmentalism of the Poor: A Study of Ecological Conflicts and Valuation. Edward Elgar, 10/01/2002)
Martinez-Alier, J., O. S. Bonilla, P.H. Jasinski, R. Costanza and S. Mageau (eds.). 1996. Getting Down to Earth: Practical Applications of Ecological Economics. Island Press.
Chapter 12, "Valuing Ecosystem Services Lost to Tamarix Invasion in the United States" in: Mooney, H.A. and R.J. Hobbs, eds. 2000. Invasive Species in a Changing World. WashingtonDC: Island Press
Nelson, Nanette. 2004. Evaluating the Economic Impact of Community Open Space and Urban Forests: A Literature Review. [LINK: guf_hedonic_lit_review.pdf] University of Georgia, Institute of Ecology, River Basin Center.
Norgaard, R.B., 1987. Economics as mechanics and the demise of biological diversity. Ecological Modelling, 38: 107121.
Odum, H.T. 1973. Energy, ecology and economics. Ambio 2:220-227.
Prugh, T., Costanza, R., Cumerland, J.H., Daly, H.E., Goodland, R., Norgaard, R.B. 1999. Natural Capital and Human Economic Survival. CRC Press.
U.S. Environmental Protection Agency, Office of Wetlands, Oceans and Watersheds. 1995. Economic Benefits of Runoff Controls.
U. S. Environmental Protection Agency, Office of Water. 2004. Water Quality Trading Assessment Handbook: Can Water Quality Trading Advance Your Watershed's Goals?
Center for Watershed Protection (prepared for the Virginia Department of Conservation and Recreation). 2001. The Economic Benefits of Protecting Virginia's Streams, Lakes and Wetlands and The Economic Benefits of Better Site Design in Virginia.
Woodworth, Paddy. 2006. Working for Water in South Africa. Saving the World on a Single Budget? World Policy Journal, Summer 2006.
Visitor Use Fees in Protected Areas: Synthesis of the North American, Costa Rican and Belizeian Experience, a report written by Cory R. Brown for The Nature Conservancy's Ecotourism Program, includes sections on the economics of protected area visitation and recreation economics.
Re-thinking conservation: Give nature monetary values, ecologist says. By Mark Schwartz. Stanford Report, February 27, 2002.
Putting a price tag on nature. Can ecological economics head us toward a sustainable future? by Julie Ann Gustanski and E. Ariel Bergmann. Environmental Outlook 2004
Journals
Ecological Economics the transdisciplinary journal of the International Society for Ecological Economics.
Environment and Development Economics
Environmental and Resource Economics
International Journal of Ecological Economics and Statistics
Journal of Environmental Economics and Management
Recommended Sites & Links
Association of Environmental and Resource Economists
Ecosystem Valuation a site designed for non-economists who need answers to questions about the benefits of ecosystem conservation, preservation or restoration.
The Environmental Values Project. The Carnegie Council has initiated a multi-site, multi-year collaborative research project to explain and compare values and their role in environmental policy making in China, India, Japan, and the United States.
Housed at the University of Vermont, the Gund Institute for Ecological Economics is developing, testing, and implementing innovative methods and models that reflect the need to integrate the social, built, natural, and human capital components of our world.
The International Institute for Environment and Development's Environmental Economics Programme aims to conduct policy-relevant analysis on the economics of sustainable development.
International Society for Ecological Economics.
New Zealand Centre for Ecological Economics
Opportunities for Graduate Training in Ecological Economics
United States Society for Ecological Economics
Willingness to pay and ecological economics
Through educational partner Fathom, RAND offers an on-line seminar titled "Nature's Services," which includes courses such as "The Value of Nature," "References on Economic Valuation and Related Economic Concepts" and "Nature as Currency."
Can We Put a Price on Nature's Services? By Mark Sagoff
Resources & Links Related to Emergy
In addition to the literature recommended above, the following resources are recommended to participants in Dave Tilley's Ecological Decision Making course at the University of Maryland. Dave also recommends these links related to emergy:
David Tilley's home page http://www.nrmt.umd.edu/tilley.htm
David Tilley's Course Syllabus on Emergy Accounting and Simulation Modeling http://www.nrmt.umd.edu/EcologicalDecisionMaking.htm
USEPA study of West Virginia Emergy Analysis http://www.epa.gov/NHEERL/publications/files/wvevaluationposted.pdf
Emergy Short Course Syllabus at US EPA http://www.epa.gov/aed/html/collaboration/emergycourse/presentations/syllabus.html
Emergy Evaluation of the Biosphere and Natural Capitalhttp://www.urbanecology.washington.edu/student_info/classes/spring2003/MBrown-emergy-biosphere-natural-capital.pdf
University of Florida Center for Environmental Policy: http://www.ees.ufl.edu/cep/default.asp
Biohabitats Projects, Places and People
Projects
Linking Mission And Ecology With a Proposed Secondary Campus Of The College of Charleston
Biohabitats is assisting Ayers Saint Gross, Architects and Planners, in developing the College of Charleston's historic property, Dixie Plantation. ASG and the College have proposed that the property become a secondary campus on which faculty can conduct long-term ecological research. In addition, the land can become a teaching tool for coeds and public groups to learn how to live sustainably with the land. The Biohabitats team of landscape architects and ecologists is helping to program the site and define its physical structure by characterizing the site's various habitats and locating areas critical to the site's ecology that should be preserved. One of our most important contributions is identifying synergies between the College's research and public service missions and the site's ecology. For example, we suggested establishing a research project which restores longleaf pine forests (Pinus palustris), an increasingly rare community, indigenous to the site and the region. The team's suggestions also include ideas for the built landscape like using the fallow ground between the straight rows of pine plantations as, in some cases, "parking bays" for the visiting public and, in other cases, sustainably harvested crops or forest regeneration research.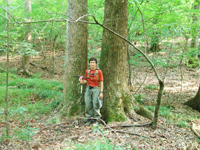 Preserving Natural Capital at the University of North Carolina at Chapel Hill
Growing infrastructure needs and a planned expansion of the University of North Carolina at Chapel Hill compelled campus officials to seek Biohabitats' expertise in ecologically-based planning to help conserve and protect valuable natural capital while also allowing the University to grow. The 1,040-acre Carolina North property has belonged to the University since it was donated in 1944 by a professor, Horace Williams. Approximately 90% of the property, which includes an airport, is currently forested with hardwood, mixed hardwood and pine stands of varying ages. Two perennial streams, Bolin Creek and Crow Branch, flow through the property on their way to the B. Everette Jordan Reservoir in the upper CapeFearRiver basin. We are evaluating the site's vegetative and habitat composition and incorporating this information into a developmentability analysis that the University will use to guide future, environmentally sustainable growth.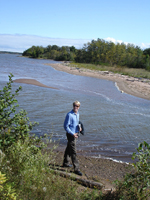 First Ecological Restoration Plan Under The Great Lakes Legacy Act Underway

The Great Lakes make up one of the largest fresh water sources in the world. In an effort to clean up their most polluted areas in the Great Lakes, the United States and Canada committed to cooperate with State and Provincial Governments to ensure that Remedial Action Plans (RAPs) were developed for specially designated Areas of Concern (AOCs). One such AOC was a 39-mile stretch of the St. Louis River, the largest U.S. tributary to Lake Superior. HogIsland, part of this AOC and an area once rich in natural capital, had suffered habitat loss from sedimentation and contamination of sediments, and degraded aesthetics from oil slicks and foul odors. Located within the City of Superior, Wisconsin, HogIsland was one of the first AOCs for which remediation of contaminated sediment was successfully completed. As a next step, the EPA Region 5 turned to Biohabitats to complete the first ecological restoration plan under the Great Lakes Legacy Act. The goal of the ecological restoration plan is to develop the blueprint and processes of a self sustainable and resilient site. A diverse stakeholder group will be an integral part of the development of the plan.
Construction Begins for On-Site Mitigation of Tate Creek

If you visit the site of a road widening project along Tate Creek in Kentucky, you're likely to run into a Biohabitats team member from our Ohio River Bioregion office. Having provided natural channel design and permitting services for this mitigation associated with a road widening project for the Kentucky Transportation Cabinet (KYTC), our folks are visiting the site regularly to observe construction of this 1500-foot on-site mitigation and coordinate with KYTC personnel and the contractor. Channel and floodplain grading for the project should end in September, with final planting taking place later this year.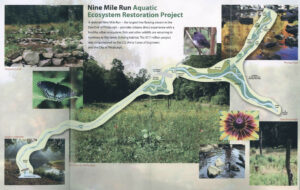 Largest Urban Stream Restoration in Nation
After more than a century of neglect, Nine Mile Run, the largest free flowing stream in the East End of Pittsburgh, is being transformed into a healthy and vibrant stream that supports wildlife and provides a vital nature experience for tens of thousands of community residents and visitors. The $7.7 million project, funded jointly by the U.S. Army Corp of Engineers and the City of Pittsburgh, is the largest stream restoration undertaken in a major metropolitan area by the Corps. We are proud of the role we played in this history-making restoration project. This included preparation of a comprehensive ecological restoration plan for Nine Mile Run and its riparian corridor, assistance with preparation of an Ecosystem Restoration Report and Environmental Assessment and development a comprehensive ecological restoration design and construction package for the project. On August 17, we joined the Nine Mile Run Watershed Association and other project partners for a Project Completion Ceremony. The project recently made news in the Pittsburgh Post-Gazette.
The Shape of Streams to Come
This article in Stormwater, the Journal for Surface Water Quality Professionals, highlights Baltimore County Maryland's efforts to restore natural balance, ecological function, and self-sustaining equilibrium to its streams and waterways. Since the early 90's, Biohabitats has worked with BaltimoreCounty to pioneer the use of natural channel design methods and soil bioengineering techniques to restore miles of cold water and warm water streams.
Restored UVA Dell Receives Two Prestigious Awards
Until recently, The Dell on the campus of the University of Virginia was a neglected recreational area atop an underground, piped stream. The 11-acre site area had also become overgrown with invasive plant species. In collaboration with Nelson Byrd Woltz Landscape Architects (Charlottesville, VA), Biohabitats design the restoration of the Dell, which included over 1000 feet of stream daylighting and a one-acre stormwater management pond. The project aimed to restore the ecological function of Meadow Creek through the Dell; provide water quantity and quality benefits to the watershed; and improve the University's recreational and educational amenities. The previously neglected Dell is now a showpiece at one of the "front doors" to the University.
The Dell project recently received an Inform Honor Award, an award presented annual by the Virginia Chapter of the American Institute of Architects for interiors, exteriors and landscapes. Biohabitats' stream daylighting design also earned a Merit Award from the Potomac/Maryland Chapters of the American Society of Landscape Architects.
Making News in Poland
For those of you who can speak Polish, check out the June 2006 issue of Architektura, which includes a mention and photographs of Biohabitats-designed Mine Bank Run stream restoration. (Then, please let us know what it says!)
Places
To those of you heading out to Flagstaff, Arizona to discuss stewardship of the Old and New West at the Natural Areas Conference September 20-23, keep an eye out for Kevin Heatley, legendary foe to invasive plant species.
Be sure to stop by the Biohabitats booth at the 2nd Annual Great Lakes Restoration Conference September 22-24 in Cleveland, Ohio. Biohabitats Great Lakes Bioregion leader, Ivette Bolender will be happy to chat with you.
Biohabitats environmental scientist Jeremy Thomas plans to attend the 7th Coastal and Estuarine Shallow Water Science and Management Conference in Atlantic City, NJ. Do you? Odds are, it'll be a great conference.
Charlotte, NC will be the site for the 2006 Stream Restoration in the Southeast conference October 2-5. Visit the Biohabitats booth and say hello to our Southeast Bioregion leader Kevin Nunnery.
Biohabitats senior fluvial geomorphologist Vince Sortman and Southern Rocky Mountain Bioregion leader Claudia Browne will be on hand at Sustaining Colorado Watersheds, a conference taking place in Breckenridge, Colorado October 4-6. Stop by the Biohabitats table and welcome Vince to his new home state!
If you seek green solutions for a blue planet head to Minneapolis October 6-10 for the 2006 Annual Meeting & Expo/43rd International Federation of Landscape Architects World Congress. LAs interested in incorporating ecological restoration into their projects will not want to miss "Defining Ecological Restoration Success: Principles, Case Studies, and Global Implications," presented by Biohabitats president, Keith Bowers, along with Lee Skabelund of Kansas State University, Craig Johnson of Utah State University and Kenneth Bahlinger of the Louisiana Department of Natural.
Join Biohabitats environmental scientist Bryon Salladin in learning about the latest news and research on native grasses at the 5th Eastern Native Grass Symposium, October 10-13 in New Cumberland, Pennsylvania.
Don't miss Biohabitats Southeast Bioregion leader Kevin Nunnery's presentation at the 55th Annual SRAPPA Conference and Exhibition Show in Durham, North Carolina October 14-17. You may also see Kevin and Biohabitats president Keith Bowers in the exhibit hall. Stop by booth #84. Just look for the giant salamander.
Kevin Heatley and Bryon Salladin will be in Pittsburgh October 25-29 to attend this year's Society of American Foresters Annual Convention.
On November 3, Biohabitats president Keith Bowers will present "Conservation Design: Best Development Practices" at the Chesapeake Conservation Landscaping Council's Turning A New Leaf conference in Bethesda, MD.
Biohabitats president Keith Bowers will be on hand for the 2006 Annual Water Resources Conference in Baltimore, MD.
Join us (and over 5,000 others in the green building industry) in Denver November 15-17 for Greenbuild 2006. Learn about the latest in advancement in green building design, construction, project finance and management.
If you plan to attend Restore America's Estuaries 3rd National Conference and EXPO on Coastal and Estuarine Habitat Restoration stop by the Biohabitats booth and chat with senior ecologist Ed Morgereth.
Kick Back At The Stables
This month marks the celebration of our first year in our new home in the StablesBuilding at Clipper Mill. If you plan to be in the Baltimore area on September 28, come on by and join us at our open house. If you haven't already done so, please click here to let us know you are coming!
People
If you've called our Chesapeake Bioregional offices recently, chances are you have spoken to Molly Streit, Biohabitats' new Administrative Assistant. Molly joined Biohabitats this spring, after spending three years with a leading event planning company. The Cincinnati native holds a B.S. in mass communications from TowsonUniversity and one of the most interesting resumes we've ever seen. Her professional experience includes cooking, event planning, film and video production, client service, and even burlesque performance. We figure anyone who can dance while wearing a 15-pound headpiece can handle just about anything we throw her way. When she's not busy manning the Biohabitats phone system and assisting our team members with everything from administrative support to fashion consultation, Molly can be found spending time with her dog Oliver and her cat Gabby.
This summer, we welcomed Marketing Assistant, Robin Allen to the Biohabitats team. Robin holds a B.A. from Webster University and an M.A. in publications design from the University of Baltimore. A Lexington, Kentucky native, Robin has more than seven years of experience in graphic design. When she's not at work strengthening the Biohabitats brand by applying her expertise to our proposals, publications and marketing materials, Robin can be found reading, swimming, cooking or snacking. Although she's a connoisseur of fine fromage, Robin is anything but cheesy. Creative and down-to-earth, she has been known to whip up a pitcher of homemade sangria as swiftly and expertly as she can design a striking report cover.