Thoughts on Habitat Fragmentation
Our planet is home to an extraordinary variety of living things, from plants and animals to insects and bacteria, totaling perhaps more than 10 million species.  Many of these species are in danger, largely due to the destruction and degradation of their natural habitats.  The earth is currently experiencing changes to its natural environment that are unprecedented in historic times.  Current extinction rates are on the order of 10,000 times higher than at any previous time in the Earth's history.  It appears that while natural process can be blamed in part for the decline in the number of species, habitat destruction and fragmentation is now thought to be the primary cause of the decline in biodiversity.  In fact, the Center for Conservation Biology (Fall 2003) recently reported that human settlement and use patterns often echo the distribution of habitats and high biodiversity.  Surprise, not really.  We all want to live in areas with moderate climate, good water supply, arable land, and forest resources.
Do we care?  As reported in the summer 2001 issue of Conservation Biology, a recent survey conducted for the Biodiversity Project found that the public's overall concern for species and habitat loss appears to be waning.  This provides a major challenge for both scientists and land managers – How to develop effective strategies to maintain biodiversity in developed and disturbed landscapes.
Fortunately, scientists, conservationists and environmental NGOs throughout the world are recognizing the impacts associated with habitat fragmentation.  To our surprise, so are you!  It was refreshing to learn that most of our Leaf Litter readers who responded to our recent survey are well aware of the issues of fragmentation and have some fairly strong opinions on the matter.
On a global scale, the World Conservation Union, (IUCN) recognizes that to achieve global sustainable human development depends on how well Earth's ecosystems are managed and that protecting and reestablishing earthscape (landscape and seascape) linkages is critical.  One organization is taking the theory of landscape linkages and applying it throughout the North American continent to address habitat fragmentation.  Leaf Litter recently sat down with the Wildlands Project to learn how they are addressing the destruction and fragmentation of habitat on a regional scale.
Finally, what is clear is that we now have the evidence that directly links the loss of biodiversity with habitat fragmentation, and more importantly, we also have the power to reverse this trend.  Become involved in local land use and zoning issues, keep your local politicians informed about the impacts of habitat fragmentation, and support conservation planning and ecological restoration initiatives
Thanks again for sharing your thoughts with us.  Keep thinking globally and more importantly, ACT LOCALLY!
The Wildlands Project Speaks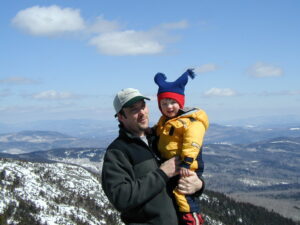 Leaf Litter recently spoke with Patrick Doran, Ph.D., Senior Ecologist/GIS Analyst with the Wildlands Project based in Vermont. The Wildlands Project seeks partnerships with grassroots and national conservation organizations, government agencies, indigenous peoples, private landowners, and with naturalists, scientists, and conservationists across the continent to create networks of wildlands from Central America to Alaska and from Nova Scotia to California. They seek to ameliorate the effects of anthropogenic disturbances on ecological systems by designing and creating wildlands networks, and by restoring critical species and ecological processes to the land.
Patrick defines fragmentation as a basis for the interview:
In recent years there has been much confusion surrounding the term "habitat fragmentation."  In general, habitat fragmentation is considered to have two components. First is the reduction in total amount of a given habitat type. This is oftentimes referred to as "habitat composition" and is evaluated by measuring the total amount of various habitat types present in a given landscape. The second aspect of habitat fragmentation is the shape and spatial arrangement of various habitat types. This is referred to as "habitat configuration" and is evaluated by measuring a variety of spatial metrics such as fractal dimensions or nearest neighbor indices.  Together, these two components may act to reduce the quality of the remaining habitat for given species or ecological processes.
Habitat fragmentation may be the result of either natural or anthropogenic processes. Natural disturbances such as fire, hurricanes, insect outbreaks, or disease may influence the size and shape of habitat patches. Similarly, anthropogenic activities, such as habitat conversions due to conversion of native habitat types to agricultural or industrial uses, may influence the degree of habitat fragmentation.  It becomes important, however, to identify the relative importance of these various factors as well as the differing effects of these factors.
 In our recent Leaf Litter survey, education (or lack thereof) arose time and again as a serious impediment to easing the problem of fragmentation.  How do you first gauge the level of awareness in an area where you are working? 
The lack of communication and miscommunication between scientists, policy makers and the general public represents a major hurdle in how we deal with conservation issues. On the one hand there exists the public's view of conservation issues.   In some areas where we work, survey data may be available that provides a baseline on attitudes and awareness of a variety of conservation and environmental issues.  For example, in the Northeastern U.S. where we are currently designing an ecological reserve network, the Kendall Foundation conducted a survey to better understand public attitudes towards forest protection and conservation.  In this region, similar work has been conducted by the Vermont Wilderness Association and the Vermont Forum on Sprawl. Such work allows us to gage the level of public concern and understanding of a variety of conservation issues.
On the other hand is the current state of scientific knowledge.  For example, in the field of habitat fragmentation, studies have found that changes in land use patterns are the leading cause of habitat loss and habitat fragmentation, and that, globally, these changes in land use patterns are predicted to have the largest impact on biological diversity over the next century; even more important than the effects of factors such as climate change.
I believe that it is part of the job of organizations such as the Wildlands Project to work at the interface between cutting edge science and the public's concerns over the state of our natural resources.  As a scientist I believe that it is vital to effectively communicate important research findings across this interface in a timely and adequate manner, as well as let public concerns drive where and how we work.
Do you find that people are becoming more aware of the issue?  Can you cite an example of this?
A good example is our work in the Room to Roam campaign, where there has been an effort to bring our continental and regional scale focus down to a local level.  For example, in the Room to Roam campaign we identified endangered linkages — these are critical habitat linkages that, if protected, help prevent fragmentation and provide corridors between wilderness areas.  This campaign has boosted public awareness concerning the importance of viable wildlife linkages in the Southwestern U.S., an awareness that has been further enhanced by recent jaguar sightings in the southeastern Arizona mountains. These sightings have excited the public, and widespread media coverage has focused on viable cross-border wildlife linkages as the main reason this endangered species is returning to its native range in the U.S. from Mexico.
This public awareness is occurring at a time when the U.S. Border Patrol is proposing numerous border security infrastructure projects that will begin to block the same linkages that have allowed jaguars to travel north and south over the border.  The result has been an increasing public demand that such infrastructure either not be built or that it be designed in a way that will accommodate cross-border movement of important species like jaguar, mountain lion, jaguarundi, ocelot and Sonoran Pronghorn.
Our implementation staff are working directly with local, state, and federal agency personnel and politicians to identify new approaches to linkage protection that will help preserve ecological processes, while, in turn, directly considering the problems of an open border between two nations. This groundbreaking work combines species protection with political and national security issues, and has resulted in a new collaboration of interests that are committed to working together to resolve the problem.
When we identify critical linkages, there are often potential conflicts (such as private lands issues or major highways) that require working with partners such as the Colorado Department of Transportation or regional land trusts.  This process often results in the channeling of funding from new sources, such as transportation departments, to increase effectiveness and implementation of linkage protection.  Such collaborations also increase publicity and boosts public interest.
The Wildlands Project is working within endangered linkages across the Rocky Mountain region, from Mexico to Canada, to bring sound science to the process of wildlife linkage protection.  Framed within the Wildlands Project's Room to Roam campaign, this unique effort is steadily gaining recognition as a catalyst for linkage protection across North America.
Can you talk briefly about the Room to Roam project?
At the Wildlands Project we are vary proud of the Room to Roam campaign as it showcases multiple aspects of our work. In the Room to Roam campaign, we highlight endangered wildlife linkages along the Spine of the Continent – one of our megalinkages that stretches the length of the Rocky Mountains. Throughout this megalinkage, we have completed multiple Wildlands Networks representing our vision of networks of ecological reserves. Within each of these Wildlands Networks, we have identified local areas most important to wildlife movement.  We call these areas "Endangered Linkages."  These Endangered Linkages represent areas that, if adequately protected, will actually reduce habitat fragmentation and ensure connectivity between core wilderness areas.  We find the Room to Roam campaign very exciting because it links our continental, regional, and local scale conservation work.
How does the Wildlands Project identify projects to get involved with?  Once identified, what is the process for bringing together the appropriate parties to affect change and what role does your organization play throughout the process?
First, in our long-term strategic plan, we have identified four distinct areas that we term megalinkages.  Megalinkages are continental-scale pathways that tie natural places together.  We next break these megalinkages down into meaningful ecological units for which we develop regional "Wildlands Networks."  A Wildlands Network is a proposed network of core Wildlands areas, habitat linkages between such areas, along with proposed compatible use areas.  These proposed networks are developed using the methodology and techniques of systematic conservation planning and reserve design. Wildlands Networks are designed to protect biological diversity and ecological processes within the region of interest.  We are currently working on a Wildlands Network Design for an area that encompasses the Northern Appalachians of the U.S. and the southern Canadian shield (portions of NY, VT, ME, NH, southern Ontario, Quebec and Nova Scotia). So over this region we are working on identifying areas that would serve as core ecological reserves.
Additionally, within each Wildlands Network we attempt to identify critical landscape linkages.  Protection of these critical linkages, will likely act to reduce the effects of habitat fragmentation.
Critical to the development of these regional Wildlands Network Designs, is the cooperation of a variety of folks including conservation groups, local, state and federal agencies, and private organizations and individuals. For example, in our Northern Appalachians/Southern Canadian Shield project I mentioned above, we are key players in the initiation and development of an organization called the Northern Appalachian Conservation Network, which is a regional network of conservation organizations whose goal is to protect and conserve the ecological integrity of this region.
Obviously, when you begin to work in a new area, there are many people with vast local knowledge (local agencies, local landowners, local organizations).  It is vital to connect with these parties to guide and implement our conservation efforts.  Such collaborations allow us to see where we fit in locally, in addition to allowing local parties to see their role in regional conservation efforts.
Can you talk about one of the most successful projects the Wildlands Project has been part of, one that you're most proud of?
While we have just talked about the Room to Roam campaign, we cannot mention the Wildlands Project without discussing our journal, Wild Earth[L86].  Wild Earth is an award-winning journal that serves as a forum for the conservation movement.  Furthermore, Wild Earth serves as one of the main avenues we use for direct outreach.  For example, the Winter 2003-2004 issue focused on the National Wildlife Refuge system and included articles on the history and management of the refuge system.  We distributed this issue to refuge agency staff and personnel and made it directly available to the National Conservation Training Center.
What can the average person do to combat the effects of habitat fragmentation?
Habitat fragmentation influences ecological processes of a variety of spatial scales.  While we often hear about habitat fragmentation at coarse spatial scales, such as across forested regions, we should also be aware of habitat fragmentation at more localized scales – such as within our towns, neighborhoods, and even our own backyards.  For example, landowners can ameliorate the effects of habitat fragmentation in their own backyards through such activities as maintaining and landscaping with native vegetation.  Landowners can also work directly with local land trusts to develop conservation easements on their properties.  Finally, individuals can work with their local governments to become involved in master planning efforts to establish policy and zoning regulations that prevent habitat loss and fragmentation.
What can people do with their local government and/or their community to affect change?  Are there organizations that you would encourage people to become more familiar with?
As I mentioned , one important action is to become involved with the local level planning processes.  Additionally, individuals can become involved in letter writing campaigns, meet with local and government officials, or write letters to newspaper editors.  Even urban stream and coastal restoration work can make a difference.  Finally, buying local products and supporting local farmers can also be important ways of protecting regional ecosystems.
One of the most important tools for wildlife linkage protection rests in the hands of private landowners whose properties lie within important ecological corridors.  Many such landowners are involved in agricultural operations involving large tracts of open space that are critical to the wildlife movement.  These private landowners should familiarize themselves with the full range of wildlife protection financial incentives available to them from state and federal agencies such as the U.S. Fish and Wildlife Service, the National Resource Conservation Service, through state game and fish departments, and through local land trusts.  Knowing the options for increasing income through these programs can mean the difference between fragmenting private lands through sale or subdivision or maintaining healthy, unbroken wildlife linkages.
What does the Wildlands Project do to educate politicians and other decision-makers on a regular basis?
The Wildlands Project's conservation action efforts focus on public and political outreach via numerous means, including publications, workshops, media submissions, presentations to groups and organizations, flyovers of ecologically important areas with politicians, and collaboration with other conservation groups.
A good example of effective outreach to politicians was the recent fly-over of the U.S.-Mexico borderlands with Senator John McCain's environmental assistant, which resulted in the Senator's increased interest in wildlife linkage protection in that region.
What are the top three actions you believe should be taken on a global scale to diminish fragmentation?
From a scientific perspective, the first thing that comes to mind is to use the vast amounts of knowledge and existing data to identify areas of high ecological value at multiple spatial scales.  Such efforts should not only focus on documenting patterns of biological diversity, but also on identifying areas of high ecological integrity that ensure clean air, clean water, healthy ecological communities, and viable wildlife populations.  Such knowledge can then be used to prioritize areas for conservation and subsequently be used to inform land use decisions that seek to protect and connect these valuable resources.  Finally, on the ground, we can seek to restore ecological integrity through a variety of restoration efforts.  Combined, such efforts can act to reduce the negative ecological consequences of habitat loss and fragmentation.
Do you see urban sprawl as the single-most factor contributing to fragmentation, or is it more of a multi-faceted problem? 
There is no doubt that urban sprawl is a primary contributor to habitat loss and habitat fragmentation.  Urbanization and urban sprawl, however, can be considered subsets of the larger factor of habitat conversion.  As I mentioned previously, there have been multiple studies demonstrating that changes in land use patterns are the leading cause of habitat fragmentation, and that land use changes are predicted to have the largest impact on global diversity over the next century.  However, there are different types of land use changes that are relevant in different regions.  In one region urban sprawl may be the most important factor contributing to habitat fragmentation, while in other regions, the most important factor may be conversion of natural systems to agricultural uses or increased habitat fragmentation due to resource extraction.  Therefore, while urban sprawl is important in some areas, I wouldn't say it's the leading cause of fragmentation everywhere.
Additionally, it is important to understand the impacts of these different types of factors – some, such as resource extraction, may be reversible, while others, such as conversions to agricultural or urban uses, may not be reversible. With the Wildlands Project's work in the science of reserve design, we attempt to identify core areas of ecological importance as well as important habitat linkages.  Implicit in our work is the attempt to reduce the effects of habitat fragmentation on ecological processes.  Hopefully, work such as this can directly influence land use decisions.
You Said It!
With the malaise and lack of involvement that are so prevalent in our society, it's refreshing to know that there are still passionate people out there.  The response to our most recent survey showed clearly that Leaf Litter readers are aware of the issues surrounding habitat fragmentation and aren't shy about sharing how they feel.
I was pleasantly surprised to see the results showing that our readers are willing to shoulder some of the financially responsibility for the negative effects of fragmentation – 46% would absolutely pay additional taxes, 40% would consider it, and a measly 11% wouldn't be willing to contribute at all.  Simultaneously readers expect the business community to shoulder some of the responsibility, too – 58% expect business to step up and pay a tax to mitigate the effects of habitat fragmentation and conserve biodiversity while 34% aren't exactly sure if they should.
While financial assistance is significant, money alone can't change everything.  The theme of education weaved its way through many responses of the survey.  For example, while 43% believe that local government should take a lead role in addressing habitat fragmentation (30% believe it should be the federal government and 11% think the role should fall to nonprofits) a resounding 89% think that politicians are not well informed about the issue, and 60% say that educating the public is one of the top three actions that should be taken to diminish habitat fragmentation.  Incidentally 82% of our readers believe that enacting more stringent planning and zoning regulations on a local level is a top action that needs to be taken to diminish fragmentation – 53% believe suburban sprawl to be among the most serious causes of fragmentation, while 47% believe it's roads and highways and 40% believes it's a combination of activities.  How are we to encourage more stringent regulations if the powers-that-be don't even understand the effects of fragmentation?  In a word….Educate.
Assuming there is an increased level of understanding at the local government level, 85% of our readers support the establishment of permanent, undisturbed corridors of native land cover to mitigate the negative effects of fragmentation through land use and zoning changes; while 86% believe the answer lies in conservation easements, and 84% seek zoning restrictions to concentrate development in core areas.  When considering what actions should be taken to diminish fragmentation 78% want to establish regional corridors and wilderness areas, which dovetails nicely into the result that shows 83% of readers believe there is a place for larger wildlife species to coexist in our regional landscapes.
Stemming the tide of habitat fragmentation requires us all to be aware of the complexities and to learn more about what we can do to help reverse the damage that's been done.
Biohabitats Projects, Places and People
Mid-Atlantic Highlands Reference Reach Data Survey
Biohabitats and the Canaan Valley Institute are working together to collect information that will make the design and implementation of stream restoration initiatives more cost effective and time efficient for those working on restoration activities across almost 80,000 acres in Maryland, Virginia, Pennsylvania and West Virginia.
Reference ecosystems can serve as a model for planning a restoration project, and later for its evaluation.  Applied river restoration initiatives often rely on selecting reference reaches that exhibit relatively stable morphological characteristics that can then serve as templates for design at the project reach.  Selecting a reference reach and validating its usefulness to act as template for a restoration project can be time consuming and may duplicate the work already performed by other river restoration practitioners.  The Canaan Valley Institute recognized that developing a process to collect, store and share reference reach information could greatly facilitate the design process for stream restoration projects throughout the Mid-Atlantic Highlands.  CVI turned to Biohabitatsto help them prepare a survey to collect information from practitioners and researchers, develop a reference reach database to collect and store the information, and produce a quality assurance/quality control program to ensure that the data in the reference reach database meets minimum standards.
The database will hold information for multiple stream types (using the Rosgen Stream Classification system) and substrate sizes through multiple hydrophysiographic regions of the Mid-Atlantic Highlands.  When established, this web-based database will be free to practitioners and researchers engaged in natural stream channel design projects.
Paul Kovalcik – Aquatic Biologist Extraordinaire Joins the Biohabitats' Team
A native Ohioan, Paul joined Biohabitats as an aquatic biologist with over nine years of experience in aquatic ecology and restoration. He specializes in fish ecology, macroinvertebrate ecology, and physical habitat analysis and has experience at managing stream biomonitoring projects.  Paul has a passion for working with endangered aquatic species and specializes in fish and macroinvertebrate ecology.
Woodland Management and Water Quality BMPs come to the Bronx Zoo
The Wildlife Conservation Society [L79] has selected Biohabitats to develop a woodland management plan and design water quality best management practices for the Bronx Zoo [L80] in New York.  A few years ago Biohabitats participated in the development of a new master plan for the Bronx Zoo.  Through that effort it became apparent that the Zoo's 280 acres of essentially wooded land in the middle of the Bronx, and adjacent to the New York Botanical Garden, is an extremely valuable asset worthy of long-term care.  Combined with the fact that state and federal efforts are underway to develop a Bronx River Restoration Program [L84], the Bronx Zoo now has a wonderful opportunity to contribute to the restoration of the BronxRiver and the stewardship of its woodlands.
The Swedish Embassy turns to Biohabitats to assist with Stream Bank Stabilization along Rock Creek
Biohabitats will prepare stream restoration design and construction plans for a 650-linear foot reach of Rock Creek at its confluence with the Potomac River.  The goal of the project is to incorporate stream bank stabilization into the Swedish Embassy's proposed water front development design.  The project design needs to be sensitive to both the ecological attributes of the site as well as the historical significance associated with the site.  This stretch of Rock Creek constituted the portion of the of the C&O canal between the historical Tidewater Lock and the still present Lock 1.
Additional sections of Mill Creek to be Restored
Biohabitats has been retained by the Township of Lower Merion, PA to assist them with designing and employing natural channel design techniques to stabilize approximately 1400 linear feet stream for Mill Creek.  Last year Biohabitats successfully completed the restoration of another portion of Mill Creek that included the realignment and reestablishment of a stable channel and riparian floodplain.  The success of this project prompted the Township of Lower Merion to retain Biohabitats for this project.
Commonwealth of Kentucky selects Biohabitats for first Stream Restoration project under new Mitigation Program
The Commonwealth of Kentucky recently established a program to facilitate the design and implementation of stream restoration projects throughout the State.  The Kentucky Department of Fish & Wildlife Resources (KDFWR), responsible for the program, selected Biohabitats Ohio River Bioregion office to design the first project under this new program. Biohabitats ORB will be providing engineering and environmental services required for the restoration and enhancement of 2,805 linear feet of Terry's Branch, plus another 100 linear feet of Balls Fork.  Of these 2,905 feet of stream, 1,500 feet is on University of Kentucky property.  These existing streams have been relocated, narrowed and/or straightened in the past and there is evidence of former logging dams.  The streams currently exhibit varying levels of bank erosion and diminished aquatic habitat.
In addition to development of concept plans and construction documents, the scope of work also includes monitoring the project for a three-year period following construction.  BiohabitatsORB will collect pre- and post-construction biological data and provide routine site visits to monitor the integrity of structures and stream improvements.
Gwinnet County turns to Wetland and Stream Mitigation Banking
The Project team of CH2M HILL and Biohabitats Southeast Bioregion has been selected by the Department of Public Utilities/Storm Water Management Division (DPU) to develop a wetland and stream mitigation program for Gwinnett County, Georgia to mitigate for unavoidable impacts to wetlands and waters of the United States.  GwinnettCounty officials are confident that a county-operated mitigation bank will minimize, if not eliminate, the need to purchase credits from a bank in another area of the state. Additionally, the credits accrued in the County's bank may be sold to other users and fees collected can be used for additional steam and wetland restoration/mitigation. Our team's approach is to develop an innovative public/commercial bank, identified as an Umbrella Bank, in concert with GwinnettCounty staff.
Kingman Island Habitat Restoration takes a step forward
After years of trying to decide what to do with the lower portion of the 42 acre KingmanIsland, the Baltimore District Corps of Engineers along with the Washington D.C. Department of Health, are moving forward with plans to turn the neglected island into a nature park focusing on ecological restoration within an urban context.   LowerKingmanIsland is a portion of KingmanIsland consisting of approximately 33 acres of dredged sediment and landfill materials that have been deposited behind stone sea walls built in the 1920s.  Prior to that time it was part of the extensive series of tidal marshlands along the AnacostiaRiver.  The Corps has retained Biohabitatsto take concept plans developed over the past two years and turn them into workable construction and management plans.  These plans will include both habitat restoration initiatives as well as passive recreation facilities.
Leaf Litter is a publication of Biohabitats, Inc.  Coinciding with the earth's biorhythms, it will be published at the Fall Equinox, Winter Solstice, Spring Equinox and Summer Solstice to probe issues relating to ecological restoration.  Biohabitatshas attempted to ensure the accuracy and veracity of the information provided in Leaf Litter, however, information contained in Leaf Litter should not be construed as a recommendation or endorsement by Biohabitats.
© 2004 Biohabitats, Inc.  All rights reserved.  Click here if you would prefer not to receive our newsletter.  If you've been forwarded this newsletter and want to subscribe, call us or click here.   Biohabitats, Inc. respects your privacy and will never trade or sell any of your personal information.