Thoughts on Ecologically Sustainable Travel and Vacation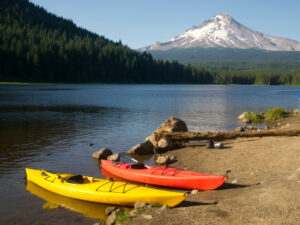 For many of us in the Northern Hemisphere, this is vacation season – a time to take a break, go on holiday, have some fun or just relax. But can we escape to the sea, dessert, mountains or even neighboring towns without leaving a trail of waste and carbon emissions? Is there such a thing as ecologically sustainable leisure travel? The signs for such a possibility are encouraging: options and resources for these getaways are expanding faster than ever.
Travel-related businesses are beginning to realize that shortsighted tourism development can result in pollution, loss of natural resources and irreparably damaged ecosystems. All of these ultimately affect tourism. Travelers are catching on as well: in a recent survey conducted by TripAdvisor, a company that provides on-line travel recommendations, nearly 40% of travelers said that environmentally-friendly tourism is a consideration when traveling. The same survey revealed that 34% of travelers are willing to pay more to stay in an environmentally-friendly.
Join us as we explore the topic of ecologically sustainable travel and vacation. We begin by chatting with Brian Mullis, president and co-founder of Sustainable Travel International. Brian provides information and a hearty heaping of hope for the future of eco-friendly, sustainable travel.
Are you curious about how deep a carbon footprint your summer vacation will leave? Figure it out in advance with a carbon calculator. Traveling with the kids? Turn off the portable DVD player for a while and let them broaden their minds with some eco-friendly games.
The resources section of this issue is loaded with links to help you plan an ecologically sustainable vacation and find environmentally responsible lodging, transportation and travel services.
Finally, learn how we incorporated ecological restoration in an eco-tourism plan for Delaware City, Delaware. As always, we want to know what you think. Share your thoughts on Leaf Litter by contacting our editor at anelson@biohabitats.com.
Leaf Litter Talks with Brian T. Mullis
President and Co-founder, Sustainable Travel International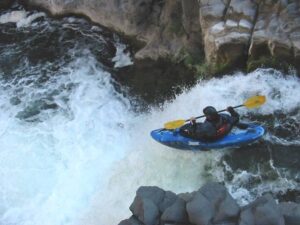 Brian Mullis co-founded Sustainable Travel International (STI) in 2002 with the mission to promote responsible travel and facilitate the travel and tourism industry's move toward sustainability. Brian began his career spending college summers working in national parks in the western U.S. More recently, he was president and owner of The World Outdoors, an international adventure travel company specializing in active and eco-travel. Brian holds a Bachelor's Degree in Psychology with a focus on Business from AuburnUniversity and a Master's Degree in Recreation Management from SpringfieldCollege. With over 19 years of experience in the travel and tourism industry, he has assisted numerous travel companies and destination management organizations in the areas of business and sustainable development, sales and marketing, finance and budgeting, and management, operations and programming. His bio on the STI web site states, "Brian lives to make a qualitative difference in the world." Looks to us like he's well on his way.
LL: There appears to be no universally accepted, official "seal of greenness" out there for the travel industry.  Your organization, along with NSF International, developed the Sustainable Tourism Eco Certification Program (STEP).  Do you think STEP could evolve to be such a universal stamp of approval, at least within the US?
That's our hope. Right now there is only one other global sustainable tourism certification program by the name of Green Globe . Green Globe is a for-profit initiative that's been around for over a decade. It's a great program; however, there are some significant barriers to entry–-predominantly financial. What we tried to do in creating our program was to look at the Green Globe program and a number of other regional certification programs in the marketplace and incorporate their strengths into what we're offering, as well as address their limitations. Our goal is to complement and support other credible sustainable tourism certification initiatives while offering the program in regions where none exist.
LL: How and where was Green Globe started?
My understanding is that it was started by the World Travel and Tourism Council in the early 90s. Since that time, I believe ownership rights were transferred to Reg Easy who is based in the U.K. The primary distinguishing characteristic is that it's a for profit initiative primarily geared toward large businesses.
LL: About 73 percent of our readers say they have taken a vacation they consider to have been ecologically sustainable. Many say they take steps such as booking on-line, composting and recycling, and using mass transit; however only 40% say they have stayed in "green" lodging facilities. Many said they do not know how to find such lodging. Any suggestions?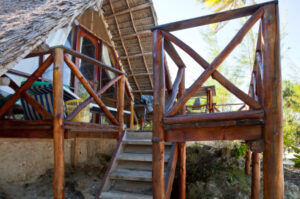 I don't think there is any one, really great source of information on ecologically sustainable tourism. Our Eco-Directory is good. It's essentially a database of our members. As part of joining, companies are required to report, at a minimum, how they are contributing to the triple bottom line. There are no barriers to entry to becoming a member; however, you do have to detail how you are supporting environmental conservation, cultural heritage preservation and local economic development. If a consumer is looking at businesses that operate in the same area, this directory enables the consumer to decide which is the best fit and which one has the higher level of commitment and sustainability. Beyond our web site, I'd recommend responsibletravel.com, ecoutourism.org, worldsurface.com,  and earthfoot.org.
For hotels specifically, there are some good resources here in North America, such as the Green Hotels Association. Greenseal.org, provides certification only in North America for hotel chains. There is also a section on our web site that has a number of other certification labels that are available on a regional basis and there what we've done is try to list links to those certification organizations.
LL: Some readers requested help for those occasions when they find themselves without the time or ability to research eco-friendly accommodations (for example, when they're on the road for work and unexpectedly need to pull over and find a place to stay for a night). Are there any organizations that provide sustainability comparisons of the major hotel chains?
I don't think anything like that exists yet. In terms of major hotel chains, Marriott and Fairmont are clearly two of the leaders in sustainability at this point in time.
LL: In an article you wrote for Sustainable Industries in December of 2005, you mentioned how difficult it was to find car rental companies that offer hybrid and electric vehicles in the U.S. Is this still the case, a year and a half later?
It seems like more and more companies are getting involved now. Hertz has a green initiative . I have heard that Avis has been identifying, measuring and managing their impact across the triple bottom line but I haven't read any details regarding their specific initiatives other than what's detailed on the Avis web site. Out here in the Pacific Northwest, Flexcar is doing a lot in terms of not only offsetting emissions associated with their vehicles, but also only purchasing hybrid and fuel efficient vehicles. There's been a little bit of movement in that space.
LL: The STI web site states "In the U.S. alone, nearly 55.1 million people express a preference for unique and culturally authentic travel experiences that protect and preserve the ecological and cultural environment." It also states that "58.5 million Americans say they would pay more to use travel companies that strive to protect and preserve the environment." What's the source of this information?
That data came from a study that the Travel Industry Association of America and National Geographic Traveler released. There were two phases of the study – one in 2002 and one in 2003.
Has this data ever been gathered in the past? If so, I'm curious as to how this figure compares to, say, 10 years ago.
I believe that was the first study. Nothing has been released since to my knowledge.
I've read a lot about green washing in the travel industry. What's one of the worst cases of green washing you've come across or heard about since you started focusing on sustainable travel?
I think it would be more constructive focus on the primary issue instead of mentioning specific cases – green washing is a big problem. With the advance in the green movement, more and more companies that perhaps want to do the right thing are inadvertently over-promising or boasting without really characterizing the true extent to which they are actually engaging in sustainability.
Take the "carbon neutral" phrase, for example. A lot of companies in the travel and tourism industry – as well as other industries – are saying "we're carbon neutral." What does that mean? There are several tour operators, for example, that are claiming to be "carbon neutral" in their advertising. I know a few of them have offset their trip-related greenhouse gas emissions, but I'm fairly certain they haven't offset all of the related emissions such as their clients' flights. I'm also fairly certain that all of them are not offsetting their internal, office related emissions such as waste generation, energy consumption, and employee commutes. Are they carbon neutral? Probably not. How can they better characterize what they're doing? They can make it clear what specifically they're offsetting and what they're not offsetting. It doesn't sound as nice from a marketing standpoint, but it's realistic. By taking this approach, they can encourage their clients to offset the balance of their trip-related emissions.
LL: But there is no one currently governing these claims, correct?
Not yet. There are some organizations – like Green-e and The Gold Standard– that are looking at it, though. What we strongly encourage our clients to do is qualify their statements. The more information you can provide about specifically what you're doing, the better it is, not only for your business but for the consumers you may be helping to educate. The consumers may then end up helping you to achieve the sustainability goals you set for yourself.
We always go back to the statement that "it's easy being green." All you have to do is identify, measure and set up systems to manage your impacts. At the end of the day, you can't manage what you don't know how to measure. Once you know how to measure those impacts, you can more easily communicate them to all of your stakeholders. For example, if you can say, "we installed energy efficient light bulbs and saved a thousand kilowatts of energy from being used last year," that translates into true savings. That's something that's marketable. We encourage people to take that approach rather than using catch phrases and buzzwords.
LL: Several web sites out there offer tips on "green travel," such as on-line booking, requesting that your linens not be washed every day, etc. What would you say are the TOP 5 things people should do in an effort to travel and vacation more sustainably?
First, I think the most important thing is to do your homework, because there is not yet one-stop shopping for sustainable travel (experiences, hotels, etc.) Seek out hotels, etc. that are actively engaging in sustainability. To do this, the consumer, first and foremost, needs to determine if the company has a sustainability policy, which typically would be marketed on their web site or in their marketing materials. If not, be comfortable picking up the phone. Our theory is that if a company is actively engaging in sustainability, at a minimum, their staff should know what they're doing. If a consumer were to call a hotel and ask, "are you considered a green hotel and why?" the person on the other end of the phone should be able to answer that question – at least on a rudimentary level. So that's one.
Our position on the matter of global climate change is that we can all become more energy efficient, reduce our waste, travel less (use public transportation, carpools, plan business trips back to back, etc.) but some greenhouse gas emissions are unavoidable. For those, we feel that investing in credible offset projects that are certified and verified by credible, independent third parties, which support renewable energy, energy efficiency, reforestation and aforestation, are the way to go. We believe consumers should voluntarily engage in offsetting unavoidable greenhouse emissions. That's two.
Number three is to learn about the places you plan to visit. For example, learn to speak basic phrases and a few words of the language such as "please," "thank you," "hello" and "goodbye." You should also learn about local cultural mores and norms so when you are visiting other cultures and people, you can more easily put yourself in their shoes rather than imposing your own culture upon them. When you immerse yourself in another culture, and you're able to communicate, even on a very basic level, you can gain an appreciation of and respect for your differences.  Furthermore, learn about how you can give back through donations of time (e.g., engaging in Voluntourism or money (e.g., donating financial resources, heath car products, school suppliers, etc.).  If engaging in sustainable tourism is important to you, be sure to find out what the local environmental issues are, for example, determine who is doing something about them, and contact them to find out how you can help.
Four is: spend money. When you're traveling abroad, always consider how you can support the local economy. Search out locally owned businesses, local guides,  locally owned hotels and restaurants, etc. This way, your money is not only going to people who live in the community you're visiting, but it's also going to be re-circulated throughout that local economy. By taking this approach, which requires a bit more research, you can ensure that the financial benefits go directly to the locals.
Number five revolves around reducing waste. Our culture in America very much revolves around consumerism and consumption. Taking that mindset with you when you travel is something that needs to be re-evaluated. For example, we might have exceptional recycling facilities in many cities throughout the U.S., but those same waste removal facilities might not be available in the developing country you plan to visit. When you're traveling, consider bringing a water purifier with you so you don't need to buy plastic bottles of water or other drinks every day of your trip. Also, be careful not to utilize more than you need to in terms of water, electricity, etc. The local infrastructure might be pretty limited and you might be competing for limited resources. If you're using more than you really and truly need, that might not leave anything for the local people. So my fifth recommendation is to be cognizant of how much you are consuming and how that consumption affects the places that you're visiting.
LL: We asked our readers whether they think sustainable travel/vacation is merely a trend or the beginning of a lasting change. Approximately 94% of our readers think it is a real movement. What do you think? (I'm going to guess you agree with our readers.)  How do we cultivate and sustain the practice of sustainable travel?
I think it's more than a short-term fad. I think it is a true movement. The way we perceive it here at STI is that our culture is evolving. More and more individuals are focusing on collecting experiences instead of material wealth. I would also ague that it's not going to be a fad because the problems are not getting any better. They will not go away. The media attention to the green movement may wane over time, but I still think it will be a strong message in major media outlets and other outlets consumers are exposed to for years to come because it's newsworthy and timely. It's going to take change in the consumer marketplace to actualize the full potential there, which is going to take education and outreach. Without the media's support, I don't know how non-profit organizations like ours are going to reach the masses.
LL: What kind of attention are you receiving from the media?
Quite a bit. We take half a dozen phone calls from travel writers, editors, etc. on a weekly basis. There is a lot of interest in carbon offsetting, sustainable tourism in general, travel philanthropy, voluntourism, eco-lodges, etc. In addition, I can't help but think there is going to be a real shift in people's travel habits.
We get phone calls all the time from individuals who are traveling and want to make the right decision, enhance their positive impact and limit their negative impact, but they want some guidance. We try to fill that role to the extent we can. There's really no return on investment there from an operations standpoint, but we feel that as a non-profit whose mandate is education and outreach, it's a role we should fill until someone else does like the travel agent community, travel aggregators, etc.
LL: How does STI raise funds to keep the organization going?
My partner and I founded STI in 2002. Realizing that the grant and foundation money wasn't readily available, we created business models that are in line with our 501(c)(3) status but also generate money so that we would become self-sufficient. With our certification program, carbon offsets, distance learning and advisory services, we are able to generate revenue. There are also programs like travel philanthropy and fair trade, which don't generate revenue but meet our mandate, which is very important to us.
LL: Of all the providers you have come across in your travels and work, what is one absolute standout (in terms of the travel experience it offers as well as its everyday practices and maintenance)?
My wife and I did a series of three treks – one in Northern Thailand, one in Northern Vietnam and one in Northern Laos. My interest in that trip was not just the travel and tourism component, but also to see what the countries have all learned from each other. A lot of people critique the trekking market in Northern Thailand for being too commercial, not benefiting the local people, not necessarily being environmentally sustainable, etc. My hope was to go into Laos and Vietnam and see how they have learned from those mistakes and see how or what, if anything, had changed in Thailand. I was really impressed with the program outside of Luang Nam Tha in Northern Laos because the local people really have true ownership of the trekking programs. They are working with private tourism companies to get the word out and bring people, but the majority of the economic benefit is going to the local people. They are also very cognizant of the environmental impacts as well as socio-cultural related impacts but perhaps need more direction in terms of business management and marketing in order to achieve a higher level of independence from tour operators, development agencies, and non-profits. That said, we loved trekking in all three regions and were able to do so in a sustainable manner because in each case, we traveled with companies / organizations that actively support community-based tourism.
LL: When tourism begins to develop or grow in an area where it was previously nonexistent or a minor part of the economy, do you work with communities to help tourism grow in a sustainable way?
We have done some ground level projects focused on community-based tourism development. However, it's an area we haven't spent a considerable amount of time on. But, as our other programs become more financially viable, we are very interested in getting more involved. Fortunately, we have several board members who are helping us secure consulting or advisory service related opportunities around the world. With our 30+ years of experience in knowing what works and what doesn't in travel and tourism, we can not only help communities create viable business models, but we can also help them set up programs like the one I mentioned in Northern Laos where they're supporting the preservation of their cultural heritage and environmental conservation at the same time. That's a unique perspective that we bring to the table. We know what works from a financial sustainability point. This is important because most business owners in travel and tourism will tell you that if they're not financially sustainable, they're not going to put a lot into environmental conservation and socio-cultural preservation.
LL: What does the future of sustainable travel and vacation look like to you?
I've learned that I need to be an eternal optimist. I believe sustainability is not only the future of the travel and tourism industry, but it is our future. Things have gotten off to a slow start, but we're going to see that consumers, to a very large extent, control big business. Whether we like it or not, in many parts of the world, big business controls the government. If consumers continue to demand sustainability as part of consumption patterns, we will see exponential improvements in the ways in which industry is addressing sustainability: from governments supporting mandatory legislation for reductions in greenhouse gas emissions, to buy-in to third-party sustainable certification programs like STEP and Green Globe.
LL: Our readers are involved in ecological restoration, conservation planning and regenerative design. How important do you think these fields are in your vision of sustainable travel?
I think they are absolutely key. A project comes to mind: Loreto Bay in Baja. I don't think many people realize that the Baja Peninsula was wooded when the first explorers came through the region. To learn not only the history of a place but the fact that ecosystems can be regenerated is cause for hope. I know there's a lot of interest out there that relates to the work that your members are engaged in. There's really a natural connection.
Sustainability and Discovery
You won't find your typical "What I did on my summer vacation" essays here. Biohabitats Environmental Scientists Arjun Dongre and Stephanie Klein and CADD Specialist Joey Weidle share a bit about their eco-friendly travels. Arjun discovers a sense of place and self by vacationing locally aboard his trusty bicycle while Stephanie Klein journeys into the Ecuadorian rain forest and Galapagos Islands and Joey hangs on to a leave no trace camping policy in JoshuaTreeNational Park.
A Summer Vacation
By Arjun Dongre, Environmental Scientist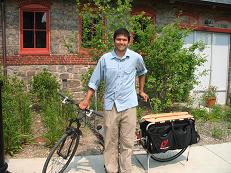 I believe bicycles have the ability to transform the world; they exude goodness and happiness, in addition to being the most efficient mode of transportation ever invented. Quiet, adaptable, low profile and having zero emissions bikes will hopefully become an integral part of transportation in the near future. With these premises in mind, I sold my car over half a year ago in hopes of leading a healthier and more environmentally friendly lifestyle. Part of this lifestyle involved using my bike as my primary mode of transportation for my summer vacation. This decision was my first step towards eco-friendly travel. When plans fell through to tag along on a car ride up to Pennsylvania (from which point I would bike back to Baltimore via the Alleghany Passage and C&O Trail), I decided to spend my week more locally and support local business. That was step two. This decision led to a week of discovery – both explicit and subtle.
For the first few days, I worked at Velocipede Bike Project. VBP is a local Baltimore-based effort to help people learn more about their bikes and promote bikes as a way of life. It has a collective membership program: in exchange for volunteer hours or a small donation members have unlimited access to VBP's tools and services. Volunteers help teach others – regardless of income level or biking experience – how to fix and/or build bicycles. To teach these skills, VBP collects donated and second hand and bikes that would have otherwise gone to the landfill. I met a number of fascinating people who were similarly interested in a sustainable lifestyle, and I was also able to spend some time furthering my knowledge of bikes and helping out around the shop.
During the more "touristy" part of my vacation, I rode downtown to climb Baltimore's Washington Monument, watched a movie at the city's famous Charles movie theater and spent an afternoon at the Walters Art Museum. One of the highlights of my week was taking the light rail down to Linthicum, Maryland with my bike and riding from there to Annapolis for the day via the Baltimore and Annapolis (B&A) Trail. The trail was built along side the old Baltimore and Annapolis Railroad and is part of the East Coast Greenway.  I knew Maryland was a "mini-USA," but it's amazing how fast the transitions occur between the landscapes. Baltimore and its surrounding counties can get pretty hilly, which makes for intense rides, but just a few miles to the east the land becomes flat, really fast. This makes for a fun, easy ride. This was my first visit to Annapolis and I don't think the experience would have been the same if I had taken a car. By taking the light rail and riding my bike to get there, the trip down felt like an actual journey.
In addition to feeling like I was on vacation, the trip to Annapolis reinforced for me how bicycles allow for a much more visceral connection, not only to one's environment but also to others. In terms of connecting to the physical environment, the rest of the natural world moves at a much slower pace than humans, and the only way to enjoy it is by slowing down. By switching from car to bike, I have learned to appreciate the subtleties that exist in the natural world. This has also allowed me to start enjoying the simpler things in life. I've learned that it's not always about flying somewhere to see the grand panoramic views (although they can be breathtaking). By using one's own energy to get somewhere, one gains a greater appreciation for that place and an understanding its distance, topography, temperature, flora, and fauna. Biking allows you to take in the surroundings with all five senses. I believe this is the only way to acquire the "sense of place" that we all strive for.
Part of that connection to the environment is also the connections made with people. I rode for a bit with a retired Marine on the bike trip back from Annapolis. The man was in his mid-50s and was still riding his bike 40 miles a day, swimming, and running. We enjoyed a great conversation. I don't remember his name now, but he has become one of my inspirations.
Automobiles have allowed humans to reach a point in civilization where suburbanized, hardened, and monocultured landscapes are not only common, but accepted. The speed and convenience of automobiles have allowed the economy to explode, furthering their necessity. The cost of this "growth" has been the degradation of our landscapes and ultimately our connection to each other. Our landscape, in addition, becomes irrelevant when we are enclosed in a padded bubble – and as urban sprawl continues, this disconnect becomes more of a vicious cycle. This leads to the conclusion that our connections to each other are compromised as well. As our populations keep increasing exponentially we face tougher decisions about how to continue developing the land and our society. That's not to say that automobiles are inherently bad. They have worked miracles for the medical world, as well as allowing family members to keep in touch and for helping people who have difficulties with mobility. I have my lapses and love being able to borrow my brother's car for an afternoon when I am absolutely exhausted. However, we as a society need to think hard about how we use automobiles on a daily basis, or for vacationing and traveling. If bikes can facilitate a reconnection to place, then by promoting a bicycle lifestyle we may be able to truly move towards developing a more sustainable future.
Education Meets Ecotourism
Stephanie Klein , Environmental Scientist
While earning her Masters in Environmental Science and Policy from Johns Hopkins University, Biohabitats Environmental Scientist Stephanie Klein took part in a two week, university trip to study the rain forest, highlands, and Galapagos Islands of Ecuador. The course concentrated on the flora and fauna of these habitats, but also included study of the history, art, and culture of Ecuador.
While Stephanie indeed enjoyed the wonders of the Galapagos, she will never forget her journey to and stay in Sacha Lodge, an eco-resort in a pristine rainforest sanctuary situated within a 5000-acre private ecological reserve in Ecuador's Amazon region.
The trip to the lodge involved a 50-mile motorized canoe voyage down the sediment-rich waters of the Napo, the largest river in Ecuadorian Amazonia; a 45 minute hike on a boardwalk from which she observed several bird and monkey species, and a paddle through the middle of a rainforest maintained by the Quichua Indian tribe. Once stationed at the lodge, Stephanie and her fellow students were able to learn about the flora and fauna of the rainforest and the ways of the Quichua people through a native guide. Stephanie has traveled throughout the world, but ranks her Ecuadorian experience as among the highest in terms of sustainable travel.
Hanging on a Joshua Tree
Joey Weidle, CADD Specialist
After two seasons playing and coaching for a small American football team in a suburb of Paris, living in a small, communist block apartment with the team's general manager, I flew to San Diego, California, where I was determined to learn how to surf.  I rented a garage with a bathroom connected to it, and got a job cooking for a French-trained chef at a swanky resort.  I immediately started surfing.  Perhaps more accurately put, I swam a lot with a surfboard Velcroed to my ankle.  The surfing was difficult coming, but eventually, I got the hang of it.  The climate took some adapting too, but after I made the transition, I realized I could exercise every day, and count on it being sunny and roughly eighty four degrees.
It was this climate that led me to indulge in all of my favorite outdoor activities, and it wasn't long before I was rock climbing, again, after a few years off.  Being short of funds, however, I couldn't really afford to go to the climbing gym too often.  Then fortune struck.  The owner of the rock climbing gym wanted to decorate the inside of the gym by painting murals on the walls.  I had had some formal art training and arranged, through the manager, Tony, to paint the murals in exchange for a free year of climbing.  I painted to the owners' satisfaction, and was soon climbing on a regular basis, with Tony. He befriended me because due to my football background, I was stout enough to belay him while he tried extremely difficult maneuvers near the top of the climbing gym walls. It was a mutually beneficial relationship, and in no time at all we were friends. Tony would talk, with no lack of energy or shortage of praise, about Joshua Tree National Park.  "Just wait 'til I get you up to J-Tree," he'd say.  My curiosity was stimulated, needless to say, and I started scraping money together for equipment.
Every year, on the weekend before Halloween, Tony leaves San Diego and drives three and a half hours into Joshua Tree National Park. He camps, climbs, and guides groups that arrive sporadically until the holiday, at which point there is a party of climbers surrounding a rock formation that is a naturally occurring castle rising out of the sweeping, stark, drastic desert. During this particular year, Tony asked me if I would like to be his assistant.  I wouldn't have to pay for his guide services, only for supplies and gear. I spoke with my chef, months in advance, offering to work with only one day off a week until then. He agreed, and everything was settled.  I climbed three days a week at the gym with Tony, and by the fall, I was able to hang for minutes from one arm, and could sufficiently do over five pull-ups with one arm.  I was ready.
Tony and his dog, Tacu, picked me up on a Friday evening, and we headed out. Tony said I would thank him later, because we would arrive at night. I did. The ride was filled with laughing, excited planning, and direction from Tony on how to set up quickly and efficiently at night, because the temperature would be dropping fast as night fell. "It is the desert," I thought to myself, but listened and made mental notes. It was freezing when we got to HiddenValley, the camping area. Night had fallen, and I could only see fifty or so yards into the desert.  Shivering, Tony and I set up camp, and ate some sandwiches we had made.  The coyotes had already started their skin-crawling howling, and we curled up in our tents and retired, so we could climb bright and early the next day.
I wasn't prepared for the natural beauty waiting for me the next morning. I lingered in my sleeping bag to hold onto the last remaining bits of heat, but my excitement finally got the best of me, and I tore open the bag and unzipped my tent.  I stepped outside and saw a crystal blue sky, dotted with puffs of white cotton higher up than I had ever seen, and around me a general elbow-bumping party of granite rock formations over a flat, cactus covered landscape. Tony handed me a cup of "cowboy coffee," with the grinds swilling to a sludge at the bottom, and I skimmed a few warming sips from the liquid top. Within seconds we were a few yards away, and I was barraging him with questions about the first Joshua Tree we came up to. The projecting arms, the irregular bend of them to what appeared to be a pinkish purple floral explosion was amazing to me. The Pennsylvanian forests of my youth seemed so boring, when faced with this new terrain. Cowboy movies came to mind. Never one to dally, Tony dragged me away, and we were soon covered in gear and heading up the side of a cliff.
We climbed in eyesight of camp so as people began to arrive they could see us, set camp, and head out to where we had already set up top ropes. People arrived. Over the next three days of sun bleached, skin losing action, the entire rock formation of Hidden Valley became surrounded by tents, climbing gear, and fire pits.  From outcroppings that barely had room for more than a few bodies, high atop the desert floor, inside the deep blue California umbrella, our camp area looked like a swarming ant hill with smoke wisping up from the two main fire pits.
More than a few of the climbers there were line cooks, like me, and the food served was anything but rustic. I had brought a wok, traditional for cooking over a fire because it is thin and heats up rather quickly. I had tons of fresh vegetables in my tent, and Tony and I lived off of stir fry.  One morning, I fried bacon in the wok, and then used some of the reserved fat, and chicken stock to make bacon risotto – the kind of meal one still feels many climbs and hours later. One chef brought numerous racks of ribs he had been marinating for over a week.  You plan to lose weight on a trip like this, though, because clinging to granite, with your life in your hands tends to burn more calories than you can account for with your diet.
Cleaning ourselves meant finding a crack in the granite near the tent, where no one else could see, and pouring a clean gallon of water in a bowl. I had a stainless steel mixing bowl. No one shaved.  Everyone smelled. One girl asked me if I was going to pop this huge zit that had formed on my forehead.  "What zit?"  I answered.  It occurred to me that I hadn't looked in a mirror for days. I eventually took care of it using one of the side mirrors on Tony's truck, but even that was the next day. I wasn't there to look pretty.  I was there to get up as many of the climbs as the torn skin on my fingers and aching muscles would allow me to. I was an adult playing, and had no time for frills.
Halloween soon came, and all of the champagne, whiskey, and beer everyone had been saving came out around the campfire with guitars, banjos, drums, tambourines, and tanned, muscular, smiling climbers.  There was a feast.  Following tradition, at midnight, Tony climbed, quasi-safely, up the main formation at HiddenValley with a jack-o-lantern in tow.  He made a speech.  He thanked everyone for coming, climbing, and loving what he thinks is the best part of the country for climbers. Then he let out an answer to all of the grief the coyotes had been giving us all week, as we tried to sleep. Then he launched the pumpkin down from his perch, and it exploded in a burst of shouting, whooping, and laughter from the onlookers.
The morning after, we cleaned up.  "Leave no trace," is the motto of the park and Tony.  We lingered much longer than everyone else, because as the main guide, Tony is personally responsible for the condition of the camp area. By the time everyone left, Tony and I had cleaned up every trace of our stay, including the burnt up pieces of the exploded pumpkin.  We did circular walks picking up soda can tabs, cigarette buts, and tons of things that had obviously been there long before we ever arrived.  Previous park users stuff plastic bottles, cans, and sometimes whole bags of trash into cracks in the rocks.  Tony explained that he liked to top off his truck with this extra trash as a way of being a steward of the park. On our way home, Tony played Paul Simon on his truck stereo, and Tacu stood on my lap, and we both stared intently out the window.  Neither Tony nor I spoke until we well onto the highway back.  I just reflected.  I had taken in so much raw perceptive data, that it would take me days to sort through and quantify it. After paying for gas, food, and some climbing equipment, the entire eight days cost me about three hundred dollars. I have paid almost that for concert tickets.
I remember images from high atop the ledges. I remember Tony helping through fear and pain to some of the most beautiful views I have ever seen.  I still communicate with folks I met around that campfire.  Tony took me into the desert, and helped me to make it one of my places on the earth.  The landscape at Joshua Tree helped me to be braver, think faster, and believe a little more in myself.  It was a small repayment to pick up some trash, and help the park be every bit as glorious for the next visitor.  The "leave no trace" mentality stuck.  Even now, in Baltimore's Patterson Park, if I pass a loose bottle, I pick it up.  What is the difference between Patterson Park and Joshua Tree National Park, really? Well, Tony might have a strong bias on that one.
Go Ahead and Play!
Try some of these eco-friendly kids' projects  the next time you're on vacation with your children.
Use a carbon calculator to determine what it would cost to offset the carbon footprint left by your airline or auto travel.
Another carbon calculator for U.S. and U.K. citizens can be found on Carbon Footprint's web site
Before your next road trip with the kids, pick up Xeco, a 2-player card game for kids ages 8+ in which players compete for resources in an effort to preserve the planet's biodiversity. The cards feature plant and animal species from biodiversity "hot spots" identified by Norman Meyers and Conservation International. remarkable plant and animal species from Earth's biodiversity hotspots first identified by Norman Myers and recognized by Conservation International.
Resources
In addition to the many links that appear throughout this issue, we have gathered the following recommended resources on ecologically sustainable travel. They include web sites, recommended reading material, articles about ecologically sustainable travel, and general environmental news links.
Links
Australia, Costa Rica Said Good Ecotourism Examples
The Better World Club calls itself "the nation's only environmentally friendly auto club," offering roadside assistance to travelers in the U.S.
Canada's Green Leaf Eco-Rating Program delivers a comprehensive and credible means for assessing the extent of the environmental measures undertaken at participating accommodation facilities.
EcoBusinessLinks provides some helpful information about carbon offsetting services, including a comparison providers that was updated as recently as July 2007. The site includes links to carbon offsetting providers.
Ecotourism at Conservation International 
Eco Travel: Business and Pleasure 
Environmentally Friendly Hotels: searchable database of hotels, bed and breakfasts, resorts, lodges, inns, etc.
Global List of University Ecotourism and Sustainable Tourism Programs 
Green Globe is a worldwide sustainable travel site.
Green Hotel Initiative web site
Green Tourism Business Scheme champions sustainable tourism in the UK.
Green Traveler UK-based, on-line forum for green travel.
International Ecotourism Society
National Geographic Center for Sustainable Destinations
responsibletravel.com provides a list of what its founders consider to be the world's best responsible tours companies and hotels
Sustainable Travel International 
Reading    
Alastair Sawday's Green Places To Stay is an illustrated guide to 160 places in 50 countries. Edited by Richard Hammond, eco-travel expert and write.
Earthscan's Ethical Travel Guide edited by Polly Pattullo with Orely Minelli for Tourism Concern. Directory of community-based holidays in over 60 countries. Includes a well-researched 50-page intro to the issues.
Lonely Planet's Code Green
Environmental News Links & Relevant Articles
Better still: reduce your carbon footprint in the first place: hot to cut your emissions and still keep on travelling 
Canada: Eco-tourism Resorts Practice What They Preach
Eco-Friendly hotels, tours help travelers stay green on the go
Go Green and Stay Green , the Family Travel Forum's roundup of some of the best eco-friendly travel destinations

Survey of Carbon Offset Services (as reported in March 2006 on treehugger.)
Biohabitats Projects, Places and People
Projects
Applying Ecological Restoration to Eco-Tourism in Delaware City, DE
Recognizing the many benefits eco-tourism brings to a community and its visitors, Delaware City, DE is taking the initiative to include biodiversity and habitat conservation and restoration in its revitalization plan. Main Street Delaware City, Inc. a non-profit revitalization organization, turned to Biohabitats to assess ecological resources in the area, establish priorities for the protection of existing ecological infrastructure, and make recommendations for ecological restoration and management to support a thriving eco-tourism program. After completing the assessment, we developed a concept plan highlighting ecological protection needs and restoration opportunities compatible with eco-tourism initiatives. Types of initiatives proposed include wetland restoration and enhancement, shoreline stabilization, stream restoration and invasive species control. We envision Delaware City as a superb destination for bird watching, wildlife observation, canoeing, kayaking, sport fishing, walking and jogging. Best of all, it's only an hour and a half from our office!
Integrating Ecology, Economy and Society in Upstate New York
We are working with The Nature Conservancy, Tug Hill Commission, and the New York Department of State (DOS) on an Ecosystem Based Management Initiative for the Sandy Creeks watersheds in the Tug Hill Plateau Region of upstate New York. The project involves developing a planning strategy that strives to balance the needs of ecosystem sustainability with regional cultural and economic vitality. Ecosystem Based Management is an approach to natural resource management that integrates ecological, economic and social principles to safeguard the long-term ecological sustainability, natural diversity and productivity of natural systems. This process is driven by explicit goals, executed by sound policies and practices, and designed to adapt to ongoing research and monitoring. On the ground, it means identifying and establishing a comprehensive protected areas network within a well-managed working landscape. Our effort is part of a new pilot program initiative of the DOS and New York State Department of Environmental Conservation (DEC).  This project explores the opportunities and challenges associated with integrated planning and management that acknowledges the complexity and importance of the relationship between man and nature.
Planning For Base Realignment At Fort Belvoir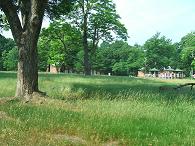 The U.S. Army is developing a Master Plan for Fort Belvoir, 9000-acre site located outside of Washington, DC. that will soon accommodate 21,500 additional military and civilian employees as a result of the U.S. Army's Base Realignment and Closure Committee (BRAC) 2005 decision. The post-BRAC Fort is envisioned as a high-density, transit-oriented community. Rich in natural resources (highlighted by the Accotink Bay Wildlife Refuge) the Fort includes an array of intact interior forests and tidal wetlands that support a host of threatened and endangered species and provide a key stop over for migrating birds. Biohabitats is working with the Skidmore, Owings & Merrill to refine the Master Plan to include strategies that not only limit impact of development to existing resources, but create environmental and restorative benefit to the surrounding ecology. We're also helping to plan a workshop with key stakeholders to explore the boundaries of environmental alternatives that result in long term cost/time savings and enhance the site's aesthetic, ecological and human comfort qualities.
Physiographic Provinces Converge In Aiken, SC
The City of Aiken, South Carolina is located in the Sandhills region, with the Piedmont to the north and the Coastal Plain to the south. This convergence of physiographic provinces supports a very unique suite of habitats, and contains a stream with possibly the most diverse assemblage of macroinvertebrates documented anywhere in the world. The City has undertaken an open space planning effort to identify and assess valuable environmental areas as well as historic and educational points of interest, in an effort to preserve them. Led by our fearless Southeast Bioregion Leader, Kevin Nunnery, we are beginning our work for the City by assessing the area, identifying valuable natural, historic, cultural and educational resources and ranking their importance. We will then recommend a strategy to maximize open space and habitat quality. 
Places
Join Biohabitats president Keith Bowers and Great Lakes Bioregion leader, Ivette Bolender at the Great Lakes Areas of Concern Conference in Cleveland, June 28-29. The event will focus on achieving restoration targets and sustaining stewardship.
San Jose, California will the THE place to be August 5-10. That's when the Ecological Society of America and the Society for Ecological Restoration International (SER) will hold the ESA/SER Joint Meeting: Ecology-based restoration in a changing world. Stop by our booth and say hello to Biohabitats president Keith Bowers and environmental scientist Jeremy Thomas. Biohabitats senior ecologist Joe Berg will also be on hand to present "Constructed weirs and pools for safe, non-erosive conveyance of stormwater runoff: An example of regenerative design."
If you miss Biohabitats senior ecologist Joe Berg at the ESA/SER meeting, you can catch him at Wetlands 2007 in Williamsburg, PA, where he'll present a talk on "Wetland and Stream Ecosystem Restoration in Anne Arundel County, Maryland."
People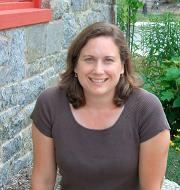 Earlier this month, we welcomed environmental scientist, Brooke Derr to the Biohabitats team. Brooke brings over five years of experience in urban and environmental planning, including a stint with the Washington Department of Natural Resources, where she managed the planning process for 63,000 acres of state preserve and conservation land. Brooke also brings the unique combination of patience, fortitude and grit one could only find in a former middle school teacher. (She taught science during a four year hiatus from planning.) Raised on a farm near the Chesapeake Bay in Conowingo, MD, Brooke went on to earn a B.S. in horticulture/landscape design from the University of Delaware and a Master of Environmental Studies from the Evergreen State College in Washington State. Drawn to Biohabitats' strong environmental ethic, which she saw reflected in its people, projects, and office, Brooke now applies her expertise (and yes, some of that grit and patience)  to projects such as Jamaica Bay and Muskegon Lake When she's not at work, this Brooke stays rather busy gardening and designing landscapes (with native plants, of course), making pottery and helping out with her family's pick-your-own fruit business.