Thoughts on Ecological Restoration and Climate Change
European Heat Waves "Have Doubled"
Early 2007 Saw Record-Breaking Extreme Weather
Artic Sea Ice is Expected to Retreat to a Record Low
Greenhouse Gases Hit New High, Rise Accelerates
You'd have to be on a solo trip to the most remote regions of Antarctica to miss the hundreds of global warming headlines that appear weekly in our news outlets. Then again, with the ice melting beneath your feet, perhaps you'd still have a notion that the topic of climate change is heating up – fast.
Whether you credit the UN, Al Gore or the growing legions of organizations, climate change is top of mind worldwide. To some, it connotes a dreadful, apocalyptic future. To others, it presents an unprecedented opportunity to dramatically change the way we operate on our planet. But what does it mean to those of us involved in ecological restoration?
Join us as we take a look at one of the most sizzling topics of our time and examine how it affects our work in ecological restoration. We'll talk with ­­­­ Richard J. Hobbs,  an Australian environmental science professor who co-authored an article on the topic of ecological restoration and global climate change for the journal Restoration Ecology.
Ever wondered how ecological succession and infrastructure deterioration would progress if we humans suddenly disappeared? Biohabitats' Kevin Heatley reviews Alan Weisman's "The World Without Us," a book which does just that.
The resources section of this issue is loaded with links to explore for more information on global warming and ecological restoration. Finally, catch up on the latest at Biohabitats.
As always, we want to know what you think. Share your thoughts on Leaf Litter by contacting our editor at anelson@biohabitats.com.
Leaf Litter Talks with Richard Hobbs
Professor of Environmental Science, Murdoch University School of Environmental Science, Western Australia and Editor-in-Chief, Restoration Ecology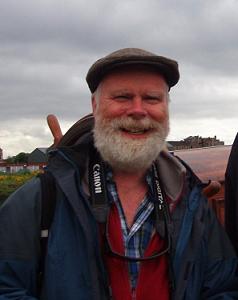 Professor Richard J Hobbs is an Australian Professorial Fellow in the School of Environmental Science at MurdochUniversity in Western Australia.  From an initial basis in plant ecology, his interests developed to span multiple scales of organisation and several broad fields, including restoration ecology, conservation biology and landscape ecology. He has mostly been involved with the detailed analysis of the dynamics of fragmented systems, and in particular in woodland dynamics and restoration, but this work has also extended more generally into the management and conservation of altered ecosystems and natural resource management. His approach is inter- and trans-disciplinary and his research group is currently involved in a wide array of projects . He is currently working on a project entitled "Setting and achieving realistic restoration goals in human-dominated ecosystems. Richard is also the Editor-in-Chief of the journal Restoration Ecology, a publication for which he co-authored the article entitled "Ecological Restoration and Global Climate Change" in 2006. 
LL: What prompted you to write the article "Ecological Restoration and Global Climate Change" in the journal Restoration Ecology last year?
Several of us in the SERI Science and Policy Working Group thought that it was important that we started putting some serious thought into what rapid environmental change, and in particular climate change, meant for restoration. I think there has always been the assumption that restoration aimed to put back something that was there before; however, rapid climate change might mean that this becomes increasingly difficult. If that is the case, what do we do about it, and what are the alternatives?
LL:  In the article, you and your fellow authors recommend that restoration targets go beyond historical references in order to a) ensure or restore the production of ecosystem goods and services and/or b) mitigate and reverse climate change.
Looking at the results of our reader survey, people are heeding that recommendation. 54% of Leaf Litter readers who responded to our survey  say they are taking climate change into account in a current ecological restoration (ER) project. Some are doing so in order to protect natural capital (e.g., taking sea level into account for a shoreline restoration). Others are more focused on the anticipated carbon sequestration resulting from their project. Few indicated they are applying both modes of intervention (natural capital and climate change mitigation). Is our sample reflective of what you are seeing in terms of ER practitioners incorporating climate change into their projects? 
I think that many people are paying some attention to climate change, but I have not seen much evidence that it is actually changing what people actually do or what their overall aims are. Partially, I think this may simply be because it is very difficult to work through what a suitable response might be. But partially also, a lot of people are still in denial or unwilling to move away from the principles that have developed surrounding what are good things to do in restoration. For instance, there's the question of whether to use local provenances of plant species in restoration. The accepted wisdom is that it is always preferable to do that wherever possible, since the local provenances are likely to be the best suited to the site. However, if we are to build resilience into the restoration, maybe we need to start thinking differently and incorporating a mix of provenances.
LL: Based on your observation and experience, where do most ER practitioners go wrong when it comes to attempting to incorporate climate change into their work?
By not considering it at all!! That's not to belittle what's going on – it's simply a fact across the board that many people would prefer to think that climate change is not occurring and that we can carry on as normal: not just in restoration, but in all aspects of life from our governments down. Having said that, I think we need a considered response which does not go overboard: exactly how best to incorporate climate change remains, I think, an open question that requires some serious thought from both the academic and practical perspective. In other words, practitioners have as much, if not more, to contribute to the debate as scientists and other academics.
LL: The topic of invasive species often evokes strong emotional responses. What has been the reaction to what you say in your 2006 article about how we look at invasive species among scientists and practitioners? 
As you rightly point out, invasive species are a highly emotive topic.  People who have seen first hand the impact that invasive species can have on ecosystems and native species know that they are a serious issue and are often the prime targets in restoration projects. On the other hand, there is a real tide of popular literature at the moment which suggests that the whole push against invasive species is misguided at best and xenophobic and self-serving at worst. I think this latter perspective is a bit extreme. However, the question of invasive species and their place in the ecosystems of today and tomorrow is a vexed one. On one hand, removal of weed species or feral animals which completely transform ecosystems is often an essential part of restoration. On the other hand, we now have so many non-native species in many systems that we can't hope to deal with them all. Hence we may have to accept that future ecosystems are going to be mixes of native and non-native species, and that these "novel" ecosystems are here to stay. This is, of course, an anathema to those who believe that the native ecosystem is the only worthwhile goal for conservation and restoration. In the end, this is not only a scientific question but one which taps into the deeper ethical and value-based aspects of our relationship with the environment.
LL: The article mentions moral dilemmas associated with climate change and ecological restoration. One such topic is assisted migration. What are your thoughts on both assisted and unassisted migration? How much of a "determining agent" of change do you think we should be, when it comes to ecological restoration in the midst of a changing world?
Boy, you ask some pretty profound questions! This one gets right to the heart of the whole problem of moving away from trying to restore past ecosystems to trying to equip systems to cope with the future. When and how should we intervene?  Do we let "nature take its course," or do we step in and try to preempt problems before they arise?  If we are to facilitate the migration of species, how best do we do it?  For unassisted migration to occur there needs to be a certain amount of connectivity across the landscape – and of course this is increasingly lost in today's urbanizing and developing landscapes.  It is possible to foster increased connectivity, but it requires a landscape and regional approach. And we're only beginning to get a handle on what different species require to move across the landscape.  Where that approach is not possible, do we then get into the business of moving species across the landscape ourselves? If we do, how do we figure out where to move things to? How do we decide when to act? And what about the species already present in the destination?  What seems like a relatively simple issue if you just look at projected range shifts under climate change becomes a much more difficult thing to figure out when you start thinking about the mechanisms and decision points needed. Again, this question has some pretty important ethical and value components which need to be worked through.
LL: The article cautions against "overly prescriptive" conservation management. Do you think most current conservation management programs are too restrictive, in terms of enabling an ecosystem's ability to change?
Many conservation policies and management programs are very static in their outlook and focused on conserving species and ecosystems in particular states in particular places. We know that ecosystems are not static entities, even without climate change. Basing your entire conservation strategy on existing reserves is likely to be a recipe for failure; of course, on the other side, the opportunities for more broadly based conservation are diminishing in many parts of the world as more and more land becomes transformed. The answer is not easy – a more broadly-based landscape-scale approach which incorporates different land uses and ownerships and which depends on cooperation among different agencies, NGOs and community groups. But it can work. In fact, I'd suggest that it will have to work if we want to ensure effective conservation into the future.
LL: You have experience throughout the world. Where do you think people are most ahead of the game in terms of incorporating climate change considerations in their ecological restoration and conservation planning efforts? Does one particular project come to mind?
I think climate change is just one factor that has to be incorporated into a more realistic approach to conservation and restoration. Recognizing the dynamic nature of ecosystems is a key to furthering this, as is moving away from an idealized view that it is necessarily easy or desirable to aim for some past ecosystem state. Here in Australia we generally take a pretty pragmatic view of these things and there are various projects around the world where there is an overt consideration of the need to manage for resilience. For instance in Kruger National Park in South Africa, the management system works on using "thresholds of potential concern" to trigger management actions: this recognizes that systems change through time, but is responsive to the need for pre-emptive management action to prevent catastrophic shifts of the system into less desirable states.
LL: Peatland restoration and forestry practices are recognized as forms of climate change mitigation. What other form(s) of ecological restoration do you believe can mitigate the impact of climate change and why? In our reader surveys, most readers brought up prairie/grassland restoration.
Almost any kind of restoration can have a positive impact in terms of mitigating the impact of climate change. In some parts of the world, restoration is aimed at recovering ecosystems from extreme forms of degradation and actually reinstating the ability of the human population to survive in these areas.  If these projects are successful, they also provide some insurance against catastrophic climate-induced starvation, mobilization of refugees and civil unrest. In other cases, the possibility of developing economic enterprises via carbon trading may suddenly make large-scale restoration possible where it was not before. This then has the double effect of having a positive influence in terms of carbon sequestration but also providing alternative income streams for the people involved.
LL: As your article mentions, climate change poses a potential threat to the practice of ER itself. (If people start to think, "Why, after all, support the finely honed techniques and ambitions of restoration when mere ecological productivity appears adequate?") What do you think is the best way to address this threat?
The best answer is, I think, that restoration is part of the toolkit we need to ensure that we are prepared for an increasingly uncertain future. We need to broaden the outlook of restoration away from the simple aim of returning areas to what was there in the past. There is still room for that, especially where dedicated people and groups can invest the time and effort to look after and restore small areas. However, broader-scale restoration is increasingly necessary and this may or may not entail historical fidelity across the whole area. The mix of fidelity and functionality is something we need to think a lot about.
LL: Can you give me an example of how one could apply the statement, "the past should serve as a guide, not a straightjacket" in an ecosystem restoration project?
As I suggested above, there is still a place for the type of restoration which aims to restore an authentic historical ecosystem in an area. However, in many cases this may be no longer possible because species no longer persist in the area or pernicious non-native species are impossible to remove completely. We therefore have to make a judgment call on whether we expend huge amounts of money and effort in trying to achieve a truly authentic ecosystem or make do with something which is similar but also different but which "works" in the world of today and tomorrow. For instance, if they find that invasive earthworms are a major factor preventing the restoration of the native woodland or prairie in the Chicago region, is it possible to contemplate doing anything about it?  Or do they simply have to accept that earthworms are now part of the system and work at restoring systems which regain some of the desired characteristics but are not the same as was there before?
LL: Many of our readers are desperate for research and information on climate modeling. What do you think is the best source of this kind of information?
There is a lot of work going on in climate research at the moment. Probably the best place to start is the IPCC, which works to synthesize all the available knowledge. We need to remember, however, that climate modeling is still a fuzzy science, especially when we want regional-scale analyses. Hence it's unwise to put too much store on particular predictions. A better approach is to plan for an uncertain future with increased variance (i.e. more extreme events etc) rather than for particular climate predictions.
LL: Do you know of any studies where restored ecosystems were compared to non-restored systems to test changes in carbon absorption, heat absorption, etc?
Not offhand
LL: We asked our readers whether they agree or disagree (in general) with this statement. Most agreed, generally. How about you?
"An important element of ecological restoration and global climate change is the restoration of ecosystems' natural capacity to adapt to changing conditions. For an ecosystem to be able to adapt, it needs to be relatively large and healthy and connected to other relatively large and healthy patches. Smaller scale restoration may be good for education and getting people involved, but I feel that it isn't going to be sustainable unless there are connections to larger, wilder areas."
This goes back to our previous discussions on resilience and landscape-scale approaches. This is, I think, how we need to think about tackling the problem. However, let's not denigrate the small-scale stuff. There's a song by two Australian songwriters called Paul Kelly and Kev Carmody which is entitled "From little things big things grow." Even landscape-scale responses need local implementation and without the local enthusiasm and activism we wouldn't get very far. Also, without dedication and involvement across a broader cross section of the public, we're not going to get the necessary changes in government attitudes and response. So it's not one or the other, but an amalgam of both.
Book Review
By Kevin Heatley
The World Without Us by Alan Weisman, Thomas Dunne books, St Martin's Press, 2007
While my standard operating protocol for book purchasing is too wait until a title has been out long enough in paperback to make it to the Amazon Bargain Books category, all of the advance press surrounding Alan Weisman's "The World Without Us" pushed me into the realm of reckless consumerism.  I actually placed an advance order for this story of what the more misanthropic amongst us might consider "ultimate restoration".  When it arrived on a Friday in mid-July I dropped all the other half-read titles in my literature backlog and read it in its entirety over the weekend.
What attracted me to this manuscript was that Weisman has beaten me to the punch. He has successfully produced an entertaining and thought-provoking book about how the impacts of our civilization would fade, and ecological succession proceed, if our species vanished overnight. This type of Omega Man thinking has plagued me since I was a young lad in grammar school. I clearly recall that, round about the time of the first Earth Day; my third grade teacher instructed our class to provide ideas on how we could improve the environment. While most of the more socially adjusted children parroted the typical responses about not littering and recycling cans and bottles, I volunteered the paradigm-challenging concept of getting rid of all the people. The dumbfounded, ashen expression of disbelief on my teacher's face should have warned me that this incident would be documented in my permanent record and eventually find its way into the database of the Office of Homeland Security. This is the type of deep thought experimentation that challenges the status quo and got trouble makers like Galileo put in prison.
Oblivious to the limitations that this style of thinking would eventually have upon my upward mobility in society, I found myself fascinated by deep time and how, ultimately, the feverish energy expended by our species in building fortunes and empires is wasted effort. The things we construct are indeed like castles in the sand.  Weisman's work is full of fascinating scenarios of how biotic and abiotic processes will conspire with Father Time to erase our physical legacy. Your house? Once you vanish and maintenance discontinues, water will wreck the place in 50 to 100 years.  In 500 years, if you reside in a temperate climate, the turf grass temples of your suburban development will be replaced with a forest. Massive trees will dominate a woodland of a scale and geographic range not seen since the European invasion. Amongst the roots will lay artifacts of aluminum and stainless steel cookware; items that may last for millennia.
New York City? Weisman paints a vivid picture of water and fire destroying the infrastructure when maintenance is halted. Eventually wolves and bears prowl a forest of beech and ailanthus. St Paul's Chapel ends up as one of the last standing structures. Constructed of native schist in 1766, the stone persists. Following future glaciations only a geologic record of the Big Apple will remain – a vein of reddish metal that had previously been wiring and plumbing.
As I read these well-researched scenarios, I was reminded of a story I once heard about an Australian Aborigine who was brought to the city. When asked about what he saw he responded he had seen a forest; a forest that was waiting under the city to grow. As those of us fortunate to work in ecological restoration know, there is a tremendous capacity in biotic systems for regenerating the landscape. Forget the stewardship model, as Henry Beston (The Outermost House) observed, these other species are like "separate nations" pursing their own evolutionary destinies. If we step out of the way they will quickly fill the void.
Weisman, of course, realizes that while our physical artifacts will vanish relatively quickly on a geologic time scale, our impact upon the successional trajectories of biotic communities will ripple through time. Mixing biota that evolved in geographic isolation has unleashed a Pandora's Box that can not be closed. While populations of human assisted invaders like the Norway Rat and German Cockroach will wither without the heated environs and garbage mounds of Homo sapiens, pathogens like Hemlock Wooly Adelgid will continue devastating eastern hemlocks and the Chytrid fungus killing native amphibian species. Kudzu will indeed eat the south.
Weisman does an effective job of covering the impacts that human activity has had upon the other inhabitants of this planet. From the Pleistocene Overkill to plastic polymers, fossil fuels and the Neolithic Revolution, he explores how, "The matter is more complicated than a killer instinct that never relents until another species is gone. It involves acquisitive instincts that also can't tell when to stop, until something we never intended to harm is fatally deprived of something it needs."
Where The World Without Us really excels is in describing the probable future destiny of some of the products of our manic economic activity. The Panama Canal? Dried up on the Pacific side in 20 years. Mount Rushmore? At an erosion rate of one inch per 10,000 years, these renderings should last 7.2 million years.  All the weapons-grade plutonium-239? This will take 250,000 years to fall below natural background radiation levels.   The Voyager spacecraft that were launched in 1977 and are headed out into deep space? Space dust will abrade them down to dust themselves over billions of years.  Want to have your image last forever and travel the limits of the universe? Get on TV. Turns out radio waves and the electronic ghosts of our transmissions are going to be traveling and expanding forever. While gradually getting weaker as they expand, theoretically some intelligent entity capable of gathering these transmissions should be able to watch, as Weisman references, reruns of I Love Lucy at the end of time. Let's just hope they don't judge us too harshly from watching Fox News.
If I have a complaint about The World Without Us, (aside from the point that I had the basic premise composed when I was eight and never wrote the book) its that Weisman never steps deeper into the room whose door he has opened. Rooted in the physical manifestations of human activity, The World Without Us misses an opportunity to explore the basic philosophical and environmental ethics issues raised by this radical, non-anthropocentric vision. Postulating a future planet existing without humans challenges our egotistical sense of self-importance in the same manner as the heliocentric model of the solar system and Darwinian evolution. If all we do will crumble what is the point of feverishly spending our limited time pursuing the illusion of sustainable economic growth? What does it mean to be human and does our species have an ethical obligation to the other denizens of this planet? Should we continue to try and deny that our species is subject to the inherent constraints imposed by ecological carrying capacity? Mortality is a difficult concept for the individual never mind the species. Think about it – we will all disappear unless we get our own television broadcast. So please ignore the man with the camera as he follows me around. If you are lucky, I'll give you a few lines in my next episode.
Resources
In addition to the many links that appear throughout this issue, we have gathered the following recommended resources on ecological restoration and climate change. They include web sites, recommended reading material, news about ecological restoration and climate change, and general environmental news links.
Links
We highly recommend checking out the Global Restoration Network's list of web sites related to ecology and climate change.
Intergovernmental Panel on Climate Change Created by the World Meteorological Organization (WMO) and the United Nations Environment Programme (UNEP) the IPCC assesses on a comprehensive, objective, open and transparent basis the scientific, technical and socio-economic information relevant to understanding the scientific basis of risk of human-induced climate change, its potential impacts and options for adaptation and mitigation.
The Tyndall Centre brings together scientists, economists, engineers and social scientists, who together are working to develop sustainable responses to climate change through trans-disciplinary research and dialogue on both a national and international level
United Nations Environment Programme
Framework Convention on Climate Change 
Reading
We highly recommend checking out the Global Restoration Network's list of books  related to ecology and climate change. 
Assessing and Adapting to the Effects of Climate Change on Western Ecosystems: A Research – Management Partnership (Draft)  
Harris, J.A., Hobbs, R.J, Higgs, E. and Aronson, J. (2006) Ecological restoration and global climate change. Restoration Ecology 14(2) 170 – 176.
Beedlow, P.A., D.T. Tingey, D.L. Phillips, W.E. Hogsett, and D.M. Olszyk. 2004. Rising atmospheric CO2 and carbon sequestration in forests. Frontiers in Ecology 2: 315-322. (Talks about extent to which CO2 fertilization is likely to improve plant growth, and thus cause increasing sequestration of carbon in forests. Suggests that nutrient and other limitations on growth will keep this from happening.)
BioScience 2001. Volume 51: pages 720 – 779. (A series of papers on forest and climate change, ranging from predictions for forest ecosystems under various climate change scenarios to socioeconomic impacts of climate change on US forests, wood product markets, and forest recreation.)
Foley, J.A., M.H. Costa, C. Delire, N. Ramankutty, and P. Snyder. 2003. Green surprise? How terrestrial ecosystems could affect earth's climate. Frontiers in Ecology : 38-44. (Describes some mechanisms by which changes in ecosystems [whether themselves caused by changes in climate or not] may influence climate; suggests that positive feedbacks are likely.)
Peters. R. L. 1990. Effects of global warming on forests. Forest Ecology and Management 35:13-33. (A review of responses of natural systems to past climate changes and discussion of potential future scenarios.)
Effects of Climate Change on Aquatic Invasive Species and Implications for Management and Research (External Review Draft)
Environmental News Links & Relevant Articles
We highly recommend checking out the Global Restoration Network's list of articles  related to ecology and climate change.
The Society for Ecological Restoration International's position statement on climate change, Ecological Restoration – A Global Strategy for Mitigating Climate Change, generated coverage in many news outlets, including:
Yale University School of Forestry and Environmental Studies
Listen to Earth and Sky Radio's interview with microbiologist Jim Harris, chair of the Science and Policy Working Group of the Society for Restoration International.
Climate change and permafrost thaw alter greenhouse gas emissions in northern wetlands  
Urban Tree Planting and Greenhouse Gas Reductions 
Climate change sucks life from rare leech 
Bio Projects, Places & People
Projects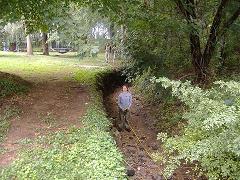 Urban Stream Restoration in the Nick of Time
With time running out to use precious funding from the U.S. EPA, the Delaware Department of Natural Resources and Environmental Control turned to Biohabitats to prepare final restoration designs for this highly degraded, ephemeral stream. Located in Middletown, Delaware, smack dab in between the cities of Dover and Wilmington, the urban stream is severely incised and downcut, and is within a watershed that appears on the State's list of Impaired Waters. Previous, failed efforts to stabilize the stream with rip rap and concrete caused further degradation. After assessing more than 800 linear feet of stream, our team went immediately to work on the design, which will raise the streambed and reconnect it with the floodplain to help improve channel stability and water quality. The design also includes a side channel wetland for capturing and treating the first flush of stormwater. Since the stream runs through a city park and near a public school, it will likely provide recreational and educational opportunities for the community as well.
Opening the Door to an Outdoor Classroom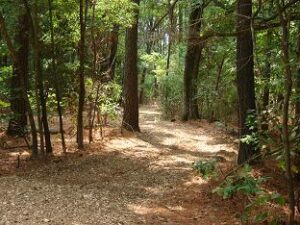 Over the last year Biohabitats and its affiliated companies have been privileged to work with an outstanding educational institution committed to integrating natural capitol and ecosystem benefits fully into campus life. Episcopal High School in Alexandria, Virginia, a residential secondary school located within the Washington, DC beltway, recognized that they possessed a unique asset in the form of a 35 acre woodland parcel, "Laird Acres."  Blessed by benign neglect for decades, this woodland pursued a very different landscape trajectory than the rest of the surrounding pasture and agricultural cropland. Eighty years, while a mere blink to a forest, witnessed the complete obliteration of a cultural landscape that had existed for generations and its replacement with intense urbanization. Like an island in a rapidly eroding streambed, Laird Acres became more unique, and valuable, with each successive development wave. The threat of an eventual storm surge washing over Laird and replacing conifers with condos led the school to undertake the development of a comprehensive woodland management plan. More than just a vegetation assessment and tree management prescription, this document needed to identify a common vision for the woodland and develop a sustainable, regenerative approach to incorporating this green infrastructure into the campus. Recognizing that people will only protect what they value, Episcopal High School has embarked on a mission of bringing people back to the woods for "recreational, educational, and inspirational" purposes.
The School turned to Biohabitats to develop the plan through a combination of field assessment and vision sessions. Documenting the forest composition, successional processes, and ecological values associated with Laird created the foundation for a sound management structure. Community and stakeholder values and goals form the framework. Brought together, these two elements allowed the school to identify a series of initiatives designed to assure the continued existence of Laird as a woodland system.   Our team recently completed several projects identified in the management plan. Woodland edges are being planted to soften the transition from manicured turf into forest and to buffer the tree-toppling effects of western winds.  Invasive plants are being treated within an ecological restoration context, an approach where selective intervention moves well beyond "weed spraying." Perhaps most dramatic of all, renovations are complete on an updated trail system designed to engage people with the woods. Using an organic substrate of wood chips that both protects the forest floor and the soles of runners feet, the trail system penetrates deep into the forest and allows the visitor to truly experience the diversity of life present in this refuge.  Routed to avoid tree loss and disruption, this loop system has a central entrance beckoning to both students and faculty. It identifies Laird Acres as a destination in itself, an infrastructure element as valuable as the science building, library or gym. We applaud the commitment of Episcopal High School to reconnecting this natural landscape with the rest of the campus. True regenerative design strives to create this sense of place and bridge the false dichotomy between the "natural" and "artificial" landscape by working with and celebrating the biological needs of the rest of the planet's biota. Opening the door to the woods is a large step in the right direction.
Reconstructing Natural History at Mount Vernon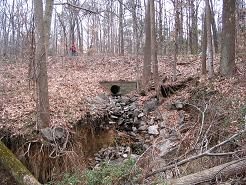 While we always enjoy seeing our ecological restoration designs go to construction, we are particularly goose bumpy about this one.  After all, it's not every day we get to restore a stream that runs though property once owned by our nation's first President.  An outfall occurring from a culvert under the George Washington Parkway had caused damage to a section of a tributary of Little Hunting Creek (a tributary of the Potomac River). Incised more than five feet, the stream was extremely unstable and had become a sediment source.  Our goal in this project for the Fairfax County, Virginia Department of Public Works and Environmental Services, was to stabilize the channel while minimizing intervention.  This popular, historic site is now owned and maintained by the Mount Vernon Ladies' Association, the oldest historic preservation organization in the U.S., and the National Park Service.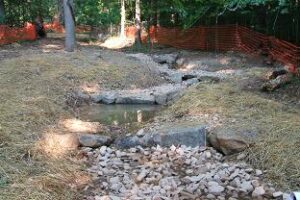 With the site's unique archaeological heritage, it was imperative that the design minimize disturbance. The project also presented design challenges typical of low-order Mid-Atlantic stream restoration projects.  First, the channel downcut through existing Coastal Plain deposits and enlarged via bank erosion. Second, since the channel originates from a stormwater outfall, sediment supply to the channel was limited to that originating from bed and bank erosion. Third, though the active channel is small, the steep channel gradient resulted in high shear stresses during flood events. Given these archaeological and geomorphic contexts, the restoration approach included maintaining existing channel alignment while raising the channel back to the elevation of its former banks. A step-pool and cascade morphology was used to improve channel stability and function while mimicking the natural features of a small, steep channel.  Structure rocks and bed material were sized to withstand predicted shear stresses given "threshold" sediment transport conditions.  Special care was taken along large trees to raise the bed elevation to match existing root masses. Riparian plantings include native trees, shrubs, and herbaceous species to promote root cohesion, enhance habitat, and provide organic input to the stream system.  Construction will be complete at the end of this month.
Lake Restoration Along Historic American Parkway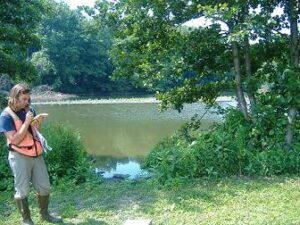 The 807-acre Bronx River Parkway Reservation is Westchester County, New York's oldest park. Initially created as an adjunct to the famous Bronx River Parkway in 1925, the park runs through the heart of southern Westchester County, and includes a series of on-river lakes. One such lake, Crestwood Lake, has been filling in with sediment at a rapid rate, due to upstream development and the transport of legacy sediment. In an effort to reduce the frequency of dredging while also enhancing the Lake's ecological functions and preserving its cultural and historical significance, the Westchester County Department of Planning turned to Biohabitats. Our team is currently developing conceptual restoration options, including those that look at the feasibility of providing the added benefit of flood control.
More Opportunities for Restoration in Northern Virginia
After participating in a study of the Cub Run and Bull Run watersheds in Fairfax County, Virginia, our team was called upon by the County's Department of Public Works and Stormwater Management to conduct an assessment and prioritization of restoration opportunities within the watersheds. Major expansion of DullesInternationalAirport, with proposed increases of hundreds of acres of imperious area and piping of miles of existing stream channels, portions of which drain into the Cub Run and Horsepen Creek watersheds, increased the need for focus on the channels conveying surface runoff in our project area.  Due to a legacy of hydrologic alteration from urban and suburban development (e.g., channel erosion from increased storm flows, channel downcutting, lowering of local groundwater, isolation of the adjacent floodplains, reduction of seasonal stream base flow, etc.),  many of streams in the Cub Run, Bull Run and Horsepen Creeks watersheds in Fairfax County, Virginia are deeply incised.  Biohabitats developed a restoration concept that involves raising the inverts of the channel to achieve hydrologic reconnection to the historic floodplains, restoring the floodplain functions (e.g., floodflow attenuation, water quality benefits, etc.), restoring the wetland hydrology of the forested wetland floodplain habitat, and controlling invasive vegetation. Using GIS analysis and field reconnaissance, we identified and ranked areas appropriate for this type of restoration approach, and developed initial concepts for those areas. We're also helping the County to engage the Army Corps of Engineers and Virginia Department of Environmental Quality to further develop and begin to implement the priority restoration projects. We are also working with the County to create a mitigation banking instrument to enable these sites to be used for future mitigation projects.
Places
If you plan to head to Denver for Rally 2007: The National Land Conservation Conference, keep an eye out for Biohabitats Southern Rocky Mountain Bioregion leader, Claudia Browne.
Join Biohabitats president Keith Bowers at the 2007 ASLA Annual Conference – Designing with Nature: The Art of Balance
Kevin Heatley will speak on invasive species at the Association of Zoological Horticulture's Annual Meeting
Biohabitats senior ecologist Joe Berg will present "A New Paradigm:  The Benefits of Integrated Stream and Wetland Stormwater Outfall Practices" at the 10th Wetlands and Watersheds Workshop in Ocean City, MD.
Biohabitats Great Lakes Bioregion leader Ivette Bolender and president Keith Bowers will head to Duluth, Minnesota to present "The Hog Island and Newton Creek Ecological Restoration Master Plan: A Template for Restoration in a Lake Superior Area of Concern" at the Making A Great Lake Superior Conference. A week later, Keith and Ivette will be in Chicago to attend Greenbuild. This year's conference will explore "Accelerating Green Communities."
If you plan to attend the Mid-Atlantic Stream Restoration Conference  be sure to stop by the Biohabitats booth and say hello to senior ecologist Joe Berg and environmental scientists Mike Thompson and Suzanne Hoehne.
People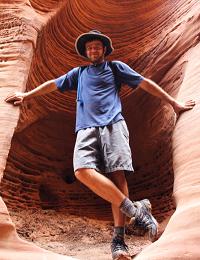 After spending eight years as a water resources engineer in the public works department of a major civil engineering firm, Doug Streaker  Doug from web site]felt the pull toward more ecologically focused work and joined Biohabitats.  A welcome addition to our team, Doug brings extensive experience in stream restoration assessment and design, watershed studies and innovative stormwater management design. He boasts a lengthy skill set, which includes proficiency in numerous GIS, CADD and hydrologic and hydraulic modeling software packages. When he's not at work, this Lancaster, Pennsylvania native can probably be found outside hiking, paddling, playing ultimate Frisbee, photographing nature, or strumming on his guitar, banjo or bass. Doug holds his B.S. in biological systems engineering from Virginia Tech. Equally impressive, he earned the official title of "Corn Eating Champion" when he once polished off 15 ears in 30 minutes. Shucks, that's a lot of corn.