Thoughts On Earth Day
There is some debate over who came up with the original concept of Earth Day. Some attribute it to peace activist John McConnell who first introduced the idea of an international Earth Day, celebrated on the vernal equinox (around March 21), at a 1969 UNESCO conference on the environment. Many credit Wisconsin Senator Gaylord Nelson, who organized the first April 22 Earth Day event as a nationwide, grassroots demonstration aimed at bringing the environment into the political mainstream. Still others credit Fred Dutton, Special Assistant to President John F. Kennedy.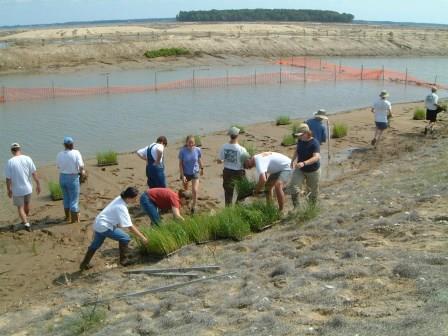 Regardless of who holds the bragging rights for this brilliant idea, the fact that Earth Day has expanded in size and scope is unquestionable. Whether Earth Day was started for peace, politics or both, and whether it is celebrated in March or April, all can agree that in the 36 years since it began, it has evolved into an international celebration of nature. According to the Earth Day Network, Earth Day is celebrated by more than half a billion people each year in more than 170 countries.
So whether you decide to mark this venerated anniversary by cleaning a coral reef in Honduras, helping kids start their own butterfly garden in Singapore, or planting native trees in your own backyard, observance of Earth Day is a great way to recommit to the protection and restoration of our planet. It's also a terrific opportunity to reconnect to the places in which we live, work and play.
A Personal Remembrance of Luna Leopold
By Jeremy Thomas, Biohabitats Environmental Scientist, River Guide, and Inquirer
 "Water is the most critical resource issue of our lifetime and our children's lifetime.The health of our waters is the principal measure of how we live on the land"
– Luna Leopold
Luna Leopold is truly the Galileo of river science. Before him, this discipline did not exist as an established branch of scientific inquiry. After him, it will follow in his footsteps. Like Galileo and his stars, Luna discovered in rivers not just objects of beauty and inspiration, but also phenomena to understand and predict. And he made their protection and restoration his life's work.
Luna was the son of Aldo Leopold, who introduced his ecologically-based land ethic to the world in "A Sand County Almanac" in 1948, and helped to jumpstart the American conservationist movement. Luna's own passion for the landscape was evidenced by his extraordinary creativity and originality in the earth sciences, and his training as a civil engineer (B.S degree), meteorologist (M.S. degree) and geologist (Ph.D.). He pursued scientific inquiry in an uncommonly vital way, producing a breadth of literature and mentoring and inspiring an uncountable number of students.
It was this man, this legend, that I met during the early days of my own development as a river scientist. In 1999, I was lucky enough to become employed at the San Francisco Estuary Institute (SFEI), working for Josh and Laurel Collins as a field technician, helping to develop geomorphic assessments for tributaries to the San FranciscoBay. It was during this time that I first crossed paths with Luna, who was a close personal friend of the Collinses, and a colleague of my father. At the time, he was already well into his later years. Having studied much of Luna's academic literature, and having realized the depth of influence this man had on the field in which I was merely an apprentice, I was frankly terrified when I first had the opportunity to meet him. Indeed, in some ways I had reason to worry.
It quickly became apparent that there was a set of rules to which I had to hold myself when interacting with Luna. When speaking about anything having to do with earth science, I learned that I could not make any unqualified statements, generalizations, or indeed say anything that was not backed up by precisely measured and recorded data (that he could examine). I learned the hard way, finding myself stammering at his pointed questions and amazed at how he immediately found the gaps in my reasoning or lack of knowledge about some issue. This man had a mind like a blade, sharp and precise.
However, this same man, who made me so acutely aware of my own ignorance because of the breadth of his own knowledge, was always the same man who would rescue me from it. He would go into his study, methodically go through his files, and pull out half a dozen papers, all of which he had authored, about some complex issue that I was wrestling with. This man quickly became my personal professional hero, like he was with so many others. It wasn't what he knew, but how he went about inquiring, that was his greatest gift to me. And perhaps as an even greater gift, I am able to say that for a brief period, Luna was my friend. On numerous occasions he opened his home and his heart to me and my wife.
On February 23rd, 2006, Luna passed away at the age of 90 in his home in Berkeley, California. He truly was, and will remain, a legendary man. Thank you for all of your guidance my friend, let the rivers flow!
Earth Day Expressions Contest Winners
Thanks to all those who entered Biohabitats' 2nd Annual Earth Day Expressions Contest. After much discussion (most of which was about the lack of food at the judging session), the judges (a group of creative – and hungry – Biohabitats staffers) selected one First Place Winner and three Honorable Mentions. Congratulations to the winners, and thanks again for sharing your Earth inspired expressions.
First Prize Winner
Dawn Morrison, Secwepemc, Harper Lake Eco-cultural Restoration Project
Poem written by a Secwepemc (Shuswap) woman that describes the spiritual and ecological relationship between the Secwepemc people and the Quaking Aspen tree.
The Aspen People
Our people are like the Aspen
Quaking…
Quaking in the wisdom of the northern spring winds
Roots firmly grounded
Grounded…
Grounded in the synergy of flowers, fruits and fungus
Healing…
Healing in the biota of white dust and cankers, and
Meditating…
Meditating in the calm
Before the storm of political fury
Flenching mosquitoes, and
Swimming…
Swimming in the strong currents of spirit…
My submission expresses my awe of nature's wonder because it describes how the Secwepemc people have learned from observing the Aspen tree and some of its characteristics. My submission also provides a metaphor for understanding the interconnectedness relationships between the people, plants, land, water, spirits and even politics.
Honorable Mentions
Nature is one of the most fascinating things around us. Some of us go through our daily, hectic lives without ever noticing the beauty and the wonderful things that God has made for us. Nature is so inspiring to many people, and it sometimes acts as a retreat from their stressful days. The color fading from white to blue in this photograph gives me a sense of ease when I look at it, as well as the beauty in it.
Maine is a gorgeous state. Watching the sun rise on the Maine coast and seeing the lobster boats on the water was and is a beautiful site.